Our EPIC 2019 board game gift guide has over 50 recommendations for every kind of board gamer! Including oodles of wallet-sized & wallet-friendly titles! Get your gift on!
The holidays are a perfect time to buy gifts for that special someone in your life. If they happen to love board games, even better. The 4th Annual Meeple Mountain 2019 Holiday Board Game Gift Guide offers a hand-picked list of the best that the hobby game industry has to offer. From lightweight stocking stuffer games you can play in minutes to multi-hour games your gamer will love.
Or maybe you're the board game geek and you're on the prowl for something new and interesting, perhaps an import game? In addition to recommending titles from many different categories, our writing team also has their own unique recommendations for something more…off-menu.
So no matter what you're looking for, or who it's for, the Meeple Mountain 2019 Holiday Board Game Gift Guide has something for everyone!
Best Small Games
Best Gifts on a Budget
Best Gifts for the First Time Gamer
Best Gifts for the Family
Best Gifts for the Young Gamer
Best Gifts for the Board Game Geek
Best Dexterity Games
Best Epic Games
Best Two Player Games
Best Roll and Write Games
Best Import Games
Best RPG Games
Recommendations From the Team
Best Small Games
These games take up very little space, but in your pocket, and on the table. Grab these games and go!
Tussie Mussie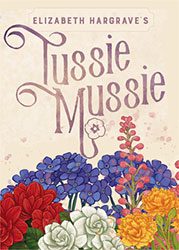 Tussie Mussie by Button Shy is an affordable wallet game that can be played anywhere. Create the most successful tussie mussie by drafting the highest point combination of flowers in your bouquets and keepsakes. Designed by Elizabeth Hargrave the creator of 2019's hot game Wingspan, Tussie Mussie is quick, fun, and will literally fit in your pocket.
1-4 players, ages 8+, 20-30 minutesBuy now
L.A.M.A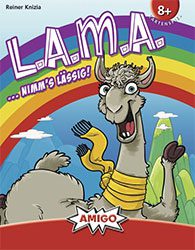 L.A.M.A. is a dead simple game for up to 6 players, and fits in a box smaller than a paperback. It was even nominated for the Spiel des Jahres award in 2019! Similar to games like UNO, L.A.M.A. takes just minutes to teach and will entertain even the toughest of critics with its simple ruleset and clever gameplay. Besides, how many games do you have that feature llamas?
2-6 players, ages 10+, 20 minutesBuy now
In Vino Morte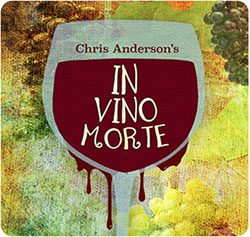 "Where is the poison? The battle of wits has begun. It ends when you decide and we both drink, and find out who is right…and who is dead."
In Vino Morte, another Button Shy game gives up to 8 people the opportunity to relive one of the classic scenes in all of moviedom…the poisoned goblet battle of wits from Princess Bride. You don't even need to sit down for this game! The dealer selects and gives a card to each player, with either a wine bottle on poison bottle on the back. On your turn you can either "drink" your card or pass it sight-unseen to another player. When it gets back to the dealer everyone drinks and you see who dies! You can play In Vino Morte at parties, or even standing in line for the movies! Just make sure you clean up the bodies when you're done.
3-8 players, ages 10+, 5-10 minutesBuy now
PUSH
PUSH is a lightweight press your luck game for 2-6 players. Deal cards off the top and place them into one of 3 stacks. But tread lightly because if you can't place the card you bust and the other players get to profit from your hard work. If your friends and family love Uno then stop what you're doing and order PUSH. Even if you don't enjoy the "king of card games" you'll probably love PUSH. Just go get this one for someone's stocking…even if it's your own.
2-6 players, ages 8+, 20-25 minutesBuy now
Best Gifts on a Budget
A penny saved is a penny earned…which can then be spent on more games! Save your wallet with these inexpensive games! Fewer dollars, but filled with fun!
The Potion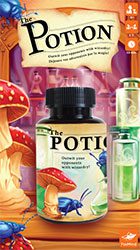 The Potion is a big gameplay bluffing experience with a small footprint. This delightful game won't break the bank, but it might break your mind.  Along with delightful acrylic components, The Potion may cause substantial brain burn as you try to out think and outwit your opponents in each round of bidding.  Players work to whittle down their own supply of ingredients to be the first with only one type remaining. And that's not a simple task since you have no idea what your opponents may play.  For your money, The Potion will bring an amazing return on your investment and hours of fun to any game group.
3-7 players, ages 8+, 10-20 minutesBuy now
Adventure Games: The Dungeon & Adventure Games: Monochrome, Inc.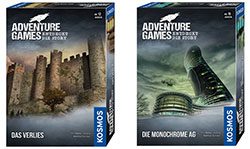 Don't let the small box and inexpensive price fool you, the Adventure Games from Kosmos pack a ton of gameplay. Think of them as a choose-your-own-adventure with escape room-like puzzles, while also recreating a classic point-and-click computer game. Mixing all these elements could be a recipe for disaster, but the Adventure Games make it all work together so well! Each box contains an immersive gameplay experience that will span three 90 minute sessions. Adventure Games: Monochrome Inc. and The Dungeon scenarios are perfect gift ideas for the gamer on a budget who loves adventuring and a good story to go along with it.
1-4 players, ages 12+, 75-90 minutesBuy now
Santorini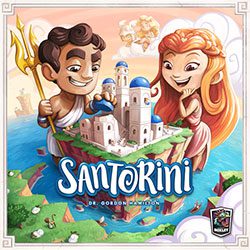 This game was a huge hit in 2016, and is much loved by many gamers. Santorini is a 2 player game that's easy enough for kids, while still being challenging enough for adults. It encompasses an ancient mythology theme within an abstract strategy game that has been updated and enhanced. In addition, the game has great table presence and would be a great 2 player game to play during the holidays while keeping the game under budget. If you're lucky you might be able to find Santorini on sale shelves in stores near you.
2 players, ages 8+, 15 minutesBuy now
Finger Guns at High Noon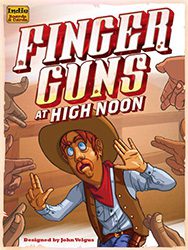 For the price of a multiplex movie ticket, this fun new party game is a six-shooter blast. Finger Guns at High Noon is a raucous wild West battle royale where players (as the titular finger gunslingers) will simultaneously select actions such as "gunning down" other players, healing, or secretly teaming up with others. The game adds plenty of strategy by baking in table-talk negotiation, bluffing, group think, and even eliminates player elimination (ghosts can still win) to allow epic showdowns and reversals. Fans of Bang!, Rock, Paper, Wizard, or Ca$h 'n Gun$ may find Finger Guns at High Noon their new favorite for "silly action selection using hand gestures party game."
3–8 players, ages 14+, 20 minutesBuy now
Best Gifts for the First Time Gamer
Those of us "in the know" understand that board gaming is a wonderful hobby. It's a great way to spend time with friends, family, and even perfect strangers. If you're trying to introduce board gaming to someone in your life, the games on this list are an excellent place to start!
Point Salad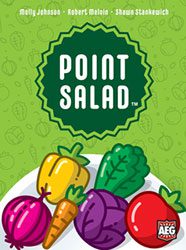 If you're looking for a great intro game for friends, family, or your Aunt Norma, then look no further than the light card game Point Salad from Alderac Entertainment Group. It's fun, easy to teach, quick to play, and the vibrant colors look great on your table. Collect scoring cards and sets of veggie cards and hope the player before you doesn't also plan to focus on tomatoes!  Point Salad plays up to 6 people which makes it perfect for family gatherings, game nights, or workplace gaming!
2-6 players, ages 14+, 15-30 minutesBuy now
Draftosaurus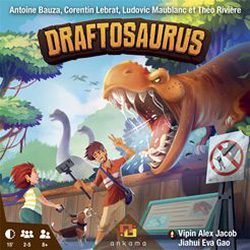 In Draftosaurus, players draft different dinosaurs to add to their parks with the goal of attracting the most visitors. The drafting is done a little differently than usual: instead of a hand of cards, adorable, pastel-coloured dino meeples are passed from one player to the next. Draftosaurus is a wonderful and fun take on a standard card drafting game and works well as a way to introduce drafting to younger children or gamers new to the hobby.
2-5 players, ages 8+, 15 minutesBuy now
Horrified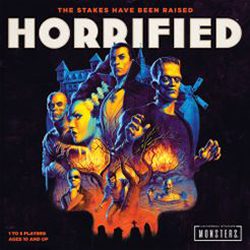 Designed by the brilliant Prospero Hall team, Horrified is a cooperative game in which players save villagers and fight some of Hollywood's infamous monsters. The game includes seven classic monsters, each of which function very differently. The game's ingenuity lies in how easy it is to handle each monster: just one deck of cards to manage them all. With such a low-barrier to entry and so little upkeep, you can focus on immersing yourself in the incredibly thematic and tense gaming experience that is Horrified.
1-5 players, ages 10+, 60 minutesBuy now
Tiny Towns
Won't you take me to…Tiny Towns! The concept behind this game's design is simple: place resource cubes on your personal grid in specific layouts to then construct buildings, which score points at the end of the game. The hook? Every turn, one player is the master builder and as such, they determine which resource cube all players will place. Sometimes this will work in your favour, but often this will result in someone royally screwing up your carefully-crafted building plans. Tiny Towns is a wonderful puzzle game that's easy to learn, quick-to-play, and has a ton of variability. Fans of mobile games Merge Dragons or Triple Town will immediately fall for Tiny Towns.
1-6 players, ages 14+, 45-60 minutesBuy now
Best Gifts for the Family
What better way to spend family time than with board games? Even though board games are a family tradition going back centuries, today's modern games keep it fresh with new themes and engaging gameplay. Gather your family around the table with a game from this list and let the memories happen.
Just One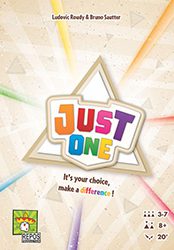 Word association games are a classic family style game and few do it better than this year's Spiel des Jahres winner Just One. The entire table is a team trying to earn the most points from guessing word associations. One person guesses while the others write down a word matching a clue hidden from the guesser. The catch? All matching written words are taken out of the pool. Sounds simple, but it's filled with second-guessing and tension as your group tries to reach hit the ultimate score of 13 points. Fans of Codenames will love Just One.
3-7 players, ages 8+, 20 minutesBuy now
PARKS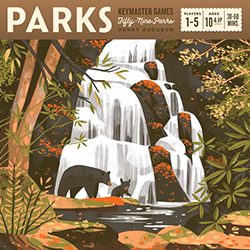 Keymaster Games made a great game here. Parks features lovely art mixed with a theme and mechanics that flow together like the Arkansas and Mississippi Rivers. PARKS celebrates the US National Parks featuring art from the renowned Fifty-Nine Parks series. Players act as hikers trekking across the country, gathering resources to eventually exchange them in to visit a park and gain that card. The rules are easy to understand and the gameplay is fun and streamlined, making this a hit with families.
1-5 players, ages 9+, 40-60 minutesBuy now
Memoarrr!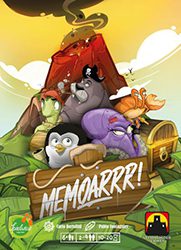 This Spiel des Jahres recommendation is a dandy Memory update that plays equally well for kids and adults. In Memoarr!, players reveal cards from an "island" grid of 25 cards comprised of five "pirate animal" suits in five colors. Instead of perfect matches, flipped cards must match the previously flipped card's suit or color. Each round cards on the table retain their same positions on the island tableau, which means one must retain previous information from earlier rounds to succeed. Memoarrr!'s theme and artwork is brilliantly rendered and the cards/gameplay are not text-driven. Another plus: basic and advanced modes (variable powers for each animal suit) will scale to player skill levels. A wonderful family game!
2–4 players, ages 8+, 10-20 minutesBuy now
Slide Quest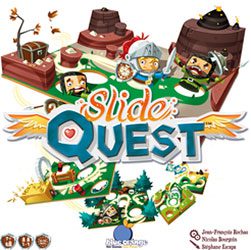 Slide Quest is what you get when you design a video game-themed cooperative board game around a handheld marble maze. Each player takes control of a lever hanging off the side of the  game's box and with the plastic tray overlaid, this creates the wobbly maze that the adventuring knight must navigate through to pass the level, accomplishing objectives along the way. Slide Quest is quite the experience (albeit stressful) and a blast to play.
1-4 players, ages 7+, 15-45 minutesBuy now
Kingdoms Lawn Game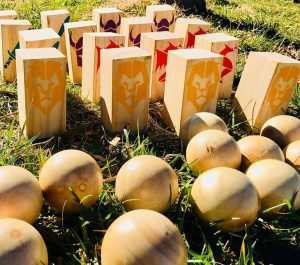 If you're looking for a great way to entice your kids outside, look no further than Kingdoms Lawn Game. Sturdy wooden components and a light fantasy theme combine into a competitive game that makes this an excellent outdoor activity for the whole family. Perfect for fans of croquet, skittles, and lawn bowling.
2-4 players, ages 5+, 15-30 minutesBuy now
Best Gifts for the Young Gamer
Board gaming is a family affair, but your young kids probably aren't capable of playing the newest Euro games. The titles on this list are geared for younger kids who will appreciate their bright colors and simple gameplay, but each of these games is also fun for all ages. If this list isn't enough, then check out our top lists of games for younger kids, and for older kids.
Zombie Kidz Evolution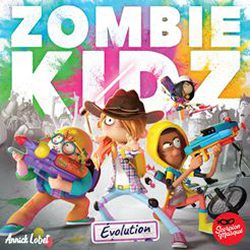 Get ready for the best gaming experience you'll ever have with your kids! Zombie Kidz Evolution is a superb way to introduce your kids to logic, decision making and consequences AND legacy gaming all in one small package. Players take turns guiding their intrepid heroes around the school building eliminating zombies and trying to lock the doors. Games take minutes to play, but the legacy component means you'll play dozens of games so that you can open envelopes containing all sorts of special abilities and other goodies. What are you waiting for?!
2-4 players, ages 7+, 5-15 minutesBuy now
Pyramid of Pengqueen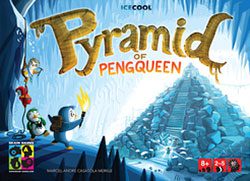 Play hide and seek inside! Pyramid of the Pangqueen is an entertaining hidden movement game great for all ages. One player is the Pengqueen and they are trying to find the other players on the board. The board sits vertically using both sides and magnetic pieces. While the players sneak around the board collecting artifacts the Pengqueen tries to chase them down and send them to the sarcophagus where they reset and try again. It's a quick game of suspense and excitement your young ones are sure to love.
2-5 players, ages 8+, 30-45 minutesBuy now
Anomia Kids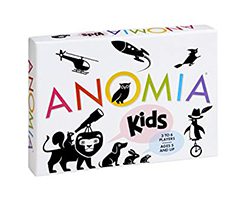 Anomia Kids, the children's version of the party game Anomia, features cards with pictures instead of words. The gameplay works the same as its predecessor: flip a card on your turn until the symbols on two players' cards match, then face-off to see who can name something the fastest. Anomia Kids is fantastic because it has many variations to make the game more or less difficult depending on the group's needs (and it's also language-independent). Whether you jump in to play this with your child or simply watch your children around the gaming table, playfully shouting about something other than who gets the iPad next, Anomia Kids is a great choice.
3-6 players, ages 5+, 30 minutesBuy now
Flip Over Frog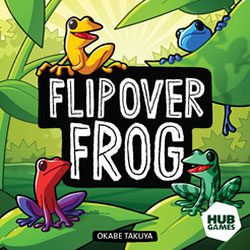 Step into the jungle, spot some frogs, and flip your way to victory. Flip Over Frog blends tile laying, memory, and vibrantly colored artwork into a game the entire family will love. Flip Over Frog is easy to learn, fun to play, and games take just 10-15 minutes, leaving your kids wanting another game!
2-4 players, ages 6+, 15 minutesBuy now
Best Gifts for the Board Game Geek
So you have a board game connoisseur in your life. Someone who lives and breathes board games? The gifts on this list are certified hits and belong in the collection of every discerning gamer.
Ecos: First Continent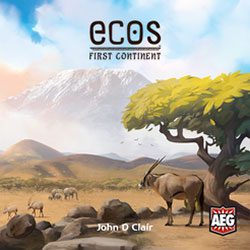 If you've ever dreamed of shaping an entire world in your image then Ecos: First Continent might be the game for you. In Ecos: First Continent you're placing oceans and continents, forests and mountains, and animals of all types. Ecos is a wonderful engine building game in which your engine is constantly changing.
2-6 players, ages 14+, 45-75 minutesBuy now
Stephenson's Rocket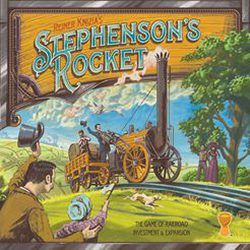 Whenever I meet a seasoned gamer, and they haven't tried one of the Knizia tile-laying classics, I frog march them to the table and make them play one, and so far, nobody has regretted the experience. The latest one to see a reprint is Stephenson's Rocket, a tile-laying, route building, area majority, kinda auction/stock holding game. Like many of his games, SR is counterintuitive at first, but delivers payoffs in spades, and the new Grail Games edition is fantastic. If you're looking for more, Tigris & Euphrates and Samurai are fantastic games that pack tons of interactivity, creativity, and replayability into simple rulesets. All of them have benefited from beautiful reprints too!
2-4 players, ages 12+, 60 minutesBuy now
Paladins of the West Kingdom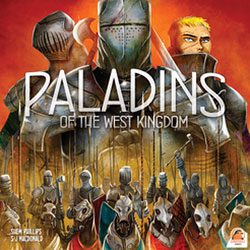 Paladins of the West Kingdom is by far the heaviest and most strategic game put out in the North Sea and West Kingdom series. It will feel familiar in terms of mechanisms (worker placement) and card/board iconography if you've played Architects of the West Kingdom. However, expect your brain to burn in the most delightful way with Paladins as you manage everything from the worker placement spaces to your resources, cards, and even your own worker pool. If you were waiting for a game from designer Shem Phillips to really excite you, then look no further than Paladins of the West Kingdom.
1-4 players, ages 12+, 90-120 minutesBuy now
Bus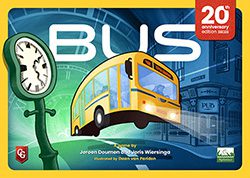 Bus is a Goldilocks game – just the right number of rules for quick teaching, just the right amount of depth for gamers of all depths to enjoy, just the right length of gameplay that it can be played on a weekday or weeknight, and just enough player interaction for care-bears and cutthroat gamers to find something they like. Though Bus is one of the first ever worker placement games (dating back to 1999), it still deserves play in 2019, and the new 20th anniversary edition should get more play now that the artwork looks, well, like artwork.
3-5 players, ages 14+, 120 minutesBuy now
Glen More II: Chronicles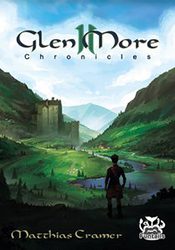 Long out of print and very hard to obtain, Glen More, by Mathias Cramer, is a classic game of empire building. Each player controls a clan of 17th century Scotsmen and will direct their efforts to build up the fiefdom, gather resources, breed animals, and brew whisky in the quest for victory points. Tiles are selected by means of movement around a rondel and adding a tile to the fiefdom will cause a chain of events to occur depending on where each tile is placed. Glen More II: Chronicles breathes new life into the game by introducing new mechanics, new artwork, and interchangeable microgames into the mix. It's more than just a reprint. It's a rebirth.
2-4 players, ages 12+, 90-120 minutesMore info
Best Dexterity Games
Often dismissed as "for parties", dexterity games are an amazing way to draw people into the hobby. Dexterity games are fun, tactile, sure to generate a laugh, and they usually look pretty awesome on the table.
Tuki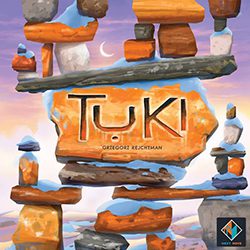 In Tuki, you are racing against the other players to construct various tukiliit (objects with meaning) by using your building stones to match what's depicted on the card each round. Many of the tukiliit seem to require player's building stones to defy the laws of physics, but thankfully each player also has snow blocks to use to balance and support their structures. Tuki is fast-paced, stressful, and a lot of fun. It's definitely a must for fans of real-time and dexterity games!
2-4 players, ages 8+, 30-45 minutesBuy now
Men at Work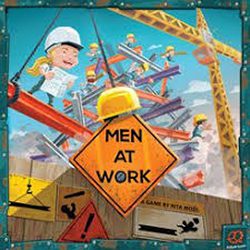 Held together by a shaky lattice of wooden beams and girders, Men at Work sends meeples in adorable little hardhats to climb as high as they can before unfortunate accidents bring the structure tumbling to the table. The simple mechanics provide a surprisingly deep challenge for any kid or adult with a steady hand and the will to build to the sky.
2-5 players, ages 8+, 30-45 minutesBuy now
Best Epic Games
For gamers who want to take their gaming from entertaining to epic, the games on this list will take you on a deep dive and keep you immersed from beginning to end. Just make sure to stay hydrated, and don't forget the snacks!
SpaceCorp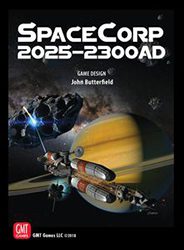 SpaceCorp is one of the most accessible epic games I have come across, and blends tableau building and interactivity into a delicious package. Build up your spacefaring infrastructure, leech off of your opponents, and explore the solar system across 3 (COUNT 'EM) boards. Definitely a fascinating entry from GMT, and there's an expansion coming soon!
1-4 players, ages 12+, 60-240 minutesBuy now
Abomination: The Heir of Frankenstein
For the euro gamer who loves a darker side to their Holiday spirit, Abomination: The Heir of Frankenstein may be the perfect gift. Set in early 1800s Paris, players are scientists attempting to build a companion for Frankenstein's monster. Players send workers out into the city to harvest "materials", while back in their lab they assemble their grisly collection. Each round offers a splash of narrative content which helps Abomination successfully stitch together immersive theming and strategic worker placement design for a diabolically delightful gaming experience.
2-4 players, ages 13+, 90-180 minutesBuy now
Twilight Imperium: 4th Edition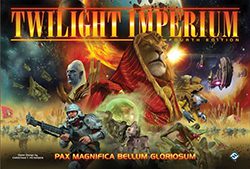 If the gamer on your list aspires to rule the galaxy, then Twilight Imperium: 4th Edition, a game of interstellar trade, politics, and conquest will scratch the sci-fi itch. The epic campaign tests their strategic, tactical, and negotiating skills for a full day of rich, rewarding play. Just make sure they have enough shelf and table space to accommodate the game's astronomical size.
3-6 players, ages 14+, 4-8 hoursBuy now
Clank! Legacy: Acquisitions Incorporated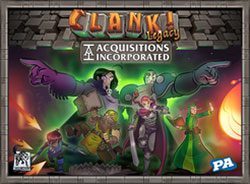 Clank is a delightfully tongue-in-cheek fantasy deck-building game. Clank Legacy: Acquisitions Incorporated takes that to the next level by introducing a 10+ game campaign, set in the world of Acquisitions Incorporated, the RPG-universe produced by webcomic Penny Arcade. The epic campaign will have you exploring new worlds, unlocking game components, gaining and often destroying cards, all while still playing the much-beloved game. If you like legacy games, Clank! Legacy: Acquisitions Incorporated is the one for you.
2-4 players, ages 13+, 90-120 minutesBuy now
Best Two Player Games
Sometimess you just want to play head to head, skill against skill, and see who comes out on top. Or sometimes you just want to spend quality time with that special someone in your life. In any case the games on this list are custom made for two. Just add a table, and let the gaming commence.
Imhotep: The Duel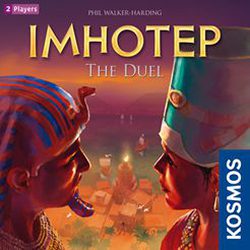 The original Imhotep was a marvelous entry into the gateway games scene. Designed by Phil Walker-Harding in 2016, it pitted players against each other in a race to become the pre-eminent builder of the ancient Egyptians. When KOSMOS announced a two player version gamers everywhere took notice. I'm happy to say that Imhotep: The Duel is a wonderful companion, and has actually replaced the original for me at the 2 player count. Pick this one up!
2 players, ages 10+, 20 minutesBuy now
Spirits of the Wild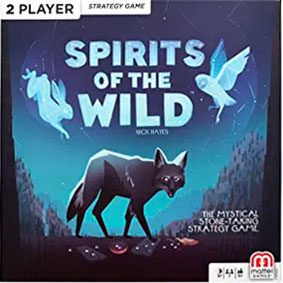 In years gone by Mattel Games wasn't really known for their hobby games; preferring to focus instead on more mass-market titles. But as as board gaming has grown in popularity they've noticed and have started publishing some really well regarded strategy games like Blokus and Ghost Fightin' Treasure Hunters. Spirits of the Wild is one of their newer titles, and an excellent set collection game with wonderful art, high quality components, and clever gameplay. Just watch out for Coyote!
2 players, ages 10+, 15-30 minutesBuy now
Seasons of Rice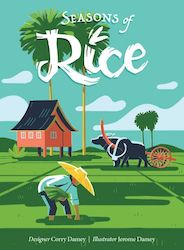 Fun fact: Elizabeth Hargrave's Tussie Mussie shared the 2018 Gen Can't Game Design prize with Seasons of Rice, an 18-card pocket "tile" layer published by Button Shy. Players are Cambodian farmers expanding their rice paddies by drafting cards that form their paddies. Water buffalo, farmers, and houses increase one's score, and players start with a variable scoring condition (cards are double sided). The game is a satisfying tactical puzzle laden with interesting decisions and replayability that will scratch your Carcassonne itch in a mere fraction of the time and table space.
2 players, ages 8+, 10-15 minutesBuy now
Best Roll and Write Games
Everyone knows Yahtzee, but modern roll and write games have very little in common with their popular ancestor. Designers are coupling modern game sensibilities with interesting twists to come up with titles that are fun, fast, and super interesting. If the only roll and write game you know is Yahtzee, then climb up our roll and write board game step ladder to see what comes next!
Imperial Settlers: Roll & Write
Whether this title catches your eye because of the Imperial Settlers name or simply because it's a roll and write game, you won't be disappointed. Imperial Settlers: Roll & Write captures the essence of its older sibling, Imperial Settlers, primarily in how the engine-building works. As a roll and write it offers a bit more theme and complexity than many other games in the genre. Imperial Settlers: Roll & Write is a great, relatively quick multiplayer game, but it is surprisingly even better as a solo experience.
1-4 players, ages 10+, 30 minutesBuy now
Fleet: The Dice Game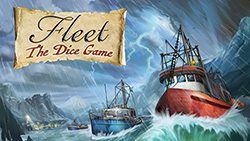 Set sail for a dice-drafting competition in this surprisingly deep "roll n write." In Fleet: The Dice Game players are captains of fishing vessels that reel in the best catch with clever dice selections. Players will launch boats, catch fish, build income, and utilize the town buildings to score points. One of the meatier "roll n write" games on the market, Fleet: The Dice Game is teeming with combo possibilities that feel rewarding and push competitive strategy. If you're looking to step up your roll n write game, Fleet: The Dice Game is one of the best you'll find.
1-4 players, ages 8+, 30-45 minutesBuy now
Cartographers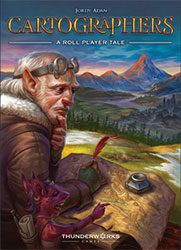 Build a better kingdom in Cartographers, one of the best games to come out of 2019. In Cartographers, the players are competing to fill in their map sheets in order to score points. In each round of play, cards are flipped up from a central deck that dictate features and formations to be drawn. There's even a healthy dose of player interaction included in the form of ambush cards which will have the players drawing monsters on their opponents' maps to hinder them and cost them points. With a player count limited only by the number of map sheets you have, very easy to learn rules, and a quick play time, Cartographers is sure to be a game your family will want to revisit again and again.
1-100 players, ages 10+, 30-45 minutesBuy now
Best Import Games
There are a lot of great games in the US, but some of the most interesting games these days are coming from Japan, Taiwan, and Korea. They're hard to get your hands on, but they're totally worth the hunt! Check out the list of import games that we've reviewed for more ideas.
Nine Tiles Panic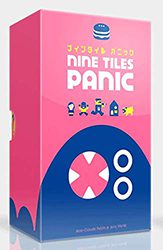 Nine Tiles Panic blends hungry hamburger-eating aliens, secret agents, city-planning, and real-time into one fantastic board game. If the goofy aliens weren't enough to sell you, Nine Tiles Panic is a speed game in which players build a 3×3 grid using their personal set of 9 tiles to satisfy the round's objectives, ranging from having the most houses to having the longest road. Be the best and the quickest and you'll score the most points in this silly Oink game.
3-5 players, ages 12+, 60 minutesBuy now
Silver & Gold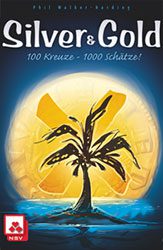 Silver & Gold is one of the more unique games released this year: every card is a miniature dry erase board! Silver & Gold has a light pirate treasure theme in which players simultaneously mark out polyomino shapes on their own personal cards while competing for valuable bonuses and medals for finding the most treasure. It's currently only available as an import, but it will be coming to the US soon from Pandasaurus Games.
2-4 players, ages 8+, 20 minutesBuy now
L.A.M.A.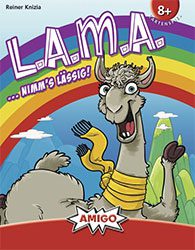 From gaming royalty Reiner Knizia comes a game about llamas? L.A.M.A. (shortened to LAMA) is a card shedding ladder game with a scoring twist. Nominated for this year's Spiel des Jahres, LAMA is a game about scoring the fewest points. The colorful silly artwork will catch your eye, and the clever gameplay will hold your attention…at least for a little while. LAMA is also a great replacement for UNO.
3-5 players, ages 12+, 60 minutesBuy now
Best RPG Games & Accessories
The last few years have seen an explosion in role playing games (RPG), and 2019 especially has given us some great options for our list. Whether you're a first-timer or a seasoned pro, the games in this section are sure to give your RPG group tons of fun, and perhaps just a bit of danger!
Beginner Boxes / Quickstart Packs
Beginner boxes are a great way to try something new. Usually lower in cost (some are even free) they provide everything you'll need to get started. Have you recently gotten into Dungeons & Dragons, but want to try some sci-fi? There's Beginner Boxes for Star Wars: Edge of Empire, Starfinder, Shadowrun, and Cyberpunk Red. Or maybe you're looking for something a bit more supernatural? Try out Call of Cthulhu or Vampire: the Masquerade. Perhaps you're looking for something with some historical flair? Look towards 7th Sea or Legend of the Five Rings! Maybe you started on one of these and want to give fantasy a shot? Then there's the Essentials Kit for Dungeons & Dragons or the Beginner Box for Pathfinder, 1st Edition. Whatever your style, there are new worlds out there ready for you to give to your closest adventurers.
The Rook and the Raven
The Rook and the Raven pride themselves and high quality and unique handcrafted campaign journals. The pages can be adjusted to suit your needs as a player or DM! You can even add extra pages and packets that easily insert into your journal. They all sorts of wonderful sheets to track your campaign; PC stats, NPCs, loot lists, pet stats, spell sheets, and more. Get your rush orders in now in time for the holidays because these beauties are going fast!
Recommendations From the Team
Just because a certain item didn't make it into one of the categories above doesn't mean it's not a great gift. Here are some great personal gift recommendations from the Meeple Mountain writing team.
Dice Cubes – ice trays that produce dice-shaped ice cubes. I was bought a d6 dice ice cube tray last Christmas and I have to say it's a silly gimmick that somehow keeps on amusing me. For the more adventurous, Loot Crate do a d20 ice mold that looks especially cool.
When most people hear "board games" they immediately think of a kids games, Balderdash with the family, or perhaps laughing at a pub game over beers. But those of us in board game media know there's hidden depths and complexity to this craft. Senet Magazine launched a kickstarter this year to explore the "craft, creativity and community of board gaming with a critical eye". Time will tell if it succeeds, but if you or your significant other loves board games, it might be a great thing to gift.
Since its release in 2018, Sprawlopolis has flown (mostly) under the radar and what a shame that is because this is my favourite solo game. Packed in a small package (part of Button Shy's line of wallet games), Sprawlopolis consists of just 18 cards. But don't be deceived into thinking it isn't challenging. Each game you build a city, trying to meet the scoring criteria for 3 random objectives. Your target score is determined by the objective difficulty: the easier it is, the higher you are expected to score, for example. All this while trying to juggle urban planning and an inefficient road system. Sprawlopolis is the perfect gift for any solo gamer because it is inexpensive, small in size and footprint, requires no setup, and plays in about 15 minutes— which is excellent because the game is very addictive. (As an added bonus, the game also plays cooperatively with up to 4 players.)
The Geekon! Ultimate Boardgame Bag is a little bit more pricey than others, but it's sturdy and made to last; plus it has many bells and whistles. Protect your games by using this extra cushioned bag showing up to game night in style. You can even check out their new bags currently on Kickstarter.
Gaming apparel – what gamer wouldn't love a geeky t-shirt or an awesome coffee mug to show off their love of board gaming with the rest of the world? Companies like meepleshirts.com and geekygoodies.com have a wide range of options perfect for the hobby board gamers in your life. I know I am personally eyeing one of those amazing Keyflower coffee mugs myself!
It's easy to overlook abstract strategy games, but Smirk & Dagger's 2019 title SHŌBU is one of my top picks of the year. Laced with tough choices and gotcha moments, SHŌBU's wood and stone aesthetic is at once eye-catching and classy. A two-player game, SHŌBU is best enjoyed with a glass of scotch by the fire… that being said, most of my games were played with a sandwich over lunch. With simple rules and a quick playtime, SHŌBU is an accessible choice with
Obscurio was on my Essen anticipation list at the beginning of October. I subsequently purchased it and now I'm recommending it as a great gift for fans and owners of Dixit or Mysterium. Obscurio adds the traitor mechanic to the art divining genre which is one of my favorite mechanics. My family and their younger friends have all enjoyed the game. There are a few flaws, but most people who like Dixit/Mysterium will be willing to look past or fix those flaws to enjoy the game.
Trophies is genetically designed to be the perfect entry for the Holiday Board Game Gift Guide. An ingenious blend of Outburst, Scattergories, and Just One, Trophies is a deck of 70 double-sided cards. Each turn a player chooses one of five topics on the front of a card, which reveals a letter of the alphabet on the back. Be the first to shout a word that fits the topic and begins with the chosen letter to win. This "group shoutthink" party game is for all ages, fits in your pocket, can be taught in a minute, scales from 2 to 30 players, has oodles of replayability, takes 5-10 minutes to play, and costs less than three Caramel Frappuccinos at Starbucks.
Tony Tran
For the game designer on your wishlist, I highly recommend Building Blocks of Tabletop Game Design by Geoffrey Engelstein and Isaac Shalev; a veritable encyclopedia of board game design. This book contains all the mechanisms used in your favorite tabletop games with diagrams and examples of when to use them and how to use them. If you have a person in your life that wants to start designing games or take their games to the next level, get them the Building Blocks of Tabletop Game Design.
---
Looking for something we've recommended before? Check out the ghosts of Holiday Gift Guides past!