Reading Time:
3
minutes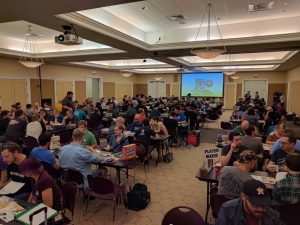 Meeple Mountain holds a unique position in the city of Nashville. With a population of almost 700k (and a metro population of almost 2 million), Nashville is primed and ready for the board game industry here in the heart of one of the fastest growing cities in the country.
With this surge of new residents, there is no shortage of tabletop gamers looking to get connected with others. It is our goal to help grow the Nashville gaming community as best as we can. In addition to producing reviews and editorial content, we have built a reputation of hosting high-quality, local events. These events range in scale from Nashville Game Night which attracts over 80 people twice a month, to our large-scale free Nashville Tabletop Day event that attracts nearly 500 pre-registered attendees for a fun full day of gaming.
We're even working to open a full service board game cafe!
We take our craft seriously, but we make sure to have a lot of fun in the process! We'd love to get you involved with us!
Over the past few years, we have been fortunate to partner with a multitude of amazing board game publishers, media personalities, local businesses, and Nashville communities. We're passionate about finding strategic ways that we can come together with others to grow the hobby, positively influence local communities, and highlight amazing games.
Our traditional partnership opportunities include:
We also love to work with people who think outside of the box. If you have a unique or different idea about how we can partner together, please be sure to let us know! We believe that every individual and business are unique and different, and we would love to find a solution that makes sense to you!
Please contact us here so we can get to know you a bit and find out what you're thinking!
Local Businesses Partners
Meeple Mountain's Past Sponsors