Our 2021 board game gift guide features over 50 recommendations for every kind of board gamer! Find recommendations for board game gifts to please every type of gamer.
Over the past 2 years it seems like the world has discovered a "secret" that board gamers already knew: board games are awesome! If you know someone who loves board games and you want to get them a gift, this list will help you decide. The titles in our Board Game Gift Guide represent the best games that 2022 to offer, and have been hand picked to provide great cheer to anyone who receives them.
Our Board Game Gift Guide features a wide range of categories, from wallet-sized games to wallet-friendly games, games for the first timer and games for friends who have been playing for years. From lightweight games you can play in minutes to multi-hour epics your gamer will love. Or maybe you're the board game geek and you're on the prowl for something new and interesting!
So no matter what you're looking for, or who it's for, the Meeple Mountain 2022 Board Game Gift Guide has something for everyone!
Small Games
Games on a Budget
Games for the First Time Gamer
Modern Classics
Games for the Family
Games for the Young Gamer
Games for the Experienced Gamer
Epic Games
Apparel & Accessories
Small Games
These lightweight games prove that you don't have to be big to have lots of "game". Give these great games to your loved one and wait for the run to start.
Popcorn Dice
Is there anything better than fresh, hot, buttered popcorn? Now you can simulate that experience anytime you like with Popcorn Dice from Van Ryder Games! Popcorn Dice is a fast fun dice game all about getting the perfect bowl of buttered goodness. Roll the dice and hope for the best. Kernels get rolled again, and burnt popcorn can cause you to bust. Score points for every fully popped die, unless you bust and then you lose it all!
Watch our review of Popcorn Dice
2-6 players, ages 7+, 10-20 minutesBuy now
Abandon All Artichokes
Abandon All Artichokes from Gamewright Games and designer Emma Larkins is a delightful romp through your vegetable garden. Draw cards from a shared garden row, trade cards to other players, and fill up the community compost pile, all by using special abilities on each card. Be the first to offload your hand of artichokes and you'll have the greenest of thumbs…and the winner's prize. Pair Abandon All Artichokes with Point Salad and you'll have a field to table game night fit for a king.
2-6 players, ages 7+, 10-20 minutesBuy now
Star Realms
If you're looking for bare metal deck-building then pick up Star Realms, from White Wizard Games. This terse 2 player card game distills deck-building down to it's very essence. Whittle your opponents Authority down to zero and win the game. But along the way collect cards from the Trade Federation, Blobs, Star Empire or the Machine Cult and turn your starter deck into a fine-tuned machine. A single 128-card box will give you hours and hours of fun.
2 players, ages 12+, 20 minutesBuy now
Paco's Party
The tagline for Paco's Party? "The fast-paced card game that gets you dancing!" A family game for kids of all ages, Paco's Party is similar to Taco Cat Goat Cheese Pizza, but a better fit for young gamers who really DO still have a stocking hanging over your fireplace. And it's the size of a deck of cards, for under $10. Don't forget your dancing shoes!
Read our review of Paco's Party
2-6 players, ages 5+, about 20 minutesBuy now
Tucano
Tucano is a clever card game all about collecting fruit in the jungle, and hoping those fruits don't spoil. Bananas, papayas, pineapples, and more, but will your opponents steal from you? Or will you steal from them? Tucano features gorgeous artwork and gameplay that will delight both young and old. Plus the game is just a little larger than a standard deck of playing cards, so your stocking will have plenty of room for other things.
2-4 players, ages 6+, about 15 minutesBuy now
Games on a Budget
While there's nothing wrong with expensive games, we know there's people out there who want to maximize their dollar. The games on this list will help you pinch your pennies without sacrificing great gameplay.
Lost Cities Roll & Write
Lost Cities Roll & Write is a follow up to the now-classic two player card game Lost Cities, but with dice. In this version players push their luck through multiple rounds of rolling and writing, and crossing off bridges on their scoresheet, each one getting them one step closer to ending the game. I never imagined that a roll and write version of a game would ever surpass the original game that inspired it, but Lost Cities Roll and Write has done it.
Read our review of Lost Cities Roll & Write.
2-5 players, ages 8+, 30 minutesBuy now
Super Mega Lucky Box
Say the name Phil Walker-Harding around the Meeple Mountain team and you're sure to get our attention. He's the designer of titles like Sushi Go, Imhotep, and Gizmos, and he easily flexes between lightweight titles and heavier strategic games. His newest release Super Mega Lucky Box is a lightweight "flip and fill" game in which players take turns turning over cards from a shared deck, then deciding where they mark the resulting number. Fill in rows and columns to gain valuable bonuses, then chain those bonuses together to complete cards and earn points.
1-6 players, ages 8+, 20 minutesBuy now
TEN
Thousands of games are published every year, and yet the Flatout Games team (Cascadia, Calico, Dollars to Donuts)  is still able to come up with something new and interesting. TEN is a clever card game which challenges players to press their luck and collect the most points from sets of sequentially numbered cards. But don't bust or your opponents will reap the rewards. TEN features vibrant colors and nifty geometric patterns for a visual treat, and the gameplay will keep you coming back for more.
1-5 players, ages 10+, 15-30 minutesBuy now
The Crew: Mission Deep Sea
The cooperative trick-taking game The Crew blasted off the "Planet Nine" in 2019, into the hearts of gamers everywhere, and on to win the coveted Kennerspiel des Jahres award. The Crew is back, but this time they're going deep under water in The Crew: Mission Deep Sea. Work together with your teammates to successfully pass through level after challenging level in your quest to find the lost continent of Mu hidden deep below the murky waters.
Watch our video review of the original The Crew
2-5 players, ages 10+, 20 minutesBuy now
Games for the First Time Gamer
Can you believe that every day there are people who are playing modern board games for the first time? The games on this list are sure to delight and engage first-timers and experienced players alike. If you're trying to introduce board games to someone in your life, these titles are an excellent place to start!
Snakesss
Welcome to a party game where not everyone is telling the truth.  The pesky snacks in the group will keep trying to lead you astray as you answer multiple choice trivia to gain points but it hard to tell them apart from the crowd.  At least you can trust the mongoose of truth who can prove they are not a snake…but do they know the correct answer to the question? Use your wits and knowledge to lead your opponents astray and gain the edge in this awesome party game.
4-8 players, ages 12+, 20 minutesBuy now
MicroMacro: Crime City
If you always wished they'd make Where's Waldo into a board game, then you're in luck! MicroMacro: Crime City combines the thrill of finding tiny figures on an intricately detailed map of a fictional city, with the excitement of solving crimes. Included in the box are 16 cases ranging from 1 to 5 stars in difficulty, and covering a wide variety of crimes: from simple robberies all the way to nefarious murders. Not to mention that MicroMacro: Crime City also won the prestigious 2021 Spiel des Jahres award. MicroMacro: Crime City is a game the entire family will love.
Read our review of MicroMacro: Crime City
1-4 players, ages 12+, 15-45 minutesBuy now
Horrified: American Monsters
In 2019 the original Horrified cooperative board game came stomping out of the mists to "terrorize y'all's neighborhood". It was a fantastic romp through an Eastern European hamlet, fighting to stay alive against an onslaught of classic Hollywood monsters like Dracula, Frankenstein's monster, The Mummy, and others. Now Ravensburger has released a North American specific version of the game featuring the Chupacabra, Bigfoot, the Jersey Devil, and other Cryptids that haunt prowl around the continent. These monsters won't be as easy to defeat as Dracula!
1-5 players, ages 10+, 60 minutesBuy now
Summer Camp
Ah, summer camp, the quintessential summer pastime. Weeks spent along the lakeshore, weaving baskets, shooting bows and arrows, paddling canoes, and getting wedgies from older kids. Now you can have that experience any time of the year (minus the wedgies) with Summer Camp, a delightful deckbuilding game from the mind of Phil Walker-Harding. Starting with your base deck of cards, each camper will build up their unique experience by collecting cards from 3 merit badge decks chosen at the beginning of the game: adventure, arts & crafts, cooking, friendship, games, outdoors, and water sports. Collect the most points during your stay at Summer Camp, win the game, and be the envy of your friends!
2-4 players, ages 10+, 30-45 minutesBuy now
Modern Classics
Azul
Azulejos are a form of intricately detailed and colorful glazed tile found all over the country of Portugal. They were also the inspiration for the smash hit and Spiel des Jahres winning strategy game Azul. In Azul players collect tiles from a central play area and place them onto their personal player board; the goal being to cover one section of their board with tiles of 5 different colors. Easy to teach, satisfying to play, and full of gorgeous artwork and great components, Azul is a board game that belongs in any collection.
2-4 players, ages 8+, 30-45 minutesBuy now
7 Wonders
If you've ever wanted to play a game with 7 people that wasn't Codenames or some other party game, then 7 Wonders is probably what you reached for. 7 Wonders is a buttery smooth and lightweight simultaneous-play civilization game. Build up the wealth, science, culture, and military of your unique empire over 3 rounds through card drafting. Be mindful of your neighbors and pay close attention to what they're giving you, and what you're passing on. Earn the most victory
2-7 players, ages 10+, 30 minutesBuy now
Splendor
If you've played board games in the past few years then there's a good chance you've either played, or at least have heard of, Splendor from Space Cowboys. It's a streamlined engine building game in which players work to gather raw gemstones, polish and refine them, before finally selling them to various wealthy patrons. Sure the theme is a bit dry, but the gameplay is great, and those gem tokens are so satisfying to play with.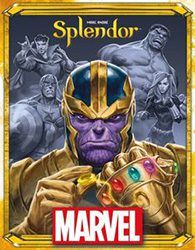 If you prefer your strategy games with a superhero flair then you might want to check out Splendor: Marvel, a reskin of the game which adds all your favorite MCU heroes and adds in a requirement to claim the Infinity Gauntlet before you can win.
2-4 players, ages 10+, 30 minutesBuy now
Wingspan
Who knew that a game about birds, from an unknown designer, would descend upon the gaming world like a flock of starlings? Stonemaier Games did when they took a chance on Wingspan! And they were rewarded with a huge hit, including a Kennerspiel des Jahres win. Wingspan is a card driven game about bird enthusiasts – discover and attract the best birds to your network of wildlife preserves and earn the most points to win the game. Come for the gameplay, stay for the multitude of photorealistic bird illustrations.
1-5 players, ages 10+, 40-70 minutesBuy now
Games for the Family
Family game night is a classic activity dating back decades. It's good to know that with the surge in popularity for board games, many families are still sticking to this tradition. Liven up your family game night with one of these modern choices, and make memories you'll cherish for years to come.
Juicy Fruits
Harvest fruits on your tropical island, fulfill orders, and invest wisely to grow your business in Juicy Fruits, one of the first games in Capstone's new family imprint. The addictive gameplay, sliding tiles up and down your island, combined with the beautiful production full of bold colors and chunky wooden fruits, is sure to be a hit with players of all ages. Good news for parents; there's just enough depth that you won't mind having to play it again and again.
Read our review of Juicy Fruits
1-4 players, ages 8+, 20-50 minutesBuy now
Groundhog Day: The Game
"Rise and shine campers – and don't forget your booties 'cause it's COOOLD out there" is the first thing Phil Connors (Bill Murray) hears when he wakes up on that fateful Groundhog Day. In the movie Phils lives endless versions, but in Groundhog Day: The Game you and up to 5 of your friends only have 7 chances to live Phil's perfect life by playing experience cards from your hand. The catch? No talking! Fans of the movie will revel in each card, but never fear, the game is still great even without knowing a thing about the movie. But "watch that first step – it's a doozie!"
Read our review of Groundhog Day: The Game
2-6 players, ages 10+, 15-25 minutesBuy now
Whirling Witchcraft
Be the best potions master you can be in Whirling Witchcraft, a wickedly fun family game from AEG. Combine mandrake root, frogs, mushrooms, spiders, and hearts of darkness into potions, then send your work to the next witch and hope you'll give them more ingredients than they can use. Whirling Witchcraft is a light engine building game with gorgeous artwork, vibrant colors, and clever gameplay the whole family will love.
Read our review of Whirling Witchcraft
2-5 players, ages 14+, 15-30 minutesBuy now
The Key: Theft at Cliffrock Villa
You might know HABA from their distinctive yellow boxes filled with great children's games. But did you know that HABA is now publishing great strategy games as well? The newest game in that series is The Key: Theft at Cliffrock Villa, a modern twist on the classic Clue. A string of robberies at Cliffrock Villa and you and your opponents have been charged with solving the crime. Match the robbery time, perp, the stolen item, and the getaway method before anyone else and you might win the game. But be careful that you don't spend too much investigation time or another detective might sneak in under the radar and claim the arrest for themselves.
1-4 players, ages 8+, 15-20 minutesBuy now
Block Ness
The Loch Ness monster is a classic mystery tale; does it exist or doesn't it? But there's no arguing that you and up to three other players are living their best lives on full display: twisting and turning and getting all tangled up. In Block Ness, players weave their sea serpent bodies in and around the lake, doing their best to stretch out to the fullest. The problem is that the other players are doing the same, and this lake might not be big enough for the 2-4 of you. Block Ness is a delightful puzzle game that will have you wishing the Loch Ness stories were real. (and who's to say they're not?)
2-4 players, ages 5+, 15-20 minutesBuy now
Games for the Young Gamer
The dream of every board game loving parent is a child to follow in their footsteps: shuffling cards, rolling dice, and maybe even beating mom or dad at their favorite strategy game. But you can't just expect your little one to jump into a game of The Castles of Burgundy, you've got to start them off gradually. The games on this list are tailor made for younger minds and hands, and are sure to grab their attention.If this list isn't enough, then check out our top lists of games for younger kids, and for older kids.
The Quest Kids
We're always looking for great ways to introduce young gamers to the modern gaming world, and The Quest Kids did that better than almost any other game we tried in 2021. A dungeon crawler with great miniatures, resource gathering and player boards, The Quest Kids works for a variety of kids under 10 years old and is a blast to play. The icing on the cake? Player scoring sheets that double as coloring pads. A top-flight production where everyone wins!
Read our review of The Quest Kids
2-4 players, ages 5+, 20-45 minutesBuy now
Spy Connection
In Spy Connection, from Pegasus Spiele, players act as spymasters placing agents in cities all across Europe, doing their best to build up a communications network they can call on to help them complete their schemes. Move your spymaster around your network and be the first to complete 7 mission objective cards, and prove that your spycraft reigns supreme. Spy Connection is a great intro to more complex route-building games like Ticket to Ride or Hansa Teutonica
2-4 players, ages 8+, 30-45 minutesBuy now
Andor: The Family Fantasy Game
Andor: The Family Fantasy Game, designed by design superstars Inka and Markus Brand, is a cooperative game in which players must rescue a pack of wolf cubs lost in a dwarven mine before the dastardly dragon arrives at the castle. Along the way players must work together to solve a series of side quests.
2-4 players, ages 7+, 30-45 minutesBuy now
Zombie Teenz Evolution
The Zombies are back! But so are a new crop of heroes. Building upon the fantastic Zombie Kids Evolution (the best gaming experience I've ever had with my kids), Le Scorpion Masque is releasing the next chapter in the zombie story your family will love. The goal is simple, clear the zombies from your town. The gameplay is simply, roll a die, move your character, defeat some zombies. But over time you'll open different mystery envelopes which will permanently change the rules of the game. Fans of the original will love this new version, but first timers can jump straight to Zombie Teenz Evolution without having played the original. As an added bonus Zombie Teenz and Zombie Kidz can be combined for even more fun.
2-4 players, ages 8+, 15-25 minutesBuy now
Games for the Experienced Gamer
Experienced board games can be hard to please. They've either played every game, or own every game. But we guarantee that the titles on this list will delight even the most discerning gamer.
Hadrian's Wall
Experienced gamers revel in complexity and tricky challenges which require forethought and planning. A new wave of "roll and write" games have taken the gaming world by storm. They're filled with combos and lots of tactical choices satisfying enough for ever the most hardcore gamer. And while Hadrian's Wall doesn't use dice, it still offers randomization in the form of a deck of cards. If you're a fan of heavy thinky Roll and Write games, then Hadrian's Wall might just be your new best friend.
Read our review of Hadrian's Wall
1-6 players, ages 12+, 30-60 minutesBuy now
Cubitos
Racing games have an experience all their own. And when you can combine the thrill of racing your opponents to the finish with the excitement of rolling lots of dice, you have my attention. In Cubitos players will build up their "dice engine" by purchasing dice that provide special abilities. Roll the dice and see just how far your character can go. But push your luck too far and you might bust. But never fear, the next turn is right around the corner. Be the first across the finish line and you might get to pop the champagne in the winner's circle.
2-4 players, ages 10+, 30-60 minuBuy now
Meadow
Got a nature-loving gamer in your life? You can't go wrong with Meadow, a compelling card game that's easily a strong contender for the most beautiful game of 2021. During a game of Meadow, 1-4 players each create interlinking chains of plants, fungi and animals, all dependent on each other for existence. In addition to strong gameplay, stunning artwork and a decent solo mode, Meadow is unobtrusively educational in a way that very few games manage.
1-4 players, ages 10+, 60-90 minutesBuy now
Cascadia
There are few indie publishers with as great a track record as the Flatout Games team. With smash hits like Point Salad, Calico, and Cascadia, they're turning out the hits. Cascadia is a lovely and thinky tile laying game which asks players to build a cardboard countryside nestled in the Pacific Northwest. Layout landscape tiles to earn majority bonuses while keeping in mind the needs of the animal tokens you'll be placing on those landscape tiles. Cascadia has been a smash hit among everyone who's played it.
1-4 players, ages 14+, 30-45 minutesBuy now
Pan Am
When Funko, the company behind those adorable Pop figures, acquired the Prospero Hall design studio people throughout the industry scratched their heads in confusion. But as the newly christened Funko Games turned out hit after hit, it became clear that move was no mistake. Pan Am, a late 2020 release, is a perfect example of this design muscle. Build your best airline in the years before Pan American Airways dominated the skies. Build routes throughout the US, Asia, Europe, and South America, while making calculated sales of your fleet to the budding Pan Am. This game is a sleeper hit with modern graphic design and gameplay that borrows from classics like Ticket to Ride and Power Grid.
2-4 players, ages 12+, 60 minutesBuy now
The Red Cathedral
The Red Cathedral was released near the end of 2020; I got my hands on a copy over the summer of 2021 and was immediately smitten by the dice mechanic that drives the resource gathering in the game. I have put this in front of gamers new to the hobby and those who have loved board games for 20 years; everyone has a great time building cards into a cathedral for Ivan the Terrible, and it's an absolute blast. A savvy shopper can find this game for under $30, and that will provide dozens of hours of entertainment for a very fair price.
Read our review of The Red Cathedral
1-4 players, ages 10+, 45-90 minutesBuy now
Epic Games
If you love multi-hour gaming sessions that immerse you into other worlds, with deep lore, and strategic gameplay, then the games on this list were designed just for you. Epic in scope, and sometimes in physical weight, these games will take you on a deep dive and keep you immersed from beginning to end. Just make sure to stay hydrated, and don't forget the game night snacks!
Oath: Chronicles of Empire and Exile
Leder Games and designer Cole Wehrle have been having a great few years. Buoyed by the massive success of Root, they focused all their efforts on Oath: Chronicles of Empire and Exile, a sprawling legacy style game like no other, which takes place over decades and centuries. Oath's game state is a swirling, ever changing tapestry of people, conflicts, and intrigues. Seize control by sowing distrust and future games will be forced to deal with the fallout of your actions. You might found a dynasty that lasts multiple generations, or will be crushed by a stronger power. You and the other players will guide the course of your unique world along paths of your choosing, and make if it what you will.
1-6 players, ages 10+, 45-120 minutesBuy now
Dune: Imperium
The Dune movie is a rising star right now but the Dune: Imperium board game is almost as hot. A card driven, worker placement, deck building game set on Arrakis, with the fate of the galaxy at stake? Sounds like just another day for House Atreides. Struggle against the other houses in the Landsraad that attempt to squeeze Arrakis for it's main resource, the spice melange. Will you choose intrigue by courting the Emperor's favor, or will you build up your Fremen army and conquer the deep desert? Gather valuable spice, precious water, and lead your house to victory.
1-4 players, ages 14+, 60-120 minutesBuy now
Ankh: Gods of Egypt
Take control of ancient Egyptian deities in this "minis on a map" area control game from acclaimed designer Eric Lang. The third in his area control trilogy (Blood Rage, Rising Sun), Ankh uses clever action selection, board state manipulation, and card-based combat in a new experience that feels both familiar to Lang's previous designs and innovative in its gameplay. Gain devotion to become the greatest deity, or risk being forgotten and lost to the sands of time.
Check out our initial thoughts on Ankh
2-5 players, ages 14+, 90 minutesBuy now
Apparel & Accessories
If you a real gamer, then you know that cardboard just isn't enough. Fly your board gamer flag high with these great t-shirts and accessories; an excellent way to let friends, family, and perfect strangers know just how much you love board games.
The Tennessee Meeple T-Shirt
Are you, or someone you know, proud to live in the Volunteer state? Is Nashville or Memphis your second home? Mix your two favorite loves with the Tennessee Meeple tshirt, printed on soft and comfortable 100% ring-spun Anvil 980 t-shirts and is available in sizes S through XXXL.
Crit Falls Apart T-Shirt
Celebrate all the pieces with this Crit Falls Apart Slim Fit T-Shirt. Just don't do this with your own pieces. Sure, it might be fun to see all your pieces fall like a tabletop waterfall, but remember: what comes from a box must go back into a box. Available in sizes S through 4XL.
Seabed Treasure Green & Purple Glitter Resin 7pc Dice Set
Stop submerging your tabletop games! This Seabed Treasure Green & Purple Glitter Resin 7pc Dice Set will give you all the benefits of underwater accessorizing without any of the moisture. Finally, you can feel like you're playing under the ocean with these cool dice.
Meeple Coffee To Go Boardgame T-Shirt
The "Meeple Coffee To Go" tee is part of the Board Games & Coffee collection. Perfect for the Board Game Geek that is also a coffee geek. A beautiful t-shirt with one-of-a-kind artwork that consists of a to go coffee cup with a meeple sticker on it. The text reads, "Coffee and Board Games". Available in sizes S through XXXL.
Omnigamer Board Gaming T-Shirt
Perfect for those board game geeks who love to play everything under the sun and over the table top. This t-shirt is everything you've dreamed of and more. It feels soft and lightweight, with the right amount of stretch. It's comfortable and flattering for both men and women. Available in sizes XS through XXXXL.
Board Game Addict
Board gaming is life. Being addicted to board games is fine right? We can quit any time we like. But have you seen that new Kickstarter board game? And there's a sale at Target and Amazon! Available in sizes S through XXXXXL.
Recommendations From the Team
The Meeple Mountain team eats, sleeps, and breathes games – of that lovely scent of cardboard and ink – but we also enjoy things that aren't board games. Here's a list of some things that we are grooving on these days.
Andrew Lynch
A Wizard of Earthsea by Ursula K. LeGuin (and the subsequent two books)
Killers of the Flower Moon by David Grann
A Song for Our Daughter by Laura Marling
The Taking of Pelham One Two Three directed by Joseph Sargent
The sequence at the castle with Joel Edgerton in The Green Knight
Pig directed by Michael Sarnoski
"Araki Thomas" by Shusaku Endo
Toasted baguette with salted butter and honey for breakfast
"Paprika" by Japanese Breakfast
Last Night in Soho directed by Edgar Wright
Andrew Holmes
A Brightness Long Ago by Guy Gavriel Kay is easily the best book I've read all year, a gorgeous and thoughtful read regardless of your genre preferences (Grief is the Thing with Feathers by Max Porter is a close second, a powerfully devastating book, whilst The Salt Path by Raynor Winn places third, documenting Winn's homeless travels around the same landscape as this year's Tinner's Trail).
For the First Time by Black Country New Road is easily my album of the year, veering slickly between post-punk, klezmer, free jazz, and math rock to create something both intimate and epic.
I've become addicted to Mischief Theatre and their 'Goes Wrong' productions – there are two inventive series of The Goes Wrong Show to choose from and then a few longer productions, including A Christmas Carol Goes Wrong if you're looking for something festive.
All of the above can be perfectly accompanied by Disaronno Amaretto served over dice-shaped ice cubes.
Justin Bell
According to my logged plays in BGG, I've played a board game 308 times this year in person. While Beyond the Sun and Iberian Gauge are two of the best physical games I played in 2021, I want to recommend another gift for all of you: a premium subscription to Board Game Arena, the best place to play hundreds of games online with your friends any time, particularly to those who are still uncomfortable playing games in person. $30 for a 12-month premium subscription supports the developers who have brought so many classic games to the service; every month, something amazing hits the service. Let me tell you why I love BGA so much!
Andy Matthews
Lately I've been doing a deep dive into music from the 1970s; Bruce Springsteen in particular. If you've never had a chance to listen to The Boss, then check out The Wild, the Innocent & the E Street Shuffle, Born to Run, and Darkness on the Edge of Town for perhaps the best "three albums in a row" of all time. Songs like Rosalita (Come out Tonight), Born to Run, and Badlands will live rent free in your head for weeks.
And if you're a reader then make sure to check out Delta-V from Daniel Suarez for some hard-edged sci-fi ala The Martian by Andy Weir, and The Girl with All the Gifts by M.R. Carey.
And finally I'm really starting to get into woodworking as a way to make tangible things. I've been enjoying watching YouTube videos from Jonathan Katz-Moses, 731 Woodworks, Fix This, Build That, and 3×3 Custom.
---
Looking for something we've recommended before? Check out the ghosts of Holiday Gift Guides past!
Disclosure: Meeple Mountain receives a commission from any of the Buy Now links pointing to Amazon.com.