This is everything you ever wanted to know about the Spiel des Jahres board game awards, including a complete list of every winner, nominee, and recommendee from 1979 to present day.
1978 was a good year.
The first Walkman and the first cellular phone were both revealed, Grease was at the top of the movie charts, and Garfield had his debut in newspapers. And while the United States saw the release of both Space Invaders and Connect Four, something decidedly…different was happening in the world of games in Germany.
The Spiel des Jahres award.
The History of the Spiel des Jahres Awards
Before the 1978 Nuremberg Toy Fair was set to open, a German journalist named Juergen Herz came up with the idea of establishing an annual board game award. He banded together with a number of his colleagues and created the "Kritikerpreis Spiel des Jahres" (most commonly known as "the Spiel des Jahres" or SdJ), an award whose winner would be selected by a jury of like-minded game critics.
The Spiel des Jahres jury consists of volunteer members of the German-language board game media, but may include anyone associated with the design, production or marketing of board games. New members are nominated and voted upon by existing members; of which there are ten (at the time of this writing).
The jury reviews games which have been released in Germany within the last twelve months, then announces their recommendations for the prize in May. This set of recommendations can contain as few as five and as many as sixteen titles. Since the jury members are volunteers, they play potential nominees within their own circles of friends and family.
How are Spiel des Jahres Winners Picked?
Jury members might receive up to 400 games per year which must be played and weighed for potential nomination. Games must be received by the jury before the end of March to be eligible and then must still be selected by at least 50% of the jury to be officially nominated. Games are judged in three stages, beginning with the recommendations. From March to May jury members play, discuss, and deliberate before announcing the official list of nominees in May. The official nominees and subsequent winner of that year's Spiel des Jahres award are announced in June & July along with two prizes: the Kennerspiel des Jahres (the connoisseur game of the year) and the Kinderspiel des Jahres (the children's game of the year).
What Criteria is Used to Select a Spiel des Jahres Winner?
The winning titles run the gamut from competitive, to team-based, to cooperative, and from light card games like Just One, to more substantial board games such as Ticket to Ride or Kingdom Builder. But all of them are viewed through the same set of filters which include the following:
Does the game introduce new concepts or combine existing elements into a new experience?
Is the game engaging and interesting?
Is gameplay smooth and interesting?
Are the rules well written, free from errors, and easy to understand?
Are the components well made and sensible?
Is the artwork attractive and inviting?
It's rumored that a nomination has the potential to increase sales of a game from 1000–3000 copies to nearly 10,000; a win might further increase those numbers to 300,000-500,000 copies.
The Global Reach of the Spiel des Jahres Award
While the Spiel des Jahres award began as a German only award, its reach has transcended nationality and language to become a global phenomenon. Its presence is felt on every game shelf in every store; anywhere you see the logo. It has inspired numerous other awards including the Golden Geek Awards, the Origin Awards, and our very own Diamond Climber Awards.
So without further ado, here is a list of all the Spiel des Jahres winners, nominees, and recommendees from 1979 to present day.
---
2023 Spiel des Jahres Awards
Winner: Dorfromantik
Dorfromantik started life as a cozy-casual puzzly video game which asked players to place tiles into a pastoral countryside. Fields, roads, lakes, all according to an ever-changing set of quests. Players marveled at the similarities between the video game and many modern board games, and in 2022 Pegasus Spiele released Dorfromantik: The Board Game. Between 1 and 6 players work together to create their own unique landscape, fulfilling the goals of the people, creating the longest road and river, and trying to score as many points as possible. This will certainly be a game to try for any fan of modern board gaming, but particularly for fans of the original video game.
Publisher: Pegasus Spiele
Designers: Michael Palm, Lukas Zach
Artist: Paul Riebe
Official Nominees
Official Recommendations
Akropolis – Jules Messaud
Hitster – (Uncredited)
Kuzooka – Leo Colovini
Mantis – Ken Gruhl, Jeremy Posner
QE – Gavin Birnbaum
Sea, Salt, & Paper – Bruno Cathala, Théo Rivière
That's Not a Hat – Kasper Lapp
2022 Spiel des Jahres Awards
Winner: Cascadia
Cascadia is a tile-drafting, tableau-building game in which players are trying to maximize their points by arranging their habitat and animal tiles in specific combinations and placements. Each habitat tile shows one or two animal types on it which determines what types of animals can live on the tile. Each animal type scores points, in a unique way, based on that animal type's arrangement in your tableau. Players will be drafting pairs of each from a lineup on their turns and then placing them into their tableau. When the game ends, the player with the most points wins.
Beautifully illustrated by Beth Sobel, Cascadia has a noticeable table presence. This and the game's easy ruleset which belie its true depth are, no doubt, two of the reasons that Cascadia took home the prize.
Publisher: Flatout Games
Designers: Randy Flynn
Artist: Beth Sobel
Official Nominees
Scout – Kei Kajino and Oink Games
Top Ten – Aurélien Picolet and Cocktail Games
Official Recommendations
2021 Spiel des Jahres Awards
Winner: MicroMacro: Crime City
MicroMacro: Crime City is a delightful "find the picture" game mixed with a heavy dose of crime-solving. Players receive case files which present a series of challenges to the players. Answer the questions by scouring a large city map to find clues which provide the answers to the case. Cases range in difficulty from 1 to 5 stars. M MicroMacro: Crime City is an excellent addition to the Spiel des Jahres family of winners because it's language agnostic, innovative, and family friendly.
Read our review of MicroMacro: Crime City.
Publisher: Pegasus Spiele
Designers: Johannes Sich
Artist: Daniel Goll, Johannes Sich, Tobias Jochinke
Official Nominees
Official Recommendations
2020 Spiel des Jahres Awards
Winner: Pictures
Pictures is a party game in which players recreate an image on a photo card using a set of materials. The game includes 5 different sets: coloured cubes and a picture frame, building blocks, sticks and stones, long and short lace, and icon cards. Each round you use a new set of materials so players get a chance to work with every set in the game once. To score points, players must correctly guess which photo card the others were attempting to recreate. Moreover, you earn points for every person that guessed your photo card correctly.
With a single page of rules, Pictures is an easy game to jump into and offers a ton of replayability with the number of photo cards included in the box. A game like this that calls on players to express their creativity is a wonderful choice for the Spiel des Jahres prize.
Publisher: PD-Verlag
Designers: Christian Stöhr, Daniela Stöhr
Artist: Dominik Mayer
Official Nominees
Official Recommendations
The Fox in the Forest – Joshua Buergel
Kitchen Rush – Vangelis Bagiartakis, Dávid Turczi
Little Town – Shun Taguchi, Aya Taguchi
Spicy – Győri Zoltán Gábor
Colour Brain – Tristan Williams
2019 Spiel des Jahres Awards
Winner: Just One
Word association games are a classic family pastime and few do it better than 2019's Spiel des Jahres (SdJ) winner Just One. The entire table works as a team trying to earn the most points from guessing word associations. One person guesses while the others write down a word matching a clue hidden from the guesser. The catch? All matching written words are taken out of the pool. Sounds simple, but it's filled with second-guessing and tension as your group tries to reach the ultimate score of 13 points. Fans of Codenames will love Just One.
Publisher: Repos Production
Designers: Ludovic Roudy, Bruno Sautter
Artists: Éric Azagury, Florian Poullet
Official Nominees
Official Recommendations
Dizzle – Ralf zur Linde
Sherlock: Last Call – Francisco Gallego Arredondo, Martí Lucas Feliu, Josep Izquierdo Sánche
Who Did It? – Jonathan Favre-Godal
Belratti – Michael Loth
2018 Spiel des Jahres Awards
Winner: Azul
Azul is a clever tile drafting game from the brilliant mind of Michael Kiesling. In Azul players will be drafting tiles from a central area and then using those tiles to fill in patterns on their player boards in order to score points. The catch is that once you've assigned a specific patterned tile to a specific location on your player board, then you can't change your mind until that location has been filled up. If you can't collect enough, then you can't free up those spaces.
If you collect too many, the extras fall to the floor where they will cost you points. This creates a lot of interesting decisions for the players where they have to decide between drafting tiles they desperately need or drafting tiles in order to deny them to their opponents. With its easy to learn gameplay, super fast set up and play time, and components that you almost want to eat, it's no wonder that Azul took home the SdJ in 2018.
Publishers: Next Move Games, Plan B Games
Designer: Michael Kiesling
Artists: Chris Quilliams, Philippe Guérin
Official Nominees
Official Recommendations
5-Minute Dungeon – Connor Reid
Facecards – Leo Colovini
Memoarrr! – Carlo Bortolini
Woodlands – Daniel Fehr
2017 Spiel des Jahres Awards
Winner: Kingdomino
An elegant and simple domino-laying game, Kingdomino is a game of trying to lay down quality combinations of terrain types, which result in exponential points in their final score. The simplicity of the game is complicated by an interesting drafting system where players have to think about a difficult trade-off: take the first player position and grab a less valuable tile or take a valuable tile and end up later in the turn order. Its follow-up Queendomino added more complexity, but Kingdomino remains an excellent introduction to tile-laying games.
Read our review of Kingdomino.
Publisher: Blue Orange Games
Designer: Bruno Cathala
Artist: Cyril Bouquet
Official Nominees
Official Recommendations
Déjà Vu – Heinz Meister
Do De Li Do – Jacques Zeimet
Fabled Fruit – Friedemann Friese
KLASK – Mikkel Bertelsen
Shiftago – Frank Warneke and Robert Witter
Tempel des Schreckens – 佐藤 雄介 (Yusuke Sato)
Word Slam – Inka Brand, Markus Brand
2016 Spiel des Jahres Awards
Winner: Codenames
Two teams of spies go head to head in this clever word game from Vlaada Chvátil. In Codenames each team of spies is trying to use clues provided to them by their team leader in order to sniff out the identities of the hidden spies — represented by cards with words printed on them — on the table. Each team leader takes turns providing clues for their team to try to tie various words together in the hopes that their team guesses them. There are only a limited number of chances for the teams to guess their words and if they can guess all of theirs before the other team guesses theirs, then they win. This thrilling, fast paced game won the hearts of gamers all over the world. More importantly, it won the hearts of the judging panel in 2016.
Publisher: Czech Games Edition
Designer: Vlaada Chvátil
Artists: Filip Murmak, Stéphane Gantiez, Tomáš Kučerovský
Official Nominees
Official Recommendations
Spyfall – Alexandr Ushan
The Nasty 7 – Jacques Zeimet
Krazy Wordz: Family Edition – Dirk Baumann, Thomas Odenhoven, Matthias Schmitt
2015 Spiel des Jahres Awards
Winner: Colt Express
How do you win the much coveted Spiel des Jahres? Include a 3D cardboard train and have the players physically moving their playing pieces between carriages and across the roofs. What, you want more than that? How about 6 bandits fighting it out over jewels and cash, punching and shooting each other whilst avoiding the trigger-happy marshall. That's still not enough? Ok, how about this: a brilliant Western theme and chaotic player interaction anchored to an unfailingly funny programming mechanic that has players alternately playing action cards, only to find that when the action plays out things don't quite go according to plan. Now you're getting it!
Accessible, packed full of mayhem and surprisingly clever, it's no wonder that Colt Express chuffed to victory. Now, hand over the loot or I will literally punch you into the next carriage.
Publisher: Ludonaute
Designer: Christophe Raimbault
Artists: Ian Parovel, Jordi Valbuena
Official Nominees
Official Recommendations
Loony Quest – Laurent Escoffier, David Franck
Abracada…What? – Gary Kim
Ugo! – Ronald Hoekstra, Thomas Jansen, Patrick Zuidhof
One Night Ultimate Werewolf – Ted Alspach, Akihisa Okui
2014 Spiel des Jahres Awards
Winner: Camel Up
Camel Up (or as some people insist on calling it, Camel Cup) must be one of the more absurd games to win a Spiel des Jahres award. It mixes culturally accurate camel racing with crazy camel stacking; all set around the perimeter of an eye-catching, dice-rolling pyramid. Players control, but do not own, five differently colored camels racing for glory and money. The "absurd" presents itself at the very beginning as all 5 camels are stacked in random order; one on top of another. Give the pyramid a shake, press the release latch on the side, and out pops a die (numbered one to three) matching one of the camel colors. That camel moves ahead the indicated number of spaces along with every camel on its back. Along the way players are able to place bets on which camels might take the first place trophy, with players receiving a larger share of the purse for making early bets on the leaders. Camel Up is a glorious romp for up to 8 players; full of luck and tactics, and is well-deserving of the 2014 win.
Publisher: Pegasus Spiele
Designer: Steffen Bogen
Artist: Dennis Lohausen
Official Nominees
Official Recommendations
2013 Spiel des Jahres Awards
Winner: Hanabi
Imagine playing a card game in which you have no idea what cards you're actually holding. Imagine that your task is to place each of these cards onto the table in a specific order and if you mess up, the game is lost. This is the essence of Hanabi. In Hanabi, the players are working as a team to put together a fireworks display using the cards in their hands. The catch is that no player can see their own hand, but they can see everyone else's. On their turn, players can either provide clues to their teammates about the cards they're holding in their hands or if they're feeling confident about the cards in their own hand, they can add a card to the fireworks display. If they place the card correctly then they'll gain some precious time (tokens which can be spent to provide clues). But if they mess up, it'll cost time instead.
Hanabi's got all of the hallmarks that the SdJ panel seems to favor: small footprint, largely language independent, unique theme, and super simple rules. It's a tense, edge of your seat experience and it's no wonder that it took home the SdJ in 2013.
Publisher: R&R Games
Designer: Antoine Bauza
Artists: Antoine Bauza, Gérald Guerlais, Albertine Ralenti
Official Nominees
Official Recommendations
2012 Spiel des Jahres Awards
Winner: Kingdom Builder
Kingdom Builder is played across 4 randomly selected boards, divided into hexes, that are fitted together during the set up of each game. Each of these boards features unique bonus power tiles that are introduced into the game by the inclusion of the matching board. The goal of the game is for the players to place their buildings onto these boards in such a way as to best capitalize on the 3 randomly selected scoring criteria that will also be selected during the set up of the game.
Each player has a limited number of buildings to place and they will be placing 3 at a time on their turn following two simple rules: the first building must be placed on a terrain matching the current terrain card and you cannot place the building into a new terrain cluster until a previously started one has been filled up first. These placement rules can be changed and manipulated by the collection of the unique bonus power tiles. Part skill, part luck, all fun — it's no wonder Kindgom Builder took the prize. The gameplay is challenging to master, but easy to learn and the game is also largely language independent.
Read our review of Kingdom Builder.
Publisher: Queen Games
Designer: Donald X. Vaccarino
Artist: Oliver Schlemmer
Official Nominees
Official Recommendations
2011 Spiel des Jahres Awards
Winner: Qwirkle
Do you like the idea of Scrabble but lack the lexiconical knowledge to compete? Then Qwirkle is the game for you. The game is comprised of a bag of blocks, each featuring a shape (of which there are 6 types) in a particular color (of which there are also 6).
Players begin the game with six blocks. The start player places blocks of a single matching color or shape (but not both) on the table. Thereafter, a player adds blocks adjacent to at least one previously played block. The blocks must all be played in a line and match, without duplicates, either the color or shape of the previous block. Players score one point for each block played plus all blocks adjacent. It is possible for a block to score in more than one direction. If a player completes a line containing all 6 shapes or colors, called a "Qwirkle", an additional six points are scored. The player then refills his hand to six blocks.
The game ends when the draw bag is depleted and one player plays all of their remaining blocks, earning a six point bonus. The player with the highest score wins.
Qwirkle is a fantastic game with a lot of mass appeal. Its bright vibrant colors, tactile wooden blocks, and complete language independence are just a few of the reasons that it won the SdJ.
Publisher: MindWare
Designer: Susan McKinley Ross
Artist: N/A
Official Nominees
Official Recommendations
Blockers! – Kory Heath
Freeze – Andrea Meyer, Hans-Peter Stoll
Ghost Blitz – Jacques Zeimet
Luna – Stefan Feld
Mondo – Michael Schacht
Safranito – Marco Teubner
Skull – Hervé Marly
Sun, Sea & Sand – Corné van Moorsel
Pelican Cove – Lauge Luchau
2010 Spiel des Jahres Awards
Winner: Dixit
Dixit asks the age old question: "Which card do you think is mine?" Played with a deck of beautifully illustrated tarot sized cards, Dixit pits one player (the storyteller) against 2 to 4 opponents. On a player's turn, they secretly choose one of the cards from their hand and provide a word or a phrase that describes the card. The tricky part is giving clues that aren't too specific.
Once the storyteller has given their clue, the other players select one of the cards from their hand and pass them, face down, to the active player. Once everyone has given up a card, the active player shuffles the cards and lays them face up in a line. Then the players start placing bets on which card they think belongs to the active player. Non-active players receive points if people pick their cards and the active player gets no points at all if everyone guesses theirs.
The artwork is beautiful and the rules are very easy to learn. Dixit is a fun game that brings people together. It's no wonder that it brought the judging panel together in 2010.
Publisher: Libellud
Designer: Jean-Louis Roubira
Artist: Marie Cardouat
Official Nominees
Official Recommendations
Don Quixote – Reinhard Staupe
Hansa Teutonica – Andreas Steding
Jäger und Sammler – Reiner Knizia
Kamisado – Peter Burley
Level X – Stefan Risthaus
Endeavor – Carl de Visser, Jarratt Gray
Mosaix – Christof Tisch
Samarkand: Routes to Riches – John Bohrer
Tobago – Bruce Allen
2009 Spiel des Jahres Awards
Winner: Dominion
The first deck-building game, Dominion, sees players begin with the exact same starting deck of cards. On turns, players deal out five cards and then try to work out the best way to play those cards. Treasure cards allow you to buy more cards, Kingdom cards offer a variety of actions and occasional bonuses, Curse cards steal points away from opponents, and Victory cards are only useful at the end of the game when their total determines the winner.
Dominion is an easy game to learn and, thanks to the number of different types of Kingdom cards, each game will be different with its own set of decisions and challenges.
Publisher: Rio Grande Games
Designer: Donald X. Vaccarino
Artists: Matthias Catrein, Julien Delval, Tomasz Jedruszek, Ryan Laukat, Harald Lieske, Michael Menzel, Marcel-André Casasola Merkle, Claus Stephan, Christof Tisch
Official Nominees
Official Recommendations
2008 Spiel des Jahres Awards
Winner: Keltis
Keltis is a followup to Reiner Knizia's 1999 smash hit Lost Cities and the gameplay is very similar. In fact, if you've ever played Lost Cities then you'll grasp Keltis right away. Players take turns playing cards, of different colored sets and numeric values, from their hands into their own personal displays following some simple rules:
If the played card is the first card of the set played, a new column is started.
The second card played to that set can be of any value.
The value of the card (provided it is not of the same value) determines which other cards may be played into that set in the future. If the card played is of a higher value, then each subsequent card must be played in ascending value. The reverse is true if the card played is of a lesser value.
If the player chooses not to play a card, they will discard a card from their hand into a shared discard area.
After a card has been played or discarded, the player draws a new card either from the deck or from the face up discard area.
This is exactly the same way that Lost Cities is played, but Keltis has several important distinctions. For starters, Keltis plays up to 4 people whereas Lost Cities is strictly a two-player game. The biggest difference, though, is the central game board and the way that the player's decisions interact with it.
The central game board has 5 stone paths, each matching one of the sets. As the players play cards from their hands matching the sets, they will move one of their player pieces along the path (possibly collecting some bonuses along the way). The further they progress along the path, the more that player piece will be worth during the end of game scoring. Additional points are earned from some of the bonuses the players may have collected during the game as well.
Who knows why Lost Cities didn't take home the SdJ in 1999 (much less even get nominated). Perhaps the two-player maximum was too restrictive. Maybe it was the limited decision space. Whatever the reason, even though it took him almost another 10 years, Dr. Knizia was finally able to win the hearts and minds of the jury.
Publisher: KOSMOS
Designer: Reiner Knizia
Artists: Martin Hoffmann, Claus Stephan
Official Nominees
Official Recommendations
2007 Spiel des Jahres Awards
Winner: Zooloretto
Some Spiel des Jahres winners invent whole new genres — think Dominion — others take an existing idea and build excellence from there. Zooloretto falls into this latter category, taking 2003's Coloretto as a starting point and adding an engaging theme and a whole new tile placing mechanic, elevating Coloretto's abstract push-your-luck set collection into something truly special.
Zooloretto has players managing their own personal zoos. Each round players take turns to load up trucks with animal tiles, before claiming those trucks for their zoo. All the while you know that another player could simply take the truck that you had your eye on, so you're always trying to load up good looking trucks but aware that they might be snaffled from under your nose.
The challenge at the heart of Zooloretto is the limited space in your burgeoning zoo — you only have a handful of enclosures for your animals but different species can't live together and there are way more species than enclosures. What happens to those animals that don't fit? They end up wasting away in your barn, a prospect that's not only surprisingly bleak for such a family-oriented game but also will cost you those game winning points.
The loading and taking of trucks, combined with tightly limited space in your zoo create an exciting, challenging and accessible game with players jostling to create the best zoo of all. And the baby animals are pretty cute too!
Publisher: ABACUSSPIELE
Designer: Michael Schacht
Artists: Annemarie van Lierop, Marianne Riem, Michael Schacht
Official Nominees
Official Recommendations
Alchemist – Carlo A. Rossi
Château Roquefort – Jens-Peter Schliemann, Bernhard Weber
The Pillars of the Earth – Michael Rieneck, Stefan Stadler
Die Säulen von Venedig – Christian Fiore, Knut Happel
Imperial – Mac Gerdts
Notre Dame – Stefan Feld
Enkounter – Frank Dyksterhuis, Mark Wood
Skybridge – Adam Ritchey
Danger 13 – Rüdiger Dorn
Der Prestel Kunstmarkt – Franz-Benno Delonge
Vikings – Michael Kiesling
Würfel Bingo – Heinz Wüppen
2006 Spiel des Jahres Awards
Winner: Thurn and Taxis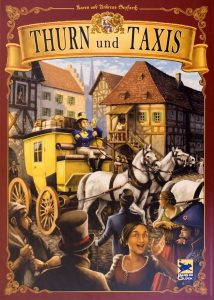 Thurn and Taxis is a route-building game that tasks the players with building the most efficient routes to score the most points by the time the game comes to an end. The rules are simple. On a player's turn they must add a city card to their hand, play a city card from their hand, and then optionally close and score a route. To help them along the way are four postmasters who offer their assistance during the phases by way of their unique abilities (drawing or playing extra cards, for instance), but only one postmaster can be selected for their assistance per turn.
When playing cards from their hand, the players have to play cards that create a connected route. When closing a route, the player will place houses from their supply onto the board in the spots matching the locations on their cards. If they choose to close a route then they will score points for the length of the route and also bonus points if placing their houses would cause them to be the first to have houses in all the different towns within the region. Equal parts skill and luck, Thurn and Taxis always presents the players with an interesting challenge. There's always a chance that holding out in the hopes of scoring a large route will cost you points elsewhere and deciding when to hold 'em and when to fold 'em is never easy.
While the bland artwork doesn't do Thurn and Taxis any favors, it didn't matter in 2006. The stellar gameplay was enough to sway the jury to award the game with the coveted prize.
Publisher: Hans im Glück
Designers: Andreas Seyfarth, Karen Seyfarth
Artist: Michael Menzel
Official Nominees
Official Recommendations
2005 Spiel des Jahres Awards
Winner: Niagara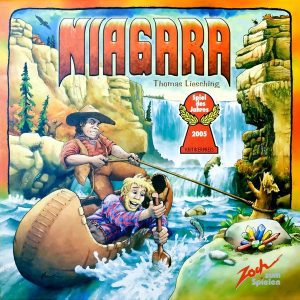 Niagara is a game of glittering gems and rushing rapids, inspired by the 1953 film of the same name. Originally published by the Zoch games company, Niagara is best known for the quirky plastic discs it uses to represent the rushing river. Players race to gather five gemstones, moving their boats up and downstream to collect and drop off their treasures.
The thing that makes Niagara unique, even today, is the way the river moves. Each round, the water rushes forward an amount of spaces based on the choices made by the players. The boats sit on top of clear discs in a recessed channel on the board that represents the river. To move the river, discs are inserted at the top of the channel, pushing every disc beneath it one step closer to the dreaded waterfall. If a player's boat goes over the falls, they lose the boat's gems and have to pay to recover it.
In today's world of high production games, it may be surprising to learn that Niagara was rejected by a number of publishers because of concerns about its manufacturing cost. Zoch Verlag, experienced in the world of quirky tactile games, gave Niagara the chance it needed that ultimately lead to its Spiel des Jahres win. Niagara would be one of Thomas Liesching's few forays into the board game world. The game still offers a novel experience to anyone daring enough to tempt the rushing waters.
Publisher: Zoch Verlag
Designer: Thomas Liesching
Artist: Victor Boden
Official Nominees
Official Recommendations
Boomtown – Bruno Cathala, Bruno Faidutti
Diamant – Bruno Faidutti, Alan R. Moon
The Gardens of Alhambra – Dirk Henn
Power Grid – Friedemann Friese
Tanz der Hornochsen! – Wolfgang Kramer
Piranha Pedro – Jens-Peter Schliemann
Wie ich die Welt sehe… – Urs Hostettler
Typo – Corné van Moorsel
2004 Spiel des Jahres Awards
Winner: Ticket to Ride
In Ticket to Ride, you are collecting sets of coloured Train cards, which you later play to claim the coloured routes on the board with your own set of train pieces. All of this is done with the goal of connecting the cities on your Destination cards to score points.
Ticket to Ride is a perfect example of what the Spiel des Jahres award embodies: a strong game concept (add trains to a map to create routes and connections between cities), a clear and comprehensive rulebook, a clean layout of the game's components (box, board, and rules), and a functional design.
With 14 standalone games and expansions, 2 compact Ticket to Ride experiences (New York and London), 2 collector's editions, a children's version, a dice game, a card game, a wildly successful app, and a number of homemade maps created by fans, the Ticket to Ride universe of games shows no signs of slowing down. It's no wonder Ticket to Ride has become a go-to gateway game and why Asmodee included Ticket to Ride in their "Modern Classic" line of games.
Read why Ticket to Ride is a game we love.
Publisher: Days of Wonder
Designer: Alan R. Moon
Artist: Julien Delval
Official Nominees
Official Recommendations
Attika – Marcel-André Casasola Merkle
Carcassonne: The Castle – Reiner Knizia, Klaus-Jürgen Wrede
Coyote – Spartaco Albertarelli
Coda – Hiroaki Suzuki, Eiji Wakasugi
Sluff Off! – Stefan Dorra
Dos Rios – Franz-Benno Delonge
YINSH – Kris Burm
San Juan – Andreas Seyfarth
King Up! – Stefano Luperto
Viele Dinge – Karsten Adlung, Bernhard Naegele
Sunken City – Michael Kiesling, Wolfgang Kramer
Tom Tube – Tobias Goslar, Roland Goslar
Oasis – Alan R. Moon, Aaron Weissblum
Im Wassergarten – Ferdinand Hein
Somethin' Fishy – Oliver Igelhaut
Jumbo & Co – Detlef Wendt
Cockroach Poker – Jacques Zeimet
Maya – Bernd Eisenstein
2003 Spiel des Jahres Awards
Winner: Alhambra
Alhambra is a tile-driven city-building game. During each round of the game a random display of four tiles will be available for purchase by the players. Each tile features a particular type of building whose score value is different based upon which type of building it is. The more money a building costs, the higher its score value will be. Each of these building tiles is placed into a different colored depot. These depot colors correspond to the 4 different kinds of money in the game. Also on display is a random selection of 4 currency cards of differing colors and values.
On a player's turn they can either take currency cards into their hand or use the currency cards they already have to purchase a tile to add to their display. If they pay the exact price for the tile, they get another turn and can keep going in this fashion until there are no tiles left to buy. The tricky part, though, is that each colored depot dictates which color of money must be used to purchase the tile in that depot. This is where a large part of Alhambra's challenge is derived from: figuring out how to balance building and expansion with collecting the various currencies needed to do so. Timing is critical because once a certain number of currency cards have been drawn, a scoring will be triggered. The scoring is based on who has the majority of each different building type as well as how smartly the players have placed those buildings into their displays.
Alhambra's bright colors and easy rules belie the challenging puzzle that lies beneath. It's a real head scratcher filled with a lot of wonderful "amazing turn" moments as well as a few "pray your opponents don't take what you're wanting" ones. Having played many, many sessions of Alhambra, it is easy to see why it won in 2003.
Publisher: Queen Games
Designer: Dirk Henn
Artists: Jörg Asselborn, Jo Hartwig, Patricia Limberger, Christof Tisch
Official Nominees
Clans – Leo Colovini and Winning Moves Germany
Die Dracheninsel – Tom Schoeps and AMIGO
Official Recommendations
2002 Spiel des Jahres Awards
Winner: Villa Paletti
Villa Paletti holds an unusual distinction in the Spiel des Jahres canon: dexterity. Boiled down to its essentials, Villa Paletti is a stacking game. Players take turns moving their coloured columns, pulling them out from under palette-shaped ceilings and carefully putting them back at a higher level of the increasingly wobbly structure. This delicate process feels good, and seeing the structure grow and change is thrilling by itself. But that's not what makes Villa Paletti special.
Where Villa Paletti really innovates is in its scoring system. Hidden in its columns and colours is a sophisticated point system that genuinely encourages strategy and risk. Sure, if you knock the tower over, you lose… but Villa Paletti's point system ensures that there's also a real winner. The game's systems produce an engaging, unique dexterity game… but they also make for a game that's a touch finicky. For one thing, the delicate ecosystem of Villa Paletti means that the game works best at exactly four players; one for each colour of column. Another caveat lies in Villa Paletti's physical form: the game's "ceiling" pieces can warp over extended use or poor storage, making an uneven surface to hold the game together.
Still, years after its release, Villa Paletti remains a fascinating hidden gem — doubly so because its award is sandwiched between two games that had tremendous impacts on modern gaming, 2001's Carcassonne and 2004's Ticket to Ride. Moral of the story: if you find yourself exploring the back shelves of a board game café and find Villa Paletti, pull it off the shelf. It won't take long to see why the Spiel des Jahres panel decided to honour this unusual game with their most coveted award.
Publisher: Zoch Verlag
Designer: Bill Payne
Artist: Victor Boden
Official Nominees
Official Recommendations
2001 Spiel des Jahres Awards
Winner: Carcassonne
Like Catan a few years before it and Ticket to Ride a couple of years after, Carcassonne is one of the fundamental gateway games of the hobby. Ostensibly a gentle game of placing tiles to create a landscape of fields, roads and cities, Carcassonne's simple rules hide a surprising amount of depth and plenty of opportunities for being mean. Throw in almost 100 expansions, a decent app implementation and hugely addictive gameplay and you could spend a lot of time playing Carcassonne before you felt any need to look elsewhere in the hobby. Not to mention that Carcassonne also gifted the hobby its iconic symbol: the meeple.
Read our review of Carcassonne.
Publisher: Hans im Glück
Designer: Klaus-Jürgen Wrede
Artist: Doris Matthäus
Official Nominees
Das Amulett – Alan R. Moon, Aaron Weissblum and Goldsieber Spiele
Zapp Zerapp – Heinz Meister, Klaus Zoch and Zoch Verlag
Official Recommendations
2000 Spiel des Jahres Awards
Winner: Torres
What's not to love about a game about building castles, one floor at a time, then moving Knights over, around, and through them? Even better, make it an abstract game that requires players to balance when and where to build castles with placing Knights and needing to look ahead for the best scoring opportunities.
Torres is scored at the end of each of three rounds, with scoring based on the level each player's Knight is on multiplied by the number of squares on the board the tower takes up. With a mandatory eight towers (which cannot connect) and never having enough moves in a round, Torres is a tight game with deceptive depth and creativity.
Publisher: F.X. Schmid
Designers: Michael Kiesling, Wolfgang Kramer
Artist: Alessandra Cimatoribus
Official Nominees
Official Recommendations
Kardinal – Wolfgang Panning
Frank's Zoo – Doris Matthäus, Frank Nestel
Web of Power – Michael Schacht
Port Royal – Wolfgang Panning
Taj Mahal – Reiner Knizia
Vinci – Philippe Keyaerts
ZÈRTZ – Kris Burm
Metro – Dirk Henn
La Città – Gerd Fenchel
1999 Spiel des Jahres Awards
Winner: Tikal
Temples, treasures, and terrain: in Tikal, players take control of a team of explorers in the Central American jungle. Tikal is the first game in what would become the Mask trilogy, a series developed by Wolfgang Kramer and Michael Kiesling from 1999 to 2002. The games are all linked by an action point system, innovative at its inception and an enduring influence today. Players are granted a number of points with which to enact their actions, each with its own cost and effect.
Tikal received a full aesthetic overhaul in 2016 courtesy of publisher Super Meeple, bringing this interesting and thoughtful area control puzzle into the modern day.
Publisher: Ravensburger Spieleverlag GmbH
Designers: Michael Kiesling, Wolfgang Kramer
Artist: Franz Vohwinkel
Official Nominees
Official Recommendations
1998 Spiel des Jahres Awards
Winner: Elfenland
In the magical Elfenland, young elves must pass a special test before they are considered adults: visit as many of Elfenland's famous towns as possible. In this game, players assume the role of a young elf trying to be the most impressive traveller by collecting the most of their town pieces from the board by the game's end. Players will use various forms of transportation — giant pigs, elfcycles, magic clouds, unicorns, troll wagons, dragons, and rafts — to help them accomplish this goal. Unfortunately some transportation methods are more effective on certain terrains than others. Unicorns, for example, are excellent for traveling through woods and the mountains, but cannot travel through the plains (in fear of being spotted, obviously).
Because of its route-building, Elfenland might be mistaken as simply an early version of Alan R. Moon's other Spiel des Jahres-winning game, Ticket to Ride. While players collect cards to use to travel around a map in both games, that's where the similarities end. In Elfenland, unlike Ticket to Ride, the players dictate which mode of transportation can be used — by all players — on the routes each round. This level of strategy and player interaction is unlike Ticket to Ride in that players must carefully plan out their route, ideally without also helping their opponents.
Elfenland wasn't as popular or as widely distributed as Ticket to Ride, but it is still worth trying if you're able to find it.
Publisher: AMIGO
Designer: Alan R. Moon
Artist: Doris Matthäus
Official Nominees
1997 Spiel des Jahres Awards
Winner: Mississippi Queen
Power up your paddle steamer — specifically a sidewheeler for you paddle-wheeling enthusiasts — and brace yourself for a calm, pleasant cruise on the Mississippi River in the game Mississippi Queen.
Well actually, your cruise will be anything but calm since you and your fellow gamers each control a paddle steamer and you must race to pick up the limited number of wealthy passengers along the river. Paddle steamers and the coal needed to operate them don't pay for themselves after all. Not to mention the challenges that will come with having to navigate through the unpredictable river, managing your speed and coal supply, as well as trying to avoid other players' paddle steamers that can bumper-car-push you out of their way.
Mississippi Queen is a wild and fun racing game with adorable little paddle steamers that is more widely available thanks to a beautiful new 2019 reprint from publisher Super Meeple.
Publisher: Goldsieber Spiele
Designer: Werner Hodel
Artist: Franz Vohwinkel
Official Nominees
1996 Spiel des Jahres Awards
Winner: El Grande
El Grande is an example of pure area control: in this game players place Caballeros (read: cubes) out on a board that is divided up into the regions of Spain to score points based on the majority in each area. What really spices up El Grande's gameplay are the Power and Action cards.
To begin each round, players select a Power card to play; the Power card is then discarded and not available for the rest of the game (unless a special ability allows a player to retrieve it). The card's number determines that round's turn order (the highest number goes first) and its symbol determines how many cubes the player gains from the supply that round. Then, in turn order, players choose an Action card from the display. These cards have optional special abilities the player can use on their turn, but they also dictate the number of cubes a player can place on the board. El Grande has some other rules (like you can only place in a region adjacent to the King's pawn), but it's the balancing act of which cards to play and when which make the gameplay shine.
While El Grande desperately needs a makeover, it still holds up today as one of the most straightforward and strategic area control games you could play.
Publisher: Hans im Glück
Designers: Wolfgang Kramer, Richard Ulrich
Artist: Doris Matthäus
Official Nominees
Ab die Post! – Helga Huber, Hermann Huber and Goldsieber Spiele
Campanile – Hanno Kuhn, Wilfried Kuhn and Blatz
Mü & More – Doris Matthäus, Frank Nestel and Doris & Frank
Gloria Picktoria – Mick Ado, Alan R. Moon and F.X. Schmid
Word-Whiz – Hajo Bücken and Editrice Giochi
Top Race – Wolfgang Kramer and ASS Altenburger Spielkarten
Sisimizi – Alex Randolph and Editrice Giochi
Blink – Reinhard Staupe and Adlung-Spiele
Wat'n dat!? – Claude Weber and ASS Altenburger Spielkarten
1995 Spiel des Jahres Awards
Winner: Catan
It is hard to overestimate the importance that Catan has made on the history of board gaming. Regardless of how modern gamers may feel about Catan (that there are other games that do what Catan does, only better or believe it's still very worthy of your attention) it remains one of the most popular games of all time with over 27 million copies sold the world over.
Catan was one of the first games to bring together several mechanics that, today, we take for granted in games: a modular board that can be randomized for each game, resource management, building and upgrading pieces, player negotiation/trading, a number of ways to score points, and that great equalizer – a little bit of luck.
All of this combined created one of the best gateway games to introduce new players to the hobby for decades.
Read why Catan is a game we love.
Publisher: KOSMOS
Designer: Klaus Teuber
Artist: Marion Pott
Official Nominees
Condottiere – Dominique Ehrhard, Duccio Vitale and Eurogames
Medici – Reiner Knizia and AMIGO
Streetcar – Stefan Dorra and Goldsieber Spiele
La Trel – Richard Morgan and ASS Altenburger Spielkarten
Kaleidos – Spartaco Albertarelli, Marianna Fulvi, Elena Prette, Angelo Zucca and Editrice Giochi
Galopp Royal – Klaus Teuber and Goldsieber Spiele
The Mole in the Hole – Virginia Charves, Bertram Kaes and Ravensburger Spieleverlag GmbH
Runes – Bill Eberle, Jack Kittredge, Peter Olotka and Eon
1994 Spiel des Jahres Awards
Winner: Manhattan
At the end of a game of Manhattan, you'll feel a sense of what we at Meeple Mountain like to call "builder's satisfaction"; towering out of the game board are skyscrapers of various heights, creating a colourful Manhattan skyline that you and your fellow players created over the course of the game.
Manhattan is a game of area control as each player strives to control the highest skyscraper, as well as the most towers in each of the six areas of Manhattan. At the beginning of each round, players select the buildings — ranging between one and four storeys — they will place during that round. Where a player places the building will depend on the card they play that turn and their perspective of the game board. Each card, like each of the six areas, features a 3×3 grid with one of the spaces highlighted; this is the location a player may add one of their selected buildings, following some height restrictions.
With a nice mix of strategy and luck, it's no surprise that Manhattan won the Spiel des Jahres award in 1994 and that it received a reprint and makeover in 2017.
Publisher: Hans im Glück
Designer: Andreas Seyfarth
Artist: Zeilbeck & Natzeck Design Company
Official Nominees
6 nimmt! – Wolfgang Kramer and AMIGO
Take it Easy! – Peter Burley and F.X. Schmid
Billabong – Eric Solomon and franjos Spieleverlag
Was sticht? – Karl-Heinz Schmiel and Moskito Spiele
Die Osterinsel – Leo Colovini, Alex Randolph and Blatz
I'm the Boss! – Sid Sackson and Schmidt Spiele
1993 Spiel des Jahres Awards
Winner: Perudo (Bluff)
Bluff, Liar's Dice, Perudo, Doubter's Dice, the game played in Pirates of the Caribbean. By whichever name you know this game, it actually dates back long before its Spiel des Jahres win — all the way to the 1800s. In 1987 the game officially hit the North American market (designed by Richard Borg under the name Liar's Dice) and six years later it made its way to Germany as Bluff, for which it won the SdJ award.
What all the names and IP reimplementations this game has been sold under (of which there are many), there is an underlying theme that also perfectly describes its gameplay, deception. The aim of the game is to scheme your way to victory by lying well, voluntarily or forcibly. Sure, you could probably win by telling the truth for the whole game, but what fun is there in that?
Publisher: F.X. Schmid
Designer: Richard Borg
Artist: Heinz Grafische Werke
Official Nominees
1992 Spiel des Jahres Awards
Winner: Um Reifenbreite
Decades before Flamme Rouge, Um Reifenbreite was the bicycle racing game…if you lived in Germany that is, since the game has never had an English printing.
In Um Reifenbreite players manage a team of racers who are ready to compete in some of the world's most famous cycling competitions — and on some of the most difficult terrains. Despite its lengthy rulebook, Um Reifenbreite is a pretty simple game to play once you understand how your team will move around the competition's course.
Um Reifenbreite can be played using one of the three levels of difficulty detailed in its long rulebook. The basic level is for familiarizing players with the game's core mechanisms, notably movement and card play. With each additional level, the difficulty increases and so does the game's realism. For example, different road surfaces and terrains, Chance cards which could result in your rider falling (subsequently creating a pack of tumbling cyclists), and a chase car that riders can hang on to and cheat their way to victory, could all enter the game. It's these advanced additions that make Um Reifenbreite well-worth powering through the rules and getting to the table.
Publisher: Jumbo
Designer: Rob Bontenbal
Artist: Jan van Haasteren
Official Nominees
1991 Spiel des Jahres Awards
Winner: Wacky Wacky West
Wacky Wacky West is, well, a wacky game; players act as citizens of a town that has been overdeveloped with various buildings, but left without any waterways, rails, or roads. Over the course of the game, it is up to the players to develop these three networks by laying tiles and building over the game board's preprinted buildings. The tricky part of the game is that each player has a vested interest in a specific type of building — whether it be schools, jails, general stores, banks, saloons, or stables — and every standing (uncovered) building of their secret type will score a player points at the end of the game. There are also outhouses in the town which can be built over, but for which no player will ever score points.
Players must comply with some tile placement restrictions, but for the most part they have free rein over what buildings they choose to sacrifice for one of the three networks, except when it comes to the outhouses. Demolish a school house to extend the road? Absolutely! Blow up the bank to make way for the railway? Heck yes! Knock over the outhouse to clear a path for the river? Whoa, whoa, let's talk about that first. For any outhouse that is on the chopping block, all players take a vote and the results determine whether that outhouse will stay or go. Why the citizens are so concerned about democracy only when it comes to their outhouses is unclear, but they are nonetheless.
By the time Klaus Teuber won the Spiel des Jahres award for Wacky Wacky West (originally titled Drunter und Drüber), he was already recognized as an up-and-coming game designer. However, it wouldn't be until 4 years later that Teuber would create a game for which he would eventually become a world-renowned designer.
Publisher: Hans im Glück
Designer: Klaus Teuber
Artists: Chris McGloughlin, Franz Vohwinkel
Official Nominees
20 Questions – Scott A. Mednick, A. Robert Moog and Milton Bradley
Bauernschlau – Tom Schoeps and F.X. Schmid
Irrgendwie – Silvia Heinz, Dieter Matthes and Pyramo
Anticipation – Michael K. Lorrigan, S. Ray and Parker Spiele
Invers – Kris Burm and Peri Spiele
Conspiracy – Eric Solomon and Milton Bradley
Im Reich des weißen Bären – Charles Lerue and Schmidt Spiele
1990 Spiel des Jahres Awards
Winner: Hoity Toity
Only those with the highest upturned nose become members of the pretentious Antique Club, a place where fellow snobs gather to boast about how magnificent their Victorian chamberpot is. In Hoity Toity, your goal is to have the most valuable antique collection — and finally stick it to the other Antique Club members.
Hoity Toity is ultimately a simultaneous action selection and set collection game, but where it gets interesting is how players must bluff and outwit their opponents. In a round player 1 might choose to buy an antique item while player 2 then robs the register for the cash used to buy that item. Meanwhile, player 3 might exhibit part of their antique collection, but then player 4 and 5 steal items from it. Player 6 then seeks justice by sending their detective to arrest the thieves.
Of course, players' plans could also go awry and thieves could be sent to steal from an exhibit that was never displayed or the detective might run around chasing their tail in a round where there were no burglaries. Put simply, rounds in Hoity Toity are often chaotic fun.
There is, however, one part of Hoity Toity's gameplay that feels a little out of place: the track that players must move around to both trigger the game's end and determine its winner (i.e. the player who progressed furthest on the track). If Hoity Toity is ever given a modern freshening up, let's hope the track is replaced with some kind of points system.
Publisher: F.X. Schmid
Designer: Klaus Teuber
Artist: Cornelia von Seidlein
Official Nominees
Tutankhamen's Revenge – Stefanie Rohner, Christian Wolf and Jumbo
Mahé – Alex Randolph and Ravensburger Spieleverlag GmbH
Heuchel und Meuchel – Rudi Hoffmann and KOSMOS
New Orleans Big Band – Herbert Schützdeller and ASS Altenburger Spielkarten
Tabaijana: Flucht von der Feuerinsel – Wolfgang Kramer and Herder Spiele
Lancelot – Roland Siegers and Hexagames
Dino – Reinhold Wittig and Edition Perlhuhn (Göttinger Spiele)
Favoriten – Walter Müller and Walter Müller's Spielewerkstatt
1989 Spiel des Jahres Awards
Winner: Café International
Café International is one of those Spiel des Jahres winners that many gamers today question: was 1989 such a slow year for industry that this was the only option? Since most of the other nominees were only released in German, it's hard for us to say whether another game was more deserving. Let's take a look at how Café International is played and then you can judge for yourself whether it's worthy of the acclaimed SdJ prize.
In Café International, players have a hand of guest tiles that they are trying to seat at various tables. Each guest tile has an assigned sex (male or female) and a nationality. Guest tiles may only sit at their nationality's table and players must manage the number of male and female guests at each (no more than two males and two females at most). There also can't be an imbalance at the table — two males with one female or two females with one male — at the end of your turn.
There are some obvious production and gameplay problems with a game like Café International and perhaps gamers might have had an easier time overlooking these problems three decades ago. For example, in the game's original publication, the illustrations depicting the guest's sex and nationality perpetuated many stereotypes. In 2018, AMIGO opened a U.S. gaming division, AMIGO Games, and launched many titles including a "retro look" republishing of popular games in their family line, notably No Thanks!, Heimlich & Co., and Café International. They took this opportunity to polish and correct the artwork and graphics from Café International's original publication, but its gameplay remained unchanged. While it's nice to see that thirty-year old games still have a place in the industry, should we continue to celebrate a game with such an inherently problematic design?
Publisher: Mattel
Designer: Rudi Hoffmann
Artist: J. W. Thompson
Official Nominees
Abalone – Michel Lalet, Laurent Levi and Abalone Games
Such a Thing? – Urs Hostettler and Fata Morgana Spiele
Breakaway Rider – Pierre Jacquot and F.X. Schmid
Escape from the Hidden Castle – Wolfgang Kramer and Ravensburger Spieleverlag GmbH
Magic Dance – Björn Hölle and F.X. Schmid
Regatta – G. W. "Jerry" D'Arcey, David D'Arcey, Frank Thibault and 3M
Pole Position – Gerhard E. Kodys and Piatnik
Flieg Dumbo Flieg – Virginia Charves and Schmidt Spiele
Maestro – Rudi Hoffmann and Hans im Glück
1988 Spiel des Jahres Awards
Winner: Barbarossa
It's hard to believe that a renowned board game designer like Klaus Teuber was the brain behind Barbarossa, a party game about sculpting objects and trying to guess what other players have created. In the game, you score points based on how many other players correctly guess what you've sculpted. Adopting a Dixit-like strategy, you want the object you sculpt to be recognizable, but not so much so that everyone guesses what it is.
It's a fun and interesting concept at its core, but Barbarossa gets bogged down by an absurd number of rules that detract from the gameplay. Even still, if Teuber had not won his first Spiel des Jahres award this year, who knows if he would have continued to go on creating SdJ-winning games like Catan?
Publisher: ASS Altenburger Spielkarten
Designer: Klaus Teuber
Artist: N/A
Official Nominees
Targui – Wil Dijkstra, Ben van Dijk and Jumbo
Lines of Action (LoA) – Claude Soucie and Hexagames
Schoko & Co. – Yves Hirschfeld, Gilles Monnet and Schmidt Spiele
Forum Romanum – Wolfgang Kramer and KOSMOS
What The Heck? – Alex Randolph and Ravensburger Spieleverlag GmbH
Janus – Rudi Hoffmann and Spear's Games
Mississippi – Roland Siegers and Mattel
Scalino – Peter Pallat and Edition Perlhuhn (Göttinger Spiele)
Bausack – Klaus Zoch and Zoch Verlag
1987 Spiel des Jahres Awards
Winner: Auf Achse
In Auf Achse, a German expression loosely translated to mean "on the road", players assume the role of truckers, transporting cargo to complete contracts in the hope of making the most money by the end of the game. But life — in the form of traffic jams, construction, and Event cards — might have different plans for you.
Auf Achse is effectively a roll-and-move game with a curious auctioning mechanic and of course, paper money. Unlike games with similar mechanisms (cough Monopoly), Auf Achse is surprisingly meatier than you might expect, especially for a Spiel des Jahres winner, and requires players to plan out their turns well in advance.
Sadly, though, Auf Achse is a game that's still hard to find since it never had an English release…but if you're looking to fill that cargo-hauling trucker void, then you should check out the long-running German TV show by the same name, which I like to think inspired Wolfgang Kramer to design this game.
Publisher: F.X. Schmid
Designer: Wolfgang Kramer
Artists: Jochen Frick, Harald Lieske
Official Nominees
Flying Carpet – Kurt Feyerabend, Elke Flogaus and Ravensburger Spieleverlag GmbH
Sauerbaum – Johannes Tranelis and (Self-Published)
Auf Kurs (Maritim) – Reinhold Wittig and Edition Perlhuhn (Göttinger Spiele)
Shark – H. Jean Vanaise and Flying Turtle Games
Restaurant – Roland Siegers and Flying Turtle Games
Monad – Sid Sackson and 3M
Kremlin – Urs Hostettler and Fata Morgana Spiele
1986 Spiel des Jahres Awards
Winner: Heimlich & Co.
Heimlich & Co., like the spies who creep across its board, has gone by many names over the years: CIA, Detective & Co, Safe & Partners, Top Secret Spies, and Under Cover are just some of its aliases. A simple game of deduction and bluffing, Heimlich & Co. holds a curious place of honour for being the first game to develop the victory point track found bordering games like Ticket to Ride and The Castles of Burgundy.
While Heimlich & Co. asks players to roll the dice and move the characters, it is not without sophistication. Each player is secretly assigned a pawn as theirs, but may move any piece on their turn. Players must position the pawns to make their own score points, while moving others into worse positions… ideally without giving away which pawn is secretly theirs.
Re-published dozens of times since its release, Heimlich & Co. remains a fun, light strategy game.
Read our review of Heimlich & Co.
Publisher: Ravensburger Spieleverlag GmbH
Designer: Wolfgang Kramer
Artist: Dietrich Lange
Official Nominees
1985 Spiel des Jahres Awards
Winner: Sherlock Holmes Consulting Detective: The Thames Murders & Other Cases
Sherlock Holmes Consulting Detective is a game in which players are cooperatively working against super sleuth Sherlock Holmes to solve a case faster than he does. This is done through a points system: Sherlock always scores 100, but the players score points for each question they answer correctly at the end of a case. To do this, players must visit locations to gain information; the game is open in that players may visit anywhere they wish in London, but they must do so prudently since every location could deduct from their final score.
Sherlock Holmes Consulting Detective was originally published in the 80s, but it wasn't easy to come by. The game finally reached a wider English market decades later thanks to Ystari Games. In 2017 Sherlock Holmes Consulting Detective was given a much needed polishing by Space Cowboys, who have also republished old and new cases — as standalone games — for fans of the original experience. It's a testament to just how good this mystery solving game is that it's still going strong almost 40 years later.
Publisher: Sleuth Publications
Designers: Raymond Edwards, Suzanne Goldberg, Gary Grady
Artist: N/A
Official Nominees
Heimlich & Co. – Wolfgang Kramer and Edition Perlhuhn (Göttinger Spiele)
Abilene – Roland Siegers and Hexagames
Campus – André François and AMIGO
Cash & Carry – Hans-Jörg Nürnberger and Hanje Spiele-Atelier
Iago – Alex Randolph and Spear's Games
You're Bluffing! – Rüdiger Koltze and Ravensburger Spieleverlag GmbH
Mister Zero – Wilfried Bauer, Rudolf Schweikert and dacapo Spiele
Pin – Dieter Drkosch and KD-Spiele
1984 Spiel des Jahres Awards
Winner: Dampfross
A game of Dampfross is played in two phases: building and operating. In the first (building) phase players — acting as owners of their railway companies — construct a network of railway lines, trying to make the most efficient connections for the game's second phase. In the operating phase players run their trains and test their network against their opponents'; the first player to reach the designated destination earns the most units (the currency used in the game).
Dampfross, the German reimplementation of Railway Rivals, has quite the interesting history: designer David G. Watts, a Welsh geography teacher, originally created the game as a way to help his students understand why railway lines were developed only in some areas based on a country's geography. Watts then went on to self-publish his game along with many different maps. Railway Rivals was even quite popular in the play-by-mail era (although not nearly as popular as Diplomacy) so it's no surprise that the game eventually won the Spiel des Jahres prize once it was published in German.
Publisher: Schmidt Spiele
Designer: David G. Watts
Artist: Frank Pfeifer
Official Nominees
1983 Spiel des Jahres Awards
Winner: Scotland Yard
The genesis of hidden movement board games, the original and still one of the best in a genre it created. One player is a criminal on the run, the others are coppers on the hunt, tracking their prey across London. Everyone uses taxi, bus and train tickets to travel the city, meaning the bobbies can see exactly how their opponent is getting around and start to pin-point their location. But budget restrictions at the Met means it's not plain sailing for the police and they'll have to think hard about how they get around the city themselves. Scotland Yard's legacy has resulted in games such as Fury of Dracula, Letters from Whitechapel and Black Sonata, but with its straightforward and instantly engaging rules the original remains a strong contender in the genre.
Read our review of Scotland Yard.
Publisher: Ravensburger Spieleverlag GmbH
Designers: Manfred Burggraf, Dorothy Garrels, Wolf Hoermann, Fritz Ifland, Werner Scheerer, Werner Schlegel
Artist: Erika Binz-Blanke
Official Nominees
Fuzzi, Heinz und Schlendrian – Manfred Ludwig and Spear's Games
Bärenspiel – Hajo Bücken and Herder Spiele
Riombo – Reinhold Wittig and Edition Perlhuhn (Göttinger Spiele)
Der Schwarze Prinz – Johann Rüttinger and Noris Spiele
1982 Spiel des Jahres Awards
Winner: Enchanted Forest
Enchanted Forest, originally published as Sagaland, throws players into a magical treasure hunt as they search the land for the aging king's most desired goodies. Enchanted Forest is essentially a roll-and-move game with a few twists: players can choose to use their dice rolls to move forwards and backwards in order to land exactly on a treasure space…or their opponent's space to send them back to the start (Sorry!). Rolling doubles conjures up some magical abilities that players can use to help them find and gather treasures.
Deemed today as a "children's game", Enchanted Forest still has the power to engage adults playing with their kiddos thanks to the player interaction and the second-guessing that occurs during gameplay. Did that player find the location of the king's treasure and that's why they're heading back towards the castle? Maybe I can reach the castle first and steal the reward out from under them? But what if they're just pretending to have found the treasure to psych us out?
Like many of Ravensburger's other Spiel des Jahres titles — Scotland Yard and Labyrinth — Enchanted Forest remains a staple among those looking to introduce their children to the wonderful world of modern board gaming.
Publisher: Ravensburger Spieleverlag GmbH
Designers: Michel Matschoss, Alex Randolph
Artists: Büttner und Plümacher
Official Nominees
Phantoms vs Phantoms – Alex Randolph and Bütehorn Spiele
Baubylon – Reinhold Wittig and Edition Perlhuhn (Göttinger Spiele)
Fang mich! … wenn du kannst – Oded Berman and Spear's Games
Havannah – Christian Freeling and Ravensburger Spieleverlag GmbH
Kensington – Peter Forbes, Brian Taylor and Forbes Taylor
Vokabo – Johann Rüttinger and Noris Spiele
Millionenspiel – Rüdiger Koltze and Ravensburger Spieleverlag GmbH
1981 Spiel des Jahres Awards
Winner: Focus
Focus, also published under the name Domination by Milton Bradley, is an abstract strategy game for two to four players. In the game, each player has a number of coloured pieces on an octagonal board; on their turn a player must move something they control — either a single piece in their colour or a stack that their colour dominates (i.e. their piece is on top). There are also ways in which a player can take a special action on their turn and deploy a piece from their reserve. A player wins once they block out their opponent from making any legal moves.
Like any good abstract strategy game Focus has a simple ruleset, but the game's depth comes through in the strategic gameplay. You can feel the influence Sackson's Focus had on later abstract strategy games like Kris Burm's DVONN and TZAAR.
While many of prolific designer Sid Sackson's most popular games received SdJ nominations, it is the lesser-known Focus that won him his first and only Spiel des Jahres award.
Publisher: Parker Brothers
Designer: Sid Sackson
Artist: Marion Pott
Official Nominees
1980 Spiel des Jahres Awards
Winner: Rummikub
Rummy can trace its roots back almost to the 18th century where Chinese card games featured drawing, discarding, and melding…all important aspects of this now-classic card game.
Rummikub is a much-loved tile-laying version of the game in which players can mix, match, and meld their way to victory. Originally designed in the 1940s, it became a best selling game in North America in the 1970s and finally made its way to Germany where it won the prestigious Spiel des Jahres award in 1980.
Publisher: Lamda Limited
Designer: Ephraim Hertzano
Artist: N/A
Official Nominees
1979 Spiel des Jahres Awards
Winner: Hare & Tortoise
The winner of the first Spiel des Jahres prize is one of its greatest success stories and still in print to this day. Hare & Tortoise is a fiendish racing game that has players skipping backwards and forwards along the course, trying to cross the finish line whilst holding almost no carrot cards in their hands despite having needed carrots like oxygen just to get there. Fairly abstract, unassuming and featuring numerical tables, Hare & Tortoise may not be perfect but was light-years ahead of its time and remains well worth checking out today.
Read our review of Hare & Tortoise.
Publisher: Ravensburger Spieleverlag GmbH
Designer: David Parlett
Artist: N/A
Official Nominees
---
Thank you to the following Meeple Mountain team members for their contributions: Andrew Holmes (Colt Express, Zooloretto, Carcassonne, Scotland Yard, Hare & Tortoise), David McMillan (Azul, Codenames, Hanabi, Kingdom Builder, Qwirkle, Dixit, Keltis, Thurn and Taxis, Alhambra), Kurt Refling (Niagara, Villa Paletti, Tikal, Heimlich & Co.), Thomas Wells (Kingdomino) and Tom Franklin (Dominion, Catan, Torres).
Also a big thank you to Andy Matthews for getting the ball rolling on this piece and also his contributions to it, specifically the history of the awards and his input on Just One, Camel Up, and Rummikub.