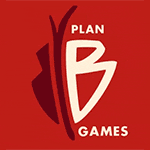 Links Website Twitter Facebook Instagram
Plan B Games Inc. was founded in April, 2016 with a singular mission – bring together exceptionally talented people to create exceptionally good games. Since then, Plan B Games has founded a new imprint, Next Move Games, welcomed Eggertspiele into the family, and founded Plan B Games Europe.  With strong product lines that cover gamers aged 8-99, there is no doubt any gamer will find something to love – a world of possibilities!
Since its inception, Plan B Games has grown from a small publisher of handpicked staff to being a major international player in the gaming industry. Within the combined catalogs of the imprints, Plan B Games has 2 Spiel des Jahres winning titles, a Kennerspiel des Jahres winning title, and a multitude of other industry awards and nominations. Fans and critics alike acknowledge Plan B Games' focus on amazing productions that are only rivaled by their gameplay. We invite you to discover your next favorite game!