Over the course of the year, we picked our most anticipated games releasing in 2019. Join us as we revisit our picks to see if these games met our high expectations.
2019 was an exciting year for board gaming! Last year, Meeple Mountain took a look at some of our most anticipated games from Origins, Gen Con, and the Essen Spiel Fair. Did these games live up to our expectations or did they fall flatter than a cat on a leash?
Andy Matthews
Imhotep: The Duel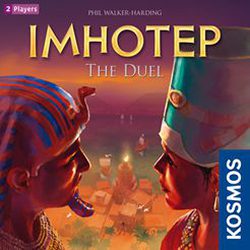 I've been a fan of the original Imhotep game since it was released back in 2016. Thinky, spatial, and tactical, Imhotep made my mind whirl with all the great choices. In 2019 KOSMOS released Imhotep: The Duel as a two player only variant. Spoiler alert, it's excellent! In fact I like it so much that it's completely replaced the original at two players. Imhotep: The Duel is an excellent reimagining, and one you should consider picking up for your shelf!
Read our review of Imhotep: The Duel.
Lanterns Dice: Lights in the Sky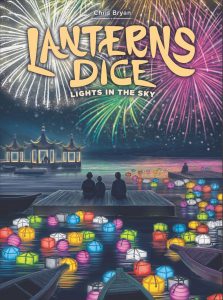 Lanterns was one of the first games that really got me into the board gaming hobby. I can remember reading about this "tile placement game" (what's that I wondered), where players each get something on every other player's turn. I was delighted the first time I played it, and still love it. Now the Lanterns family has grown by one with a new roll and write game called Lanterns Dice: Lights in the Sky. It distills down the tile placement into dice rolling, and allows players to fill up their own lake with polyomino shapes that earn them points.
Read our review of Lanterns Dice: Lights in the Sky.
Ashley Gariepy
The Taverns of Tiefenthal
In 2018, I fell hard for Wolfgang Warsch's designs; games such as The Mind, The Quacks of Quedlinburg, That's Pretty Clever, and Brikks all jumped into my top 100 games of all time. So when The Taverns of Tiefenthal was announced as a 2019 release, I could barely contain my excitement: it was going to be a euro game with dice drafting and deck-building mechanisms (two of my favourites). By the time I played Taverns in late 2019, I had built up my expectations so high that no game, even one designed by the fantastic Wolfgang Warsch, could meet them. I still like playing The Taverns of Tiefenthal, but I couldn't help feeling a little disappointed the first time I got it to the table.
Read more from Ashley Gariepy.
David McMillan
Going into 2019, I tried to temper my excitement and my expectations. With a rambunctious toddler in the house I have very little free time. At the time there were four games that really piqued my interest: Masters of Renaissance: Lorenzo Il Magnifico – The Card Game, Terra Mystica: Merchants of the Seas, Key Market (2nd Edition), and Robin of Locksley. Of those four titles, I have only had the pleasure of experiencing two of them over the past year:
Key Market (2nd Edition)

Key Market (2nd Edition) was everything that I was hoping it would be and more. Having the distinction of being the only "Key" game designed by someone other than Richard Breese, I could still tell that it was heavily influenced by Breese's design methodology. There is a fierce competition for points, but the competition never feels targeted or cruel. The game flows very nicely and is chock full of interesting conundrums. I've only played a few games so far and I have barely scratched the surface of all of the content included in the box.
Robin of Locksley

Robin of Locksley is one of two titles put out by Uwe Rosenberg in 2019 and I was lucky enough to get my hands on a copy. At its heart it's a set collection game with a few position-based progression criteria thrown in for good measure. The two players face off in a grid of loot tiles. The grid is bordered by small tiles that dictate the criteria they need to meet to progress their plater piece around the board (own at least 1 green loot tile, be directly adjacent to the other player, have your knight in a corner, etc.). It's a race to see who can make two full movements around the edge of the board first.
I did absolutely terrible at my first playthrough of the game, but subsequent plays have gotten more intense. For instance, in that first game I kept leaving my knight in locations that allowed my wife to capitalize on the opportunity to position her knight next to mine to progress another spot or two around the board. I was too focused on what I wanted to do that I was ignoring what she was doing. This definitely isn't a game that you can do that if you want to win. While we haven't played it as much as I'd like, it's definitely a game that I look forward to playing even more.
Read our review of Robin von Locksley.
Read more from David McMillan.
Ian Howard

Letter Jam
Letter Jam was one of my most anticipated titles for Gen Con this year, and it ended up being exactly what I expected. It's a challenging, unique experience that I've really enjoyed at all player counts and across different player skill levels. That said, I think the excellent concept benefits from slightly simpler rules, so I usually leave out the mandatory guessing aspect as well as the scoring.
Read our review of Letter Jam.
Watergate

Watergate was extremely popular among our writers, receiving several Diamond Climber nominations. It's a great game, but unfortunately it didn't find a home in my collection. For me, it didn't offer a significant upgrade over similar games that I already owned. If you're looking to get into the two-player political genre, though, Watergate is a good choice.
Shadowrun: Sixth World
This one never made it to the table, as I just don't have the time for crunchy RPGs these days. What I saw of Shadowrun: Sixth World looked appealing, but it didn't quite feel as revolutionary as I had hoped.
Jesse Fletcher

Clank! Legacy: Acquisitions Incorporated
I've played a few games of the campaign. So far it has shown itself to be extremely ambitious, building a robust universe atop a well-liked base game. I'm still eager to see how it ultimately delivers on its promise.
Iron Forest
I viewed a demo pre-production copy of this at Gen Con, but have not yet heard anything else about its progress or release date. Looks like this'll carry over into my Most Anticipated for 2020.
Machi Koro Legacy
I'm about halfway through the campaign and it is as delightful as I anticipated. Games are quick but interesting, light but rewarding. It's a perfect example of an introductory family-weight legacy game.
Suburbia: Collector's Edition
The Kickstarter copy I backed is as gorgeous as advertised, with off-the-charts production value. As yet, I have not been able to do anything but organize the box, but am looking forward to my first play of an aesthetically enhanced version of a game I already enjoy.
Through the Ages: New Leaders and Wonders
Unfortunately, this is not yet available for purchase, at least in the physical form. I have played the expansion content within the app, though, and it delivers exactly what it advertises: new leaders and wonders to spice the game up and provide more variety.
Read more from Jesse Fletcher.
Marcus Cathey
Obscurio
When I saw this in anticipation of Essen, I was interested. Shortly after, I purchased a copy and got it to the table quickly. Love it! My daughter continues to ask to play it and out of 3 different groups of players, I think I've only met one who did not like playing. The game lived up to the expectations I had: a fun clue divining cooperative game with a traitor to keep things interesting and is great for 8 people. I discovered that it was NOT so great at 4 players for at least one of my groups—our traitor won every time.
Warehouse 13: The Board Game
I didn't list this throughout the year but I did mention it over a year ago. This Kickstarter finally delivered this year. I think it's a great game, once you get past the rulebook. I also think that it's hard to get to the table—you need a mid-heavy gamer group unless you have a light gamer group that already loves the show.
Read our review of Warehouse 13: The Board Game.
---
What were some of your most anticipated games of 2019? Did they live up to your expectations? Let us know in the comments below.