Join Meeple Mountain as we look at our most anticipated games of Gen Con 2019, the hottest board game convention in North America.
Every August, more than 60,000 gamers descend on the fair city of Indianapolis for Gen Con, the premier board gaming convention in the United States. This massive event, which started as a humble congregation of merely a dozen people at Gary Gygax's house in Wisconsin back in 1967, has blossomed into a 4-day spectacle that has to be seen to be believed. Gen Con features hundreds of exhibitors demoing or playtesting games, and a whole range of side events like seminars, contests, and concerts; it's easy to get lost in the cardboard wilderness. But never fear, our intrepid Mountaineers are here to guide you with this list of our most-anticipated games for Gen Con 2019!
Imhotep: The Duel
Publisher: KOSMOS
Designer: Phil Walker-Harding
Availability: For Sale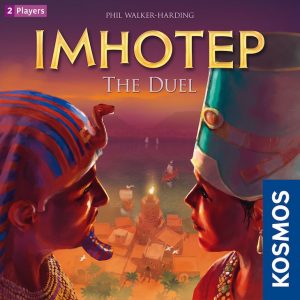 I actually had Imhotep: The Duel on my list for most anticipated games released at Origins, however it didn't get released as expected. But now the retail release of this 2 player version of Imhotep is scheduled to hit stores on August 1. Imhotep is a thinky puzzle which pits players against each other in a race to become the most well known architect in all of ancient Egypt. With an equal mix of tactics and sly "take that" style gameplay Imhotep has been one of my favorite games for years.
Now with the release of Imhotep: The Duel two players can go head to head in a version of the game designed just for two. Fill out the shipping grid in a race to get your workers onto the right ship so that you can collect valuable tokens and bonuses. Look out for opportunities to throw a wrench into your opponent's plans by sending their workers to the wrong ships. I think this game is soon going to rocket up the lists of two player gamers everywhere!
Read our full review of Imhotep: The Duel.
Kingdomino Duel
Publisher: Blue Orange Games
Designer: Bruno Cathala, Ludovic Maublanc
Availability: For Sale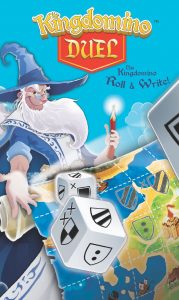 Not only is this a two player specific version of Kingdomino, but it's also a roll and write game!
???
In Kingdomino Duel players fill in their kingdom, two spaces at a time, but instead of drawing double ended tiles like in the original version they'll be rolling 4 custom dice. Each die has different family crests on them which replace the landscapes in Kingdomino. Kingdomino Duel also features special abilities, combos, and a thick stack of scoring sheets so that you can play loads of times!
Two player versions of bigger games are really hot right now, and that's a-okay with me! Long live the King – domino!
Ecos: First Continent
Publisher: Alderac Entertainment Group
Designer: John D. Clair
Availability: For Sale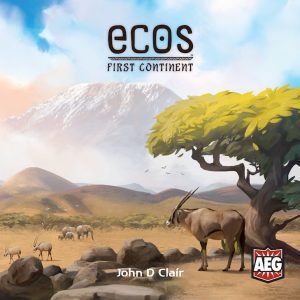 In Ecos: First Continent players take direct part in world building; spreading continents and life itself across the game board. This simultaneaous action game pits players against each other in a race to shape the planet. Collect the elements that you need to bring your creations to life, and strive to be the most benevolent creator.
Games where players take their turns at the same time are great because it means gameplay can go much more rapidly. The artwork on this one looks great, and the player count (2-6) means that your entire group can play!
Read our review of Ecos: First Continent.
Machi Koro Legacy
Publisher: Pandasaurus Games
Designer: Rob Daviau, JR Honeycutt, Masao Suganuma
Availability: For Sale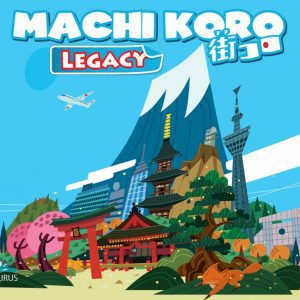 The original Machi Koro is a light city-building game where players roll dice to activate buildings, earn money, and obtain new buildings in order to complete construction of all of their city landmarks. While the base game has its detractors, particularly for the random elements, Machi Koro is a game that I've continued to enjoy, particularly with the Harbor expansion.
Taking a city-building game and incorporating a legacy element sounds like a match made in game design heaven. With "legacy game" guru Rob Daviau at the helm, Machi Koro Legacy looks to be as engaging as it is charming. With individual games taking about 30-45 minutes, the 10-game campaign is the perfect legacy game for gamers who don't have as much time or prefer to take their sagas in smaller bites. Here's hoping for some patented plot twists, and who knows, maybe a Kaiju or two.
Letter Jam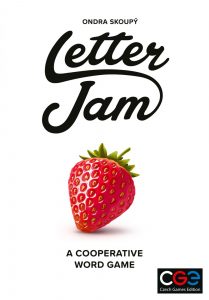 Publisher: Czech Games Edition
Designer: Ondra Skoupý
Availability: For Sale
Czech Games Edition is one of my favorite publishers, and I'm always curious to see what they're releasing for Gen Con. This year it's Letter Jam, which looks to shake up the world of word games by adding a neat twist: players are building words cooperatively using the letters at the table, but they can't see their own letters, forcing them to rely on other players' clues to puzzle it out. Mixing a wordplay game like Scrabble with the near-perfect Hanabi? Sounds like a jam good time to me!
Read our full review of Letter Jam.
Watergate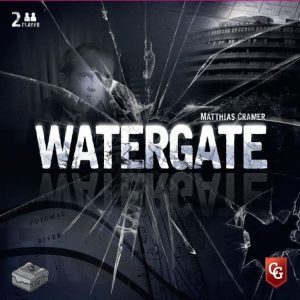 Publisher: Capstone Games
Designer: Matthias Cramer
Availability: For Sale
Watergate, from Capstone Games, hits pretty much all of my gamer buttons: it's a 2-player asymmetric strategy game with a salient political/historical theme. Turning one player into Richard Nixon and the other into the investigative journalists out to break the titular scandal, it uses a card-based event system that instantly evokes a few games I already love, like Twilight Struggle and 13 Days, while offering enough tweaks that it should be able to fit comfortably alongside those other titles.
Shadowrun: Sixth World
Okay, this is a bit of a gimme: as someone who's been a Shadowrun fan for nearly 25 years, I can't help but put this on the list. I loved what I saw in the Shadowrun Sixth World Beginner Box, and I'll definitely be swinging by the Catalyst Game Labs booth to check out the new core rulebook in person. Whether you're a rookie runner or a hardened Sprawl veteran, you'll want to give the Sixth World a scan. And that's chip truth, omae.
Towers of Am'harb
Publisher: Moaideas Game Design
Designer: Chu-Lan Kao
Availability: For Sale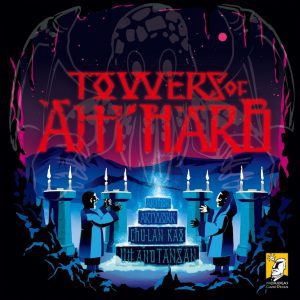 Moaideas Game Design is a Taiwanese game company that has released several notable games in Gen Cons past, including Mini Rails, Tulip Bubble, and Symphony No. 9. Their calling card has been well-produced, thinky abstract games with deep economic engines under their thematic hoods.
One of Moaideas' 2019 Gen Con releases, Towers of Am'harb, is a colorful, Cthulhu-themed abstract with the classic Towers of Brahma mathematical puzzle as its unique core mechanic. Players are cult leaders placing their nine followers on a modular-tile game board, in order to gain the most doom points and unleash their worshipped Ancient One to "win." How players manipulate their 4-disc "towers" determines their follower placements each turn, and where and when they place followers may be cheap or expensive based on their opponents' proximity.
Towers of Am'harb is a crunchy puzzle race for area control with tight economics, asymmetrical game states, and variable player powers for each of the eight Ancient Ones. Despite working to precipitate the eldritch end of the world, players that like abstracts and exercising their left-brain/right-brain rondel-style thinking may find this a highlight at Gen Con.
Aegean Sea
Publisher: Asmadi Games
Designer: Carl Chudyk
Availability: Limited availability
Any release by cult game designer Carl Chudyk is always on my radar. From his notorious "grail" game Glory to Rome, to the easier-to-find Innovation series, to his minimalist offspring Mottainai, his games have that "Chudyk Touch". Each of them are card games where every card is unique in function, power, and scoring, and can be buffed or modified in endless combinations of melds, tucks, and flips with other cards in order to create massive and chaotic points engines that would make Leonardo da Vinci – or a mad scientist – equally envious.
Based on the game's description, Aegean Sea appears to be another quintessential Chudyk Game™ and should delight fans of his previous hits (or who still have never acquired Glory to Rome). Aegean Sea is comprised of no less than 220 cards, with each card representing a different island in the Aegean Sea. These cards are all unique in their card abilities and have multiple-uses (boats, temples, goods, population) depending on how they are deployed to the table.
Aegean Sea is a limited edition Gen Con release by Asmadi Games. They clarify that the game is being sold as complete and is a finished design, but that the Gen Con version will not include artwork nor final packaging. (Which harkens to the low-fi ziploc bag Cambridge Games' release of Glory to Rome in its first iteration). Based on how Aegean Sea's buzz at Gen Con, Asmadi Games may roll it out soon after in finalized form. Whether you're one of the fortunate early adopters or not, Carl Chudyk's renown and fandom in the hobby over the years has only grown, so it's difficult for me to imagine a world without the Aegean Sea in it, so I hope to see it transcend "grail" status and gain a wider release in the future.
Epic Spell Wars of the Battle Wizards: Annihilageddon Deck-Building Game
Publisher: Cryptozoic Entertainment
Designer: Matt Dunn, Matt Hyra, Cory Jones
Availability: For Sale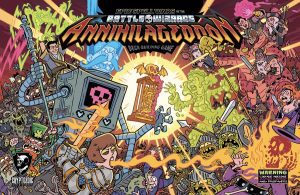 Speaking of cult card game phenomena: in 2012, Cryptozoic Entertainment released Epic Spell Wars of the Battle Wizards: Duel at Mt. Skullzfyre, a take that, vintage Ameritrash card game that was a surprise smash hit. Players are powerful wizards engaged in over-the-top, headbanging combat with an eye-popping "Garbage Pail Kids meets R. Crumb meets MAD Magazine" aesthetic. The base game spawned three standalone-or-combine them expansions that ramped up the chaos and the epicness.
For Gen Con 2019 Cryptozoic unleashes their latest Epic evolution in the form of an all-new 220-card deckbuilder called Epic Spell Wars of the Battle Wizards: Annihilageddon Deck-Building Game. It teases the same Epic Spell Wars experience and familiar technicolor, Adult Swim, acid trip artwork, but this time the game has been cranked all the way up to "11." The only thing missing in the massive box is a built-in soundtrack featuring Spinal Tap, Wyld Stallyns, and Tenacious D. Devil horns, fist pumps, and air guitars while you play are optional!
Horrified
Publisher: Ravensburger
Designer: Prospero Hall
Availability: For Sale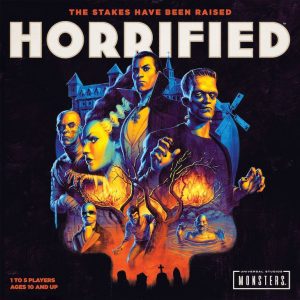 Ravensburger is in the midst of a cinematic blockbuster summer – courtesy of Universal Studios. Earlier this year came the Jaws board game, a faithfully immersive family game comprised of two "acts" taking place on Amity Island and Quint's shark-hunting ship, the Orca. Now comes the super-sized "creature feature" Horrified, which stars members of the Universal Classic Monsters pantheon in a cooperative board game for 1 to 5 players.
In Horrified, players band together to root out seven different monsters terrorizing the village: Frankenstein, The Bride of Frankenstein, The Wolf Man, Dracula, The Mummy, The Invisible Man, and the Creature from the Black Lagoon. Each monster has different winning conditions the players must satisfy as they beat back the sudden beastie pandemic!
The game's vibe pays tribute to 80's flick The Monster Squad, and the gameplay seems to represent a scaled-down (aka much shorter and sweeter) iteration of Arkham Horror. But the dealmaker for me are the seven "high-quality sculpted miniatures" of the Universal Monsters included in the box. Well worth the price of a funhouse admission!
Nine Tiles Panic
Publisher: Oink Games
Designer: Jean-Claude Pellin, Jens Merkl
Availability: For Sale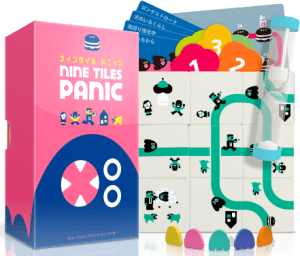 The earth is in mass hysteria as aliens descend…and my stars, are they hungry! UFO's hover overhead as the starving aliens run all over town, causing panic among the citizens and their pets. Why are these extraterrestrials here? Are they looking to gobble up humans? Nothing so sinister, as it turns out. They come in peace but want our tasty hamburgers!
Nine Tiles Panic is a supernova smash as cute as a bushel of Tribbles. Oink Games is known for games packaged as portably and colorfully as a box of Crayolas, and Nine Tiles Panic is no exception. Gen Con will boast an exclusive North American version of this game, so check it out.
Read our full review of Nine Tiles Panic.
Abomination: The Heir of Frankenstein
Publisher: Plaid Hat Games
Designer: Dan Blanchett
Availability: For Sale
Abomination: The Heir of Frankenstein places you in the role of a scientist working to create a suitable companion for the legendary Creature. Players will deploy Scientist and Assistant meeples into locations around the city of Paris circa 1819. These workers collect resources such as blood, muscle, organs, and bone which are used to create body parts for their monster. Players score points based on the body parts completed and the value of materials they use. A worker placement game that also includes narrative events and gothic encounters, Abomination stitches together immersive theme and Euro gameplay into a unique beast of a game.
Read our full review of Abomination: The Heir of Frankenstein.
Honorable Mentions
Space Explorers – This Kickstarter title features retro themed artwork and tableau building gameplay (a la Splendor). We reviewed Space Explorers during the Kickstarter so it's nice to see it hitting the Gen Con floor.
Point Salad – Point Salad is part of Alderac Entertainment Group's yearly Big Game Night event, along with Curios, and Walking in Burano. It's a lovely little set collection game with killer graphics and clever gameplay. Check out our review of Point Salad.
Las Vegas Royale – The original Las Vegas game remains one of my all time favorites, and one I love to introduce to gamers of all stripes. Las Vegas Royale merges in some content from the hard to find Boulevard expansion, then takes a hard right turn and includes some new material that could revitalize this classic dice rolling game. Check out our review of the original Las Vegas..
Q.E. – If you were running the country and had to bail out businesses vital to your national interests, just how much would you spend? In Q.E. you can spend as much as you want, because you print the money. Read our review of Q.E., the most unique auction game you'll ever play.
3 Laws of Robotics – If Werewolf has lost its bite, or Mafia no longer brings the cannolis, then it might be time for 3 Laws of Robotics. You know everything about everyone else, but nothing about yourself! I highly recommend playing it if you have the chance.
Campy Creatures (second edition) – If classic horror tropes and gorgeous vintage-style artwork are your jam, then check out the updated version of this trick-taking game where you and your monster friends fight over the humans! Check out our review of Campy Creatures.
Life Siphon – In this battle royale, there can be only one champion. You must use your wits, summon monsters and cast spells to outwit and outlast your opponents. Check out our review of Life Siphon, the follow up to Dragoon!
City of the Big Shoulders – Step into the late 1800s, in a period of rebirth as Chicago emerges from the great fire of 1871. You and your fellow players are savvy investors helping to rebuild. Check out our review of The City of the Big Shoulders.