2019 was yet another impressive year for the board game world, but we think 2020 could be even better. Check out Meeple Mountain's Most Anticipated Games of 2020.
2019 was another great year for the board game industry: first-time designers really made their marks, the roll and write genre was at an all-time high, legacy games made a resurgence, big Kickstarters finally fulfilled, and many beloved games got the reprints they deserved.
Even with all that 2019 gave us, we are still excited for 2020 and what looks to be another awesome year of board gaming. Here are the games that already have the Meeple Mountain team shouting, "Take my money!".
Andy Matthews
Darwinauts
Designer: Scott Almes
Publisher: Green Couch Games
Artist: Vincent Dutrait
Green Couch Games is known for their line of light games (filler games), in fact they're unapologetic about it. Hits like Best Treehouse Ever, or Rocky Road à la Mode have helped them achieve notoriety in the world of hobby gaming. But now they're expanding outwards into larger games. Funded last year on Kickstarter, Darwinauts is a planetary exploration game in which players act as scientists traveling through a dimensional portal to bring back new lifeforms for study. It features a clever mix of set collection, tile placement, and worker placement; all mixed together in a delightfully appealing game.
Cascadia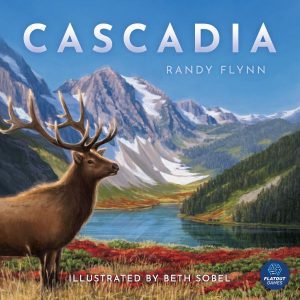 Designer: Randy Flynn
Publisher: Flatout Games
Artist: Beth Sobel
Cascadia is a tile laying ecosystem game from designer Randy Flynn, and the team behind Point Salad and Calico, and featuring lovely artwork from Beth Sobel. In Cascadia, players will draft tiles featuring animals which need to be placed into your own personal version of the Pacific Northwest. Tiles have specific placement rules based on the animal displayed upon them which makes Cascadia a delightful multi-layered puzzle. Keep an eye out for this one on Kickstarter in April.
Zombie Teenz Evolution
Designer: Annick Lobet
Publishers: IELLO, Le Scorpion Masqué
Artist: Nikao
Not much is known about this game, other than it's a continuation, a sequel of sorts, to Zombie Kidz Evolution, one of my favorite family games ever. Publisher Scorpion Masqué have teased us with a prototype image featuring new characters, and what appears to be some more complex game mechanisms. The apparent goal is to offer a new familiar game to your kids who have grown up with Zombie Kidz Evolution. We'll find out more later this year, and rest assured we'll be reviewing this one when it's available.
Calico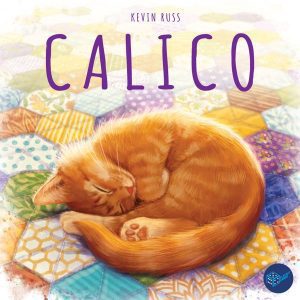 Designer: Kevin Russ
Publisher: Flatout Games
Artist: Beth Sobel
We reviewed Calico late last year and were bowled over by the combination of gorgeous artwork and trick/puzzly gameplay. Calico is a looker for sure, but it's also a real challenge, and a delight, to play. Players are placing tiles into their own personal quilt board, while attempting to match colors and patterns. It funded on Kickstarter in 2019 and will be shipping to backers in 2020. I don't mean to let the cat out of the bag, but it's excellent and you should totally be on the lookout for it.
Ashley Gariepy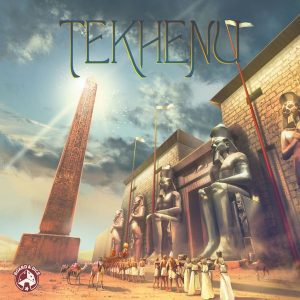 Tekhenu: Obelisk of the Sun
Designers: Daniele Tascini and Dávid Turczi
Publisher: Board&Dice
Artist: Unknown
What do you get when you take designers Daniele Tascini and Dávid Turczi, combine them with publisher Board&Dice, a somewhat difficult to pronounce name that starts with the letter T, and dice drafting? Why a beautifully crafted and meaty euro game that is surprisingly thematic, of course. Teotihuacan: City of Gods was this combo's first hit game, followed by 2019's mouthful, Trismegistus: The Ultimate Formula, my tenth favourite game of the year. In 2020, the pair of designers are releasing Tekhenu: Obelisk of the Sun. If Tekhenu's pedigree alone wasn't enough to pique my interest, it seems like Tascini might also revisit his rotating gears design introduced in Tzolk'in: The Mayan Calendar. In Tekhenu, the rotating sun and the titular obelisk create sunny, shaded, and dark areas of the game board, thus limiting players' options when drafting dice. I know Tekhenu: Obelisk of the Sun hasn't only caught my attention so here's hoping people will pronounce this game name a little better than its predecessors.
Viscounts of the West Kingdom
Designers: Shem Phillips, S J Macdonald
Publisher: Garphill Games, Renegade Game Studios
Artist: Mihajlo Dimitrievski
Two years ago I didn't think I would care about the release of a game in the North Sea/West Kingdom universe. I found the games in the North Sea trilogy (Shipwrights, Explorers, and Raiders) just okay at best. Architects of the West Kingdom was an improvement and a good game, while 2019's Paladins was a wonderfully thinky Euro and my third favourite game of the year. Now that Viscounts of the West Kingdom—the third, and presumably final, game in the series—is releasing, I'm super excited. There isn't much information out yet, but the game's BoardGameGeek page has "deck-building" and "rondel" listed as the main mechanisms so I'm pumped. You think that I would have learned to better manage my expectations after what happened last year with The Taverns of Tiefenthal, but it looks like I will have to wait yet another year to learn that lesson.
Read more from Ashley Gariepy.
David McMillan
Viscounts of the West Kingdom
Designers: Shem Phillips, S J Macdonald
Publishers: Garphill Games, Renegade Game Studios
Artist: The Mico (Mihajlo Dimitrievski)
Like Ashley, I simply cannot wait for this game and for all the same reasons. And since we're talking about Shem Phillips, here's another game I'm excited about…
Architects of the West Kingdom: Age of Artisans

Designers: Shem Phillips, S J Macdonald
Publishers: Garphill Games, Renegade Game Studios
Artist: The Mico (Mihajlo Dimitrievski)
Architects of the West Kingdom is a fantastic game designed by Shem Phillips and published in 2018. Players take on the role of architects in charge of constructing different landmarks throughout the domain at the end of the Carolingian Empire. It's worker placement with a twist. Most resource gathering locations will net you an amount of resources equal to the number of workers already present on that location. Leave a lot of workers there and you'll reap huge rewards. However, your opponents can decide to capture those workers and hold them hostage which will cost you valuable time and resources to reclaim.
On top of having to decide how you want to manage your workers, you'll also have the opportunity to hire apprentices that will provide you with immediate and/or long term effects, contribute to the construction of the cathedral for massive points, and even visit the black market to obtain highly sought after resources by more nefarious means. This expansion builds upon the base game by introducing new buildings, journeymen, and brand new mechanics to govern how they will all interact with the game system. I can't wait to get my hands on it!
Roll Player Adventures

Designers: Keith Matejka, Peter Andrew Ryan, James William Ryan
Publisher: Thunderworks Games
Artists: JJ Ariosa, Luis Francisco, Damien Mammoliti, Rainer Petter, Lucas Ribeiro, Kim Robinson, ShenFei
Anyone that knows me well knows that I am a massive Roll Player nerd. Keith Matejka's clever dice placement game won me over from the first moment I ever played it. Roll Player Adventures is a cooperative storybook adventure game that takes place in the same universe. From what I've seen it looks to be an interesting mixture between a standard hack and slash RPG campaign and a Choose Your Own Adventure story and I absolutely cannot wait to try it out for myself. You can even import characters from your Roll Player playthroughs! How cool is that?!
Streifenmanager
Designer: Stefan Feld
Publisher: Unknown
Artist: Unknown
Not much is known about this game other than this juicy tidbit of information that Stefan Feld shared in a BGG forum post: "The core mechanism consists of strips of cardboard ("Streifen" in German), which are put together in the course of the game and generate actions. The more skillfully you create, the more actions you can create." That's not much to go on and as far as I'm concerned, it really doesn't matter. As evidenced by my Focused on Feld series, I love me some Feld games and I have no doubt that I'm going to love this one, too.
Read more from David McMillan.
Ian Howard
Public Market

Designers: Molly Johnson, Robert Melvin, Shawn Stankewich
Publisher: Talon Strike Studios LLC
Artists: Beth Sobel, Jason Washburn
Okay, I'll admit it: my excitement for this one started with the absolutely gorgeous box art. I'd buy an empty box if it had that cover! Once I found out that it was designed by the team behind the fantastic filler game Point Salad and published by the studio who rocked my socks off with Vinyl, Public Market became my first must-have game of 2020.
Read our review of Public Market.
Targi: The Expansion

Designer: Andreas Steiger
Publishers: KOSMOS, Group SNE, White Goblin Games
Artist: Franz Vohwinkel
Targi has long been one of my favorite two-player games, but the expansion for it (originally released in 2016) has never been available in English. Recently, the publisher added a 2020 release date to their website for the English version. Could it be true, or am I setting myself up for disappointment? Only time will tell. Luckily, the base game of Targi is strong enough that I won't be too disappointed if the English-language expansion never materializes.
Jesse Fletcher
Gloomhaven: Jaws of the Lion

Designer: Isaac Childres
Publisher: Cephalofair Games
Artists: Alexandr Elichev, Josh T. McDowell
Gloomhaven hit the gaming world by storm by offering a massive campaign experience that while ultimately rewarding has a relatively high barrier of entry, both from a pricing and complexity standpoint. Gloomhaven: Jaws of the Lion purports to be the entry-level companion to its big brother. With a cheaper price-point, smaller footprint, and lower learning curve, Jaws of the Lion can potentially bring newer gamers into the wide world of Gloomhaven. Best of all, the classes, monsters, and scenarios are all compatible with the base game, sure to please all the experienced Gloomers as well.
Metal Gear Solid: The Board Game

Designer: Emerson Matsuuchi
Publisher: IDW Games
Artists: Jose David Lanza Cebrian, Sebastián Koziner, Kenneth Loh, Aragorn Marks, Francesco Orrù
Based on the hit video game series, Metal Gear Solid: The Board Game is a cooperative game from veteran designer Emerson Matsuuchi where players take on the roles of Solid Snake and crew, utilizing individual special powers to avoid detection and complete objectives. Given his success with Specter Ops, itself a hidden movement game, and the smash hit engine-builder Century: Spice Road, Emerson Matsuuchi has earned my trust even though video game-to-board game ports have historically been hit-or-miss. This one has my wallet locked and loaded, ready to break out the game contents in that cardboard box, whether or not I get to sneak around in it.
Read more from Jesse Fletcher.
Philip Chen
Oath: Chronicles of Empire and Exile

Designer: Cole Wehrle
Publisher: Leder Games
Artist: Kyle Ferrin
The next from the famed designer of Root and Pax Pamir, Cole Wehrle, and the next big game from Leder Games, Oath: Chronicles of Empire and Exile drew my attention along with many others. I've been anticipating the game even more after getting a chance to play the prototype at PAX Unplugged in December! How to describe Oath? It's a political, area influence game driven through tableau building (and in which some of the tableaus are shared). However, its a game that remembers the past victory, and the consequences of the victor's strategies. So it is Cole's take at a legacy-esque game. As Cole puts it in his designer diary, "A player might win a game by cloying your way up to the top of the chain of command and then pushing the region into anarchy. Welp, the next game is going to start in that Anarchy and the strategies that led you to success may not be quite so useful anymore. Oath is all about consequences." This is all backed up by Kyle Ferrin's amazing, whimsical art. Need I say more?

18Chesapeake
Designer: Scott Petersen
Publisher: All-Aboard Games
Artist: Brigette Indelicato
Tagged as a beginner game in the 18xx genre, 18Chesapeake claims to teach simple core 18xx rules in relatively quick playtime and with a modern, appealing graphic design. I've yet to dive into the world of 18xx games but have quickly become deeply interested in getting into them. Amongst my favorite games of 2019 were City of the Big Shoulders and the reimplementations of Age of Steam and Irish Gauge. These all seem like gateway games to this much-loved subgenre. I'm looking forward to using it as an introduction to 18xx myself, and in the future hopefully to turn others into 18xx-ers!

1941: Race to Moscow
Designer: Waldek Gumienny
Publisher: PHALANX
Artist: Bartek "bartosy1" Jędrzejewski
What looks like a ruthless logistics simulation of the '41 Eastern Front campaign, 1941: Race to Moscow puts you in command of one of three German Army groups as you advance on Moscow. Based on the game system in 1944: Race to the Rhine, 1941 promises deeper gameplay with more diverse transports and a strong Soviet army enemy you must contend with right out of the gate. I wouldn't consider it a war game, but it does promise to deliver the bite of one while focusing on logistics and network building. Unfortunately, I missed the Kickstarter which closed in early December. I'll be eagerly awaiting a retail release, which I'm anticipating late in the 2020.
---
Let us know in the comments which games you are anticipating in 2020!