Join Meeple Mountain as we look at our most anticipated games of Gen Con 2021, the hottest board game convention in North America.
This September, Indianapolis will again be host to the largest board gaming event in North America. And while the numbers will be lower than usual for public health reasons, Gen Con is still the mecca for board gaming and will set the tone for the rest of the year. Gen Con 2021 will feature over 350 exhibitors, debuting almost 200 games to enthusiastic board games. With that many games landing all at once, it can be hard to find the gems among the coal. But never fear, the Meeple Mountain writing team have scoured through the upcoming titles to select our most anticipated games of Gen Con 2021!
Andy Matthews
Ten
I'm a fan of every game that the Flatout Games team has worked on. Calico, Cascadia, Dollars to Donuts, Point Salad, etc. They have a knack for interesting gameplay, great themes, and clever mechanisms. When I heard they were releasing a light card game through publisher AEG I was immediately interested, especially when I saw the vivid geometric graphic design.
TEN is a light press your luck card game with echoes of PUSH and No Thanks. On your turn, you'll flip over cards from a shared deck until you either choose to stop or bust. If you stop you can take all the numbered cards, or all the currency cards, whichever one you choose all the other players get the other option. If you bust, the other players also benefit from your misfortune. At the end of the game you'll score for the longest run of each color in your personal play area.
Publisher: Alderac Entertainment Group
Designer: Molly Johnson, Robert Melvin, Shawn Stankewich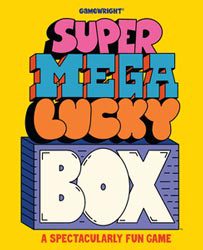 Super Mega Lucky Box
Designer Phil Walker-Harding is having a gonzo 2021. In total he's released, or will soon be releasing, a total of eleven games. Is that a record? I'm not sure, but I know that I love his design chops and I'll be checking all of them out. One of the games on this list is Super Mega Lucky Box, a super lightweight family game with 70s aesthetics, along the same lines as 2019's Silver & Gold.
In Super Mega Lucky Box players flip a central deck of cards, numbered 1-9, and collectively fill in a space on one of their scoring cards. Each card contains a 3×3 grid of numbers (a mix of 1-9). Players earn bonuses for completing rows or columns, and also earn lightning bolts allowing them to change the numbers. Super Mega Lucky Box is simple game that will appeal to fans of Bingo or Yahtzee and I expect this to be on the dining room tables of many families this year.
Read our review of Super Mega Lucky Box
Publisher: Gamewright
Designer: Phil Walker-Harding
Horrified: American Monsters
When Horrified landed in 2019 it made an immediate impression. A licensed board game about classic Hollywood monsters that doesn't suck? Plus it has coop gameplay and slick artwork? I immediately ran to the store to pick it up and boy I'm glad I did. It takes the cooperative gameplay made popular by Pandemic and sprinkles in a dash of puzzle-solving. Is it mass-market? Sure, but the gameplay is solid and because you have a choice of which monsters to play against you can really set the difficulty level based on your group.
Horrified: American Monsters takes the original game and "americanizes" it by focusing on the Cryptids of American folklore: Bigfoot, Mothman, the Jersey Devil, the Chupacabra, the Banshee of the Badlands, and the Ozark Howler. If you've ever wanted to find Bigfoot (and stop him from ransacking a small Midwestern town), then Horrified: American Monsters is the game for you.
Publisher: Ravensburger
Designer: Prospero Hall
Return to Dark Tower
If you grew up in the late 70s or early 80s like I did then you likely saw commercials for a board game called Dark Tower, maybe you were lucky enough to own a copy or know someone who did. Dark Tower was a fantasy board game which had a solitary tower in the middle of the game board with integrated electronics to keep track of gameplay. While it didn't sell all that well when it was first released, it gained a cult following in the decades since.
In 2017 Restoration Games announced that they would be publishing a reboot of this classic game, and finally brought it to Kickstarter in 2020; raising over $4 million dollars. It's scheduled to ship to backers this year, and copies will hopefully be available at Gen Con. Relive the past while looking to the future with Return to Dark Tower.
Publisher: Restoration Games
Designer: Isaac Childres, Noah Cohen, Rob Daviau, Justin D. Jacobson, Brian Neff
Andrew Lynch
Caesar!: Seize Rome in 20 Minutes!
I love a two-player game, I love a quick game, I love an area control game, and I've come to learn that I love games set in Ancient Rome, so this upcoming game for 1-2 players from Paolo Mori ticks most of my boxes. Even if my experience with Mori is mixed, this is one to be excited for.
Publisher: PSC Games
Designer: Paolo Mori
The LOOP
A cooperative game where players work as a team of time travelers trying to keep the timeline intact sounds like a blast. I was already interested in The LOOP before I saw the publisher, Pandasaurus, one of the best publishers of accessible yet engaging family games. Throw in a system that works on combos and a central tower that spits out cubes and you've got yourself a deal.
Publisher: Pandasaurus
Designer: Maxime Rambourg, Théo Rivière
Successors (Fourth Edition)
I know nothing about this game, based around the death of Alexander the Great and the ensuing power struggle between Macedonian generals. Absolutely nothing. But I love the theme, I love the cover, and I'm curious to explore more war games, an area of gaming I'm relatively unversed in.
Publisher: PHALANX
Designer: Richard H. Berg, Mark Simonitch
Witchstone
Knizia is my favorite game designer and I will always be interested in any game he makes. It's rare to see him work with a collaborator, and I'm curious to see how a Knizia design with a collaborator feels.
Publisher: R&R Games
Designer: Martino Chiacchiera, Reiner Knizia
Jesse Fletcher
Clash of Cultures: Monumental Edition
Clash of Cultures is an epic civilization game  where each player takes a civilization from a single settlement to a mighty empire. Players explore the world, build cities, research technologies, and conquer their rivals Originally released in 2012, the upcoming reprint will have upgraded components and include both of the highly-regarded Civilizations and Aztecs expansions. As a diehard fan of PC games like Sid Meier's Civilization and a lover of epic tabletop experiences, this one is a no-brainer for me.
Publisher: WizKids
Designer: Christian Marcussen
My Very First Games: Rhino Hero Junior
Rhino Hero is a delightful stacking dexterity game where you are stacking foldable cards and moving a rhino meeple, trying to not topple the tower. Rhino Hero Junior is a new version adaptable for very small children. As an uncle of a newly-turned 2-year old niece, with Rhino Hero Junior, let's just say I can cross her name off of my Christmas gift checklist. I am destined to be the uncle who plays board games so I may as well start her off right.
Publisher: HABA
Designer: Scott Frisco, Steven Strumpf
Justin Bell
Key to the Kingdom
A game originally released in 1990, Key to the Kingdom is a family-friendly adventure game with unique game board elements used to augment gameplay. With character names like the Unique Unicorn, the Part-Time Knight, and the Pitiless Pixie, and unique art by Andrew Bosley—the man who gave us the artwork for Everdell—this will be a game to watch. The last game designed by Matthew O'Malley and Ben Rosset? The Search for Planet X, the best deduction game I own, so the pedigree here is very promising.
Publisher: Restoration Games
Designer: Matthew O'Malley & Ben Rosset
Neoville
I was hoping this would be a game about building cities based on Neo from The Matrix; sadly, it was not to be!
Neoville IS, however, a city-building game putting players in the role of architects, featuring tile placement mechanisms to build the best combination of the natural world and human habitation. Published by Blue Orange Games (Paco's Party, Kingdomino, Photosynthesis, and other incredible family games), I'm excited for Neoville because it's designed by Phil Walker-Harding, who has given us Sushi Go! Party, Imhotep, Summer Camp and my favorite of his designs, Gizmos. Anything Walker-Harding lays hands on, count me in!
Publisher: Blue Orange Games
Designer: Phil Walker-Harding
Mindclash Games
There are multiple games I'm excited about from Mindclash. First and foremost, Voidfall, which is designed by the same team behind the new deck-building Imperium games, Classics and Legends. Voidfall features artwork by Ian O'Toole, maybe the busiest guy in board game art design right now. Then there's Perseverance, with expansion content available for demo at Gen Con. I've really enjoyed my first play of Anachrony by David Turczi, and Trickerion: Legends of Illusions is another winner. Turczi himself will be on hand at Gen Con to answer questions about all of the games he has been working on.
Publisher: Mindclash Games
Designer: Nigel Buckle and David Turczi
Velocity: Vanguard
I played Eclipse: Second Dawn for the Galaxy twice earlier this year. Rounds 1-6 were always my favorite, because for the most part I was concentrating on exploring the galaxy, boosting my production engine, and upgrading my very cool ships. Most important were those ship upgrades; I just loved equipping my vessels with better engines, shields, weapons and other powers.
Velocity: Vanguard looks very much like my kind of game, at least until things turned into a dice-driven game of chance late in those games of Eclipse when the script flipped from engine building to ship combat. (I love combat, but I just wish the fact that I had guided missiles would guarantee victory!) Velocity: Vanguard seems like it will feature many of the things I loved about Eclipse—incredibly high production values, ship upgrades, variable player/faction powers—and add on a cool physics-based movement system to let players engage in space battles with near-infinite replayability. And this game features options for solo, full co-op, team or individual competitive play!
Publisher: Precarious Games
Designer: Joe Cornell, Larry Wolfe
Andrew Holmes
Kingdomino Origins
We're big fans of Bruno Cathala's 'Omino' series here at Meeple Mountain, giving glowing reviews to both the original Kingdomino and it's kid-friendly offspring Dragomino. So colour us intrigued when a new version comes along swapping royalty and crowns for cavemen and fire.
In addition to the original's stellar gameplay, Kingdomino Origins introduces new resources to collect, helping players to lure cavemen to their territories for intriguing new ways of scoring points. I'm looking forward to finding out how all this will work in practice and whether the additions and changes improve on the original or whether Kingdomino Origins ends up over-complicating a classic. Either way this is on my wish list.
Read our review of Kingdomino Origins
Publisher: Blue Orange Games
Designer: Bruno Cathala
Maglev Metro
Ted Alspach is the designer of one of my favourite games of all time, Suburbia, so any new design from him is worth checking out. Maglev Metro appears to combine tight route building, tile-laying and pick-up-and-deliver gameplay with a fabulous mechanism of upgrading your abilities and player powers. The components look pretty great too, with transparent tiles to allow you to overlay routes from different player's networks on the same space and cute trains with spaces for the robots and commuters you'll be transporting around. Plus, there are three colours of shiny robot – what more could you want!
Publisher: Bézier Games
Designer: Ted Alspach
David McMillan
Savannah Park
Michael Kiesling (Azul) and Wolfgang Kramer (Heimlich & Co.) are outstanding designers. I didn't realize it at the time, but I was first introduced to this dynamic team-up when I played Coal Baron for the first of many times. It wasn't until I ran into them again on Yucata with games like Nauticus and The Palaces of Carrara that I really began to pay attention. Their most recent collaboration, 2020's Paris has only confirmed what I already know: when you see Kiesling and Kramer on the box, it's a pretty safe bet that there's something really special inside.
That's why I am excited about Savannah Park. In Savannah Park, each player begins the game with a set of animal tokens, identical to every other player's set, that are randomly placed on their player board. On each player's turn, they select a single token that every player must pick up and move to a different area of their park following a few easy placement rules. The catch is that the tiles can only be moved once and they will score at the end of the game based on their final groupings and whether or not they've been removed by some means. It seems like a deceptively clever, puzzly game that's right up my alley.
Publisher: Capstone Games
Designer: Michael Kiesling, Wolfgang Kramer
Waggle Dance
Waggle Dance was one of the very first games that I ever backed on Kickstarter and also one of the most fun Kickstarter campaigns that I have ever had the pleasure of being a part of. Part dice placement, part area control, all fun, Waggle Dance sees the players managing their worker bees (i.e. rolling and placing massive handfuls of dice) in an attempt to produce a target amount of honey before your opponents do.
In true eurogame fashion, Waggle Dance gives you a million things that you'll want to accomplish and then force you to prioritize what's most important to you while also demanding you pay attention to what your opponents are up to.
It's exciting to see this amazing game finally getting a reprint! This new version of Waggle Dance has updated artwork and components, but the core gameplay is the same. I cannot recommend this game enough.
Publisher: Bright Eye Games
Designer: Mike Nudd
Lost Ruins of Arnak: Expedition Leaders
If you've read my review of Lost Ruins of Arnak then you already know just how much I like this game. Worker placement with a smattering of deckbuilding and a whole lot of point salad goodness, Lost Ruins of Arnak just hits so many sweet spots for me. So, of course I am excited about the expansion. What's better than Lost Ruins of Arnak? Even more Lost Ruins of Arnak, that's what.
This expansion introduces new Item and Artifact cards, new Research tracks, and even several unique leaders with their own decks and abilities to add a little bit of asymmetry to the experience. If the base game is anything to go by, I'm sure that this expansion is going to elevate an already top notch experience and I can't wait.
Publisher: Czech Games Edition
Designer: Min & Elwen
My Very First Games: Off to Bed!
If you'd asked me years ago what type of game I'd be excited about at Gen Con, I never would have guessed that a children's game about putting various animals to bed would have been one of them. That was before I had a child of my own, though. Things have changed. My son just turned 3 and he's already developing a love of board games; specifically HABA's My Very First Games line of games with titles such as First Orchard and Nibble Munch Crunch in their roster. The bright yellow boxes, the chunky components, and the vibrant, bold colors really speak to him. And that speaks to me as a parent.
MVFG: Off to Bed! Is a matching game in which the children are trying to match the various animals with their favorite things so that the animals can soundly shuffle off to slumberland. The rule book lists several different modes of play that are designed to present increasingly more difficult challenges for your child to overcome.
I can't wait to play this one with my son!
Publisher: HABA
Designer: Kristin Dittmann
Brody Sheard
I would highly recommend many games coming out at Gen Con this year that I have covered already listed later in this article. Besides those games that I have already covered, these are the games I am most excited about.
Merchants of the Dark Road
This is my most anticipated game of the year. I played a prototype version about 2 years ago at Geekway and I thought it was amazing then, so with more time and further polishing, I am very excited about this game. First, I admire Brian Suhre and have enjoyed his games including Coldwater Crown, and Freshwater Fly. But I think Merchants of the Dark Road is going to be his best game yet. What I liked most was the strategic feel of the game along with some surprises that make the game feel more thematic. Merchants of the Dark Road is a worker placement game that uses dice. You will go to different areas on the board going in a loop to perform the action best suited for the current situation using the dice you rolled. Besides the gameplay which I highly enjoy, Elf Creek Games have included amazing components into this game, which makes this one a must have.
Publisher: Elf Creek Games
Designer: Brian Suhre
Great Western Trail (Second Edition)
You might not know this, but I have been working as a travel nurse for the last 2 years, and because of that I don't get to take all my games with me. Great Western Trail is one of the games I wish I could play and have with me all the time. But it doesn't fit in the car each time I move states. They announced earlier this year they would be making a trilogy of the series and this is very exciting news for those who enjoy the game. I can't wait to see what they reveal for the second edition and hope to play this game soon as it is one of my all time favorites.
Publisher: Eggertspiele
Designer: Alexander Pfister
Glass Road
This game was recently picked up by Capstone Games and has been on my wishlist for a long time. This might be the perfect time to finally check it out, play it and see if it might be a keeper for my shelf. Uwe Rosenberg makes great games, and although this was first published in 2013, it still makes me excited to see it with some new energy. It's a strategy citu building economic game with a plethora of mechanics that I enjoy. I'm hoping this new energy added to an 8 year old game opens my eyes to glass making, and an Uwe success.
Publisher: Capstone Games
Designer: Uwe Rosenberg
The Spill
I've been watching Curt Covert's recent facebook videos about the development of this game. The theme is not what I would expect for a Smirk & Dagger game, but I think it conveys a great message. It's a cooperative game that features a dice tower where the dice can fall in any of the 4 compartments. Players will work together to push back and contain the oil spill, so its like a reverse tower defense game. I love what Smirk & Dagger, Smirk & Laughter has done and hope to see how this game continues their line.
Editors's note: The publisher has indicated that they will "have demos, events (on-line and live), and a live Kickstarter at Gen Con for the game" but that the game is "is not actually launching at Gencon".
Publisher: Smirk & Dagger
Designer: Andy Kim
Bob Pazehoski, Jr.
Furnace
19th century industrial domination in a cleanly designed antique white box? You have my attention. Auctions, card drafting and variable player powers? You've potentially opened my wallet. Ivan Lashin made a big splash with Smartphone in 2018. And while my sensibilities don't gravitate toward that particular theme, they sure do run with reckless abandon toward the Victorian era. Arcane Wonders has a solid track record and an intriguing lineup going into GenCon this year. Furnace is easily the cream of that crop for me.
Publisher: Arcane Wonders
Designer: Ivan Lashin
The Hunger
By all rights, this one shouldn't draw me in the way it does. I'm not much of a vampire guy. However, I have a deep respect for the designs of Richard Garfield. Bunny Kingdom is a Top 10 play in our household without question. More than the game's description – that being vampires on the hunt through the night, trying to satisfy their hunger as deeply as possible without being caught by the rising sun. More than the artwork – upon which Marta Ivanova and Jocelyn Millet delivered distinctive charm to offset the would-be horror. More than any promo materials or play-throughs, I appreciate Garfield's brief Design Notes, which detail the care involved in creating a proper nail biter, and that there are inherent challenges and risks in doing so. I appreciate the time spent testing and fixing. I appreciate the risks. The Hunger might be worth a try.
Publisher: Renegade Game Studios
Designer: Richard Garfield
Oltrée
I've been watching the development of this one online for some time. Cooperative games are not typically at the top of my list, nor am I usually first in line for RPG's. However, I am excited to see if one of my favorite designers can change my mind by blending these styles and mechanisms into something slightly different. Knights sworn to protect those in need over a series of linked-but-not-necessarily-sequential campaign style games. I'm curious. The artwork has been appealing from the start. I don't know the French RPG upon which Oltree is based, so I would be going in cold. However, I feel as though I'd be diving into safe waters. I can't wait to see the finished product in action!
Publisher: Studio H.
Designer: Antoine Bauza, John Grümph
Honorable Mentions
Dice Miners – Dice Miners gets credit for a killer production. Box art, dice mountain, and the dice themselves, all wrapped up into a heavily luck based game. It caught our attention, but not enough to feature.
Origins: First Builders – Origins is designed by a veteran designer and one of my favorite publishers, Board&Dice. I expect a medium-heavy euro game with a fun dice as worker placement game. The theme will need to be further looked into.
Trails – Trails seems like a light version of PARKS which features the Fifty-Nine Parks print series.. Players hike along a path to collect rocks, acorns, and leaves, also taking pictures and encountering wildlife. Players gain merit badges by fulfilling contracts to win the game. I love PARKS and hope TRAILS lives up to what I've seen in this series so far.
Previously Reviewed
We've already covered a number of titles which have already been released, or will soon be released at Gen Con 2021.
The Loop – This is the newest and best cooperative game that has come out for a couple years. You will all be working together to put out fires that Dr. Foo does while also trying to succeed in 4 missions. Players each have their own deck they will be managing that will let each player perform different actions. If you like cooperative games and want something that gives you choices in your actions with your own deck building, this is your game.
Watch our review of The LOOP
Kohaku – This game was a pleasant surprise to me when I first played and reviewed it. I appreciate the things indie publishers do for this hobby, and that includes 25th Century Games. Kohaku is simple yet strategic tile laying game which has players forming their own koi pond by selecting tiles from a shared pool.
Watch our review of Kohaku
Tutankhamun – Tutankhamun is an abstract strategy game where players collect tiles that are laid out in a line representing the Nile River. It got a major facelift last year thanks to 25th Century Games. This is the best example of an older classic game being produced and presented in a more modern way to attract more people to the game.
Watch our review of Tutankhamun
Holi – Holi is an ancient Hindu festival celebrating spring, love, and new life. It's best known for the wild vibrant colored powders thrown at each other by participants. But now you can celebrate Holi in your own home thanks to this great board game adaptation from Floodgate Games. Holi (the game) is an abstract strategy puzzle game along the lines of Sagrada, with incredible table presence due to the beautiful 3-tier board.
Watch our review of Holi
​​Arkwright: The Card Game – This is a card game version of the heavy economic board game of the same name. The game includes a supply and demand feature that drives the game, and helps players to figure out where they can make the most profit. At the end of the game you will want the most high valued stock as you can being the richest and winning the game.
Watch our review of Arkwright: The Card Game
Paris – Improve districts in 19th century Paris and build landmarks for influence and points. Paris is an economic city building euro game set in the City of Lights.
Watch our review of Paris
Rocketmen – Rocketmen is a great euro push your luck deck builder game. Players will be managing their cards to get enough rocket power and technology to get and do certain missions.
Watch our review of Rocketmen
Cascadia – Build your ideal cardboard countryside in this beautiful tile-laying game set in the Pacific Northwest. Make pleasing landscape arrangements and place wildlife in their natural habitats to earn points.
Read our review of Cascadia
Cosmic Frog – A bizarre, colourful, and fun game of tactically gorging your space frog on the remnants of a dying planet. Tiles stack to create a rolling landscape that shrinks as players compete to eat and steal the right bits of cosmic dirt. An excellent tactical experience at four or less.
Read our review of Cosmic Frog.
Mazescape – A really clever series of mazes unlike any other I've seen. Imagine an old, folded, two-sided road map where getting to your final destination requires you to fold, unfold, and refold sections of the map to find your way there. Mazescape is as challenging as it is entertaining.
Read our review of Mazescape.
Vault Wars: Relic Roadshow – Adding a host of new, high risk high reward choices, and even more items to collect; relic roadshow gives you a whole new Arsenal  for your vault wars experience.  Take your relics on the road!
Watch our video review of Vault Wars: Relic Roadshow.