Sherlock is old news, there is a new detective at the helm. With you and your team of investigators hot on the case, London has never been safer...right?
This article contains no spoilers. Any photographs from actual gameplay are taken only from the Tutorial scenario.
We loved Chronicles of Crime so much that we nominated it for a Diamond Climber award for Best Kickstarter Game, and for Best Coop Game, and it won both of them.
Sherlock is old news, there is a new detective at the helm. With you and your team of investigators hot on the case, London has never been safer…right?
In Chronicles of Crime, you and up to three friends join together to solve crimes around London in this cooperative criminal investigation boardgame. Unlike other titles in the genre, Chronicles of Crime incorporates QR codes, so components are reusable for future cases. Each character can play a different role in each case, and the locations you visit will be host to various events–once an innocent park, now the scene of a murder. Each story arc is made up of multiple scenarios (cases) and is brought to you by a different author. Aside from adaptability based on the game's components, Chronicles of Crime is app-driven, leading you through the story one stage at a time. And when you visit a crime scene, you can experience it as if you are actually there thanks to the integration of 3D Virtual Spaces crafted for each scenario.

Gameplay
The gameplay is deep, but the setup is as simple as could be! Place all of the cards and boards within reach of all players and start the app. Select the scenario and episode you want to play and start the game.   The app does an excellent job of introducing the case and providing all the known information. From there, it is up to the players to decide whether they speak to a character, travel, or search a location by scanning the unique QR code of each; gathering leads and information. In those where searching is enabled (crime scenes for example), you will be allowed to look for evidence–this is where Virtual Reality comes in. You will have 40 seconds to explore the 3D scene and describe what you see to your team. After the search, you will scan in all Evidence Category Cards relating to what you saw in the VR world. You and your team will continue to question, investigate, and piece the clues together. When you think you have the answer, return to the Police Chief to Solve the Case. He will ask you a series of questions about the case including motives, relationships of the characters, and culprit. Based on your answers and the in-game time that has passed, you will be given a score and access to the correct answers (if you want to see them).

What Makes This Game Unique?
Chronicles of Crime will inevitably be compared to other cooperative, crime-solving boardgames like Deadline or, more notably, Sherlock Holmes Consulting Detective. This games most distinguishing feature is its app integration, in particular, the way the app introduces the passage of time. Within the app is an integrated game clock which shows time passing as the game is played. Each thing your team decides to do will advance the in-game time; interviewing a character takes 5 minutes of in-game time, traveling to another location takes 20 minutes of in-game time. This passage of time allows for the game scenarios to be more dynamic. For example, if you visit a place during different parts of the day you may be introduced to new characters or items. Locations that, during the day, provide no information could be home to your crucial suspect at night. But, the faster you solve the case, the higher your overall score. This all adds a high tension between the players and the game.
The VR environment also sets this game apart. The ability to search a crime scene with a 360º view is undeniably riveting. The way the VR environment is implemented lets you realistically experience the crime scene. This VR environment can be navigated by moving the device around or swiping on your screen. However, it comes to life with the included VR glasses. Additionally, at this stage of the Kickstarter campaign, a stretch goal has been unlocked that will allow for a larger VR headset support for those times you have more than one device available.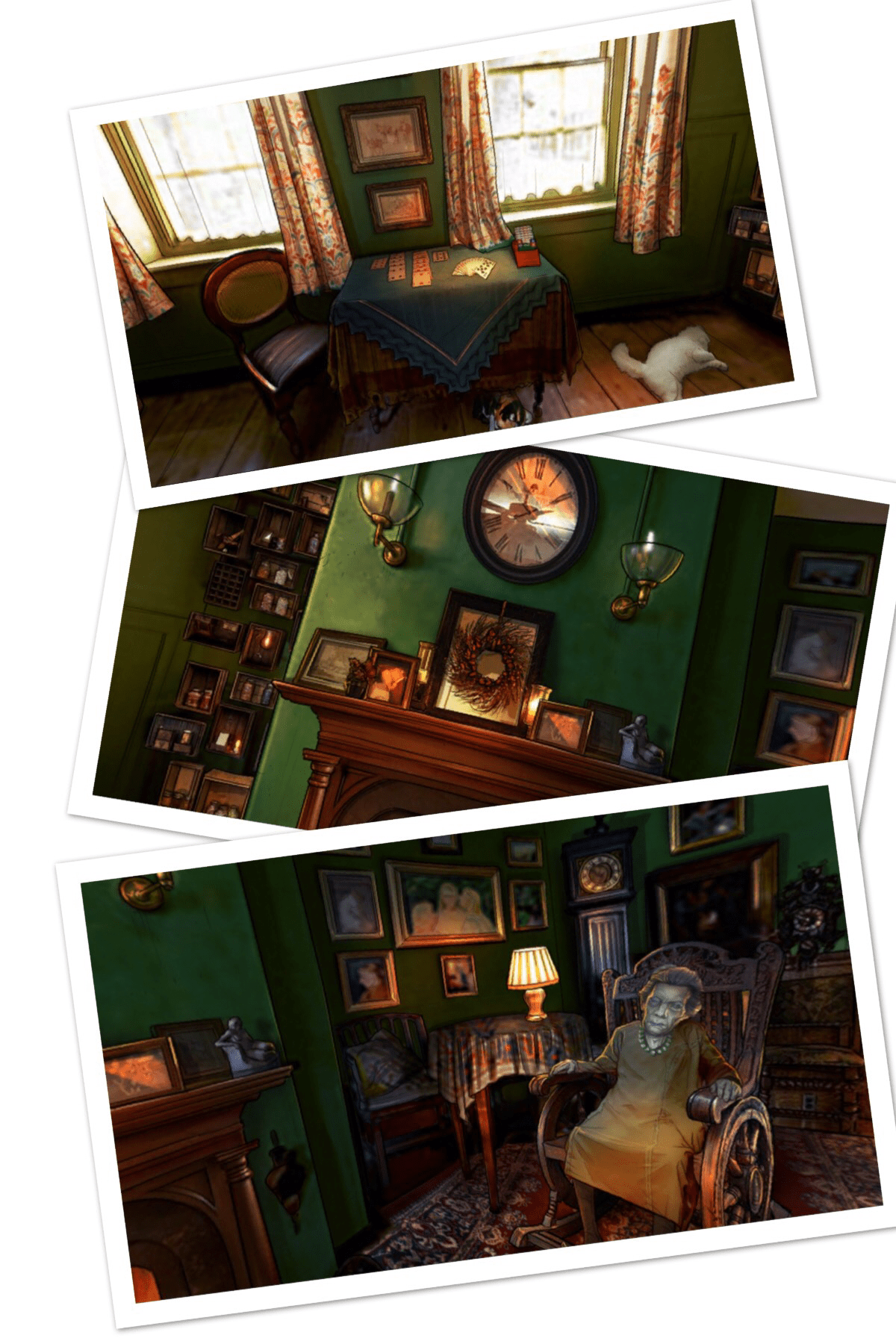 Our first reaction was that the VR environment and app might make other players irrelevant. However, it actually intensifies group interaction. For example, as one player is searching a crime scene, they will be shouting out what they are seeing. The other players are looking through the deck of items to piece together what should be scanned in as evidence. The item cards are never exact matches to what you see. For example, you see a syringe, but the closest item card for your team to identify is 'drugs.' Sometimes the choices are less clear, and you must always keep in mind the fact time ticks with each item scanned. Even if you select something that isn't a clue, time advances.
Compared to Sherlock Holmes Consulting Detective, the storyline of each scenario is considerably more linear and requires players to take fewer risks. Even so, each investigation (scenario) has a rich story revolving around a criminal investigation which also expands upon an overarching narrative which each "module" introduces. In this way, it is reminiscent of the story framework of T.I.M.E. Stories, or of the Ripper Cases in Consulting Detective. At the time of my writing, the base game is coming with five scenarios beyond the Tutorial and through stretch goals is well on its way to adding more. Additionally, the Kickstarter is offering two expansions (Noir and Welcome to Redview) each of which add four scenarios, new mechanics, and new worlds to explore.
Initial Thoughts
The best word we can use to describe our first impressions of this game is "immersive." We honestly felt like detectives: moving from place to place, questioning suspects, hunting down clues. Sometimes there are hot leads to chase down, while other times we would hit dead ends and need to retrace our steps. The game is challenging, which is good. We feared that scenarios would be too easy, clues would be too obvious, and that the whole thing would be a waste of time. It is not. This game offers challenging gameplay on par with other mystery or puzzle-oriented games in the hobby. **And if it gets too hard, you can visit the Chief for helpful, albeit cryptic, clues.**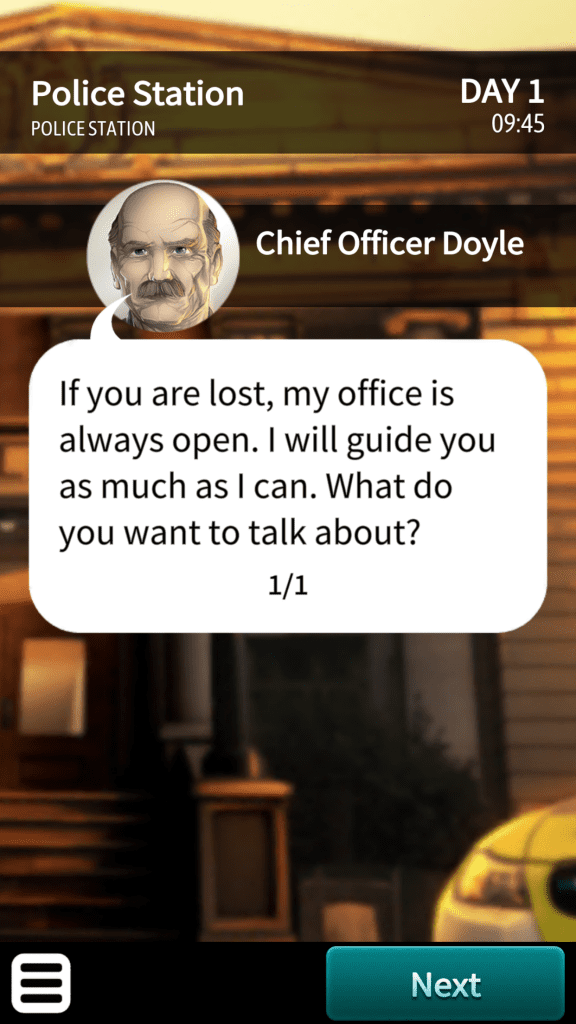 As if the gameplay wasn't enough, this game is supported by a robust and immersive world. If you are hesitant or concerned that the app, VR, or QR scanning are gimmicks or bog down the game play by being fiddly, you can rest assured that they work together seamlessly. The art is fantastic; Matijos Gebreselassie, Mateusz Komada, and Katarzyna Kosobuckareally knocked it out of the park.  The VR environment is well-developed and has a realistic field. The app UI is intuitive, functional, and elegant. It's evident that the app and VR environments were not an afterthought for Lucky Duck Games.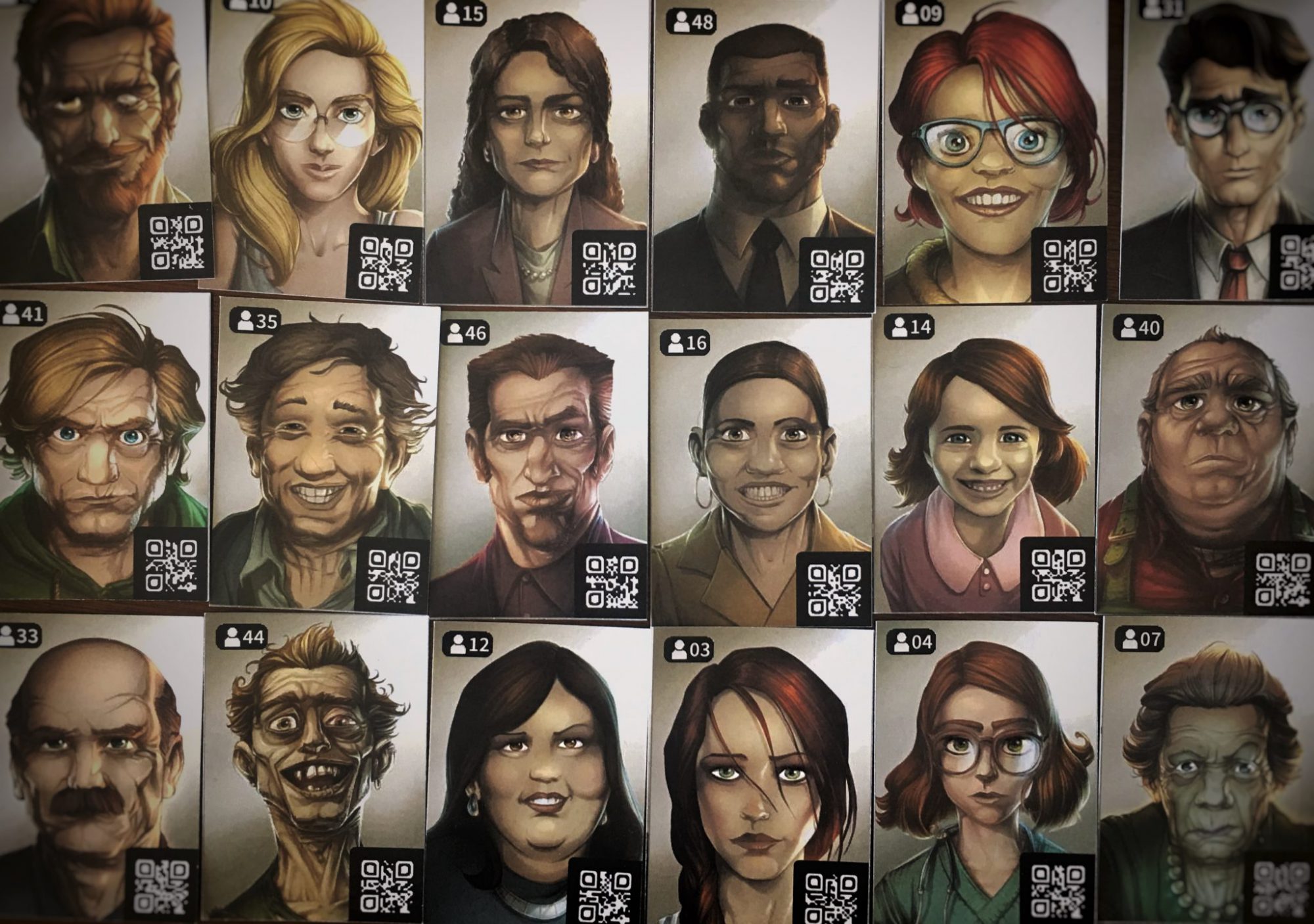 The best thing of all is that we have barely scratched the surface so far. This preview is based on the Tutorial and the first scenario. At the time of my writing, as mentioned previously, the game is adding scenarios as it grows. Additionally, the Kickstarter is offering two expansions which both look to not only create new worlds but add new innovative mechanisms to the gameplay.  The possibilities for this game are nearly endless, with all characters and locations in the game available for all future cases.  We fully expect Chronicles of Crime to be around for some time and are glad to have a front-row seat.
The Kickstarter campaign has already funded and reached multiple stretch goals. It ends Tuesday, March 20, 2018, at 6:00 PM CDT. For us the choice was simple; we've already backed our copies!
---