Are you drawn to a challenge? Is your interest piqued by puzzles? Check out our spoiler-free preview of Legacy: Quest for a Family Treasure and hear our thoughts on this family-friendly puzzle game.
*This is a non-spoiler preview of Legacy: Quest for a Family Treasure by Argyx Games
Puzzles
I have loved games for as long as I remember; I spent many childhood days around a jigsaw puzzle with my grandmother. I still remember the outstanding experience with my first escape room at The Escape Game in Nashville, TN. This started me down a bit of an adult puzzle addiction. If you like puzzles, check out Meeple Mountain's escape room game content. I won't even go into my discovery of my first alternate reality game (ARG). Let's just say it swallowed up my life and time, and I'm lucky I still have a job or a marriage. So when Argyx Games approached Meeple Mountain for a demo of their newest title Legacy: Quest for a Family Treasure, I couldn't say "Yes!" quickly enough.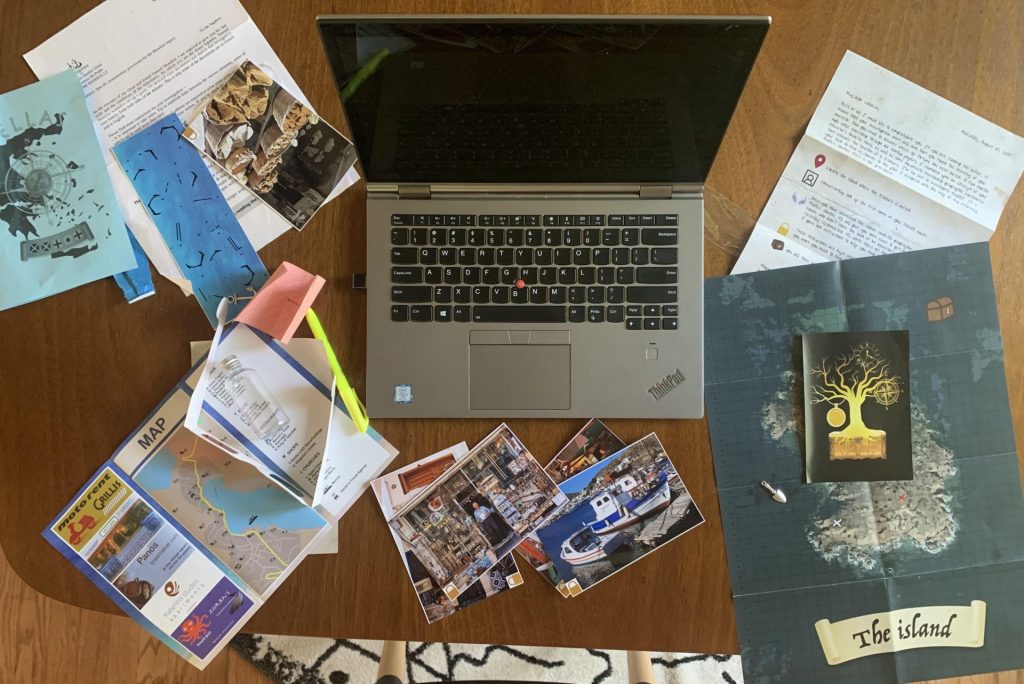 Argyx Games
Argyx Games is a Parisian game studio and publishing company specializing in ARG-style games that are handcrafted and limited edition. The studio was founded by the two game designers, Mathias Daval and Johanna Pernot. I've known them for their "Pocket Investigation" titles, which offer smaller, by-mail thematic puzzles. Their first big title Apocalypse, which I, unfortunately, did not have a chance to play, takes place in a storyline in which you, the player, receive a mysterious package from a serial killer. You have to solve the included series of puzzles to save the next victim. In Legacy: Quest for a Family Treasure, you must unravel family mysteries to locate a hidden ancestral treasure. The game contains two episodes: Eiffel 1889 and Hellas 2019. Each can be played independently and each represents 1.5 to 2 hours of playtime for you and up to four friends.
What I Received
For this preview, I was sent a near-final version of the second episode of the game (Hellas 2019). The game contained five documents, a map, a travel agency brochure, five color photographs, a message in a plastic bottle, a map, a pair of 3-D glasses, and two small metal pieces (an anchor and shovel). Argyx Games set along a note that some graphic elements and documents would be improved in the final game. Additionally, the final version will include a glass message bottle sealed with a cork.
How to Play
This is easy to describe. You start with the notary's letter contained in the box, as the quarter page of rules instructed. This letter provides the necessary instructions for play and the companion website for the game. Visit the site, no account setup, and begin examining items and documents while trying to make connections between the various elements. The website contains a timer (for the sole purpose of keeping your playtime), puzzle inputs, thematic music, and access to multiple hints. I played the game solo and finished in under two hours, using no hints. After finishing, I went in to examine the hints. For each of the puzzles in the game, Argyx offers a series of hints and the solution. The set includes multiple puzzles and items in the box are often used to solve more than one puzzle. The game does require an internet connection for access to the website and while a phone can be used, a computer is advised.
The Story
In this episode of Legacy: Quest for a Family Treasure titled Hellas 2019, you have already uncovered the secrets to your family ancestry in the first episode, Eiffel 1889. The story takes you to Greece where you have learned that your ancestral treasure has been hidden on one of the thousands of small islands in the Aegean Sea. Can you track down a long-lost relative, discover which island holds the treasure, and locate the treasure's hidden location?
Can you track down a long-lost relative, discover which island holds the treasure, and locate the treasure's hidden location?
Examine the artifacts left by your father to find the coordinates of the island. Next, explore the port city of Patmos, your father's childhood home, following clues to lead you to your long-lost cousin. Together, navigate to the island and find the whereabouts of the treasure. You don't think a treasure like this is simply buried, do you? Piece together the hidden combination to unlock your family's riches.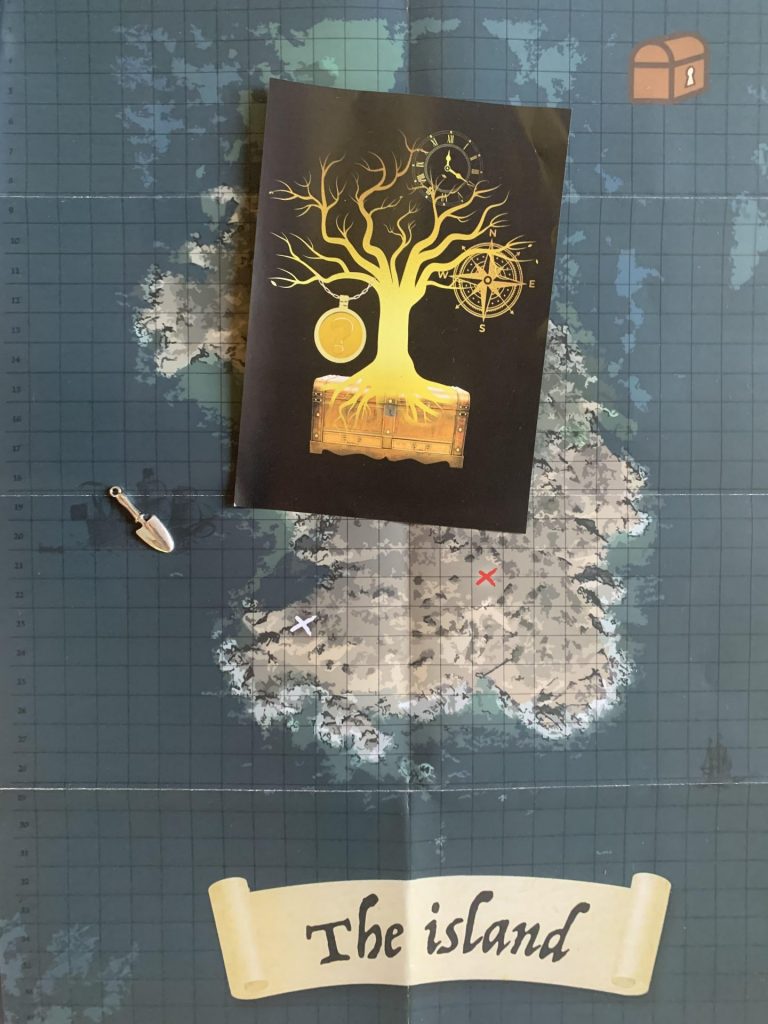 Thoughts
Legacy: Quest for a Family Treasure's gameplay is fluid with no odd narrative or logical jumps. The puzzles were engaging and entertaining and I found the storyline attractive and family-friendly. I may be a glutton for punishment, but I wanted the puzzles to be more challenging. I like puzzle games that really take hold of my attention and that I have to work through over multiple sessions. Feeling the twist of a challenge that forces me to take a break or consult a friend is my idea of fun. Games from the likes of Enigma Emporium are known for their difficulty, check out our review of their game Wish You Were Here. If you are an absolute puzzle-junkie, you may be disappointed by the challenge presented in Legacy: Quest for a Family Treasure.
I can see two exceptional use cases for this game. Are you new to the puzzle-game genre? Maybe you have visited an escape room or completed a mass-market puzzle-style game. If that sounds like you, I think Legacy: Quest for a Family Treasure is a perfect gateway into something more akin to an ARG. The storyline is compelling and the puzzles contained in this box are interesting.
The second excellent use case I can imagine, one I would employ myself, is to use this game as an evening activity with some friends who are not as deeply entrenched in the genre as you. This can be an excellent excuse to share a somewhat obscure hobby with close friends and family. After your experience with Legacy, you will have a good sense of which of your friends and family would be fun to take to a physical escape room or drop a subtle hint about the latest ARG you are exploring.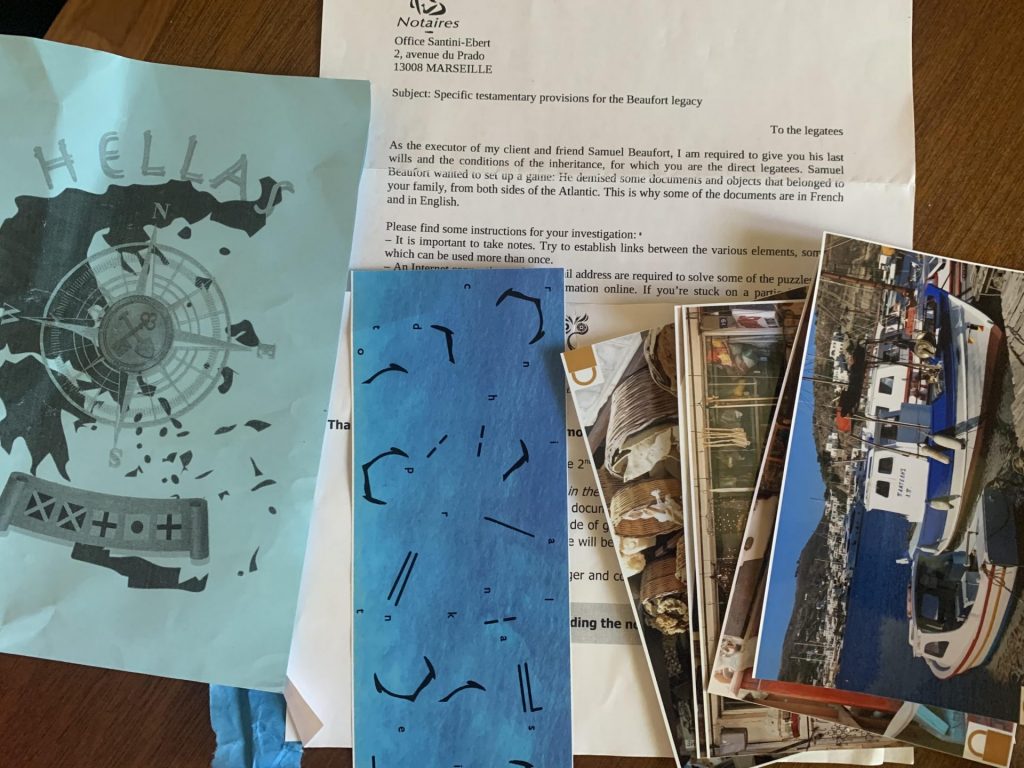 The Campaign
This game will provide a solid four hours of puzzle-solving and would be a great investment for a couple of fun game nights with friends. Legacy: Quest for a Family Treasure is currently on Kickstarter (the campaign ends August 2nd). The campaign offers multiple backing tiers, with higher tiers including an escape room inspired video game called The House. Backers will also gain access to some of Argyx Games' Pocket Investigation games, including their new unreleased deluxe scenario Alchymia in which players work to transmute elements into gold and to make the Philosopher's Stone. Each of the Pocket Investigation series of games has a 60 to 75-minute playtime and can be played solo or with up to three other players.
Final Impressions
I'm extremely impressed with what Argyx Games has brought to the table with Legacy: Quest for a Family Treasure, it is a super accessible, family-friendly gateway into the world of interactive puzzles, escape rooms, and ARG experiences. I think a lot of people would really enjoy this immersive game and find the investigation contained within it to be very engaging. If you like puzzles, investigation, escape rooms, and the like, I highly encourage you to check out Legacy: Quest for a Family Treasure on Kickstarter today. Also, keep an eye on what Argyx Games is doing, I think this is only the surface of what they will continue to provide to our puzzle-loving gaming community!