Funko Games goes collectibles again with the new release Disney Kingdomania! Justin finds out if this one measures up in his review.
As evidenced by my appreciation for the Funko Games Marvel Battleworld series, my kids and I love rolling dice to battle evil with cool miniatures in quick, 10-minute games.
It should be no surprise, then, that I walked to my front door one day this fall to find a new series of toy collectibles from Funko on my doorstep. This time, Funko swapped out Marvel and inserted Disney—which, I guess, are the same now, right??—and we have Disney Kingdomania, which arrives in both Super Game Pack (full set of cards, six different miniatures) and Game Ball (two minis and cards) formats.
If you've played the Marvel Battleworld games, you'll be in somewhat familiar territory, but there are some differences here. The main difference? The difficulty, and not in the way you might think.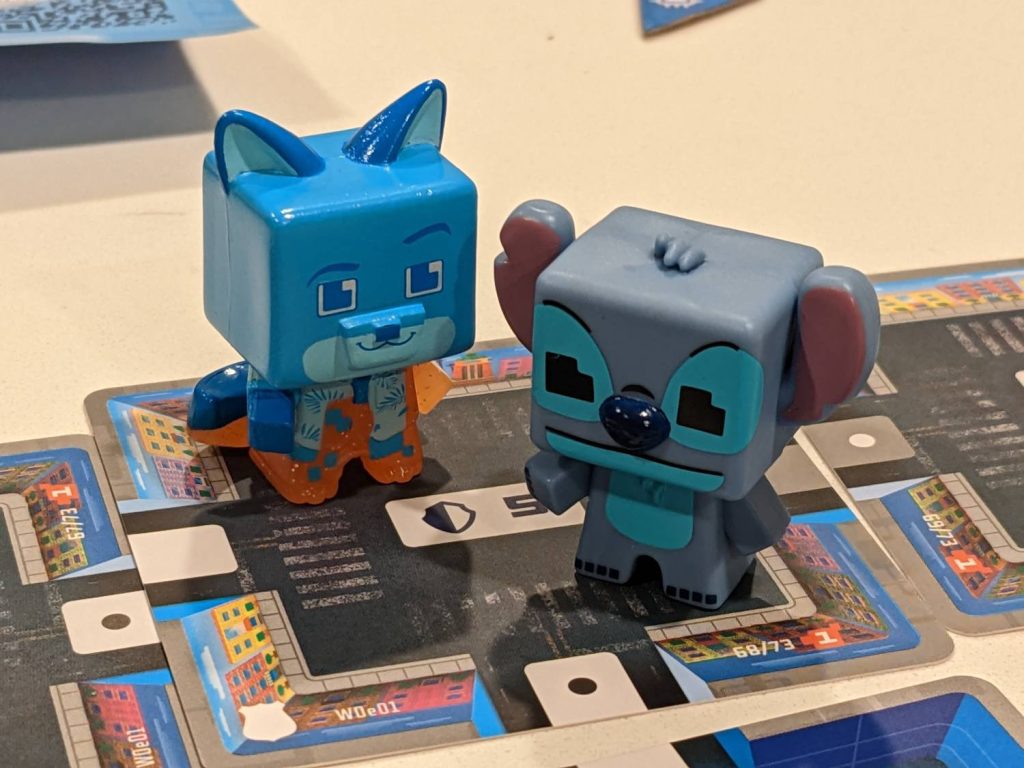 A Glitch in the Matrix
Disney Kingdomania transports players into an 8-bit video game. Using characters from Disney/Pixar films like Toy Story, Lilo & Stitch, Zootopia, and 101 Dalmatians, one or two players have to fix glitches in the game before it is too late.
Players take on one of the characters, then start on a "Nexus" and move around a very small, 10-tile map in order to move patches to the Nexus before glitches get to the game's code first. That's right: in Disney Kingdomania, you will move Minnie Mouse, Maleficent, or someone similar around a map to bump patches to achieve victory.
Now, whether you think that sounds like a fun game or not, we have to agree that this is a strange premise. In the Marvel Battleworld series, I can get behind the ideas there: be Iron Man, beat bad guys. In Disney Kingdomania, I think I'm taking on an avatar who is in quality assurance. Or, maybe I'm Stitch, and I'm supposed to unlock an item that gives me special powers for the rest of a round (which does sound cool), but then I turn into a tier two help desk technician.
Throwing the theme out the window here makes a lot of sense. But if you play the game as designed (with one 10-tile level), you will find that the game is so simple that even children complain that it is too easy.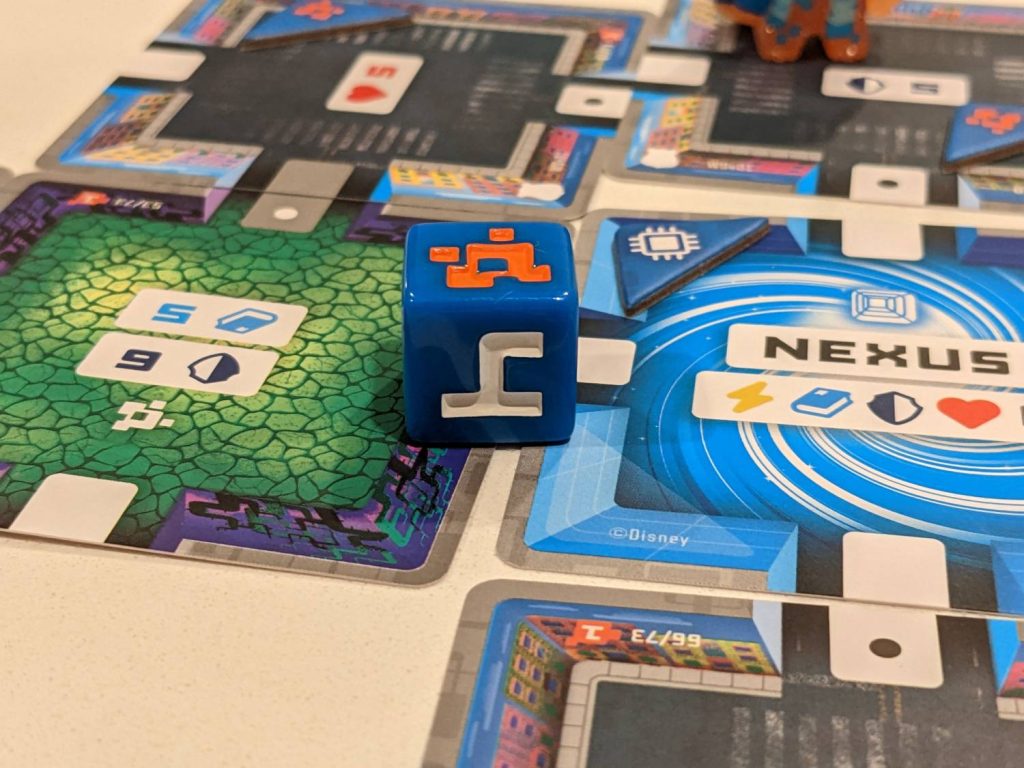 The Game IS Too Easy
Now, the rules do allow for multiple levels, each with its own Nexus, and warp tiles that allow for players to move around to move patches into that floor's Nexus before the glitches creep their way over the Nexus first.
But for the most part—at least, in a two-player game—you can always put one person in charge of pushing glitches away from the Nexus, while one person moves patches. If you split that responsibility, you'll be hard pressed to lose regularly save for consistently terrible dice rolls. Similar to how Marvel Battleworld handled combat, Disney Kingdomania requires a D6 die roll mixed with character traits on each tile to compute combat success.
But the D12 in Marvel Battleworld led to fights that regularly failed, amping up the tension. I've won most of our Marvel Battleworld games but none of them were a cakewalk. In Disney Kingdomania, things have to go really badly for you to lose because you get so many chances to push glitches away from the Nexus tile.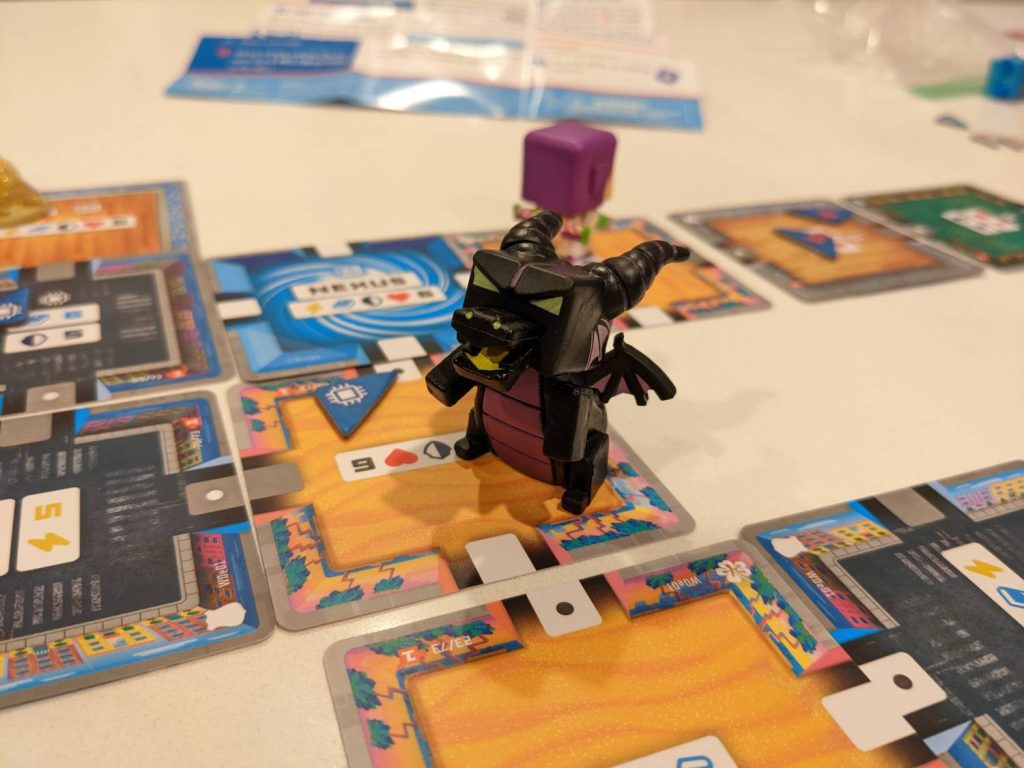 The Toys Are Where It's At
Funko crushes it again on the production, and while I don't need any more Minecraft-style toys in my house than it already has, the Disney Kingdomania figures look good on a table. A blockhead-style Maleficent just works!
The rest of this game is plain, right down to the lack of any kind of storage solution after you break open the box. (Like Marvel Battleworld, all of my Disney Kingdomania components are now in a Ziploc bag.) Glitch and patch tokens are tiny cardboard pieces. The cards and the artwork for each tile/room aren't great. This helps keep the price down, which I greatly appreciate from the Funko team. But that also means that outside of the minis, Disney Kingdomania is not a looker.
I prefer the Marvel Battleworld series but if you are a fan of the Disney/Pixar films, Disney Kingdomania may be worth buying mainly to keep up with the expandable system that is clearly going to be coming for years. Disney Kingdomania is officially in Series 1, so I expect Series 2 and beyond to have more of the films that resonated with me, particularly Pixar films like Monsters, Inc. and The Incredibles.
Disney Kingdomania explores a familiar space, but I wish the road was a little rougher.