Justin gets the kids back to the table to review the third series in the Marvel Battleworld series from Funko Games and Prospero Hall!
Over the summer, another box arrived from Funko Games.
When this happens, the kids—similar to those scenes in the film Children of the Corn—seem to rise out of the floor, appearing next to me as I open the box.
As I have previously shared, games from Funko are my favorite kind of family experience. The production is solid, the games are reasonably priced, and the rules overhead is low. Sure, many of the products are not built for the long haul—I'm finding that more and more games across all publishers fit this description—but for a couple of weekends, I've almost never gone wrong with a family-weight Funko game.
I'm happy to report that Marvel Battleworld: Ultimate Armory meets expectations.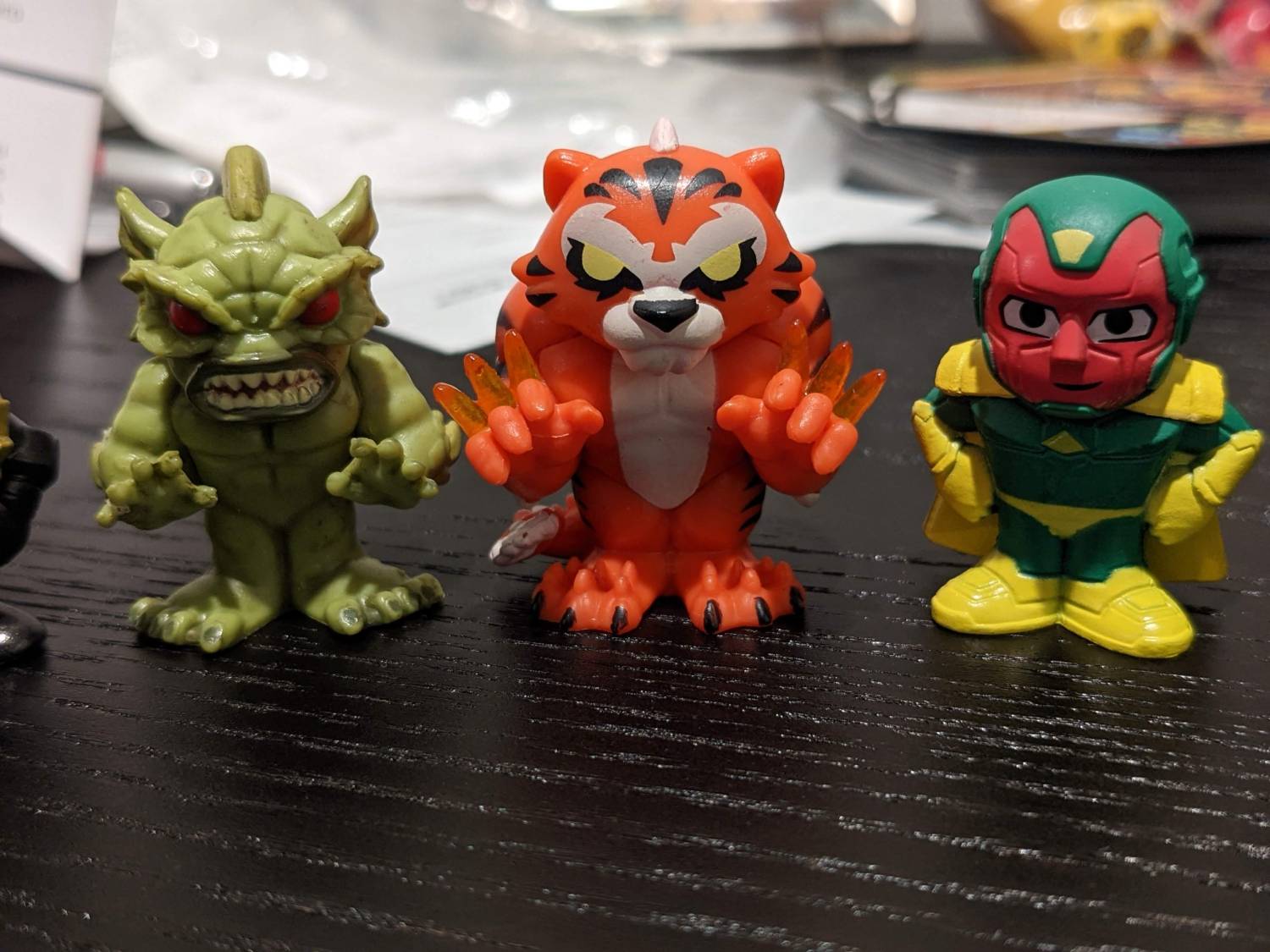 More of the Same (i.e., Perfect)
Much like Marvel Battleworld: Treachery at Twilight (the second set of minis in the series), Ultimate Armory doesn't mess with the original series of rules and gameplay. Mostly, you are just getting more characters: in my set, I had Fireclaw, Vision, Ms. Marvel, and a few others to add to my collection.
The main benefit here beyond variety: you can add more players if you have more minis and location/enemy cards to fight. (Easily the best new one in the game is the one for The Terrible Terriers. Cute yet murderous puppies??) Now, my family of four can all play the game together with the right amount of Battle Cards.
Games of Ultimate Armory are quick, with only one mechanic added for this series: Armor Tokens. These double-sided tokens come out when text on a Battle Card says to add them to the game and will always make a combat require a roll of 10+ (or the star icon, as with Treachery at Twilight, which is a guaranteed hit). Once a Hero is added to that Battle's "Hit Track", the token comes off and can later be used on its flipped side to add three damage to any dice roll a single time.
Otherwise, Ultimate Armory sticks to the plan, a plan that works well as a 10-to-15-minute filler after school or before dinner in our household. I still don't love the fact that you may have to buy a number of Ultimate Armory sets to get all the characters. Five of the six Heroes in my set were of Common frequency, so there's a chance that if I buy a few more sets, I will get duplicates of these same minis.
But that's the collection game, a game I won't be playing with these miniatures. Ultimate Armory is family-weight fun and our set will continue to live in our family room with all our other toys!