Justin breaks down the current catalog of Funko Games and the design team at Prospero Hall to better understand their strengths and weaknesses!
"We are WAY more than POP!"
The Funko Games booth at Gen Con was fantastic, but it was eye-opening for a lot more than just the aforementioned POP toys on display: this was Funko's calling card in the board gaming world. But the marketing team was adamant that their games were so much more.
For the first time, I really looked at Funko Games as more than just a toy company. And while walking through their massive slate of 2021 releases and 2022 previews, I wanted to learn more about the last 3+ years since Prospero Hall was acquired by Funko to start the Funko Games line.
Meeple Mountain has been generally impressed with the slate of Funko Games products we reviewed. Fast and Furious: Highway Heist, Pan Am, The Rocketeer: Fate of the Future and The Goonies: Never Say Die all landed between above-average and excellent.
I played 7 additional Funko Games products to prepare for this article, as well as replaying some of the games looked at by other contributors on our team. I believe I have a feel for what Funko seems to be going for.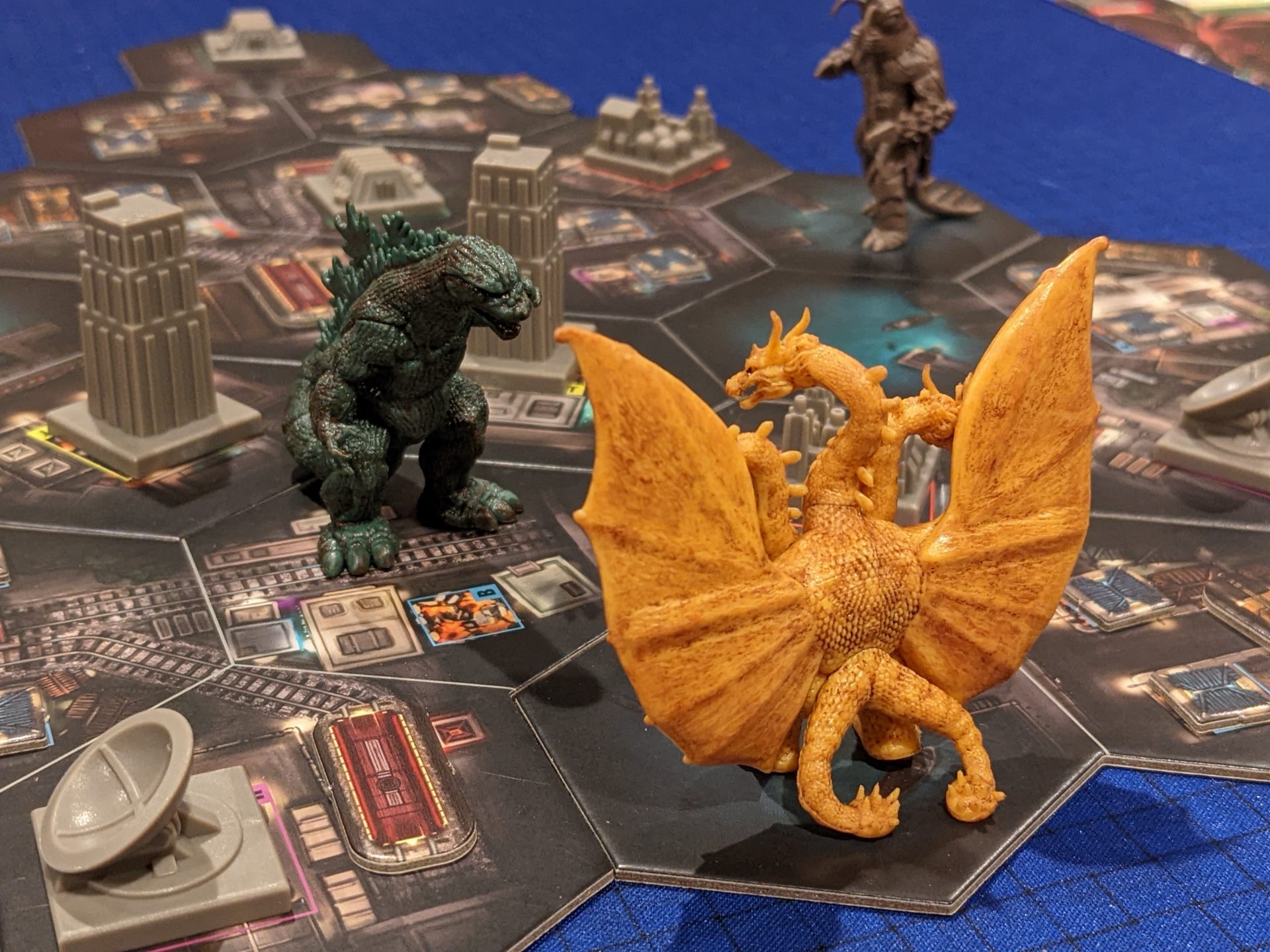 Who is Funko Games?
Funko Games is, essentially, Prospero Hall, the Seattle-based design studio whose best known work is the Villainous line of games (note that Villainous is published by Ravensburger, not Funko Games) before being acquired by Funko Games. Combined with the kind of budgets that allow for the pursuit of popular intellectual property from the likes of Disney, Marvel, and Universal Studios, Funko Games is mainly known for publishing quick, accessible, mostly family-friendly games leveraging recognizable IP.
Here's some of the info from our Funko Games publisher page on the Meeple Mountain site, borrowed from the main Funko site:
"Welcome to Funko Games! A world where board games reign supreme, play matters and fans are the highest authority."
From the Prospero Hall website, regarding what they are all about:
"…we do whatever it takes, and sweat every detail, to make the best game we can – fun to play and something you're very proud to have on your table."
To boot: a quote from the recent video series "Who is Prospero Hall?" from Funko Games, promoting the upcoming Jurassic Park legacy game, The Legacy of Isla Nublar:
"This is not one person, Prospero Hall…it's almost a mission. It's a group of people, working together, to tell their favorite stories."
–Deirdre Cross, VP, Prospero Hall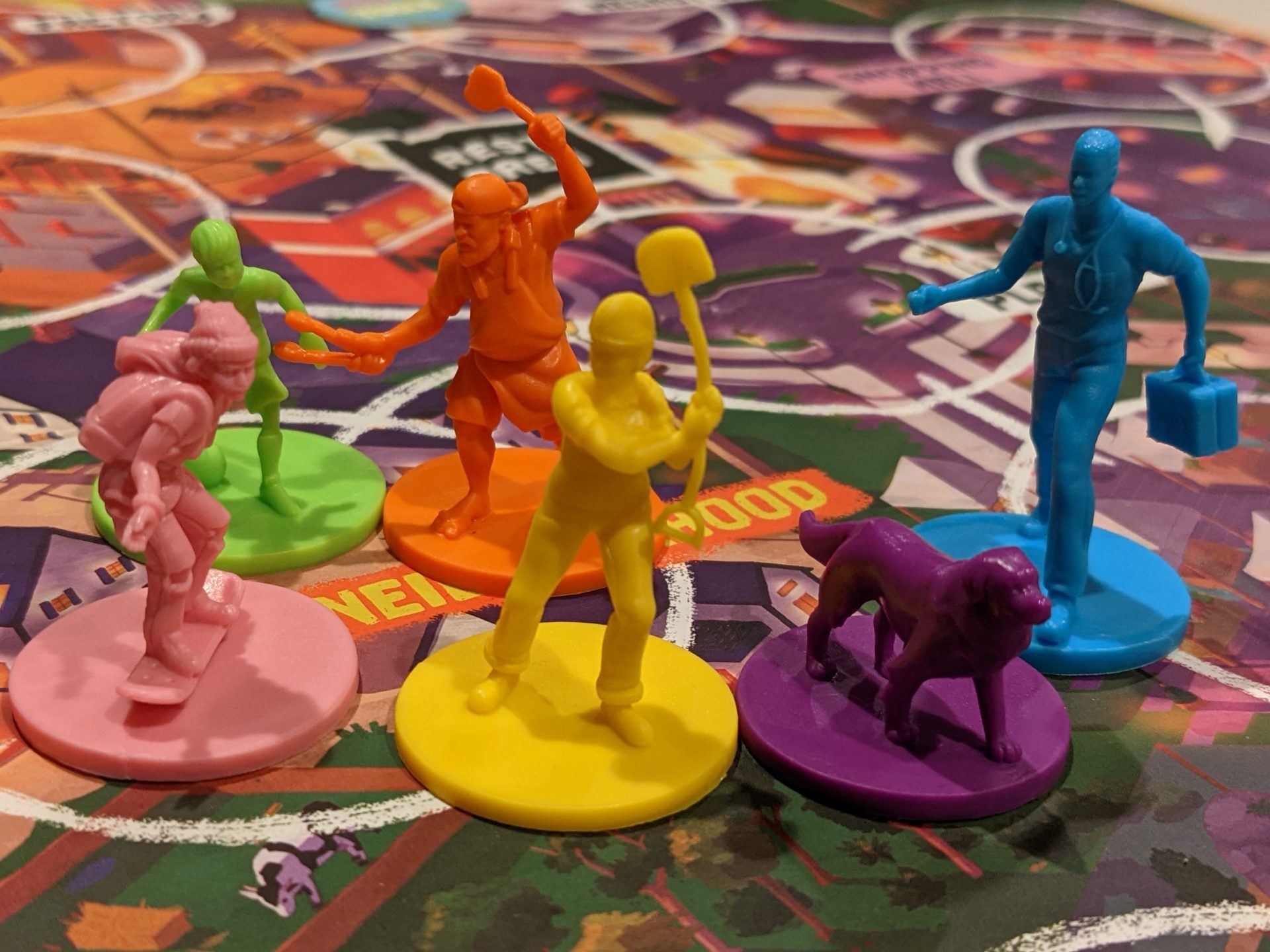 At the end of the day, it's in the name, right? Funko Games is all about fun. Sometimes, other things get in the way of this—maybe a longer playtime than necessary, or some extra rules. But across more than a dozen games, the one thing that really shines through is the attention to fun. The games always look good on the table and the "fun factor" is always quite high. I'm constantly smiling. Their games really strike me as what I love most about the gaming hobby: gathering friends and family around a table to have a memorably joyous experience.
I play in 4 different gaming groups in Chicago, across 25+ individual gamers. All of them share one distinct trait: with the majority of each person's collection, they will play a game once, maybe twice, then shelve it. From there, if the game is an all-time great, they'll keep it to play occasionally. Otherwise, they'll sell it on the secondary market.
Not a single person in any of my groups owns less than 25 games, and almost all of them buy new games with the intent of playing them just a handful of times before moving on. Funko Games seems to really embrace this mentality: here's a game that is fun for a few plays, and from there, the safe bet is that you'll want to play something else soon.
Therefore, Funko Games has nailed quite a few things: their products are very accessible. They feature brands and IP you know. The games almost universally play in under an hour. They are a lot of fun, in the way that I would describe as laugh-out-loud fun. The manufacturer's suggested retail price (MSRP) is usually quite reasonable, particularly in an increasingly crowdfunding-driven hobby where games can cost upwards of $100. And, you will almost always say exactly this phrase when you finish a Funko game:
"That was pretty good! What else are we playing tonight?"
This is NOT a bad thing! This speaks more to the consumer now, than to the production team at Funko Games. Whether it's intentional or not, I appreciate "leaning in" with this mentality.
The Games
As mentioned above, Meeple Mountain has already published several reviews of Funko games. These include:
Here are some quick thoughts on many of the games I played to prepare for this piece: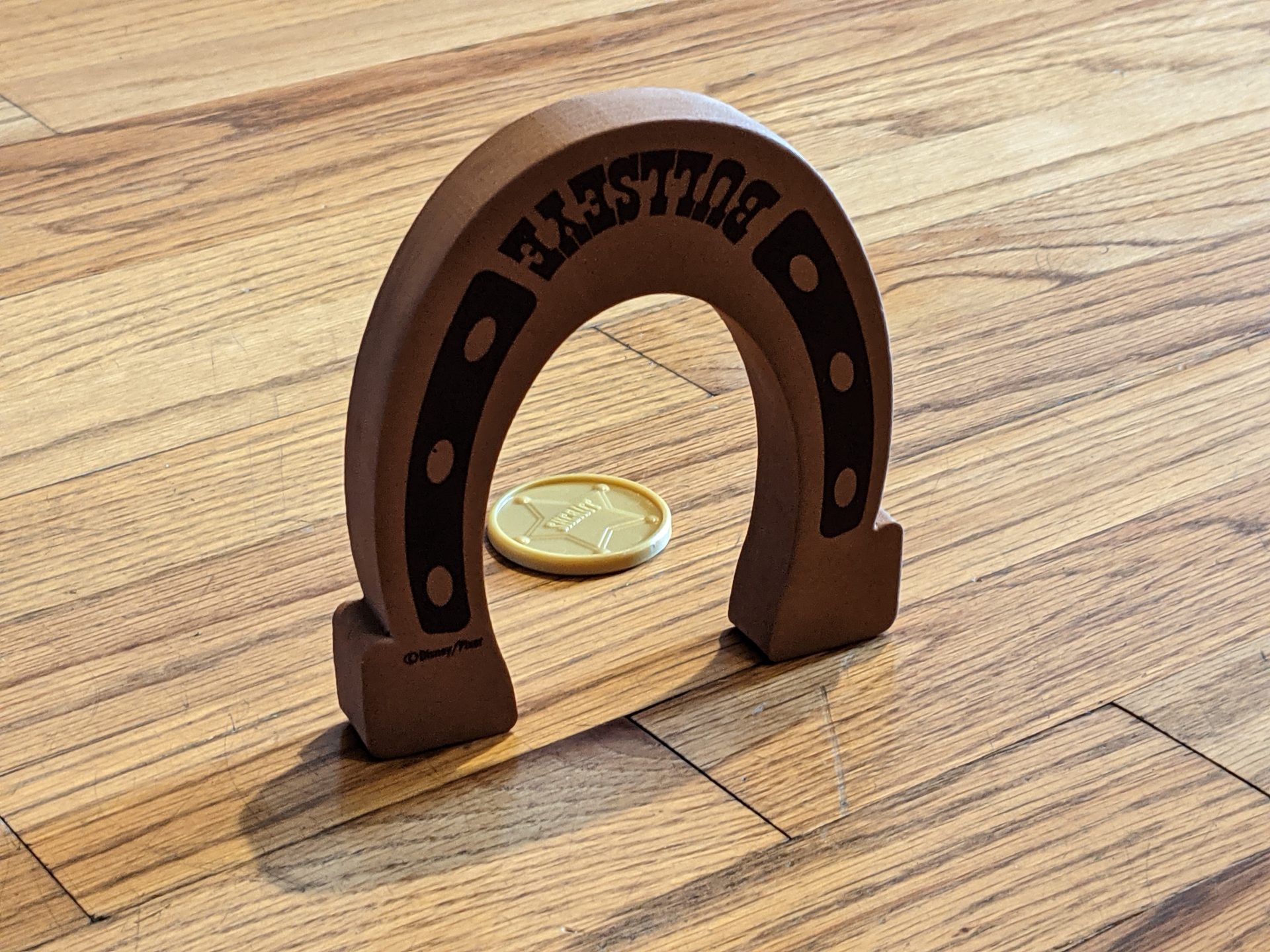 Disney Pixar Toy Story Talent Show
Sure, the talent show games in this one are often completely unfair and totally ridiculous. That's what makes Disney Pixar Toy Story Talent Show such a blast!
This Toy Story-themed movie tie-in family game lets players do a mix of card matching (similar to Uno) to empty a hand of cards while also forcing players to conduct light physical challenges to score additional points. A foam ball, plastic army men, an alien mask which serves as a blindfold, and other components help to ramp up silly moments, and this marked the only game in this write-up where the kids seemed to have more fun after the game was over just playing with all of the stuff in the box. The bulky title of this game is the worst thing about it; everything else shines as a family experience.
Disney Mickey and the Beanstalk
The goal is simple: work with other players to grab food and the Golden Harp from the Giant's table at the top of the beanstalk, then bring it all back down to the village before the Giant fills his lock box. My family and I have never won this game (5+ plays in already), but that hasn't stopped us from having fun trying. Strangely, everyone loves going up and down the beanstalk (via plastic character standees that can be attached to the beanstalk to allow for a fun sliding mechanic) almost as much as they do collecting food from the oversized Giant table.
The miniatures are well made and using a spinner brings back a ton of memories from games of my youth. My son asked to play this game so often that I may or may not have hid it for a few weeks to ensure he stopped asking to play it. (Trust me, this is high praise.)
Disney Mad Tea Party
My family's plays of Disney Mad Tea Party have been hilarious because this stacking game really gets funny when players go for broke trying to get cards out of their hand. Using imagery from Disney's version of Alice in Wonderland, players take turns putting teacups of varying sizes on a wobbly plastic table; hilarity ensues.
I honestly think my son tries to always start a new stack of teacups by using the smallest size to ensure that other players have to put larger cups on top! The icons on the cards require the use of the rulesheet, but after the first 2 plays even my kids knew what every card meant. Now, holding 5 poker-sized cards in their small hands? That's another game altogether!
Something Wild!
The Something Wild! series politely riffs on every suit-based card game you grew up with, then adds a featured Disney character (Mickey Mouse, Maleficent, newer Disney additions such as Darth Vader, etc.), a miniature of the feature character, and rules that encourage Rummy-style sets and runs to be played as a tableau which can trigger bonuses based on an active mission card. 
I've played this at 2 players with my 7-year-old as well as 4 players with a mix of kids, parents, and grandparents. In each case, the teach takes 5 minutes and the game itself can be finished in 20 minutes or less. It's fun, it's easy, and because it's tied to Disney characters pictured with their POP! versions on each card, it's more interesting for many kids than my (admittedly well-loved) copy of Uno from the 1980s. If you have played one version, you have played them all, although the Dr. Seuss Cat in the Hat miniature was so spooky my daughter insisted that we give that copy away. Extreme, but I'll grant that it's a little weird!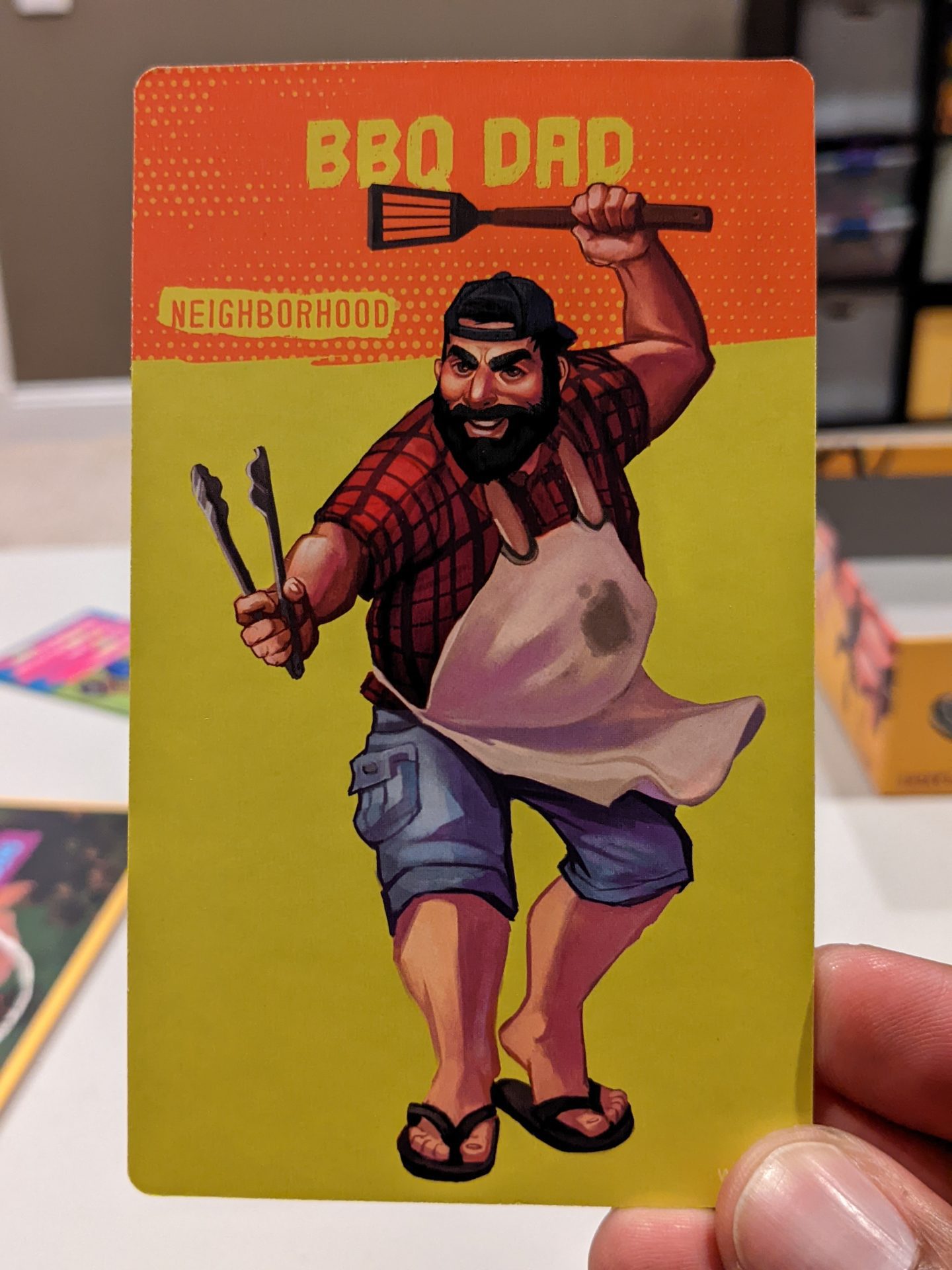 Last Defense
"Wait, it's only 20 minutes long?" my wife asked. I can ALWAYS get her to play a game that is timed and short, so Last Defense already had a chance at greatness here at the Bell Compound.
Then, things got better. The app driven gameplay of Last Defense—players work together to save their city by gathering supplies to remove rubble from various locations on the board, releasing scientists who can help defeat spider robots, UFOs and the like—is perfect for families.
The tense nature of the news reports that help shift the AI aliens to various parts of the board sets a fun mood as players race around gathering tools and taking helicopters to the far reaches of the board. Winning is amazing, and when you defeat all 4 aliens in the beginner mode to win, children will high-five their parents when the "YOU WIN!!!" screen appears on the app.
Last Defense really nails what you might look for in a $20 family game: good production, easy to learn. It's the kind of game kids can play with grandparents, easy setup/teardown.
This might be the best game to encapsulate what I feel Prospero Hall is trying to do with their Funko releases: creating a fun, digestible experience that can be played 5-10 times and feel like a great value.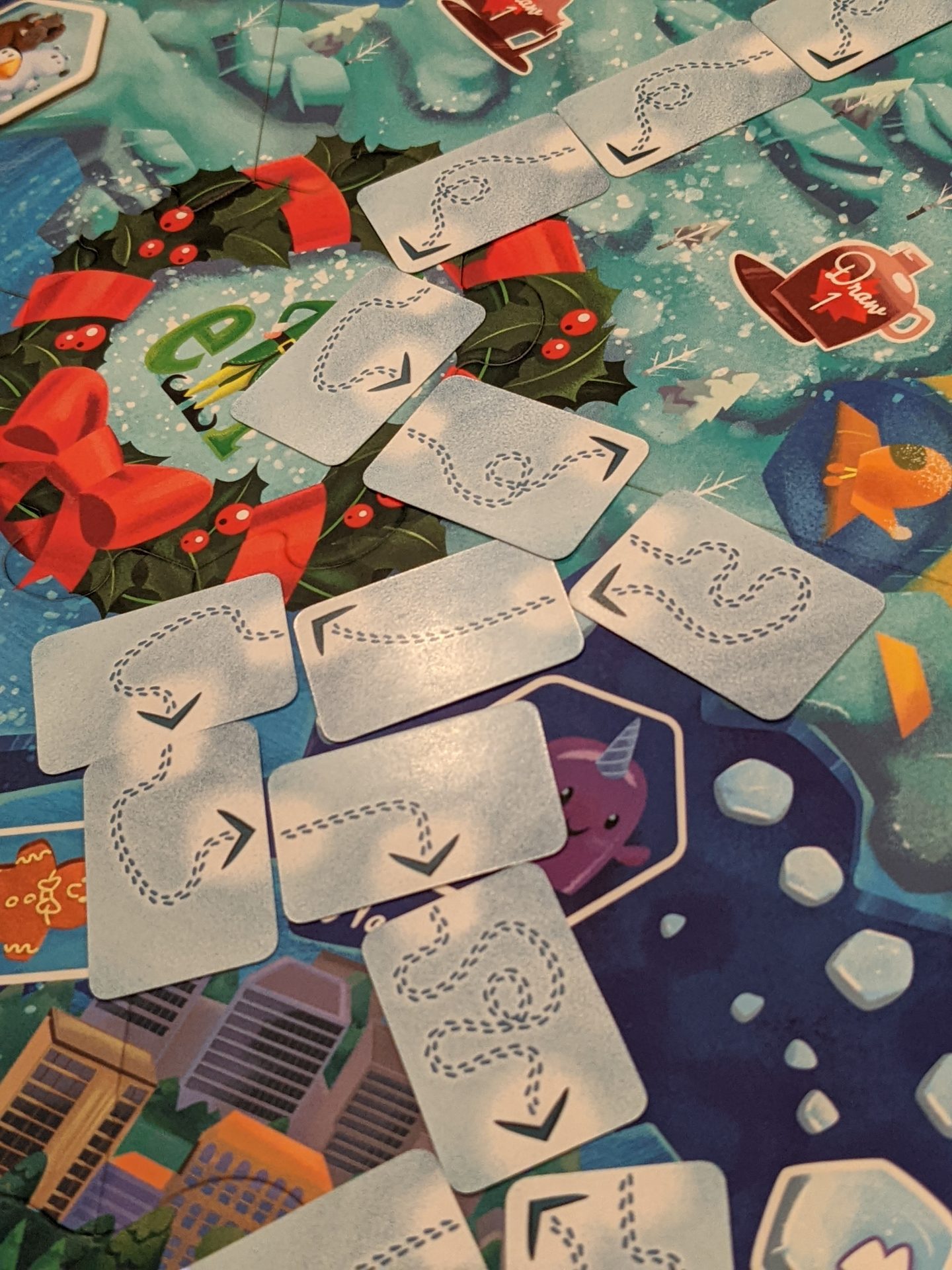 Elf: Journey From the North Pole
Elf: Journey From the North Pole might be the "worst" game I tried while preparing this article. (The true worst? Read on.)
The Will Ferrell movie doesn't feel like one that would translate well into a board game, a fact which weighs heavily on the shallow gameplay. And this was obvious even during our first playthrough.
Players play cards from their face-up hand to guide Buddy the Elf from the North Pole to New York City, attempting to guide this shared pawn to locations on their secret goal cards. By trying to get Buddy to touch the locations on your goal card early in the game, this will score those locations more points when stars are counted up at the end.
While I loved the creativity of the board—3 triangular pieces tied together by a cardboard wheel and chits that don't have any effect on gameplay—that creativity didn't continue into how Buddy is moved around the board. The tiny cards used to chart Buddy's path create quite a funny mess on the table, including the ability to guide Buddy OFF of the gameboard.
The replayability also feels limited—a fair criticism of many Funko Games products we reviewed here, albeit one that can be overcome if gameplay mechanics are just plain fun—as there are only 6 goal cards and a small number of locations to visit. If you can't get Buddy to one of your locations quickly, the sheer number of stars needed to catch up makes this a real slog for anyone who is not the runaway leader.
A rare miss for our review of the catalog, this is a game to skip.
Godzilla: Tokyo Clash
Godzilla: Tokyo Clash holds an interesting distinction for me now that I've played the majority of the Funko Games catalog: it is the most "fiddly" of these games. Rules, either written or videos produced by Funko Games, are usually so straightforward I can teach their games to everyone in the family. But Godzilla: Tokyo Clash has a variety of unnecessarily complicated  rules: the Event cards are a little confusing (add tanks here, move UFOs there, but there are a few "depends" elements each time). The throwing rules mostly make sense—until they suddenly don't. Sadly, the special powers aren't as special as they should be.
However: the 3-D look of the board? Those cool minis? Tossing Megalon through a tower into Godzilla? All good, so the fun factor is there. Occasionally. But the trophy system for scoring points comes down to incredible randomness: drawing cards off the top of a damaged player's deck, in the hopes that they have point cards there for the picking. The ending comes at just the right time. The amount of value you get out of such a reasonable price for these games is incredible, and the card art always made me smile.
We'll have a full review of Godzilla: Tokyo Clash soon.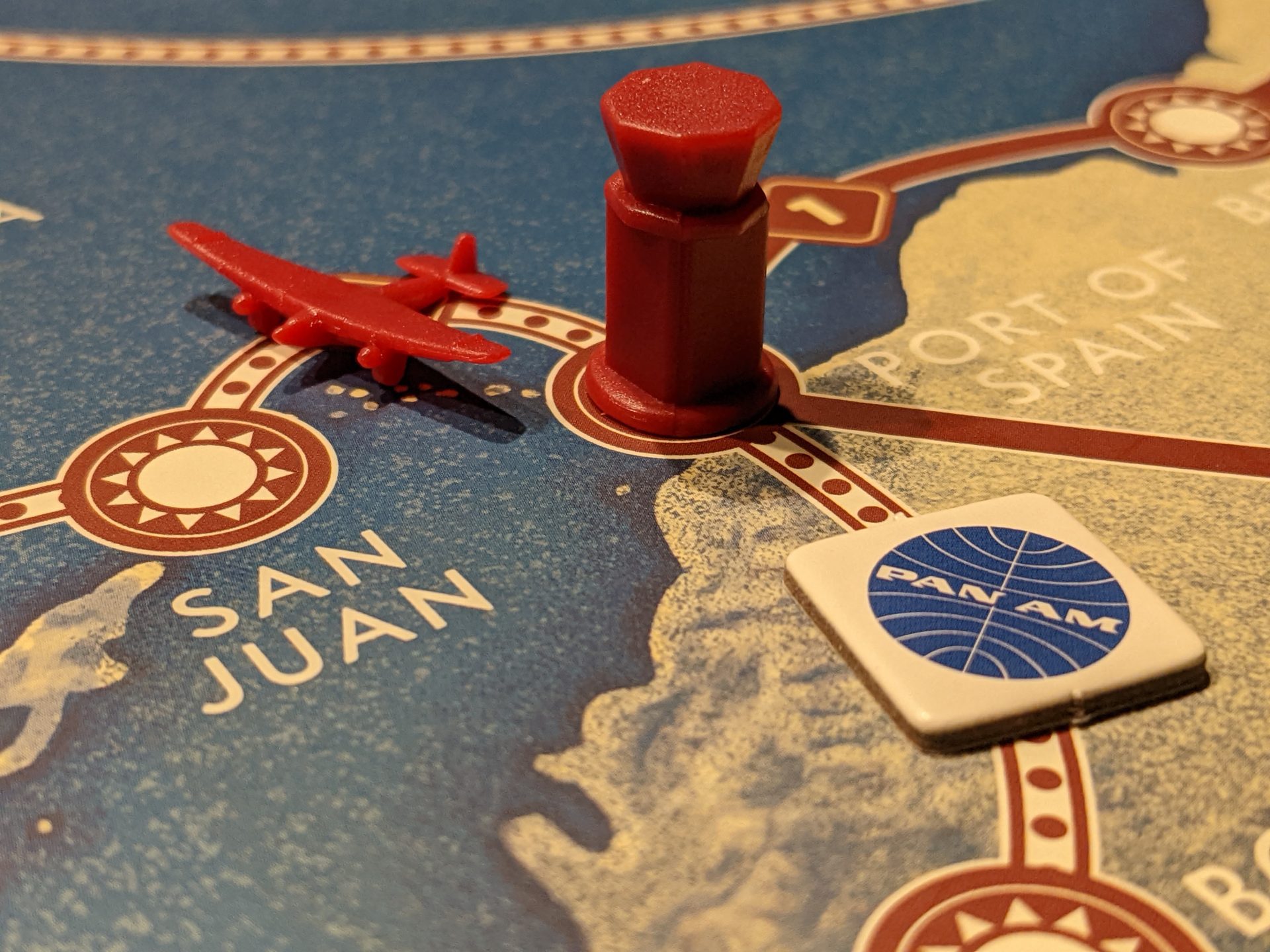 Pan Am
I still can't believe how much I enjoy Pan Am. It's a beautiful-looking board with bright, colorful card art on the Destination cards with an easy-to-grasp stock manipulation component. The route building works wonderfully, and there's a deck of game-breaking cards available to all players if they choose the action to draw them.
However, as with many of the other adult games on this list—particularly The Warriors: Come Out to Play and The Rocketeer: Fate of the Future—the game runs exactly one round/fight/event too long.
But overlooking the game's length, the gameplay is a lot of fun. For any of our readers who are world travelers, aviation buffs, or just people who like a lightweight affair with cool miniature planes, Pan Am delivers the goods. Watching the Pan Am company take over the board with a mechanic that feels right out of an 18xx nationalization concept is cool too, because you're rooting for them to buy you out so that you can get paid. Pan Am is an easy game to get to the table and, like everything else from Funko, hits the sweet spot on price.
The Warriors: Come Out to Play
I'll give it to you straight. The Warriors: Come Out to Play is maybe the most shocking outright miss in the collection of Funko Games products I played in preparation for this article.
My full review of this game will post in the coming weeks; maybe I was too excited for this one, based on the novel and featuring lots of the same gangs featured in the.film version. But it goes against the grain for a Funko game: it is surprisingly not fun and features almost no tension as players move through New York City to face off against a boss that they will almost certainly defeat to win.
This is one I cannot recommend!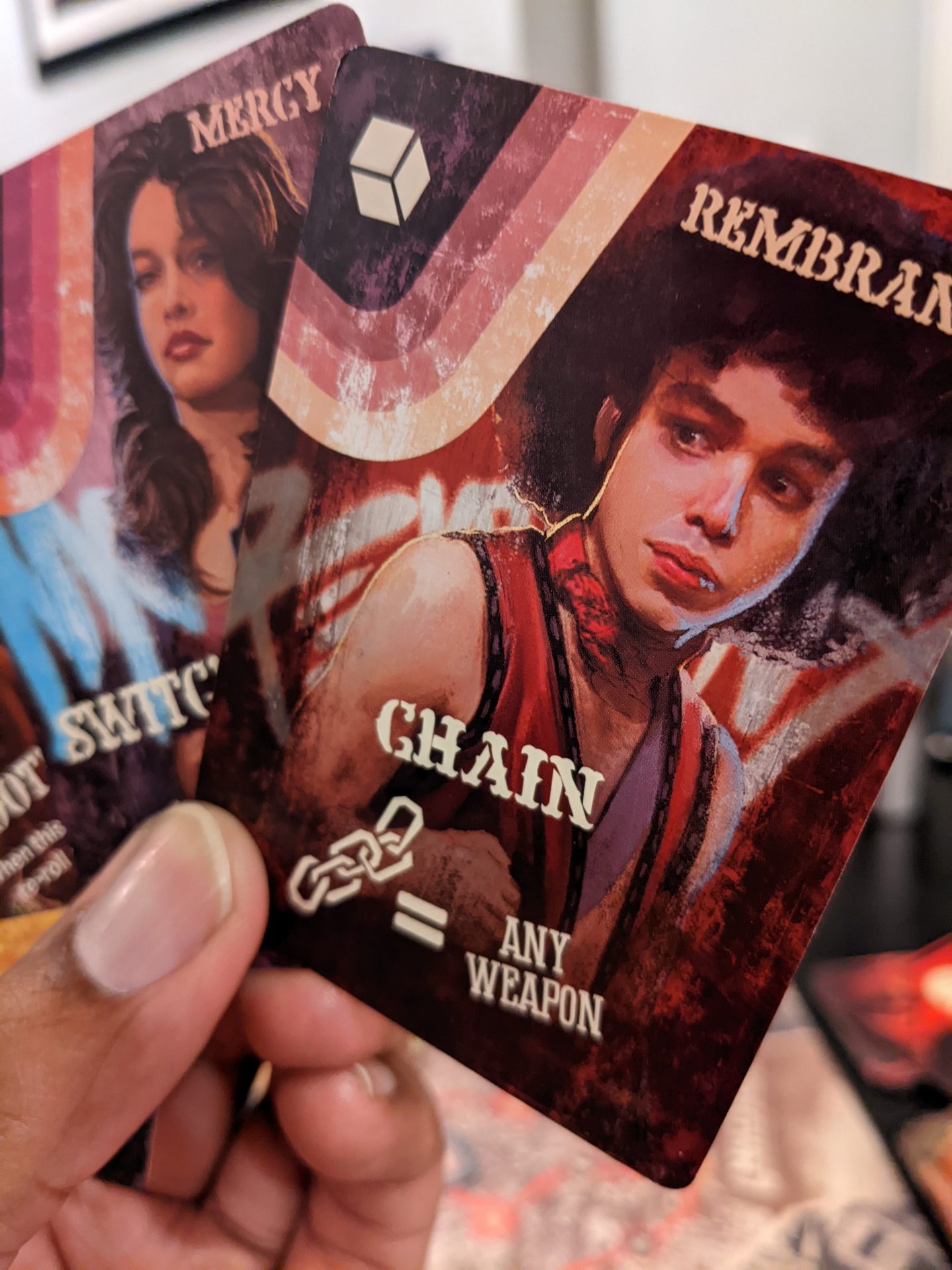 Audience
From its toy line to the family-friendly nature of the majority of its catalog, it's fair to say that Funko Games products are best suited for fans of lighter games with a tie-in to well-known brands. I've also enjoyed some of the medium-weight games Funko has released (Pan Am, The Rocketeer: Fate of the Future) and many of their games are aimed at the hobby gamer.
Let's start with the rules. Think about the games you may have grown up with, if you are a certain age. All of the rules were printed on the inside of the box cover. Most of the Funko games I have played feature simple, double-sided rulesheet; heavier Funko Games products do similar things to streamline teaching each game.
My family took Disney Pixar Toy Story Talent Show for a spin 3 times and it's an absolute blast as a light game that checks all the Funko Games intended boxes. It's very inclusive: my 5- and 7-year-old kids can enjoy the physical challenges built into the talent show portions of the game, while my wife and I can also rest assured that the kids will grasp the rules of the card play.
Ditto for elevated family fare like Godzilla: Tokyo Clash, Groundhog Day and Last Defense, which lean more towards ages 8+ instead of what might fit my younger child. Save for Last Defense—the only Funko Games property I played for this article that is not tied to any previous IP—you are getting some familiar territory on which to build adventures: a Bill Murray comedy, the central character from Japanese sci-fi films for decades. But the games are usually distilled into approachable, familiar worlds where the ruleset doesn't get in the way of fun.
This also helps position Funko Games as the kind of publisher that may be looking to build gamers of the future. Setting the table for younger gamers, or "gateway" gamers looking to move into more serious productions, could also be the aim behind many of the products I have tried so far. It's an interesting angle that I'll continue to explore as I play through the 2022 lineup.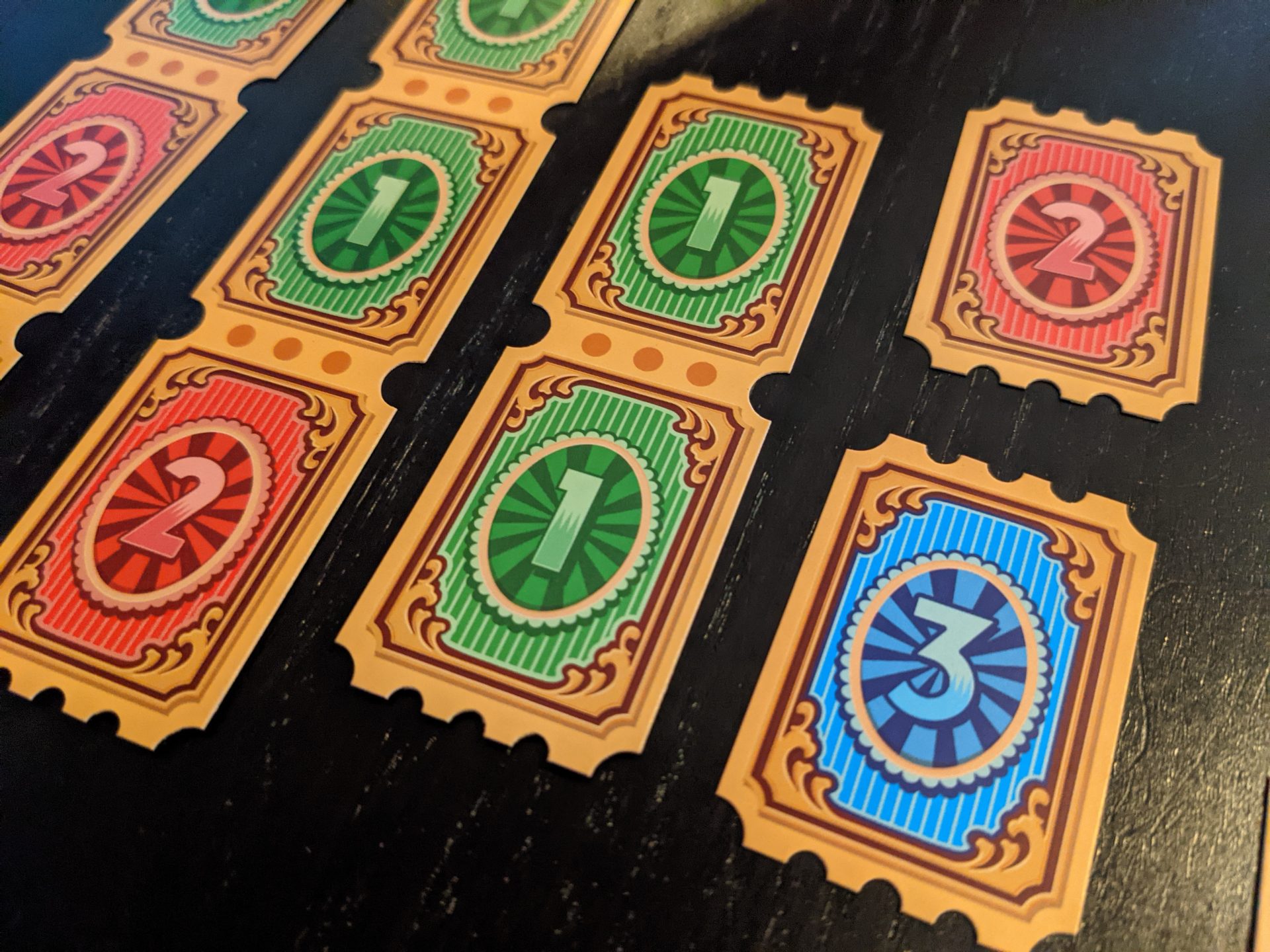 The Value Proposition
Every single game in the current Funko line of gaming products has an MSRP of $35 or less, with a sizable portion coming in under $25. (That will change in 2022.)
I want to focus on value for a moment. If you have read some of my other articles you know that I believe price is a vital priority for those of us with limited funds and a huge desire to add games to our collections.
These days, $35 is sometimes the price for game expansions. $35 might be the cost of a crowdfunding add-on for a big box game, like metal coins, a branded dice tower, or a solo playmat.
At Funko Games, this is the price of the whole game.
It's fair to ask at this point what kind of quality you really get for $35. But one look at The Rocketeer: Fate of the Future or The Goonies: Never Say Die and the answer comes into view quickly: rock solid quality. The card stock, the artwork, the miniatures, and the box insert are all in line with other great productions in my collection.
We should certainly acknowledge here that Funko Games benefits from economies of scale; I've spoken to first-time and smaller publishers who have struggled to build funds to even provide retail copies of their games for our team to review, let alone price games at a dollar amount which clearly shows an ability to move product through distribution channels such as brick-and-mortar retail stores (Target, Walmart) as well as Amazon and other online retailers.
Funko makes games for the masses, and the masses buy Marvel products in spades. That gives the other games in the Funko catalog a chance to shine by funding their production, so that makes these reasonable price points a reality.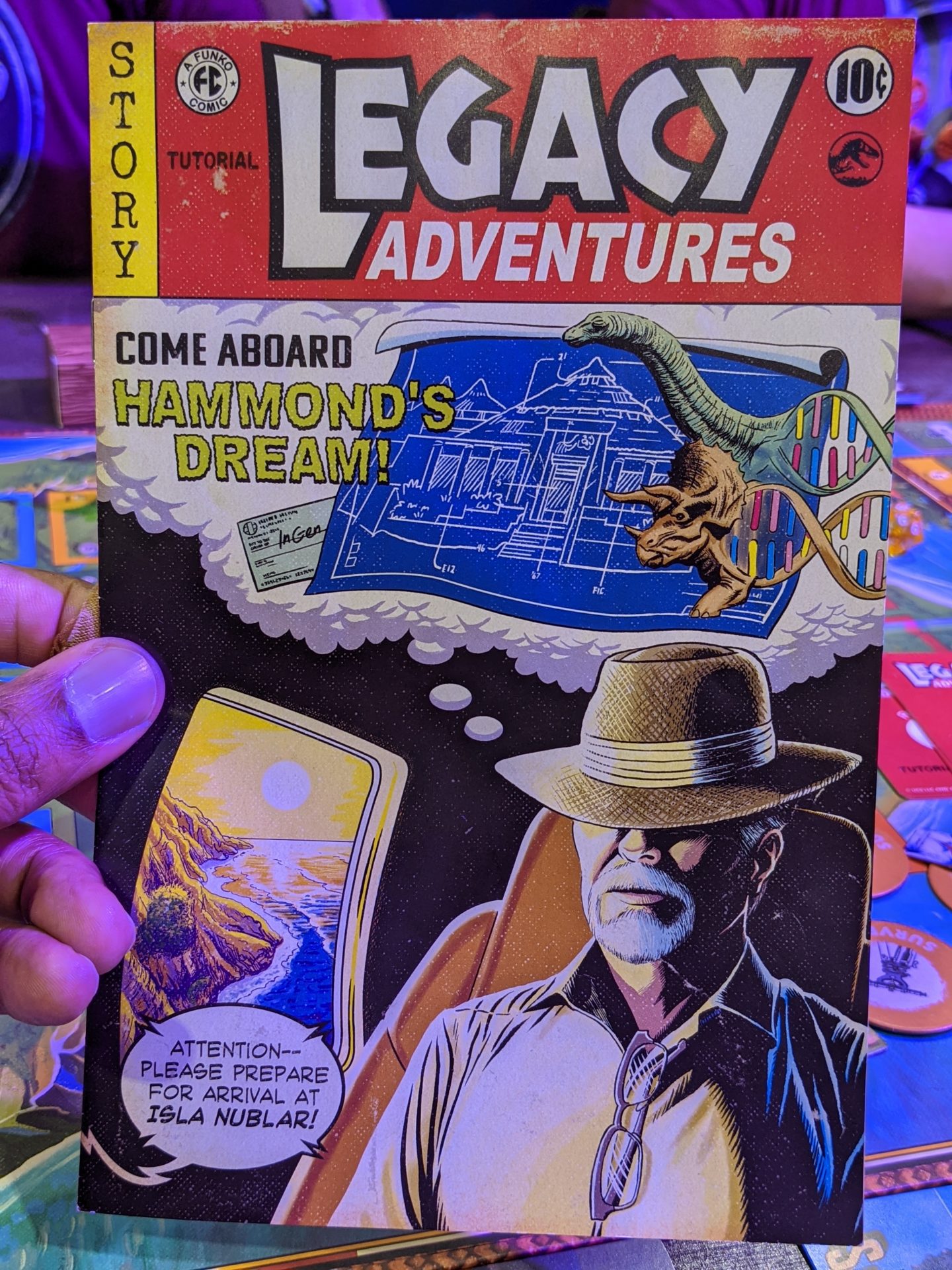 The Profile: Fun
Funko Games, and Prospero Hall, have absolutely nailed a pretty specific category: lightweight, approachable games that trigger a memory—in my case, many fond memories of IP from my childhood—while providing an excuse to sit down with my family and play.
The Funko games I have played have been a blast, but none has yet proven to be what I would call an all-timer. It's also not clear to me that developing a best-of-all-time game is high on Funko's to-do list. This is partially a reflection of the times: while this is my guess and not confirmed by the team at Funko, Funko seems to understand that people want to have fun with a game 3-5 times before moving on to the next game on their wish list.
With 5,000+ games being released every year, with maybe a quarter of that being available in wide release across North America, competition for table time is fierce right now. I won't go as far as using the word "disposable", but that word did surface in other conversations with gamers who helped me play some of the review copies Funko provided for this article. Funko Games provide great experiences, lots of A-minus to B-minus games, and a push for gamers to move on to other games quickly.
And that's totally OK! While I think this is the profile for Funko today, it's clear with games like the upcoming The Legacy of Isla Nublar, a legacy game set in the Jurassic World film universe, Funko might be taking aim at a higher, heavier tier of development with their upcoming slate of releases. If Funko can continue to build a high level of fun into everything they do, gamers will follow even at a slightly higher price point if the gameplay is consistently engaging.