Justin reviews the newest game from the designers of Taco Cat Goat Cheese Pizza, Gimme That! from Dolphin Hat Games!
Get ready to start yelling, again.
Taco Cat Goat Cheese Pizza was one of the best party games to hit shelves in years and the publishers are back with a game so straightforward, so comical, so frenetic, and so replayable that I only have one complaint about its roughly 10-minute playtime: it runs about 5 minutes too long.
If you think a game this short can't be great, though, buckle up. Gimme That!, the latest from Dolphin Hat Games, is a riot and can be taught to almost any human being over the age of 6 in under a minute. From the very first time I played it with my family, I knew that Gimme That! was going to be a classic.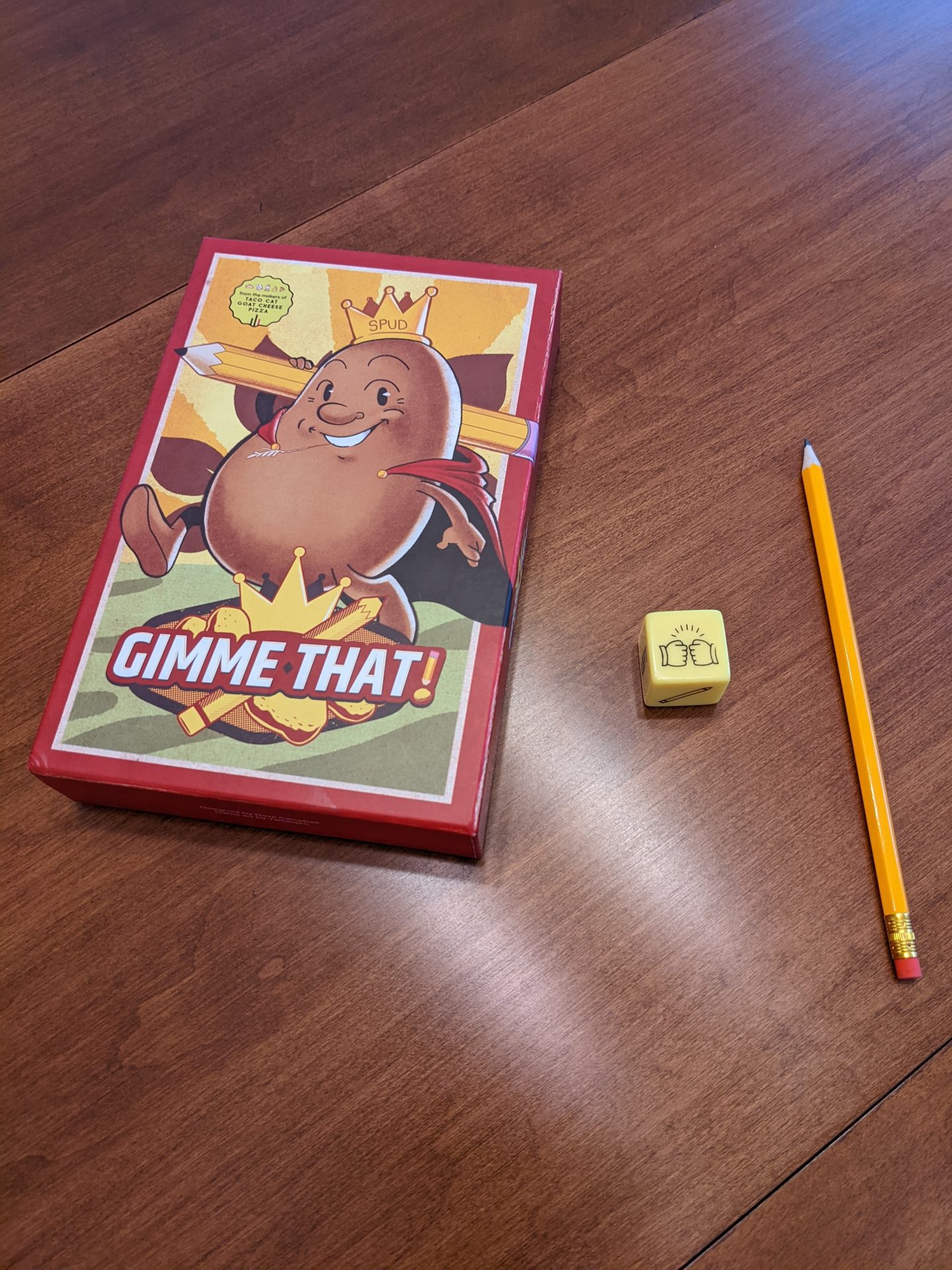 Start Screaming Now
3-8 players gather around a table, armed with a score sheet (whoops, a "Spud Sheet"). One of the players has a pencil. The player to their left has a large, custom D6 ready to go.
On the count of 3, chaos begins. While the writer is furiously writing out numbers in each spud on their sheet (writing the number 1, 2, etc.), everyone else takes turns rolling that die.
Roll a potato masher, and the non-writers pound their hands on the table while everyone yells "MASHED POTATOES!!!" (Added bonus: this makes it harder for the writer to write numbers while the table is shaking.)
Roll the hands icon, and those not holding the pencil high-five each other while yelling "HIGH FRY!!!"
Roll the 2 fists, and while the writer writes, everyone else fist bumps while yelling "SPUD BUMP!!!"
If you roll LEFT, everyone INCLUDING the writer screams "LEFT!!!" then passes their Spud Sheet to the player on their left.
And if you roll one of the 2 pencil faces, yell "GIMME THAT!" then snatch the pencil and start furiously writing numbers on your sheet, counting up from the highest number already there.
If you are able to write the number 100 on the score sheet in front of you, you win. I would argue that you win just by sitting at the table, but that's just me!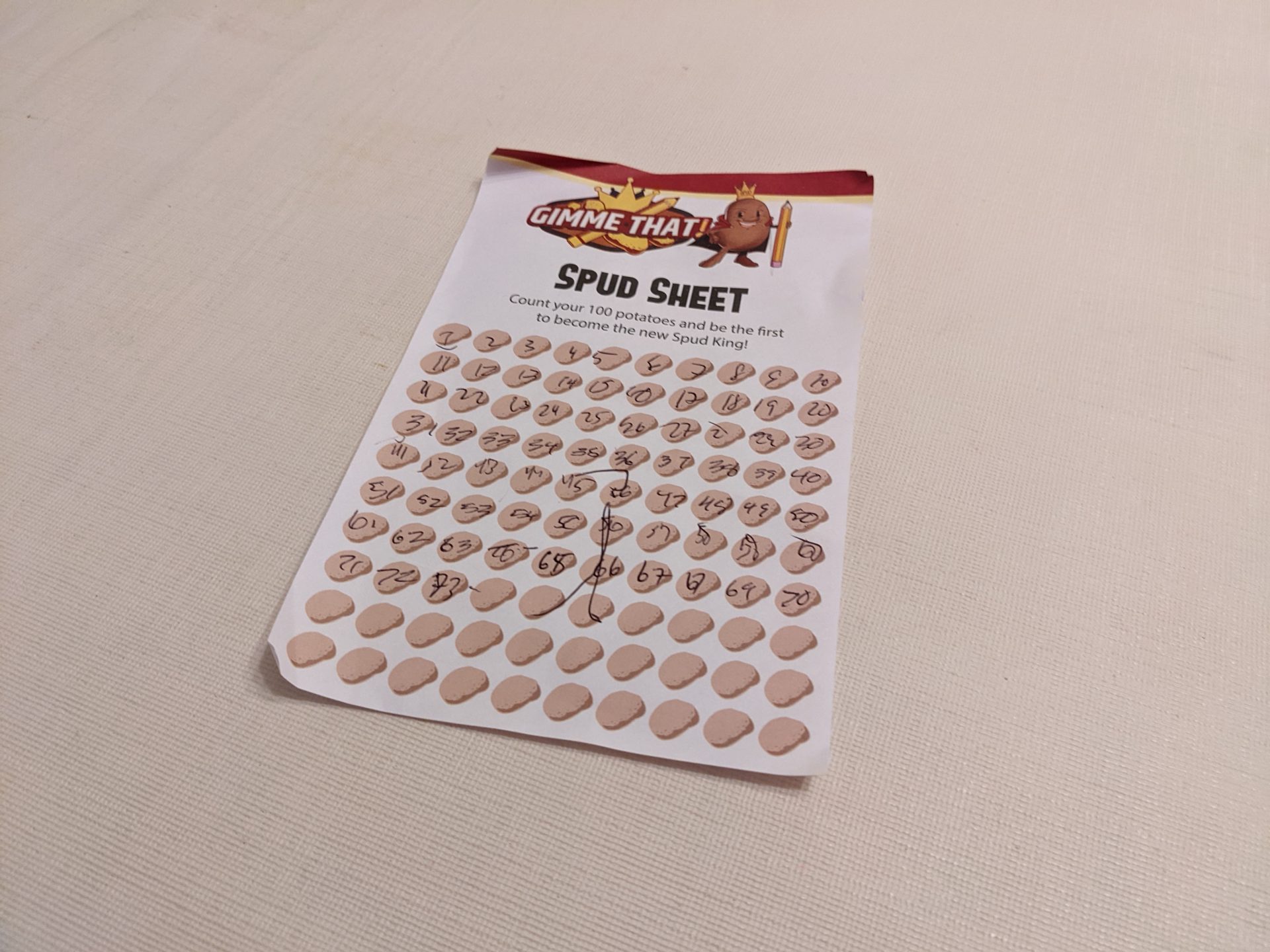 House Rules / House of Danger
Here is the only major fail of Gimme That!: the game is too long.
Obviously, 10 minutes is NOT too long to play a game. But Gimme That! is loud, because you will spend most of the game yelling at the top of your lungs. (The instructions encourage this.) In my experiences so far, 5 straight minutes of that is more than enough.
Plus, writing 100 numbers takes too long. Even after our first game, we house-ruled the length; 50 works so much better that I can't believe the designers didn't use that as the starting point.
The game isn't necessarily that much shorter with this house rule. The lower score cap makes Gimme That! MUCH more chaotic while allowing for a game you can finish without having a heart attack.
One other item of note: Gimme That! is easily the most dangerous game I have played this year.
My daughter, in our second game of Gimme That!, did all the following:
She fell out of her chair and almost broke the leg of said chair when she kicked it over, trying to grab the pencil from another player.
She punched me in the face when she missed a fist bump. (This did lead my wife and I to ask bigger questions, but I'll save that for a separate article.)
She grabbed the pencil out of my hand with such force and at such an angle that I thought she thrust a splinter into my writing hand.
I lost my voice playing Gimme That! the first time. My wife asked to take a break during our second game, she was so out of breath. A player who shall not be named ripped up a score sheet in disgust after getting hosed on a LEFT roll late in another game.
Gimme That! is not for the weak of heart. It's also not for seniors. It's not ideal for people who cannot write numbers quickly; for example, my 5-year-old knows how to play, but unless you house rule the writing of numbers (we use slashes in the spud spaces when he plays with adults), kids are a no-fly zone.
Gimme That! might also be an interesting case study when bourbon is included. Just sayin'. Remember that Uncle Justin warned you: Gimme That! is crazy.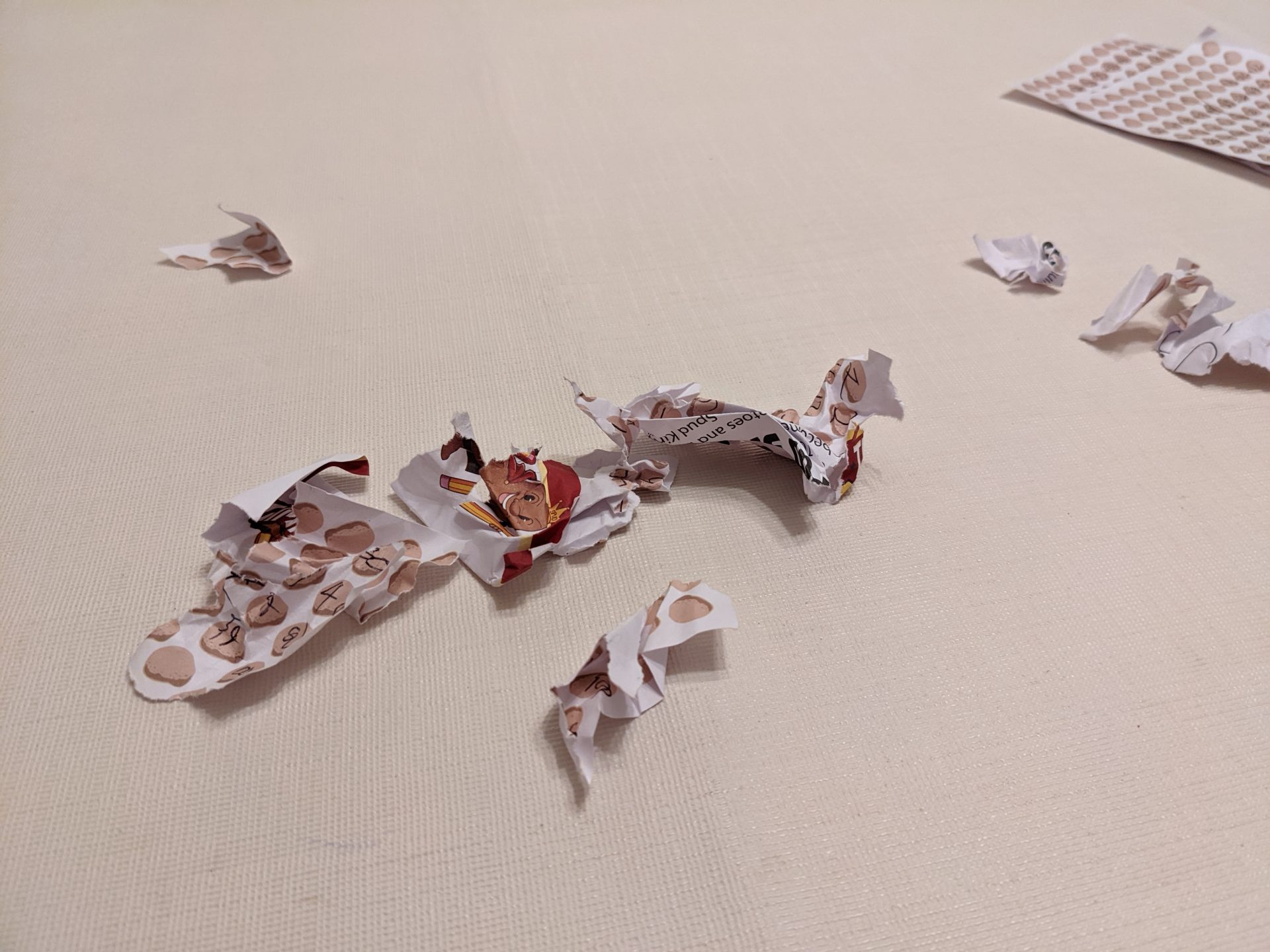 Instant Buy
Gimme That! delivers on its concept: bring fun to a party of 3-8 players with a simple idea and solid execution.
The game is best with friends and family fully committed to the hilarity of it all. Yelling is encouraged! Passionate fist bumps are the right call. And who doesn't want to yell "HIGH FRY!!!!" at the top of their lungs??
If you loved Taco Cat Goat Cheese Pizza and want another instant hit party game, Gimme That! fits the bill. And for anyone else looking for a good time, look no further.
Who knew that a pencil, die and Spud Sheet would provide so many laughs?