We all love board gaming with our friends and family, but sometimes you just want to curl up with a good book. Here are some great recommendations inspired by some of our favorite games!
"Whether I shall turn out to be the hero of my own life, or whether that station will be held by anybody else, these pages must show. To begin my life with the beginning of my life, I record that I was born (as I have been informed and believe) on a Friday, at twelve o'clock at night. It was remarked that the clock began to strike, and I began to cry, simultaneously."
So begins Charles Dickens's classic work David Copperfield. It's one of the most well-known beginnings in literature and what follows is a captivating tale of love, loss, hope, and renewal. It's a story that sticks around with you long after you've read the last page and closed the cover. In this respect, a good book is a lot like a good board game. Long after you've put it down, it's still on your mind.
Today we've paired up some of our favorite games with some amazing books. Just because your friends have gone home and you've put the game on the shelf… just because you're on an airplane or on a train and can't break out your favorite game… just because you're stuck waiting in line at the DMV… doesn't mean that you can't still explore and enjoy the rich universes that our favorite games create for us. So pour yourself some fresh coffee, put on your pajamas, and pull up a comfy chair because it's reading time!
World's Fair 1893 and The Devil in the White City: A Saga of Magic and Murder at the Fair that Changed America: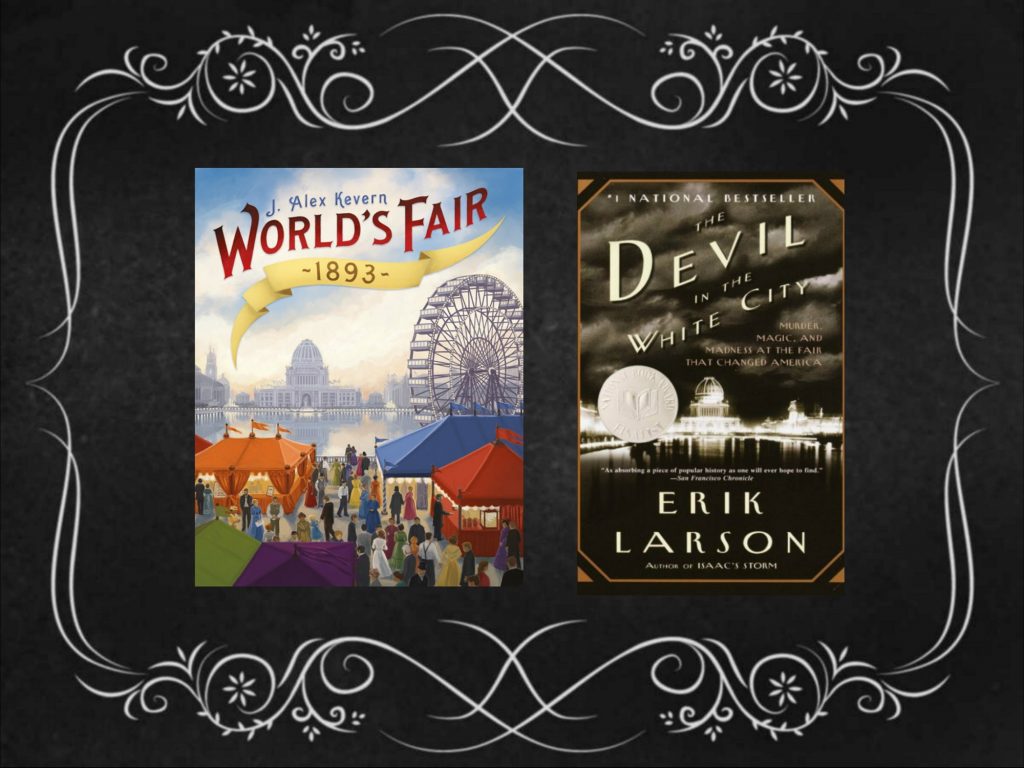 The World's Fair of 1893 in Chicago celebrated man's greatest technological and scientific achievements. But, lurking beneath that hopeful veneer was a darkness of almost unimaginable proportions. Check out our unboxing of World's Fair: 1893.
Nemo's War and 20,000 Leagues Under the Sea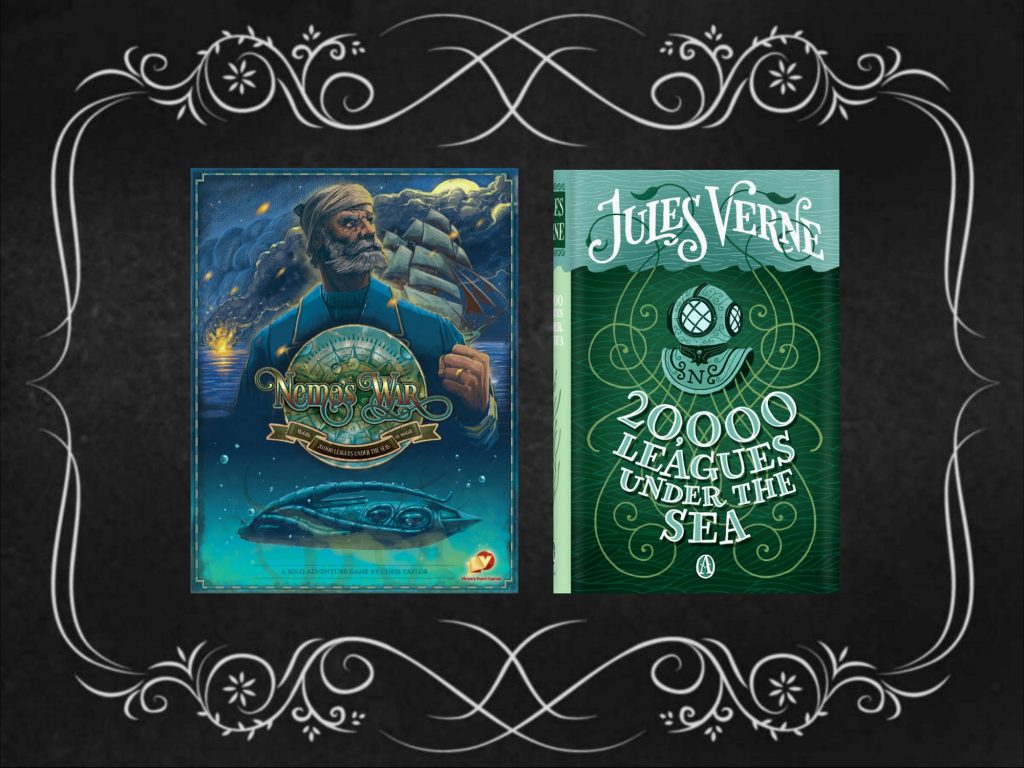 Jules Verne's imaginative novel has inspired countless games, books, and movies.
Aquasphere and Sphere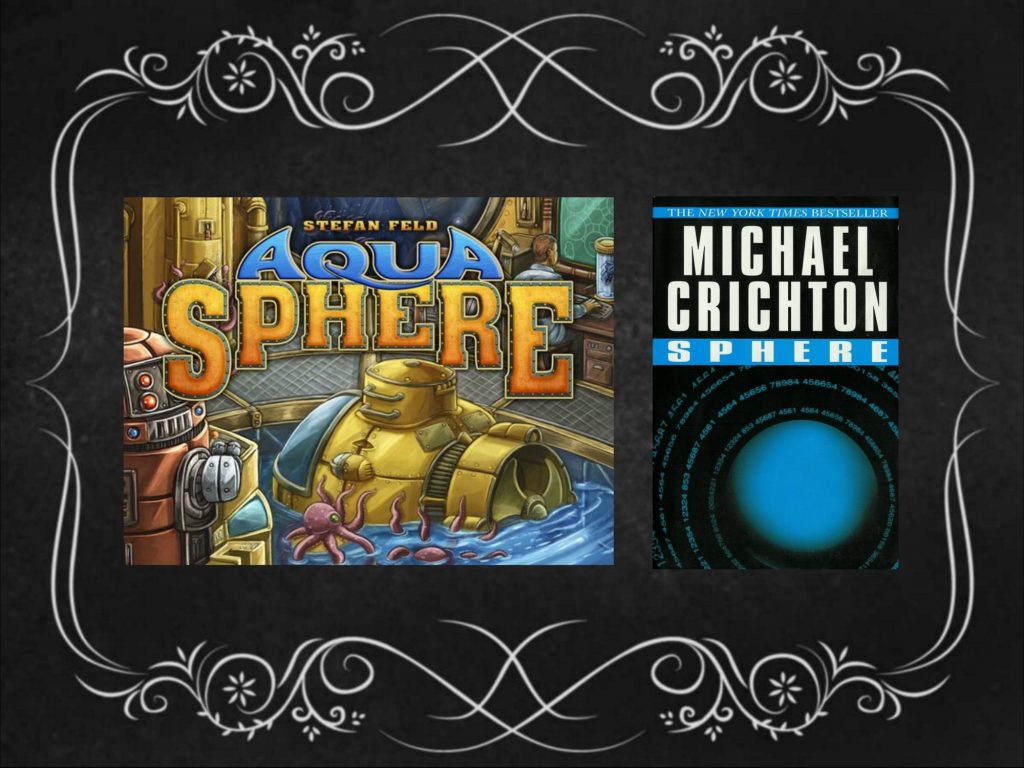 When you're working in a deep sea laboratory, there's no telling what you'll discover. Some things are better left unfound.
Dinosaur Island and Jurassic Park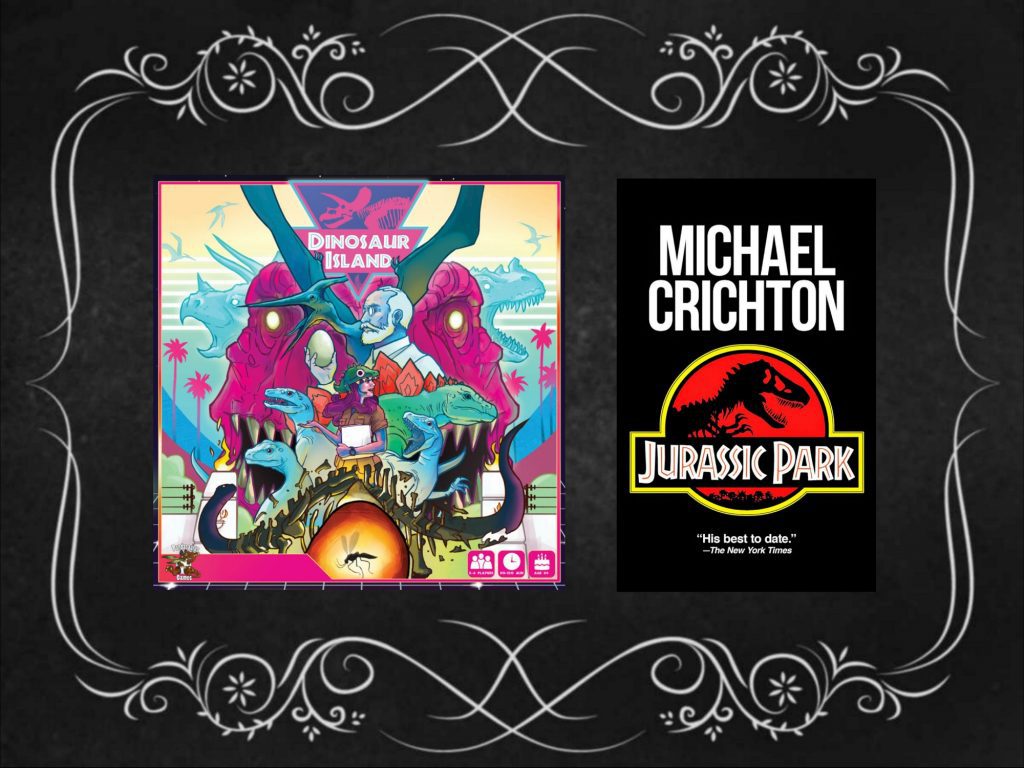 Some pairings are obvious. Jurassic Park is one of Michael Crichton's greatest achievements. If you've never read it, you've been missing out! Check out our review of Dinosaur Island!
Tesla vs. Edison and A Streak of Luck / The Man Who Invented the Twentieth Century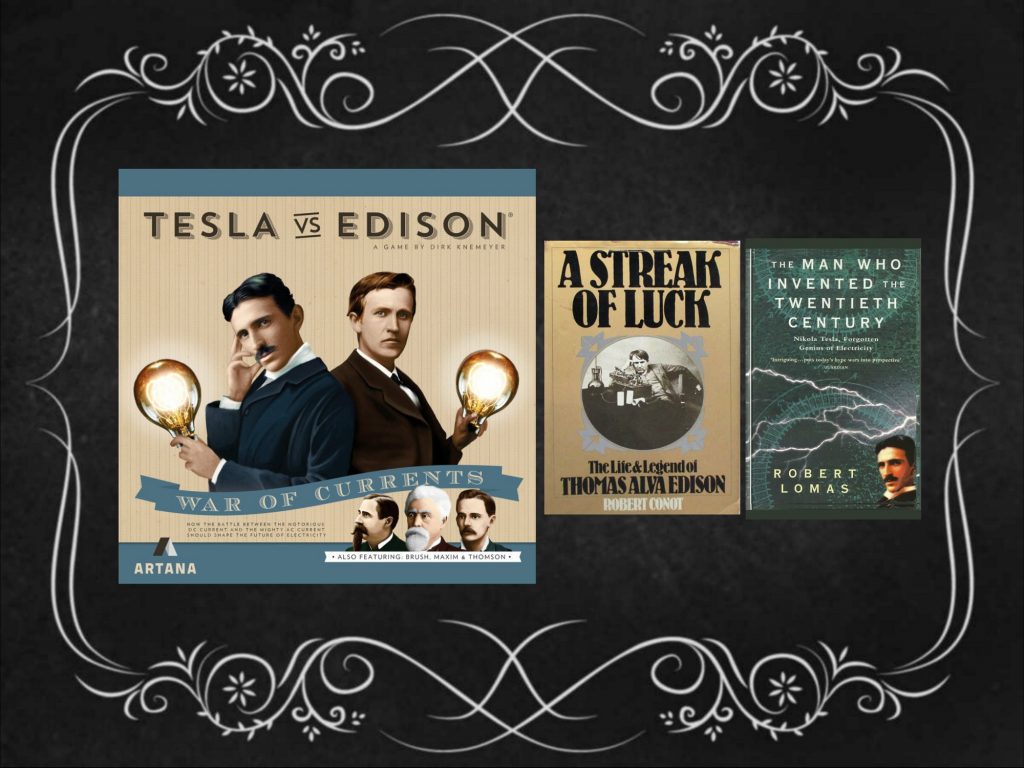 A classic tale of the weak versus the powerful. This one's a two-parter. Find out what inspired and drove these men to become two of the most brilliant inventors of all time.
Progress: Evolution of Technology and A Short History of Nearly Everything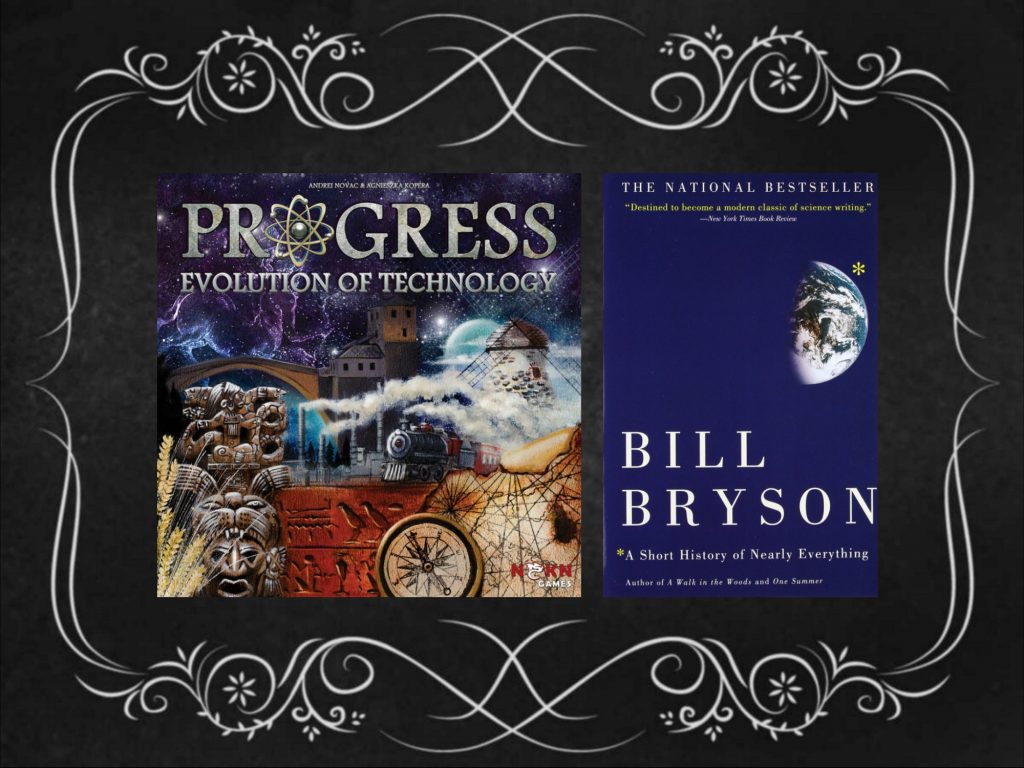 Each discovery leads to a new one. Bill Bryson chronicles mankind's greatest discoveries in this brilliant work of nonfiction that reads like a novel.
J'Accuse and Murder on the Orient Express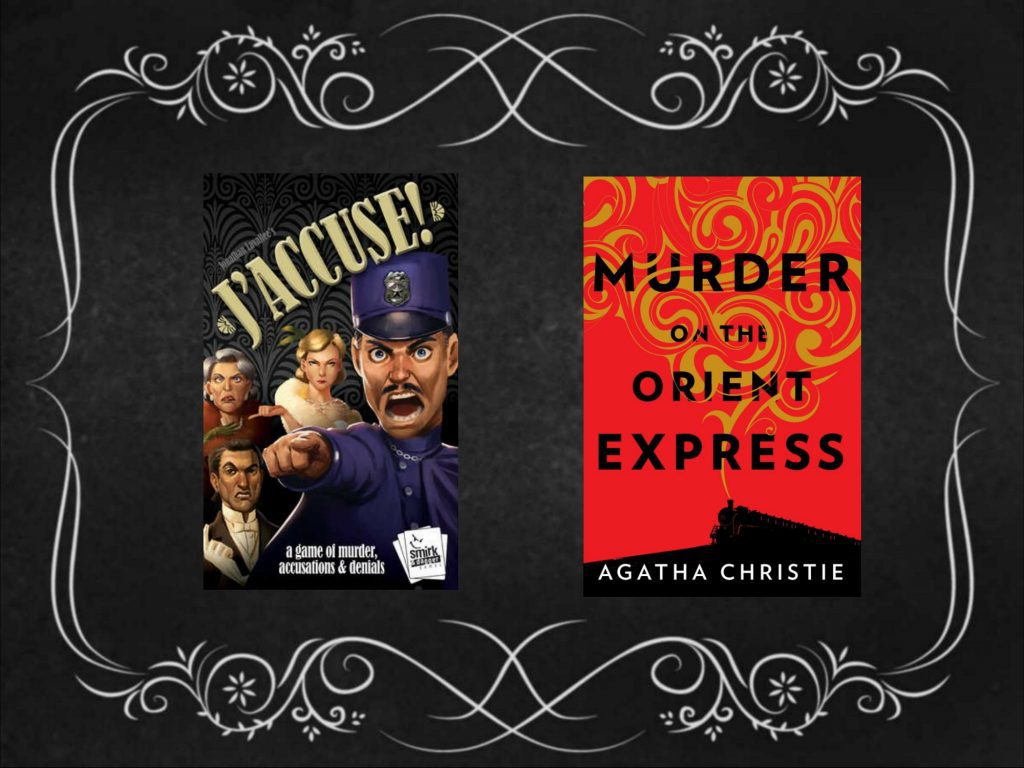 A murder most foul. This calls for a brilliant detective!
Munchkin series and the Myth Adventure series
Munchkin is a long-running series full of crazy characters, hacking and slashing, and lots of sly humor. The Myth Adventure series is much the same.
Labyrinth and The Maze Runner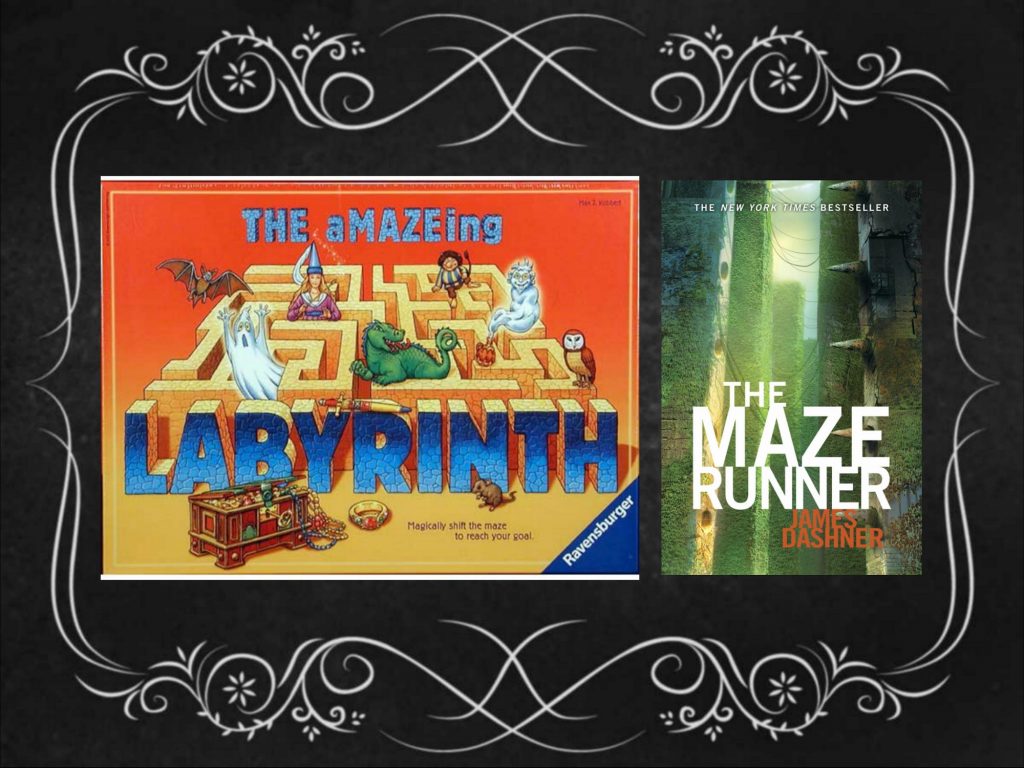 Some mazes stay stagnant while others are constantly in a state of flux. These mazes are of the latter variety. One holds treasure while the other holds near-certain doom.
Gloomhaven and The Dragonlance Chronicles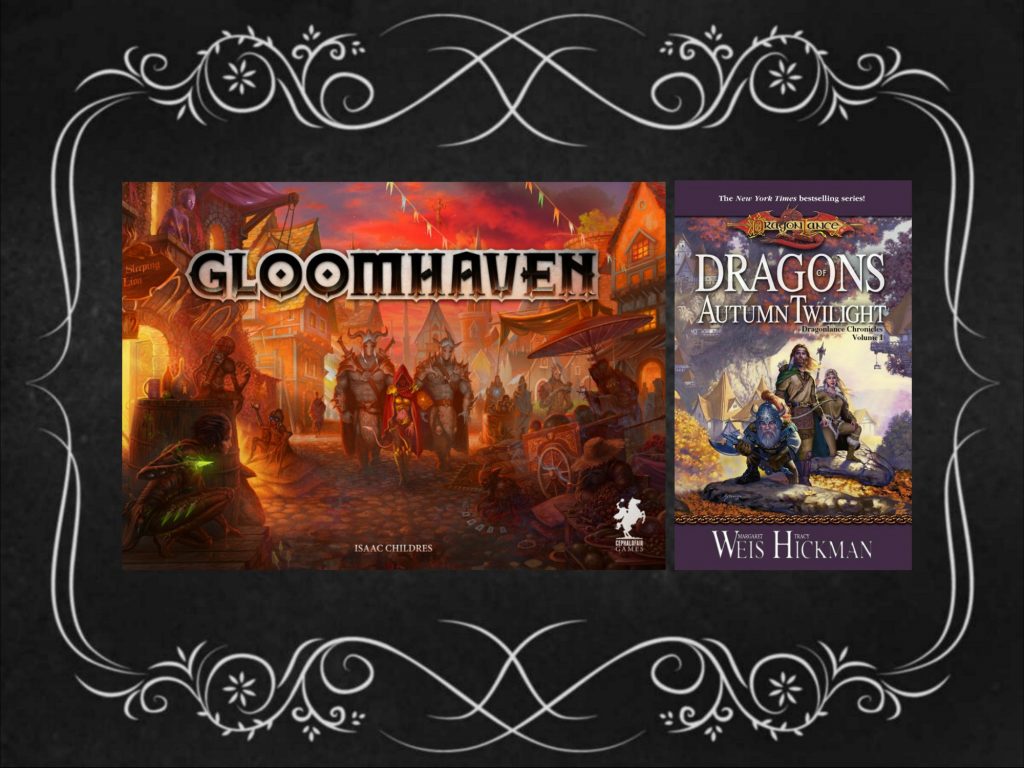 Heroes should never travel alone. Facing down evil is much easier when you know your companions have got your back. So is picking fights in taverns, but that's a tale for another day. Check out our Gloomhaven review!
Trickerion and The Prestige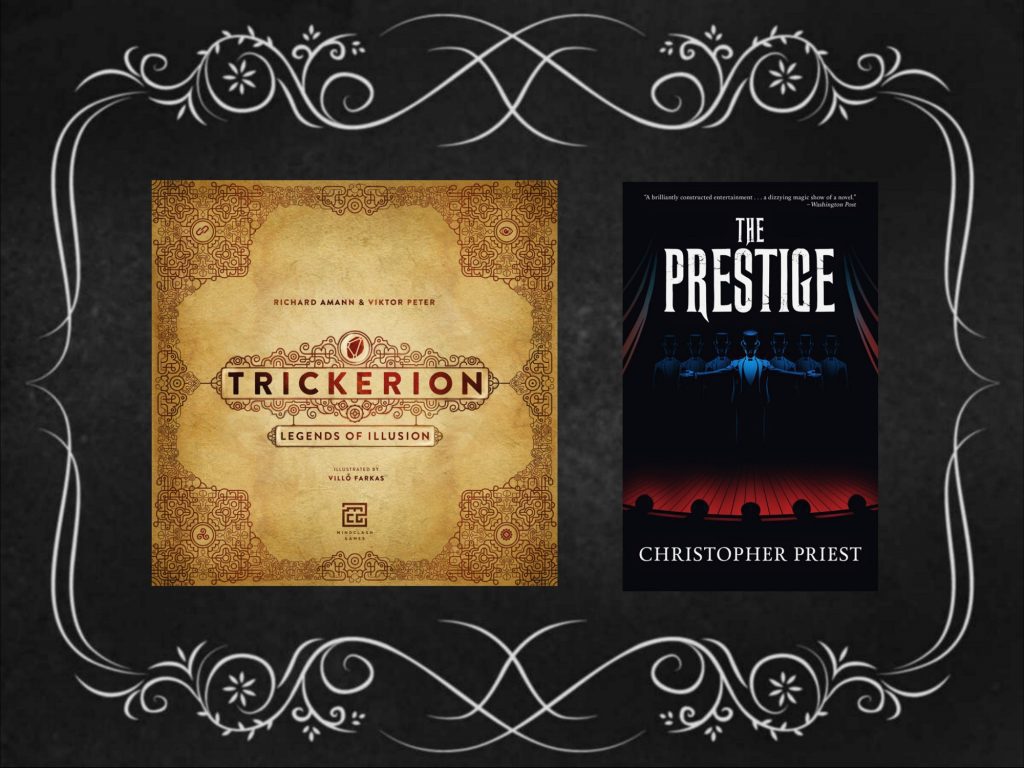 Rival magicians in the late 19th century airing their grievances in the public eye. Only one will win, but are they the most worthy? This also pairs well with Jonathan Strange and Mr. Norrell by Susanna Clarke.
Mice and Mystics and Redwall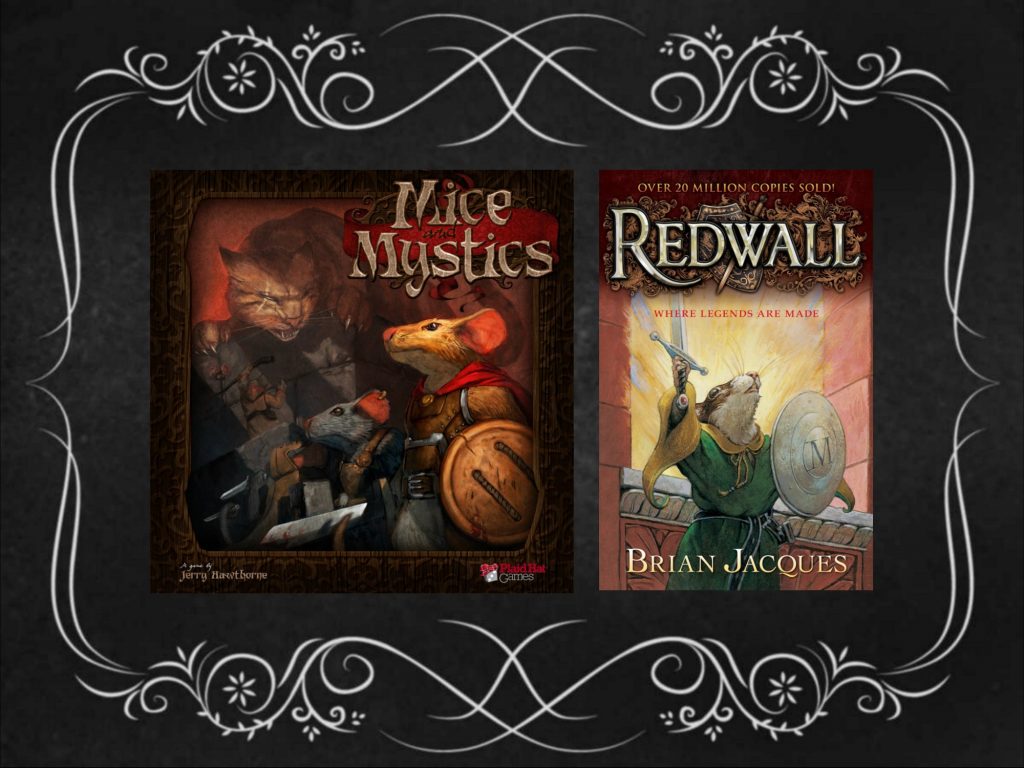 These mice might be tiny, but inside each one is the heart of a hero.
Chrononauts and 11/22/63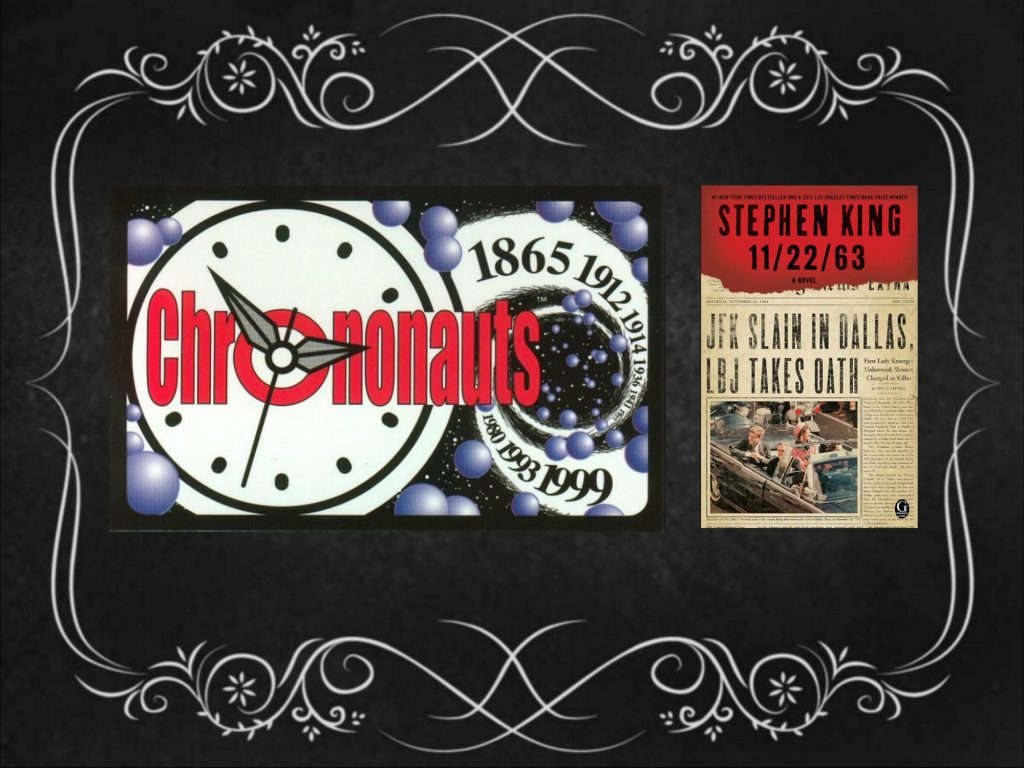 If you had a time machine, wouldn't you be tempted to go back in time and set things right? Meddling with time, though, has consequences.
Scrabble and Wordfreak: Heartbreak, Triumph, Genius, and Obsession in the World of Competitive Scrabble Players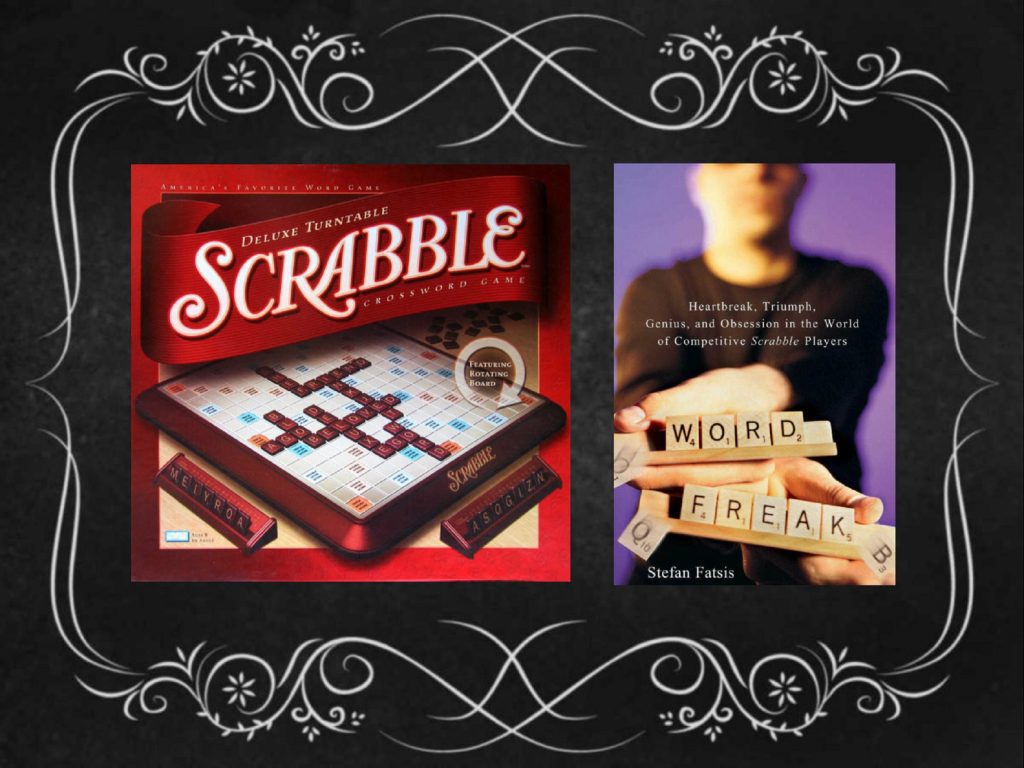 Scrabble's an old game with a huge following. Some of these followers, though, take it to the extreme.
Merchants and Marauders and Pirate Latitudes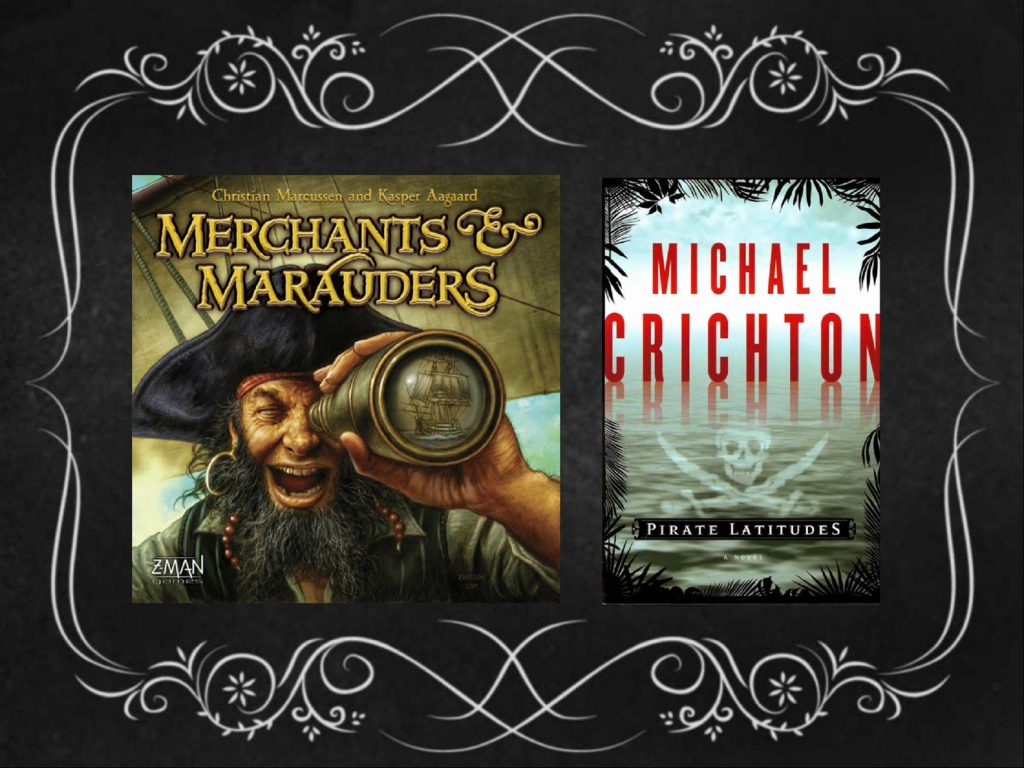 In days of old, privateers sailed the sea under commissions of war. It was a very thin line to ride between piracy and legitimacy, though, and not everyone was able to toe the line.
Blood Rage and Beowulf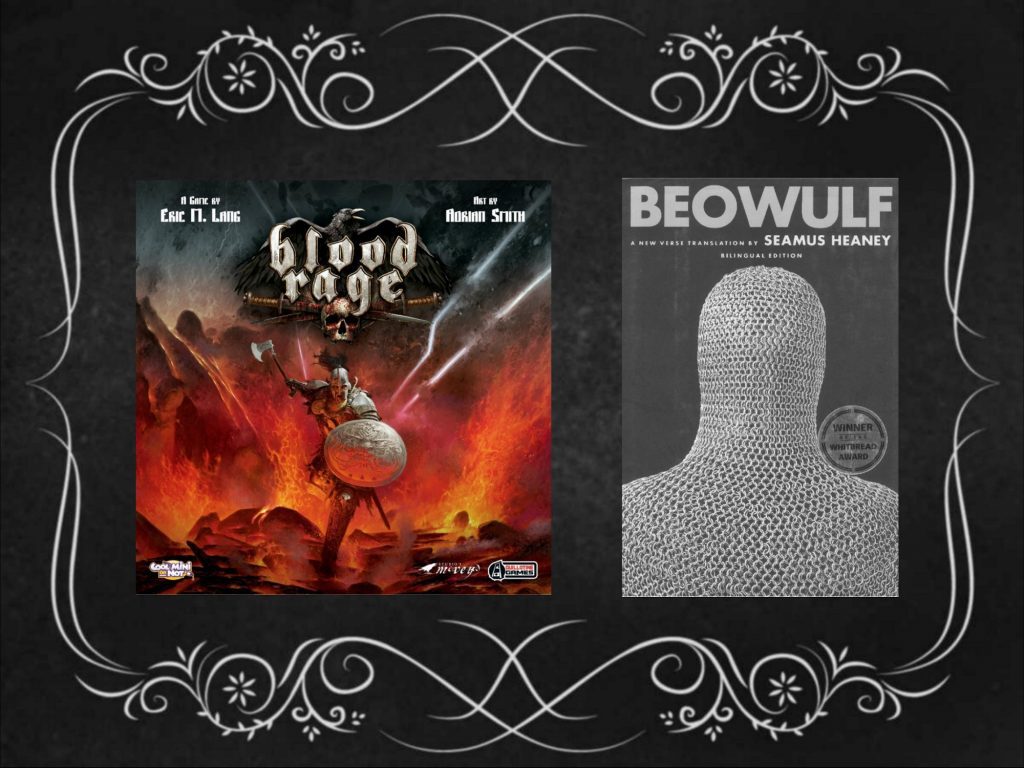 Blood, sweat, tears, and longboats. Oh… and epic monster battles. It's a good day to be a Viking! Find out why we love Blood Rage!
Pandemic and The Andromeda Strain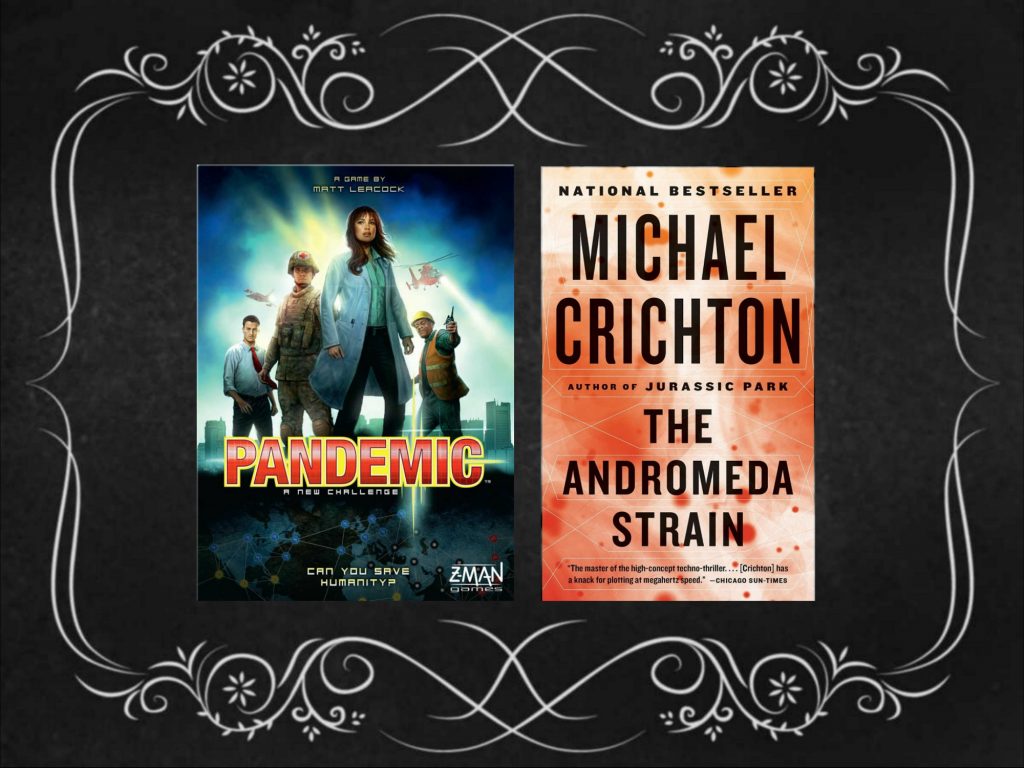 When dealing with a pathogenic outbreak, containment is key to defeating it. But sometimes, despite our best efforts, containment fails with disastrous results.
Duel of Ages and Guns of the South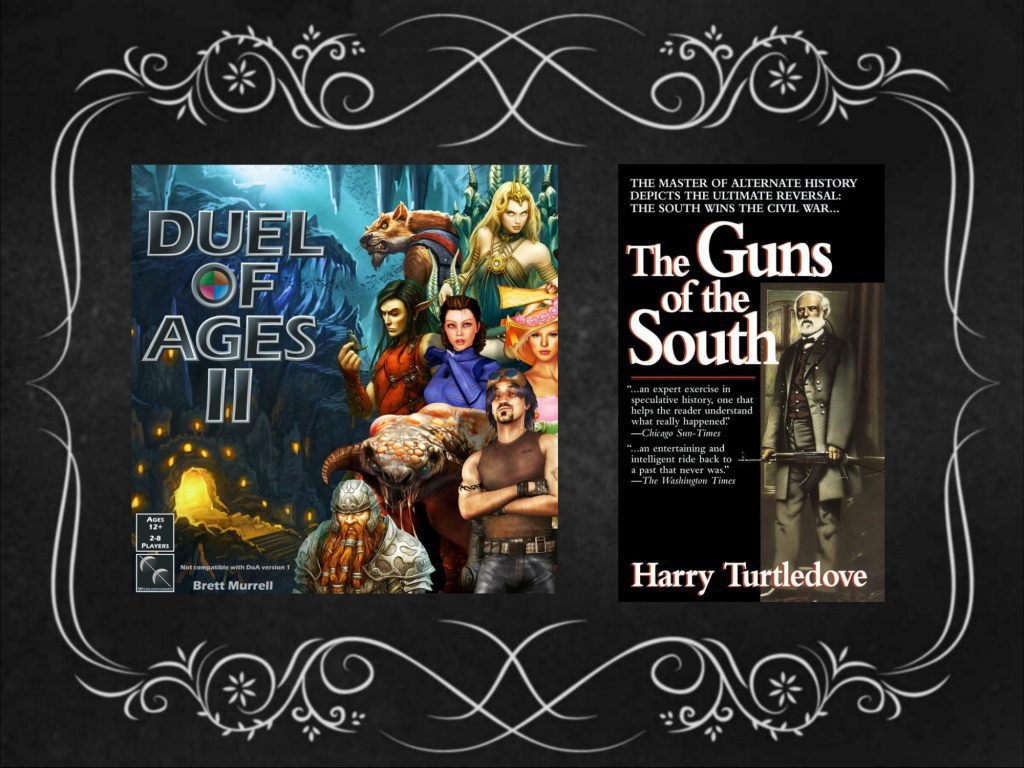 What if Gandhi had wielded a laser rifle? What if Genghis Khan had ridden around on a 4-wheeler? What if Robert E. Lee's armies were armed with AK-47s? Anachronisms make for good games and great fiction.
First Martians and The Martian Chronicles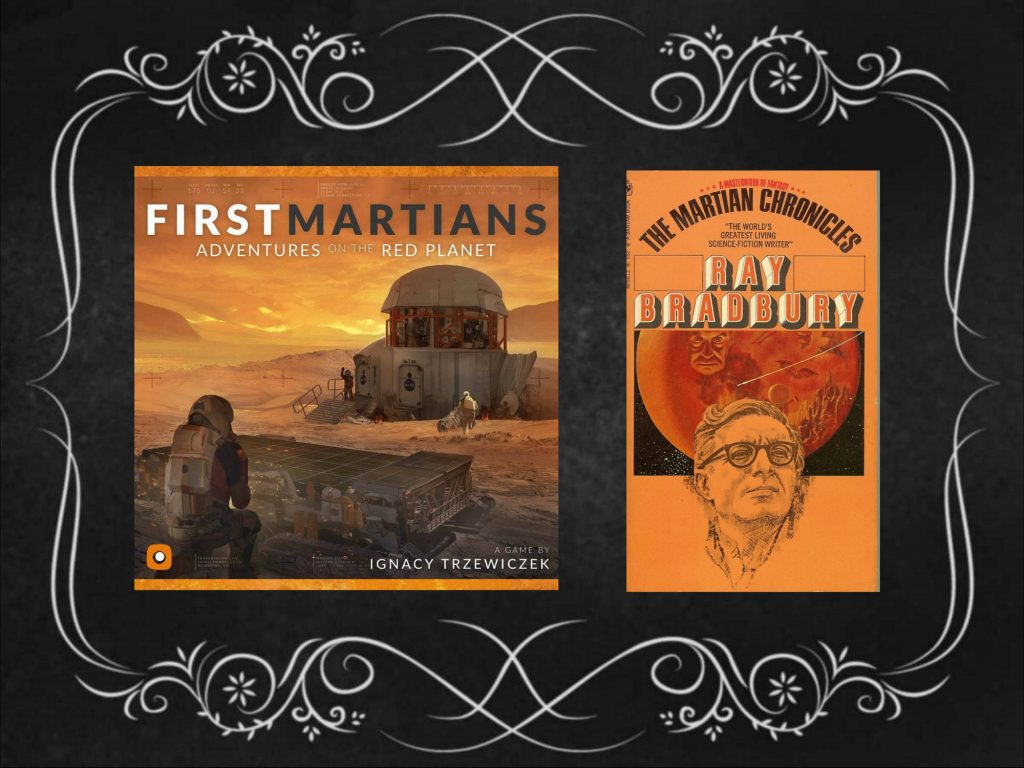 Getting off of Earth and heading to Mars? That was the easy part. Surviving the harsh reality of this not-so-user-friendly planet? That's going to be a bit more challenging.
Twilight Struggle and Tinker, Tailor, Soldier, Spy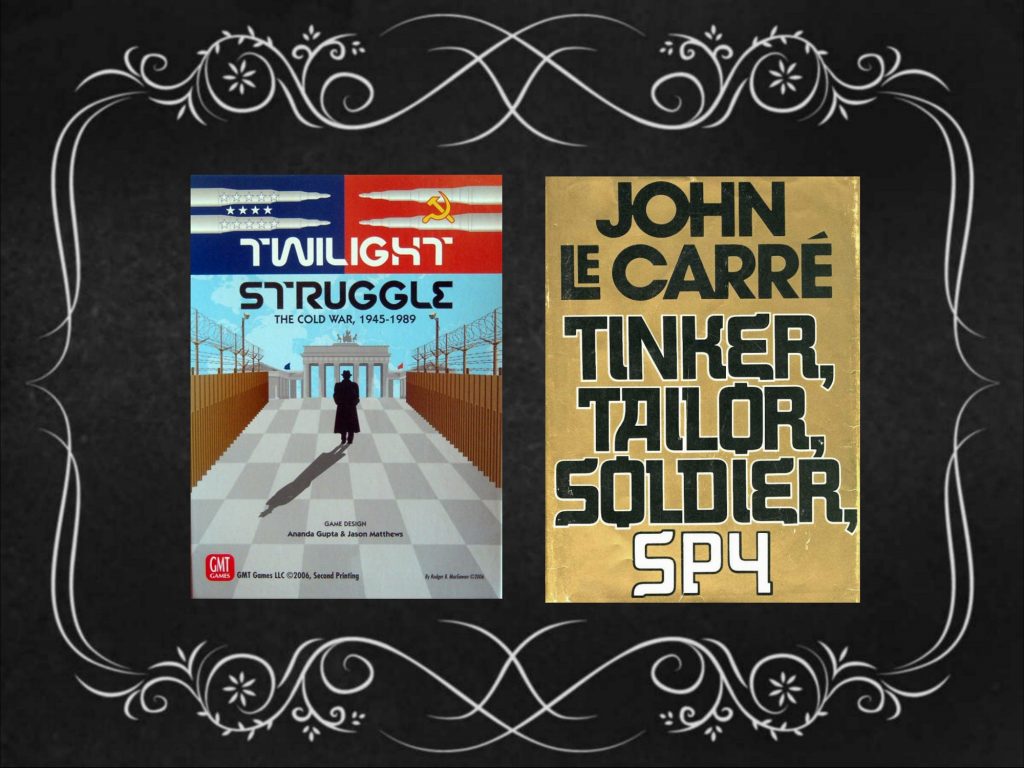 There's nothing like a little Cold War espionage and intrigue to pass the time.
Fury of Dracula and The Historian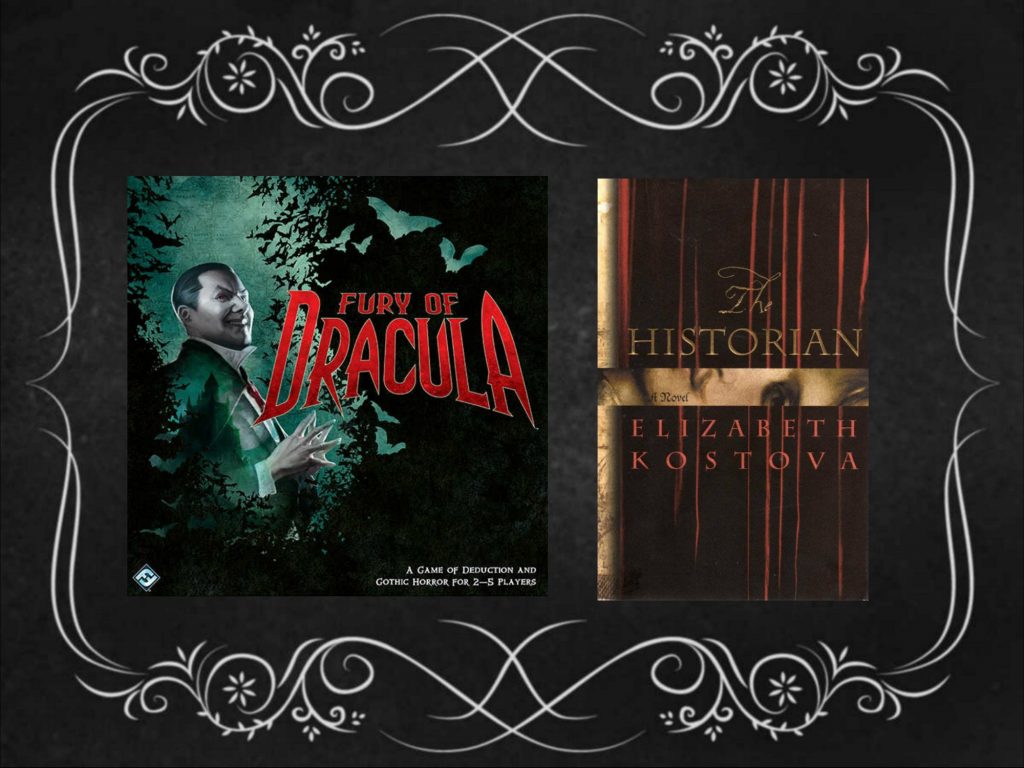 Some hunt for Dracula to put an end to him. Some hunt for Dracula because they're not entirely convinced that he's real.
Sentinels of the Multiverse and The Physics of Superheroes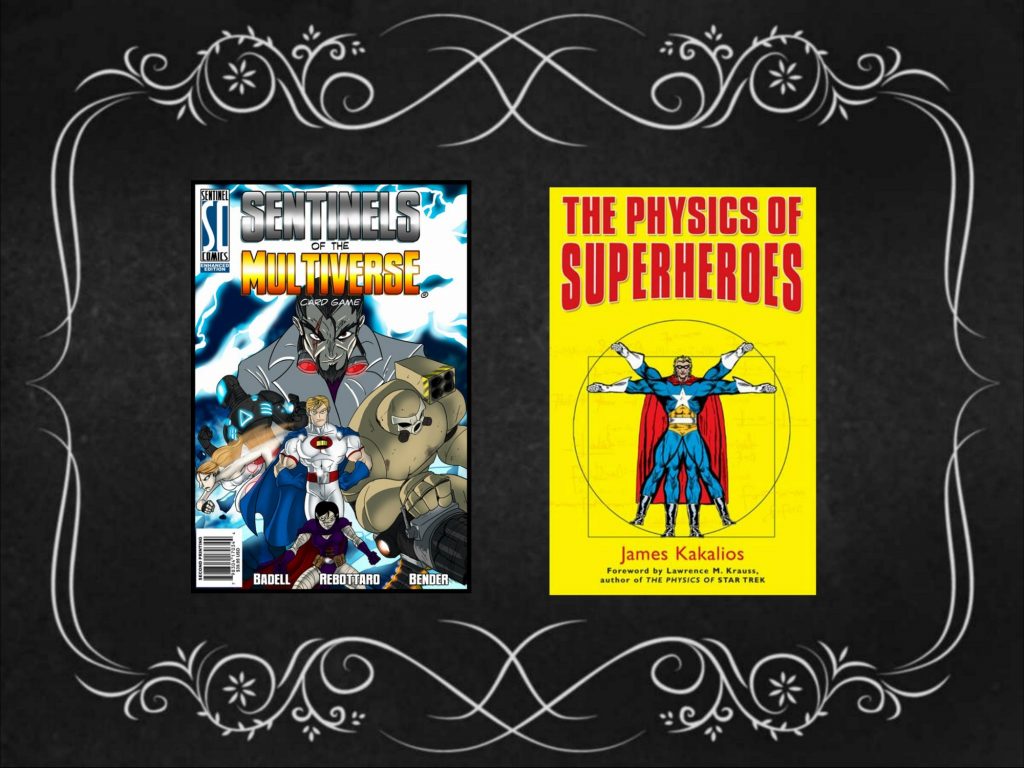 Superheroes have become staples of pop culture. What does it take to become a superhero? Courage, bravado, and the mastery of some bizarre physics as it turns out.
Snow Tails and The Call of the Wild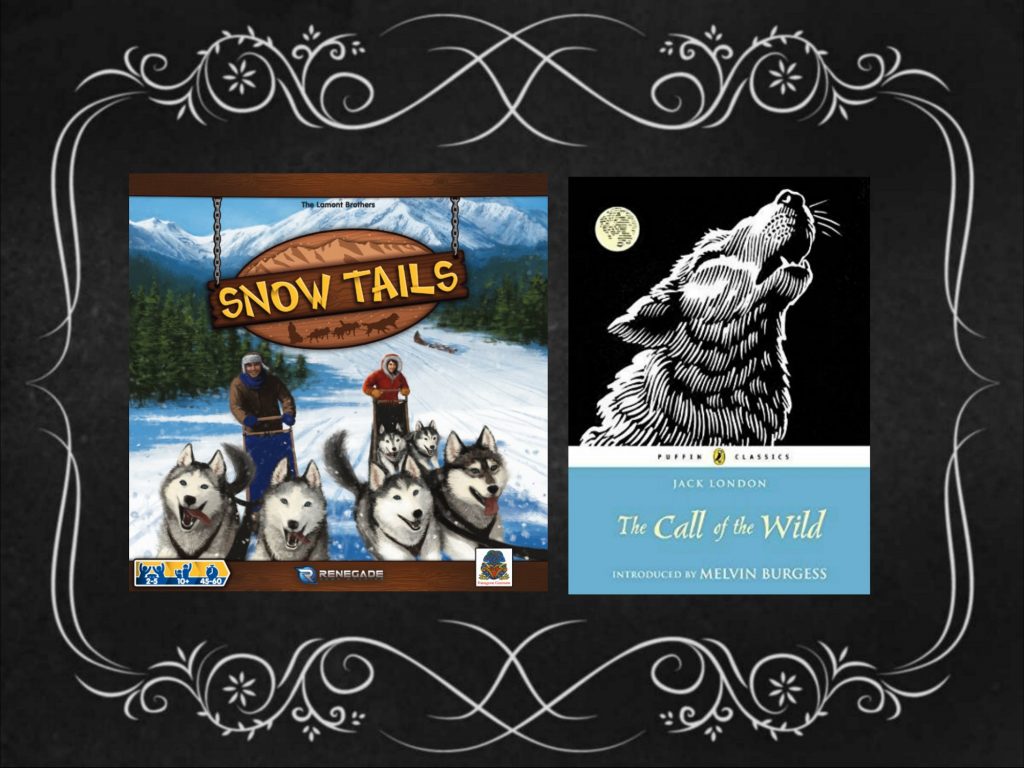 A sled race is very rewarding for the people involved. The dogs? Maybe not as much.
Biblios and The Book of Air and Shadows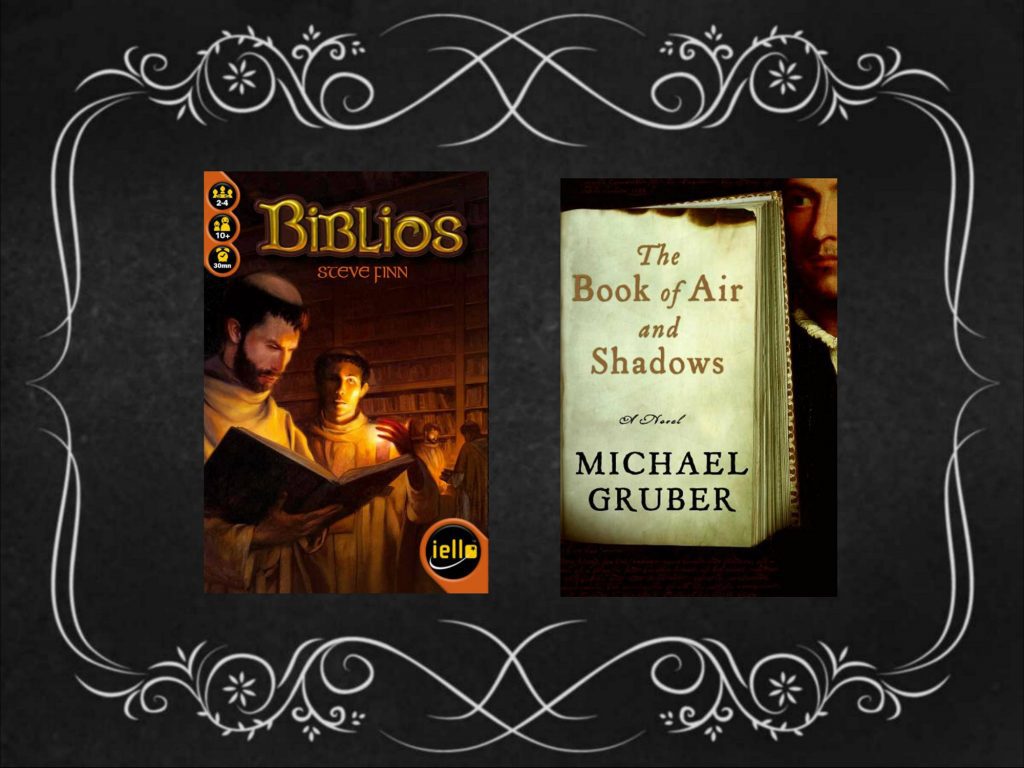 Sometimes you want all of the books. Sometimes you're just obsessed with that specific one that eludes you.
Star Wars Rebellion and The Physics of Star Wars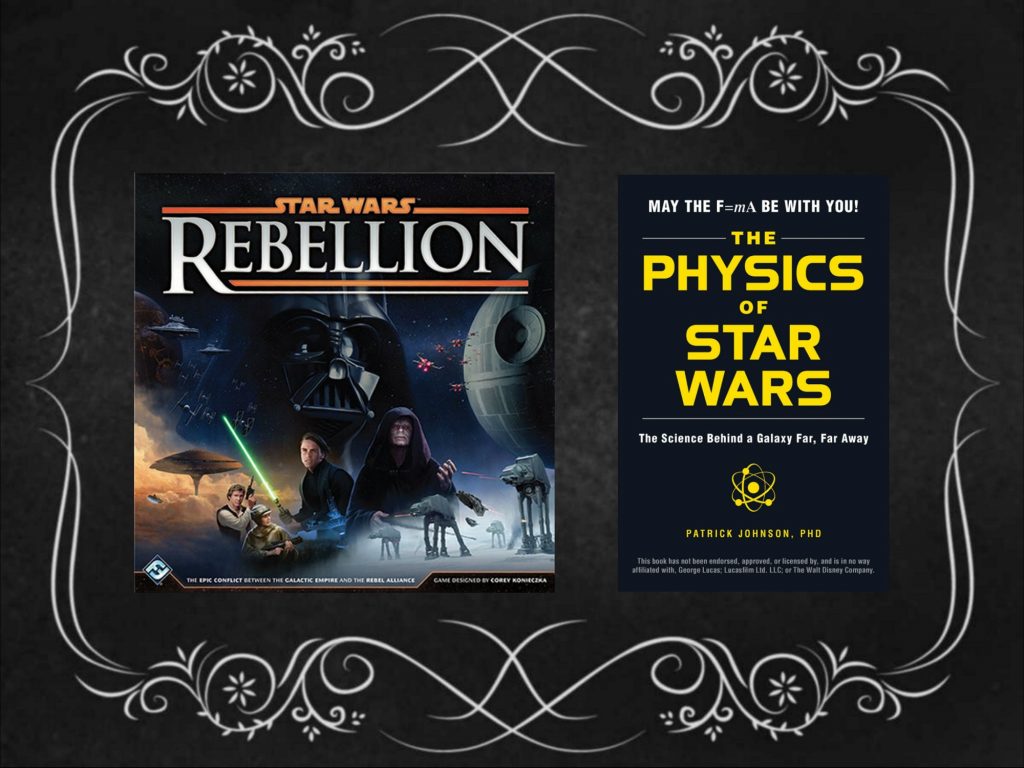 Laser rifles, lightsabers, and The Force. These are all staples of the Star Wars universe, but could they actually exist in ours? Check out our review of Star Wars Rebellion.
Mastermind and The Code Book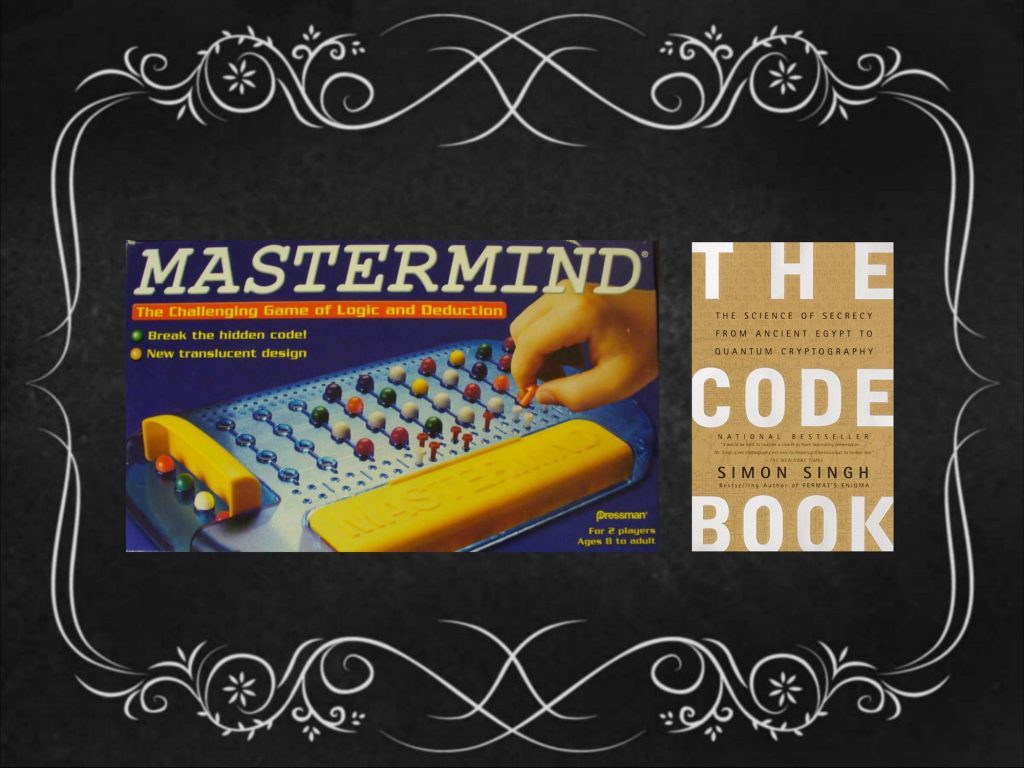 Once you've mastered Mastermind, find out what makes or breaks a code system, the history of cryptography, and its future.
Letters From Whitechapel and The Map of Time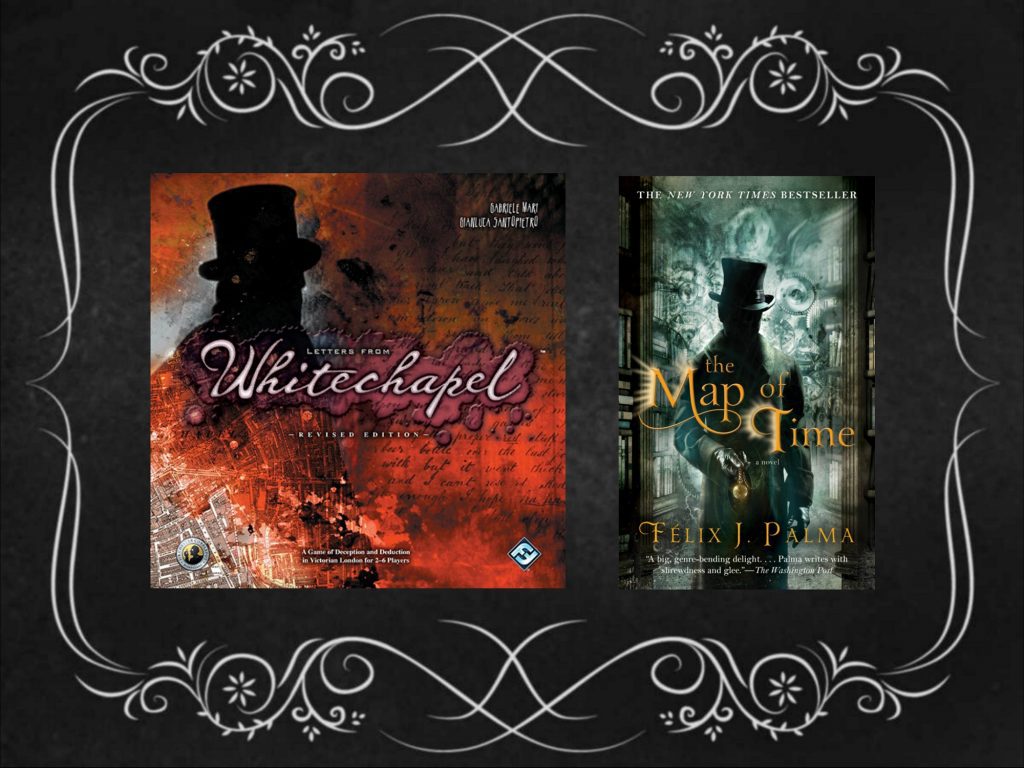 It's London 1888. Jack the Ripper roams the streets claiming his victims. But what if you could stop him dead in his tracks?
Labyrinth: The War on Terror and Generation Kill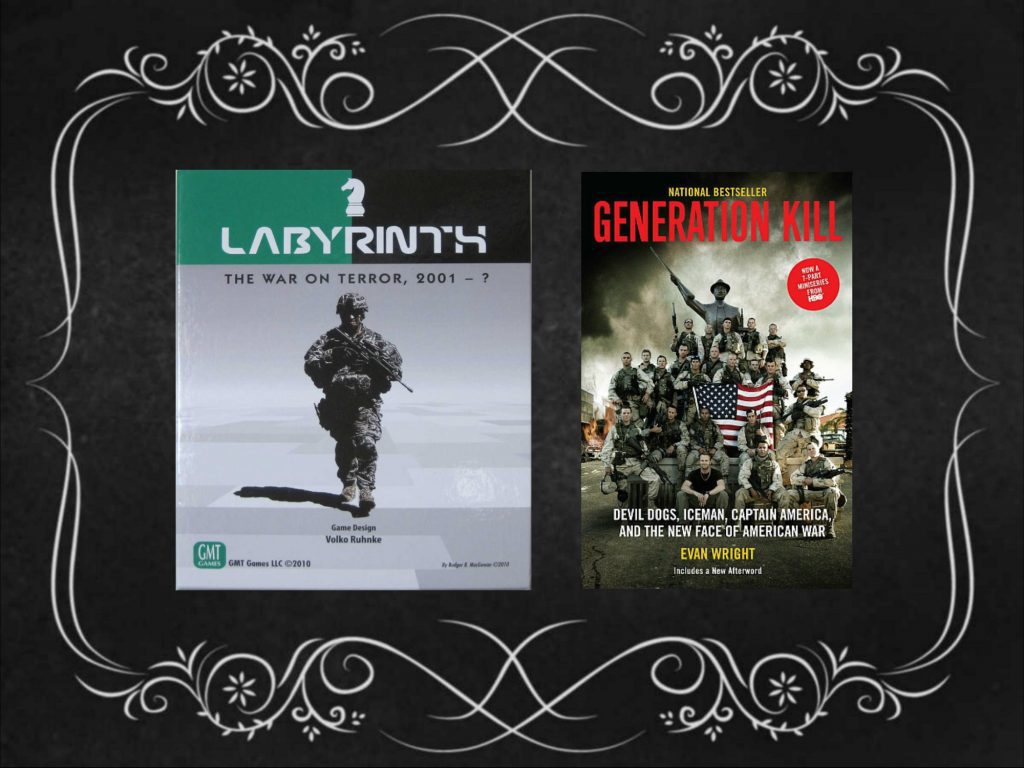 The complexities between the promise of the wars in Afghanistan and Iraq and the reality are explored both in this outstanding game from GMT, and in the iconic book from Rolling Stone reporter Evan Wright.
Fire in the Lake and The Things They Carried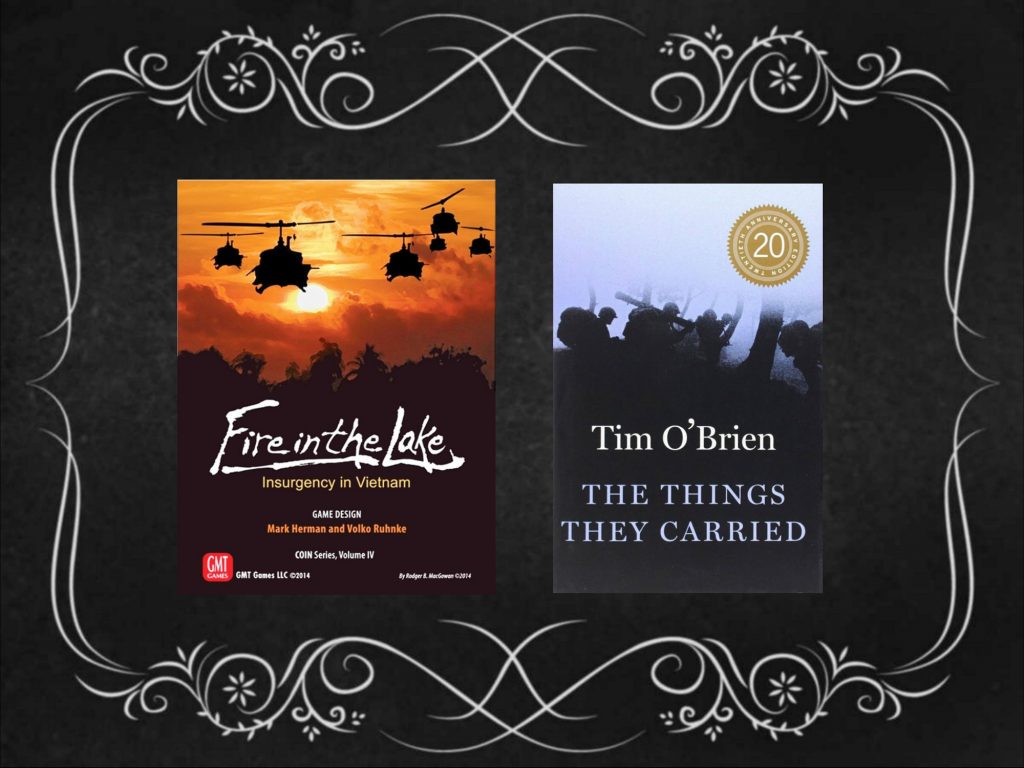 GMT does a wonderful job showing the challenge faced by our troops in Vietnam, while the heartbreaking book by Tim O'Brien shows the tragic reality of this war.
Food Chain Magnate and Kitchen Confidential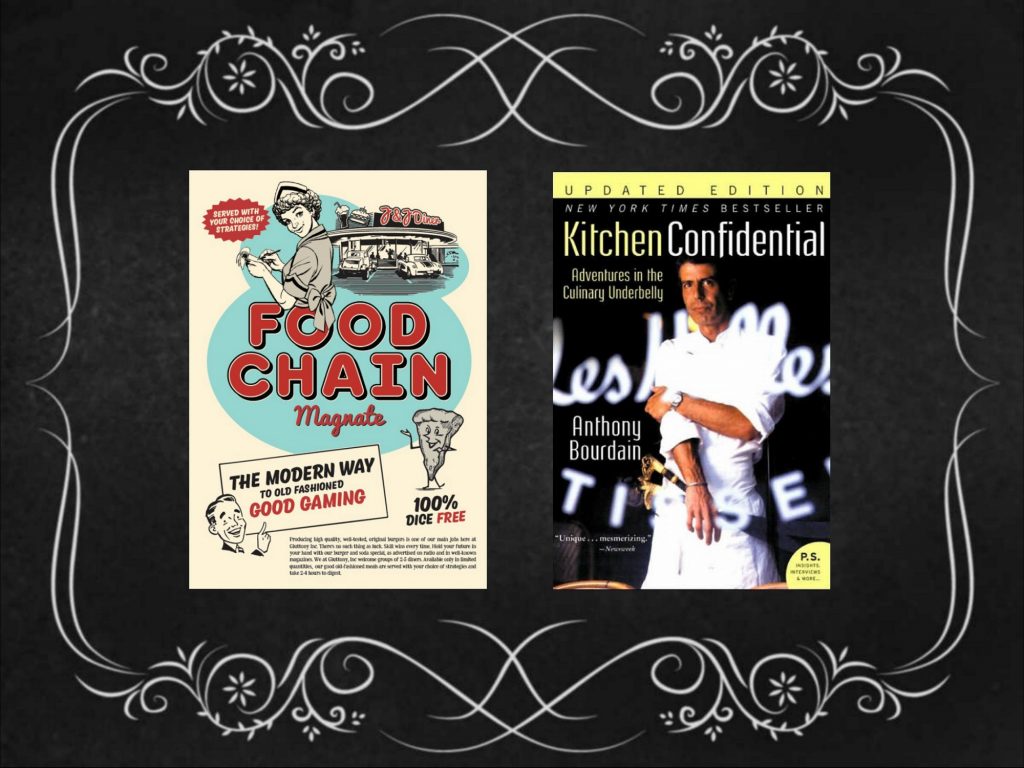 After spending a few hours running a ruthless fast food empire, why not sit down with Anthony Bourdain's book about his gritty and insane experiences working in the restaurant industry? This also pairs well with Sous Chef: 24 Hours on the Line from Michael Gibney.
Captain Sonar and Blind Man's Bluff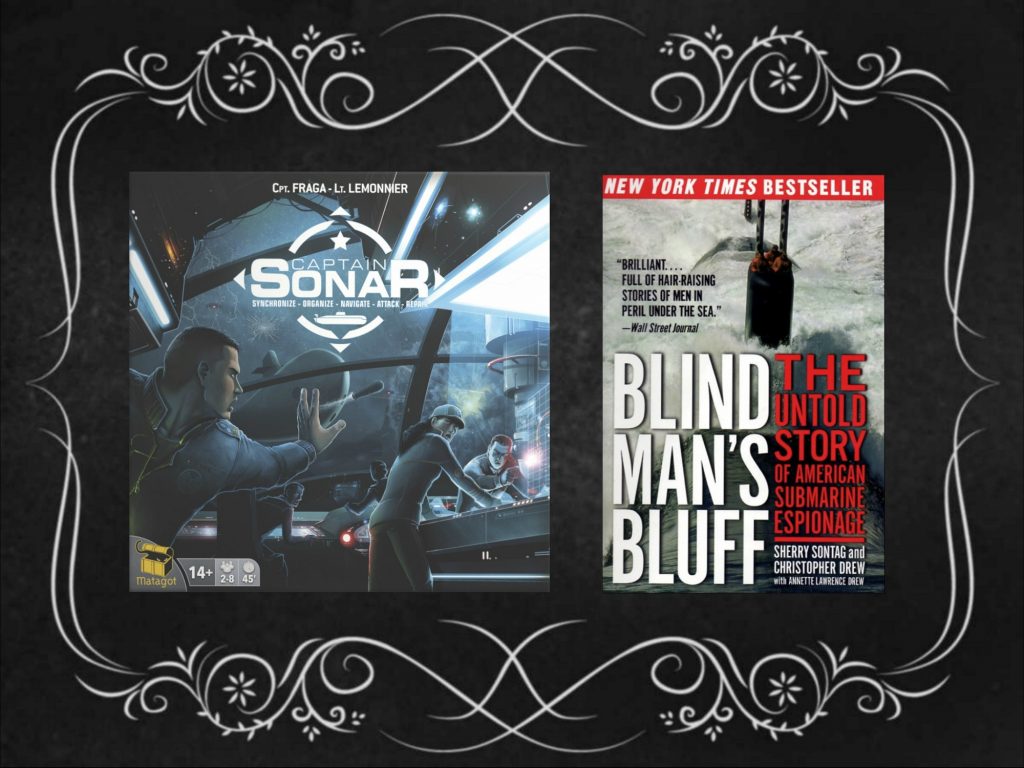 This gripping nonfiction book about the exploits of US Navy submarines fighting in the espionage side of the Cold War pairs wonderfully with the chaotic, tense game of hide and seek from Matagot games.
The X-Files and Communion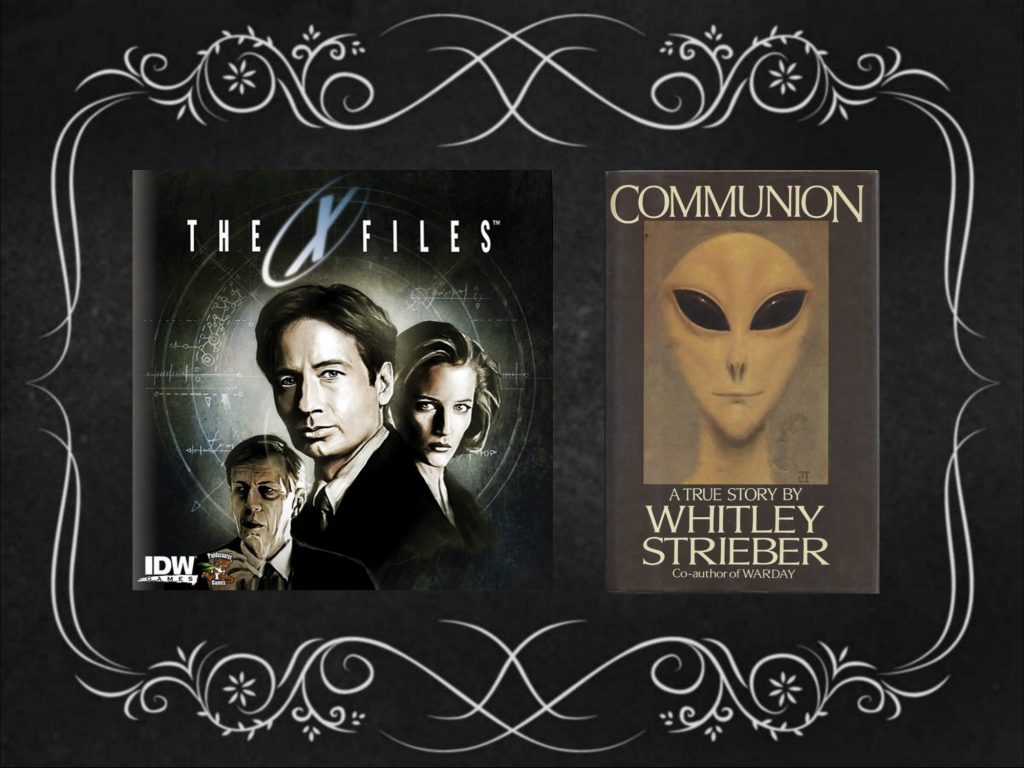 The world is a strange place brimming with the supernatural and extra-terrestrial. Or is it? Some things have to be seen to be believed and the seeing can sometimes be… well… terrifying.
Christmas Tree and A Christmas Cornucopia: The Hidden Stories Behind Our Yuletide Traditions
After playing this thinky game by designer Nagy Balázs, what better way to wind down than a hilarious and thought-provoking study of Christmas's weird origins.
Hopefully we've opened your eyes to a great game or book that you've never heard of. Do you have any recommendations for a good board game and book pairing? Let us know what you think in the comments below!