Join us as we review the 2019 Best Import Game nominees for Meeple Mountain's 2nd Annual Diamond Climber Board Game Awards.
It's no secret that the gaming world is huge, and while North American publishers have a lot to offer, we're always on the lookout for hot games from publishers around the globe. Here are the 2019 titles for which we were only too happy to pay customs and crazy shipping costs.
Don't forget to cast your ballot in our 2019 Fan Favorite voting.
We'll be announcing the rest of the nominees over the next few weeks; then check back on Friday January 17th when we announce the winners of the 2nd Annual Diamond Climber Awards.
Nine Tiles Panic
A slightly larger box than most Oink Games, Nine Tiles Panic still meets the Oink standards we've come to expect: an easy game to jump into that is a lot of fun to play. Each round players race to arrange their 9 city tiles in a 3×3 grid to complete that round's objectives. The best, and speediest, player scores the most points.
Publisher: Oink Games
Designers: Jens Merkl, Jean-Claude Pellin
Artist: Unlisted
Read our review of Nine Tiles Panic.
Trails of Tucana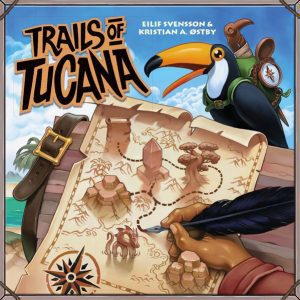 Third time's the charm for Eilif Svensson and Kristian Amundsen Østby, designers of Trails of Tucana. While their previous roll and write games (Avenue and Kokoro: Avenue of the Kodama) were both well-received, they pale in comparison to Trails of Tucana. This route-building roll and write is so simple in its design, but its gameplay is so good that it can convert even those who scoff at the roll and write genre.
Publisher: Aporta Games
Designers: Eilif Svensson, Kristian Amundsen Østby
Artist: Gjermund Bohne
In Front of the Elevators
Leave it to designer Saashi to create a game about waiting in line for an elevator that is actually a lot of fun. Your goal in In Front of the Elevators is to get your family members onto a department store's elevator, bumping and cutting your way in front of other players' family members when possible. Get family members onto the elevator by the end of the round and you score points (and double points if you also get them to their favourite shopping floor). In Front of the Elevators is yet another cleverly themed and well-designed game by Saashi & Saashi with the charming art we've come to love from Takako Takarai.
Publisher: Saashi & Saashi
Designer: Saashi
Artist: Takako Takarai
Silver & Gold
Silver & Gold is a roll and write game by Phil Walker-Harding in which players cross off polyomino shapes on their treasure maps, hoping to complete the map and score victory points. The hook of Silver & Gold: players are writing directly on the dry erase cards! Originally published by NSV, Silver & Gold will be brought to North America in 2020 by Pandasaurus Games. In the meantime, if you can get your hands on a German copy of the game, it is completely language-independent (and well worth the money).
Publishers: Nürnberger-Spielkarten-Verlag, Pandasaurus Games
Designer: Phil Walker-Harding
Artist: Oliver Freudenreich
Read our review of Silver & Gold.
The Crew: The Quest for Planet Nine
The Crew: The Quest for Planet Nine is unique in that it's a cooperative, mission-based, trick-taking game. While it follows pretty standard trick-taking rules, there are some cool twists in each mission. The game includes 50 missions which range from easy (one player has to collect a specific card from a trick) to more difficult (all players have to collect many cards, for example). Every player must accomplish their task for the players to win. What makes all this even more challenging is the communication between players is limited. Fingers crossed KOSMOS has plans for a wider distribution of The Crew: The Quest for Planet Nine in 2020.
Publisher: KOSMOS
Designer: Thomas Sing
Artist: Marco Armbruster
Watch our review of The Crew: The Quest for Planet Nine.
TOKYO TSUKIJI MARKET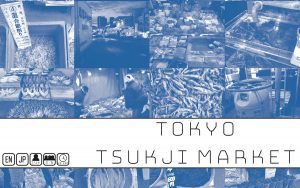 TOKYO TSUKIJI MARKET is part of the next trilogy of games in Jordan Draper's TOKYO series. In this economic game, players take control of a fishing company, catching and selling various sea creatures in the hopes of eventually earning the most yen. TOKYO TSUKIJI MARKET might be hard to come by if you weren't a Kickstarter backer, but hopefully gamers will have easier access to this heavy euro game in early 2020.
Publisher: Jordan Draper Games
Designer: Jordan Draper
Artist: Jordan Draper
---
Thanks to Ian Howard for the nominee introduction.