Check out our Roar and Write review to see how good things come in small packages.
Time for a Promotion
You have put in the work, you slowly climbed up the ladder, and now it's your chance to be the next to join the Animal Kingdom Council. This highly exalted and esteemed position has your name written all over it if you can just gain enough popularity with the kingdom and existing animal councilors. So time to roll up your sleeves and get your hands – er – paws dirty.
If you prefer, watch our video review of Roar! and Write.
Let's Roll!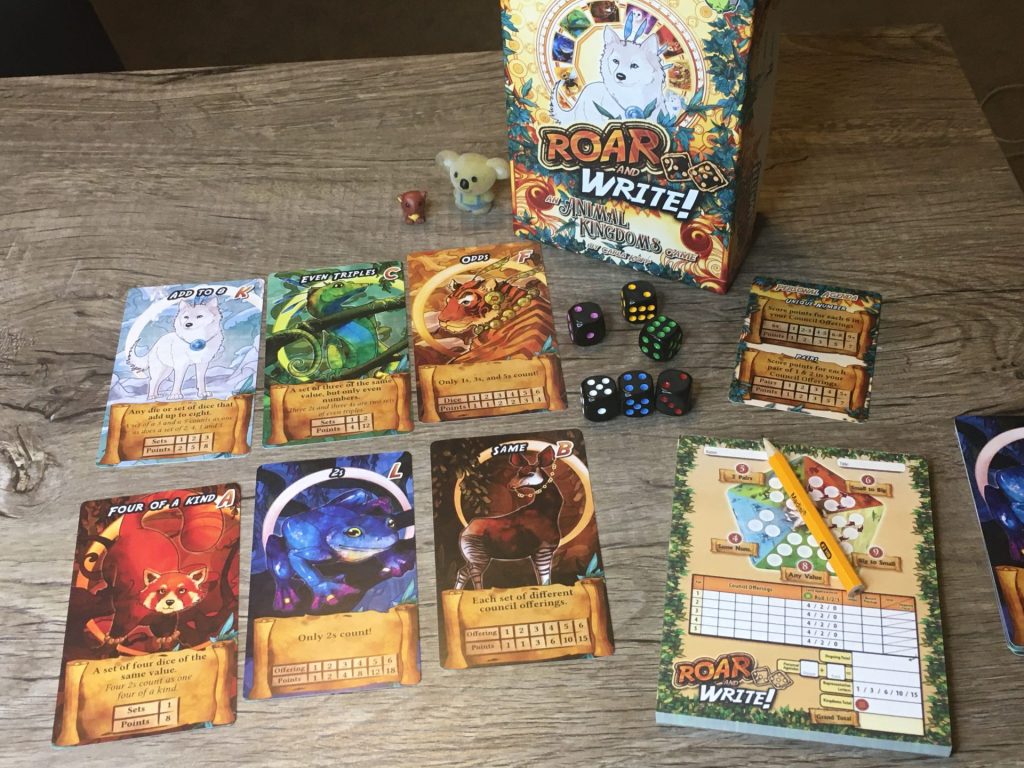 Roar and Write is a roll and write game that places you in the position of vying for the next council chair in the Animal Kingdom. You will accomplish this grand task by attempting to curry favor with both the existing council chairs as well as the various regions of the Kingdom as a whole. Over the course of 5 rounds, you will utilize the dice rolled to attempt to meet certain requirements to gain popularity points for the end of the game. Along with these two tasks, each player is dealt a personal scoring objective that gives them one other way to score points at the end of the game.
You're Gonna Hear me Roar!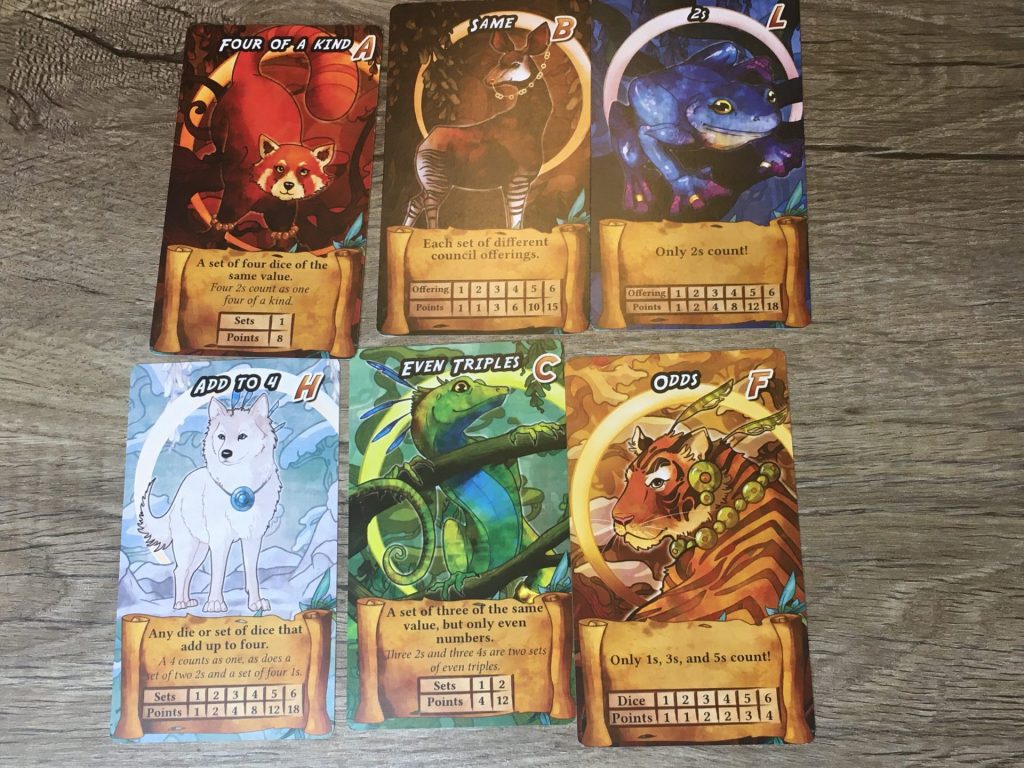 In Roar and Write, you will be working to impress one of the 5 current council chairs in each of the 5 ages (rounds) of play. In each age, 6 dice will be rolled up to three times, and players will set out to score them as effectively as possible. The catch is you can only write down 6 values to impress the council in each age so you had better choose your dice correctly. Each councilor has a unique request and will only be impressed if you can meet their demands. Some councilors will request multiples of the same number while others will look for numbered sets or pairs. The more difficult the request, the more rewarding success is. You will also receive bonus points if you are the first to appease that particular councilor so get a move on! If you manage to please a councilor in a given age, you can try to please them again in a future age as well.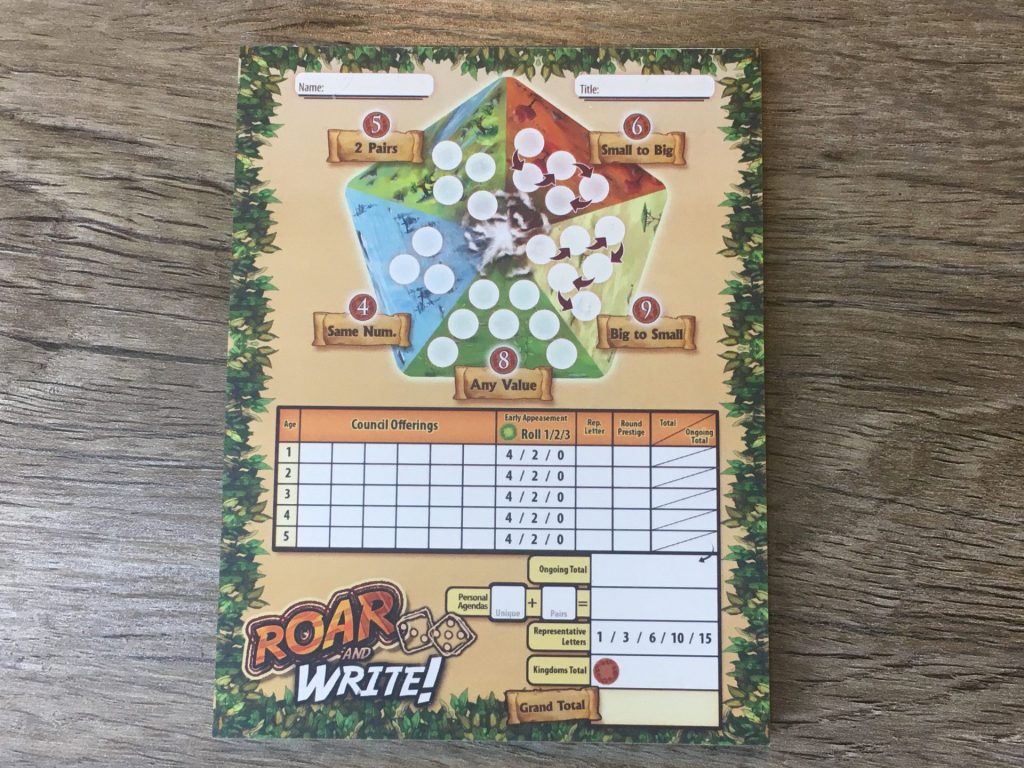 You can also choose to put die values into the kingdom. Each position has a specific need for your dice and only grants points when that area is completely full. Some of these areas are much simpler than others to complete, but again careful strategy about when to place dice here as opposed to the councilors is key. Councilors make up a large majority of your points, but the victor is determined by who has also paid attention to the kingdom.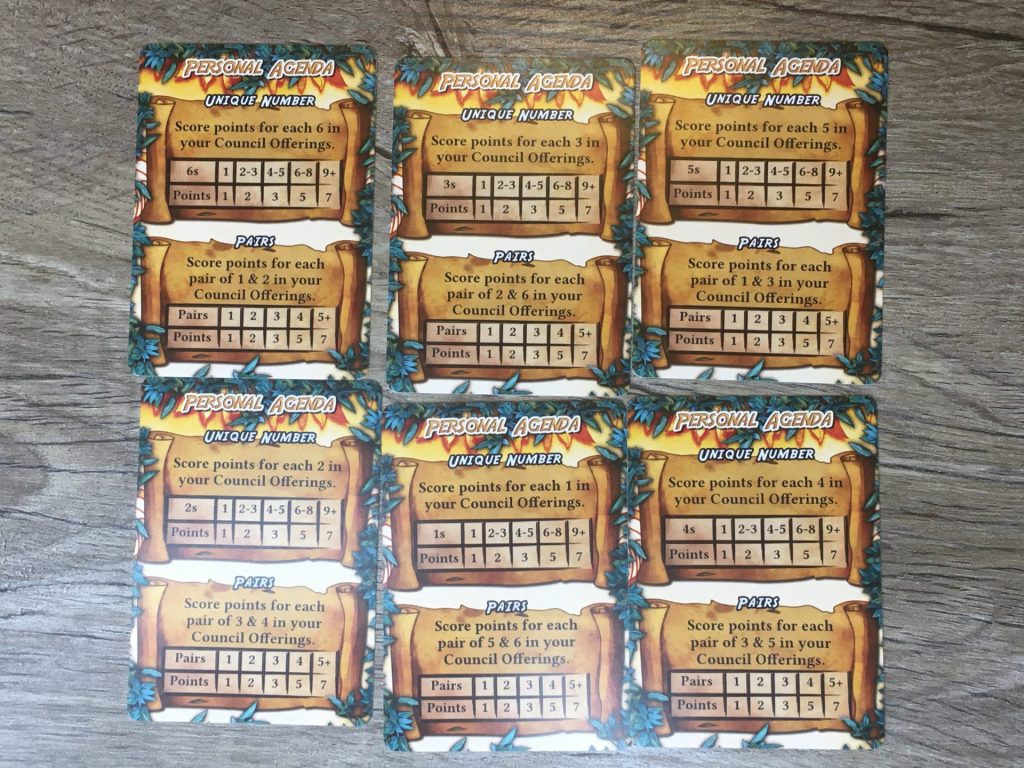 The final way that players score points is their personal objective. At the start of the game, each player receives a secret scoring objective. It lays out ways to gain additional points that involve specific numbers and pairs of numbers in your council offerings. This would be comparable to the "secret color" scoring in Sagrada. These points will give your offerings to the council a focus that will help catapult you to the win.
The King of Politics?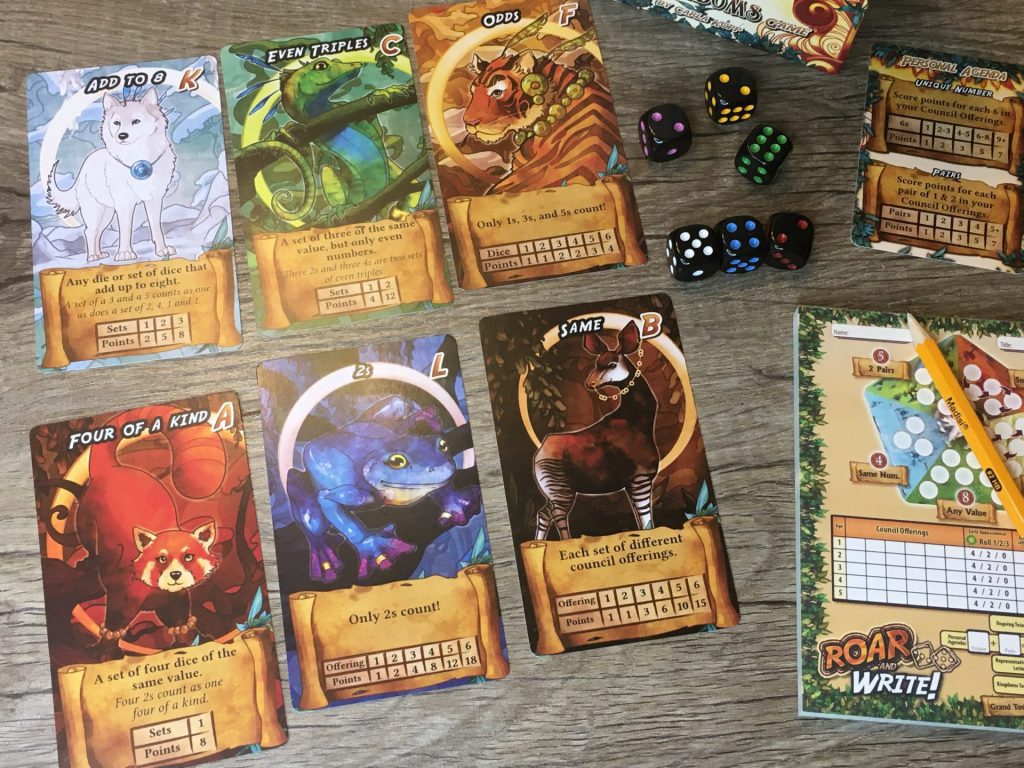 Roar and Write plays very quickly and can accommodate a lot of players. Rounds go quickly with players choosing which dice to score out of the three rolls, short point calculations, and then moving on to the next round. Scoring was simple yet had strategic depth. I loved the tough choices I had between council offerings and the kingdom. The extra appeal of my personal objective was tough as I kept wanting to bank bonus points, but I knew I needed those numbers to round out my kingdom objectives. Overall, this was a really enjoyable roll and write to play and it was simple to teach and get to the table. I liked the layers of scoring options that were presented here as they kept decisions fresh and gave you a nice chunk of things to ponder without it being overwhelming. The fantastic art found in Animal Kingdoms is present here again, which is also a huge plus. Also, there are a variety of councilors that can actually adjust the difficulty of the game experience. This is great for scalability and replayability which is always a key selling point for me in titles of this genre.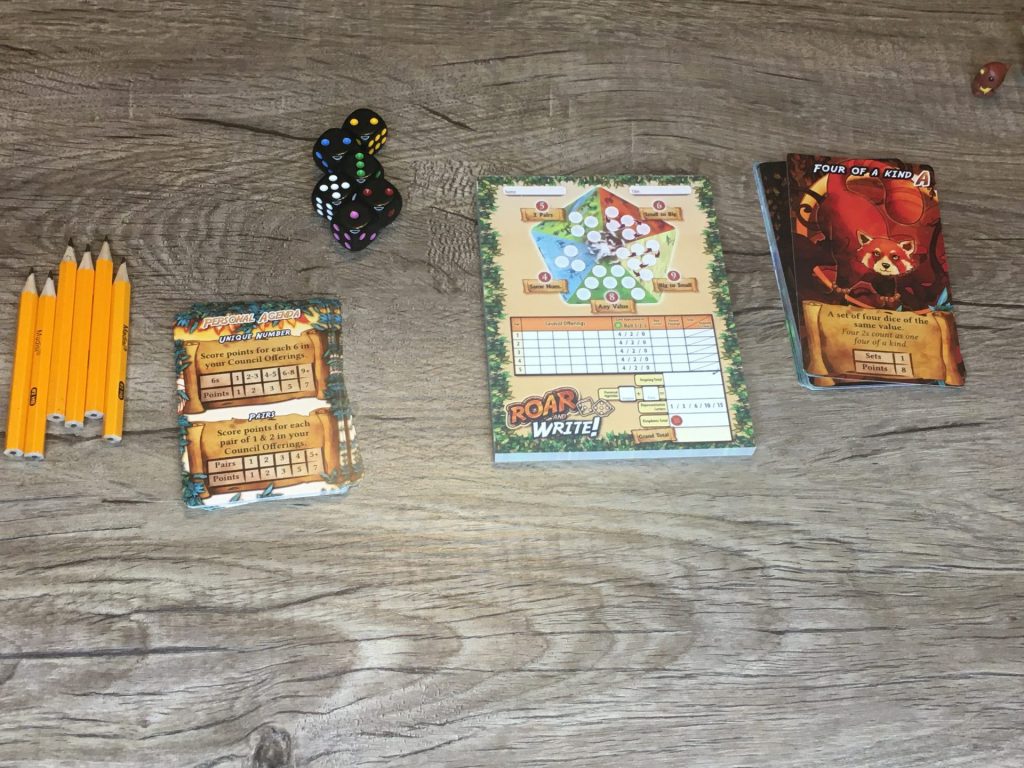 I do not have a lot of drawbacks to comment on for Roar and Write. It plays fast and is an enjoyable entry in the roll and write genre. I will note that this game is not as thinky as some other counterparts. You are not going to experience the brain burn of That's Pretty Clever here but I think that is perfectly fine. Roar and Write finds a comfy little home in the genre and stakes its claim confidently there.
Are you looking for a scalable roll and write that can sit 2 or 20 with not a lot of impact on gameplay or time? Do you like good art or think animals are neat? Would you like something that is replayable, has variable difficulty, a solo mode, and won't break the bank or require a new Ikea Kallax? If you can answer "yes" to these questions, Roar and Write may be the next Animal Kingdoms game you want to add to your board game kingdom so check out the game's Kickstarter page.
Roar and Write!
Genre: Roll and Write
Pros: Quick, Scalable, Replayable, Beautiful Art
Cons: Not "super thinky"
Rating: 6.4/10 A great "small footprint" title to add to your collection.