The Boardgametables.com Board Game Bag may have a generic sounding name, but there's nothing generic about it. Check out our review!
Here at Meeple Mountain, we love our board game accessories. There's nothing quite like showing up to board game night with a sleek, stylish bag jam-packed full of games. It's not always easy finding a reliable game carrying solution though. Each bag has its pros and its cons, and it seems like there's always a trade off between affordability, function, and form. The bag might be ultra-affordable but it looks like garbage, or the bag might have a lot of extra bells and whistles but those extras are reflected in the price. And that's why we're here. We've done all of the research and – dare I say it – heavy lifting for you.
Today, I present to you the Boardgametables.com Board Game Bag.
Boardgametables.com Board Game Bag
At Meeple Mountain we grade all board game bags using the same 4 sets of criteria: Straps, Functionality & Durability, Capacity, and Portability, Price & Availability. How did the Boardgametables.com Board Game Bag stand up to our tests? Let's find out…
Straps
Most board game bags have a top strap attached to the bag via straps on the sides, with a handle that meets in the middle. The top strap on the Boardgametables.com Board Game Bag is attached directly to the top of the bag. While this top strap is rugged and durable, the fact that it's just one single piece makes this game bag a bit awkward to carry when it's fully laden with games. When you've got two side straps meeting at the top, those two straps help to evenly distribute the weight along the sides of the bag. The top strap here, however, distributes the entire weight of the load along a much smaller area. I worry that this top handle will eventually fail as a result.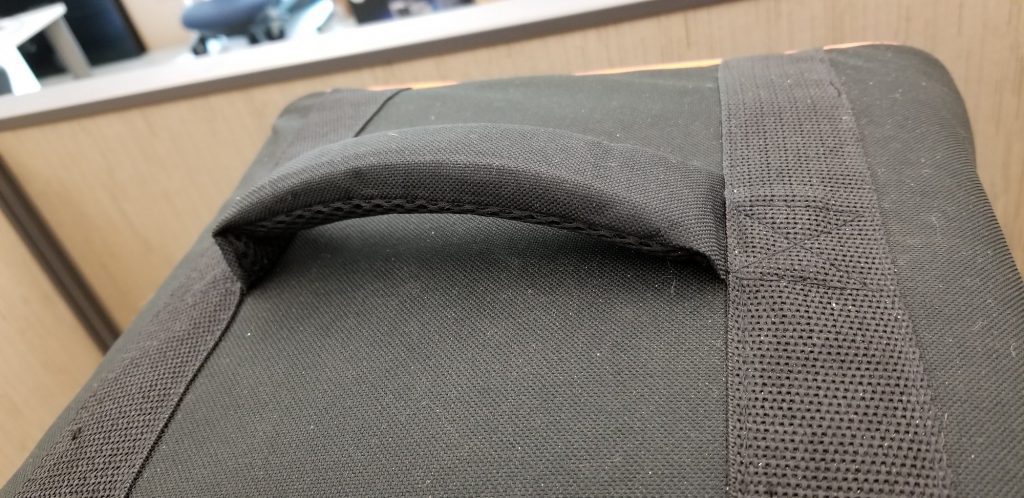 The good news is that the Boardgametables.com Board Game Bag also features some heavy duty backpack straps. These padded straps are almost two inches wide and their slightly curved design ensures that they sit comfortably and snug across the shoulders.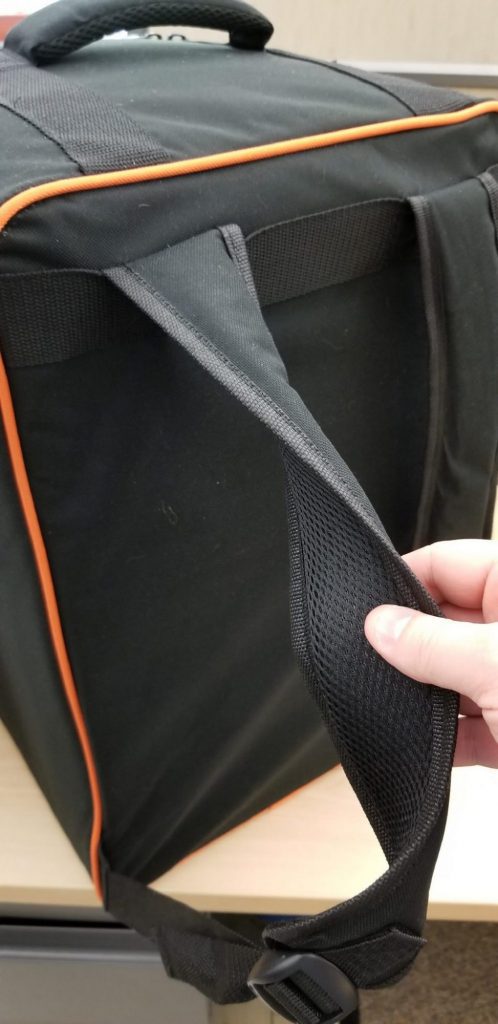 When the bag is full, they're not the easiest straps to slip your arms through, but once you've managed that, the bag is very comfortable to carry.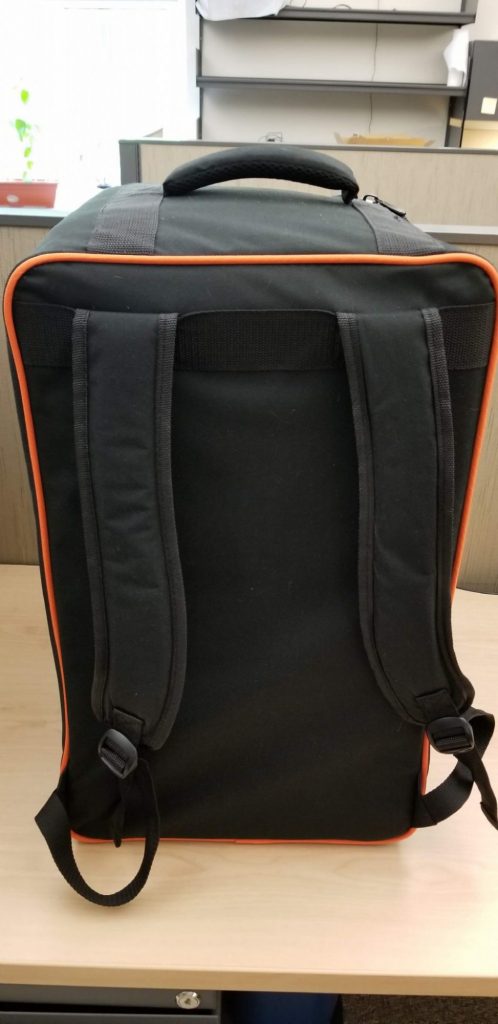 Functionality & Durability
The entirety of the Boardgametables.com Board Game Bag is constructed of thick, padded nylon to help prevent any damage to the games that are carried within. The plastic that the bag came in informs me that the straps are rated to carry up to 25 lbs. but I regularly put the bag through its paces with more than that and it has stood up very well.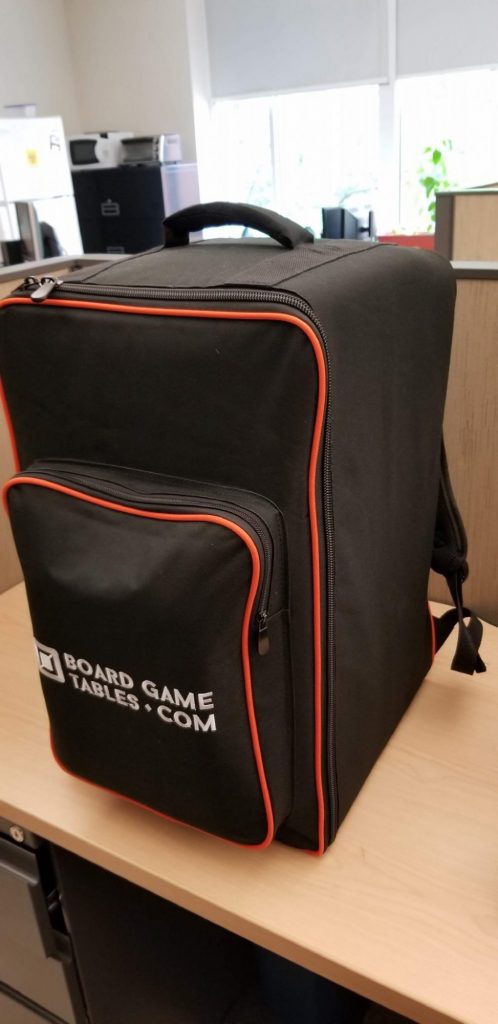 The bag features a double zipper running up its front face. When the zippers are pulled down, the front of the bag folds forward to reveal the games that are stored inside. If you've ever seen a cajon drum  bag, no doubt you're familiar with this mode of presentation. The bottom of the bag also has several rubber feet that give the bag extra stability as well as offering a little bit of protection should the surface it is placed upon be not entirely dry.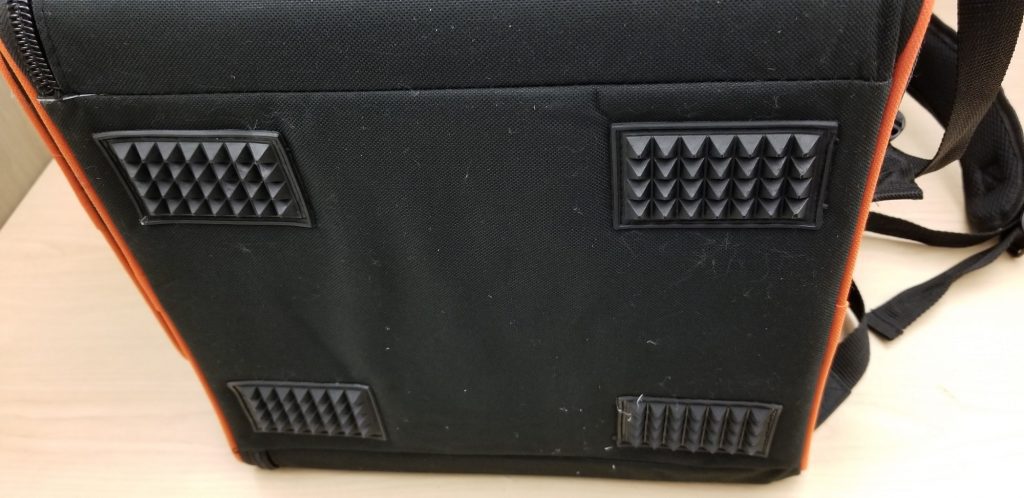 I have carried this bag to several different locations and most of that time, the bag was spent on my back without a single protest; no threads popping, no ominous creaking of fabric, nothing. This definitely seems to be a durable bag and I can see it lasting for a long time before I even need to think about replacing it. And that orange striping along the stitching gives it a little bit of visual pizazz to boot!
Capacity
The Boardgametables.com Board Game Bag stands just over 2 feet tall and just a little over 12 inches wide. The website says that the bag can fit seven large games and that seems just about right. I was able to fit four Ticket To Ride sized games in there as well as three rectangular boxes with a square box thrown in there, too. There was even enough room on top for me to include a set of bowls from boardgamebowls.com.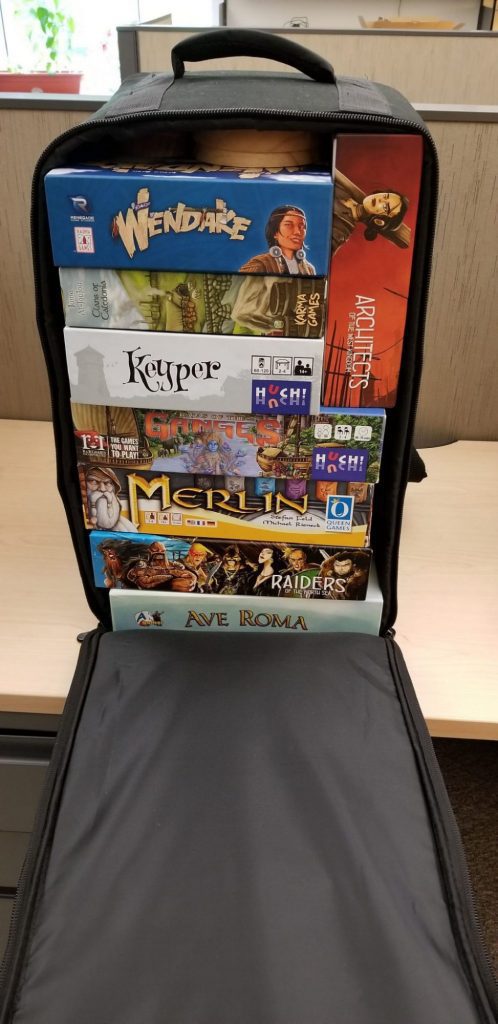 In addition to the inner capacity, the Boardgametables.com Board Game Bag also includes a zippered front pouch that can hold 4 or 5 smaller games.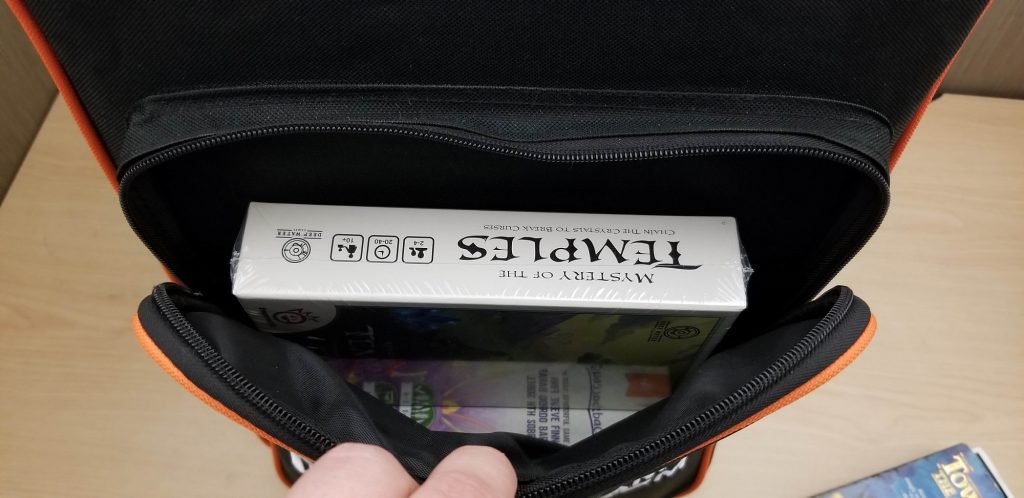 My only complaint about this front pouch is that, when there are games stored inside of it, it prevents the large zippered flap from laying flat. I wish the pouch had been attached to the side of the bag as opposed to the front of the bag. In fact, I feel that there was a missed opportunity here to add some additional storage to the sides of the bag. Still, though, this board game bag can hold a lot of games inside of it – perfect for board game night.
Portability, Price & Availability
When not in use, the Boardgametables.com Board Game Bag can be collapsed down into a small squarish package by cleverly folding the shoulder straps across each other to hold everything in place. Even then, it's still a pretty bulky package, but it can easily be stowed away under a bed or in a closet without taking up too much space.
This bag can easily be obtained from Boardgametables.com's website for $29 USD and is only available in Canada and The United States. That's a great value for such a sturdy, reliable game transport solution. I tried locating this bag on Amazon, but was unable to. A keyword search for "boardgametables.com" reveals zero matches and a keyword search for "board game bag" reveals way too many, but none of those results are for the bag being reviewed here.
Thoughts
You might have heard about Boardgametables.com and, if you have, you probably only associate them with their game tables (like the one we discussed in our Top 6 Ways to Spark Joy in Your Gaming Experience article). What you probably didn't know, though, was that Boardgametables.com is branching out now. In addition to their tables and this bag, they've even published a few games as well including the popular roll and write game "On Tour".
You wouldn't know any of that, though, just from looking at their website. Nowhere on their homepage will you find a link to their product catalogue. There's just a large number of pictures and descriptions of the various table options that they have available and a button that, when clicked, will take you to another page where you can begin customizing your game table. The only reason I even knew that they were producing game bags was because they sent out a Twitter invite to reviewers to review them. This made me go to their site to see what else they had to offer and that's when I noticed the huge oversight on their part.
I had to Google "boardgametables.com game bag" to even find it. It's buried there on their products page and that's how I discovered they'd also published a few game titles as well. This is not a critique of their game bag as much as it is me pointing out an apparent blind spot in their business model. If you're reading this, Boardgametables.com, you should probably address this!
In addition to this, I feel like the name of the bag "Boardgametables.com Board Game Bag" is a bit generic. I wish that the name had more zing to it… something to help it stand out from the crowd and something that would help search engines locate it more easily.
That being said, I'm very impressed with what Boardgametables.com has produced here. This bag is sleek, stylish, and durable. It does everything that I need a board game bag to do and it does it with aplomb. If you're looking for a reliable game carrying solution, you can't go wrong with the Boardgametables.com Board Game Bag.
Boardgametables.com has launched a Kickstarter campaign for version 2 of their board game bag which addresses some of the issues that I brought up here. Go take a look!