Join us as we review the 2019 Best Artwork nominees for Meeple Mountain's 2nd Annual Diamond Climber Board Game Awards.
Join us as we review the 2019 Best Artwork nominees for Meeple Mountain's 2nd Annual Diamond Climber Board Game Awards.
Beauty may be in the eye of the beholder, but whatever your preference, we've all had that experience of seeing a game's art and knowing we just had to give it a play. Here are our picks for the most eye-popping games of 2019.
Don't forget to cast your ballot in our 2019 Fan Favorite voting.
We'll be announcing the rest of the nominees over the next few weeks; then check back on Friday, January 17th when we announce the winners of the 2nd Annual Diamond Climber Awards.
Bosk

Feast your eyes on the dynamic colors of spring, summer, autumn, and winter in the abstract game Bosk. Players follow the seasons by planting trees and directing fallen leaves in order to score as many points possible within beautifully illustrated regions. The bright colored cardboard trees and detailed wooden leaves are sure to attract anyone walking by. Bosk is just one example of the enjoyable punchy colors Kwanchai Moriya and Matt Paquette use in their bodies of work.
Publisher(s): Floodgate Games
Designer(s): Daryl Andrews, Erica Bouyouris
Artist(s): Kwanchai Moriya, Matt Paquette
Detective: City of Angels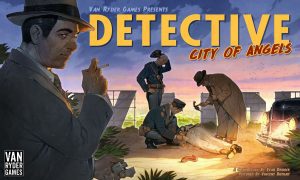 No best artwork award would be complete without an entry from the acclaimed Vincent Dutrait. One look at the box art gives away Dutrait's rich and bright signature style, which permeates this competitive deduction game. Vincent Dutrait knocks it out of the park with this one, creating an aesthetic that is as colorful as its LA Noir-esque theme.
Publisher(s): Van Ryder Games
Designer(s): Evan Derrick
Artist(s): Vincent Dutrait
PARKS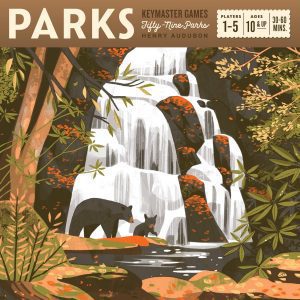 The lush artwork on the park cards is what first draws people's eyes, but every inch of this game is covered in gorgeous illustrations. The box cover, the Trail tiles, and even the rulebook are lovely and evocative, making you want to jump right into the game
Publisher(s): Keymaster Games
Designer(s): Henry Audubon
Artist(s): Fifty-Nine Parks Print Series
Read our written review of PARKS.
Watch our video review of PARKS.
Vast: The Mysterious Manor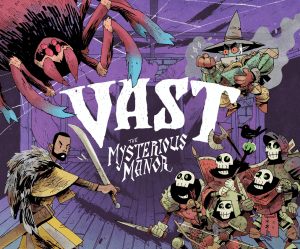 While most gamers know Leder Games because of Root, the first asymmetrical game they published was Vast: The Crystal Caverns. Vast: The Mysterious Manor is almost a sequel; it takes the core concepts of the Crystal Caverns, adds improvements from Root, and streamlines it into a game that is really 5 games in one. The best thing they didn't change was the artist – Kyle Ferrin did the art for all three games. The art fits the theme really well and makes it accessible. Fun detail, the Paladin only has one arm! Root won the 2019 Diamond Climber Award for Best Artwork last year, can Kyle Ferrin win back to back?
Publisher(s): Leder Games
Designer(s): Patrick Leder
Artist(s): Kyle Ferrin
Read our review of Vast: The Mysterious Manor.
Wingspan
Anyone following board games in 2019 has heard about the stunning artwork in Wingspan. Even the rule book feels nice to the touch with its linen texture. Players strive to create a productive engine, providing birds and resources that align with each player's strategy. The intricately illustrated bird cards, the painterly-style habitat playmats, and the smooth pastel eggs are the sorts of details that immerse players into the fascinating world of Wingspan. Ana and Natalia's illustrations give players a realistic depiction of a variety of birds while Beth Sobel's beautiful habitats show players what these creatures might look like in nature.
Publisher(s): Stonemaier Games
Designer(s): Elizabeth Hargrave
Artist(s): Ana Maria Martinez Jaramillo, Beth Sobel, Natalia Rojas