First Take Fridays are a celebration of the "first time" we played a game. See what Kurt, Jesse, David, and Andrew have to say as they play three brand new games, and a 2 player classic.
On First Take Fridays a number of authors around Meeple Mountain give short first takes on games that are new to us.
This week we're covering the co-op hotness from last year – Spirit Island, a modern take on Sherlock Holmes – Detective: Modern Crime, Star Wars Rebellion: The Button Shy Game – Liberation, and an oldie but a goody with a new coat of paint – Agricola: All Creatures Big and Small: Big Box. Read on.
Spirit Island – Kurt Refling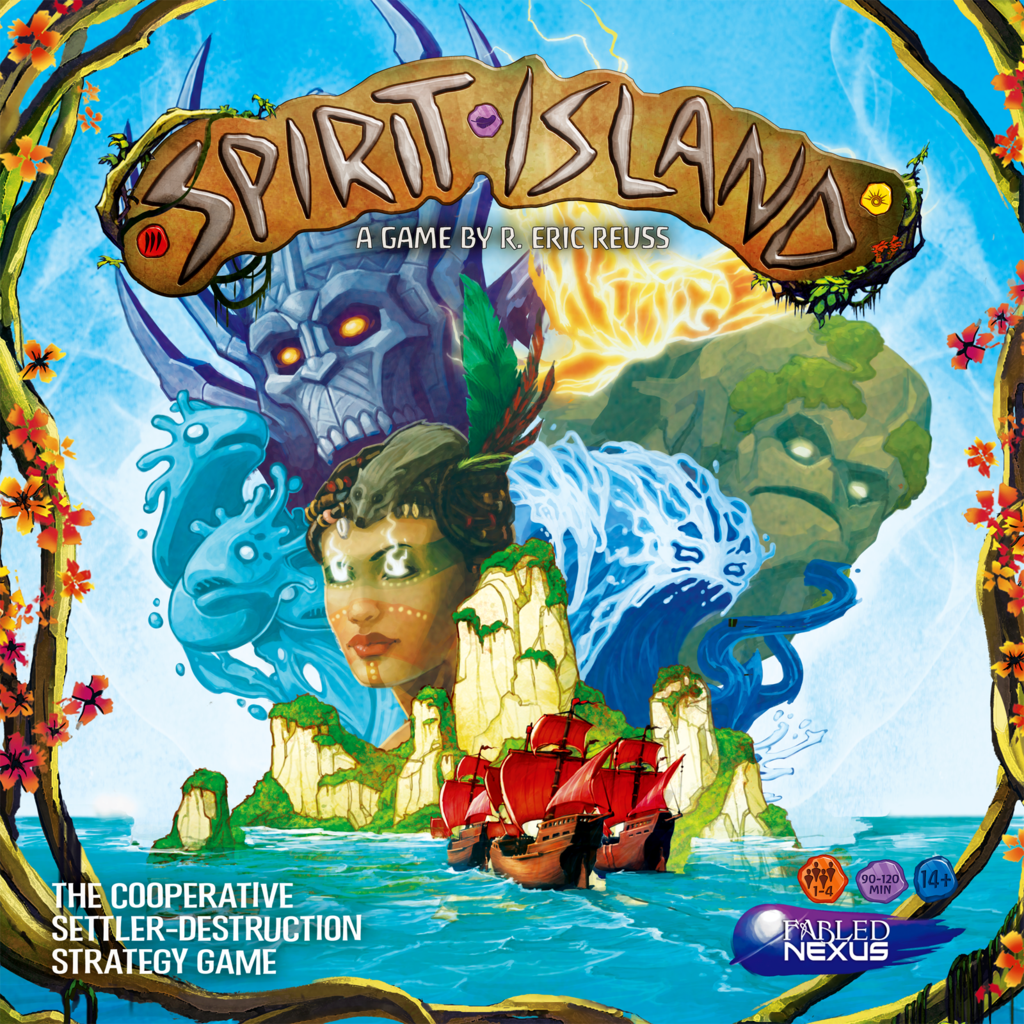 After months of second-hand hype, I finally got a chance to try the co-op world darling Spirit Island. I was warned it was a bit of a doozy, but time was a factor: Ashley had rented the game for the week. After her (excellent) teach, we settled in for the session.
First things first: Spirit Island is a cool game. Like any co-op with teeth, it's always asking players what they're willing to give up… you always want to do more than you can. This poses an interesting challenge, since by the time you've cleaned up everything, you've won the game. My biggest takeaway from this session was that I was really grateful we decided to use the pre-built decks and recommended spirits. Juggling the push and pull of every piece with the partial foresight of settler activity took up just about all of my bandwidth. For the first game, less was more.
Would I play Spirit Island again? Yes! It's a tricky puzzle that I'd be curious to see all sides of. That said, I have a feeling this one would get stressful for me at higher difficulty levels: something about those settlers spreading across the board can leave you feeling a touch helpless. I was glad my other players had more confidence than I did!
★☆☆☆☆☆ Ease of Entry
★★★★☆☆ Excitement Pre-Game
★★★★☆☆ Excitement for Rematch
Detective: Modern Crime – Jesse Fletcher
Detective: Modern Crime was one of the hot ticket items at this year's Gen Con. It landed on a number of "Most Anticipated" lists, and would have been on mine if I'd made one. I'd heard overwhelmingly positive reviews, aside from a few outliers. The crime-solving theme is enticing, so I had been anxiously awaiting my first play since I preordered the game. I rounded up three friends and we charged into it guns blazing.
Overall impressions: the concept was incredibly ambitious — simulating modern detective work using real-world information while telling an overarching narrative that spans across five separate but related cases. The execution of said concept was admirable and mostly successful. There was some frustration in our group with the inability to follow all the leads due to game-enforced time constraints. In fairness, that does speak to its real-world thematic consistency. It was fairly easy to learn, but not always intuitive. Even though we had an overall idea of what we were supposed to be solving, there were plenty of times where we weren't quite sure where to go or what to do. The fact that our game was only the first part of a five-part campaign left us all a bit wanting. There were story arcs that we didn't get to follow, characters we learned of but didn't see, and possible plot points we may have unknowingly missed.
Would I play this again? Absolutely yes. It wasn't so much that the experience was so amazing that I want to repeat it. It was definitely fun, but the overwhelming glut of information was at times offputting. To say the writing was verbose is an understatement. One of my teammates likened it to a television police procedural where they "left in all the boring stuff.". However, all of us are dead set on playing it again, if only to see where the story is going and gain some sense of narrative resolution.
★★★★★★ Ease of Entry
★★★★★★ Excitement Pre-Game
★★★★★★ Excitement for Rematch
Liberation – David McMillan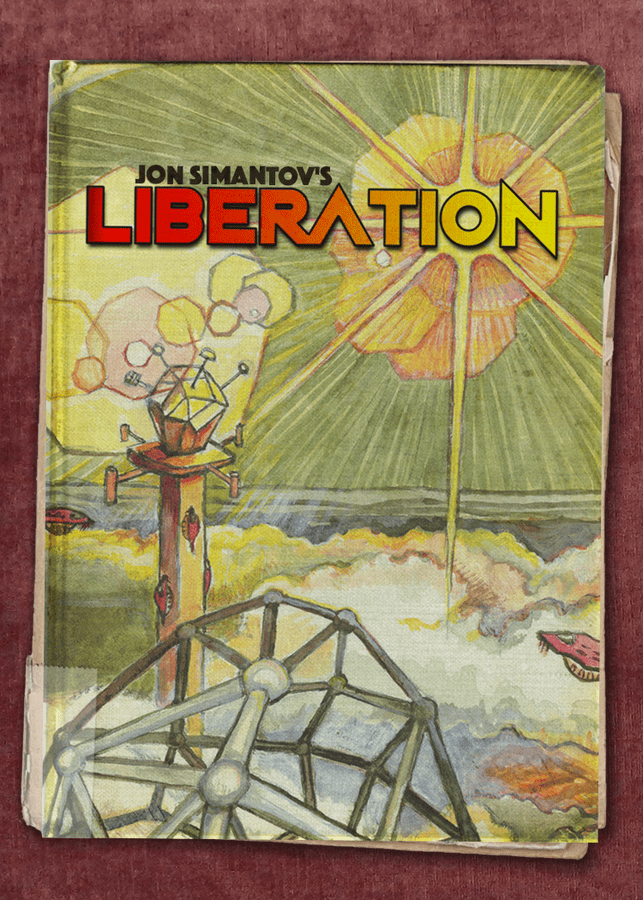 As I was sifting through the new releases on Kickstarter recently, I stumbled across this game and thought that it looked interesting. It was good timing, too, as Meeple Mountain's monthly game night was being hosted by none other than Button Shy Games and Liberation was on the menu. So it was that I was able to get my first hands on experience with the game.
Liberation is constructed around a deck of 14 cards that can serve as locations or special abilities for one of the two factions within the game – The Liberation or The Dynasty. The Liberation's goal is to simply survive for a set number of rounds while The Dynasty's goal is to suss out the location of and eliminate The Liberation's secret base. The game was described to me as "Star Wars Rebellion distilled down to an 18 card game". Having never played Star Wars Rebellion, I couldn't tell you whether or not this was an accurate assessment, but what I can tell you is that I really enjoyed playing it. I liked the push and pull of the game overall, but I am concerned there may be some balance issues. I only played the game twice and I was The Liberation (and the victor) in both games. Admittedly, that is a very small dataset to base any firm opinion upon. That being said, I am looking forward to playing the game again as The Dynasty to see whether or not my initial misgivings are correct.
★★★★★★ Ease of Entry
★★★★☆☆ Excitement Pre-Game
★★★★★★ Excitement for Rematch
Agricola: All Creatures Big and Small Big Box – Andrew Plassard
Agricola's shadow has shown long over the board gaming hobby since it hit our collective tables in 2007. In 2012 Agricola got the younger brother it deserved in the two player game Agricola: All Creatures Big and Small. ACBAS condenses the Agricola experience, allowing players to focus solely on the animal husbandry portion of Agricola, but has been largely hard to find for the last few years.
This year at Gen Con, Lookout Games reprinted ACBAS and its two associated expansions into one big box experience: Agricola: All Creatures Big and Small – The Big Box and I was excited to snap up a copy as soon as it came available on the shelves of my FLGS. The ACBAS gameplay experience wasn't completely new to me as I've played the app version a few times but this was my first experience with the additional buildings added in the expansions. These added buildings added a breath of fresh air to the game and improve the gameplay variability from play to play.
Even after one play of the physical game, I can tell ACBAS will stay in my collection. The gameplay is quick but has plenty of interesting decisions, the rules are fairly straightforward especially if you're familiar with worker placement games, the game is generally less punishing than the original Agricola experience since you don't have to feed your family, and the extra buildings add so many interesting decisions to the game. I highly recommend this to anyone who likes farming games and two player games generally.
★★★★★☆ Ease of Entry
★★★★★☆ Excitement Pre-Game
★★★★★☆ Excitement for Rematch
What new to you games did you play this week? What are your first takes on them?