16 chances to create high ground to save (and score) animals. Check out Tom's review of River Wild from Button Shy Games.
The ice high atop the mountain is melting, and it's your job to manage the flow of the water to create safe havens for the animals who live on the mountainside. That's River Wild from Button Shy Games.
Hey, There, Wild River
If you're familiar with Button Shy Games it will come as no surprise that River Wild is a game that comes in a plastic wallet and is made up of a starting card, a scoring card, and 16 two-sided mountain and river cards, for a total of 18 cards.
To play, find the starting mountain top card with pink water spilling out across the full bottom edge of the card, and place it on the table, about arm's length away. This is the top of the mountain and all your other mountain/water cards will flow 'down' from it along the table towards you.
Set the scoring card off to the side. Shuffle the remaining 16 two-sided cards and deal out three cards. These are your starting cards to choose from. The remaining cards are placed nearby, with the top card, which will be drawn next, clearly visible.
Now you're ready to play.
Teach Me to Flow
On each turn, you'll take one of the three cards in front of you and add it to the spilling water to continue the downward flow. The wheres and whys of that placement need a bit of explanation, though.
Each card has a purple landscape divided by a pink section of river. That river might start and end on one side of the card or take up the full top of the card. The river flows to the bottom of the card in the same way, either to one side or fully across the bottom. Each newly added river section must connect to other river sections or flow from another mountain segment.
It's important to note that each double-sided card has a mirror image of the one side on the other. You can play either side of any card.
On one of the two land sections will be one of four animals (frog, jackalope, unicorn, or unicorn). The other side will feature a potential scoring condition. Animals are only scored if they are in a section of land enclosed by water and that land contains a scoring condition that includes that type of animal.
A few stretches of river also have runestones floating in them. Runestones are wild and allow you to add one of any animal type to a landmass they flow alongside.
Play continues until you've played all the cards or, in rare cases, if none of your available cards can be played.
Scoring starts with 2 points per enclosed landmass, then continues with the animals and their accompanying scoring conditions within each territory.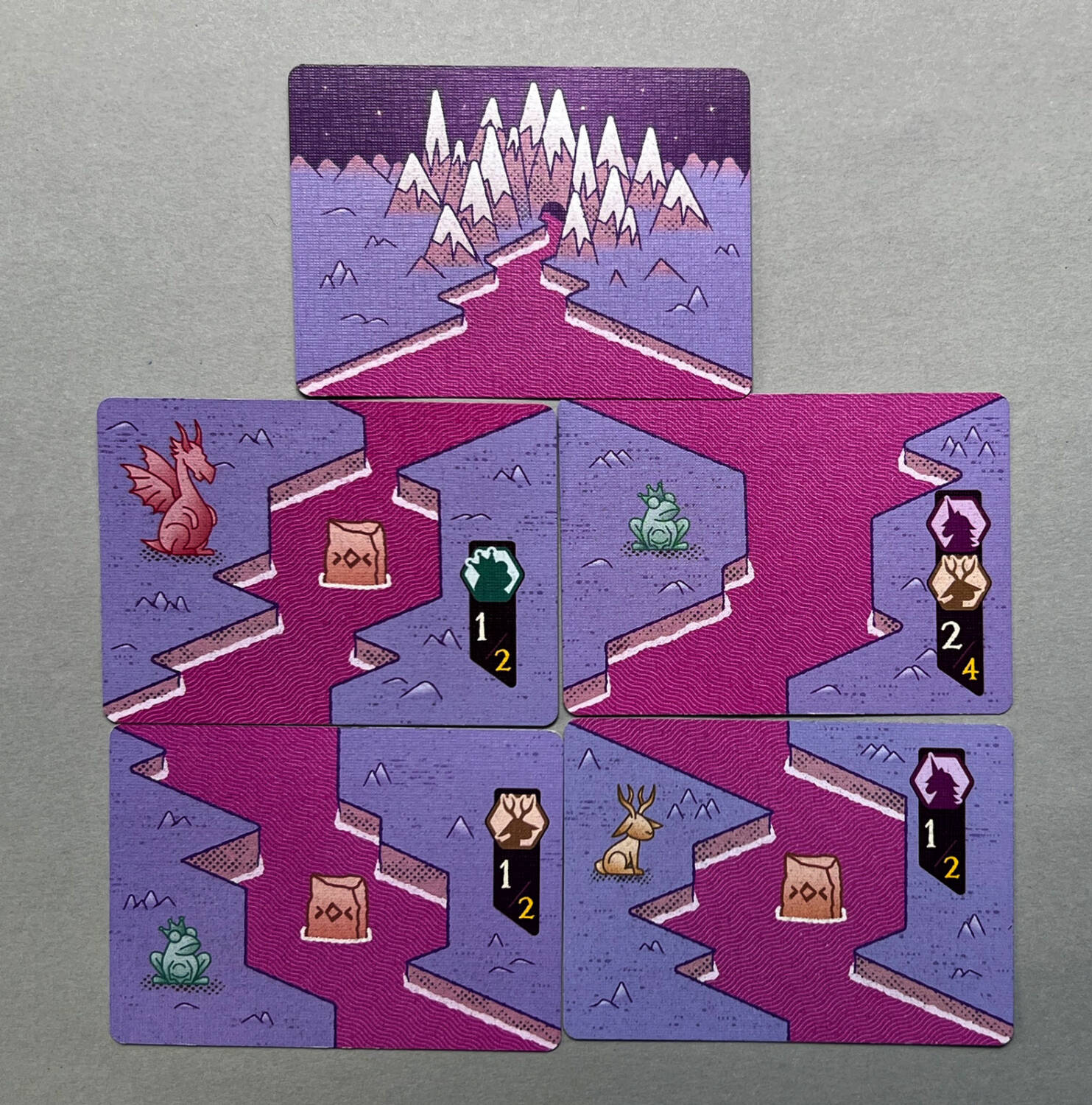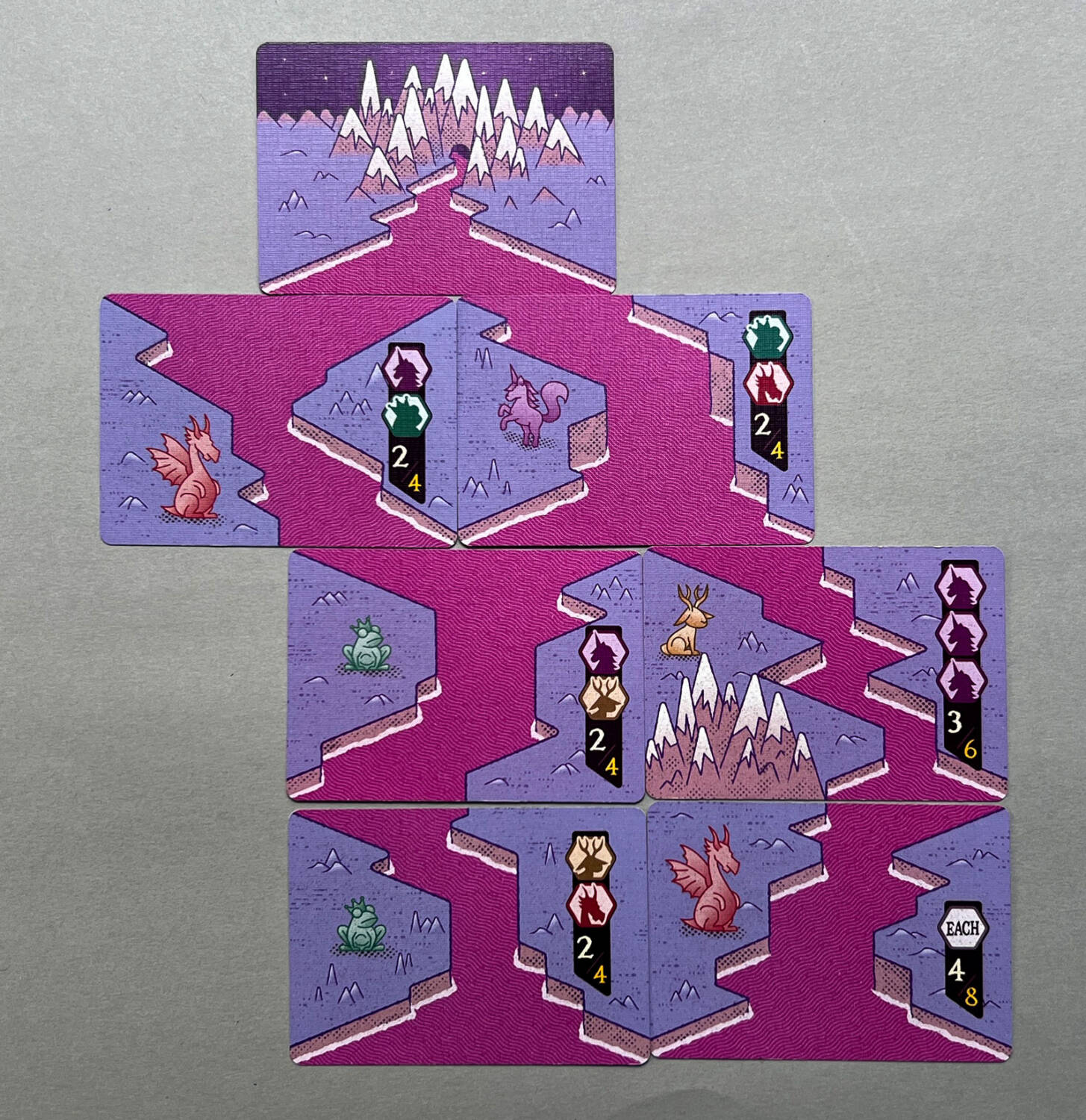 Once totaled, use the back of the scoring card to see how well you did against the five scoring categories (Embarrassing Environment [0-29] to Heavenly Haven [45+]).
Tell Me Your Poems
As a fan of Button Shy's -opolis games,(Sprawlopolis, Agropolis, and Naturopolis) all co-designed by River Wild designer Steven Aramini, I was eager to see how Aramini would tackle the idea of flowing water.
My initial plays were mixed. River Wild can be a brutal game: with only 16 cards, there never seem to be enough opportunities to combine the right animals with the right scoring conditions. With the three -opolis games, even when I lose (which, honestly, is most of the time) I still feel I have agency when building the landscapes. I know when I lose, it is typically because I don't keep all the scoring conditions in mind.As well, with the -opolis games, I can place the next card anywhere in the landscape. Some places are certainly more optimal than others, but it's still my choice as to where across the sprawling set of connected cards it goes.
With River Wild, I have yet to feel ownership of my options; each move feels forced. Cards must be played along the bottom of the previous cards to continue the downward flow of the water. As well, you'll need to fork the water into several simultaneous branches in order to play a card for both its creature and point scoring side. (Most often, you'll need to choose one or the other.)
And All The Songs That You Know
Doing a rudimentary analysis of the 16 cards, each animal appears on exactly 4 cards. None of the cards in a given animal's set will offer a scoring condition with that animal.
Examining the cards further, each set of four animal cards contains one card with a single runestone. That card will also score points for only one type of animal. Each set will also have one card with water fully across the top that will score more points for two different types of animals, as well as one card with water fully across the bottom, typically scoring two different animals. Each set will also include a mountain along the bottom of one card, along with water.
When you combine the limited number of animals and scoring conditions with the luck of the shuffled draw, River Wild becomes a game of open-faced card counting and chance. I haven't played enough Button Shy games to know if this is a common trait or not, but I do know that it means I won't be playing it nearly as often as any of the three -opolis games.