A strategy game? A STEM toy? Justin helps sort out the Gridopolis game system in his review!
On my first day at Gen Con 2021 I spoke with Dave Schultze, the owner and founder of Gridopolis Games. Dave's game system Gridopolis caught my eye because it looked like checkers, from space!
The system, a 217-piece set that looks very much like a building toy at first glance, is branded as a science, technology, engineering and mathematics (STEM) game for kids of all ages. This feature is both the best and worst thing about Gridopolis; it looks like a toy to seasoned gamers and it appears to be a game that might be too daunting for a younger child like my two kids, ages 5 and 8.
However, Gridopolis is officially a 2021 Mensa Select winner, one of 10 games awarded the seal of excellence last year for challenging and original gameplay. That shows in both the incredible decision space and the production.
But getting Gridopolis to the table was a challenge across the game groups I play with, and my kids were often more interested in using Gridopolis as a cool-looking base for their Legos than playing it with their dad. Clearing these hurdles with both audiences is a story within itself!
Let's Start with Checkers
No matter how you align the setup for Gridopolis—and between the included instructions and plenty of options on the Gridopolis website, there are many ways to build your starting map—your goal is the same. Move towards your opponents and jump their pawns to capture them and take them off of the board.
In this way, Gridopolis absolutely plays like checkers, but on a colorful and fun-looking tower, cube or matrix. And you can play it with 2, 3, or 4 players. (There is a solo mode available for download, but I only explored multiplayer for this review.)
You've got 4 pawns, or maybe 6, and all of the pieces sit on a 3-D grid constructed from circular jump pads, plastic poles, and connectors. Words like Teleporters, Blocker Boxes and "Kingerizers" (my personal fave) are bandied about as you build the playspace. You can only move your regular pawns forward, sideways, up or down, across multiple floors as you work to complete your goal of eliminating the other player or scoring as many points as you can in a timed format of the base game.
Just like checkers, turns in Gridopolis are breezy: move one pawn. You could, instead, use a few building pieces set aside for each player at the start of the game to build up, or out, and extend the playspace with your own creativity. You could also put a Blocker Box down, eliminating a space much like taking out a part of the floor in the old "Discs of Tron" video game.
Extending the board gives the production an interesting look by the time the game is over, especially at 4 players. I played with the base game's Matrix setup for most of my 2- and 4-player games, but I also tried the Twisted Tower format for a 2-player game with my daughter.
Blind Spots
Gridopolis challenges the mind like other spatial puzzles I have played in the recent past (Oros came to mind as another fun spatial puzzle); the setup and visualizing jumping an opponent in a legal fashion required quite a bit of creativity. This is a good thing, but the learning curve for setting up killer moves takes a few plays, especially when it comes to using other pieces to successfully block another player from jumping over your pawns on the same or different 3-D planes.
This has been the toughest part about playing with my kids. They haven't quite seen as many possibilities yet with how to jump my pawns, so I've found myself intentionally setting up moves for them to take me down, so they can get a better feel for the game. My wife (incredibly creative, but admits to being challenged by the 3-D elements of games like Gridopolis) looked at the box and the finished game state of a couple of games before wanting to jump in and play this herself. The barriers for entry here are steep, depending on your audience.
Even after playing this with my review crew, 2 of the 3 other players didn't think of Gridopolis as anything more than a toy, albeit one that fits well for anyone they know who enjoys chess or checkers and is willing to set up the game. There's an audience for Gridopolis but it's REALLY narrow in terms of gamers who would enjoy this puzzle and want to keep it on the table regularly to explore it with a partner or a roommate, someone who would give it a run consistently.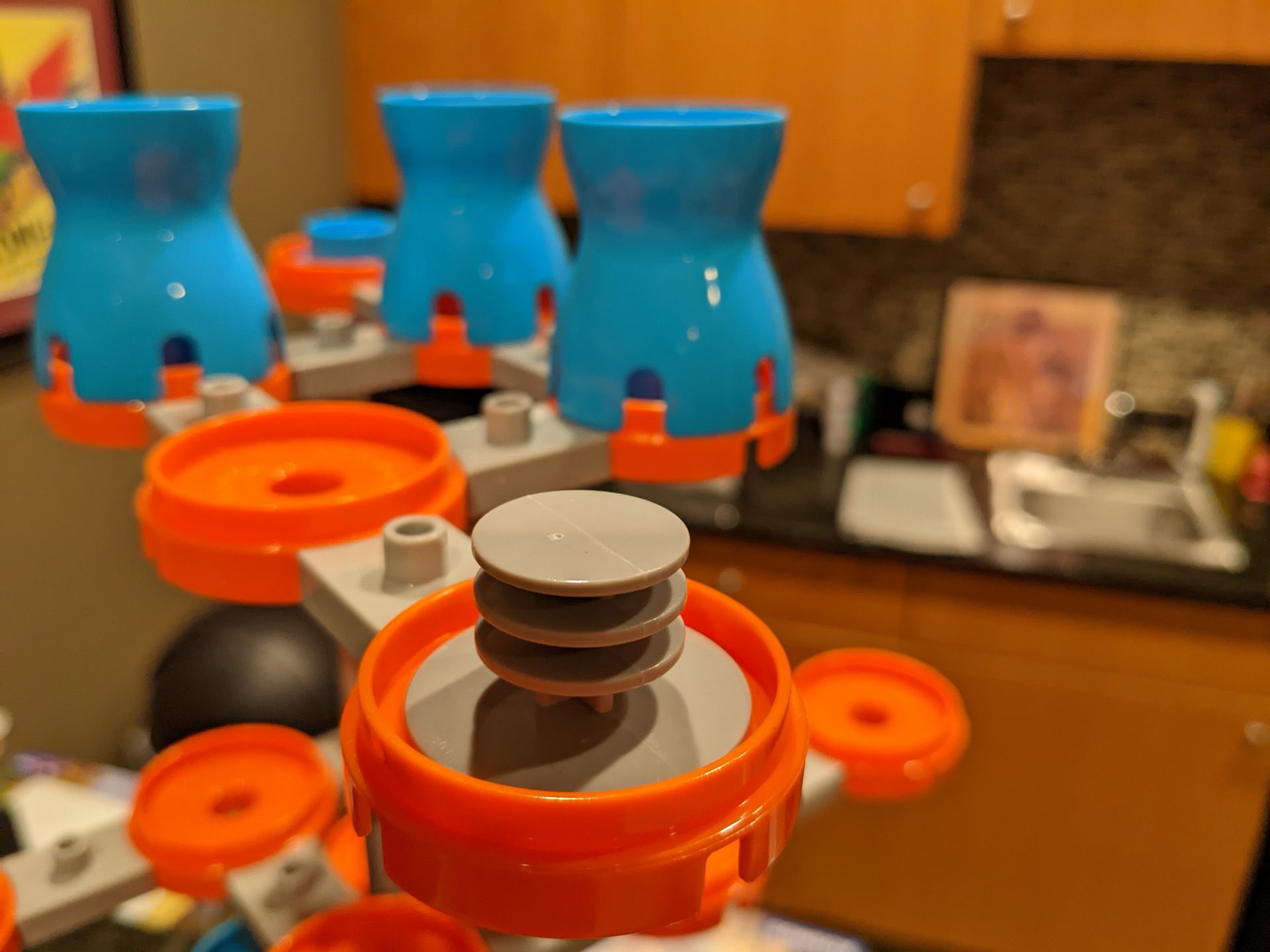 Yes, It IS a Strategy Game!
At the end of the day, Gridopolis is a really interesting spatial puzzle, one that serves as a nice warm up for a night of either heavier strategy board games (think designs from Vital Lacerda, Alexander Pfister, Phil Eklund, etc.) or mid-weight deduction games and puzzle-y tile-laying Euros like Witchstone. At only 15-20 minutes for a 2-player game, or as long as you would like for a timed game with 2-4 players, Gridopolis takes longer to set up than to play it but it's a neat puzzle.
The setup options are endless; the website has a ton of cool options to keep the gameplay fresh. And while I don't have an available table to keep this on permanently, Gridopolis is easier to get to the table when it's already on one. Having another gamer in the house who you can regularly challenge really helps clear the mental hurdles required to get this game played.
The light STEM brain burn here is great, and the Mensa Select award certifies the quality of the gameplay. If you can find the right group for this, Gridopolis is highly recommended!