Andrew represented Meeple Mountain in 2021. Justin made the trip in 2022. This year, they combined forces to take down the mother of all tabletop conventions—SPIEL 2023!
Our team took in the scene at this year's SPIEL event in Essen, Germany, and we have to admit—it's great to be all the way back.
By that, we mean that the show is back to looking and feeling like it did pre-COVID in terms of the crowds, the publishers on hand, the games, the parties, and the mask-optional environment. Most of the publishers we spoke to at the show had their games arrive on-time (even if that was last minute), so the shipping issues of the last two shows were mostly a thing of the past.
And there's something about seeing unmasked, happy faces and hearing gamers from around the world excited to see new creations in their shopping bags.
Meeple Mountain sent two writers to the show: Andrew Lynch and Justin Bell. It was good to have two team members there, because it was a record-breaking event with 193,000 attendees, making 2023 the largest SPIEL of all time.
In no particular order, here are some thoughts about SPIEL 2023.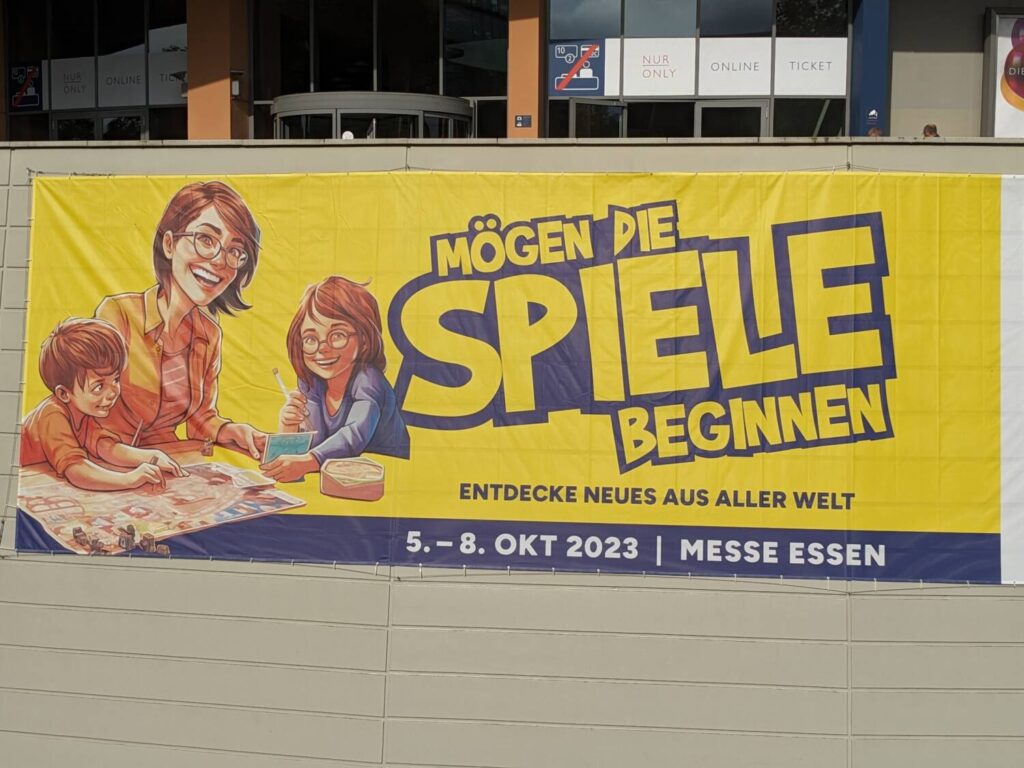 The Hottest Game at the Show Was…Nokosu Dice??? (Andrew)
I have to confess, now that these events have resolved, that I lied to you, dear reader. When I wrote about my most anticipated games of the fair, I left off my single most anticipated game. Japanese publisher Engames was bringing a new, limited printing of trick-taker Nokosu Dice, long considered one of the great oddball entries in the genre. I didn't want to tell you about it because I didn't want the competition.
Turns out there was already plenty. Come 9:45 on Thursday morning, I ran for the publisher's booth, way out in Hall 2, ready to snag a copy right as the doors opened. What I was not ready for was the line of about 50 or 60 people, all press and staff from other booths, who were already there. I have to emphasize again that the doors were not open yet. On a per-capita basis, given the population of Messe at the time, this was the longest line of the show.
This line also ended up being a bit of a who's who. Either Thinker or Themer was there. Daryl Andrews, the designer of Sagrada, took my photo. YouTube personalities popped into line to stand with friends (without buying a copy unduly, I'll note with approval). For the rest of the weekend, Nokosu Dice was spoken of in whispers, hushed inquiries, "Did you manage to get a copy?" Nokosu Dice became our shibboleth. (And, yes…I got a copy.)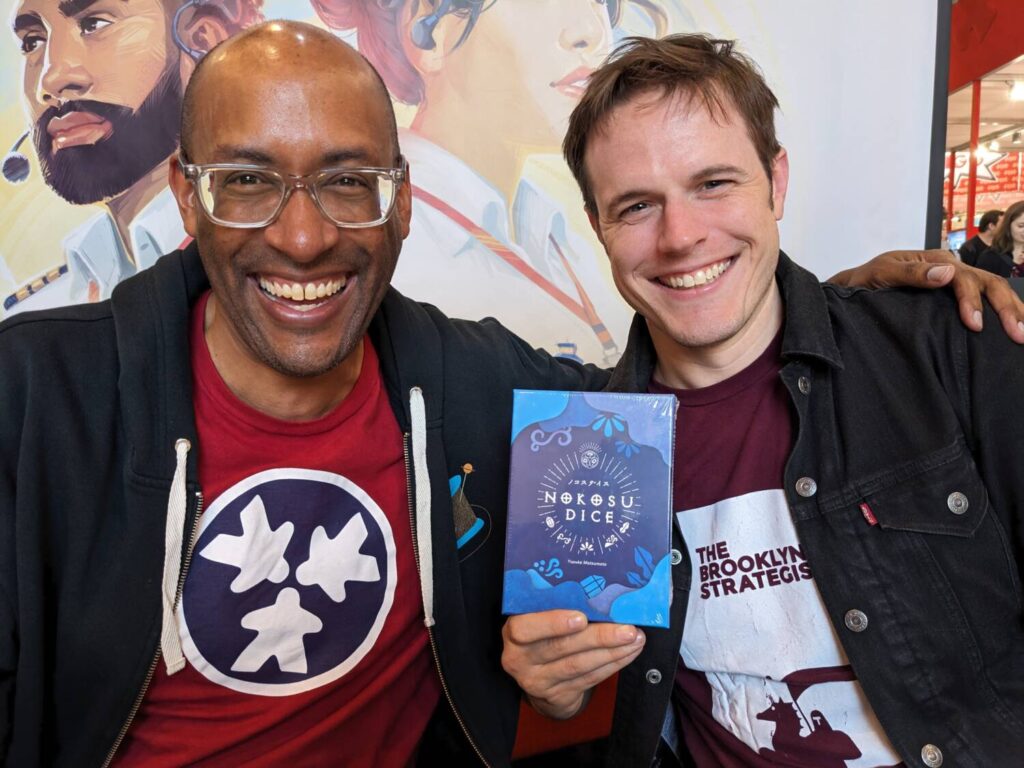 Yes, We Love the Booth Parties
Justin: On the first night of the show, no less than five publishers and partners had booth parties (and we're only talking about the ones we got invited to!). We've discussed booth parties in previous SPIEL write-ups, but it is worth calling out here—I love talking to designers. I love meeting players from other countries. I appreciate the ability to pick up review copies to cover those games for the site.
But if I'm being honest, I go to Germany for the parties.
It's not that the parties are wild or anything; in many cases, we are talking about something that runs from 7-9 PM after the end of the trade fair day at a publisher booth. The snacks are not high end; the buffet usually includes pretzels, chips, Haribo gummies, and assorted other items that do not rhyme with the words "fruits and vegetables."
But there is usually beer; on occasion, champagne. There are usually non-alcoholic options in the form of Fanta Orange for those looking to skip the booze. And there are the best people in the entire world.
I mean this. I've had the chance to meet dozens of people at these parties over the last two SPIEL events. As someone who's had the pleasure of working with great people in other industries—tech, manufacturing, consumer products, recruiting, even the legal field—I can say, hands-down, that people in the gaming world are the best. Maybe it's the fact that tabletop professionals make hobby products for a living—they should inherently understand fun, right?—or maybe it's the general good nature of people who work in the arts.
But it's shocking how often I finish a conversation with someone at these events and they just seem happy to be alive. At the GAMA industry event Saturday night, I met Maz Hamilton, the founder of Rowan, Rook & Decard. Fantastic five-minute conversation. Maz handed me their business card, then handed me another, because RRD makes business cards for employees in a variety of flavors with exceptional artwork on the front. I took four cards from members of the RRD team. In our small conversation circle, we talked about RPGs and kids and Essen restaurants and a few other things. Felt completely natural. It was incredible how quickly it got interesting.
I'll never tire of these moments. For everyone who I had the chance to catch up with at a booth party this year: I salute you.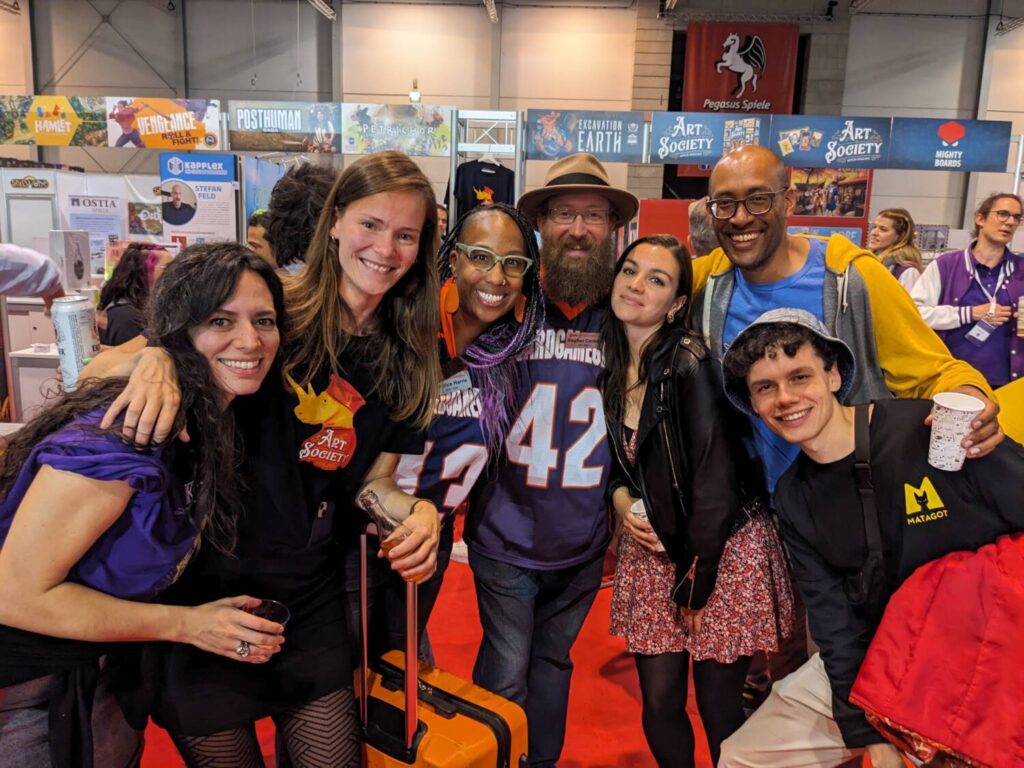 Andrew: I approached my first Essen as more of an anthropologist, fascinated by the cultural goings on. I was new to MM, and not comfortable as a member of The Industry. I sat outside and looked in. My interactions with publishers were mostly uncomfortable (for me), as I was figuring out my place.
This year, while at Essen I have been most struck by the quality of the people. Everyone I've spoken to cares deeply about the industry, the games, and the players. They are fun, funny, thoughtful, and a blast to be around.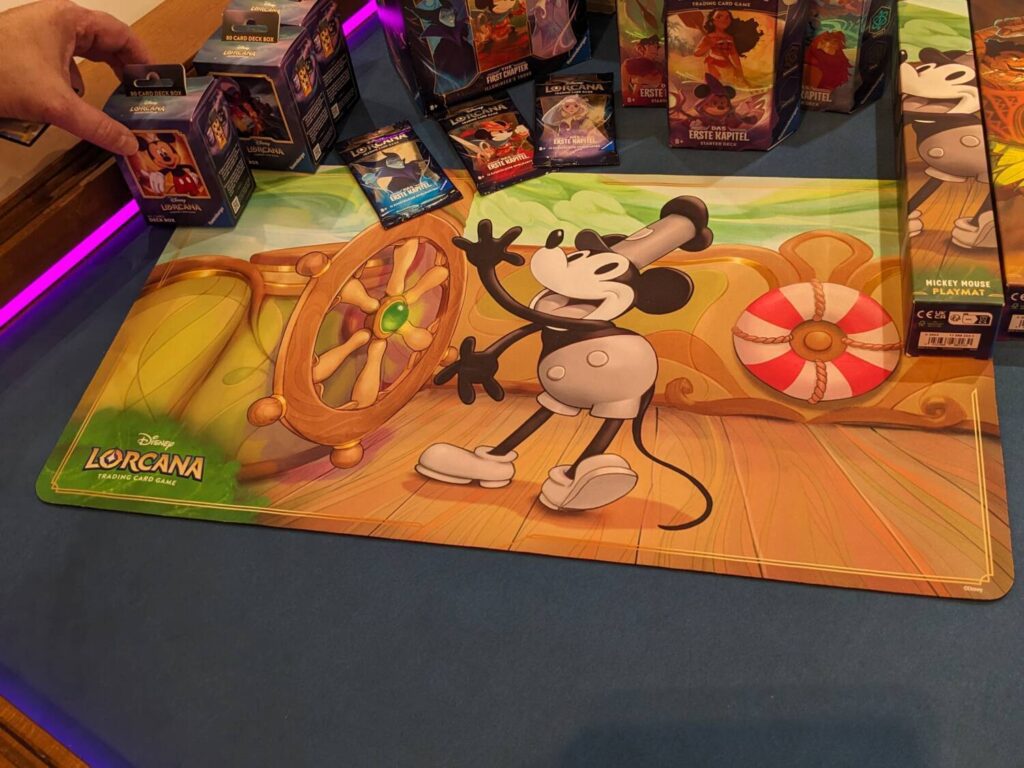 Please Continue to Believe that Lorcana is "Just Going to Go Away"
Justin: SPIEL organizers allowed media members to enter the show floor 30 minutes early. (Psst, every other US-based convention: this is a good idea. Remember that we are trying to help promote your events with our audience!!!) When I did that each day, it was fun to see the lines form at certain booths because exhibitors occasionally go shopping themselves.
But when the show floor opened, it was also great to be in Hall 6, where the Ravensburger team set up their Disney Lorcana presence for this event. And every single day, the gold rush was on—people were standing in line for HOURS to get Disney Lorcana sets and promo cards. Just like the madness that was Gen Con 2023, fans could not get enough Lorcana. I'm here to tell you that it was insanity again for four days in that booth.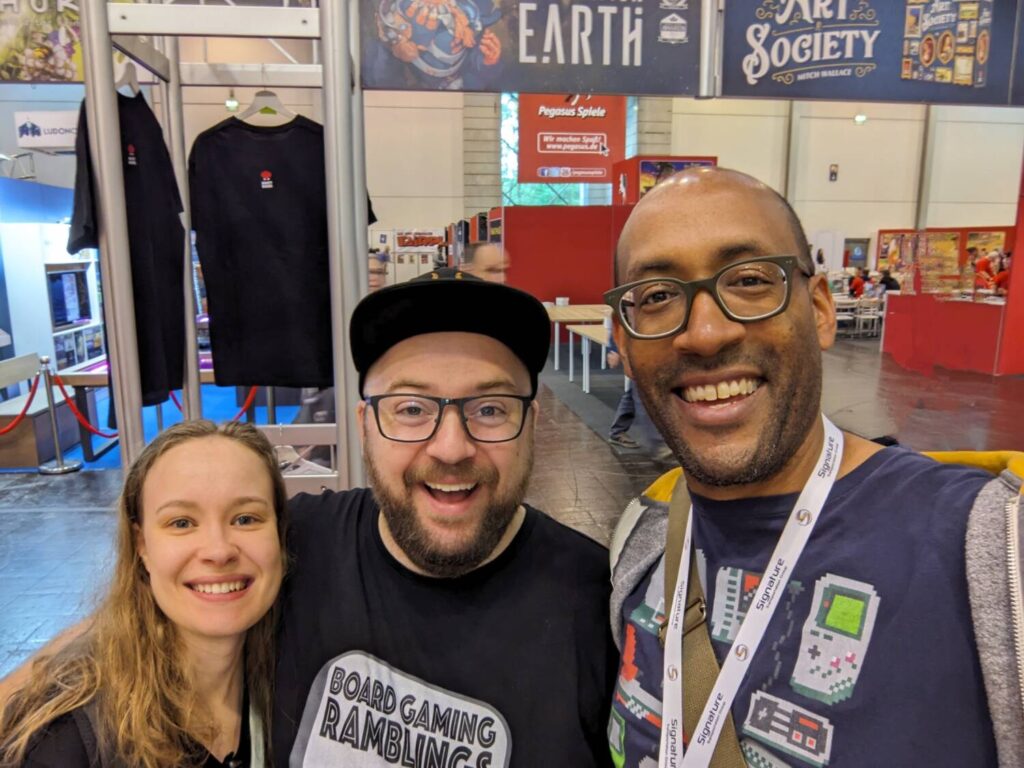 I keep meeting people who are convinced that Lorcana is some kind of a fad, and it's just going to fade into the ether. Uh, no. I have friends who legitimately love playing the game and plan to buy sets for their friends and family this fall. I know just as many people who are buying sets to then flip them on eBay for mad cash.
Lorcana is here for the long haul, friends!!
Andrew: I endorse and agree with Justin, I think Lorcana is here to stay, though I'll add two cautious qualifiers. First, the second and third sets will need to deepen and diversify the game. If they don't manage to do that, I think the game will wither and die out. Second, Ravensburger needs to figure out how to meet demand lest the game folds under the same inflationary pressures that almost destroyed Magic: the Gathering.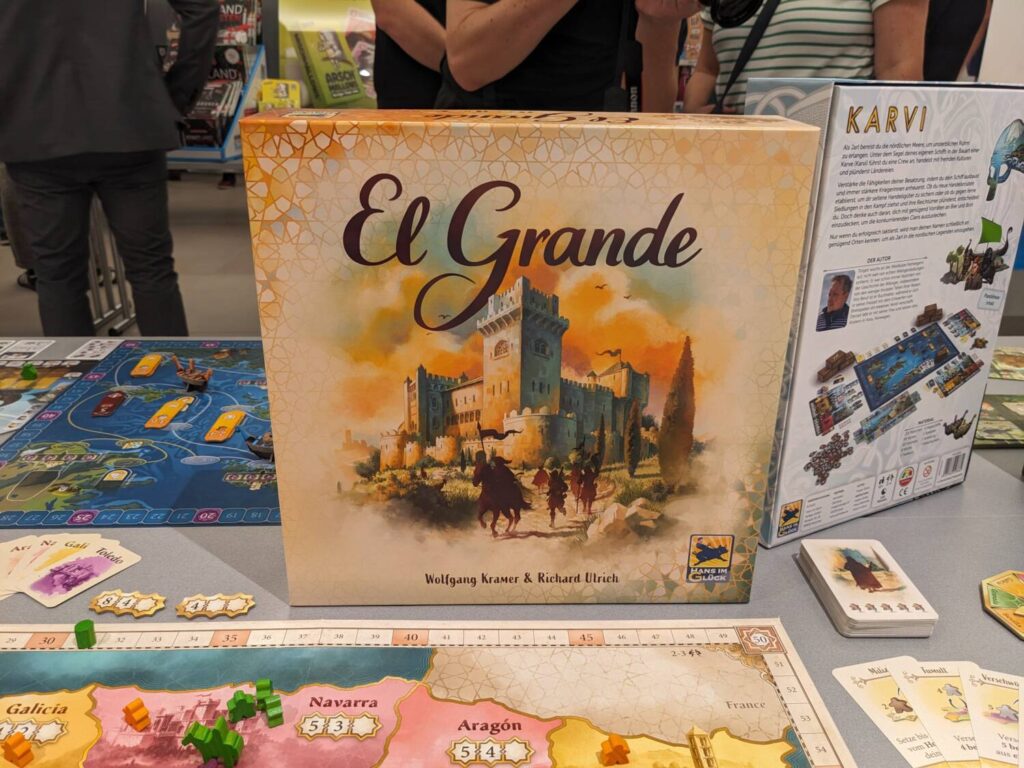 Dear City of Essen, Figure Out the Public Transpo (Justin)
At last year's event, it almost felt like Essen city officials weren't aware that 150,000 people were descending on their small city for what I think is their biggest foreign tourist event of the year. Lines at subway stations to take the U11 to the Messe (the convention center) were nasty most mornings. Then, this was compounded by a sheer lack of trains.
Sadly, it doesn't feel like the city has learned their lesson and as a result, most of us that had to take a subway anywhere on Thursday or Friday got totally hosed. (On Saturday, unquestionably the heavy traffic day, there were more trains.)
I had the distinct pleasure of arriving at the train platform at 9:08 AM on Friday morning to travel a few stops to the main hall. I was met with a massive crowd at the ESCALATORS (not even the train platform!!) because the platform was chock full of people. Once I got down to the platform, I had to wait through six trains (five that were mostly full, and a sixth that was not taking any passengers) before I got on. This meant that I didn't arrive at the main hall until just after 10 AM.
Normally, this would have been a ten-minute journey. On Friday, it took fifty.
But wait, there's more! There was major construction on the tracks that connect Dusseldorf Airport to downtown Essen, which led to a dumpster fire of a commute by bus for those of us too cheap to throw down for a rideshare from the airport. Also, I'm still surprised that airport officials (or the trade show, possibly) didn't have more signage pointing visitors to, again, one of the largest annual trade shows on the planet.
This was a major talking point during the show, and not in a good way. Convention visitors, media, publishers…everyone I talked to complained about public transportation. City of Essen: please figure this out, because show attendance is only going to get larger!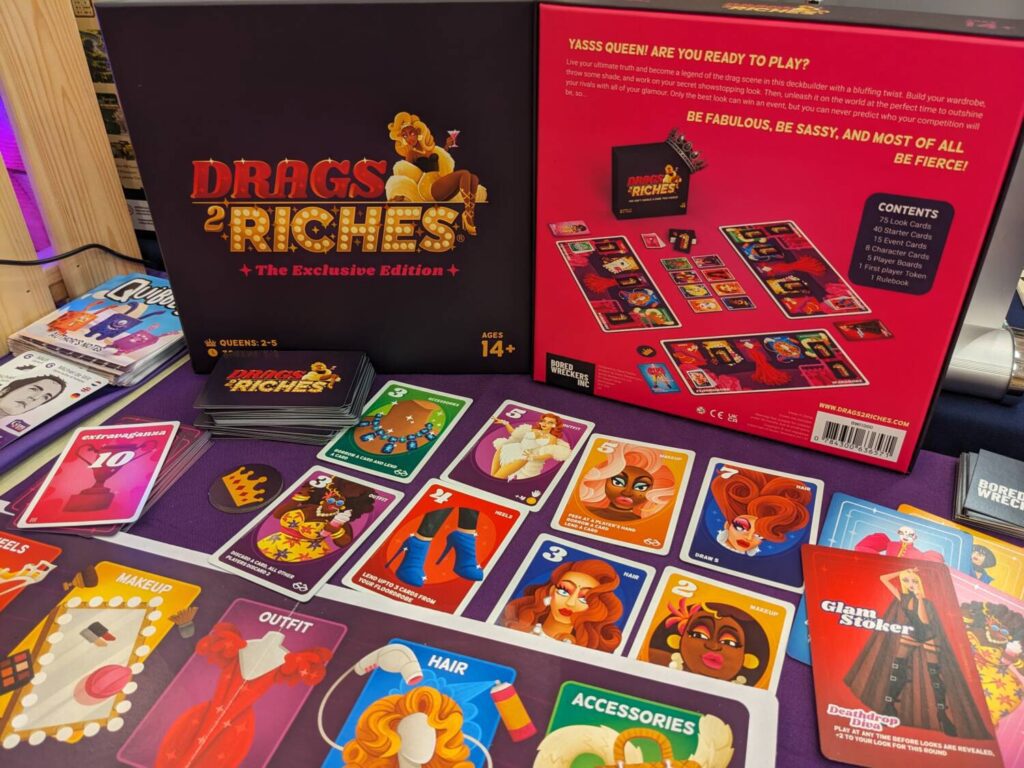 Ship at the Convention (Andrew)
Because I had an extra day in Düsseldorf after the convention, and because I speak German, I decided I would ship everything together after Spiel. Don't do that.
For one thing, the price is a good deal. 200€ worth of shipping from Spiel ended up costing me…more than that. For another, and this is the real problem, it turns out finding oversized boxes for shipping in Germany is extremely difficult. There is no equivalent to a UPS center, where they'll pack everything up for you.
More broadly speaking, I would also advise those traveling internationally from countries where these games are readily available to be selective about what you buy. While it's fun to grab everything you want, don't forget the premium you're paying by having to ship. It adds up quickly.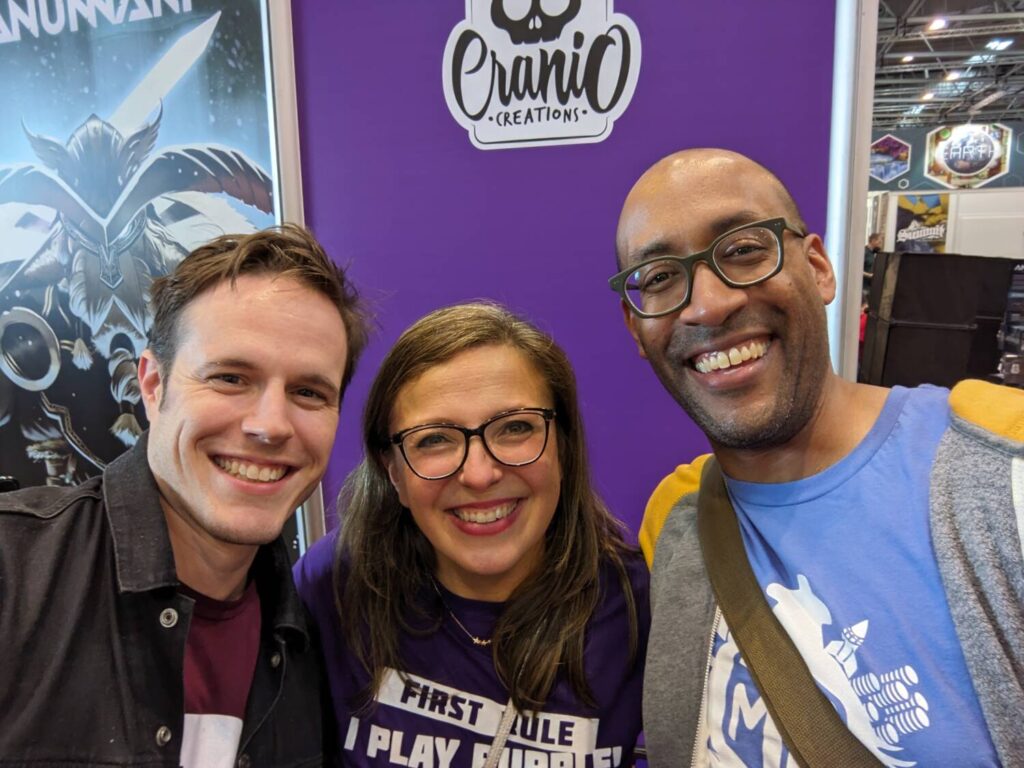 The Games Business Appears to Be Doing Alright (Justin)
Across 26 formal meetings and dozens of run-ins with "Friends of Meeple Mountain" (I'll trademark it later), it certainly seems like there's a hunger for all things board games.
193,000 visitors. It's shocking, when you think about the number, especially if you are someone who visits other trade shows and tabletop conventions. I think Gen Con 2023 was in the 70,000 unique visitor range; SPIEL is that much bigger, and it feels that way when business is this strong.
Business at the convention was booming, and people were fired up to spend that cash. Loads of "Sold Out" signs appeared everywhere. If you wanted a copy of the hottest games at the show, people needed to get in early to ensure they got that favorite game. Prices at SPIEL are very reasonable in most cases—rarely did I see games that had a marked up MSRP of more than 5-10 euros—and the old/used game market is amazing at SPIEL events.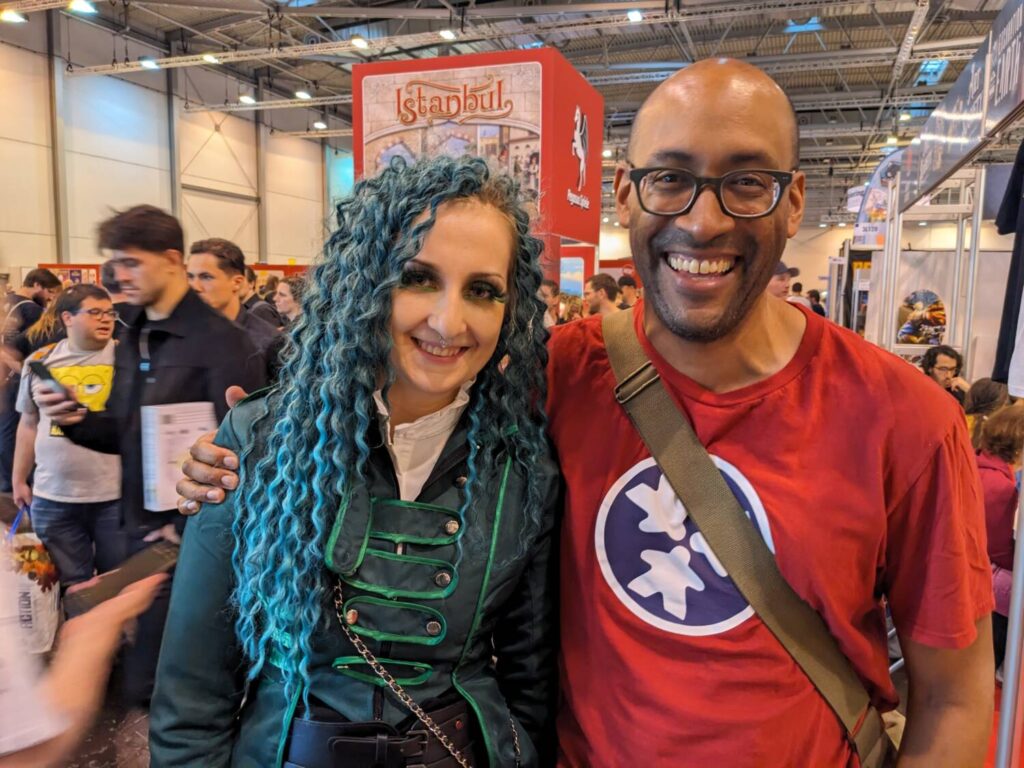 I think most publishers would say that they moved a lot of product this year. (It helped that there were no major shipping issues, although a few got air shipments the night before the event. In the case of Board&Dice, their games arrived at 10 AM on Thursday…right as the show floor was opening to attendees!) There were great deals on Sunday, but so many people seemed excited to buy deluxe editions, multiple copies of games, and rare finds, particularly from the Asian publishers who appeared at the show.
The new hall layout made things generally easy to find, but there weren't many areas that were quiet as a result. Hall 3 (loads of the biggest publishers of strategy games, like Pegasus Spiele, CGE, KOSMOS, Cranio Creations, Chip Theory and so many more) and Hall 6 (the Hachette group, Asmodee, AMIGO, Ravensburger) were jam packed, but on two of the four days of the show, I stayed in those halls the entire day.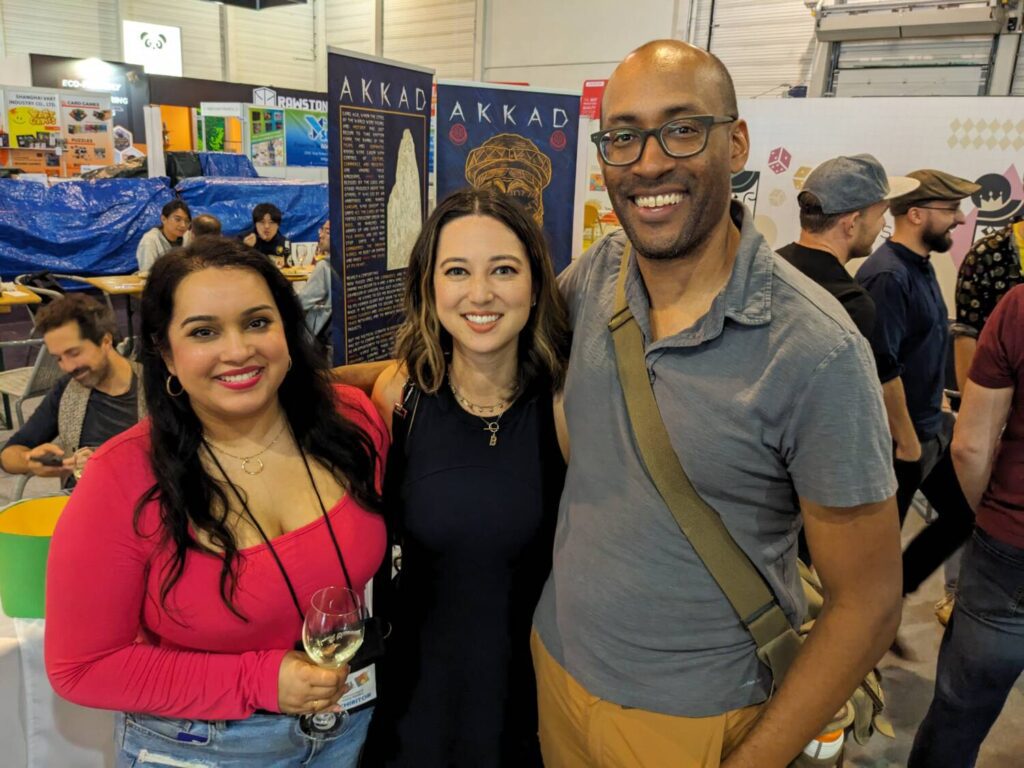 I am hoping the event organizers continue this trend, with two small asks. First, use hall 7 for open gaming. The big miss in Germany is that SPIEL is such a business-oriented trade show that there is nowhere to play your fancy new toys. I'm not asking for that much space, but I am asking for some. You know what helps drive business? Seeing people playing your game. Lots of people show up to buy just a few games, maybe even just one game, and if they have a chance to play it right away, I think this would help drive walk-up sales.
Second, use more space in the other smaller halls for a big-name publisher or two. I'm not suggesting that the area-focused design didn't work; in fact, I love that most of the manufacturing partners were in Hall 4, for example. What I am saying is that Matagot & Friends has a massive fan base; place them (or anyone of that size) as an anchor in a hall then spread RPGs around them, or CCG/TCGs around them, or "Artist Alley" around them. It would help with the foot traffic in the quieter halls, and provide exposure to indie publishers.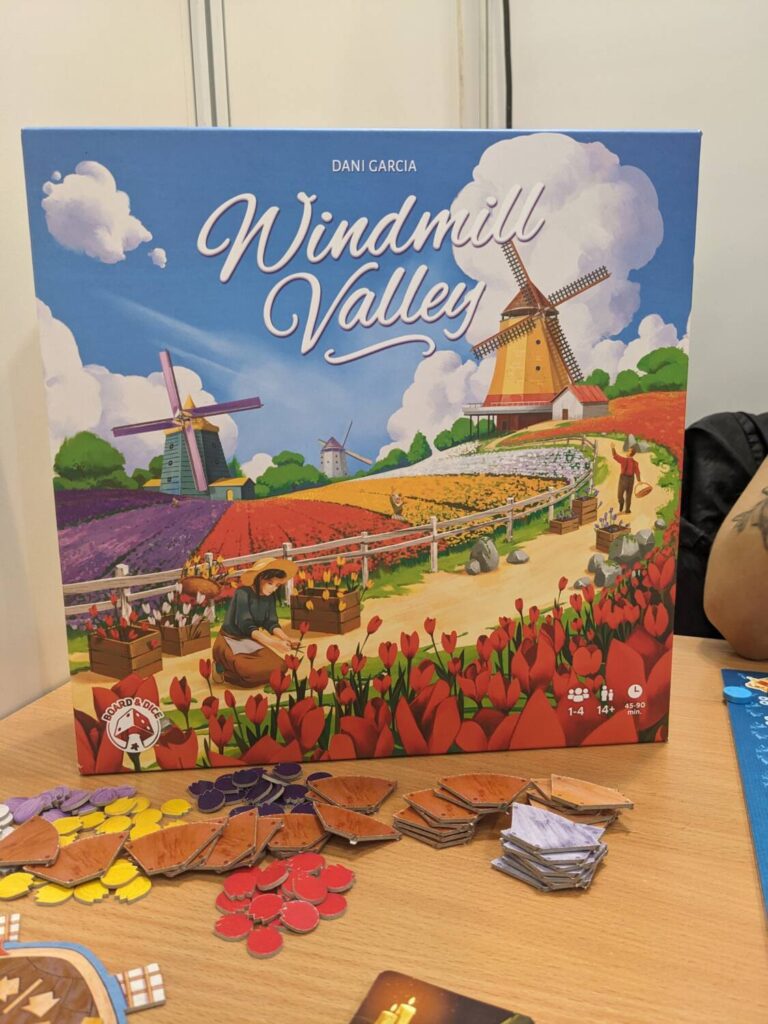 How About the Games?
Like most game conventions where we go as media members, we really didn't play any games. But we picked up a bunch of titles that we are excited to cover in the months ahead.
Justin: For me, the big ones from our SPIEL 2023 Preview were secured at the fair—that includes Nucleum, Kutná Hora: The City of Silver, Shipyard 2E, Evacuation, Trolls & Princesses, Rats of Wistar, Annunaki: Dawn of the Gods, The Warp, ArcheOlogic, Sensu, Alibi, Ancient Knowledge, and a number of other titles.
I might be more excited to cover the games from new partners who we want to establish long-term relationships with, like Ion Game Design, Matagot, Cranio Creations, Funforge, and more. Yes, there are too many games, but that won't stop me from covering as many as I can for the site.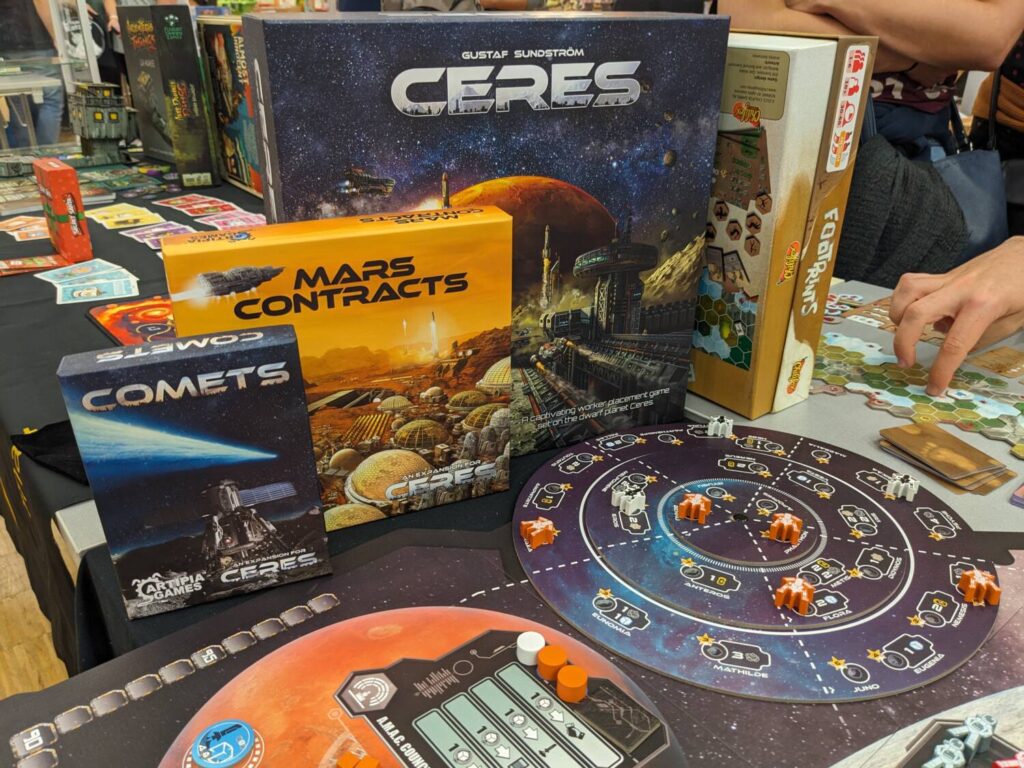 Andrew: I cannot wait to dig into Salt & Pepper's Witchcraft!, The Hunt, and The Battle for Versailles. I feel blessed beyond all deserving that Mandala not only has a sequel, Patterns (bad name), but that my two plays suggest it is a worthy successor.
One of my favorite convention experiences is the annual discovery of a wonderful game from a small publisher. At PAX Unplugged last year, it was Buy the Vote. This time, it's Ritual, a limited communication cooperative game from Spanish publisher T-Tower. Thomás, the designer, told me the game will be published by Strohmann next year. My play experience was a real treat. I hope it does well.
The games from Spiel that I'm most excited about, I can't tell you about. Not because I'm being obtuse, but because I myself don't know much. I met with the minds behind CMYK, a publisher who has started to rapidly diversify over the last year while further honing its voice and personality, and while I was given very little in the way of specifics, I'm absolutely delighted by what they're planning for the next two years.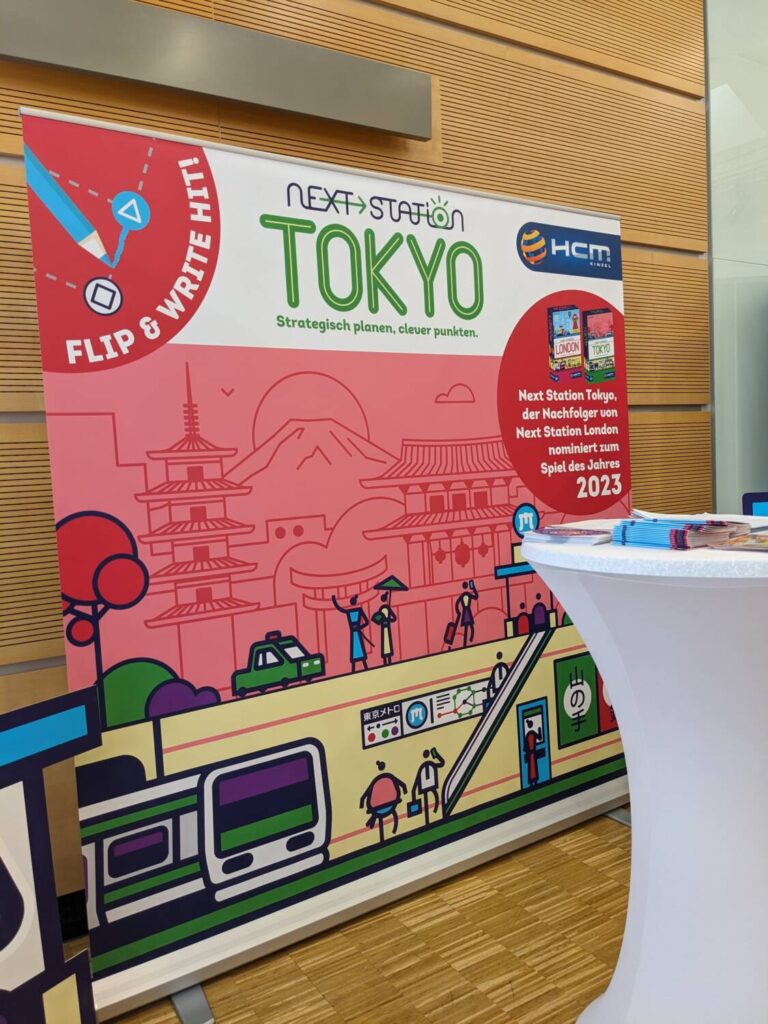 Favorite Moments?
Justin: It's going to be hard to beat the party at the Mighty Boards booth on Friday night, because I love the time I've spent with that team over the last two SPIEL events. It didn't hurt that some of our peers in the content creation space also made appearances (including Beneeta Kaur, Banzainator, Candice Harris from BGG, and a few others), as well as publishers Board&Dice and Mindclash, so it's a group we know well. (There may or may not have been dancing.)
The Thursday night party at Hachette was special because I love the folks within the various arms of the Hachette business; a big thanks to T, Jöelle, Cyprien, Rawan, Thibault, Emanuel, and all of the other people who spent time with us laughing, pouring champagne, or offering stinky French cheeses.
Star sightings are an easy thing at SPIEL events. I had two big ones this year.
Simone Luciani is a designer and business leader who is having himself a year: Darwin's Journey, Rats of Wistar, Annunaki: Dawn of the Gods, Nucleum, and the Grand Austria Hotel roll-and-write, High Season (and all of these released this year!!). I also got to take pictures with Leonhard "Lonny" Orgler. Lonny is a legend in the 18xx design space who co-designed a game on my top 10 of 2023, 1880: China. He also designed or co-designed Russian Railroads, Ultimate Railroads, 1848: Australia, and 18Mag, the latter of which Lonny was kind enough to offer as a review copy.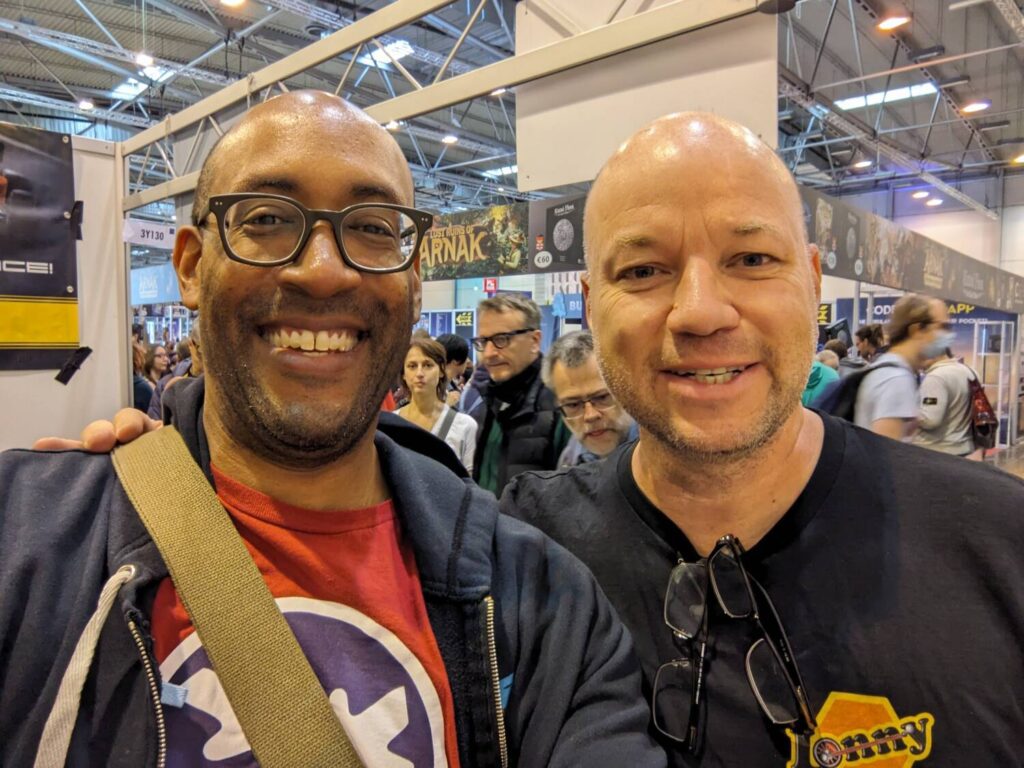 Andrew: My favorite moments in the hall seem to have been born out of exhaustion. A frazzled me communing with an equally frazzled Jöelle from Le Scorpion Masqué as we both hit the wall around 2:00 in the afternoon on Saturday, tucked away in the corner of the publisher's booth as the masses roared on.
Patrick, a developer and designer with HABA, was thrilled beyond belief that he could conduct our meeting, his last of a long day, in German. Fried and sleep deprived, I surrendered myself to speaking English. We spent forty minutes going through their more recent offerings, him speaking German and me speaking English.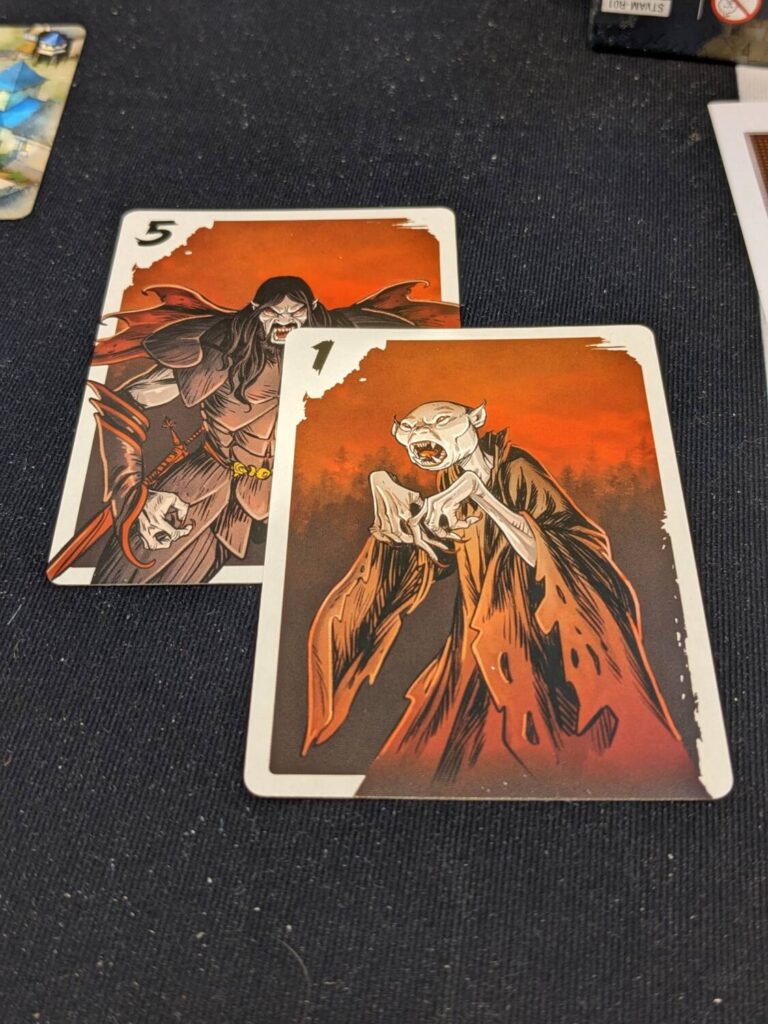 It's a Lock
Both of our writers agree: SPIEL is permanently on the hit list. The event is a blast and it only gets easier to go every year. We love spending time with various partners, we love the size and scale of the event, it's fun to attend as a member of the media, and GAMES GAMES GAMES.
It's exciting to hear the final totals for attendees at this year's event because it certainly felt bigger and better than last year. Gamers, particularly those of the European persuasion, appear to love spending money on the hottest stuff, and we don't want to miss out.
Thanks to everyone we had the chance to see in Germany…and we will see you in 2024!