Another year in the books. Justin shares his thoughts on "The Best Four Days in Gaming™."
"There's something different about this year, right?"
Someone asked me this question while I was at the first of multiple evening parties for media members at Gen Con 2023 in downtown Indianapolis last week. Chatting with a few other media members, content creators, marketing staff, game designers and assorted industry players, the theme even on the night before day one was pretty clear:
It was GREAT to get back to normal.
That starts with the faces. I know, it sounds silly. I like that I saw a mix of people who were comfortable coming to Gen Con without masks, while others were perfectly comfortable masking up. It felt like an event in the post-COVID era, but it was really special to hug so many industry friends. It was amazing to make a joke, and see the smile (to SEE it!!) on the face of a colleague. It was fun to talk a little smack with people I met at previous events, chat with gamers from around the world and have very plain, straightforward interactions with, well, everyone.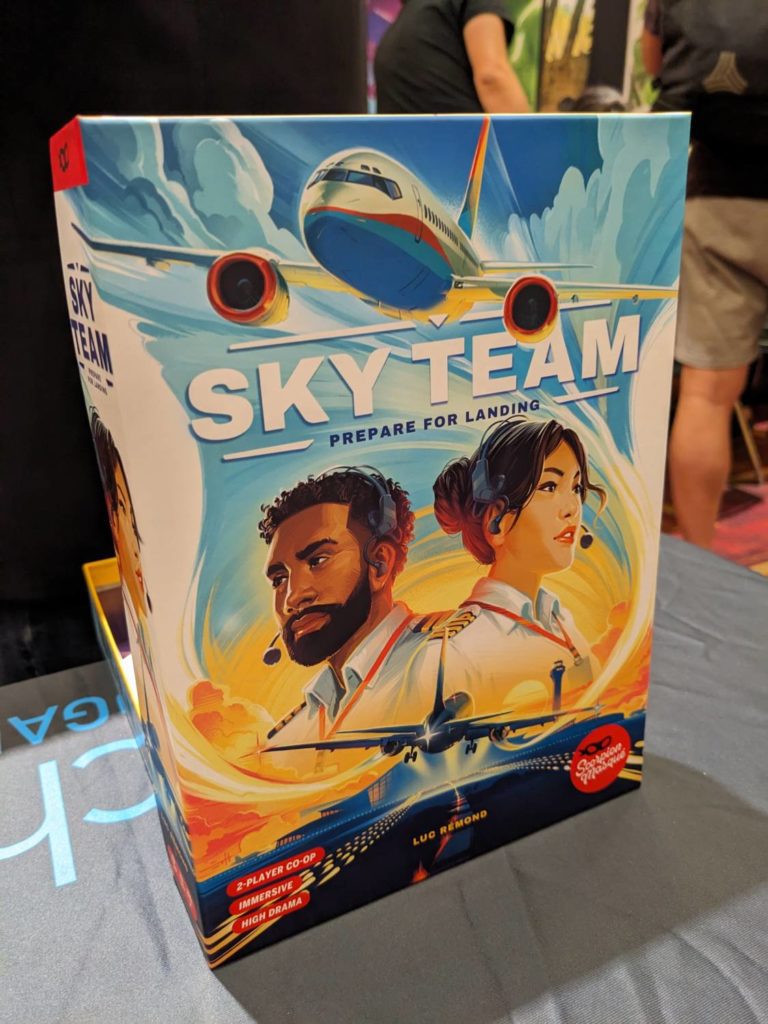 Some of that comes from my personal feelings on how great it feels to develop relationships and begin to see those relationships blossom. I've tried hard this year to focus on what I care about personally: making a bunch of friends in the hobby. (Or, as my colleague Andrew Lynch reminds us, The Hobby™.) And that made this my favorite Gen Con of them all.
Please, dear reader: I highly recommend making friends with people in the tabletop industry. The people are amazing, full stop. I laughed my [profanity deleted] off as I joked with fellow industry members about cosplay, great games, food trucks, and/or the number of people who hadn't bothered to take a shower all week. Sometimes, these were popular personalities on YouTube; in other cases, they were complete strangers who I struck up conversations with standing in line for the restroom.
Gen Con 2023 will be known for one thing: a return to normal. (Well, maybe two things, which we'll get to next.) This felt like the show that should have taken place after Gen Con 2019, just a bunch of nerds excited to see what's behind the curtain.
The games at Gen Con? Yep, I played some. Here are the highlights, along with a few other bits of news from the show.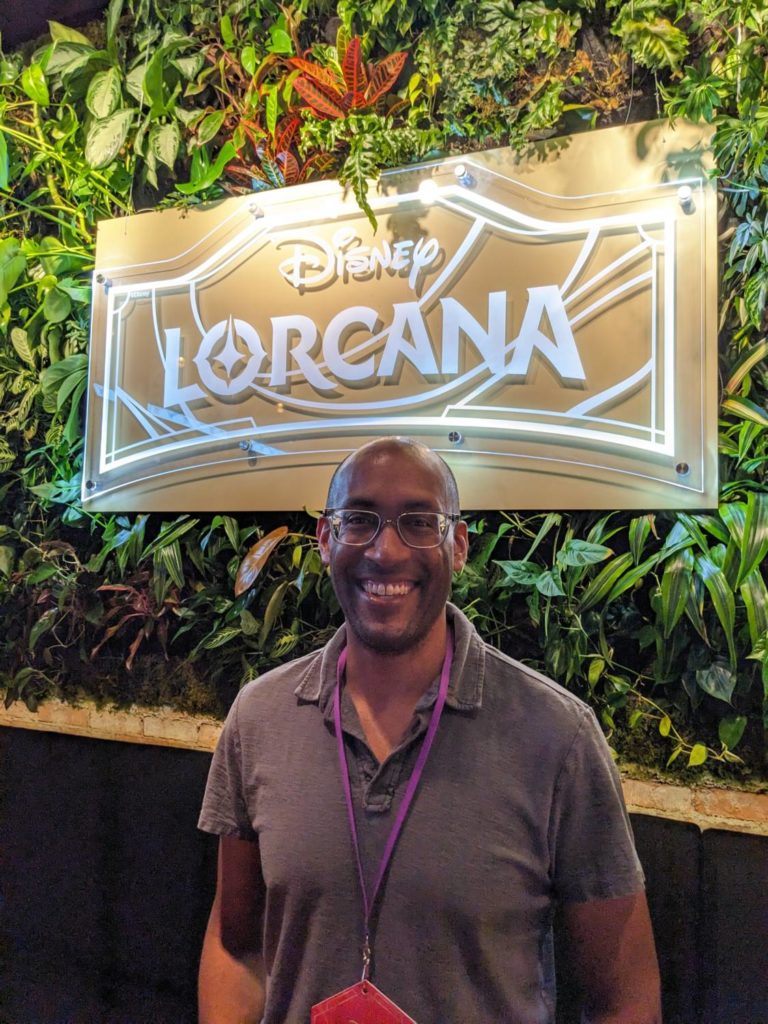 The Primary Hotness: Disney Lorcana
Without question, the talk of the town this year was Disney Lorcana, the new trading card game (TCG) that made its first convention appearance at Gen Con. It will hit retail August 18th.
Everyone had an opinion on something Lorcana-adjacent. Some people were angry about the massive crowding that took place near the Lorcana section of the Ravensburger booth presence on the expo hall floor. Others adored the game and saw themselves buying sets for the next ten years. I met a few people who loved the game, and others that were surprised Ravensburger would make an entry into a field that is so crowded with other entrenched properties, like Magic the Gathering (MTG), Pokémon, Flesh & Blood and so many others.
Here's my take: I did a learn-to-play event where I played a full game against a woman who was a big Disney properties fan and a MTG player. The game didn't appear to do anything particularly special, but the cards are magnificent and the teach is beyond simple. For TCG players who have been waiting for a suitable game with a Disney skin, Lorcana will absolutely do the job.
Is the game deep? Ask a different question—were ANY other TCGs "deep" in their first 30 days of release? Of course not. That is going to take time, and Disney has the resources to help Ravensburger turn this into something special if the next few sets hit the mark. It wouldn't shock me if Ravensburger has already hired former TCG developers and experts of other TCG games to help build out Lorcana. In two years, I think we'll have something more definitive to say about the series.
For now, all that matters is that the launch is going to be a smash. Disney fans are usually a cult-like population; I saw people who were interested in buying Lorcana promo cards for $100-$200 and complete, unopened starter sets for more than $500 during Gen Con…despite the fact that the game will be available at your local game store in two weeks for less than $50.
A big shout out here to Ravensburger for giving me the chance to have deeper conversations about Lorcana with executives from both Ravensburger and Disney at a media event on the last night of the show. I can't share much about the details of that meeting, but it's safe to say that the future for this property is very bright. My review of Lorcana will arrive when the game hits shelves.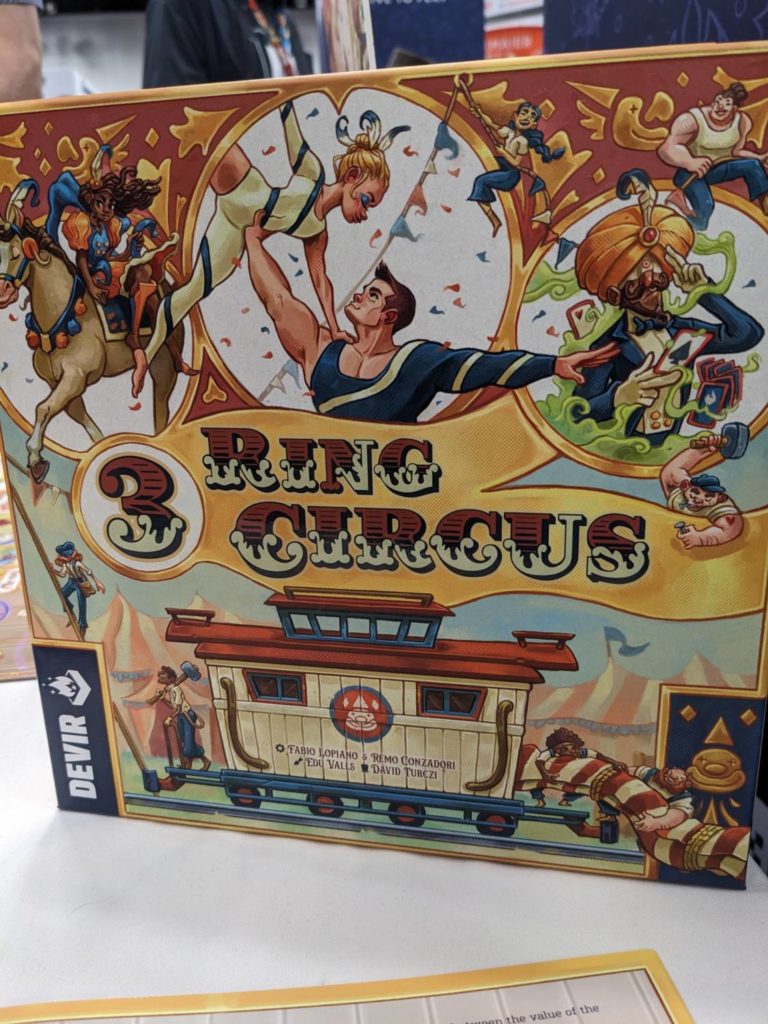 "Yes, _____ is Sold Out"
Lorcana soaked up a lot of the buzz at Gen Con 2023…but good news, the hobby business is pumping right now. Like, really pumping. Watching more than 70,000 unique visitors (yes, it's a new record) tells me that all of the other games available at Gen Con had a field day, too.
I know this because almost every hot and even semi-hot game seemed to be sold out. In some cases, they were sold out by the end of the first day of the show. That extended beyond the hotness; I went to booths where all of the games were sold out, so in limited cases publishers that sold all of their wares just broke their booth down early!
3 Ring Circus sold out its 500-copy allotment in just three hours. The team at Devir has really been on a roll the last two years, and 3 Ring Circus only adds to the lore. Following up on other medium to heavy-weight Euro games like Bitoku, Lacrimosa, and Ierusalem: Anno Domini, 3 Ring Circus (co-designed by Fabio Lopiano, the co-designer of Autobahn) has a sexy production and wooden big top tokens that might have been my favorite meeple of the show.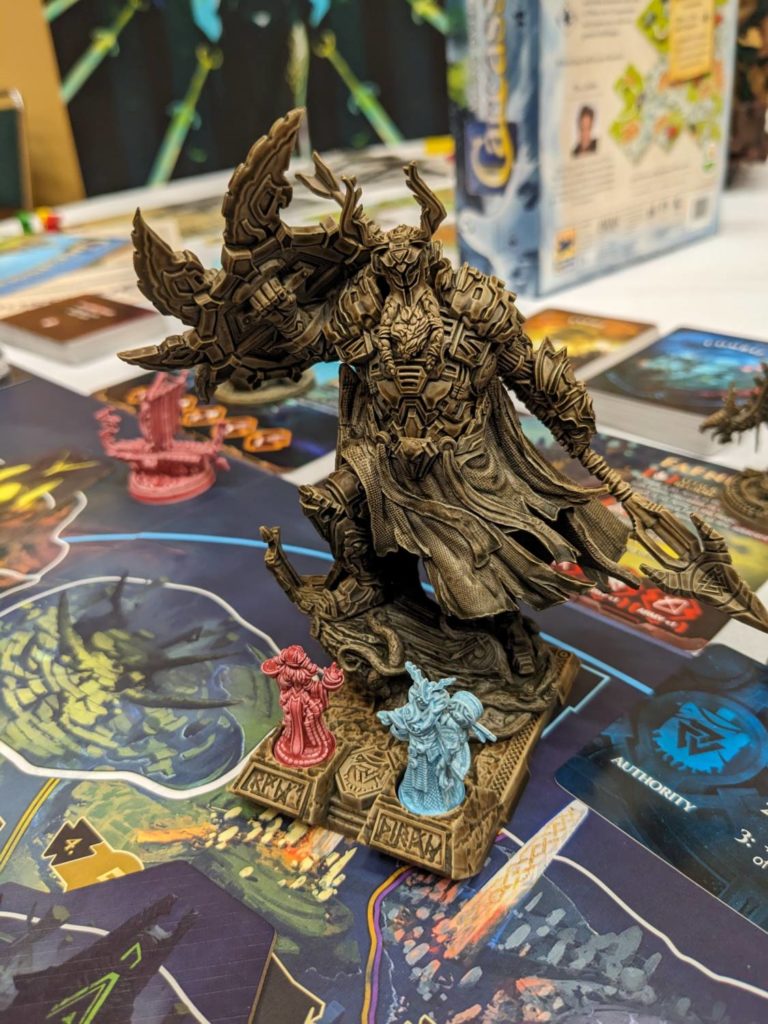 Many of the games from our Gen Con 2023 preview article shined bright during the four days of the convention. Age of Innovation (Capstone) looked like it sold out by the end of the weekend. World Wonders (Arcane Wonders) sold out in a day. If there were any copies of Great Western Trail's final chapter, GWT: New Zealand, available, I didn't see any. Last Light? Sold out. Emerge, from Pandasaurus Games? Gone by the end of the show's first day.
When I walked into the booth for Board&Dice, the team was putting up a sign that their hottest release of the show, Barcelona, had sold out. (Later in the weekend, Books of Time followed suit.) The next big Board&Dice release, Nucleum (designed by Simone Luciani and David Turczi), wasn't available for sale but it almost seemed like people committed to pre-ordering it based on what they saw at the booth.
Czech Games Edition was packed as usual, full of crowds coming to play back classics like Codenames and Galaxy Trucker. CGE's big 2023 release, Kutná Hora: The City of Silver, looks very interesting, and has the kind of dynamic supply-and-demand mechanics mixed with a main board that features a shared infrastructure that has me very curious. After getting an overview from our marketing contact, I'm excited to get my hands on a copy at SPIEL later this year. Lost Ruins of Arnak did steady business throughout the weekend and new expansion content also sold out during the show.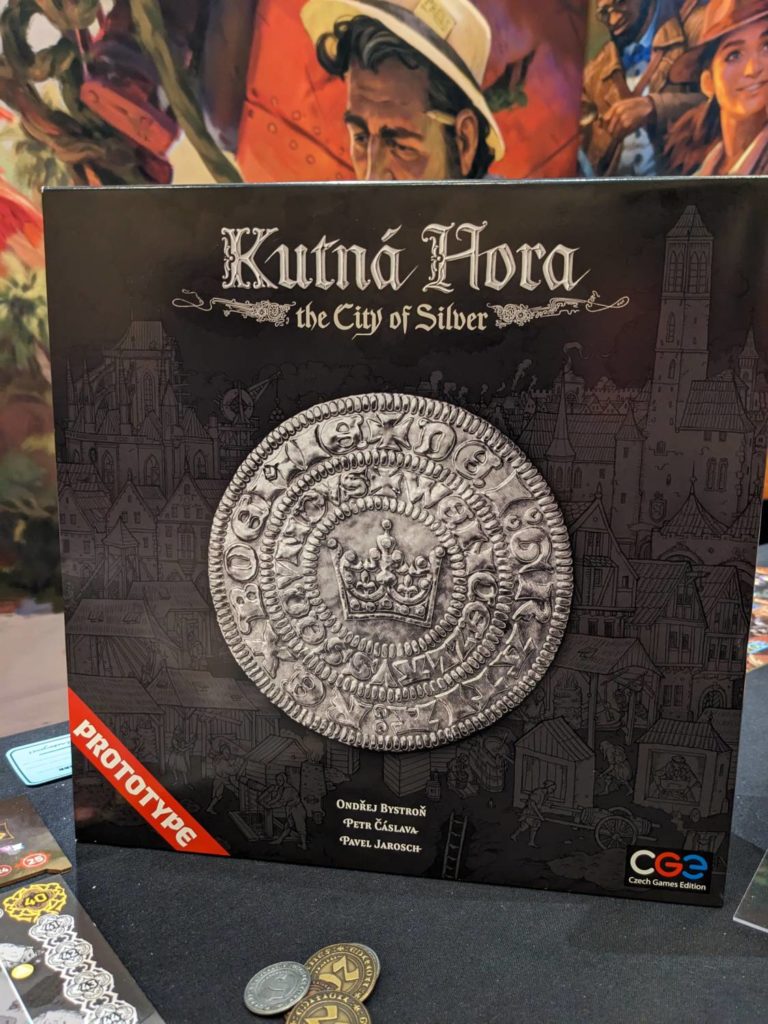 It was really exciting to see the Paverson Games booth crushed all weekend. Dave Beck, who runs Paverson and designed the company's first release, Distilled, was thrilled to see so much action at the booth and when I dropped by to do a quick walkthrough of Luthier: The Art of the Instrument (Paverson's next title), everyone in the booth was running around filling walk-up orders.
RPG booths were crushed. The artist area, where writers, painters, digital designers and others hawked beautiful products, was also pretty busy each time I used that area to try and skip out on some of the bigger crowds on the main aisles of the expo hall floor. Anyone selling anything seemed to have a great show. Dice booths got mobbed too; when I stopped by the FanRoll (formerly Metallic Dice Games) booth to chat with CEO Neal Hoffman, the booth looked like it was nearly out of dice.
Dice, people! Even dice got hammered at this show!!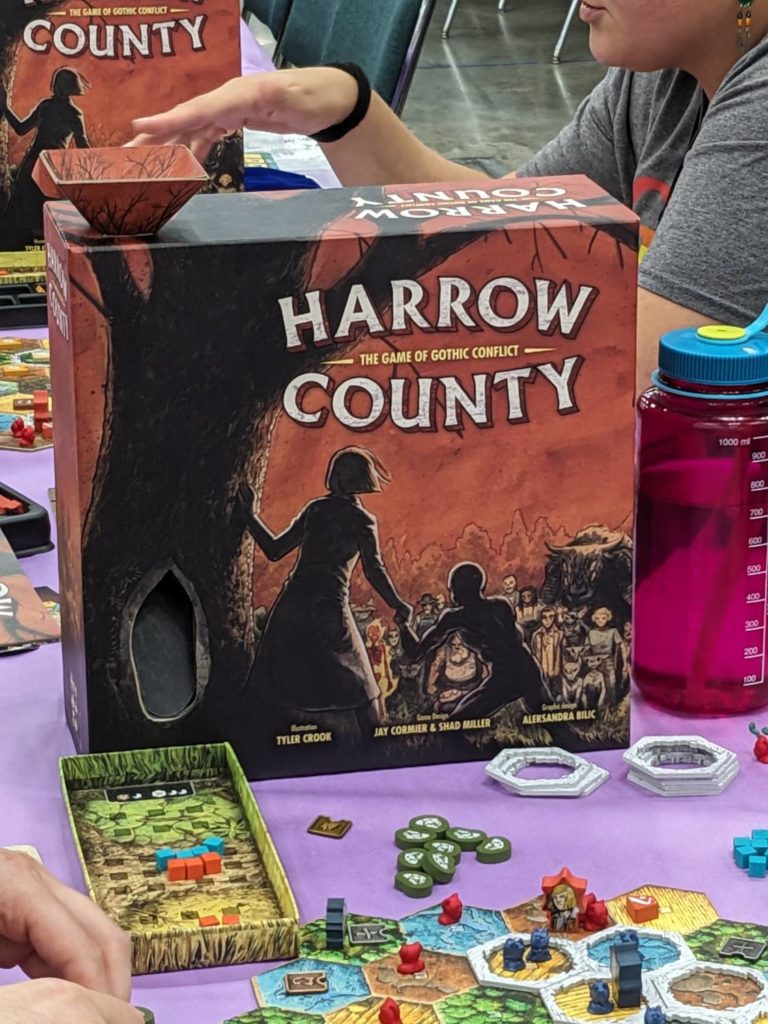 I spoke to at least eight publishers at Gen Con 2023 who literally sent staff back to regional warehouses to load another palette into trucks to get games to the show for Friday or Saturday crowds, because people were buying so much product. One of the booths near the Lorcana expo hall booth claimed that as bad as the foot traffic was nearby, people who stood in line for Lorcana had time to demo games from other vendors and buy product that they hadn't initially planned to buy. In at least two cases, publishers told me that when people found out that the game they wanted was sold out, they bought different games just to buy something anyway.
People came to this show with credit cards in hand, and they were buying. I won't share the name of the publisher, but one said that they did 43% better than they had EVER done at a Gen Con show…and that was before counting sales numbers for the show's fourth and final day.
"Our biggest regret is that we didn't bring enough product," said at least a dozen publishers, when I asked them how the show was going. Everyone agreed that the energy level was high, and I think that most people wished they had even 100 more copies of their hottest games because they all would have sold at slightly-elevated convention prices.
Did You Play Any Games?
I didn't have much time for games since I was on the run (as usual), but I did play three lighter games: CDSK (Randolph), GAP (Arcane Wonders), and Inheritors (NorthStar Games Studio), all of which will have reviews coming soon and all of which will be positive. I slipped in a three-hour game of Hegemony: Lead Your Class to Victory (my fifth play of the year, still the leader for my favorite game of 2023) and I sat through a game of Blood on the Clocktower, a game that continues to mystify me because I've never really loved my plays. However, it was great to take part in a 15-person BotC experience, the kind of thing that you only really get at conventions.
Not all of the games I saw at Gen Con this year performed well, though.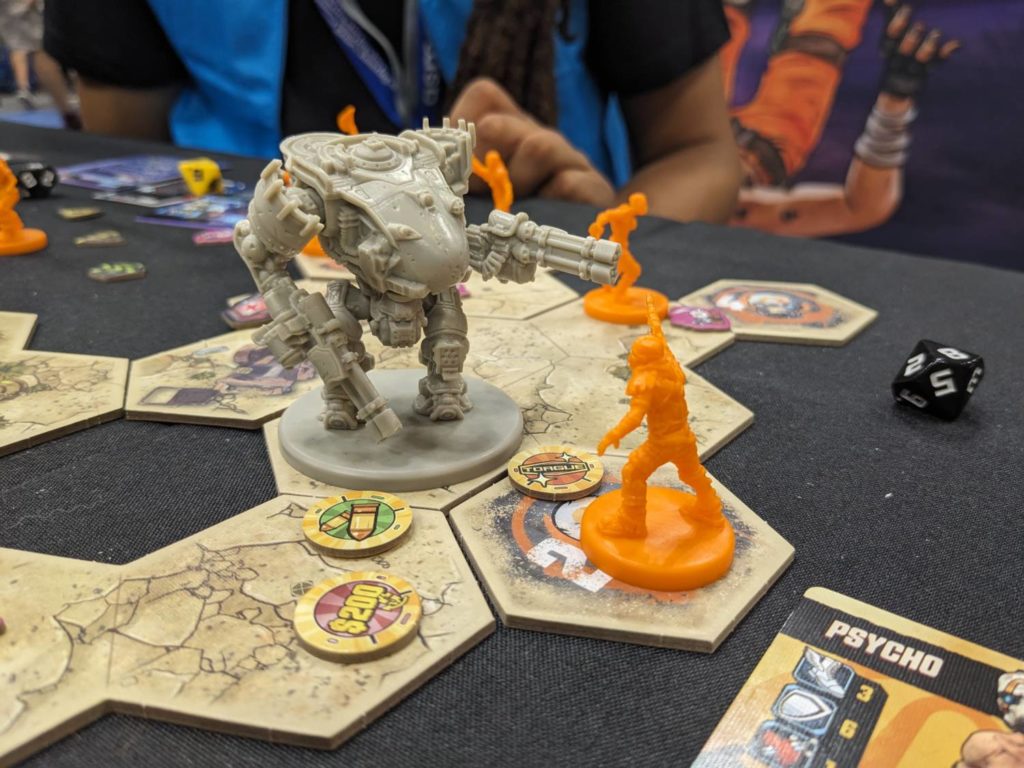 I did a demo of Call of Duty: The Board Game (Arcane Wonders) and came away disappointed with the experience. I'm a massive CoD junkie, and I had some reservations when the crowdfunding for this opened up…I'm sad to share that I believe those reservations were valid now that I've seen a version of the prototype. It's got guns, killstreaks, perks, and "Aim Down the Sight" (ADS), but the game's standard 1v1 format just isn't what people play CoD for. It is incredibly difficult to translate the fastest, most popular action game on the planet into a plot-moves-behind-player-screen programming game; Arcane Wonders has a great track record but this is a game I'm likely to avoid.
The only other demo for me was Borderlands: Mister Torgue's Arena of Badassery (currently a Monster Fight Club release but soon to be an Asmodee game). I'm a huge fan of the first two games in this video game series, and the design team got some of the touches right in the tabletop adaptation.
But the system isn't as dynamic as the video games in many ways, mainly in the way guns and loot are handled, which are the signature parts of the video games. I wanted a shorter game that lets me ogle all kinds of guns to see which one gives me a slight stats boost; instead, I have a miniatures game that could run 2-4 hours depending on the play of event cards, enemy spawns, and the like. There's a lot in the box but it has me worried about the end product. I'm hoping to get a review copy of this one to see where I land after getting more plays in.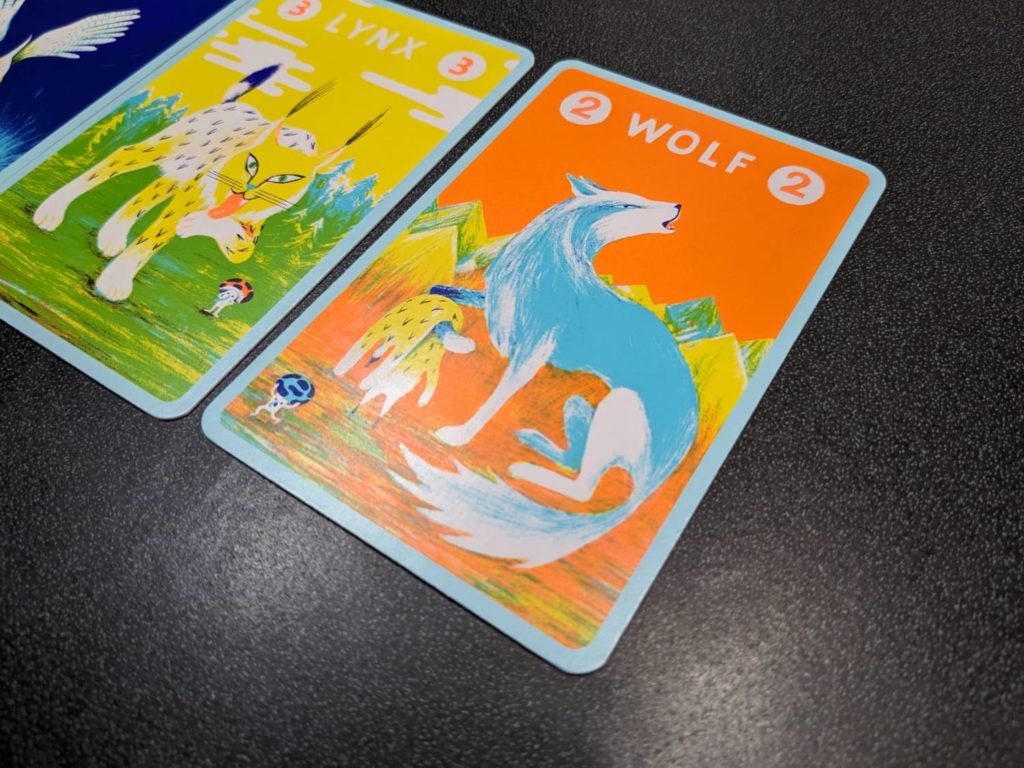 The Future: Indy Through 2030
The folks at Gen Con confirmed that this was the busiest show in its history. The Indiana Convention Center (ICC) was packed to the gills all day for Thursday, Friday and Saturday before a somewhat quieter Sunday. Lorcana lines sometimes wrapped around the building (both inside, and out, when lines queued up each morning); open gaming areas in hotels attached to the ICC seemed to be packed most of the evening, and the BGG "Hot Games" room was often packed, per friends who visited or worked in that space.
Heck, even Lucas Oil Stadium had big crowds during Gen Con. Yes, there is literally a professional football stadium that is used for some open gaming and game library activities, along with private suite events for meetings.
It led to me thinking for the first time: is Indianapolis big enough to host Gen Con if it continues to grow? A surprising number of people I spoke with suggested that Gen Con feels like an event that belongs in a place like Las Vegas or Chicago. In part, that's because Indianapolis has a pretty significant problem: hotel space is badly lacking given the size of this show. Many of my colleagues and friends stay at Airbnbs for Gen Con; others stay at hotels 20-40 minutes from downtown Indy.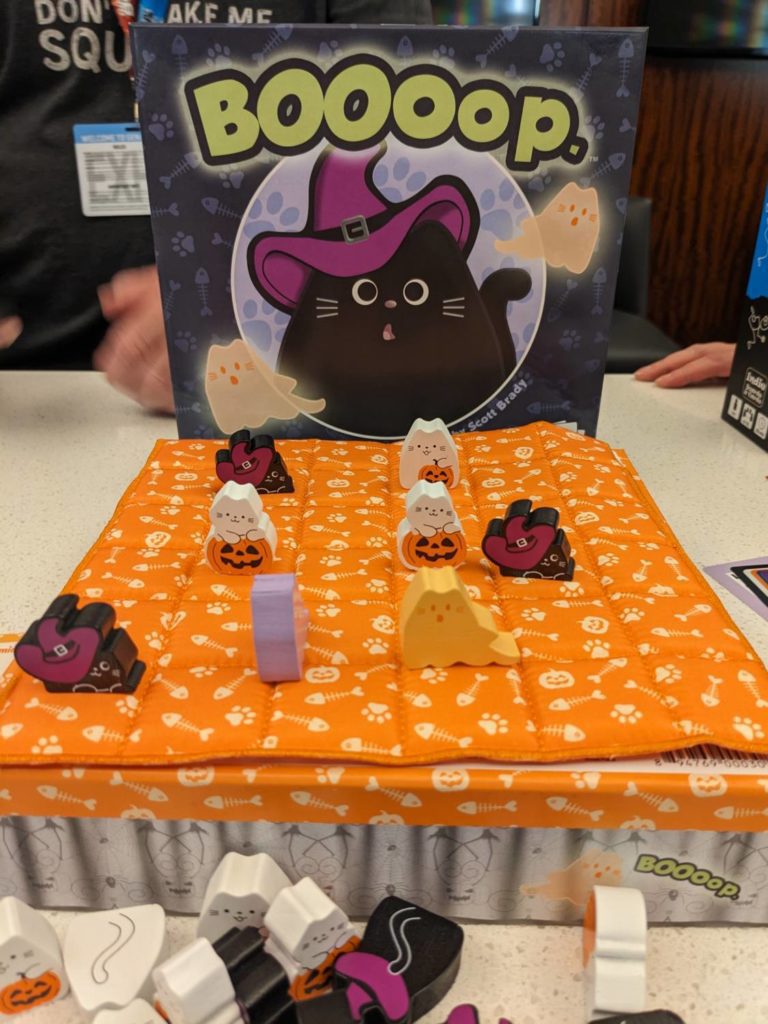 It wouldn't shock me if Gen Con is a 100,000-person event by 2030, if not sooner. That would put it on par with some of the largest shows in Vegas each year, below something like Consumer Electronics Show (CES), but on par with top-10 shows like MAGIC and ConExpo.
That would also mean the city's biggest problem will only get worse: hotel availability is sorelylacking. I'm still shocked at how easy it is to get a hotel room for the largest tabletop event in the world, Essen SPIEL. Last year, there were 150,000 people there, but I met people that were still getting rooms within 20 minutes commute a month before the show hit. I really hope Indy can establish more accommodations nearby in the years ahead.
For now, it's great to know that the tabletop business is doing so well that we're even talking about the host city. Despite the lack of big games—I don't think I saw anything that will become the next Codenames, Ark Nova, Heat: Pedal to the Metal, or something similar—I was really happy to see so many smiling faces spending so much money.
The Hobby™, as a business, is in great shape. With shows like SPIEL and PAX Unplugged on the near horizon, I'm excited to be a part of the journey at such a critical time!