Embrace your inner tourist in New Orleans by reading our review of French Quarter, the newest roll and write from the team behind Three Sisters and Fleet Dice.
New Orleans is one of the most iconic cities in the South, rich in history and culture, music and food. And the jewel of the city is the French Quarter, the oldest neighborhood in New Orleans; founded in 1718 by the French governor of Louisiana. The entire district is a National Historic Landmark and is known for its vibrant nightlife and colorful buildings with cast-iron balconies. The French Quarter is home to many historical landmarks, as well as a wide variety of museums, art galleries, restaurants, and shops. Occupying a full 78 square blocks, the neighborhood stretches from the Mississippi river in the south, north to Rampart St, and west to east from Canal St. to Esplanade Ave.
And it's oh so right that we'll be visiting the French Quarter as we play…French Quarter, a strategic roll and write from the minds of Hill, Pinchback, and Riddle, the team who brought you Three Sisters, Fleet: The Dice Game, and Motor City.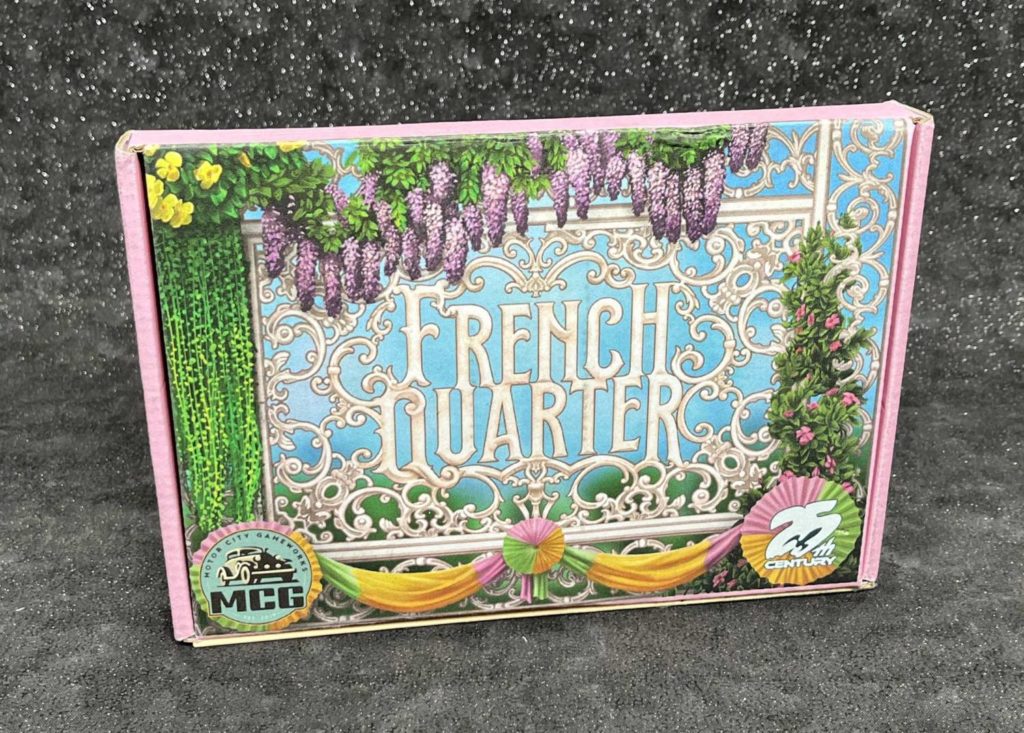 French Quarter Overview
Like its siblings, French Quarter is a "heavy" roll and write game which invites players to visit the iconic New Orleans neighborhood. Over the course of 8 rounds players make their way by foot, carriage, streetcar, taxi, riverboat, visiting various restaurants, stores, museums, famous landmarks, and soaking in the street performances on every corner.
In addition to the ever-present dice, French Quarter also introduces several slim decks of cards, the travel decks, which serve as both a game timer, and help make this title even more unique.
The goal of the game is to earn the most points from your visit. You'll earn points in a number of different ways: following the second line parade, seeing street performers, and visiting buildings on each of the 5 main streets in the game (Decatur, St Peter, Conti, St Ann, and Bourbon). You might also earn bonus points by traveling to a handful of buildings which offer special scoring opportunities.
How to Play
To set up the game: create the dice pool based on player count using the chart in the rulebook. Shuffle each deck of cards individually, then lay them out on the table, dealing 1 card from each deck face up. Give each player 2 scoring sheets (one featuring the city blocks, the other featuring the balconies of famous French Quarter streets). Roll a die to determine where the second line starts, then have each player mark it off on their score sheet. Finally, each player takes a tourist marker and places it on the Ama House Hotel space on the map.
The first player rolls the dice pool, then places each die on the matching color travel deck as you see below: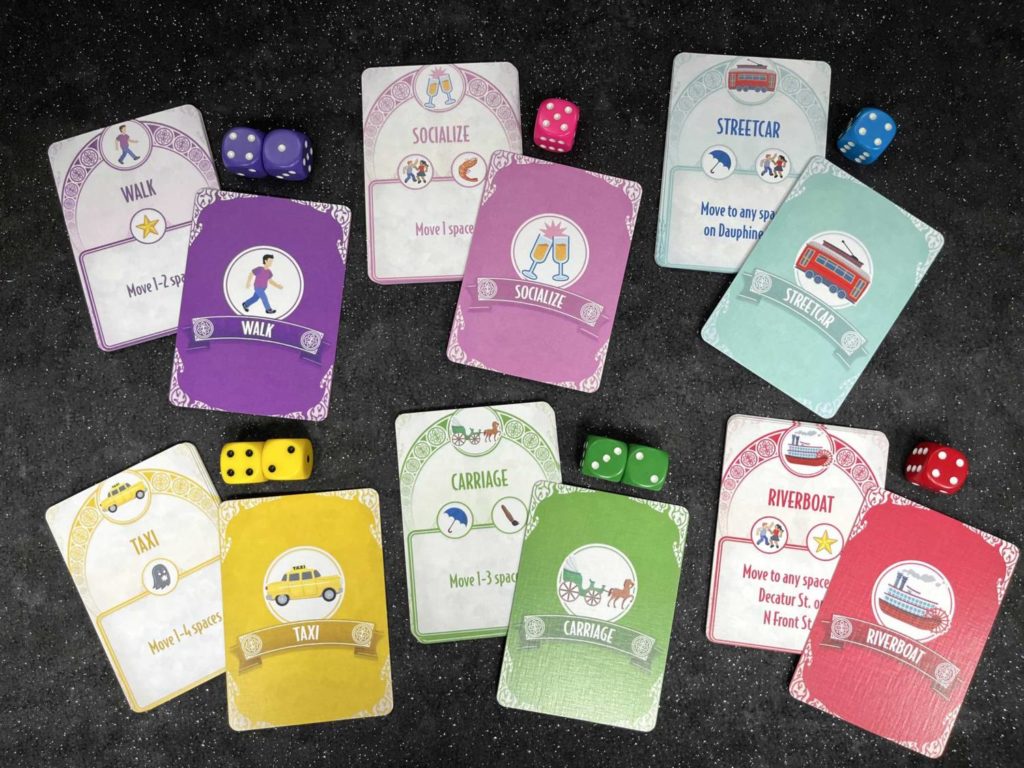 In addition to the Planning and Cleanup phases which happen at the beginning and end of every round, players cycle through the Travel and Second Line phases as shown below until each player has selected two dice.
The Travel Phase
On your turn select one of the available dice and do the following:
Card action: Mark off the icons on the card matching the die you just took.

The icons will be a combination of activities (shopping, culture, partying, food, and mysticism), umbrella, or wild.

Movement action: Move your player piece to a new building, a number of spaces equal to that printed on the card.

There are 6 different movement types: strolling (the Socialize card), walking, carriages, streetcars, taxis, and riverboats, and each one offers a different option for moving.

Building action: Mark off the icons shown on the building you land on (if any)

In addition to the card action icons, building icons also include street performers.

Map action: Write the number of the die you selected in the empty white space on your map.

The catch here is that in order to write a number onto a building space it must be within 1 number of every building next to it (not counting empties). In other words if you're next to a building with a 4 on it, then you can only write in a 3, 4, or 5. Tricky!
The Second Line Phase
One of the card decks triggers a movement of the second line parade, although this phase might not happen every round.
After the Socialize die is selected, that player dictates in which direction the second line advances. After the parade moves, players check off 1 box in the second line area for each building they've previously visited, which faces the second line's path. If you're lucky you can rake in quite a lot of points, since you'll always receive the same points earlier in the path, in every turn which triggers this phase.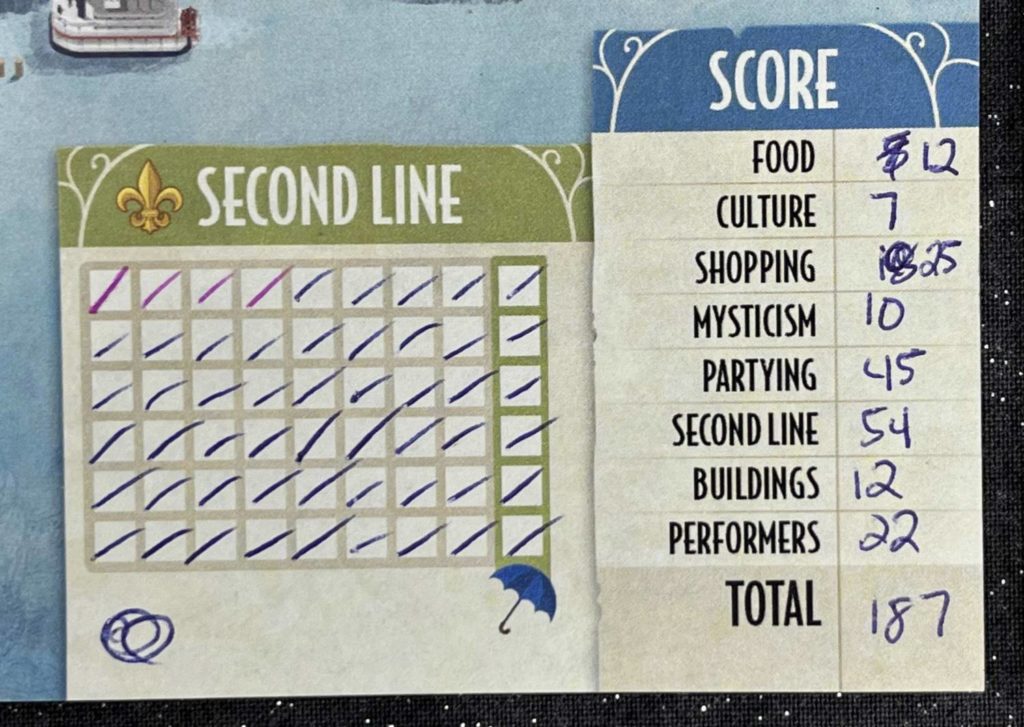 Ending the Game
After all 8 rounds are completed, players tally up their points in the following ways.
Activities – Count up the number of buildings you visited, and multiply it by the highest score multiplier you achieved for that activity.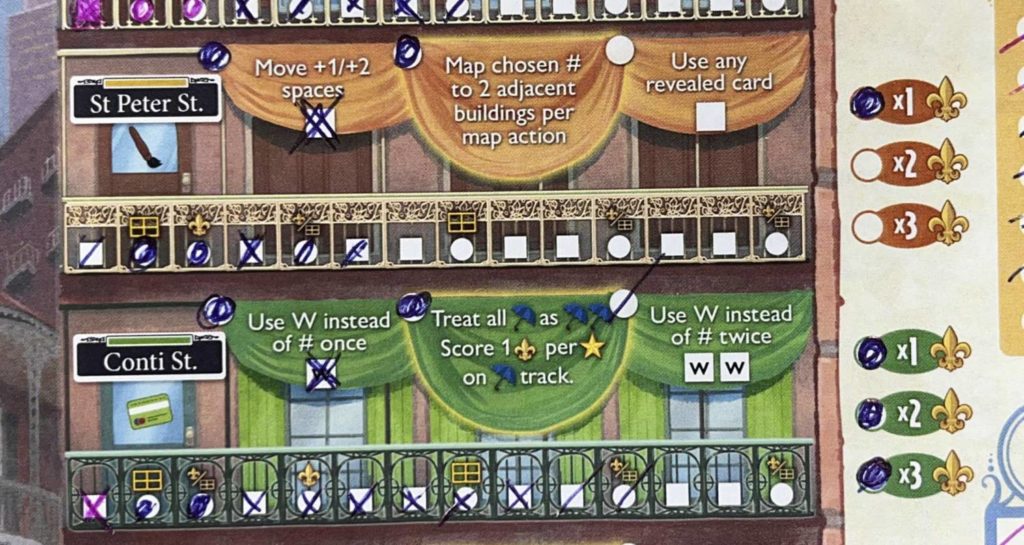 Second line – Give yourself 1 point for each checked box in the second line scoring area.
Buildings – Several buildings have bonus scoring opportunities.
Performers – For each unique set of performers, score the point value matching the number of performers you saw.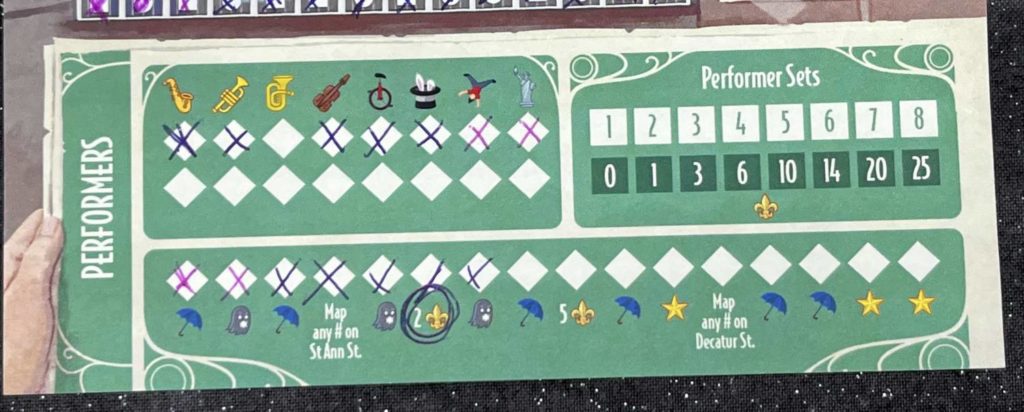 French Quarter Final Thoughts
I've never visited New Orleans, but I've seen it plenty of times on TV: travel shows, cooking shows, and TV dramas. And I've always been struck by just how much variety there is, and in the case of the French Quarter, it's all distilled down into about a square mile. So how does that transfer into this game? Pretty darned well actually. You're visiting areas of the city, using different common types of transportation, and doing popular types of activities…all in the context of these iconic streets—I mean who hasn't heard of Bourbon St.?
But how does it play? Also really well. I was a bit mystified by the card decks at first, but after realizing they acted both as an extra bit of variability and as a game timer I really liked them. They add just enough difference in the icons which appear on each card, that they can actually influence your selection. Maybe you were thinking you wanted to move 4 spaces to get to a street performer, but the Riverboat card came up with shopping and partying icons AND also let you jump across the board straight to a building on Decatur St., and you just couldn't pass it up.
French Quarter is very much a game of optimization: with more than a dash of luck, and it's also very puzzly in the way that Sudoku is. Mapping the buildings (writing in the numbers) is an ever-increasing challenge as you make your way to and from various sections of the map. But sometimes you don't have a choice because you're looking to nab the elusive Statue of Liberty street performer.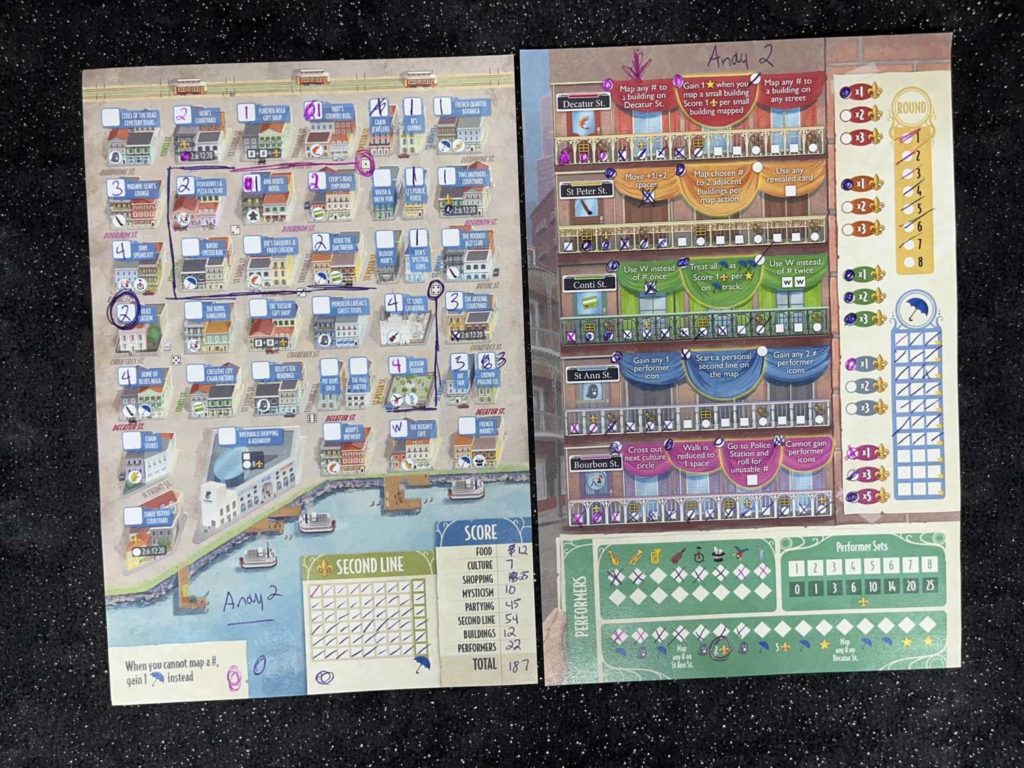 Combo Combo Combo
"Let's cut to the chase", you might say, "how're the combos?" To which I'd answer "choice!".
French Quarter is about the same complexity as Three Sisters. And if you recall my sentiment about Motor City, it had just a bit too much for me. Which means that French Quarter has just the right amount! Every icon you mark off contributes to at least one combo: every third umbrella allows you to check off a bonus activity, every street performer allows you to mark a bonus icon (an umbrella, bonus activity, an activity multiplier, or even being able to map a free building). And don't get me started on the activity combos themselves.
Every activity balcony (corresponding to a street)  has a number of windows behind them. As you check off activity spaces, you'll slowly unlock special abilities (either one time use, save for later, or end of game scoring), as well as critically important multipliers for end game. French Quarter is definitely a game that requires you to make at least some moves in every area or risk being left behind.
If the theme resonates with you, and you're interested in virtually visiting New Orleans, then back French Quarter on Kickstarter and "Laissez les bon temps rouler" (let the good times roll).