Act as an agent on a top secret mission, climb aboard a space station, or visit the dentist in Escape Room: The Game II. Read our spoiler-free review to learn more.
In this review anything that might be considered a spoiler is hidden in a collapsible window with a spoiler warning on it. In all other ways, this review is spoiler-free.
Escape Room: The Game (Escape Rooms II) is, as the title suggests, a tabletop escape room simulation which can be found at big-box stores like Walmart and Target. This version of the game is the followup to Spin Master's other release, Escape Room: The Game. Both versions are cooperative and play the same way, but there are different scenarios included in each box. In Escape Room: The Game (Escape Rooms II)—going forward simply referred to as ER II—there are three independent scenarios which increase in difficulty. The Secret Agent scenario is the first and easiest, followed by The Dentist, and finally Space Station, which is the most difficult. Like many escape room games, each scenario in ER II can only be played through once. However, Spin Master has found a way to solve the destructive nature of this style of game: any component that needs to be "used" in some way will have a printer icon. If anyone else wants to play the game, they may simply go to the Escape Room website, download, and print new versions of these components.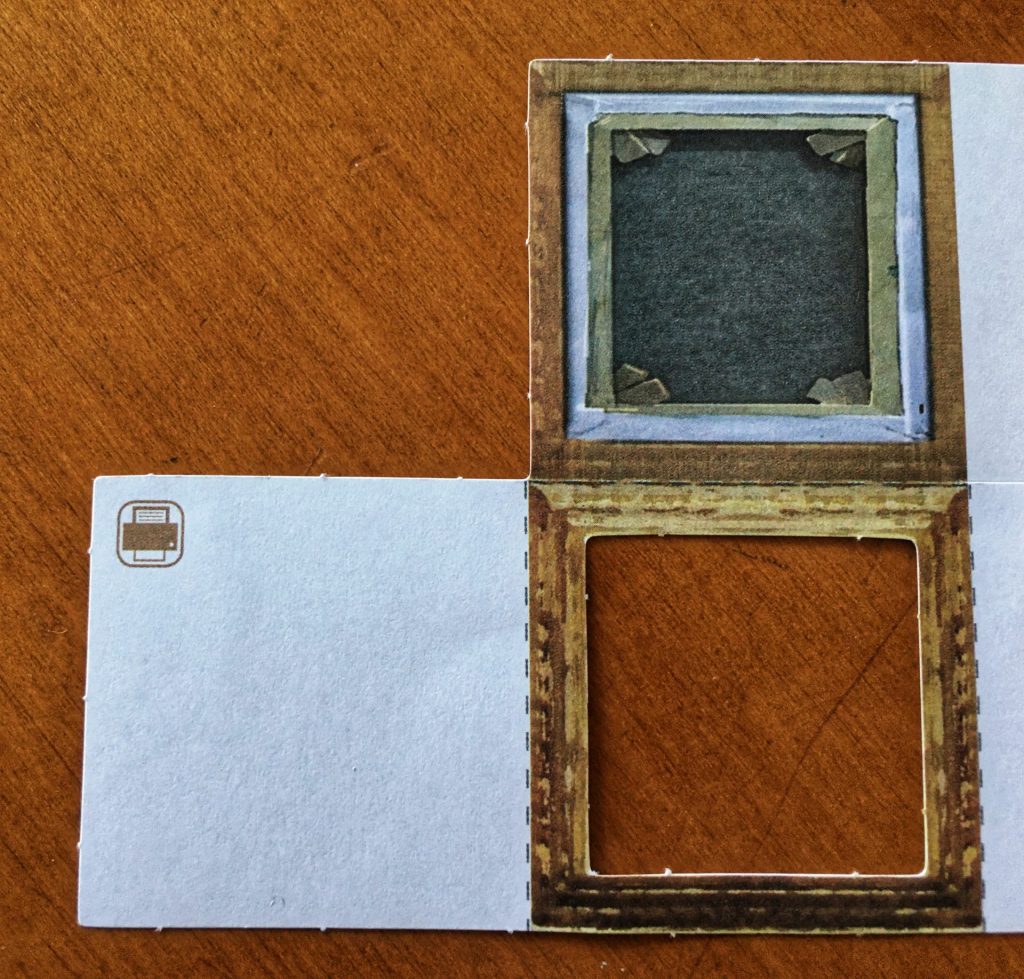 Winning The Game
Every scenario in ER II has three Parts and in each part, you are looking for a single, four Key solution. The Chrono Decoder is programmed such that if you try playing these parts out of numerical order, your attempts will always be incorrect. This also keeps you from accidentally breaking the puzzle sequence.
If you correctly enter the final code in Part 3 within the 60-minute timer, you win the game, the timer stops, and you hear celebratory music. If not, you'll hear the sad music, but you may still continue playing the scenario beyond the time limit and entering codes. Your score will be the time remaining on the clock, much like a real escape room (even though I wish there was some sort of other rating system).
Escape Room: The Gameplay
Each scenario in ER II is divided into three Parts and packaged in separate bags in the game's box. Within these bags are three envelopes for each part of the scenario and Hint cards. The exception is the first scenario, Secret Agent, which also has the Hint Card Decoder.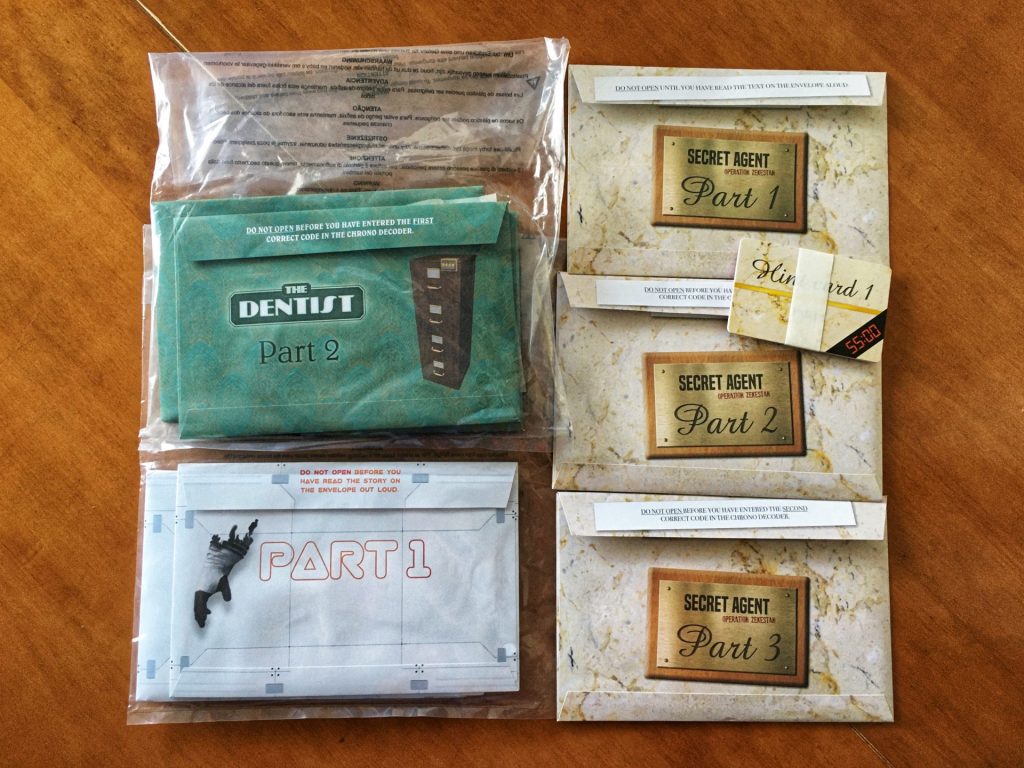 The components within each envelope are listed under that envelope's flap. You are advised to check that all the components are included before you start trying to solve a part. However, you may only open an envelope once you are instructed to do so.
In the game box, you will also find an electronic Chrono Decoder (batteries not included) and Keys. These two components work together like a lock system: once you have a solution to a part, you use the four Keys matching this information and insert them in the Chrono Decoder. If you're correct, you'll hear a "confirmation" sound, but if you're incorrect then you'll hear an "error" noise and will incur a one-minute time penalty, which is deducted from the 60 minutes you have to complete a scenario.
The Keys
There are six different key sides in ER II and each contains different information.
Looking at one side of a single Key, you will find eight pieces of information: a Roman numeral, a dot, an arrow, a letter, a digit, a zigzagged edge, a shape, and a shape bottom. A solution comprises four Keys using one type of information. For example, a solution might be the Keys B, A, F, and E. It will never use multiple types of information like C5Ⅲ⋄.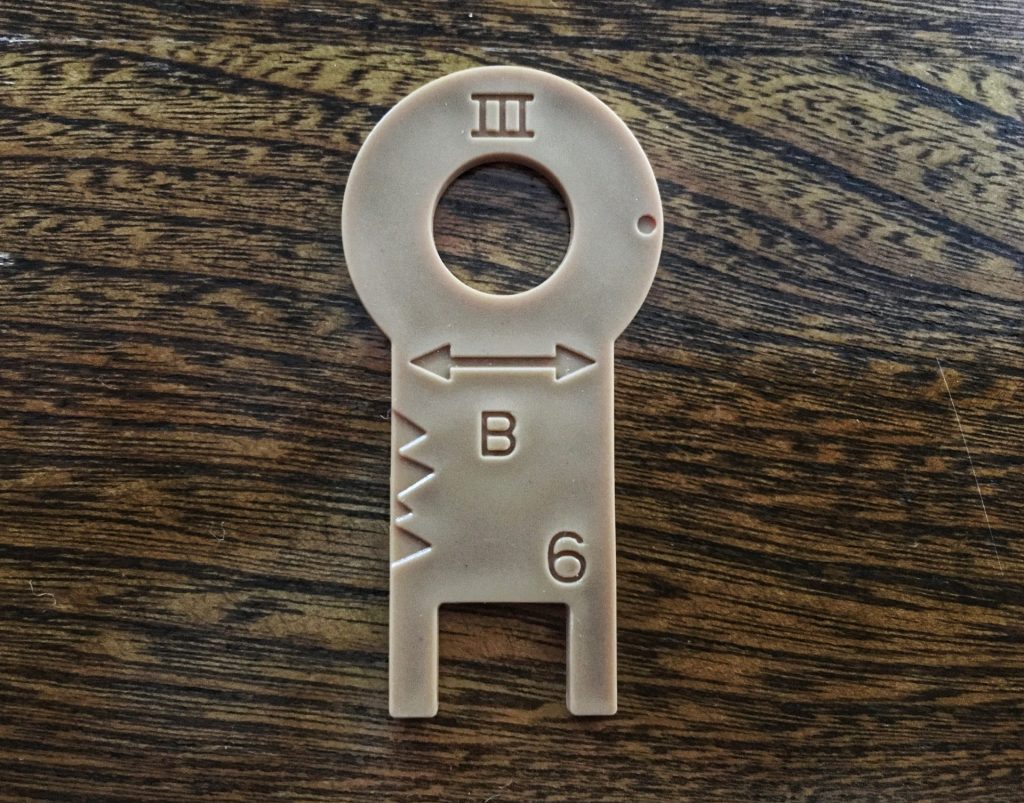 The Chrono Decoder
While the Chrono Decoder is used to input your answer and keep track of your remaining time, it also features important information. Observing the Chrono Decoder, you'll notice an alphabet and digit cipher discs, a ruler, Morse code, a Polybius square, and a Rosicrucian cipher.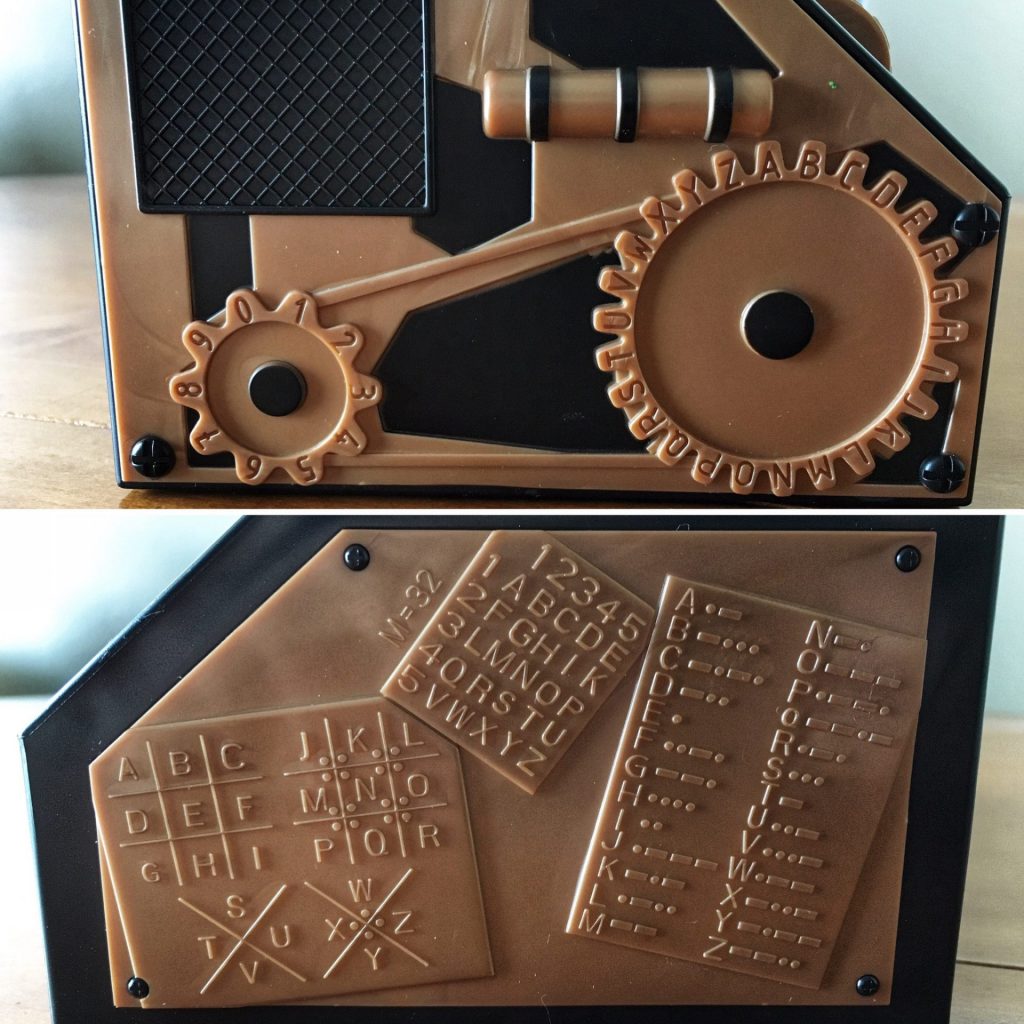 During a scenario, you will likely have to use the Chrono Decoder in some way, often deciphering information using a decoder system. When you encounter components with the ER logo, this is a prompt to use the Chrono Decoder.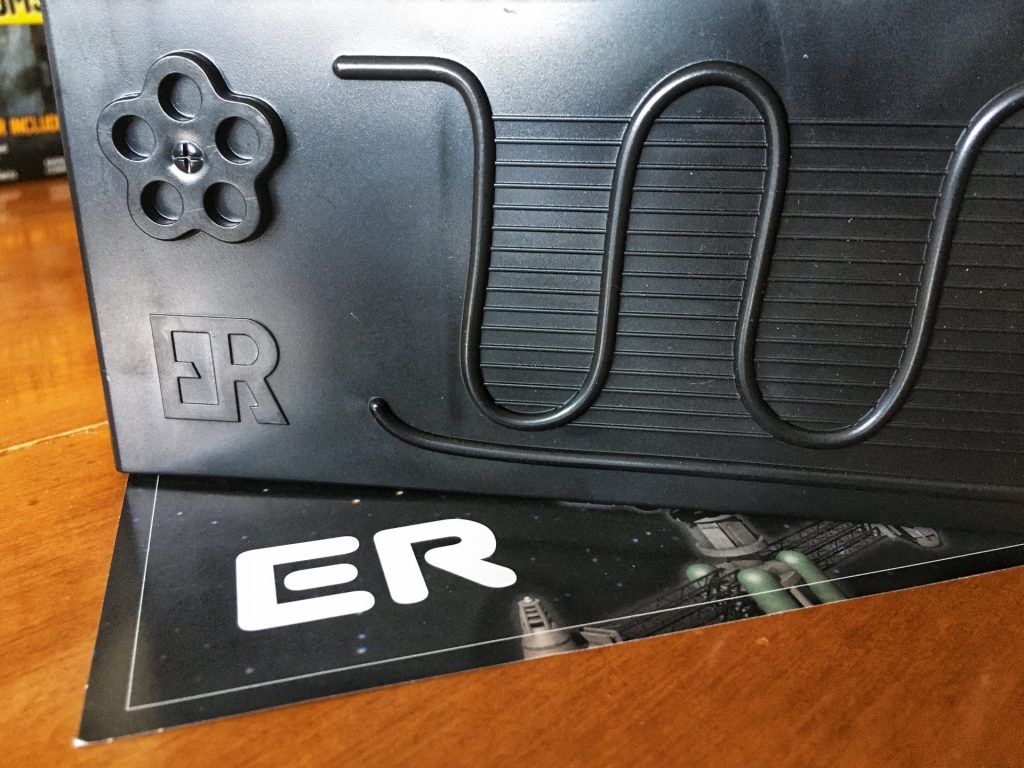 The Hint Cards and Decoder
Along with the usual components for a scenario, the Secret Agent also has a Hint Card Decoder. This tool helps you read a Hint card when you slide it in. The Hint cards all have a time and part listed on them. You are allowed to use a hint only after the indicated time has passed. The Chrono Decoder also reminds players of this by playing a "ding" noise when it reaches hint times.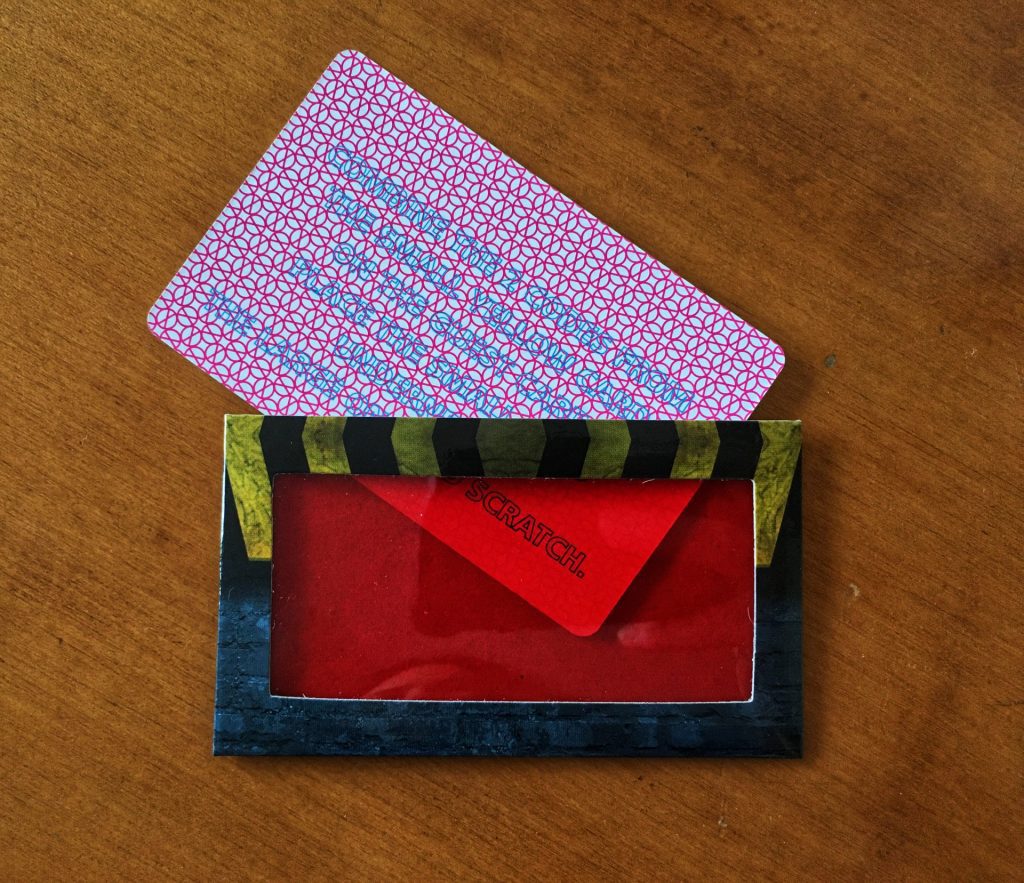 The Scenarios and Puzzles
Secret Agent: The setting for the Secret Agent scenario feels all too familiar given the current political climate. Essentially you are a team of secret agents who break into a government building and steal microfilms containing important information about a powerful secret weapon. Overall the scenario was good, but I found some puzzles were not as clear as they should have been.
The Dentist: This scenario begins with you waking up in your dentist's waiting room, after being sedated for a routine extraction, along with several other patients who are slowly regaining consciousness. Not surprisingly, the dentist is a bit of a sociopath. As far as Escape Room: The Game scenarios go, this one was very thematic—dare I say, the most thematic. There were many cool components, but they didn't deter from the puzzle difficulty.
Space Station: You also begin this scenario unconscious. As you come around, you are tasked with taking control of a Russian space station after those who were going to show you the way died in the explosion that knocked you out. The Space Station scenario is supposed to be the most difficult of the three, but it didn't feel like it was. It was challenging, but all the puzzles and clues made sense with the story such that the experience just flowed. My only complaint is that you need to have an idea of current events for one of the puzzles, but the rulebook does say you may use the internet during gameplay.
Each of these three scenarios essentially consist of 3 really big, difficult puzzles, corresponding to one Part of the scenario. Within these big puzzles, you must solve many little puzzles which will eventually lead you to a solution. Because of this, ER II as a complete package (all 3 scenarios) is one of the most challenging escape room board games I've played. When you are working to solve a small puzzle, you know pretty quickly whether you've done it right or not. However, when each small puzzle leads to another puzzle, which then leads to one of the Keys for the Part's big puzzle, it becomes more difficult to know whether you are on the right path or if you are just grasping at straws. This is where the hints can be quite helpful.
Playing through ER II, I also found it to be the most diverse escape room game I've played: there is a good variety of puzzles within each scenario, as well as the base box, and the themes aren't typical (even if they do usually involve a psycho).
6 Tips to Get the Most Out of Escape Room: The Game
Take note whenever you see "ER" on a component. It is there to remind you that you must use the Chrono Decoder with the component in some way.
Familiarize yourself with the Chrono Decoder and the Keys (and all their information) before you begin a scenario. Re-familiarize yourself if you space out your plays of each scenario.
Use the hints. They will either simply confirm what you already know or they will prevent your group from heading down the wrong path.
Think thematically and try to really get into the setting. It will probably save you some time and help you understand clues if you do.
A larger group is better for playing Escape Room: The Game. You will benefit from bouncing ideas off each other much more than other escape room games.
Check that you have fully inserted the Keys in the correct order and the right orientation. There is lots of information on the Keys and it's easy to mess up.
Final Thoughts
You may have already gathered that I enjoyed playing through Escape Room: The Game (Escape Rooms II), mostly because I appreciate the themes, the challenging puzzles, and the variety within the game. Nonetheless, I was disappointed by the anticlimactic endings. If you're successful, each scenario ends with the celebratory "Ta-Da" music, but that's it, there is no conclusion to the story. Sure, you can assume you have just completed whatever your mission was for the scenario, but I still would have liked to read about how the scenarios ended.
<b>Spoiler warning:</b> If you would like to see a picture of my favourite parts from each scenario, click here.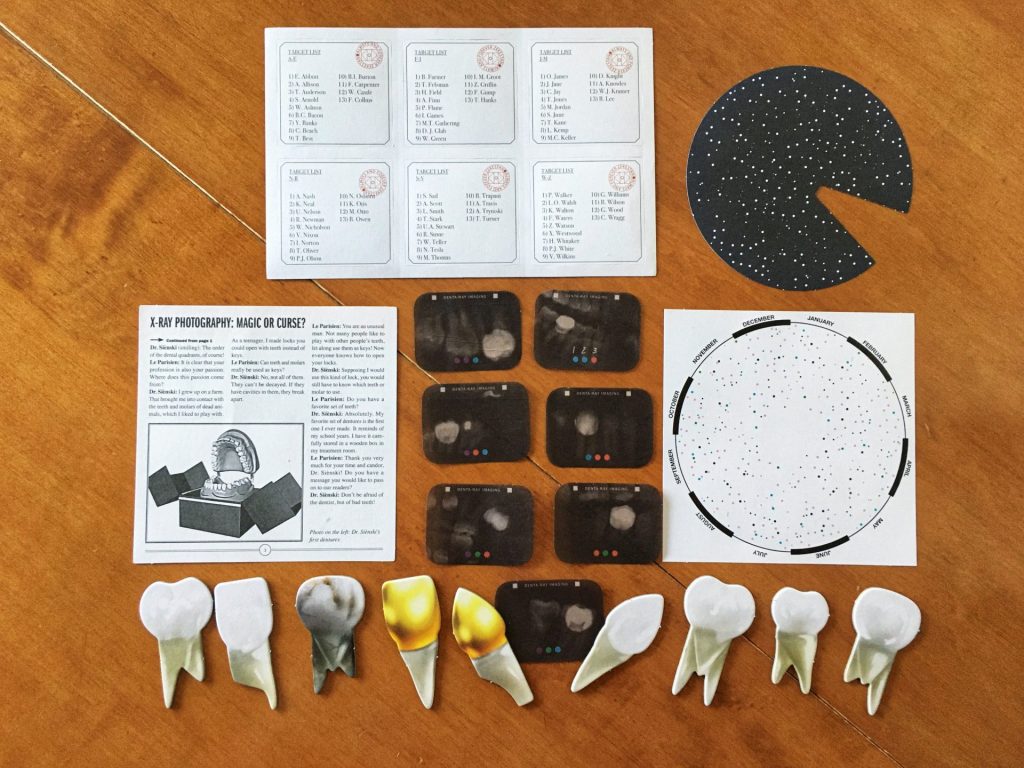 The suggested player count is 3-5 and while you could successfully disregard this by playing with 2, I wouldn't suggest trying it solo. There are many puzzles which are quite difficult to play on your own because the game and the solutions really encourage, and come through, in discussions with other players. This is true for this escape room game more than any of the others, all of which I have tried playing solo.
The recommended age (16+) is also more important for Escape Room: The Game than I've found it to be in others. This age suggestion is as much for the more mature nature of the game and some of the themes as it is for the puzzle difficulty.
I love that Spin Master has come up with their own solution for component destruction in this escape room game, but I also appreciate that they have walkthroughs for each scenario available for download on their website. On top of this, they have even protected the walkthroughs with a test question so you don't accidentally stumble across information you weren't seeking out.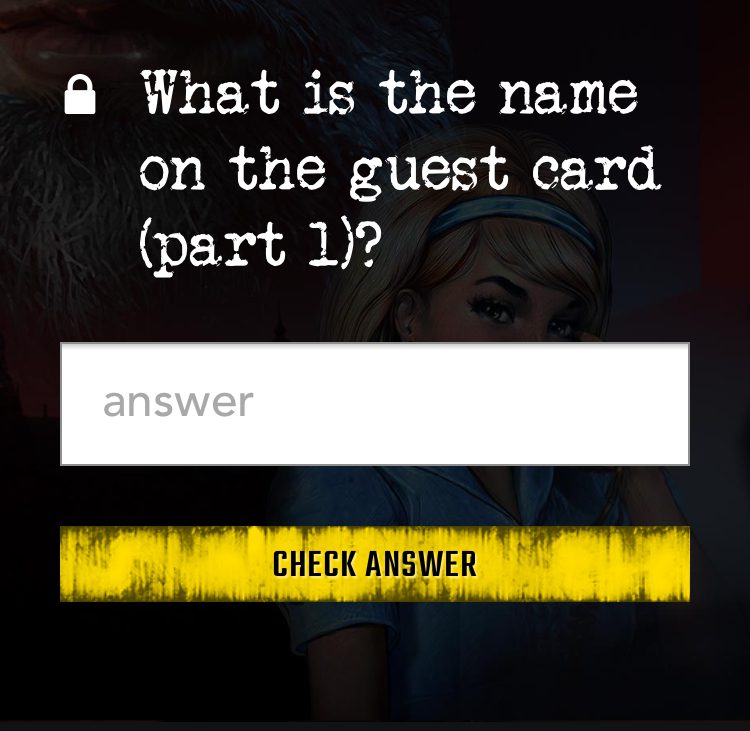 I guess my biggest complaint with Escape Room: The Game is that the Chrono Decoder doesn't always accept a code the first time, even when it is correct and the Keys are fully inserted. There are also no reset instructions so it's sometimes hard to know if your solution is really incorrect or if the Decoder is remembering the Key that you accidentally inserted in the wrong slot earlier. After all my plays, I still haven't figured out the correct way to insert the Keys or if it even matters; do I push each Key down one at a time from left to right or can I push them all down at the same time, for instance?
Escape Room: The Game (Escape Rooms II) is a challenging and thematic escape room game that is luckily widely available in big-box stores, as well as hobby stores. If you want an escape room experience that will draw you in to its gameplay, look no further than Escape Room: The Game.
Thematic Music for Playing Escape Room: The Game (Escape Rooms II)
For each scenario I have selected mostly instrumental music to minimize unnecessary distractions. The Escape Room: The Game app has music available in it if you would rather listen to that during your gameplay.
Secret Agent
GoldenEye 007 Soundtrack by Grant Kirkhope, Graeme Norgate, and Robin Beanland
Songs to check out include: Theme, Antenna Cradle, Dam, and Runaway.
The Dentist
Songs to check out include: Saudade Fêz Um Samba, Lobo Bobo, and Desafinado.
Space Station
Songs to check out include: Debris, The Void, Don't Let Go, Tiangong, and Shenzou.
---
Looking for more Escape Room: The Game fun, read our review of the expansion packs (Welcome To Funland and Murder Mystery) to see if they're for you!