Help us recognize exceptional games by voting for your favorites in the 1st Annual Meeple Mountain Board Game Awards.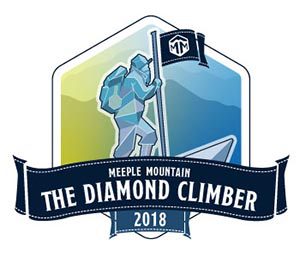 This year, Meeple Mountain will be running our very first Board Game Awards. Titled The Diamond Climber, this award is an accolade for exceptional games in their categories. The Meeple Mountain writing team will be nominating and voting on titles in each of these categories internally, but we also want the gaming public to weigh in on your favorite games.
Pick a game, any game, that you think is most deserving in any of these categories and simply write it in. Voting will run until the end of the year, and in January we'll announce our picks and yours at the same time.
The rules are simple.
• You may choose one title per category.
• You may only vote a single time.
• All titles must have been released in the USA in 2018. In the case of Kickstarter games, the game must have been received in 2018.
Voting is now closed. We've announced the winners of the first annual Diamond Climber board game awards. Head on over to the announcements page to see which titles won!.