Bob finally went to a convention—for a day. Well, for most of a day. Join him for a peek into the 2023 Origins Game Fair in Columbus, OH.
As my wife and I walked along the front of the Exhibition Hall at the Origins Game Fair, several of my personality quirks kicked into gear, the quirks that have kept me from attending a game convention to date. The most summary quirk is this: Bob is an introvert, and a fairly private one. It's not that I can't function in large crowds or bustling environments, it's that I'd rather not. Public speaking is easy enough, meeting people is fine, and parties can be fun, but I'm happiest when they're over. Joy is when I'm back at a table of family or friends in some quiet dining room in a little rural town in western Pennsylvania. Maybe this explains why I chose the first day of a very manageable convention as my first experience.
We walked the front of the room calmly and I said, out loud, I guess we have to get in there.
Get in there
Our first booth was actually one of our favorites. Last Night Games is Nate & Jake Jenne, two brothers that live around the corner from each other who design family-style games into the night, sometimes long after their kids are asleep. Mostly we chatted about their flip 'n write gardening title, Horticulture, and their beautiful little goldfish game, The Finest Fish (which was also featured as an oversized floor game across the hall). We chatted a bit about their upcoming dice drafting game and moved along, and I started to think maybe I'd survive the day after all.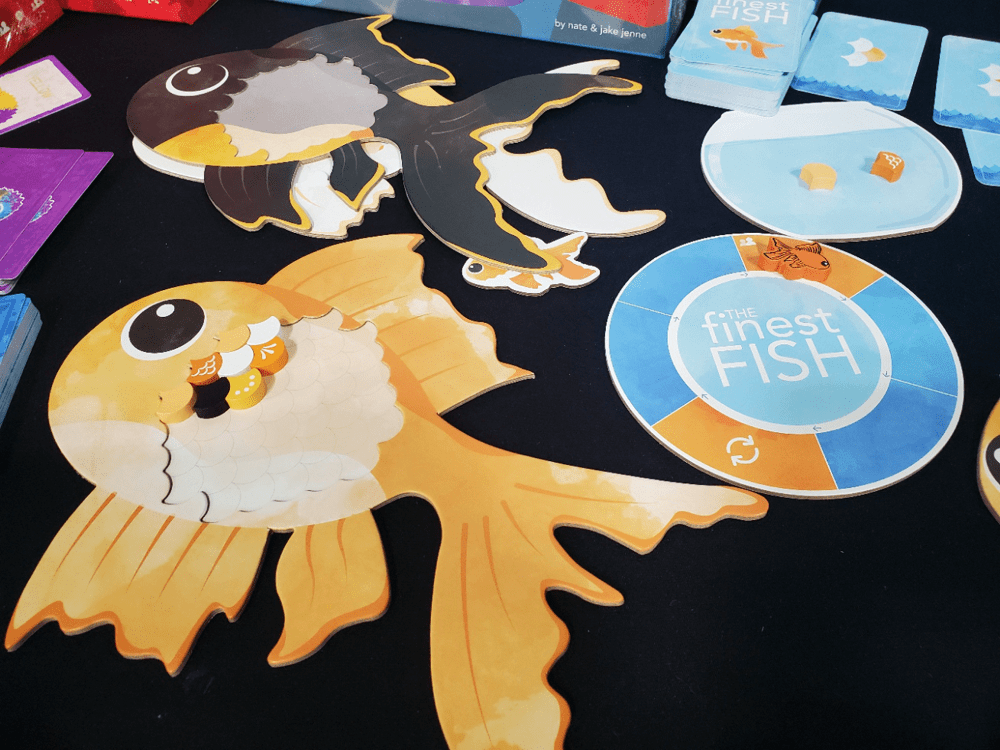 Sean Fletcher took us on a tour of new offerings from The Op. Fletch's design Disney Sorcerer's Arena: Epic Alliances, which I reviewed last year, has churned out four character expansions. The newest, titled At the Ready, introduces Mulan, Robin Hood, and Mrs. Potts (the teapot goes to battle!!) to the arena. He was also pretty excited about Express Route, a co-operative delivery game featuring trains and evolving special abilities. He also touted the portability of What the Cup?!, a game styled after liar's dice that's designed to drop onto a table at the restaurant or pub.
Wise Wizard is known for their ever-expanding deck-builders, Hero Realms and Star Realms. Both always have new materials moving into the limelight. But this year's buzz is around Kapow! a dueling dice-builder in the style of Dice Forge. Players take up the—ahem—roll of a super, using their standard dice and building their modified dice according to their heroic or villainous desires. Two volumes mean the possibility of a four-player game, but this one's primarily about the duel. Another upcoming deck-builder that Kickstarted last year, Robot Quest Arena, wasn't at the show, but should hopefully see daylight around GenCon.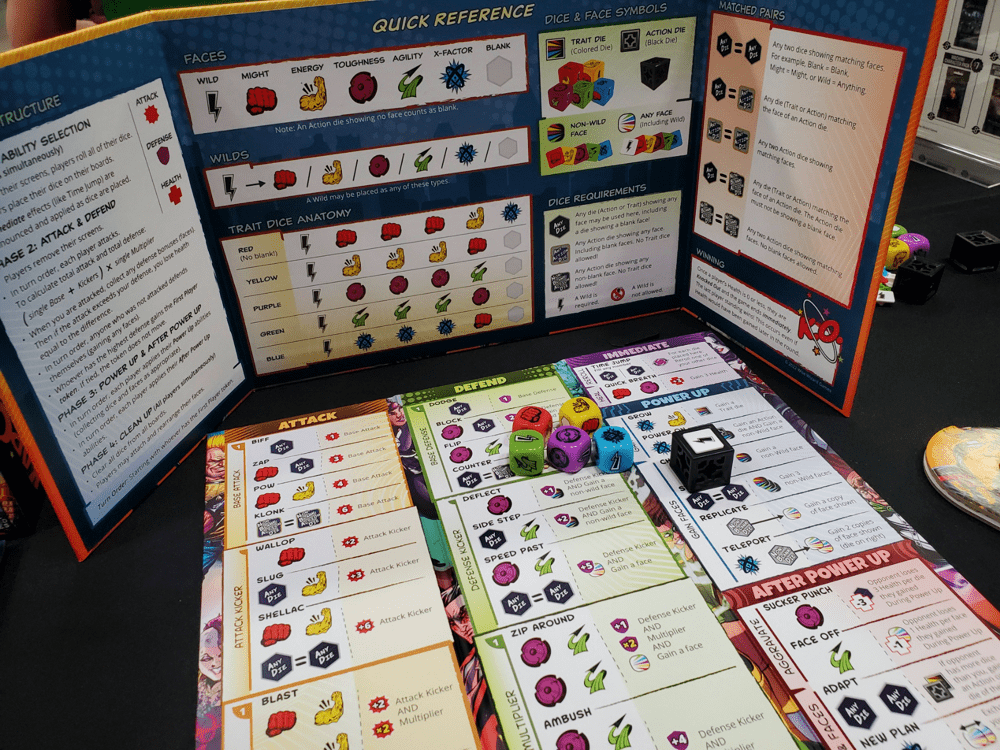 I stopped to chat with Dave Beck from Paverson Games, whose Distilled drew a substantial crowd throughout the day. Mainly I wanted to ask him about Luthier. Apart from a single Vincent Dutrait illustration at the booth, Luthier dwells in the realm of mysterious anticipation. Players become families of instrument-makers attempting to equip the local symphony. The worker/action-selection mechanism dwells around the fact that each member of the family has a different capability/value. Deciding how to employ every disc/marker well creates the tension. For now, though, like so many others, I'll just have to keep waiting.
Even though it wasn't out on the table, I was excited to rifle through an open copy of Mother of Frankenstein from Arcane Wonders, a puzzly literary gem in the escape room style. I've had my eye on it for a long time and it was nice to get a feel for the production quality. The AW team was highlighting Dubious, a social deduction game, all over the convention center, and it was definitely the focal point of the booth. In the oddest surprise, we were drawn to Sherlock 13, a ten-year-old Clue-ish deduction game.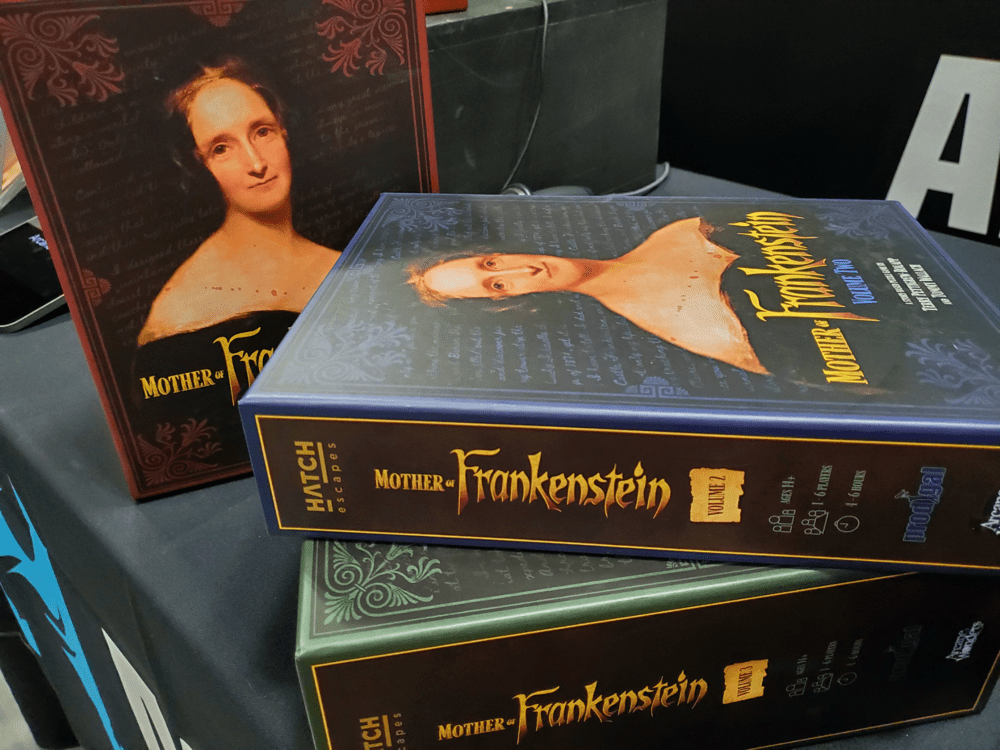 Capstone Games is always a fun stop, and we definitely enjoyed getting the rundown on several titles. Folks were enjoying Wandering Towers and, of course, Ark Nova. But it was Beer & Bread from Scott Almes that caught our attention. As a fan of Boonlake, I was also excited to chat about the upcoming expansion material, though it's not likely to be visible until Essen Spiel later this year.
Designer Keith Matejka walked us through Goblin Vaults at the Thunderworks booth. This auction-style card game has players building a 4×3 tableau trying to match a set of patterned scoring conditions. The market bidding has a fun trump concept that gives certain suits an advantage in each round. We also peeked into Stonespine Architects, a card-drafting dungeon builder, and Dawn of Ulos, the Acquire-inspired market manipulation game. Product Manager Kirk Dennison was also keen that we try some of the new map packs that accompany the Cartographers series. Keep an eye on Meeple Mountain for more.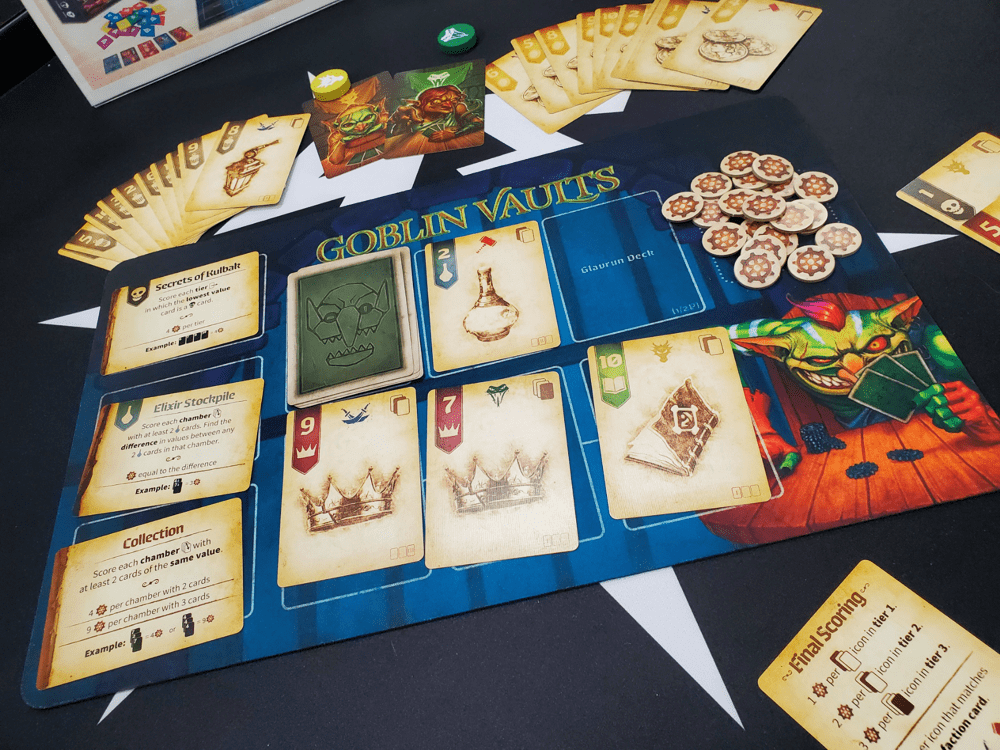 We enjoyed a visit with the friends of Meeple Mountain from 25th Century Games. They didn't have a lot of games out at the booth, but they had a lot to talk about. We were mostly chatting over the small boxes. Fika is a gorgeous little coffee & cakes dueling game that I've had my eye on since last year's Essen Spiel. I'm even more excited now that I know it would fit in the pocket of a pair of cargo shorts. Likewise for Splito, a little drafting game for up to 8 that has players building a meld of cards with the other players to the left and the right. With titles like Resist!, Motor City, Green Team Wins, and the deluxe edition of Ra laying around, it's easy to see why so many people were crowding around the 25th century booth.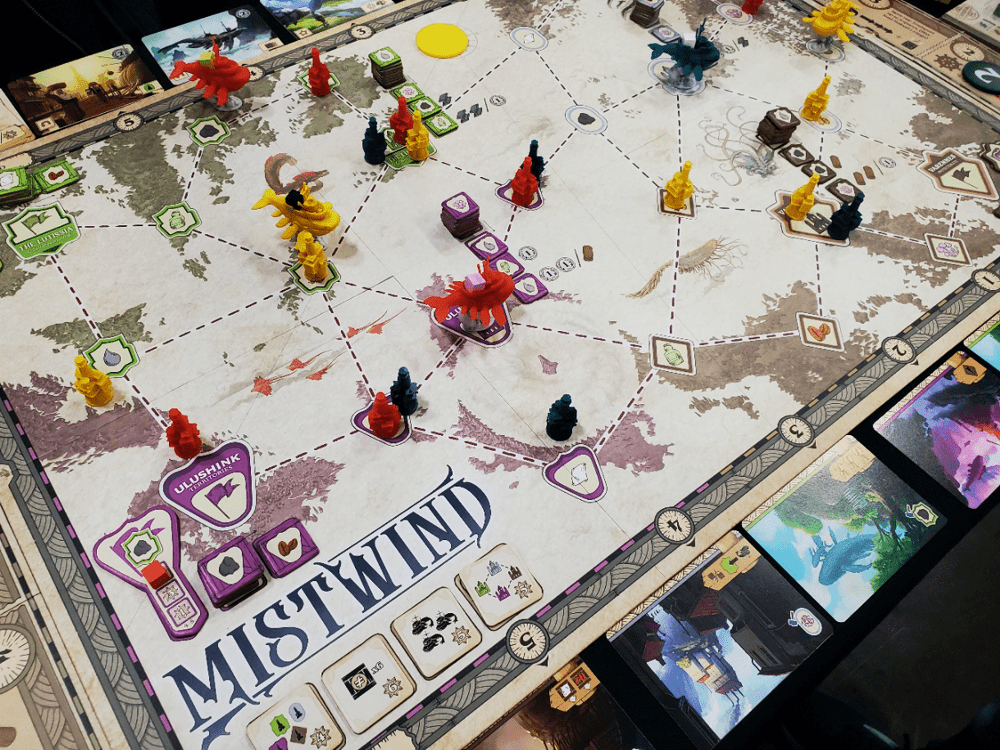 I was super excited to check in with First Fish Games. Stephanie Kwok showed us around two titles. First was Mistwind, easily the game I was most anxious to see. Designed by Daryl Andrews and Adrian Adamescu (Speakeasy Blues, Sagrada), Mistwind bears a resemblance to Ticket to Ride with its route-building, but that's where the flying whales (yes, you read that right) take off. Players build outposts via a prioritized worker placement system and then travel the outposts to pick up and deliver goods. The miniatures are whimsical, the concept is delightful, and the mechanics seem to have a bit more meat than TtR. Stephanie also showed us her own design, Ducks in Tow, which is receiving a second printing and some expansion materials. Though cute on the cover, these ducks are beyond a kid's game. Players create trains of ducks while playing cards into an expanding tableau, covering duck icons with transparent pattern cards to score. These two titles were definitely high on our list. Plus, my wife guessed the number of duck meeples in the jar just well enough to win a door prize!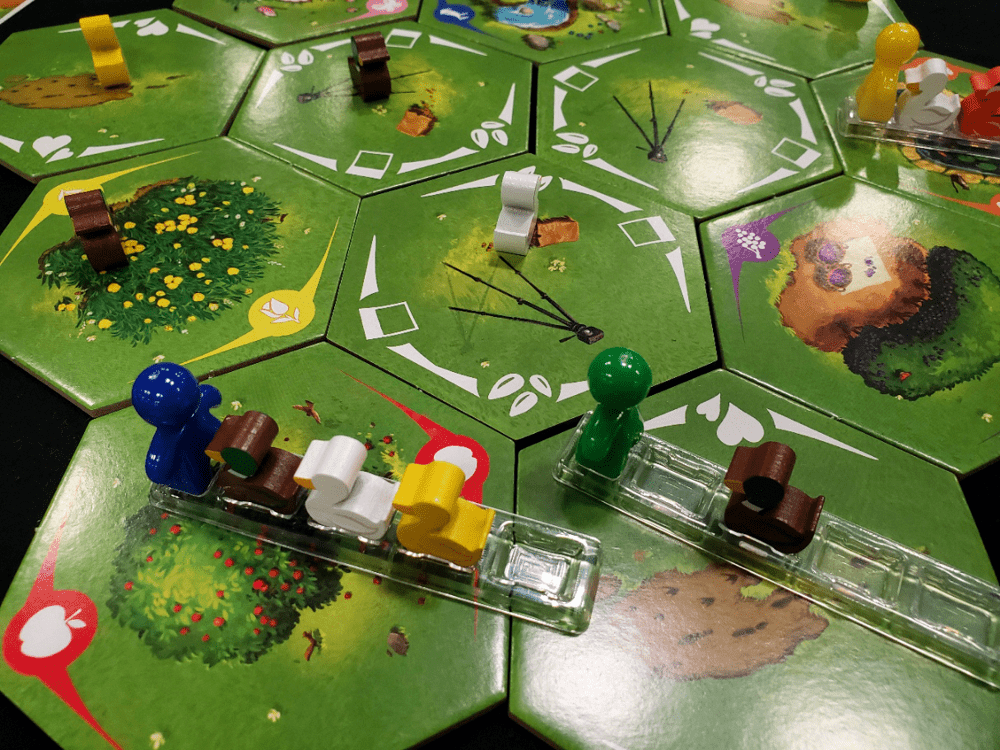 There weren't a ton of new reveals on the Origins slate, but we were happy to see physical copies of games that have been released in the last year or two alongside the sparse new releases. Hatchette showed off Miller Zoo, In the Footsteps of Darwin, Linkto, Rauha, and bonus material for Flashback: Zombie Kidz. Grail Games walked us through the dexterity game Hibachi and the Woodstock-esque festival game Come Together. Mindclash was showing off Astra to a crowd. Smirk & Dagger had copies of Shobu, Behext, and boop. (which took the top retailer title in the Origins Awards) in action. The folks at Allplay had more than a dozen occupied tables for their various small box gems like Dandelions, Kabuto Sumo, Sequoia, Fiction, Ghosts of Christmas, Roll to the Top: Journeys, and Big Top. 9th Level was showing off Schrodinger's Cats, Pavlov's Dogs, and Meeple Party. Van Ryder had Final Girl, Keepers, and the push-your-luck simplicity of Gourmet Popcorn Dice all side-by-side(-by side).
We stopped for a few minutes with the folks at Tumbling Heads to try our hand at their push-your-luck trivia game, Hexaquest. If you're into trivia games, it's a lovely concept: players select a two-sided hex from the field to select a question. If the genre side is showing, the point value is face down. On the flipside, if the value is showing, the category will be a toss-up. This is a light-hearted romp that seems to find its rhythm in taking chances. I'm not always into trivia, but I'll happily stop by the booth to correctly guess that it was indeed Anthony Edwards who alone avoided throwing up during the filming of Top Gun.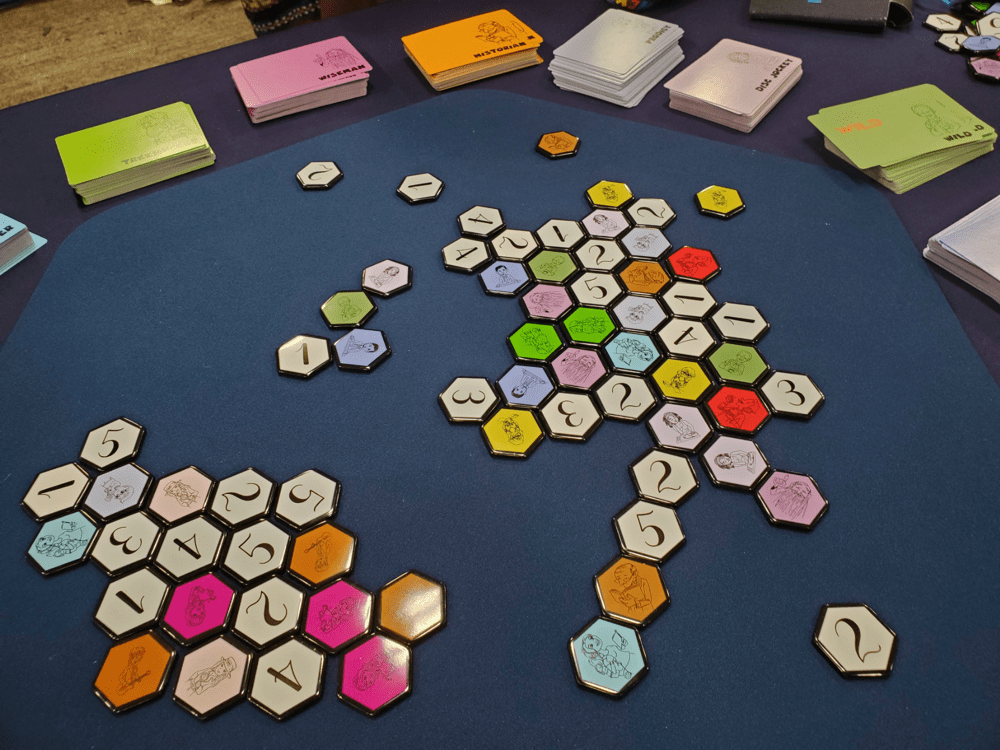 We were also introduced to Wasabi: A Game of Raw Skill with Katelyn from Kids Table Board Games. Players populate a tile grid with ingredients in an attempt to create the recipe combinations on the cards. Wasabi has an upcoming Kickstarter campaign, but the prototype looked like a light-hearted puzzly fit into the KTBG catalog. They were also keen to have folks peek into Maple Valley, the recently released Creature Comforts–adjacent title.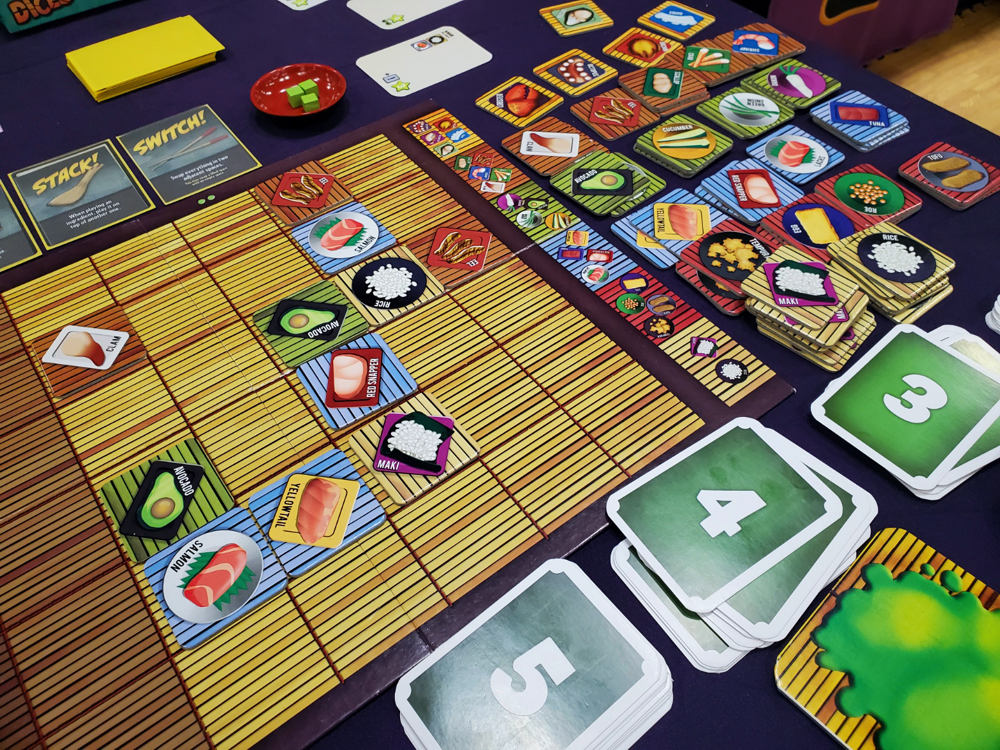 I spent time visiting all but one publisher that I had hoped to meet. The roster was fairly thin on the board game front, but I got a great sense of enthusiasm from everyone I met. The new release list was also fairly thin, but I knew that in advance so I can't say I was surprised. I missed a title or two that might have bubbled to the surface with another day on the floor, but I was pretty happy with our hours in Columbus. The Con season is just getting started, and I know there are some really exciting things on the horizon.
(A brief note on RPGs: My overall sense was that the event was skewed slightly in that direction. Because books take up less space than boxes, I recognized that even the less stocked RPG booths had a wealth of product to display. Dice vendors, scent vendors, and other purveyors dedicated to the dedicated dotted the Exhibition hall. There seemed to be plenty of active play rooms to engage. Though it's not my forte, I was impressed.)
The Top 6
Obviously these are tailored to my taste, but if I were to attempt a shortlist of the games on display that would have me at their beck and call:
6. Splito  (Galonnier/Rémond, 25th Century Games)
5. The Finest Fish  (Jenne/Jenne, Last Night Games)
4. Goblin Vaults  (Matejka, Thunderworks)
3. Beer & Bread  (Almes, Capstone Games)
2. Fika  (Kwibus Game Design, 25th Century Games)
1. Mistwind  (Andrews/Adamescu, First Fish Games)
Get out of there
Five hours later, I was ready for the three-hour ride in the car. I really enjoyed getting to meet several publishers, to feel their enthusiasm for their craft, and to find out what has them excited about their work. I loved seeing the games and snapping a few pictures to share with you all. But the soft music, good conversation, and occasional silence of the car was amazing after a dearth of stimulus. Now I'm left with my thoughts as to how I'll approach conventions in the future.
I know what you're thinking. Bob, it was one day, and you didn't even stay for the good stuff! I don't necessarily disagree.
One of the best parts of gaming, in my estimation, is sitting down for a bit of purposefully directed attention and, hopefully, fun with other humans. The convention atmosphere failed to engender that excitement in me. Learning a new game amid a moving crowd and a few dozen too many decibels is not typically my idea of a good time. Several publishers were inviting crowds to sit down for demo plays—it's a no for me, thanks. A polite no, but a no nonetheless. And while the game library is tempting, the environment of all those open tables will need to grow on me before I slide in that direction. Semi-shouting, or listening to others semi-shout, is more than this guy is ready for. The prospect just stresses me out. There's a catch-22 in which I know I need to play with folks to find a comfort zone, but there's definitely a mental barrier in the way. I see it. I'll work on it.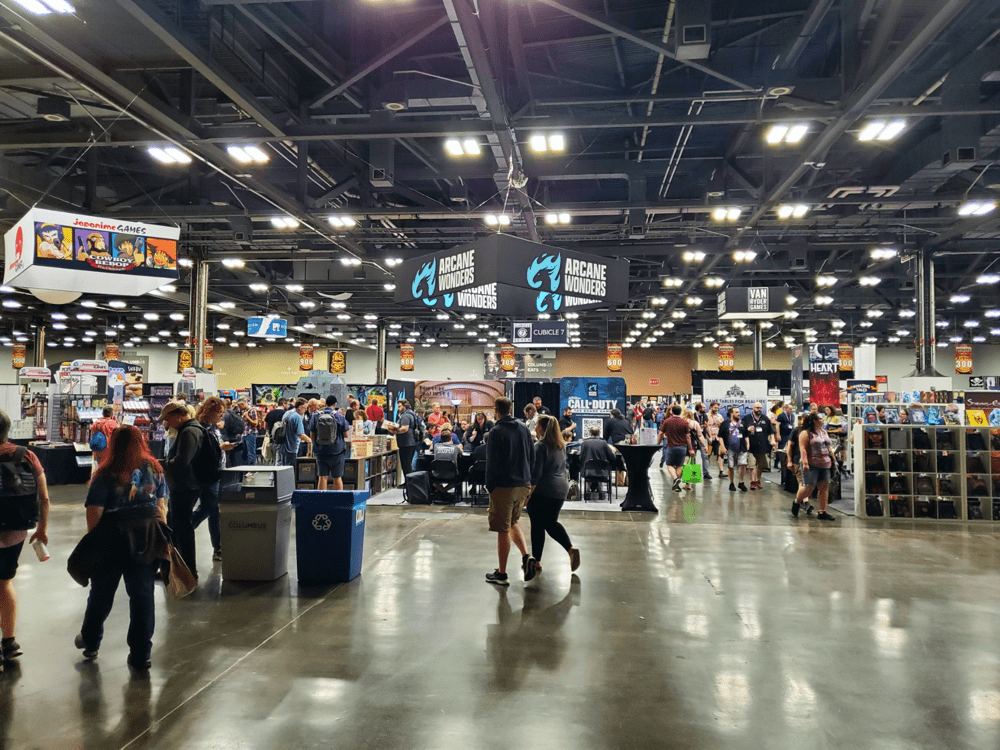 What I see in walking around the Origins Game Fair, is an environment fit for those who crave that sort of energy. Cosplay, bold personalities, copious side rooms for RPGs, loads of games, loads of willing players, and seats at the table. I can see how it's a dream for so many, even if the best part is not for me at this point. I can only imagine what it's like at the bigger shows.
When Martin Wallace walked past in the halls of the Columbus Convention Center, I softly whispered to my wife who he was. There may have been a sliver of me that wanted to jump in front of him, to thank him for Moongha Invaders and Tinners' Trail, and to ask him about his upcoming projects. That certainly would have been the journalistic thing to do. But in that moment he was just a guy walking around and I didn't want to bother him, even though he's there as a keynote guest, invited and listed in the program specifically to garner that sort of attention. In a way, this describes the disconnect I still feel with the whole experience.
What's funny is, I still want to see PAXU, I want to see GenCon. Heck, some day I want to see SPIEL in Essen or the Tokyo Game Market. And I wouldn't mind meeting Martin Wallace, provided I was sure in the moment he was OK with meeting me. As I grow familiar with folks and with the ecosystem, I believe I'll find greater comfort with the larger rooms and with my place inside. But it's going to take time.
I'm super grateful for my Thursday at Origins, though. I have to start somewhere.
If you're looking for the next great board game convention near you, check out Meeple Mountain's 2023-2024 Guide to Board Game Conventions.