25th Century Game's newest release is a party game that takes players for a ride on the green side. Check out our review of Green Team Wins.
Fun word game? Small footprint? Supports a high player count, and finishes in around 30 minutes?
Check, check, and double check!
Oh hey, I was just reviewing my list of games I love bringing to gatherings. While my extended family enjoys board games of all sorts, it seems like word games are our go to. That means titles like Codenames, Just One, Blank Slate, and Monikers have enjoyed the spotlight over the years. But our newest jam is Green Team Wins from 25th Century Games. This title has everything we love about the games I mentioned above, with the added benefit that it plays up to 12 people, competitively.
Let me tell you what I love about it!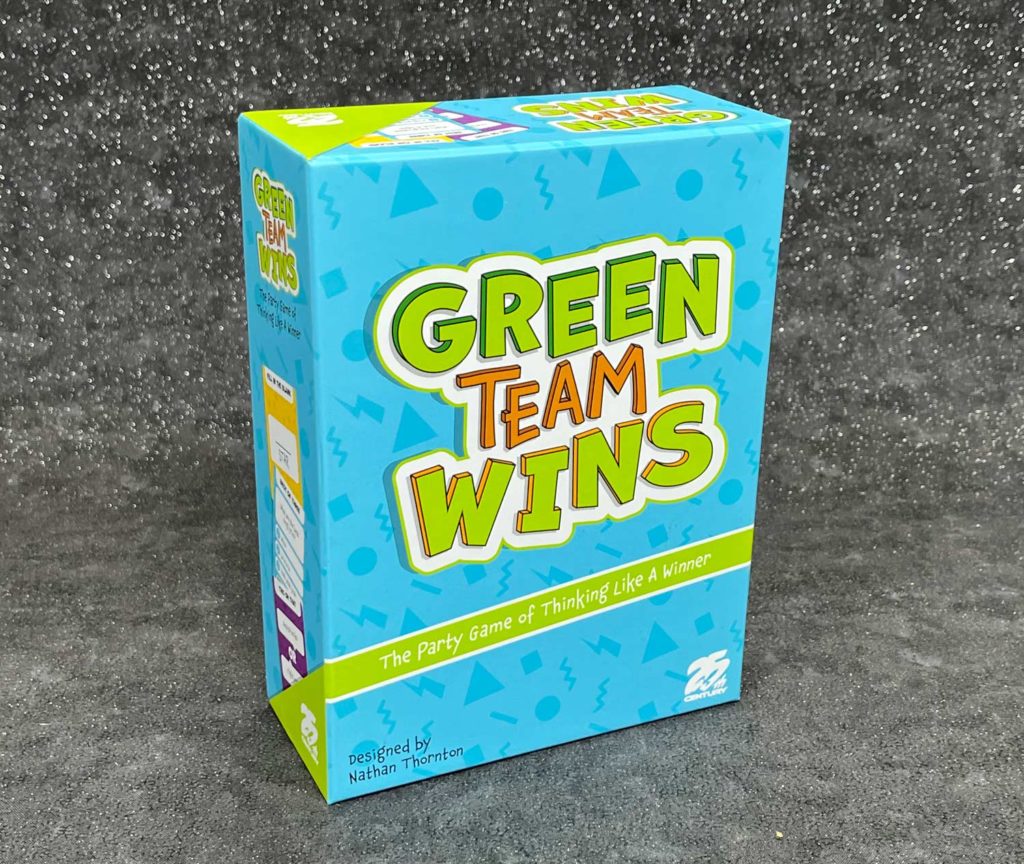 Does the Green Team Really Win?
Sort of? While the name is meant to be a bit evocative, it's accurate. In Green Team Wins, the only way you score points is by being on the green team.
Green team = points.
Orange team = no points.
Clear?
As I mentioned before, Green Team Wins is a word association game. Included in the box is a deck of 210 cards, split into 3 types: "This or That", "Fill in the Blank", and "Best of Three". After shuffling the deck make sure each player has a personal scoreboard (dry erasable), a marker, and a tile with "orange team" on one side and "green team" on the other. On your turn you'll turn over one card from the top of the deck and read it out loud. Then every player, including yourself, writes something on their board to "answer" the question.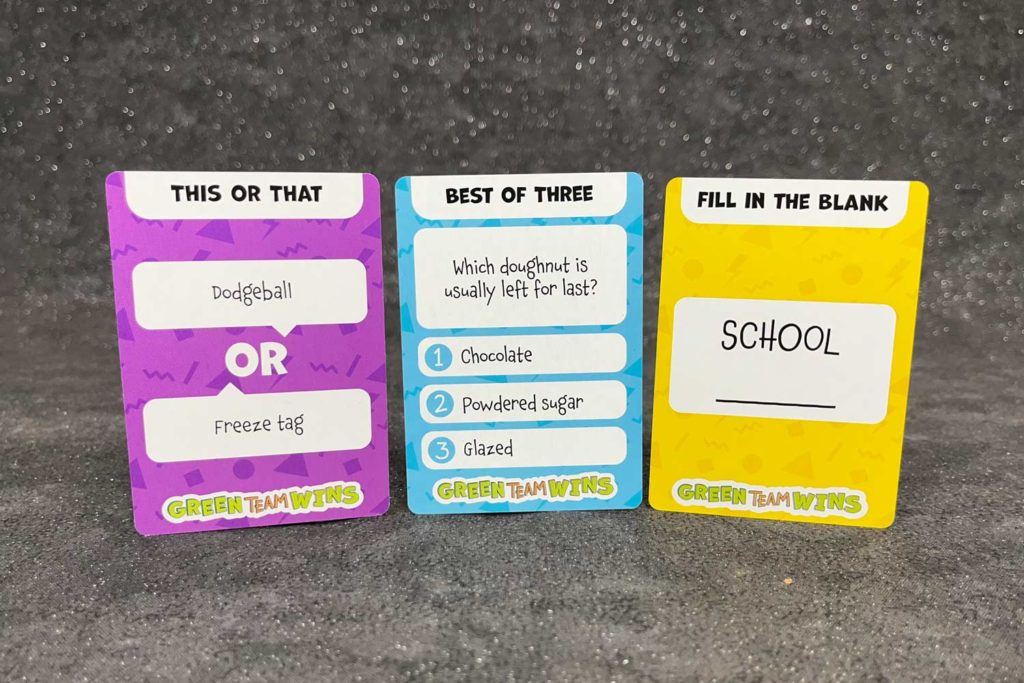 This or That gives you a choice of A or B: "Ice cream in a cup" or "Ice cream in a cone".
Best of Three asks a question and offers three potential answers: "What's the most essential baked potato topping": "Butter", "Sour cream", "Cheese".
Fill in the Blank presents you with a word, with an empty space before or after it: "Fire ____" or "_____ Night".
Since everyone starts off on the orange team, how does one join the illustrious green team? By getting the right answer? No, they join the green team by being in the majority. You see, Green Team Wins is all about knowing your audience. You're not picking the answer you think is right, you're trying to pick the one the most people around the table will select.
After all answers are submitted, everyone turns their board around and you tally the answers. The answer which has the most support wins. Every player with that answer will do one of the following:
If you're on the orange team, flip your tile to the green side and score 1 point.
If you're already on the green team, keep your tile where it is and score 2 points.
If you're not in the majority, better luck next time. You'll do one of the following:
If you're already on the orange team, do nothing.
If you're on the green team, flip your tile back to orange.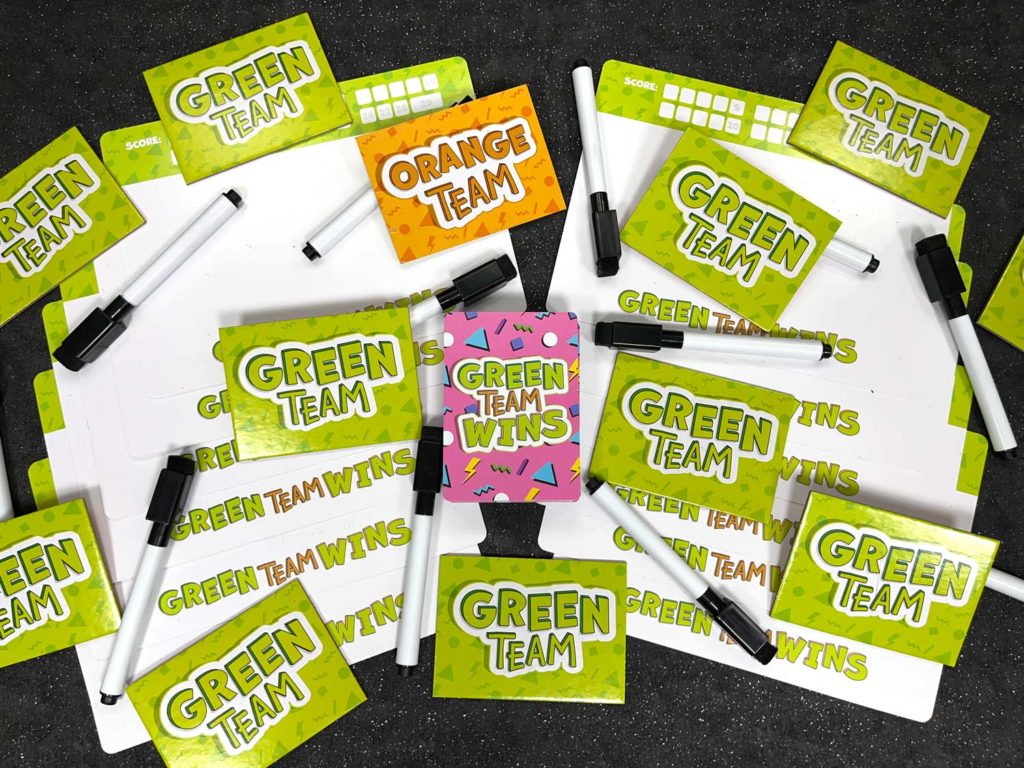 And that's it. Play until you've read out the 15th question and you're done…whoever has the most points wins.
Yes Martha the game name is a little bit "Clickbait"…
but that doesn't mean the game isn't fun…in fact Green Team Wins has been a blast, each and every time I've played it.
The game skews heavily towards groups who know each other well, since the more accurately you can read each other, the more likely you'll be able to guess how they might answer. There's also an unintentionally fun "generational" component to the game. In a recent play with my wife's family a "Fill in the Blank" card came up with "Jennifer _________" on it. My immediate thought was "Aniston" because that's my generation, but because there were 5 teenagers at the table, I went with "Lawrence" and made it onto the green team!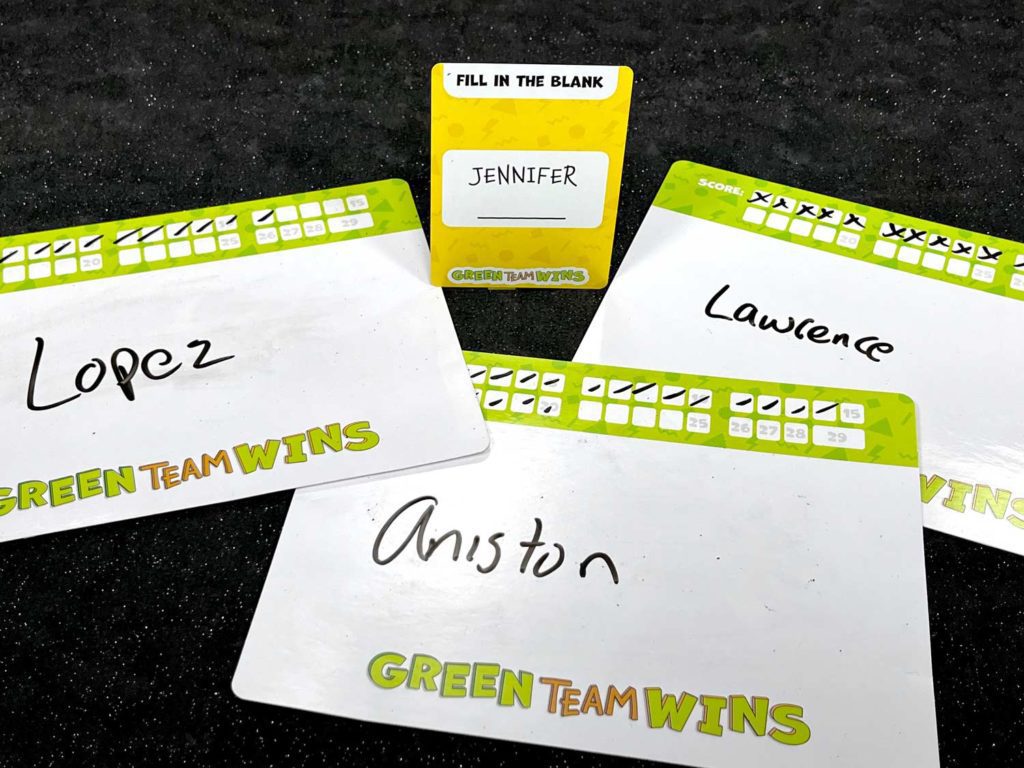 The only criticism I might have would be that the "Best of Three" and "This or That" have fixed sets of answers which means it's very easy to pull a majority. You might not be on it, but you'll definitely have a group that will win. "Fill in the Blank" on the other hand can easily wind up with no majority or a very thin majority. While it can be pretty funny, seeing what everyone writes down for "______ Party", it usually winds up with many people exiting the green team for the orange team. But now that I think about it, I wonder if this was intentional—as a way of avoiding a runaway leader. It's a small criticism, but I said it.
There are definitely other similar games…in fact the entire game of Blank Slate is the "Fill in the Blank" card. But Green Team Wins combines all of them into a game that just keeps on giving. The game itself supports up to 12 players, but because you just need a white board and marker you could easily add more people. It plays fast because you're only ever doing 15 cards (although we usually go for points instead of cards), and the laughs it generates are legit, memorable, and fill my family and game loving heart.
If you're looking for a great game for your next get-together, then look no further than Green Team Wins.