In Today's Top 6, we celebrate some of board gaming's unsung heroes - the illustrators!
In today's board gaming world new titles come out almost every day. In the hustle and bustle to play every game, it can sometimes be easy to focus too much on the mechanics, or the way that playing the game makes us feel. This can cause us to overlook the visual table presence, perhaps one of the reasons we were attracted to a game in the first place. If we do pay any attention, it's often only tangentially and in passing. "Wow, that looks really nice."
In today's Top 6, we're going to spend some time getting to know the unsung heroes of our board game culture, the illustrators. We reached out to 6 of the best in the industry and asked them a little about themselves and here's what they had to say:
"As soon as someone is identified as an unsung hero, he no longer is." – George Carlin
Klemens Franz

Born in April, 1979, Klemens Franz is an Austrian illustrator best known for his work on many of Uwe Rosenberg's games such as Agricola: All Creatures Big and Small, Le Havre, and my personal favorite, Ora et Labora. But he's done a lot more than just those few titles. On Boardgamegeek, his list of illustrator credits is 26 pages long with well-known titles like Valletta, The Colonists, Barenpark, Isle of Skye, Suburbia, and Altiplano under his belt. Although he does work occasionally with physical materials, his work is done primarily, in his own words, in "Zeroes and Ones. Tablet and Mac."
Meeple Mountain (MM): Mr. Franz, tell us, how did you get your start as an illustrator?
Klemens Franz (KF): It was a competition held by Lookout Games for the card game "Drachenbändiger von Zavandor" (~Dragon Tamers). My dragon got in. I had a meeting in Essen with Hanno Girke, the designer, who asked me for my map. What map? The map with art … which I didn't have. So I sent him some after Essen and he and Uwe, the founders of Lookout Games, decided to let me draw Agricola.
MM: How would you describe your style?
KF: Naive. Not intimidating. Someone wise once described it as "gemütlich" which is German for cozy/comfy … hard to really translate. You feel like home, safe and warm so your brain doesn't hurt that much while you try to get an idea of how that really complex and intimidating monster on your table ticks.
MM: Do you have a favorite piece that you have done?
KF: Favorite piece I did? I really like Orléans and its style inspired by medieval book paintings. I know it's not everybody's cup of tea but that's fine.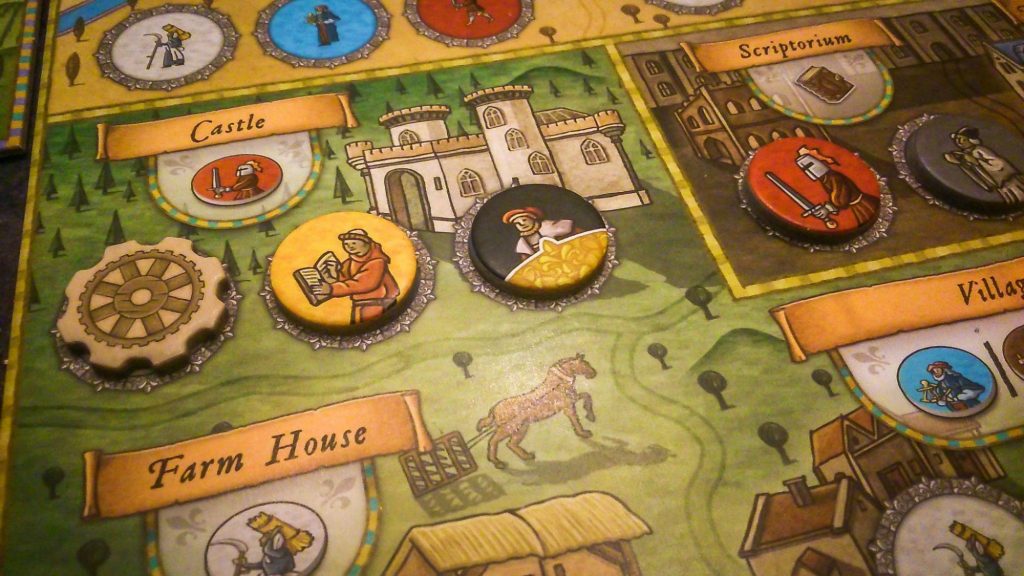 MM: Lastly, what's the most challenging part about being a board game illustrator?
KF: Looking at all the ultra-talented illustrators out there and not going completely crazy. I'm really thankful that I found my niche where people are happy with what I do. If I look at the daily challenges: Draw stuff that the editor's wife (or husband) likes. Those whisperers in the shadow are sometimes hard to handle. Really.
If you'd like to learn more about this remarkable artist, definitely check out Klemen's Franz's website: http://www.atelier198.com/
More games featuring Klemens Franz artwork.
Mr. Cuddington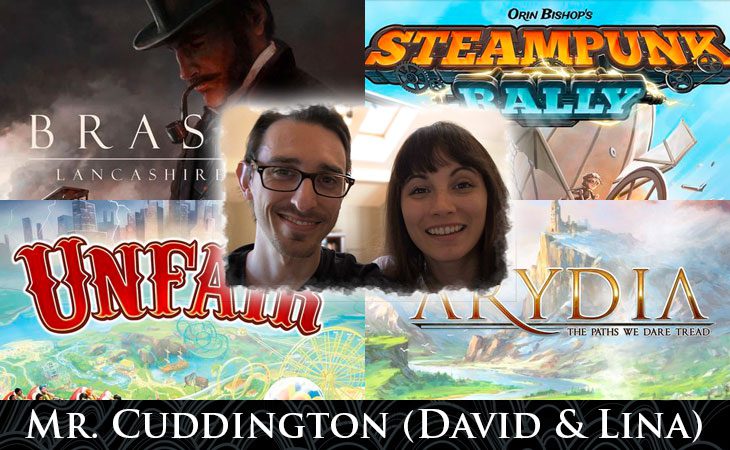 Mr. Cuddington is best known for their work on such diverse games as Charterstone, Roxley's Brass games, and Santorini. This Québec based artist is not AN artist at all but is actually the husband and wife duo of David Forest and Lina Cossette. Although Mr. Cuddington isn't as prolific as some of the other illustrators on this list (they've only been illustrating games since 2014), there's no denying that they've already made quite a name for themselves.
MM: So, let's hear your origin story. How did Mr. Cuddington come to be?
Mr. Cuddington (Mr. C): Lina and I started out working in film and video game studios in Montreal. Our background is actually in animation, but we loved to paint and did a lot of personal pieces in our spare time. The city lifestyle didn't fit with our long-term vision, however, so once we started thinking about having children and moving out, we looked at freelancing. We already loved playing board games together, so we thought we'd give it a go, and quicker than we thought, we were working full time with a reasonable client base to keep us going!
MM: Do you have a particular style? If so, what is it?
Mr. C: We try to work in different art styles from project to project, so our style doesn't always come off just in the way we paint. What we love are immersive visuals and storytelling, and that's something we always try to incorporate in whatever we work on.
MM: What equipment do you use?
Mr. C: We paint with a basic Wacom tablet. Lina is great with a pencil and can quickly fill up a sketchbook with beautiful characters. Me, not so much! I picture myself more as a painter; I think with light and color, so I'm more comfortable working directly on the computer.
MM: Do you have any favorite pieces that you've created?
Mr. C: Our favorite pieces often end up being game covers since we spend so much more time on them than on regular card illustrations. While it's hard to pinpoint a clear favorite, the Brass: Lancashire cover is a standout. It was a fun challenge, both in trying to paint more realistically than we are used to, but also in doing an homage to the original game cover with a darker, grittier approach.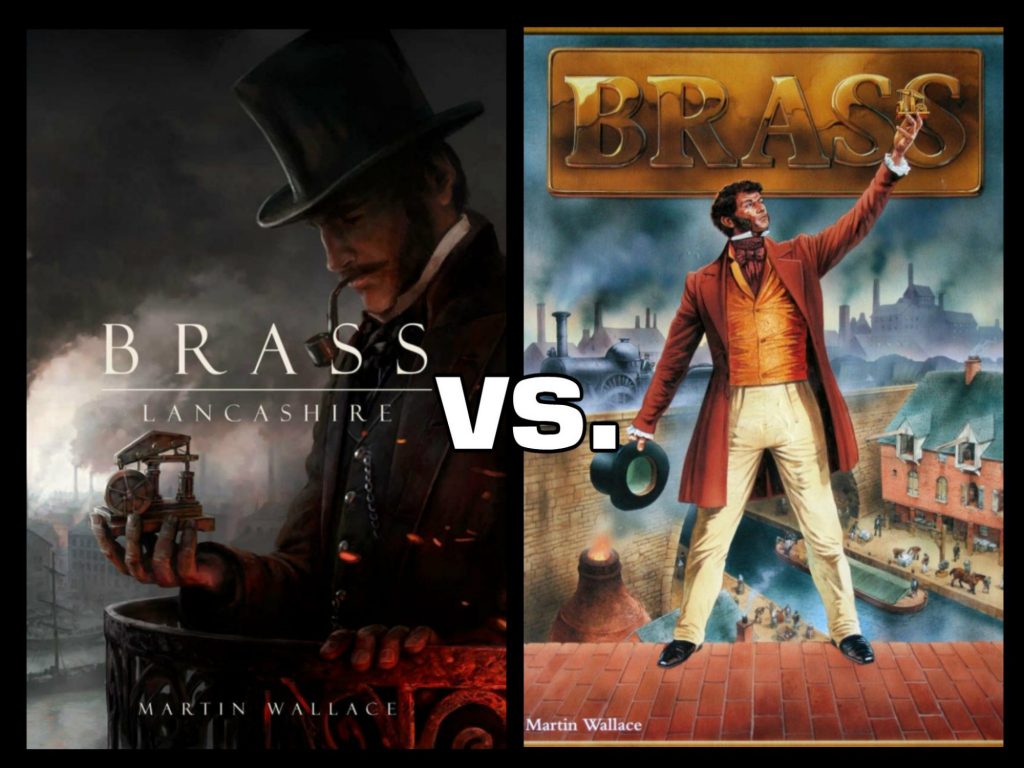 MM: Lastly, what would you say is the most challenging part of being a board game illustrator?
Mr. C: For us, the challenge is to keep enough time for ourselves! Even when we make a real effort not to overbook, we still end up working late at night. But we're guessing it probably has more to do with being our own boss than being a board game illustrator in and of itself.
You can find out everything you've ever wanted to know about Mr. Cuddington at their website: http://mrcuddington.com/en/
More games featuring Lina Cossette artworke or David Forest artwork.
Miguel Coimbra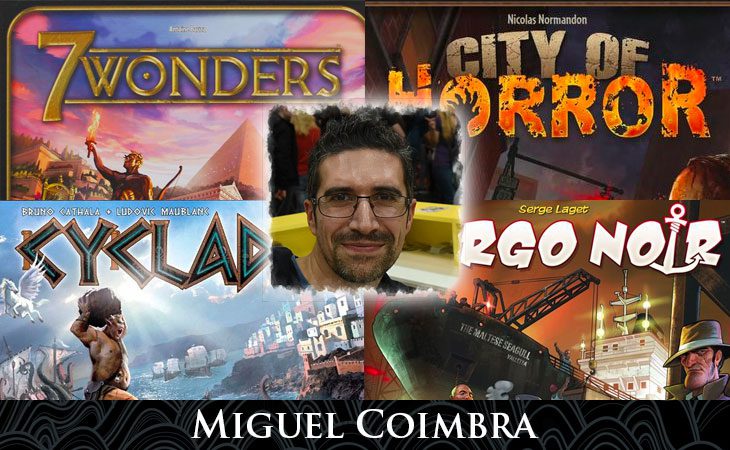 Born in Portugal in 1977 and now residing in France, Miguel Coimbra has been drawing since he was ten years old. Before illustrating such well known games as Imhotep, 7 Wonders, Tiny Epic Quest, and Smallworld, he was already doing illustrations for collectible cards games like The World of Warcraft Trading Card Game and Star Wars Galaxies. A self-taught artist, all of his work is created digitally. He might be self-taught, but he's definitely impressed us!
MM: Hello, Mr. Coimbra. Please tell us, how did you get into game illustration?
Miguel Coimbra (MC): If you mean the beginning of my career in the board game industry, it was with a cover for BattleLore for Days of Wonder back in 2005; I was illustrating collectible card games like Legend of the 5 Rings or Chtulhu mostly at that period because I was an old Magic: the Gathering player. I thought it would be nice sending some folios to board game companies to try it out, and it was pretty successful. I haven't stopped since that time.
MM: Do you have a particular style? How would you describe it?
MC: I don't feel I have a real defined style. I can jump from a serious theme like in "Mountains of Madness" to something more cartoony or unique like "Fairy Tile". When I illustrate a board game, I try to find the most appropriate mood and style for it. Of course editors already have an idea of the style they want for their game with previous titles I've done but I've discovered lately, they can be very open to suggestions and original ideas.
MM: You've done a lot of illustrations. Do you have a particular favorite?
MC: My favorite piece is probably the 7 Wonders Duel cover. It was a big challenge since its old brother, 7 Wonders, was famous. A lot of roughs went to the trash can but I think the result was worth it.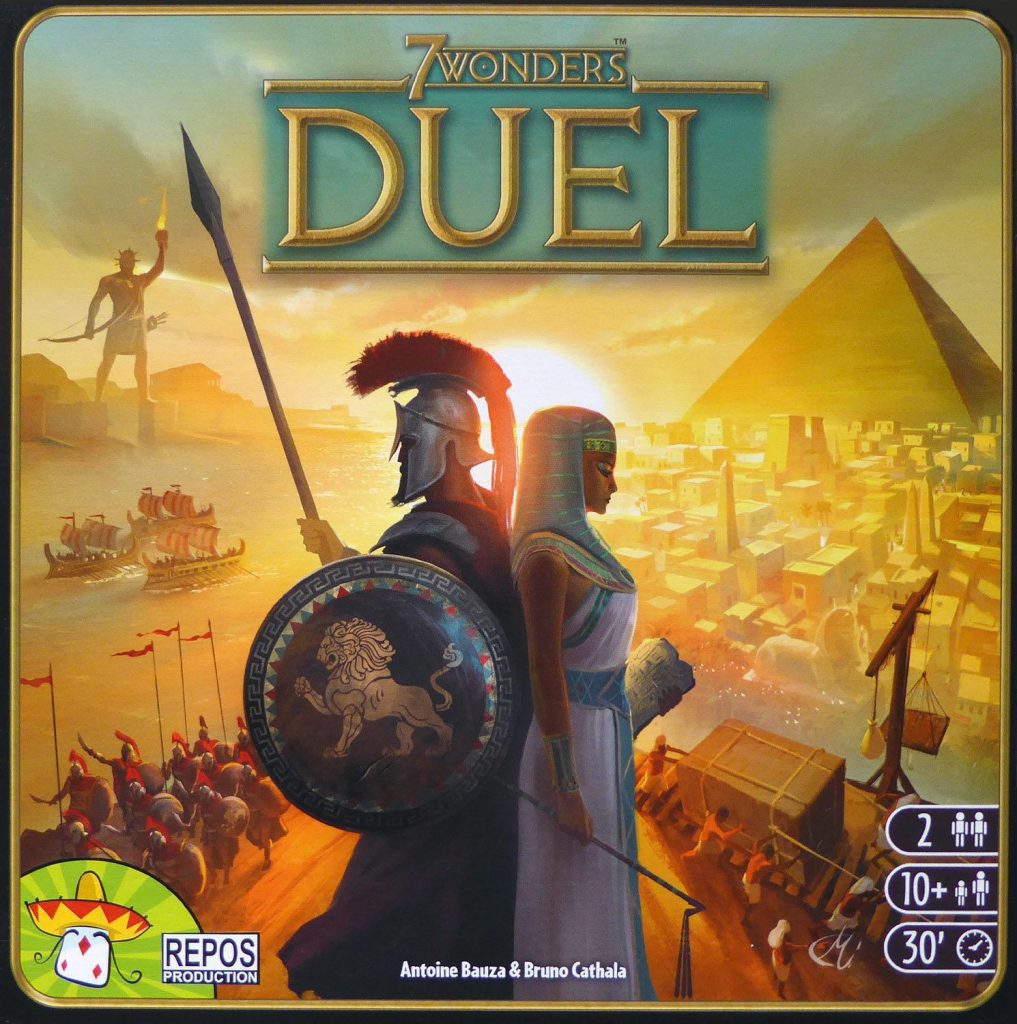 MM: Finally, we've asked everyone this, but what do you find that the most challenging aspect of being a board game illustrator is?
MC: What's the most challenging part about being a board game illustrator?
Boundaries from the gameplay, I guess. A game illustrator should serve the mechanics of the game before everything else. The game can be very pretty but if it's unreadable or misleading, you've failed as a game artist.
You can find out more about Miguel Coimbra, what he's up to, and see some more of his work at his website: http://www.miguelcoimbra.com/myblog/
More games featuring Miguel Coimbra artwork.
Michael Menzel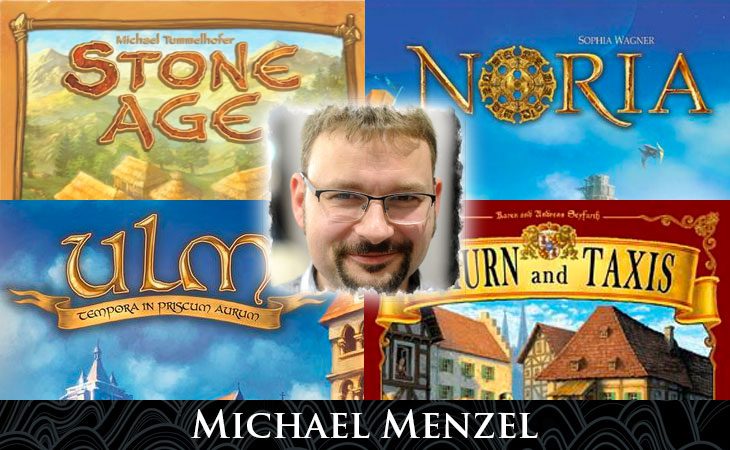 Michael Menzel, born in 1974 and a resident of Krefeld, Germany, is one of the most prolific illustrators on this list. His Boardgamegeek repertoire is 31 pages long. He's worked with such high profile designers as Stefan Feld, Inka and Markus Brand, Rüdiger Dorn, and the father of modern board gaming himself, Klaus Teuber. His artwork spans a wide range of games from kid's games like Brandon the Brave and Duck Duck Bruce to much more involved games like Pillars of the Earth: Builders Duel, Legends of Andor, and the upcoming Forum Trajanum. And he is virtually synonymous with Catan.
MM: So, Mr. Menzel. Your portfolio is definitely an impressive one. How did you get into this industry?
Michael Menzel (Menzel): I got into it by accident. I worked at a computer game developer studio. From the studio I knew Peter Negebauer, a game author and editor at Kosmos. When the studio was closed, I found myself looking for a job. By accident I met Peter again. I was so surprised to see him again that I asked if he could help me with getting a job in the board game business. He did. After the first job I felt that it is a dream job and did everything to get more assignments.
MM: Some illustrators work with physical medium while others prefer a more technological approach. What medium do you prefer to work with?
Menzel: I paint everything in Photoshop with a Wacom board. I love doing some pencil-work when I'm on holidays.
MM: If you were asked to describe your style, what would you say?
Menzel: I'm not good with words, so it is kind of tough to describe. The biggest compliment I received for my work was for a card in "Cuba". Michael Rieneck told me that when he looks at the man at the desk I painted, he can hear the noise from the street outside the window and the ventilator humming from the ceiling although they are not in the picture 🙂
MM: That brings up the next question. Do you have a favorite illustration that you've done? If so, what is it?
Menzel: I think the board of "World Without End" is pretty well done. I also think that "Legends of Andor" is illustrated quite good and that the illustrations support the game itself very well.
MM: Do you have any advice or counsel for others who might be thinking about becoming board game illustrators themselves?
Menzel: As an illustrator you are less artist than a servant to what is really important. Your illustration has to support the game above everything else.
If you'd like to know more about Michael menzel and his work, we encourage you to check out his website: http://www.atelier-krapplack.de/
More games featuring Michael Menzel artwork.
Mihajlo Dimitrievski a.k.a. "The Mico"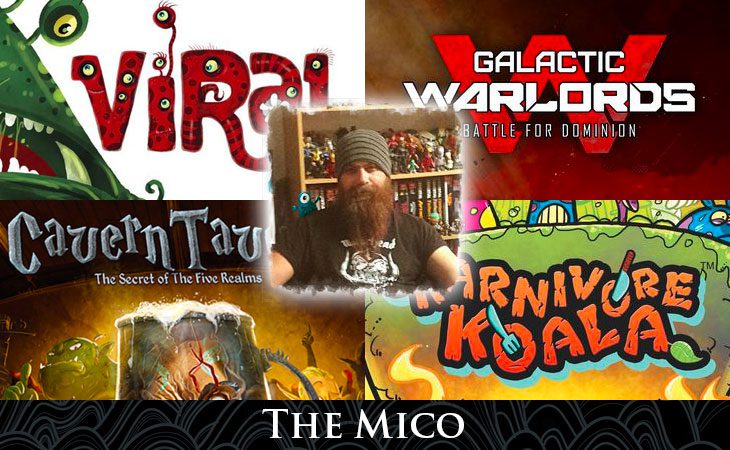 Hailing from Bitola, Macedonia, Mihajlo Dimitrievksi, known to his fans as 'The Mico', is one of the most well-known and easily recognizable illustrators in the industry. His artwork has graced such games as Shem Phillip's North Sea Saga (Shipwrights of the North Sea, Raiders of the North Sea, and Explorers of the North Sea), the recent Vital Lacerda release 'Dragon Keepers', as well as the entire Valeria series (Valeria: Card Kingdoms, Quests of Valeria, and Villages of Valeria). Even though he's only been illustrating board games since 2014, he's already won the loyalty and admiration of fans worldwide.
MM: Hello, Mr. Dimitrievski. We're dying to know, how did you get your start?
Mihajlo Dimitrievski (The Mico): Well…luck I guess. I've worked as an illustrator for a long time (I think around 20 years now). I started as a comic book artist, got into the illustration field, then into the production field, and a few years ago into the board games drawing field. I really didn't know that something like this existed on this level until I started working. The first game I ever drew was "Shipwrights of the North Sea" by Shem Philips. He wrote me and I said yes, and  a few years later…I'm drawing a lot of board games. And it is awesome if I may say (that's due to the fact I do like to change the subjects that I draw).
MM: Are you a pen and paper guy, a paint and brushes guy, or do you prefer to do your work on a computer?
The Mico: My work is mainly digital. On my trusty Wacom Cintiq 12WX and Cintiq Companion 1. I use Photoshop 7. And by that I mean the "old" Photoshop 7…from like…15 years ago. I've gotten used to it so I don't bother to change it.
MM: Your style is very unique. There's nothing quite like it. Out of all the work you've done, is there a particular standout for you?
The Mico: They are all my favorite pieces.They are all my children and I love them all.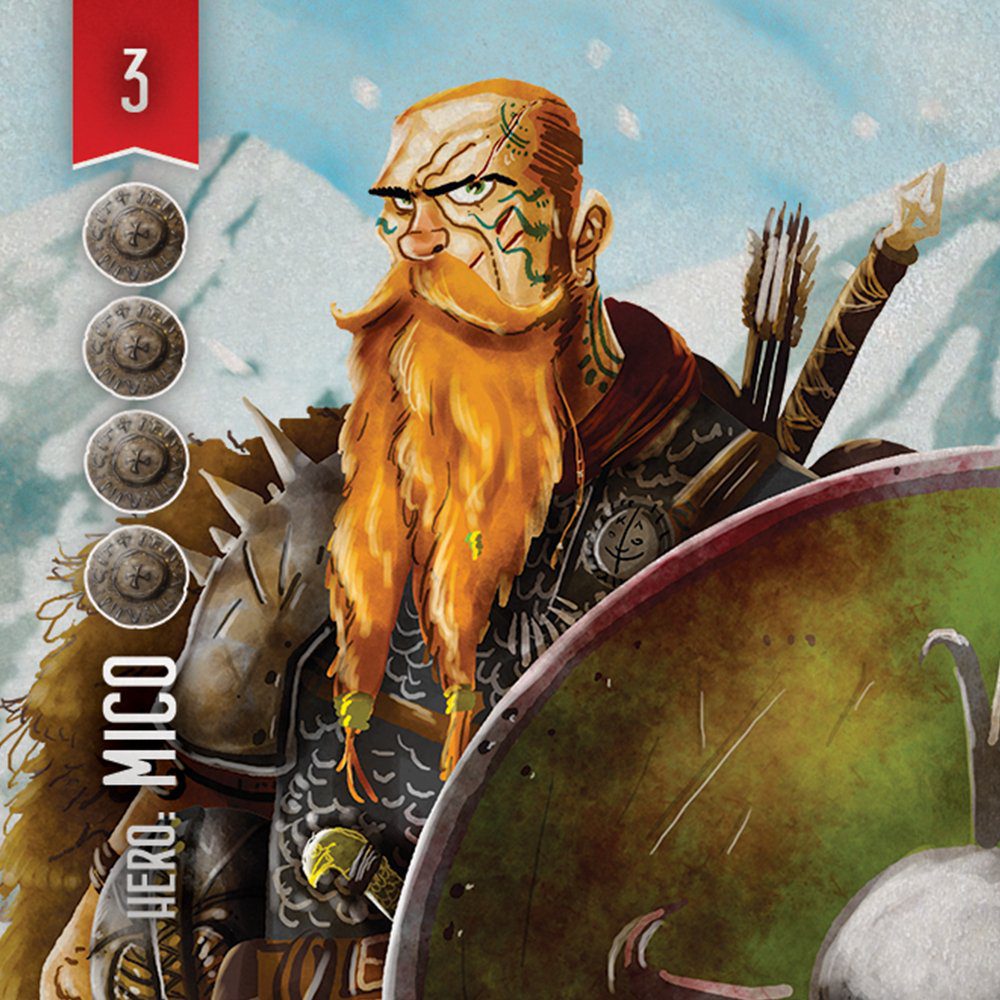 MM: Describe your style for us if you would.
The Mico: My style is some sort of mixture between cartoony-splatingcoloury-rushingtodoall-stuffy. I don't know. I guess it is likable like that. But I could settle on cartoony. I love cartoons. Being able to draw a gazillion versions of people and creatures in all possible shapes and colours is great for me.
MM: Lastly, what have you found to be the most challenging aspect of creating illustrations for the board game industry?
The Mico: For me, it's catching all the deadlines, meeting expectations from publishers and authors, and having some sort of control on social life – kids, family, friends. Working in the board game industry is awesome because a lot of awesome people are in it, both authors and players, and I really don't want to disappoint any of them. I hope I'm good at that.
You can interact with The Mico on his Facebook page.
More games featuring Mihajlo "The Mico" Dimitrievski artwork.
Vincent Dutrait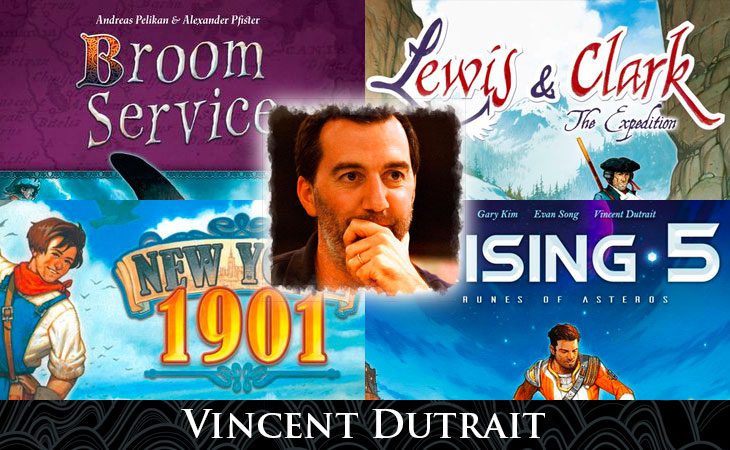 Without a doubt, Vincent Dutrait is one of the most well-known and most well-loved illustrators in the board game universe. His amazing artwork has been featured in almost a hundred games now with popular titles like Detective: City of Angels, Lewis and Clark, New York 1901, Broom Service, Lost Cities, and more to his credit. He even did the artwork for the Jaipur app! And he's one of the very few illustrators who still does everything by hand, working in a traditional way with pencils, brushes and paintings (acrylics) on paper.
MM: Hello, Mr. Dutrait. You've been at the illustration game for awhile. How did it all begin?
Vincent Dutrait (Dutrait): I started to illustrate board games in the early 2000s with games like China Moon, the new edition of Diplomacy, etc. Then I moved to RPG and worked for Dungeon & Dragons 4th Edition and Pathfinder. I came back to the board game industry in 2008 with Gameworks and games such as Water Lily and Tikal 2. Now I'm working exclusively on board games and have already illustrated more than 40.
MM: You've got one of the most unique artistic styles in the business. How would you describe it?
Dutrait: It's a mix between good old-fashioned and modern feelings. Realistic and credible with a large part of the work dedicated to colors, contrasts, readability, and accessibility.
MM: Out of the vast repository of work you've done, is there one piece that stands out for you more so than any other?
Dutrait: I have several favorite pieces… So, maybe the Robinson Crusoe new edition and Rising 5 Collector's Edition.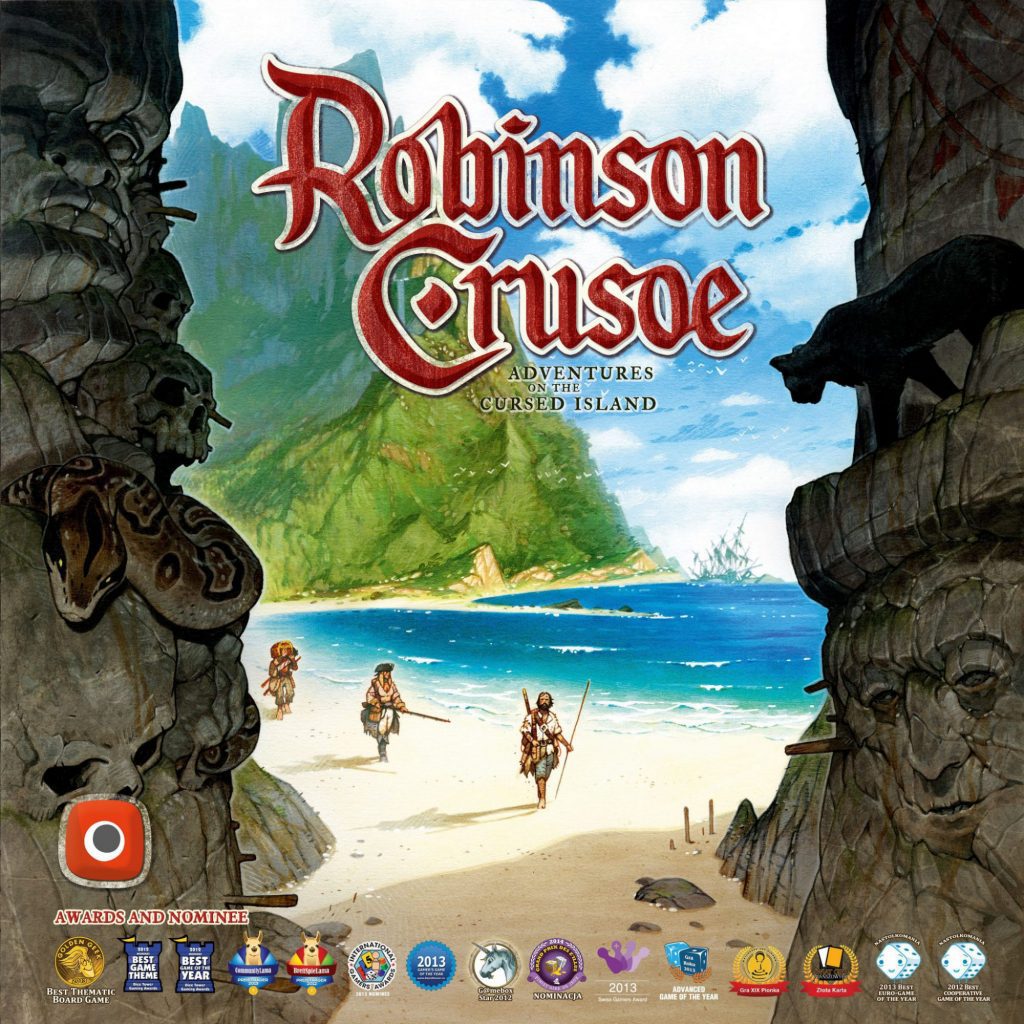 MM: And what would you say is the most difficult thing about being a board game illustrator?
Dutrait: The most difficult part is understanding that the illustrator is not working for himself nor for a publisher, but mainly for the game and players. And that the huge essential part of the work will be to share and transmit gameplay information, not just be nice or beautiful artwork.
You can find out more about Vincent Dutrait and his past, current, and future projects at his website: https://www.vincentdutrait.com/
More games featuring Vincent Dutrait artwork.
Final Thoughts
Without the hard work, passion, and dedication of people like these, it's hard to say whether or not the world of board gaming would be where it is right now. A game with good mechanics is an excellent thing, but a beautifully illustrated game with excellent mechanics that is just dripping with theme is even better. So, the next time that you're playing a game and admiring the artwork, maybe consider taking a moment to send the illustrator a quick email or Tweet letting them know just how much you've enjoyed their work and hopefully encourage them to keep on doing what they're doing – for all of our sake.
Do you have a favorite board game illustrator that you think should have been on our list? Let us know in the comments. We'd love to hear from you!