Justin reviews the upcoming card drafting game Vivarium from Studio H!
I don't need games with a lot of theme. I just need someone to tell me why we are here.
Vivarium (2022, Studio H) makes things rich, but brief: in an alternative version of the year 1898, a seismologist discovers a secret passage leading to a cavern chock full of fantastical creatures. It's a big ol' science project, and your job as a player is to learn more about these amazing species…with dominoes.
Yes, dominoes! This family weight experience has lots of things to love about a light card drafting game, but the dominoes and the incredible artwork by Satoshi Matsuura kept my family and my game groups coming back for more.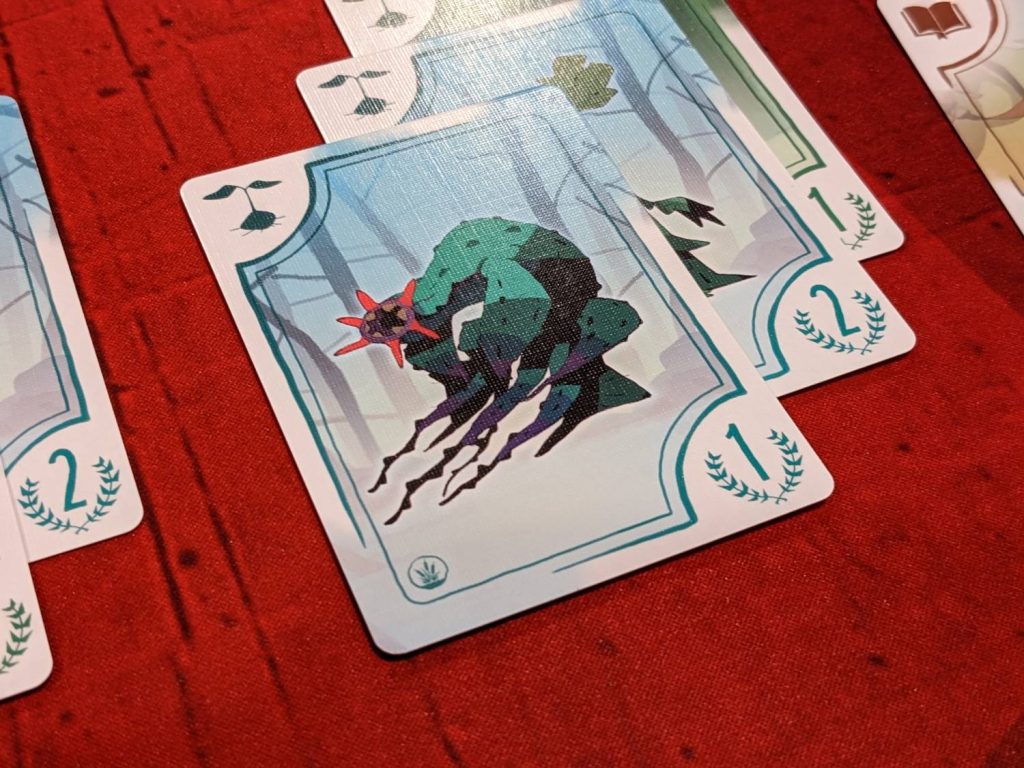 It's My Turn Again??
One of the hallmarks of great games in my house: low downtime. It's why I loved games like Findorff, and it's why I struggle playing games like Root. When will it be my turn again?
Not a problem in a game of Vivarium. The main board is a 4×4 card market, with the first two rows displaying creatures (which come in four suits, and four different background colors). The next two rows feature items—which give a player one-time bonuses—and contracts, which are used for the set collection scoring elements at game end.
Turns are a breeze. To begin play, each player is given two dominoes, and each domino has two different numbers ranging from 1-4. There is one public domino in the center of the table. On a turn, a player swaps one of their two dominoes for the one in the middle, then uses the swapped tile plus the one they already had in hand to form coordinates.
If I have the 1-2 and the 2-3 dominoes, I can form a pair of numbers, say, 2-2, and take the card in the second row, in the second column. I add that to my tableau, and if it's an item, I do something else, such as clear all cards from a column, or draw two creatures from the top of the deck, discarding one to the bottom of the deck.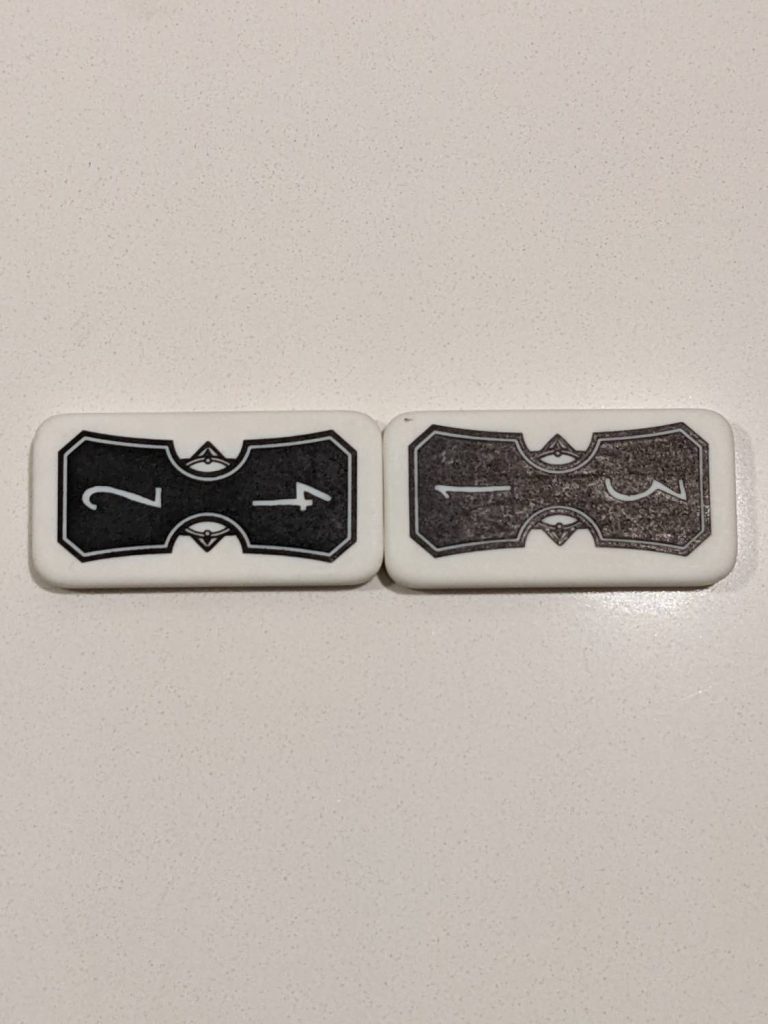 If the cards on the board don't fit your strategy, you can take two gems from the supply. Each gem is worth a point at the end of the game, but they can also be used to adjust your domino coordinates up or down by one for each gem spent.
That's your whole turn. Each player takes two turns in a round, then the board is refilled with cards. In-between rounds, a Priority token can be earned based on an area majority of certain types of item cards, contracts or creature suits; each Priority token is worth two points at the end of the game.
Seven rounds of play later, scores are totaled based on a mix of those Priority tokens, contracts, gems, and the victory points listed on each creature card. That's amoré!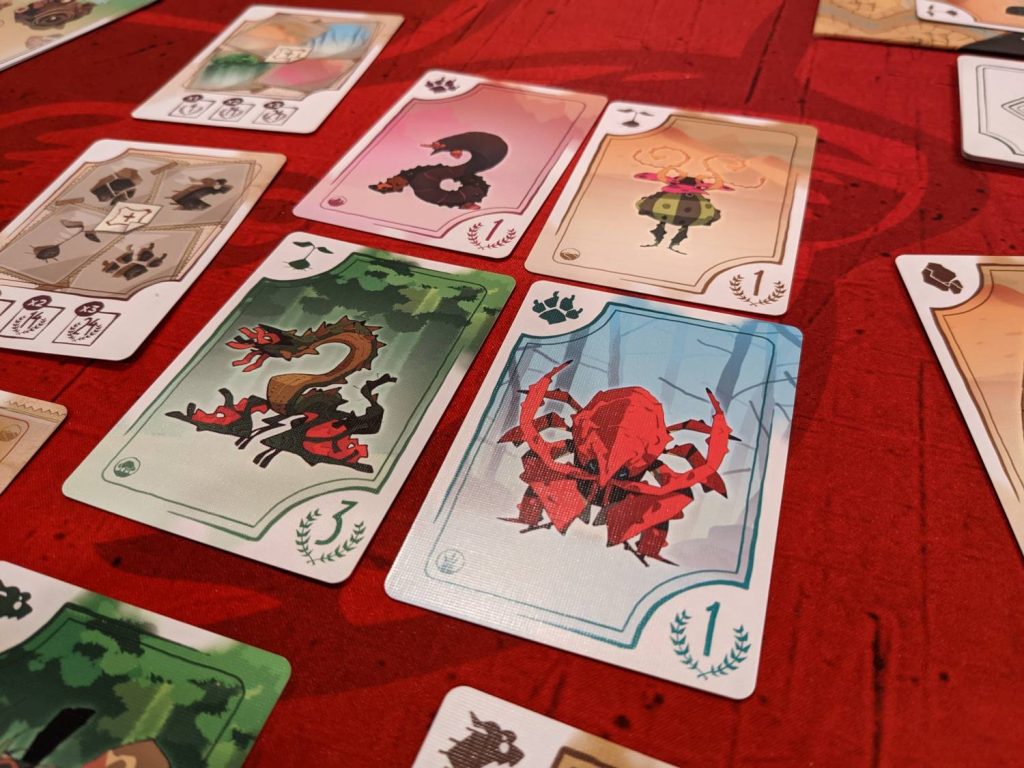 Delightful
What makes Vivarium shine so brightly for me is how approachable it is, thanks to Matsuura's fantastic work on each of the creature cards. Each card is unique, and some of these creations are incredible; you've got stone creatures with cool-looking heads, plant creatures that are sometimes a little scary, and dragons that will have you shaking your head.
The layout of the board is clean. Contracts give players a path, and to begin play, each player gets two starting contracts that steer you towards a certain creature suit or color. The gems and the dominoes feel good in the hands, and add a bit of class to a game with a very reasonable MSRP of less than $30.
Vivarium landed well with my review group, where players prefer medium-weight experiences and were looking for something that plays well with families over the holidays. I think Vivarium might live in my family gaming closet at home—something that my kids and I can play, and they'll grow into having a better understanding of how the item cards play with more time enjoying the game.
One would imagine being blocked fromtaking cards at some point by a poor domino swap, but the option to take two gems if no cards fit your strategy worked well for players. In addition, having any gems at all allows for the manipulation of a tight domino swap, so you can get the card you want 99% of the time if you plan ahead a little. (Assuming no one grabs your card first!)
Games of Vivarium consistently took 30 minutes or fewer. (I played Vivarium twice with three players and once with four players.) The two-player variant wipes random cards from the game, but I did not try this at two players for review. I've also played this with my children (ages 8 and 6) and was surprised at how quickly they picked this up. (The game lists a recommended age of 10+.)
I'm enjoying Vivarium quite a bit. Our friends at Hachette (the distributor of Studio H games) tell us that Vivarium will hit the US market in May 2023, so keep an eye out for this one!