Justin reviews the Treasure Falls tile-matching family game The Quest Kids Matching Adventure!
Treasure Falls Games is the developer behind the new family game release The Quest Kids, a dungeon crawler for ages 5 and up. I loved that first game, and the team at Treasure Falls was kind enough to send a copy of The Quest Kids Matching Adventure, a standalone title for younger kids ages 3 and up.
The Quest Kids Matching Adventure works well because of one simple rule change to the games of Memory you grew up with:
Why don't we just let kids flip over three tiles to make a match, instead of two? That will make it a lot easier, especially for kids!!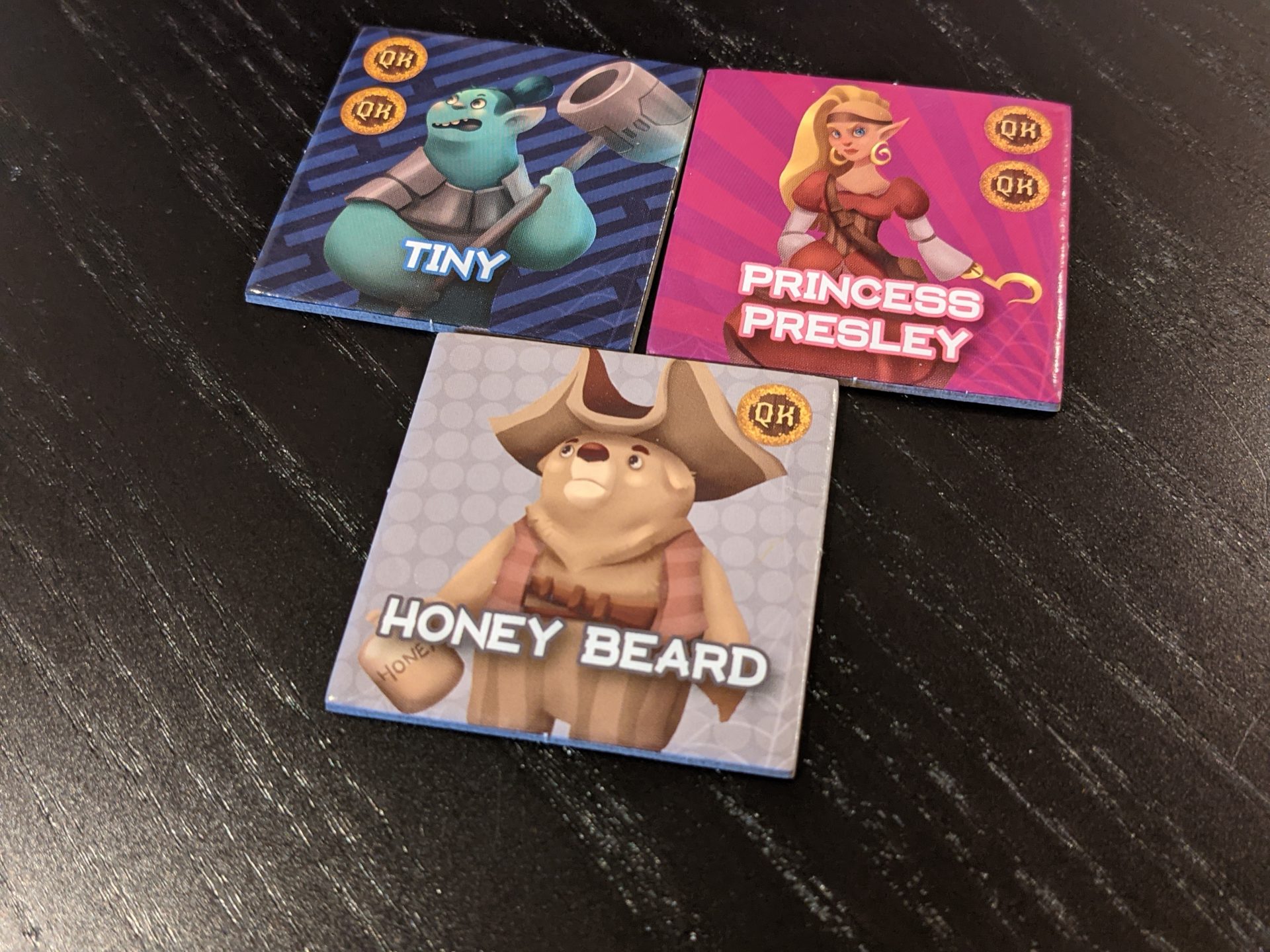 A great pairing of accessibility and adventure
The Quest Kids Matching Adventure uses all of the heroes and bad guys you recognize from The Quest Kids base game to build a standalone 20-minute game that the entire family, or your kid's best friends, or your social circle at large can enjoy.
Gameplay is simple. Shuffle and place the 20 "tree house" tiles in a 5×4 grid; these tiles contain all of the hero characters from the base game, plus a couple of ally tiles which can be used later for one-time special abilities. Then, surround the tree house tiles with a varying amount of adventure tiles (ranging from 24-40), which will be used later to help adventurers complete matches to earn stars, the scoring element from the base game, and determine a winner.
My 4- and 7-year-old like the "easy" set up, with the 20 tree house tiles surrounded by 24 adventure tiles. This usually means we get a 15-minute game to keep everyone engaged for as long as possible. A larger assortment of adventure tiles seems to make sense for a game with older kids, but it feels like it is only an option to make the game longer, not really more interesting.
On a turn, players must first match two hero tiles from the tree house section of the map. You can't explore the adventure tiles until you have at least one hero. Plus, to ensure everyone is working on a somewhat similar timeline, you can't search for more heroes if you already have at least one hero (a nice catch-up mechanic for kids anxious that, say, their big sister is getting too far ahead!) and you can't complete more than one adventure tile matching set before other players have had the chance to get at least one matching adventure set.
But the brilliance of allowing each player to flip three tiles instead of two completely changes the dynamic of how kids approach The Quest Kids Matching Adventure. How many times has a child said "I think Tile A is right here"—pause as the child flips Tile A over, and it really is what they thought it was going to be!—"and I think Tile A's match is, hmm, right HERE!"
And then, Tile A isn't there. And they flip the two tiles back to their hidden sides, disappointed because they just missed flipping the tile where Tile A's match really was, and they have seen it once or twice already in the game, but they just couldn't remember exactly where.
This single rule change makes the matching game concept more friendly for everyone, even the adults who can't seem to remember the names of all of the dragons, pirates, heroes and allies in the base box for The Quest Kids Matching Adventure. And you will find, like I have, that it gets kids excited to keep playing, not discouraged because everyone else is having some success, real or imagined.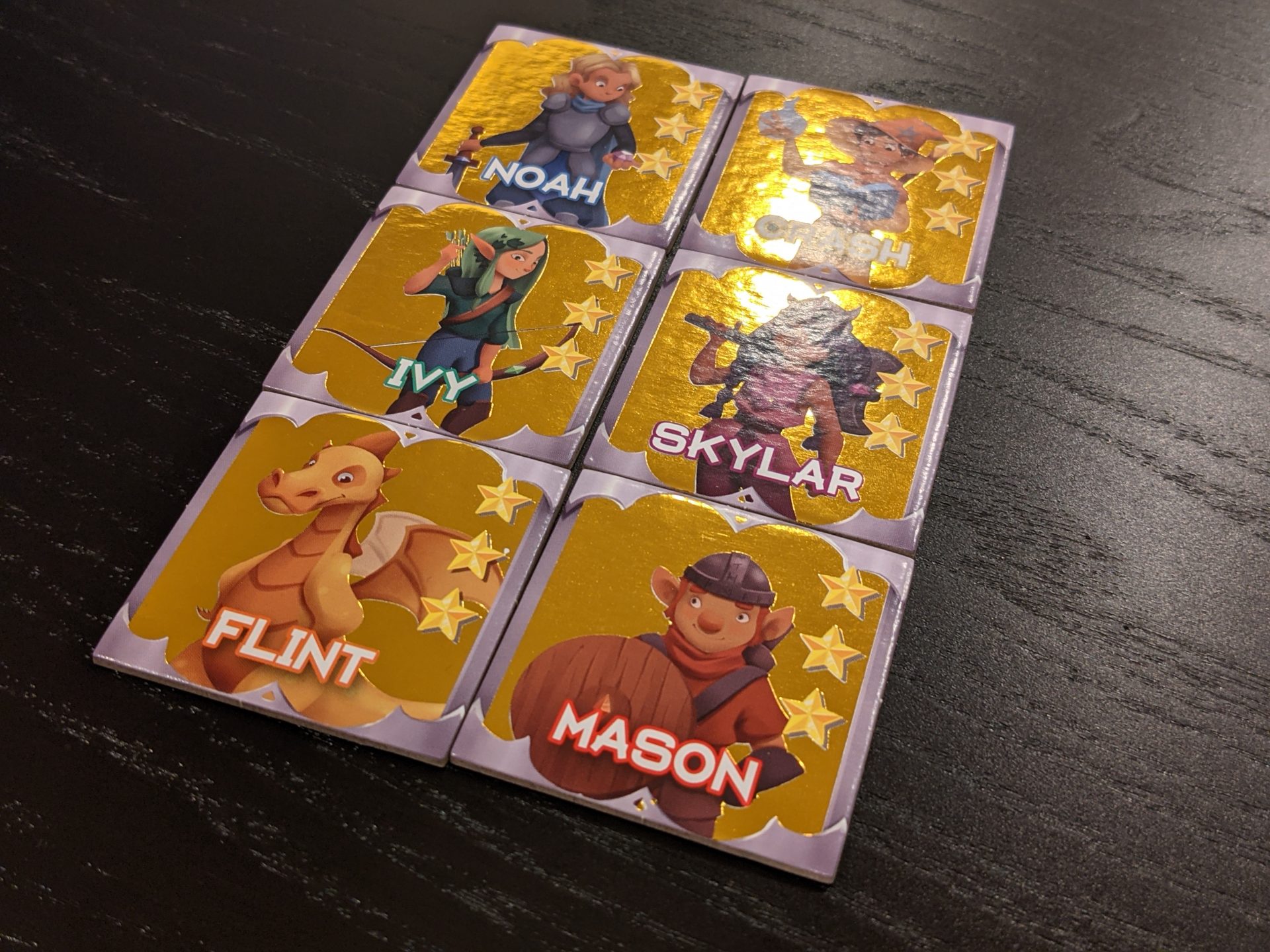 Keep flipping those tiles!
My son, the 4-year-old, has a tendency to sometimes bail on games if he can't find success in the first few minutes. The Quest Kids Matching Adventure—and Treasure Falls as a whole, given the experience we had with The Quest Kids core game—really nails it when it comes to understanding what success means to a young child.
The main negative for The Quest Kids Matching Adventure is minor: there's no plastic insert to hold the tiles like the insert in The Quest Kids or the campaign expansion, which is surprising. Also, while the included treasure box to hold treasure tiles is a nice touch, a felt bag works better functionally for this purpose.
Otherwise, my family has really enjoyed The Quest Kids Matching Adventure so far. Get out there and flip those tiles with your young kids stat!