An article discussing Railroad Ink did not exist here at Meeple Mountain, so Justin rolls and rights this wrong in this review!
In our recent Top 6 collaboration article regarding some of the Meeple Mountain team's favorite short games, I highlighted that one of my 3 picks is the fantastic roll and write game Railroad Ink from Horrible Guild Game Studio.
Prior to COVID, I kept my copy of Railroad Ink in my game bag for weeks, then months, then permanently. I always like to have a game on hand that is easy to teach, plays well with smaller and larger sets of gamers, and takes up very little table space. Across more than 30 plays over the years, I continue to love the accessibility Railroad Ink offers in such a tidy package.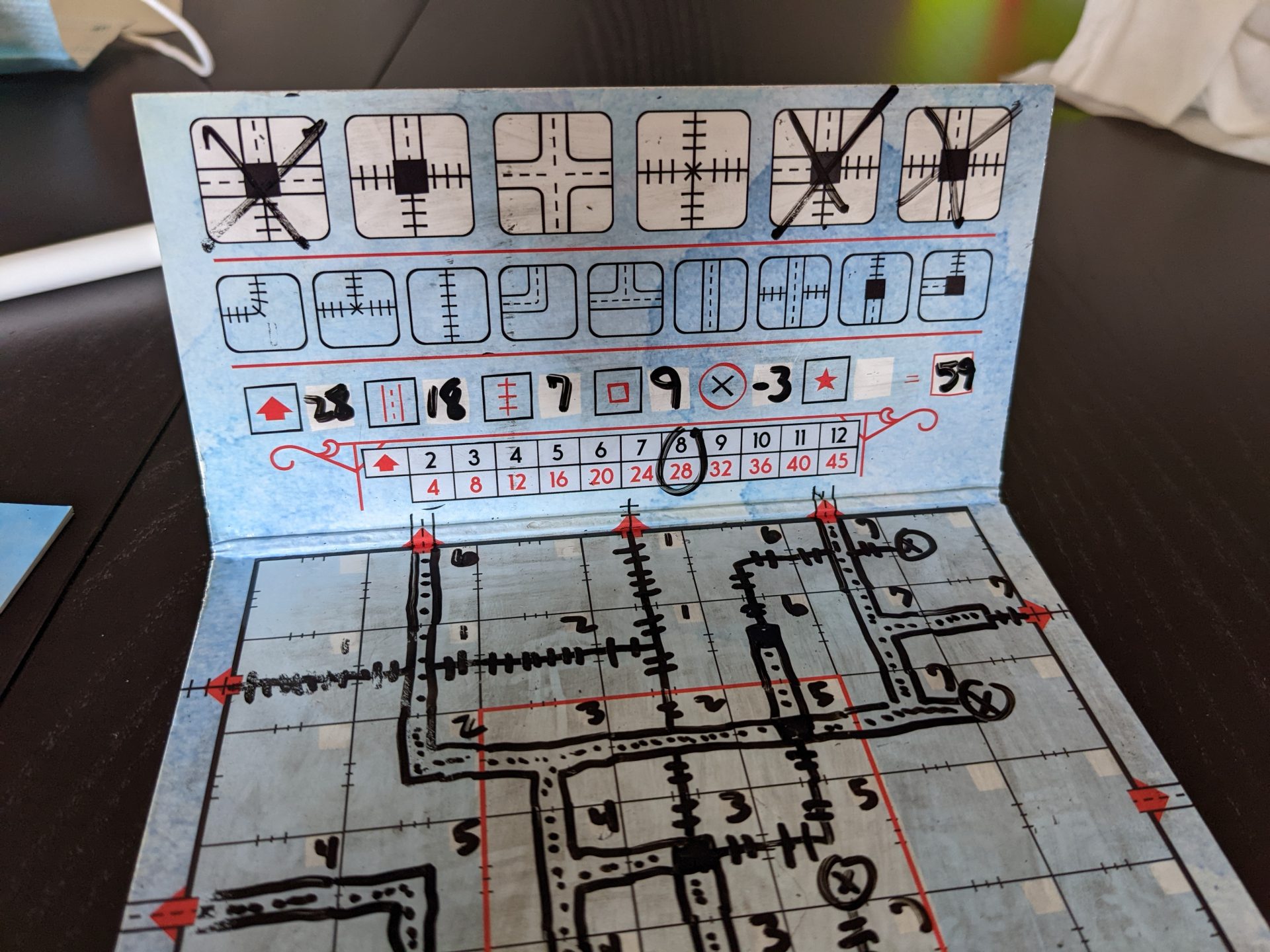 I Really Have Been Working on the Railroad
Roll dice, draw shapes. In Railroad Ink, you'll spend seven rounds and (at least) four dice per round, drawing shapes on a grid full of space for your future railroad network.
Railroads, and highways, I should say. You see, in every round of Railroad Ink, someone rolls four white dice. Amongst the 9 different die faces are: L-shaped railroads, L-shaped highways, T-shapes of both rails and highways, straightways of both, and overpasses. The remaining two shapes feature an Exchange, which means that a highway turns into a railway and vice versa.
Early in a game of Railroad Ink, you'll start your network from one or more of the 12 nodes surrounding the outside of your play area. These are represented by red arrows. Each player then has to add all four die results to their dry-erase board, connecting roads and railways to those red exit points on their map. Over the course of play, as your grid fills up, choices get more interesting very quickly!
On the very top of each player's board, access to 6 shapes that represent 4-way intersections is available. All of these 6 shapes are a mix of railroads and highways; only one of these can be added in a round, and not more than 3 for the entire game. This adds another layer to connect loose ends or take up space in the middle of your board.
Building a large, connected network to your exit points is the best way to score points in Railroad Ink. The more exit points that are connected to the same network, the larger the score for any single set of connections. Connect railways and highways with, say, 3 of your exits and you'll score 8 points at the end of the game. Connect 6 exits, and you'll score 20 points instead.
Players also earn a single point for each space with their single longest highway and single longest railway. In addition, players earn one point for each of the 9 central spaces on their player board with anything drawn in each space.
When 7 rounds are up, any routes that don't connect to other routes, cost you -1 point per dead end. Total it all up to determine a winner!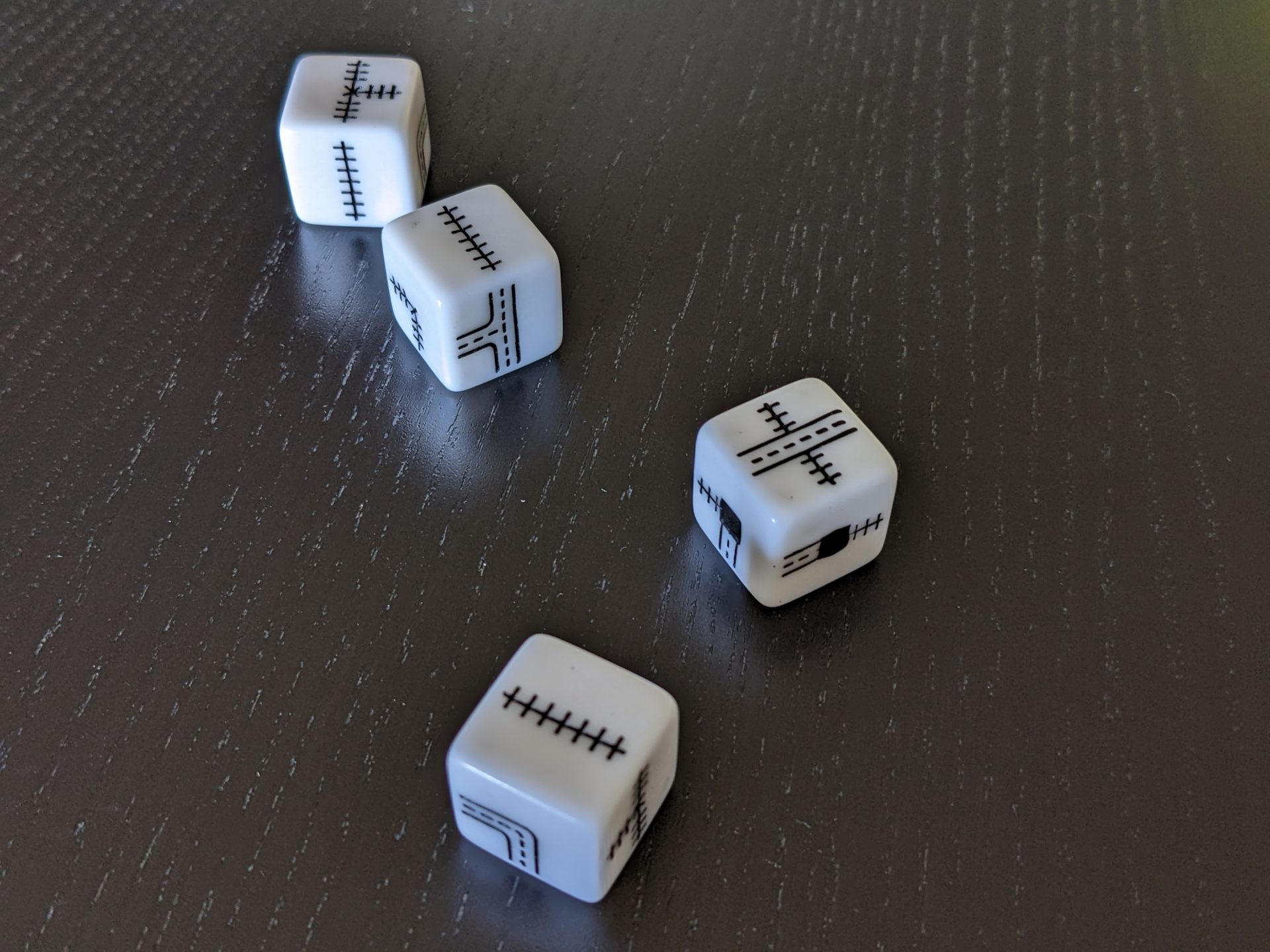 All Ages, All Skill Levels, All Audiences, All the Time
I've taught Railroad Ink to my kids, to other gamers (gamers of all shades, I might add), to non-gamers, to co-workers. In fact, it might be my most diversely taught gaming experience.
Everyone likes drawing on the boards, and the included dry-erase pens are excellent, even 3+ years after buying Railroad Ink. I love games that reward experienced players just as easily as someone playing for the first time, and this game is no exception.
A full game of Railroad Ink takes about 20 minutes. The personal player boards are maybe 4×4 inches, so I always have the space for this no matter where I'm playing: a friend's house, a bar, even a conference room at a work event.
It's fun to draw railroads; even the worst artist you know can make a finished play of Railroad Ink look good. It scales well, and since it plays up to 6, it's a great way to kick off a game night before groups split into smaller games.
The Expansions? Not Needed
When it was first released, Railroad Ink came in 2 flavors: Blazing Red and Deep Blue (the latter is the version I own).
Each version of Railroad Ink comes with 2 mini-expansions; in Deep Blue, those 2 expansions are Rivers and Lakes. I'll be perfectly honest: each time I begin to read the rules for these expansions and consider playing with them, I pass.
The base game is so good that adding these layers is not necessary. Plus, I mostly play this game with new gamers, so it's just easiest to stick to the base game when I'm doing a quick teach.
I've played with the expansions, but I don't see the need. You could add Lakes, which allow for more ways to extend routes over bodies of water, but I just haven't needed it.
More importantly, adding the result of the expansion dice each round is 100% optional. If it's not required, I'm just not going to do it, so I've played with Rivers twice and Lakes once (for this review!) and don't feel the need to ever use those extras again.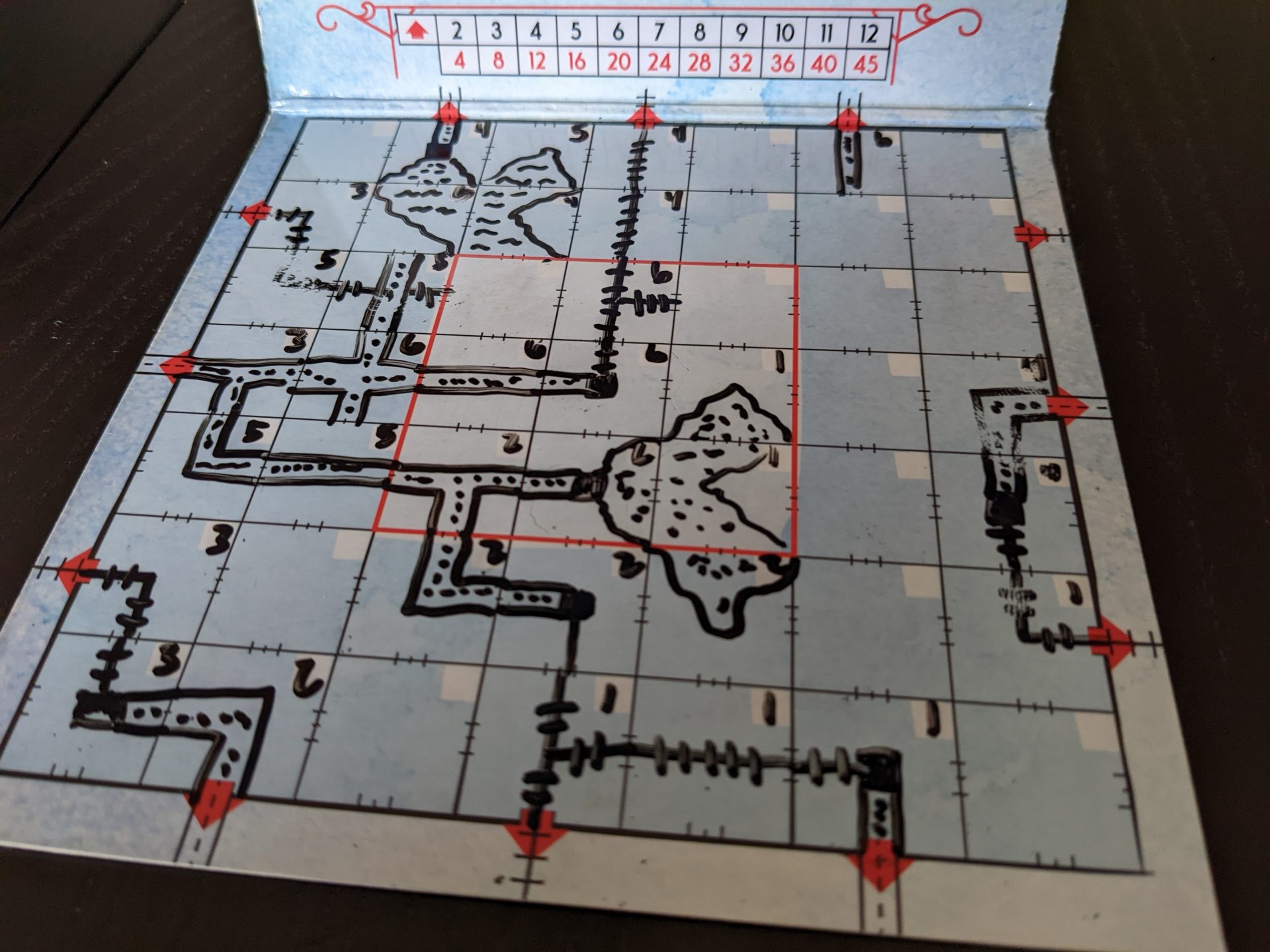 The Perfect Lightweight Experience
Compact and super accessible, Railroad Ink fits the bill for almost any gaming situation. I have relied on Railroad Ink for years to bring gamers of all stripes together for a quick roll-and-write experience. This game has never let me down.
There are many other expansions available, but my vote for most people is to just stick with the base game. Railroad Ink never gets old thanks to the variability in the ‌building parts in a round, and it scales from 1 to 6 players with ease because there is no interaction (a positive in a case like this).
You can grab this almost anywhere for about $17. It will be hard to beat this entry price for such a great game. Add this to your collection and thank me later!