The crowd watched the head of the Maester Circus die under the Big Top. But was the wrong man convicted?
On Circus Grounds, from Studio Stamp, is a cooperative cold case file mystery where you and your fellow detectives review evidence to answer all the standard whodunnit questions that make up the genre.
Since this is a mystery with only one set of correct answers, this will be a SPOILER FREE review. As such, it will have only one long-shot image of the components/evidence, and I will be intentionally vague on many points.
The Opening Act
According to our files, you have indicated that you would be interested in helping to investigate unsolved criminal cases. It is for this reason that we reach out to you with the following:
Recently, the Civilian Service started a project to determine and rectify any historical injustices…In this context, we have enclosed a murder case from the archive in Dalfsen, stemming from the year 1883-84.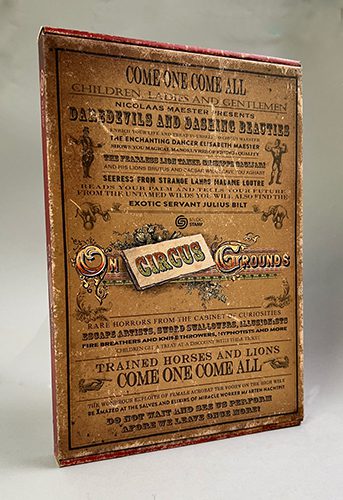 With this introduction, you are presented with a collection of materials that have "been declared as reliable and authentic by our team of experts." These items are a hodgepodge of documents, photographs, tarot cards, and messages, each of which has to do with the Maester Circus, its members, and the final days and hours of the murdered head of the circus, Nicolaas Maester.
As an investigator, it is your job to untangle the evidence, determine what is crucial to the case and what is not, and ultimately determine who killed Maester and why. You must also determine the murder weapon and, if applicable, how the culprit gained access to the weapon.
After sifting through the evidence provided and determining the answers, you'll log into the game's website where you will be asked a series of questions. Provide the correct answers and you'll have solved the mystery.
The Main Event
A quick admission: On Circus Grounds was my first experience with the Murder Mystery/Deduction/Party Game genre. I chose to not play this with my weekly gaming group, but with neighbors who have enjoyed playing the social deduction game, Whitehall Mystery.
As it turned out, I think this was the right choice. My weekly group had rejected Batman: Everybody Lies due to the excessive amount of reading involved. (As I stated in my review, that game is more like reading a Choose-Your-Own-Adventure series of events than an actual game.)
Not that there isn't a lot of reading that needs to be done in On Circus Grounds. There are many pages that need to be read and noted. The difference here is that these physical pieces of paper can be distributed amongst the players to summarize and share with the rest of the group.
This was part of our biggest initial challenge, in fact. Sifting through the almost 40 pieces of evidence took some time. Each piece of evidence needed to be sorted and examined. Thankfully, amongst the four of us, we were able to naturally gravitate towards those items that we each thought would be the most interesting.
Whilst others went through the various papers, the photographs, and the maps, I took the several coded messages and set them out in front of me. I've been interested in codes and ciphers since I was a kid and it didn't take me long to crack one of them and partially decode another.
However, after two hours of reading and discussing our findings (amid many glasses of wine) we felt we had reached an impasse. We decided to pack everything up and come back the following Saturday evening to determine who the killer was.
For my part, I was stuck on one of the coded messages. I knew it had to be important, and that only made my inability to crack it all the more annoying. Over the next week I stared at it every evening being unwilling to admit defeat.
When we reconvened, we were able to fit all of the pieces (coded messages included) into a timeline of the events leading up to the murder. An hour or so later, with a whiteboard worth of papers taped up with lines connecting people to locations to motives, we thought we had it solved.
Then we toasted our success as we answered all the questions correctly and solved the case!
The Daring Young Man On the Flying Trapeze
Having read most of our reviews on Murder Mystery games, I suspected On Circus Grounds is meant to be a more evidence-rich, in-depth game. Discussing this with my colleagues I'm convinced this is the case. The wealth of information is meant to not only present you with a challenging case, but also immerse you in the world of the 1883 Maester Circus. (The box suggests it can take 2-4 hours to play, and is probably right for people who have played other games in the genre.)
The production quality of the materials here is outstanding. The papers all have an aged look to them, as do the newspaper clippings and the photographs. The 'handwriting' on the items looks less like a handwriting font and more like authentic old handwriting. That 'moldy' envelope clearly isn't moldy, but they've done a good job of approximating the look.
Perhaps my highest praise for On Circus Grounds is this: in the week between our group sessions to solve the mystery, I was constantly thinking about the case. I knew I could solve this one if I could just put all the pieces in their proper place in my head. The only other time this has happened was the first time I played Agricola, and that was 13 years ago.
The team at Studio Stamp has done an impressive job creating an engaging, engrossing world in a relatively small box, a world replete with suspects, clues, and conundrums. If you enjoy Murder Mystery games, either for solo or group play, I think you'll find On Circus Grounds a worthy unsolved crime to take on.
On Circus Grounds is currently available on Kickstarter where it was fully funded in its first 24 hours. If you're a fan of the murder mystery games, I encourage you to consider backing this one.