King's Forge is expanding, adding gold dice, gold items and gold rules. Check out our King's Forge: Gold review to see whether this expansion is what the world was waiting for or simply fool's gold.
This is a review of the Gold expansion for King's Forge. If you're unfamiliar with the base game then check out our King's Forge review first.
The King is still looking for a new 'Craftmaster' and has decided to add some bling to the contest with the addition of gold. There are glittery treasures to craft, new ways of gathering dice and new rules that make the competition even tougher. You may think you know how to forge but you know nothing, Jon Gold: those golden dice are going to change everything. You can do this, I know you can, always believe in your soul. You've got the power to know, you're indestructible, always believe in…
Gold
The Gold expansion is the smallest (and cheapest) of the five available expansions for King's Forge, adding into the game with faint but very noticeable ripple. It provides a hefty stack of new items to craft, an entire set of interesting new gather cards, some optional rule scenarios and gold dice which are wild in the gather phase and always a metal 4, 5 or 6 in the craft phase. Barring another sentence or two to explain specific scenarios, that's the entire additional rules explanation required to play King's Forge with the Gold expansion. Which is awesome… and just as well since the rules seem to be written assuming you already know how to play with the Gold expansion.
Sooner or later any game featuring resources looking to expand is going to introduce a wild resource. It's one of the sacred laws of expansions. In fact, taken at face value, King's Forge: Gold could appear as a by-the-numbers expansion, adding a little bit more to everything without dramatically changing anything at all. King's Forge: Gold doesn't even have the pizzaz to come up with a snappy title like Dice City's 'All That Glitters' or the moxie to argue that salt was the Roman gold like Concordia's 'Salsa'.
Yet despite the uninspired name and expansion 101 framework, there's an argument to be made that Gold is one of those legendary perfect expansions – expansions so integral to the game that you never play without them ever again.
GoldenDie
Gold itself is a rare but meaningful addition – you won't have much over the course of a game but even a single gold die can make a big difference, edging you ahead at just the right moment. The different ways the gold dice function in the gather and craft phases may seem awkward at first but you rapidly adjust to its changeable nature. As always, it helps to think thematically: in the gather phase gold can be used to barter for anything (because it's valuable) and in the craft phase gold is a metal that happens to be worth a lot (because that's exactly what it is).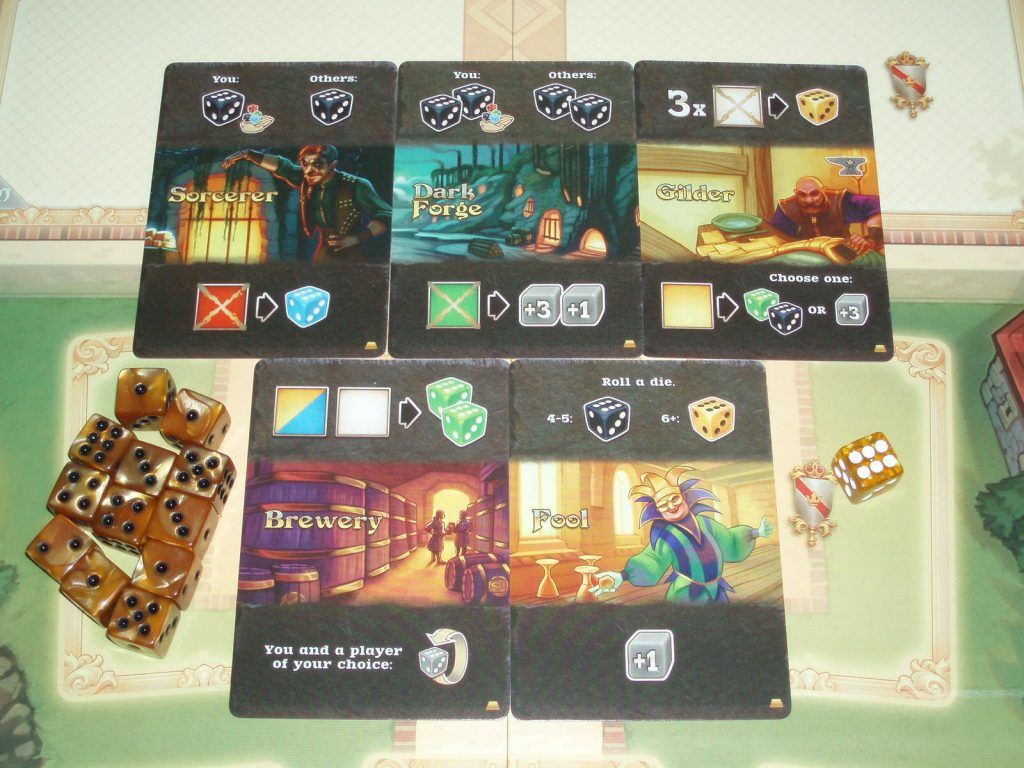 The new gather cards are satisfyingly interesting. Whilst three of them are designed to use gold, the remaining cards can be mixed with the base game's gather cards for welcome variation. Particular favourites of mine are those that give you something good but also give your opponents something as well. In a game where a single die can make all the difference, is it worth getting what you need if you're also helping your opponents?
The best of the optional rule scenarios are worth incorporating into every game. One scenario gives you a gold die if an item is stolen – your opponent may have frustrated you but a gold die isn't to be sniffed at. Another scenario gives you a temporary gold die if you have the highest total left over at the end of the crafting phase, a circumstance that likely means you failed to craft anything. These are great ways of softening the harsher edges of King's Forge. It still sucks to have an item stolen or to have failed to craft anything but your turn wasn't completely wasted.
Heart of Gold
For such a minimal rules addition the effect is far-reaching, not fundamentally altering the game but strengthening each element. The addition of gold dice, the new gather cards and those scenarios acts as lubricant to the engine building fun. Everything flows faster and smoother. If you felt that the initial part of King's Forge was too slow, the Gold expansion gives it a jump start, revving the game into life. The decisions are fractionally more interesting and the race feels closer, with the added scenarios acting as a catch-up mechanic. The base game's satisfying feeling of progression from 5 metal dice to a handful of gems and magic is condensed into a shorter space of time, whilst the competition seems fiercer but somehow kinder at the same time.
If you like King's Forge then the Gold expansion is a no brainer – an inexpensive and easy to incorporate way of increasing your enjoyment of the base game tenfold. I'll play with it in pretty much every game from now on and I'd even include it when teaching new players.
Some expansions change the entire feel of a game, make you look at a game in a new light or challenge you to strategise in new ways. King's Forge: Gold isn't one of those expansions. Despite the bling it's a subtler addition, folding into the game so silkily that you wonder how you never missed it in the first place. If I were giving out medals it would definitely be… Gold!
This copy of King's Forge: Gold was provided in exchange for a fair and impartial review.