The Game Haul: Game Night board game bag from Top Shelf Fun is the perfect bag for game night. Check out our review of this fun-sized bag full of fun.
Board game bags are the subject of much discussion, with each person offering their own viewpoints as to which aspects are important to them. From cheap plastic grocery bags, to top of the line, triple-reinforced stitching with breathable baffles and lots of pockets, there are so many board game bag choices out there that your decision largely comes down to your personal needs.
The problem with larger game bags, such as the Game Haul Bag 3rd Edition, is that whenever you use it, you feel a compulsion to fill it to the brim. This isn't so bad if you're going on a weekend retreat or to a convention. But when it's just a few hours at a friend's house, you might not want to lug around 50 pounds of games. Sometimes you only want to bring along three or four titles that might realistically actually get played. What do you do in these cases? Carry around a mostly empty game bag?
Now you don't have to. Top Shelf Fun has got you covered with the Game Haul: Game Night Bag. Just like its name implies, it's a board game bag designed with a specific purpose in mind.
Game Haul: Game Night Bag
At Meeple Mountain we grade all board game bags using the same 4 sets of criteria: Straps, Functionality & Durability, Capacity, and Portability, Price & Availability. How did the Game Haul Bag 3rd Edition do against our metrics? Let's find out…
Straps
The Game Haul: Game Night Bag comes with a detachable shoulder strap as well as a strap running across the top of the bag which is encased in a thick, plastic handle. The fabric is thick and durable. The shoulder strap is adjustable with a shoulder pad that easily slides up and down the strap. In my experience, though, this doesn't make the shoulder strap any more comfortable. There's no escaping the reality that it's a 1.5-inch piece of fabric pulled taut against your shoulder by the weight of the games at the other end. I prefer to carry the bag around by the handle on top, and that works just fine. With only a fraction of the games inside than what a larger bag would entail, it's a weight I can comfortably bear.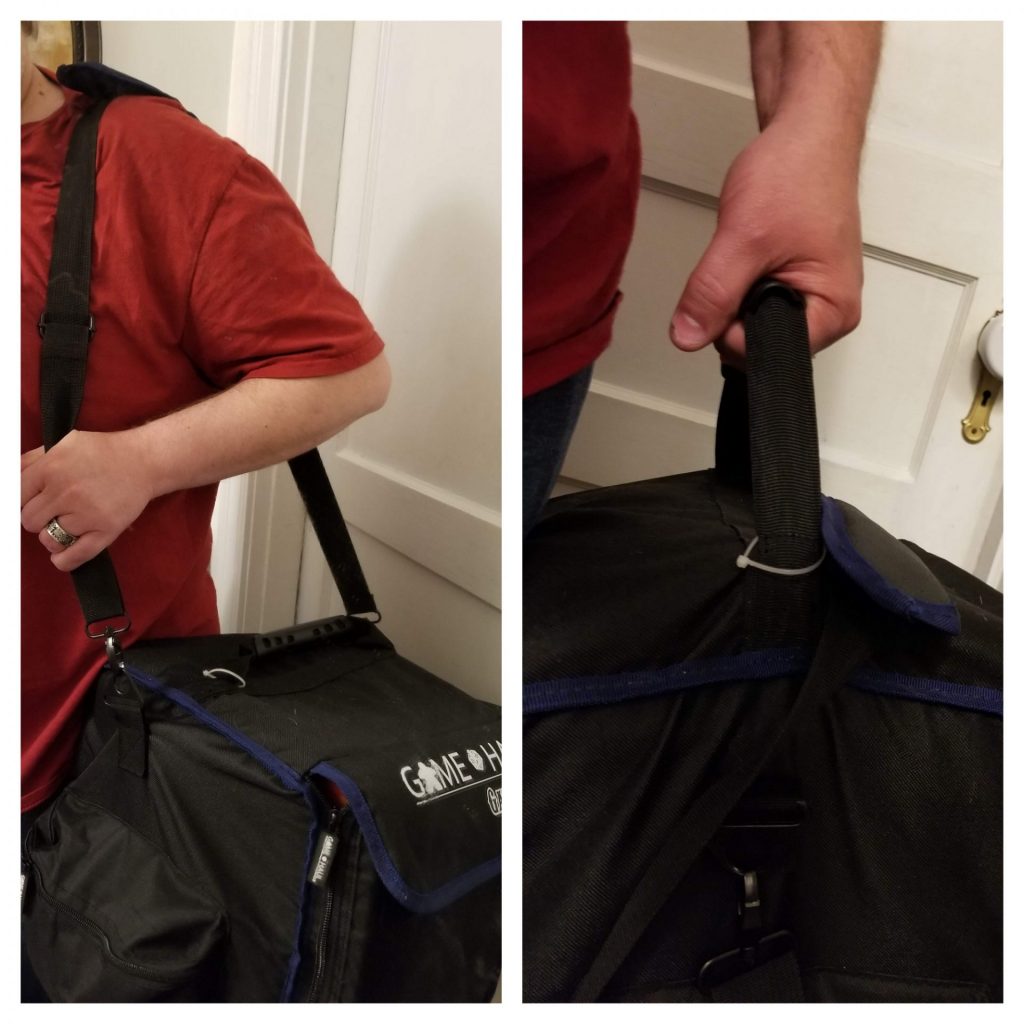 Speaking of shoulder straps, a common complaint of many of these game bags is that the rings which attach the shoulder strap to the game bag have a tendency to break, rendering the strap useless. This is because these rings are typically made of plastic which was never meant to support the weight of multiple, hefty board games. This is not a concern with the Game Haul: Game Night Bag as all of the connectors and adjusters are made of metal. This is a bag that is meant to last.
Functionality & Durability
The Game Haul: Game Night Bag is a solid cube except for the zip-down flap on its front which serves as the single access point. Two zippers run up either side of the flap and, when zipped all the way up, are hidden by a smaller flap which folds down over the top and features the Game Haul logo. This fold down flap has velcro on its backside which attaches to the larger flap beneath. This, combined with the zippers, holds everything snuggly in place. When opened up, the top flap flips upward and out of the way and the front flap folds down flat, providing easy access to the games stored within. The left side of the cube features an extra zip-up pocket which can hold a smaller game like Herbaceous or, if you're like me, some nice bowls to hold your bits and baubles. The right side features a netted pocket for additional storage although, if I'm being honest, I would have preferred both sides to feature zip-up pockets.

As for durability, each panel that makes up the bag is padded to provide a small measure of protection. Everything is stitched together beautifully and nothing about the bag feels cheaply made. I can see this bag lasting for a long time.
Capacity
The Game Haul: Game Night Bag is the perfect bag for when you're wanting to carry around a small, curated selection of games rather than your entire game library. Well, unless one of those games happens to be The Lost Ruins of Arnak (or a game with similar dimensions). Then you're out of luck. The Game Haul: Game Night Bag is neither wide enough, deep enough, or tall enough to accommodate such a game. You can, however, fit four standard Ticket to Ride (TTR) sized games inside of it. It doesn't have the greatest capacity, but it's pretty good for the problem it's aiming to solve.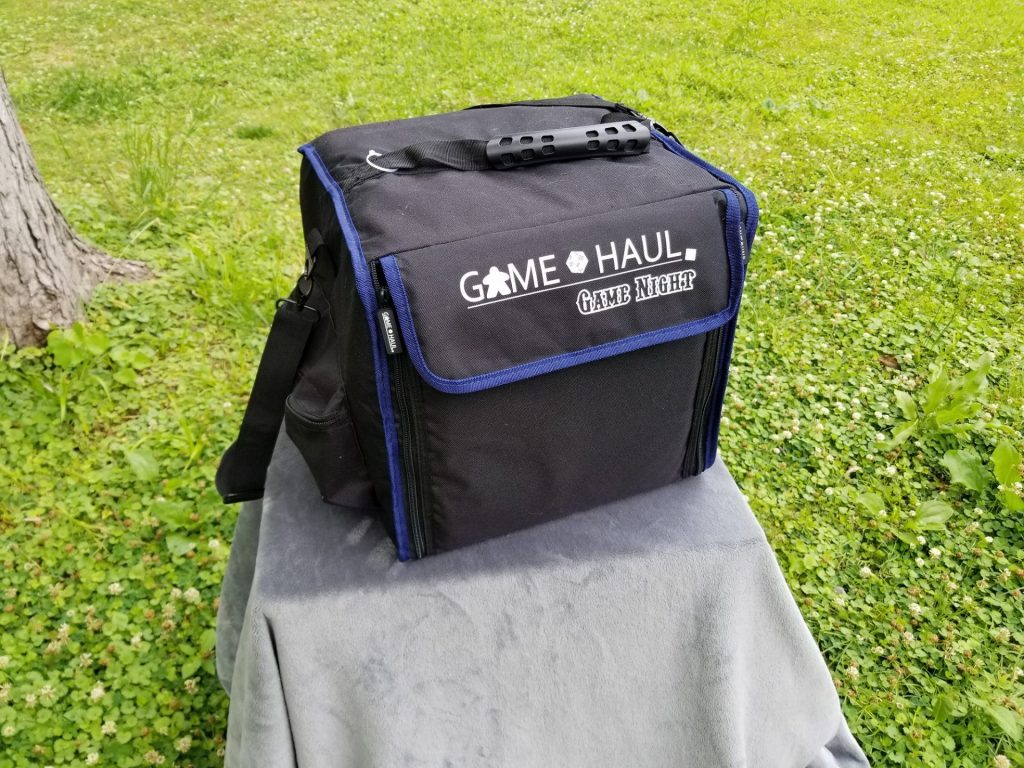 Portability, Price, & Availability
Because of its sturdiness, the Game Haul: Game Night Bag takes up about as much room empty as it does when it's full of games. There's really no way to collapse it flat. The best you can do is compress it down to roughly the same dimensions as two TTR games stacked. Even then it's pretty bulky. Conceivably, it could be stored underneath a bed or tucked in between a wall and a shelf. As for me, I just keep it full of games that I'm always in the mood to play and set on a table off to the side in my living room; a quick grab-and-go solution for surprise game nights!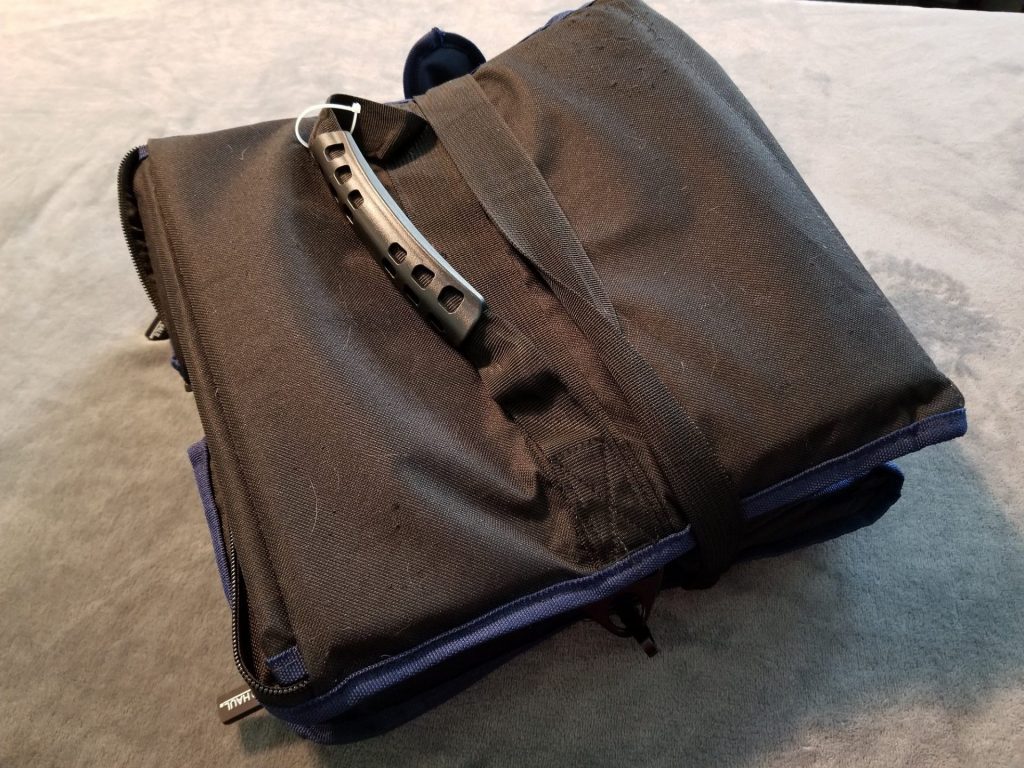 As for price and availability, it doesn't look like this particular version of the Game Night Bag is available for purchase any longer. Instead, Top Shelf Fun features a new version on their site. It looks largely the same with a few notable exceptions.
 It's a different color.
The handle on the top has been replaced with two straps that extend up the sides and meet together on top with a velcro enclosure to hold them together.
The left side pouch has now been replaced with a pocket that sits flush with the bag.
The version that I have came with a tag that rated it to carry 25 pounds. This new version claims that it can hold up to 35. I suspect that's because the handle has been replaced by straps.
A small compartment on top of the bag for additional storage. No doubt, this was either a result of adding (or the impetus to add) the straps on the side of the bag as opposed to a handle.
This new version of the bag sells for around $45 at the time of this writing. While I can't speak for the quality of this newer version, I can say that if it's anything like the version that I have, this is a good value for a pretty great bag.
Final Thoughts
In his Final Thoughts for the Game Haul Bag 3rd Edition, our editor, Andy Matthews, stated: "…unless you really need backpack straps, or the fully covered protection that the Game Haul Bag offers, I'd likely lean towards its little brother, the Game Haul: Gateway Tote." The Game Haul: Game Night Bag offers both the protection provided by its larger counterpart with the portability of its smaller sibling. It's the perfect "just right" step in-between the two, a bag that Goldilocks would select and one that I can see myself using almost exclusively going into the future.
Goodbye Boardgametables.com Board Game Bag. Hello Game Haul: Game Night Bag. The significantly smaller size makes it an easy choice for me.