Travel back to Victorian England to catch a crafty criminal with Ian's review of Blackbrim: 1876 from Puzzling Pursuits!
In this review anything that might be considered a spoiler is hidden in a collapsible window with a spoiler alert on it. In all other ways, this review is spoiler-free.
Reagan Skinner is on the loose! The cagey killer has kidnapped several police officers and it's up to you to free them all before Skinner takes another life.
To do that, you'll need to decipher the clues that Skinner has left behind to locate the officers, track Skinner down, and put the megalomaniacal mastermind behind bars for good. Luckily, Skinner's obsession with puzzles means you've got a long trail of breadcrumbs to follow. Put together the pieces and you might just crack this case!
Blackbrim: 1876 is an escape room game in two parts; each part includes five or six individual puzzles as well as a "meta-puzzle" that requires combining the other solutions in a new way. In general the first part is easier and can be done in an hour or two, while the second part is a little trickier and will likely take two to three hours. This could vary by group size, skill level, and other factors. Since the game takes place in 1876 and does require some historical knowledge, players are not only allowed but encouraged to use the Internet for help with some of the puzzles. I would also suggest keeping a few sheets of paper close by for notes.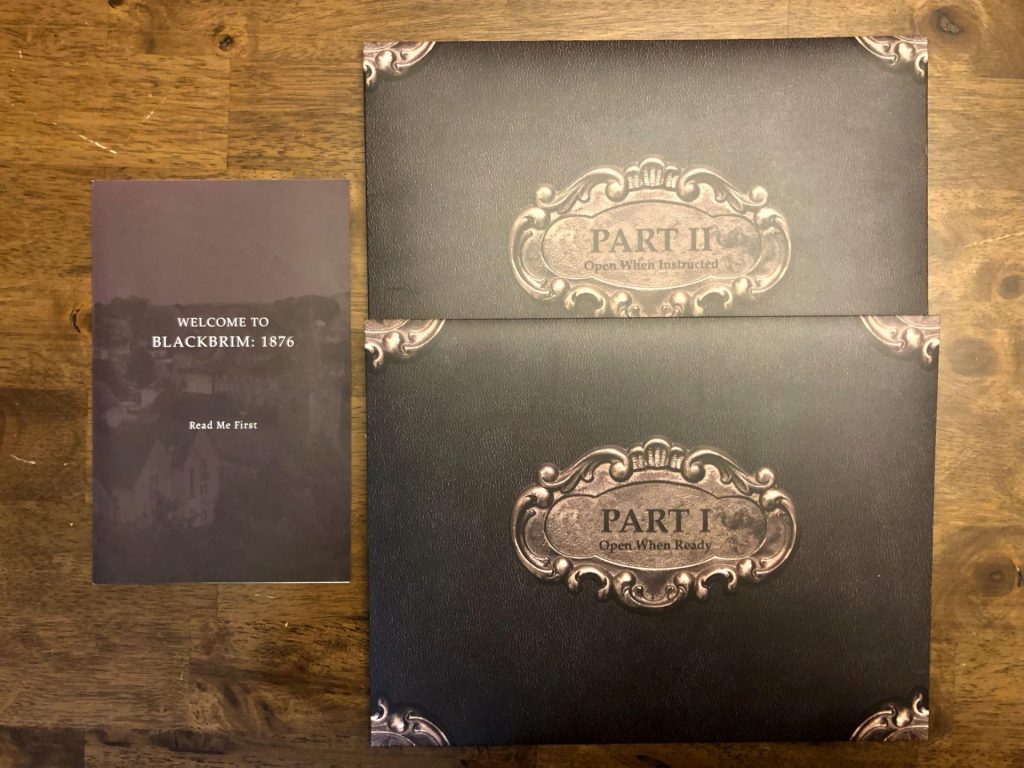 The game components are doled out through a series of individual envelopes, which makes it very simple both to focus on a few puzzles at a time and to stop when desired. The overall presentation of this game is absolutely fantastic. I love a good immersive escape room and Puzzling Pursuits has done a great job with this one. From the waxy seal on the first envelope encountered to the quality postcards and full-color illustrations, it's hard not to be impressed. Even the box is sleek and elegant.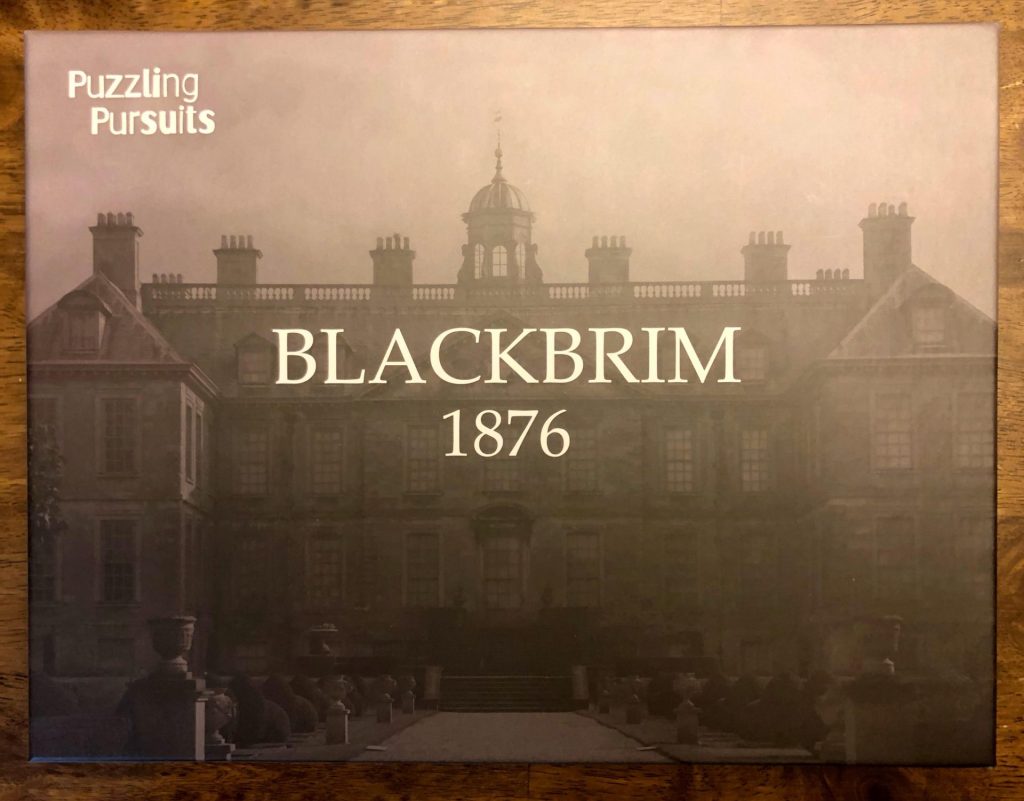 One thing to note: unlike many escape room games which are designed to be "reset" so that you can pass it off to a puzzling pal after play, Blackbrim: 1876 does require some manipulation of the components that makes it less than ideal for reuse. While we were able to finish the game with minimal damage by making photocopies of certain pages and tracking our answers on separate paper, it's certainly not the intended practice. 
The puzzles themselves range in style and difficulty, though Blackbrim: 1876 focuses on a niche that I feel many escape room games overlook: verbal puzzles. Answers are typically provided in the form of a word or phrase, rather than calling out a number or pointing to a single item on the page. Most escape room games focus on spatial reasoning, visual acuity, or logical deduction. As a writer and general word nerd, I really appreciate having a greater focus on wordplay. A large vocabulary or the ability to quickly anagram will be useful here, though you'll need plenty of those other skills as well!
Click here for a glimpse at some of the game's components.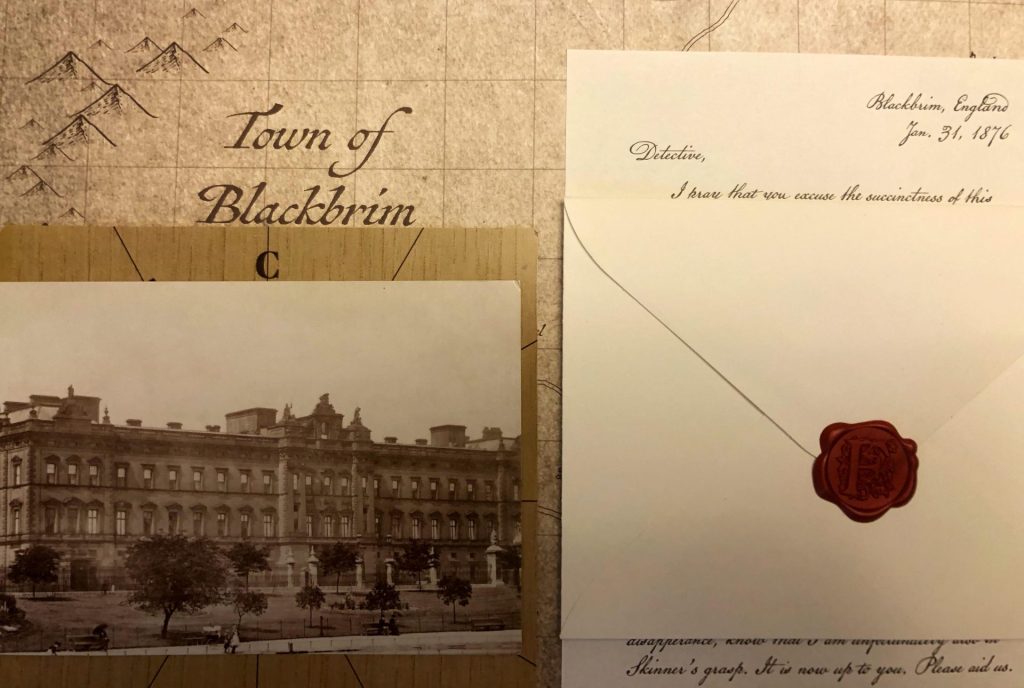 The game's narrative is fairly well-constructed. If you've done a few escape rooms, you're probably used to seeing villains who seem to blend James Moriarty with Rube Goldberg. Reagan Skinner fits into that mold, though there's a little bit more personality here in the form of letters written directly to the player and other elements from Skinner's life. Still, it's easy to get into the game whether the plot particularly hooks you or not.
One issue that some players might have is that this game does require an Internet connection. While it doesn't have a dedicated app, it does have a browser-based site that is used not only for getting clues (which some players might not need) but more crucially for checking solutions in order to proceed to the next section. Using the site's drop-down menus is easy enough and actually necessary to ensure correct answers, as a few of the puzzles have multiple layers that need to be addressed. I felt confident that we had the right solution to one puzzle, only to be stymied by every variation I could give on the answer. As it turned out, I was missing a key piece; the process of solving that puzzle in full ended up being one of my favorite moments with the game.
Though it doesn't do anything particularly novel, Blackbrim: 1876 is one of the best escape room games I've played. The balance of puzzles hit a nice moderate difficulty for us: we were never stumped for long but we didn't exactly cruise through it either. Towards the end the difficulty ramped up a bit, leading to a final challenge that felt like an accomplishment. It's a great game, artfully presented, with both a range and depth to its puzzles that makes it a good fit for almost any group. I would highly recommend this game to both experienced players and complete novices.