Justin and his kids broke out BIGFOOT: Roll & Smash! Let's crush some cars in his review.
By the end of the first turn, I was worried. Scared, even.
My wife had just taken her first turn in our family's first game of BIGFOOT: Roll & Smash (2022, XYZ Labs). It took her maybe seven minutes to program the moves she was making as BIGFOOT Racer—one of the six trucks included in my prototype copy, two of which are promotional cars which will be available to those who back the game—and the stress level was growing.
"There's just so much to think about here!" she gasped.
BIGFOOT: Roll & Smash is not a difficult game, but it's a game best played by smaller groups with one very important accessory: a timer.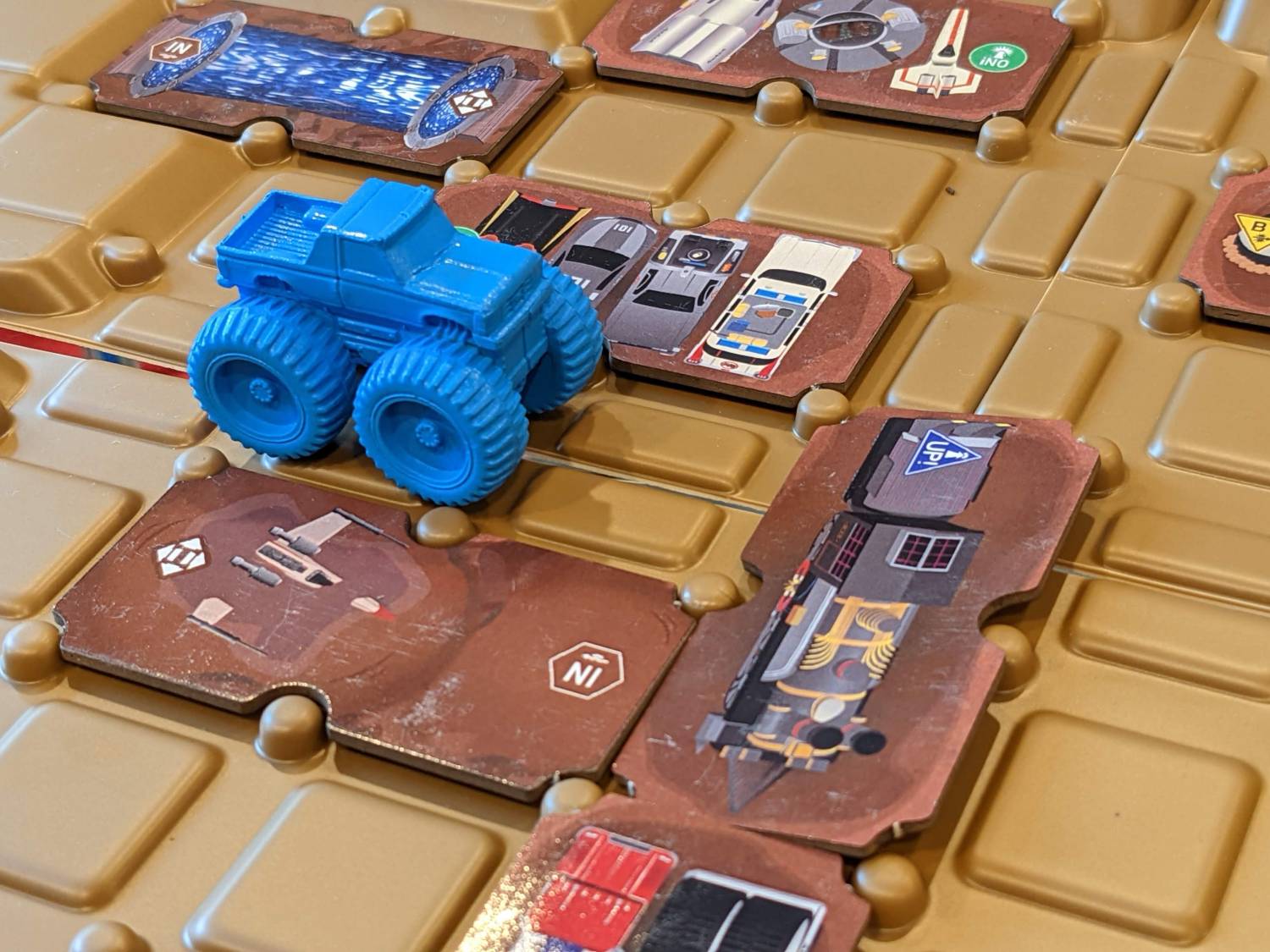 You Only Get Two Minutes!
In BIGFOOT: Roll & Smash, players are competing to score the most points during two rounds of play.
On a turn, each player takes three pretty simple steps (or, so I thought before my wife's first turn of the game!), and the first one is the best: roll four Monster Tire Dice.
That's right: TIRE DICE.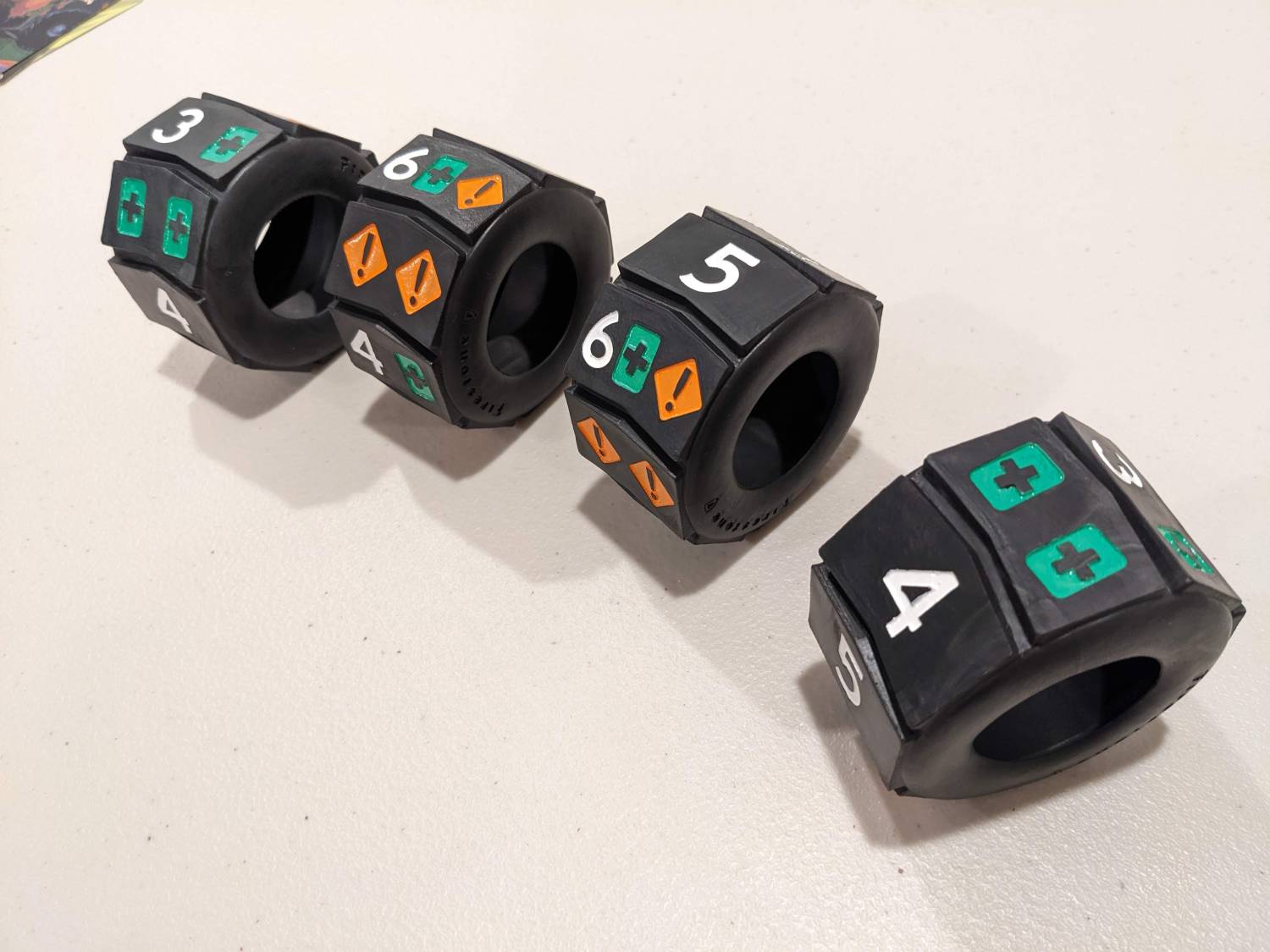 You have to play the game to see exactly what I mean, but these dice are quite possibly the greatest game component of 2022, if not ever. Imagine tires about the size of a baseball, but cut like actual tires. These tires are built with the ability to be rolled on almost any surface and not fall over. (Seriously, it's spooky. Unless they bump into a wall, they roll over almost any surface in my house with ease.)
The dice have eight sides along the tire tread, and can be rolled Yahtzee style (three times) to come up with the best results you can get on the four Monster Tire Dice you roll during a turn. The results yield a mix of results: Action Points, which will be used during the programming phase; cards that can be drawn from a deck personalized to each of the cars in the game; Hazards, which will make a player's turn a little more challenging.
Once the Action Points are totaled, they can be spent during the Plan phase to set up your run through the main board. Scattered on the map are the kinds of obstacles you probably remember if you watched monster truck rallies as a kid: flaming tires, cars that will be driven over, or maybe a helicopter that can be jumped.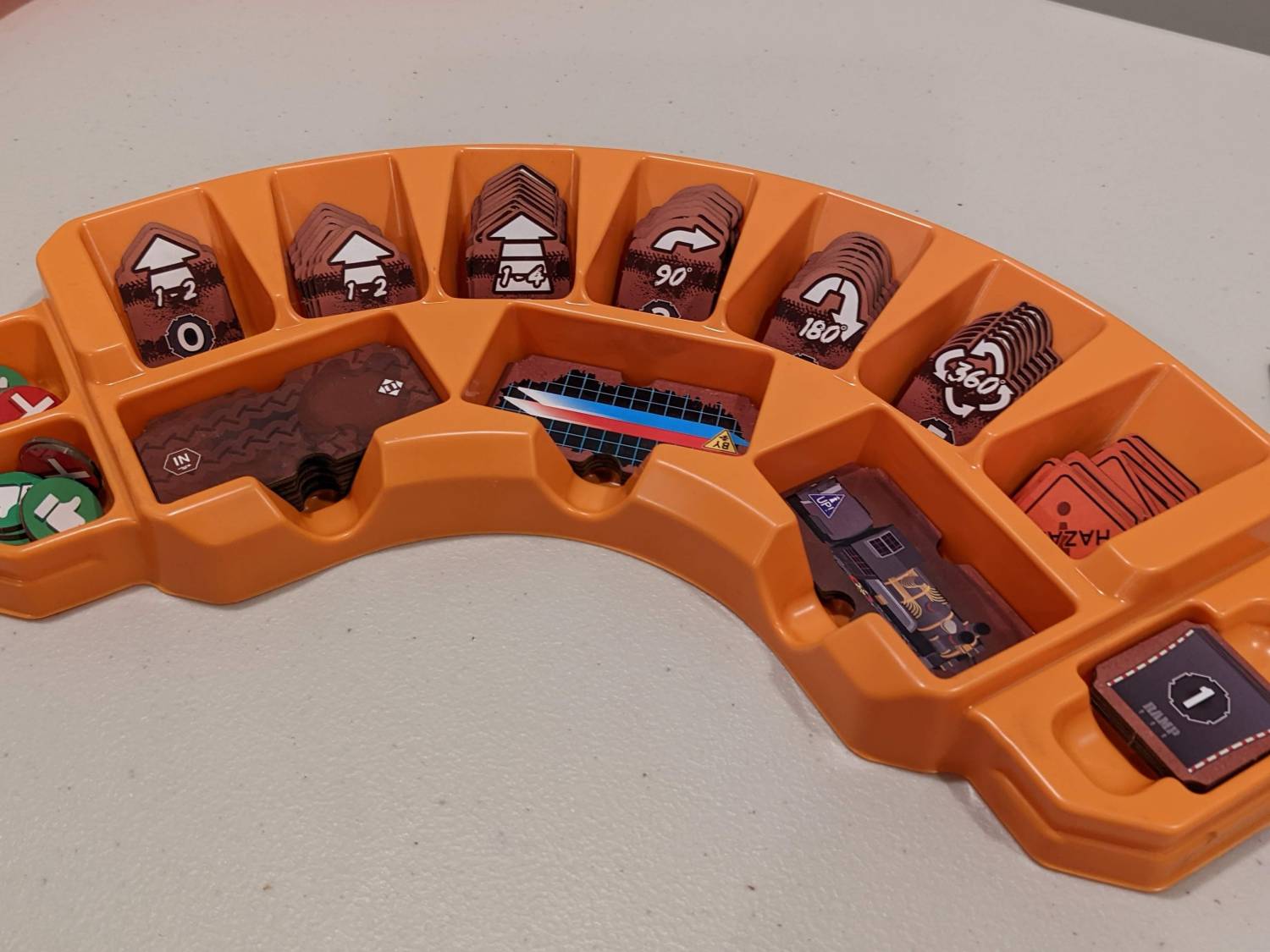 Each obstacle is a tile, and during the Plan step, each player will program their run with seven actions that take their monster truck over ramps, executing 180° turns, or doing 360° "donuts" to score points. These actions are placed as steps in your board's programming slots, and the price of each action is a number of those Action Points you earned earlier. Moving forward 1-2 steps is free, a 90° turn costs three Action Points, etc.
Any cards that were drawn during the Roll step can also be used here to augment your actions. After programming is done, you'll "Smash" your way through the programmed steps.
As it turns out, Smash is often the most boring part of the game because nothing changes during programming; a player will walk their truck through the map as they call out how they are executing their moves.
Getting to Smash, though, is the issue my wife was facing: the rules call out that you should hold players to a roughly two-minute Plan phase, but if you don't use a timer, you will run into trouble. Just trust me on this: use a timer!
The use of a timer will also make a light, fun score challenge remain so during the Smash phase, because you don't want to be on the wrong end of a four-player game where you are waiting 10-15 minutes to take your turn.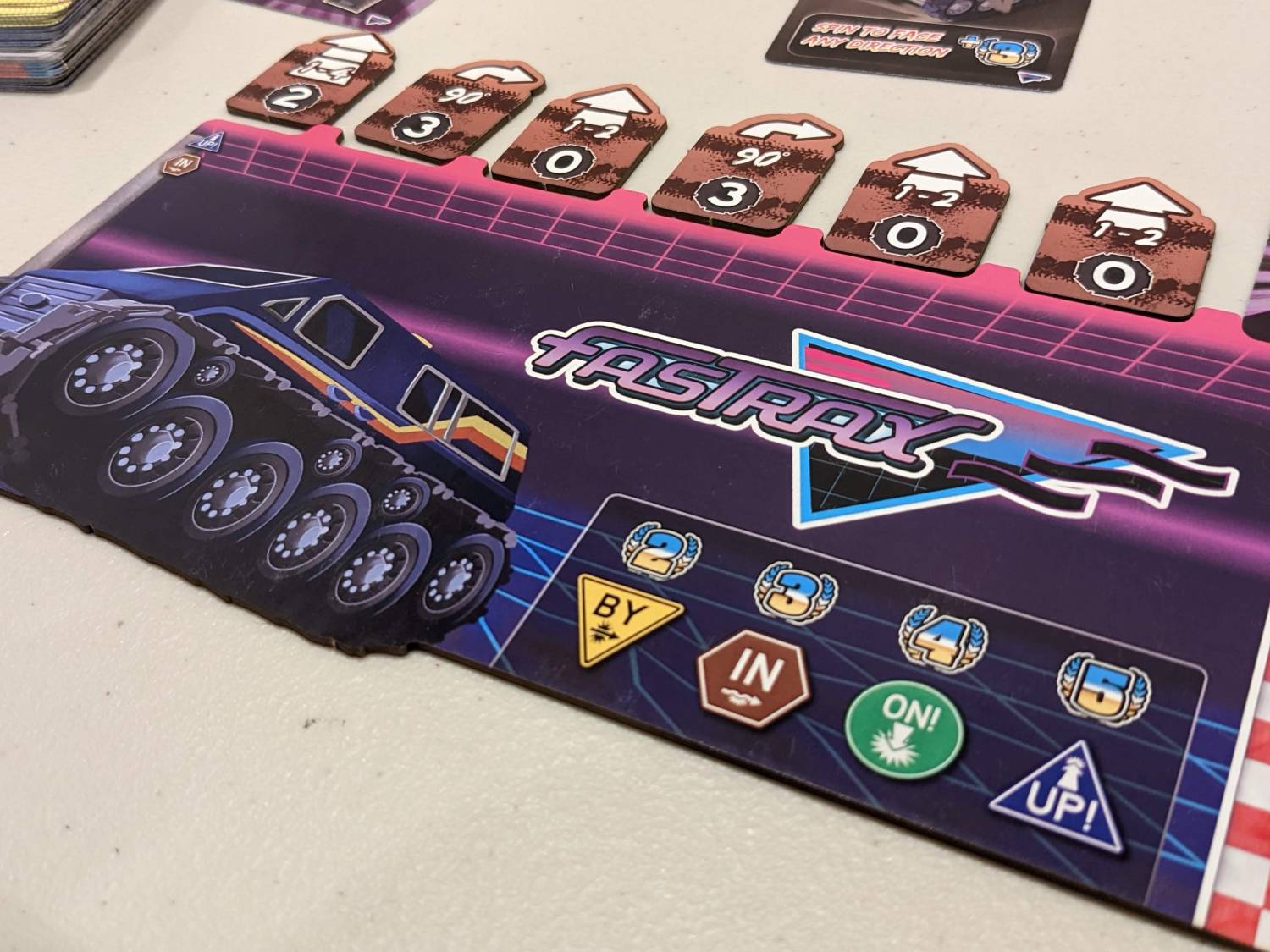 So It's Fun, Right?
BIGFOOT: Roll & Smash is most fun when it is in motion. To ensure that this is happening, I would stick to playing this at two players, three players max. There's also a solo mode, which I found underwhelming from a difficulty perspective but fantastic as a teaching tool.
My family had less fun at four players because there isn't that much to do while waiting to make your own run. Only the active player is really "playing" BIGFOOT: Roll & Smash. The rest are watching to see where they can score just as many, or more, points. If the active player does not roll any Hazard icons, there's literally nothing you can do to affect another player's run of the course. (During our first game, my daughter was set to play fourth; she stood up and left our gaming area to read a book while waiting for her turn.)
But the game shines when it is your turn, as you try to navigate the programming elements. This is especially true in the second round of the game, because you create drama when players try to come out with the highest total score and they know what they are shooting for.
The production of my prototype copy was solid, thanks to the Monster Tire Dice, a storage solution for the programming tiles designed by Game Trayz, and plastic minis of each truck that look just different enough from each other to land with players. (In every game, someone will take BIGFOOT 5×5. It just has the biggest tires. Trust me.)
The board—which is broken into four interlocking plastic tray pieces—didn't work as well because the obstacle tiles don't sit cleanly on their spaces. I'm hoping this gets ironed out by the time the game goes final, but that was an issue during each of my plays.
The outer box does great work with its large footprint; when you begin to open the box, the liner notes around the outside of the long face of the box trace the history of BIGFOOT and offer cool fast facts about the real-life business of monster trucks. It is a nice touch!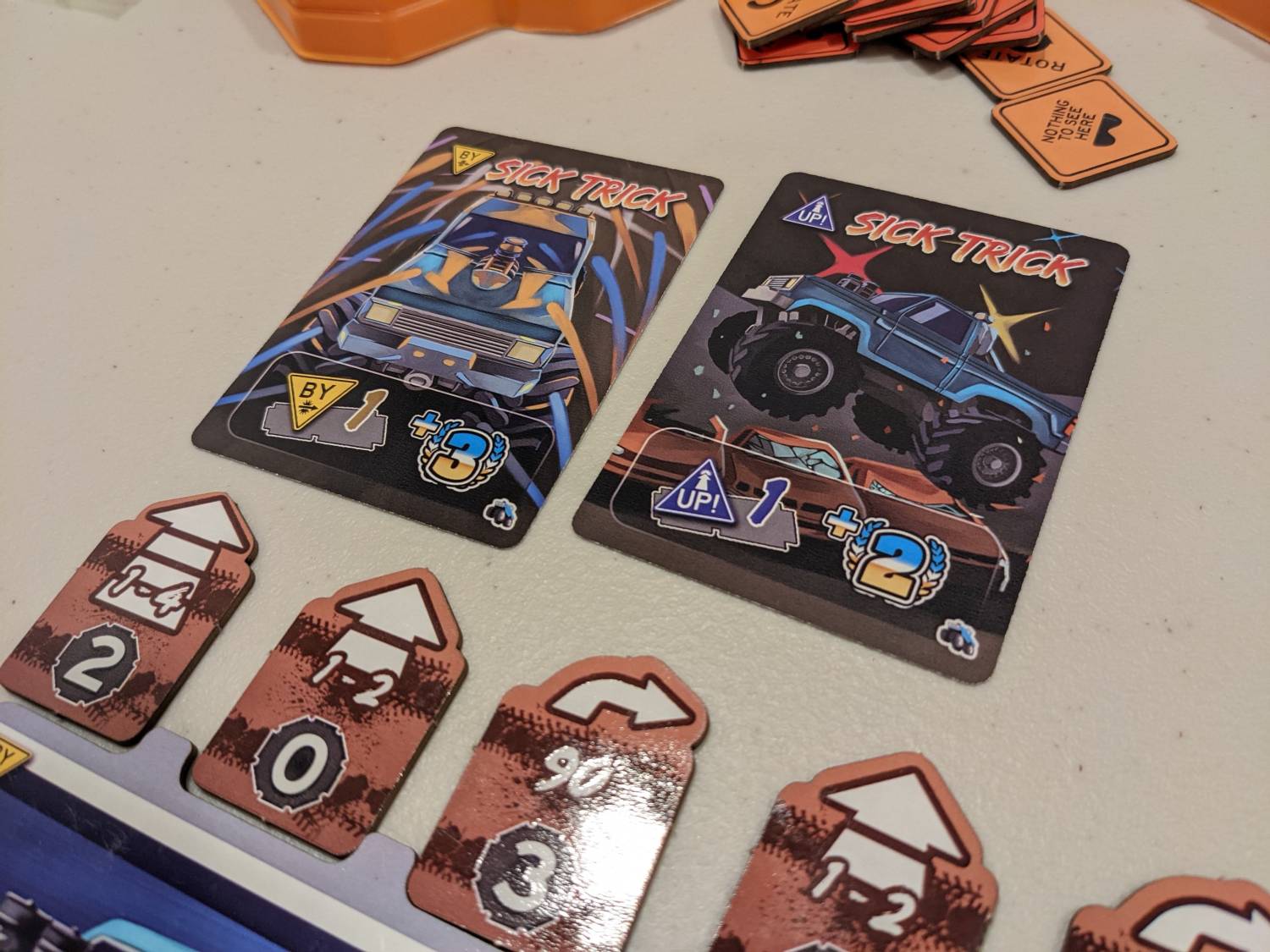 Is BIGFOOT a Keeper?
My 5-year-old son loves BIGFOOT: Roll & Smash, because he views the game as both a game and a toy with cool dice.
The rest of my family? They initially enjoyed breaking it out, but no one is begging to play it over and over like my son is. Adult players all love rolling the dice, but you will technically only roll the dice a max of six times in each game. It's a fun gimmick, but gimmicks don't make people want to break a game out over and over again.
The gameplay is mostly the Plan step, as everyone tries to solve the puzzle of jumping obstacles, driving through mud, and crushing cars to score points. Would the game have landed better had actual planes been used as a 3-D obstacle to jump over, not just a tile? Probably. The Smash step shouldn't feel so anticlimactic as it does in its present form.
Solo play gives you the chance to get more plays in on your own, but the four challenges included in the box won't be enough to count on beyond learning how to play. I played the first two of the four included scenarios and beating both was a breeze. Maybe additional pre-built maps online will extend the life of the solo variant, but not by much.
I found BIGFOOT: Roll & Smash to be amusing, but not full-blown fun. This is a disappointment in part because I first saw this prototype at GAMA Expo in March and I've been hyped to play it ever since.
A big shout-out to XYZ for keeping this price point reasonable. BIGFOOT: Roll & Smash is absolutely priced as a family game and I hope people will try it to see if it will work for their family.
The family rules are great: anyone can play with the standard rules, and they can be integrated with the Rookie rules for younger players, which take out the programming tiles and just focus on rolling those sweet, sweet Monster Tire Dice.
No matter what, be sure to bring that stopwatch (or, you know, any mobile phone made in the last 20 years).