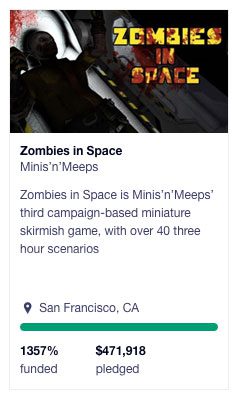 SAN FRANCISCO, CA – Kickstarted in under two hours, Zombies in Space promises exciting card-driven combat, hand-painted minis, and a $500,000 stretch goal: several hours of legitimate playtesting.
"The Kickstarter has been going really well, even better than we hoped," says Jim Blakely, CEO of Minis'n'Meeps. "We smashed all our stretch goals right out the gate. 172 unique minis, gorgeous original artwork, and one of the most badass Kickstarter videos Minis'n'Meeps has ever produced. So we got to thinking: what's next?" Blakely laughs. "It was this or metal dice. We flipped a coin."
The newest stretch goal, over 25 times the original funding target, promises two full hours of "action-packed playtesting".
Zombies in Space is Minis'n'Meeps' third campaign-based miniature skirmish game, with over 40 three hour scenarios. "Every time you play is a totally unique experience," says Blakely. "At least, that's what the guy in our video says. We just sent him 3D renders of the minis and let him go for it."
"He did a great job," Blakely adds.
Zombies in Space is on Kickstarter until April 1.
"Who knows?" Blakely shrugs. "If we get enough support, we may even write some rules."