Join us as we review the 2019 Best Euro Game nominees for Meeple Mountain's 2nd Annual Diamond Climber Board Game Awards.
It's hard to beat a well-designed Euro for thinky, strategic gameplay. These picks had our brains burning all through 2019.
Don't forget to cast your ballot in our 2019 Fan Favorite voting.
We'll be announcing the rest of the nominees over the next few weeks; then check back on Friday January 17th when we announce the winners of the 2nd Annual Diamond Climber Awards.
The Magnificent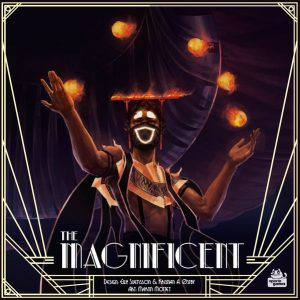 Step right up to The Magnificent, a euro game about creating the most fabulous shows and attracting the largest audiences. The Magnificent is a dice drafting game which, in theory, sounds simple: each player only has three action options on their turn. The complexity of the game (and what makes it a meaty Euro) is just how much your die selection influences your action (based on the number and colour, for example). Played over three rounds, each player must make the most of their 12 turns, crunching and burning their brain to score the most points.
Publisher: Aporta Games
Designers: Eilif Svensson, Kristian Amundsen Østby
Artist: Martin Mottet
The Taverns of Tiefenthal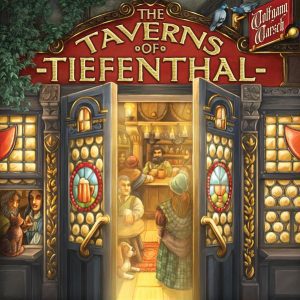 The Taverns of Tiefenthal is designed by Wolfgang Warsch — enough said. Taverns is yet another alliterative (and goofy) title by this incredible designer, following up last year's Kennerspiel des Jahres winner, The Quacks of Quedlinburg. In Taverns, players are looking to earn the most points by drafting dice and developing their personal deck of cards to attract citizens and wealthy guests to their taverns. With a mishmash of mechanisms and five modules, The Taverns of Tiefenthal is a euro game design at its finest.
Publishers: Schmidt Spiele, North Star Games
Designer: Wolfgang Warsch
Artist: Dennis Lohausen
TOKYO TSUKIJI MARKET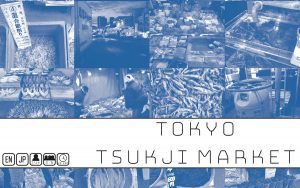 TOKYO TSUKIJI MARKET, a game in Jordan Draper's TOKYO series, is a heavy economic game in which players run a fishing company. On a player's turn they can get fishing licenses, send their boats to fish, sell their catch of the day, and buy other players' fish. For a euro game, there is a lot of player interaction since the economy is run by the players themselves as they set their own fish prices.
Publisher: Jordan Draper Games
Designer: Jordan Draper
Artist: Jordan Draper
Nova Luna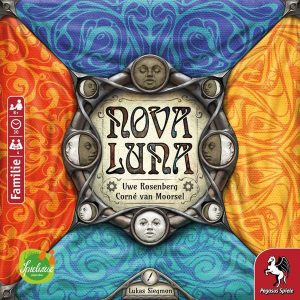 Uwe Rosenberg masterfully combined the mechanics from the game Habitats with the timing mechanics introduced in his game Patchwork to create Nova Luna: a game that's not only a feast for the eyes, but is a real brain tickler to boot. Players take turns drafting tiles and adding them to their tableau in the hopes of causing chain reactions to occur, which will cause previously placed tiles to score as well. It's a brilliant game in its execution.
Publishers: Edition Spielwiese, Pegasus Spiele, Stronghold Games
Designers: Uwe Rosenberg, Corné van Moorsel
Artist: Lukas Siegmon
City of the Big Shoulders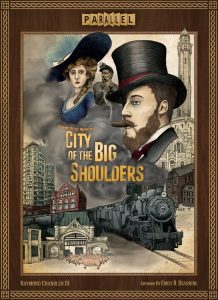 In City of the Big Shoulders, players act as entrepreneurs and investors looking to make the most money and rebuild Chicago just a few years after the Great Fire of 1871. This game is unique in that it intermixes stock manipulation with many euro mechanisms, like worker placement. City of the Big Shoulders also plays rather quickly given the depth of the game.
Publishers: Parallel Games, Quined Games
Designer: Raymond Chandler III
Artist: Emily R. Dearring
Read our review of City of the Big Shoulders.
Paladins of the West Kingdom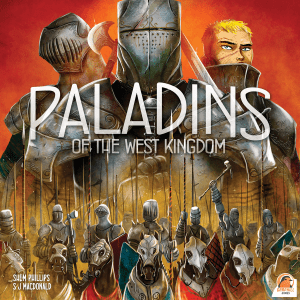 Shem Phillips has a knack for reimagining the worker placement mechanic and he does it here once again. In Paladins of the West Kingdom, each player begins the game with the exact same deck of cards. During each turn, the players will draw a number of cards, choose one to play, and one to keep for later. Unlike other worker placement games where players are taking actions from shared locations, each player will then take turns placing the workers obtained from playing these cards onto their own player boards. It sounds simple, but Paladins is one of the most brain melting games we have played this year.
Publishers: Garphill Games, Renegade Game Studios
Designers: Shem Phillips, S J Macdonald
Artist: Mihajlo Dimitrievski
---
Thanks to Ian Howard for the nominee introduction and David McMillan for the Paladins and Nova Luna contributions.