A Wrap-Up of Every New Product Announced at D&D Live 2019: The Descent
Hot on the heels of their latest release, Ghosts of Saltmarsh, Wizards of the Coast just announced an infernal host of new products during their annual Dungeons & Dragons live stream event. Taking place on five different Twitch channels, the event brought together many notables from the D&D streaming community for an all-star collection of D&D games around the central storyline product announced for the year, Baldur's Gate: Descent into Avernus. Along with that product they announced many other releases coming soon. We have collected all of that information here for you and will bring you reviews as these products come out.
Baldur's Gate: Descent Into Avernus
The new storyline adventure covers the classic city from the eponymous video game and its possible descent into hell. Baldur's Gate is a stark contrast to Waterdeep (from last year's Dragon Heist). Gritty and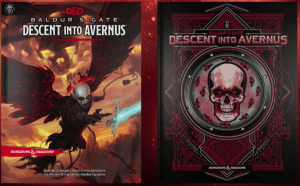 crime-filled, it is the Gotham to Waterdeep's Metropolis. Chris Perkins,  Principle Narrative Designer, calls it "a murder hobo's paradise." An infernal incursion in Baldur's Gate takes the players into Avernus, the first layer of the Nine Hells. Here the Blood War, an ancient war between Devils and Demons with vast armies and war machines.  The product is described as Mad Max: Fury Road meets Dante's Inferno.  Rules will include how to build massive vehicular war machines and the effects of the plane on player characters. Non-player characters will include the warlords of Avernus that profit off the Blood War, Arkhan the Cruel (Joe Manganiello's infamous personal character), Zariel: the fallen angel who rules Avernus, and Abyssal Chickens!
Available on September 17, 2019
Baldur's Gate: Descent Into Avernus Dice Set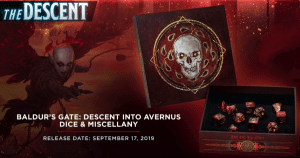 This set of brimstone colored (smoky, red marbling with yellow numbers) dice comes in a custom box that converts into twodice trays. It also includes a map of Avernus, diagram of notable villains, infernal encounter table, creature reference cards, and a cipher for the Infernal alphabet.
Available on September 17, 2019
The Young Adventurer's Guides
Published by Ten Speed Press and designed for kids ages 8 and up to introduce them to D&D concepts. These companion books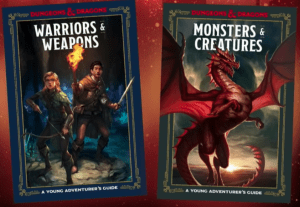 to the game are less about statistics and more about concepts and include over 70 new pieces of artwork between them.
Monsters & Creatures covers the classic beasts found in the game and focuses more on their ecology, behavior, and how to interact with them.
Warriors & Weapons discusses classes, races, and equipment. Again, it is about making the character concept and not giving it stats. This book includes a flowchart that kids can follow to help them think about and design the ideas for their characters.
Available July 16, 2019
Dungeons & Dragons Essentials Kit
This new boxed set is an update to the best-selling Starter Set that includes the newest version of the Fifth Edition rules in a 64 page rulebook. The rulebook also includes Character Creation rules which were left out of the original Starter Set, and rules for Sidekicks which will allow for 1 to 1 (1 DM, 1 PC) play. There is also a brand new follow-up (and combinable) adventure to the previous introductory adventure, The Lost Mine of Phandelver called The Dragon of Icespire Peak (for characters of levels 1-6). Additional contents include 5 pre-generated characters (including a bard!), dice, a custom art DM screen, a double-sided map, and an 81 card deck (magic items, conditions, quests, combat reference, sidekicks and more).
Available at Target on June 24 and every else on September 3rd.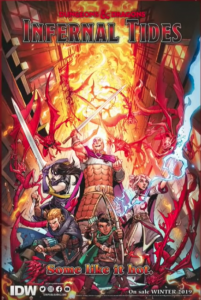 Dungeons & Dragons: Infernal Tides
This will be an accompanying comic book series from IDW Publishing that will take the famous Baldur's Gate ranger, Minsc (and his miniature giant space hamster, Boo) to Avernus and follow some of the storyline from Baldur's Gate: Descent Into Avernus.
Available Winter 2019
Dungeon Mayhem: Battle For Baldur's Gate
The first expansion for the successful family-friendly card game includes new characters from the classic Baldur's Gate video games: Minsc and Boo as well as Jahira, a druid.
Head over to our review of Dungeon Mayhem for more info about Dungeon Mayhem.
Available on September 17th, 2019.
Rick and Morty vs Dungeons & Dragons Chapter II: The Painscape
This is a new follow-up story to the successful IDW/Oni Press  crossover between D&D and the Adult Swim animated series. More information on the story will be release at a later time.
Available Date TBA
Dungeons & Dragons vs Rick and Morty
Capitalizing on the success of Rick and Morty vs Dungeons & Dragons, this boxed set will include a rules book (heavily edited and annotated by Rick), custom art DM's screen, and adventure featuring the characters and twisted humor from the animated series.
Available on November 19, 2019
Untitled Eberron Hardcover book
This was announced at the very end of the live streaming event by Nathan Stewart, Director of the Dungeons & Dragons team. There are not many details yet but it will be released in the fall. This will most likely be a full-sized follow-up from last year's Wayfinder's Guide to Eberron which we covered when it was released.
Available Late 2019
There are lots of great products here. Especially impressive are Baldur's Gate: Descent Into Avernus itself, the Young Adventurer's Guides, and the D&D Essentials Kit. These three products really show the diverse audience that Dungeons & Dragons has reached. There is something for the "grown-up", experienced players and something for young and brand-new players as well. This will ensure that the hobby continues to grow.
You can find more about all of the Dungeons & Dragons products coming out at the official Dungeons and Dragons website.