A special day awaits us gamers at the end of this week, I'm talking about Free RGP Day! Read on to see what it's all about.
Meeple Mountain has expanded its offerings of board game related news recently to create more diverse articles. One of those areas we're expanding into is the Roleplaying Game genre. We've published RPG award nominations, tips on how to DM on the cheap, and suggestions on how to map out your world. We're excited to grow our library of content and connect with people we've not been able to connect with before. So, this week we have something a bit special planned at Meeple Mountain.
What Is It?
On Saturday, June 15, game stores around the world celebrate a special day: Free RPG Day. In honor of this genre of games and this unique style of storytelling, all of our articles this week will be Roleplaying Game related. If you haven't had an opportunity to dive into this particular hobby this is a great week to learn about it and get a taste of what's out there. To kick off this week of RPG let me tell you a little about what's going on Saturday.
Free RPG Day is a day where you can pick up free roleplaying quick start rules and adventure modules. If you are familiar with Free Comic Book Day it's a lot like that, but better.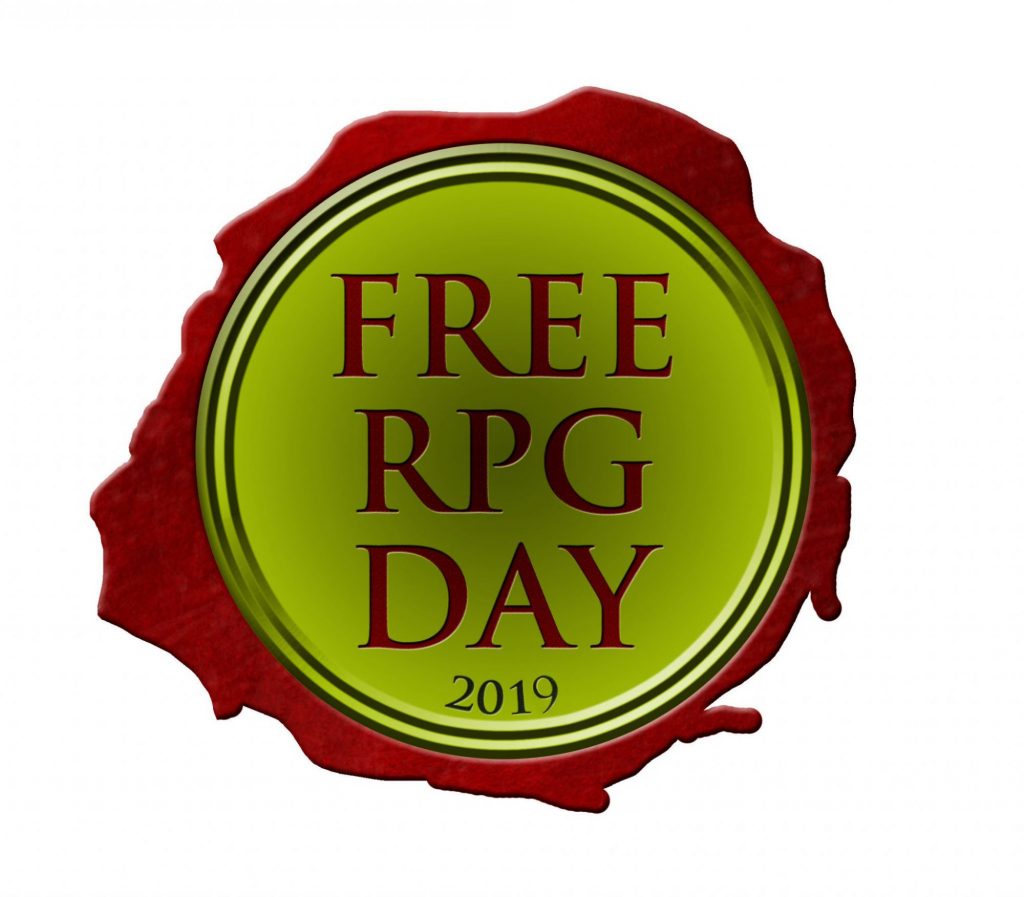 The Beginning
Free RPG Day came about when Aldo Ghiozzi, owner of Impressions, and Joseph Goodman, owner of Goodman Games attempted to mimic the success and excitement of Free Comic Book Day. With Impressions as the organizer and Goodman Games as the founding sponsor they worked together to get more publishers involved donating some of their adventures and rule sets.
They started in 2007 and wanted to try to get RPGs, adventures, and rule sets out to as many people as possible. Their goal is to inspire gamers to play new RPGs which will in turn increase sales for retailers. They wanted retailers to promote new and fresh RPG material and not just put the clearance rack on sale.
In 2007 they had 17 publishers and 301 stores; as of 2019, they have 15 sponsors and around 500 stores participating worldwide. In the next few years there's hope we'll see a bit more growth and expansion since Free RPG Day was sold to Gaming Days LLC, a group of store owners who have a special passion for Free RPG Day.
How It Works
Impressions estimates how many kits they'll need. When those are sold out, they're gone. A kit is a collection of a set number of products donated from each publisher (aka sponsor); e.g. 15 of Product A, 15 of Product B, 10 of Product C and so on. The number of items a publisher donates determines their level of sponsorship; Platinum, Gold, Silver, Bronze, Store. A publisher can donate more than one product. A retailer registers to buys kits for around $100 each from Impressions. Then Impressions organizes the kits and mails them to the retail stores that signed up in February. The store is required to give out at least 1 free item to anyone who comes into the store and asks but it is up to the store which item that is. There are premium items in the kits that stores usually reserve for people who are participating in the activities during the day.
This is where Free RPG Day gets better than Free Comic Book Day. Free RPG Day encourages stores to run games! That's right, there are Game Masters there who are familiar with the adventures and rules running games throughout the day. Some of these you can just drop in on but sometimes stores have ways to sign up for time slots. Be sure to check with your local game store beforehand. Some of the free items you'll see during this year's Free RPG Day are: The Witcher, Pathfinder, Dungeon Crawl Classics, dice, Kids on Bikes, t-shirts, and playmats.
Why It Matters
For most game stores Free RPG Day is the best sales day of the summer, if not the year. Because there is such a promotion for this event worldwide they will get many more customers to come through their doors looking for deals and sales along with the free items. Their hope is to get people who have never gotten into RPGs to play a few games throughout the day and then walk out with rule books and dice. Since it tends to be much easier and convenient for a lot of people to order their RPG needs online this is a big day for local game stores. It's an opportunity to create relationships with RPG players who don't play in their store, it's a chance to show off their store and product, and it's a time where players can find each other and potentially create new gaming connections. In the forums I frequent I often see questions like "How can I find a group?" "Where do I start?" "What do I need to play?" One of the answers to any of those could be "Go to Free RPG Day!"