First Take Fridays are a celebration of the 'first time' we played a game. Come see our writers think about Scarabya, The Rise of Queensdale, Newton, and Exit: The Game releases - Sunken Treasure.
On First Take Fridays a number of authors around Meeple Mountain give short first takes on games that are new to us.
This week we're covering some of the Gen Con hotness – Scarabya, The Rise of Queensdale, Newton, and Exit: The Game releases – Sunken Treasure.
Scarabya – Andy Matthews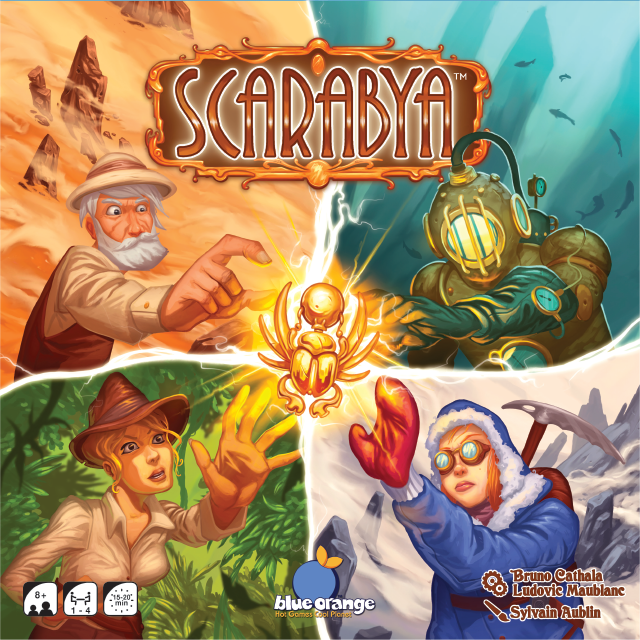 Although I didn't get to attend Gen Con 2018 in person, I felt like I was there thanks to social media. I eagerly followed along with postings from attendees, game publishers, and everyone in between. One game I saw getting lots of buzz was Scarabya from Blue Orange Games. After doing some research on it, I knew that it was right up my alley.
My first impression was the rich and colorful artwork on the cover; 4 interesting and diverse characters all reaching for a golden scarab. The gameplay is interesting and, while not totally unique, I found it fun and engaging. Scarabya features an archeological theme and combines a Tetris style optimization puzzle with simultaneous play. Each person's board is set up in an identical manner and each player has the same set of pieces. Everyone places the same piece at the same time, dictated by a deck of cards which also acts as a game timer. The goal is to frame in scarabs printed on the board with your polyomino pieces.
The first few rounds start out fairly easy as the board has very few restrictions. But players will find themselves challenged as play progresses. The piece that you need doesn't come up and you're forced to make concessions, sacrificing scarabs in an effort to earn at least some points. In addition to the scarab pieces on each individual board, there are also a number of rocks, which are natural obstructions that make placement even tougher. It's a glorious tactical puzzle and it's right up my alley.
Scarabya fits in solidly alongside other games like Kingdomino, Barenpark, and NMBR 9 which are all great examples of this slice of gaming heaven. I make no secret of my love for spatial games, specifically polyomino games and I'm really excited to add Scarabya to that collection. It's a perfect lightweight game that can be played with friends and family alike.
Look for our full review of Scarabya next week.
★★★★★☆ Ease of Entry
★★★★★☆ Excitement Pre-Game
★★★★☆☆ Excitement for Rematch
The Rise of Queensdale – David McMillan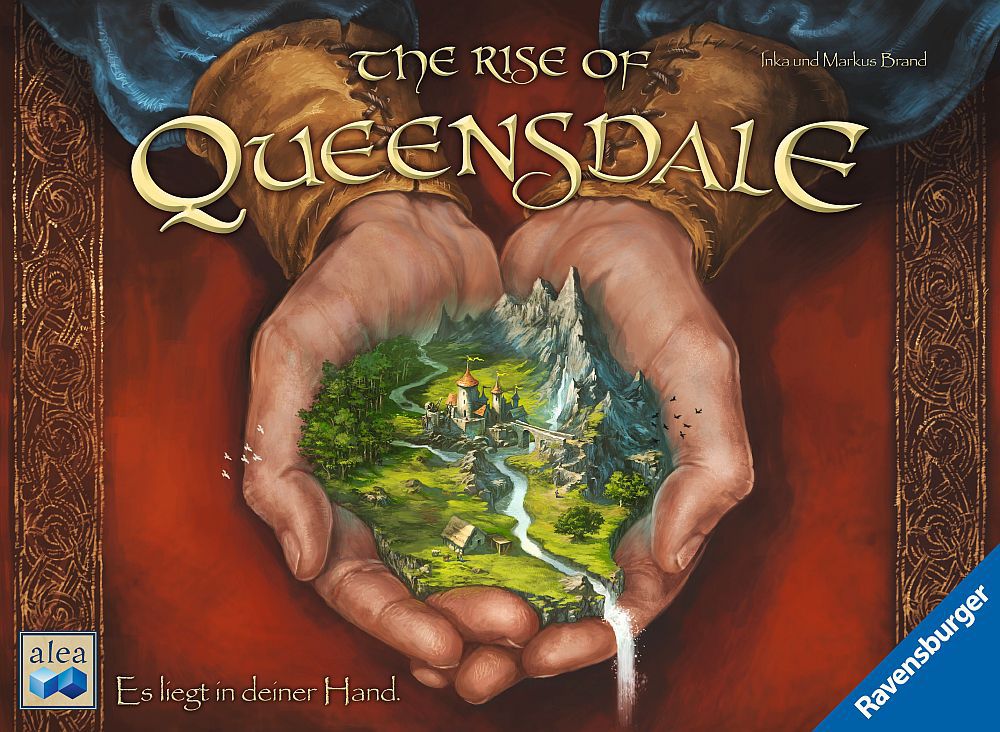 Jonathan Elder recently returned from Gen Con and brought me a copy of The Rise of Queensdale. Ever since I first heard about it, I was excited to get it to the table, but with a new infant in the house, that wasn't easy to do. When I finally sat down with Rise of Queensdale, I discovered that there is an incredible amount of set up involved before you can even begin thinking about actually playing it. Because of that, I wasn't able to dive in as quickly as I'd hoped. Maybe it's just the fanboy in me, but once I did finally get to start playing, I discovered a game that is not only engaging and challenging but also a sheer delight to play.
The players take on the roles of nobles who have been entrusted with the task of constructing a castle for the Queen. Each one begins the game with control of a barren fiefdom. As the game progresses they will be using dice to complete construction of the castle. Like any legacy game, the state of the game evolves over time; for instance players will have the opportunity to use the grocer in between games to purchase dice enhancements that will permanently alter their dice. My wife and I purchased some of these in our first two games with interesting results.
Even though we had a glorious time, there was at least one poorly worded phrase  that we had to house rule, but that was the only real hiccup that we encountered in our first two back-to-back games. The decision making space is really tight since you only have five dice to work with each round. Normally this dice rolling aspect would make me feel uncomfortable, but there are several methods built into the game to help mitigate any bad luck introduced by poor rolls.
One of the other clever features in The Rise of Queensdale is the catch-up mechanism. As players progress through the campaign, their end-game goals become different. Originally we were both gunning to be the first one to earn 10 points. Since I won the first game, my end-goal shifted. While she was aiming for 10 points in the second game, I was now racing to try to earn 16. I got close, but she closed out the second game by scoring her 10 while I was stuck at 13. Going into game 3, we're on even footing once again and it's anyone's campaign to win.
I'm really enjoying the game so far and I'm excited to see where The Rise of Queensdale will take me next. Keep your eyes peeled for a much more in-depth review in the future.
★★☆☆☆☆ Ease of Entry
★★★★★★ Excitement Pre-Game
★★★★★★ Excitement for Rematch
Exit: The Game, The Sunken Treasure – Ashley Gariepy
The theme in The Sunken Treasure is pretty cool; players are searching for the Santa Maria shipwreck and its legendary treasures. However, the gameplay and mechanisms didn't really align with the theme. There are many points in the game that don't make sense with the story (like how a book's pages could survive being underwater for so many years or how our diving guide knew the combination to one of the locks aboard the previously unexplored shipwreck). In spite of this, the game didn't take itself too seriously and we encountered many moments where it felt like the game was poking fun at itself.
This Exit scenario has a low difficulty rating (2 out of 5) and I found this to be quite accurate. The puzzles weren't necessarily easy, but we were guided through everything by the game. Most of The Sunken Treasure is completed sequentially, especially the book which only ever allows players access to one or two pages at a time. This is unlike other Exit games where players are given full access to the rulebook and must decode what information and clues belong with which puzzles.Also the clues and riddles often told us, very specifically, what to do with information and objects. This makes The Sunken Treasure the perfect introductory scenario to the Exit system. It's been designed to help players understand what components are used, how they work together, and how puzzles are solved. Unfortunately, that isn't me because I've already played six other Exit games. While The Sunken Treasure was a little too easy for me, I still enjoyed the experience and will gladly play more Exit games in the future.
★★★★★★ Ease of Entry
★★★★★☆ Excitement Pre-Game
★★★★★★ Excitement for Rematch (the next Exit scenario)
Newton – Philip Chen
Simone Luciani is all I needed to hear to be interested. Luciani is a designer I am very fond of. T'zolkin, Voyages of Marco Polo, Grand Austria Hotel, Lorenzo il Magnifico, Council of 4; all fantastic games with one thing in common, Simone Luciani. He returns with Newton, this time designed in tandem with Nestore Mangone. I first got a whiff of this game a little before GenCon. When I read it was coming to the US and GenCon via CMON and Cranio Creations I was excited, to say the least, but at the same time sad I wouldn't be at GenCon to see it. Lucky for me, we had colleagues at GenCon who were able to pick a copy up for me to review.
What did I find? A game that feels much different than Luciani's other games, in other words exactly what I expected. I was pleasantly surprised to find Newton to be a bit heavier than I had anticipated; I would place it nearer to T'zolkin than Voyages of Marco Polo. I also found a hand management-driven euro with elements of deck building that presents a multitude of possible paths. The seemingly innumerable choices in the game, combined with the variable setup, makes for a game that I am not only excited to get to the table again but one that I know I'll be able to play many times before it loses its fresh intrigue. It won't be for everyone; the theme is there but not strong. The weight is on the heavier side of mid-weight euros. Art by Klemens Franz fits the time period but may be a bit subdued for many. If you like euros with lots of branching paths or are a fan of any of Luciani's games I highly recommend you give this game a look.
★★★★☆☆ Ease of Entry
★★★★★☆ Excitement Pre-Game
★★★★★☆ Excitement for Rematch
Gizmos – Kurt Refling
I was lucky enough to try this unreleased CMON title on Saturday. It's a very similar idea to Century: Spice Road, but with COMBOS and MARBLES. I kind of love it.
The set-up looks a lot like Potion Explosion: a big ol' chute of marbles in different colours. The pedantic heckler in me needs to tell you that Gizmos has no good reason to include a tower of marbles– an opaque bag full of cubes would have done the same job. But it's undeniable that there's something satisfying about chucking a bunch of marbles in the chute when you build your invention, and besides, it looks cool. CMON has never been shy about liking flashy games.
As far as gameplay goes, I was pleasantly surprised. Players have a suite of four actions, but much like in Splendor or Century: Spice Road, they're all in service of buying cards that are worth points. What intrigues me about Gizmos is that every card you buy also upgrades one of your actions. This gives the game acceleration! Every turn can be more impressive and c-c-c-c-combo than the last. By the end, you're doing this, which lets you do that, that, and that, which also triggers THIS. Sometimes it's a little Rube Goldberg, but that's kind of the point.
All in all, I'm pretty darn excited for when this one hits retail shelves. Many thanks to Amanda at Snakes & Lattes for showing us this one. And also for her friendship; that's pretty great too.
★★★★★☆ Ease of Entry
★★★☆☆☆ Excitement Pre-Game
★★★★★★ Excitement for Rematch
★★★★★★ Friendship