Gen Con is a wonderful place to lose yourself in the industry. Meeting people, buying fun and interesting things, and demoing games that will be coming out soon. Check out our top list of games you can play, but not buy, at Gen Con 2017!
Games to Demo
While Gen Con is a great place to purchase games new and old, one of the most exciting things about going to Gen Con is getting to preview games that will be coming out soon, meeting the publishers and designers, perhaps even a chance to play the game before it comes to market. Here are some games that while they won't yet be available for purchase, we're excited to check them out.
Make sure to check out the companion article: Top Six Games to Buy at Gen Con 2017.
Pandemic Legacy: Season 2
Pandemic: Legacy Season 1 is a game that was released in 2015 by Z-man Games to much critical acclaim. By all accounts it was a massive success and still maintains the top spot on the BoardGameGeek rankings. Check out my thoughts on the importance and impact of this game and legacy games in general. With the overwhelming success of Season 1, the gaming world waits in anticipation to see how designers Matt Leacock and Rob Daviau will follow up their runaway hit in Season 2.
While it's unlikely to be available for full demo due to the inherently consumable and extended nature of the game, Z-Man Games has promised "a demo experience of some kind." At this point, fans will be clamoring to find out any information about the game as we wait patiently for its Q4 release.
Founders of Gloomhaven
Two years age designer Isaac Childress kickstarted one of the most critically acclaimed board games of all time: Gloomhaven. This year Isaac is kickstarting Founders of Gloomhaven, an entirely separate game set in the Gloomhaven universe. Now I agree that Gloomhaven is one of the greatest board game achievements of all time, but I'm incredibly excited for Founders for entirely different reasons.
Founders is a logistical, hand-management puzzle, marrying two of my favorite games: Concordia and The Great Zimbabwe (check out our review of The Great Zimbabwe). In Founders players are constructing the city of Gloomhaven from scratch. On your turn, you will play a card from your hand which defines your action, similar to Concordia. Then, all other players will have an opportunity to follow, similar to Puerto Rico or Race for the Galaxy. The goal of the game is to control resources and use each other's infrastructure, similar to The Great Zimbabwe, to construct special buildings, scoring you, and possibly other players, points.
Though Founders is set in the Gloomhaven universe and fans of the original game will recognize the difference races, the games are very different and have distinct target audiences. Rahdo called Founders of Gloomhaven "Isaac Childress's take on a Splotter game", and though that is a lot of expectation to live up to, I'm sure Isaac is up to the challenge. If you're reading this before August 10th, you can still get in on the Kickstarter campaign.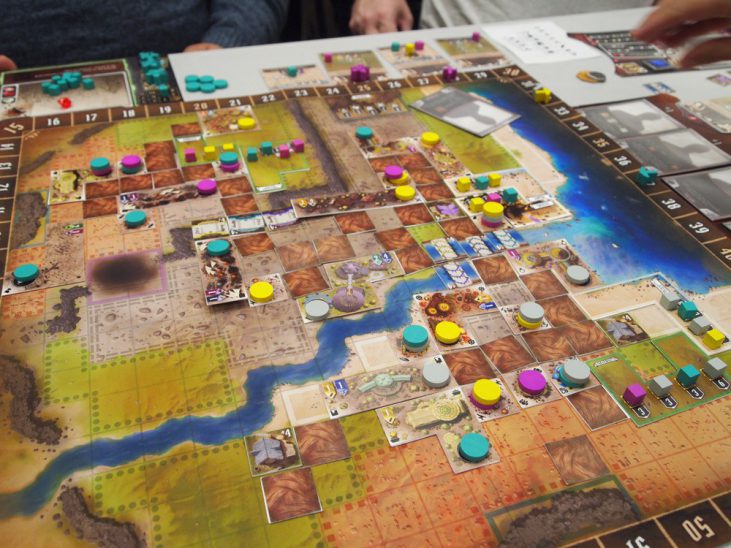 Rising Sun
We mentioned Rising Sun earlier this year in our Top 6 Most Anticipated Games of 2017. The area-control diplomacy game from CMON Limited and designer Eric Lang, a follow-up to his mega-hit Blood Rage, completed an extraordinarily successful Kickstarter, racking up tens of thousands of backers on its way to making over $4.2 million in funding.
While the estimated delivery of the Kickstarter and subsequent retail release won't be until April 2018, CMON will have copies at Gen Con to show off and demo. They'll even be raffling off some full production copies of the game during their charity events, for those both willing to pay $50 and fortunate enough to snag one of the limited quantity charity event tickets. But even if you're not lucky enough to score tickets to play a full game, it'll definitely be worth swinging by the CMON booth to check out the game.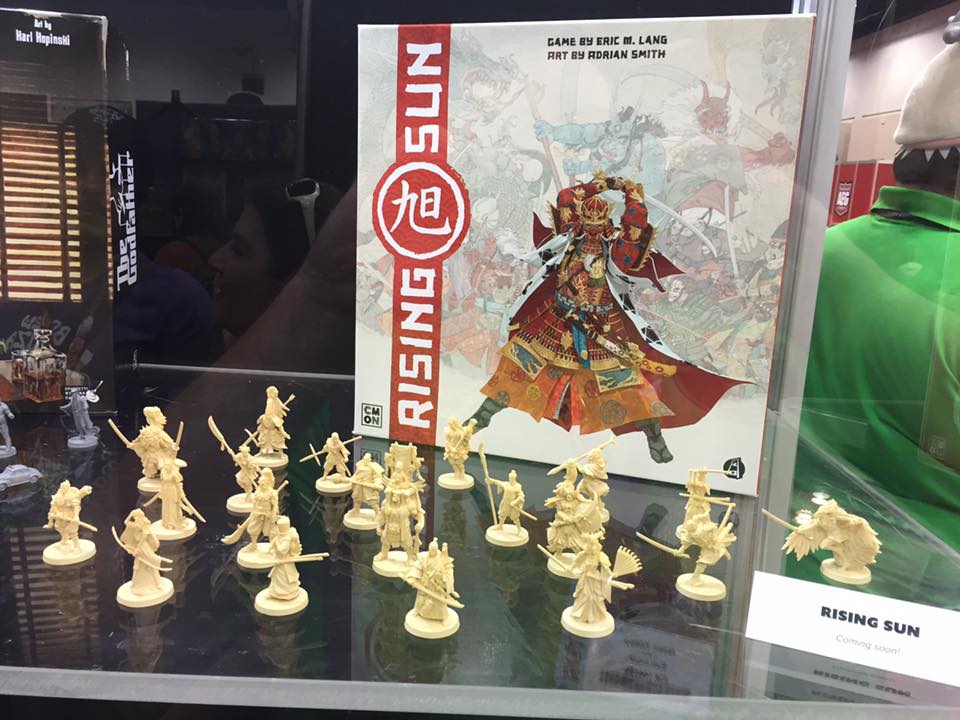 Roll Player: Monsters and Minions
Hot on the heels of his Dice Tower award winning base game, Roll Player, Keith Matejka brings us a much welcomed expansion. Now, not only are the players tasked with generating their heroes, but they're also preparing for a final battle against an evil boss monster at the end of the game. Along the way, the players will encounter the boss monster's evil minions which will not only award the players with reputation stars and other awards, but will also allow the players to gain valuable knowledge about the boss monster's weaknesses. This is one expansion that we are dying to get our hands on! Whether you're new to Roll Player as a whole or a seasoned veteran, you'll definitely want to check this one out if you can!
Hunt for the Ring
From Ares Games and the designers of the hit Tolkien epic War of the Ring comes The Hunt for the Ring. Hunt for the Ring is a 1 vs all hidden movement game that mimics events from The Fellowship of the Ring–the first book in the Lord of the Ring's trilogy. Specifically, it traces Frodo's path from the Shire to Rivendell. One player plays Frodo and his hobbit friends, while the rest of the group play the Nazgul who are trying to hunt them down.
Intriguingly, the game plays out in two chapters, each played on a different board. In the first half, the Frodo player attempts to move from the Shire to Bree, trying to avoid getting corrupted by the evil ring. At the end of this, you can either save your game state to return later, or proceed directly to the second chapter. In the second chapter, the Frodo player doesn't control the hobbits directly, but uses a deck of "journey cards" to guide the party to Rivendell. If you're a fan of the Lord of the Rings and hidden movement games like Fury of Dracula or Specter Ops, you'll want to hunt this one down.
Isle of Skye: Journeyman
The first big expansion to 2016 Kennerspiel de Jahres winner, Isle of Skye: Journeyman looks like it will take Isle of Skye to another level of gameplay depth. In our June 20th, 2016 interview with Alexander Pfister he revealed some details about the coming expansion:
Indeed. We finished the expansion already, I'm not sure when it will be produced.
The expansion adds player board to the game to track your development and gain you rewards. In order to gain these rewards you don't just need to place tiles, you also need to activate the tiles using your journeyman pawn. These two additions to the game have me very excited to give this expansion a play.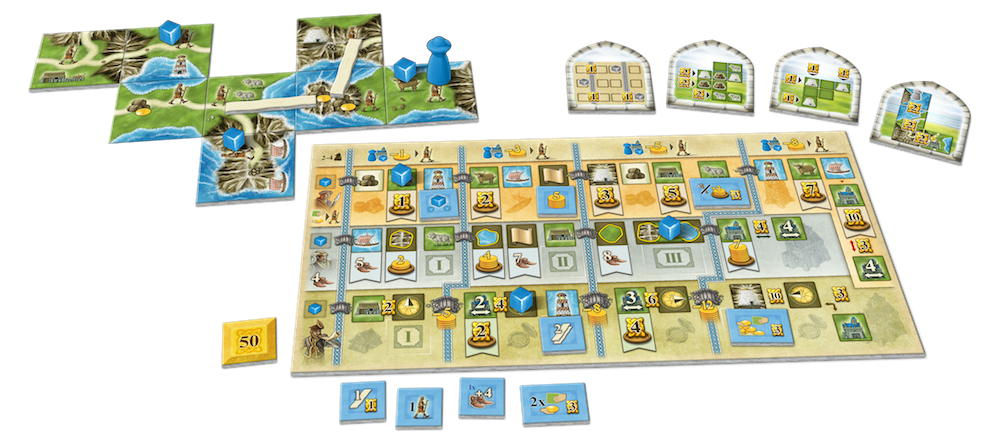 Alien Artifacts
Most 4x games (Explore, Expand, Exploit, Exterminate) take upwards of 3-4 hours and usually involve lots of components, heavy rule sets, and complicated player interactions. Alien Artifacts, from Portal Games and designers Marcin Senior Ropka and Viola Kijowska claims to be a 4x game made up entirely of cards that plays in an hour. That pitch alone makes me want to check it out, if only to see if and how they are able to pull that off. If Alien Artifacts is able to recreate the feel of a 4x but with only cards and a one-hour playtime, this could be a big hit with both fans of 4x games looking for a more versatile game and fans of smaller-scale card games interested in exploring the 4x gamespace but not yet willing to commit an entire evening to it.
Game of Thrones: Catan – Brotherhood of the Watch
While on the surface this may sound like just another cash grab by slapping an IP on an existing game, Game of Thrones: Catan from may prove differently. From what information has been released on the game so far, it looks like Fantasy Flight Games has taken the Catan base system and have added and tweaked some game mechanics to make it thematically engaging. Working directly with Klaus Teuber, the original designer of Catan, and his son Benjamin, FFG appears to have successfully combined both the best-selling gateway game of all time with a massively popular IP. The appeal of the popular Game of Thrones series along with the accessibility of Catan could make this an extremely effective way to get your non-gamer friends into the hobby.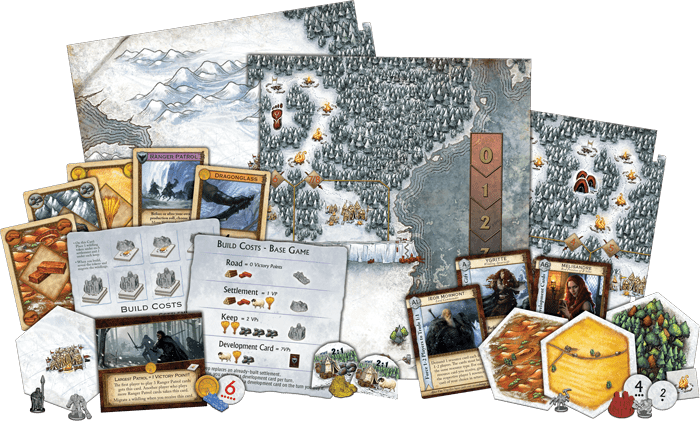 Detective: City of Angels
Detective: City of Angels is an upcoming game from Nashville's own Van Ryder Games, previously known for Saloon Tycoon and Hostage Negotiator. Set in Los Angeles circa 1940, Detective takes its inspiration from classic noir, such as the movie "The Big Sleep," the works of James Ellroy (L.A. Confidential), and the videogame L.A. Noire, featuring art by the always impressive Vincent DuTrait. Detective:City of Angels has players stepping into the shoes of L.A. homicide detectives, attempting to solve murder mysteries by whatever means necessary. One player, however will become "The Chisel," and attempt to thwart the investigators through stalling, misdirection, and outright lies.
It features scenario-driven gameplay, with separate casebooks for the investigators and The Chisel. You'll be interrogating suspects, chasing down leads, and finding key evidence. Fans of mystery/adventure games such as Sherlock Holmes: Consulting Detective or Mythos Tales, as well as fans of the noir genre should give Detective: City of Angels a thorough examination. Will this be a great game? That's a mystery you'll have to find out on your own.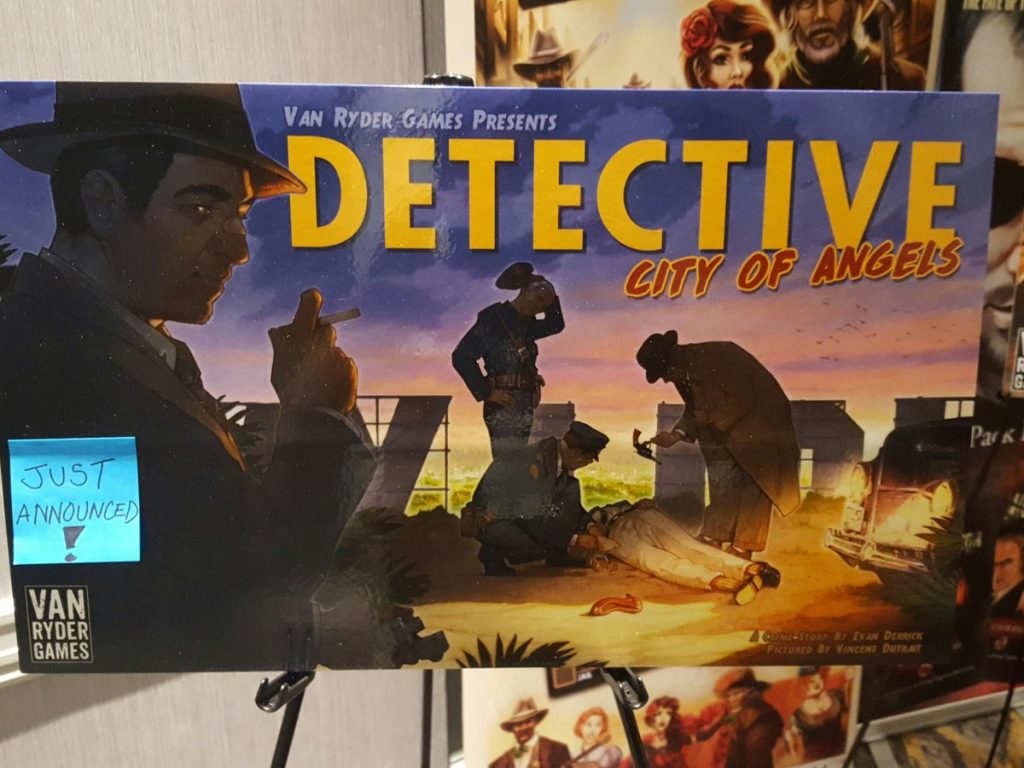 ---
So what games are you looking forward to purchasing and playing at Gen Con? Tell us in the comments below!