Games keep getting better, and 2017 has some real winners. Find out which Top Six games we're most excited about in 2017!
Other mediums of entertainment are really good at generating hype. Movies throw out high budget trailers, have press tours, and use IMDB. Video games have a number of conventions with attendance in the tens of thousands, television commercials, and sites specifically dedicated to looking at games that are just released or coming up. Unfortunately, as fans of board gaming, we don't always have those luxuries. We have Gen Con, Kickstarter, GAMA trade show, Origins, and some publisher-specific press releases. While the board game hype machine is improving, most publishers still aren't that great at generating buzz. A good portion of the games you're going to fall in love with this year are probably ones which either came out in previous years or just flew under the radar. That being said, there are some gems that are worth looking out for in the coming year.
Here's is a dose of hype to get you excited for this year!
Flick 'em Up!: Dead of Winter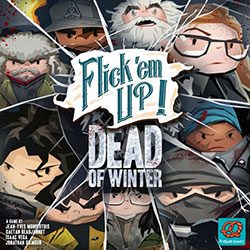 In their short career, Pretzel Games has made a large impression on the industry with its two very successful dexterity games, Flick 'em Up and Junk Art. If you have not heard of it, Flick 'em Up is a thematic dexterity game set in a western town. The goal of the game is to flick bullets and other things to knock out your opponent's cowboys. Made of high quality wooden components, Flick 'em Up is an eye pleaser, and will attract the attention of everyone at your gaming event
I was pleasantly surprised to hear that Pretzel game's next venture will be a mash up of Flick 'em Up and Dead of Winter (a game that I love). This is an unusual mash up because it combines this dark and gritty survival horror game about zombies with a lighthearted family friendly game about cowboys I have no idea how it's going to turn out, but I am extremely intrigued. Going by their recent track record, I have a feeling that Pretzel Games may have another winner.
Rum and Bones: Second Tide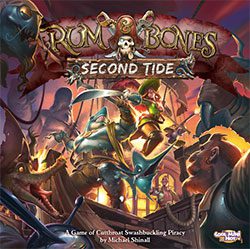 I am a huge fan of pirate themed games and I'm always on the lookout for games that well represent that universe. I really like games like Merchants and Marauders and Jamaica. Just the whole atmosphere of ship battles and sailing makes me excited.
The original Rum and Bones is an asymmetrical pirate game that takes place as a ship of monsters are trying to board the ship of another crew of pirates. The game is published by CMON so it has great minis and is very thematic.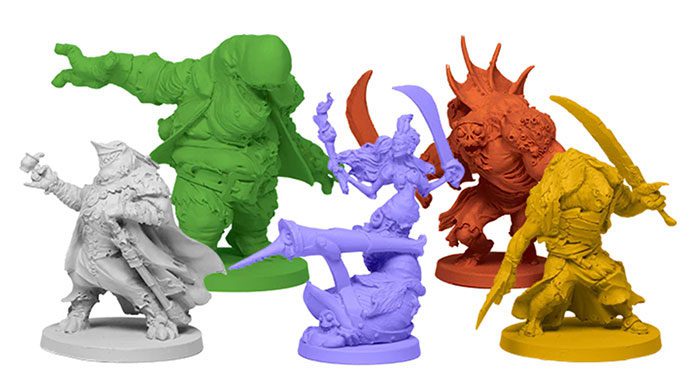 Rum and Bones: Second Tide could be this year's "King of the Pirate themed games" This is a second editionof the game Rum and Bones, so if you've played that and liked it then you will definitely like this one. The Kickstarter copies of Rum and Bones: Second Tide have already shipped to backers, and you might be able to find remaining copies in stores now, so be ready to walk the plank!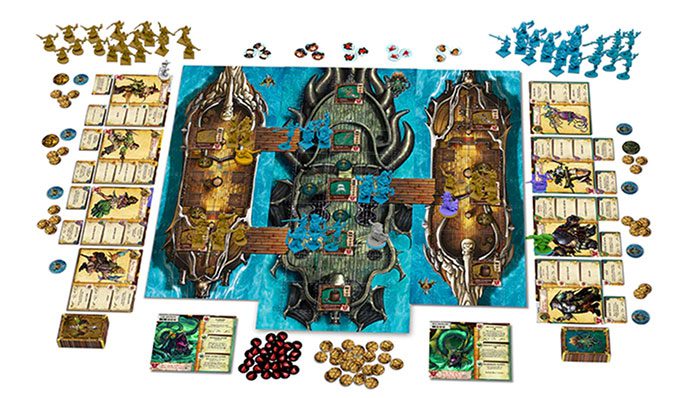 First Martians: Adventures on the Red Planet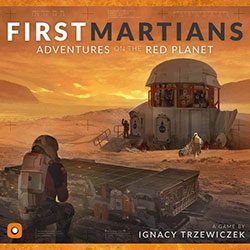 Robinson Crusoe from Portal Games made a mark on the gaming world by being a really hard, extremely realistic cooperative survival game. Following up its success, Ignacy Trzewiczek, the designer of Robinson Crusoe, is jumping on the Mars train and creating a game similar to Crusoe which takes place on Mars! Portal has said that this game is being built off of the core of Robinson Crusoe and will have many similar elements. They are also enhancing the immersion experience even further by creating an app that will integrate into the game.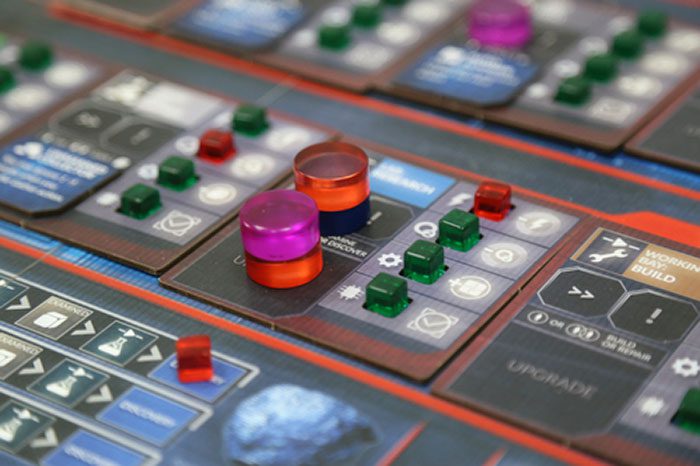 In a conference at the GAMA trade show, Trzewiczek said that the game would have practically the same rules as Robinson Crusoe but the theme would change the game completely, meaning that this game may not appeal to the same audience as Crusoe. But if you liked the mechanics of Crusoe and are interested in the space theme, it's a pretty safe bet to say that this is definitely a game to look out for!
Rising Sun
Eric M. Lang may be one of the biggest game designers around right now. He is famous for his "dudes on a map" games like The Others, Arcadia Quest, Chaos in the Old World, and of course Blood Rage! But either way you look at it, this guy is great at producing thematic games with great miniatures which attract lots of people.
His next venture is into the world of samurais in feudal Japan. The rumor mill is in high gear trying to winnow out gameplay from the images and videos that have been released. It appears that Rising Sun will be a more mythological take on samurais, similar to how Blood Rage was with vikings. I believe that we can expect this one to be another hit from Lang. Maybe it will even spawn a new wave of samurai themed games!
The game won't release until 2018 but the Kickstarter campaign for Rising Sun has already begun. So, if you are interested in learning more about it, definitely go check that out! In fact CMON just released a work in progress version of the Rising Sun rulebook so that you can see what the fuss is all about.
Pandemic Legacy: Season 2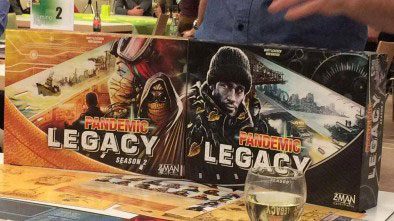 I'm sure those of you who played Pandemic Legacy: Season 1 are already pretty pumped for this one. If you have not played this, Pandemic Legacy takes the base Pandemic game and turns it into a full campaign. As you play it, the game changes and continually adds new mechanics and components. The game board is affected depending on how your game goes. Your board will end up looking completely different than anyone else's game.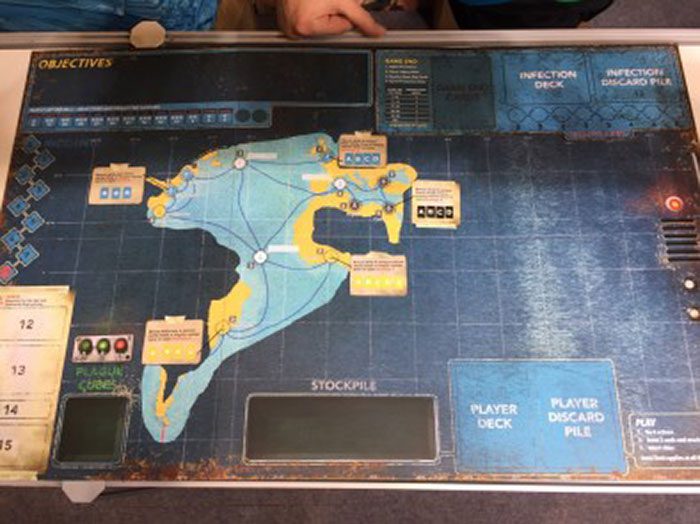 I'm only a few games into my first run through Season 1 and I'm still excited. Season 2 is supposed to take place in a post apocalyptic world, 71 years in the future, after the viruses have done their damage. There is lots of speculation as to what new things Season 2 is going to bring us. People are talking about things from scratch off sections of the board to an in game app. Who knows what awesomeness this game will bring! Hopefully we can expect it to do just as well if not better than its predecessor.
Mythic Battles: Pantheon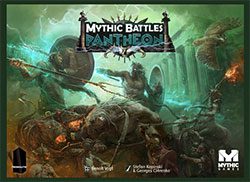 I am super excited about this one. Monolith games put this up on Kickstarter right as their previous game, Conan, was coming out. Conan did wonderfully and people loved it. The quality of the art and miniatures were fantastic and the gameplay itself was well crafted. I'm not a huge fan of the universe of Conan, so I wasn't exactly running towards this game. However, when I found out about Mythic Battles Pantheon, oh my god was I pumped.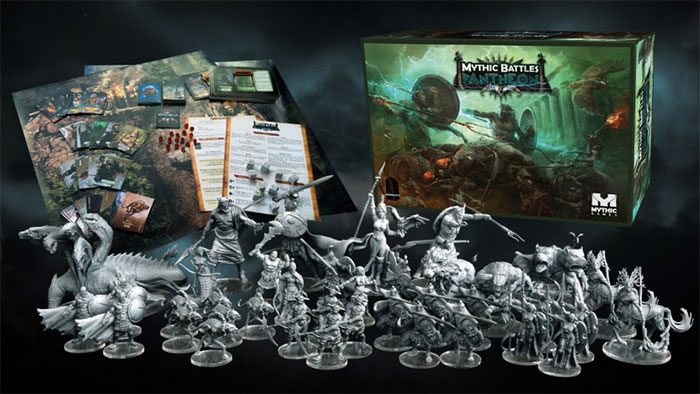 This game is based on an older game, Mythic Battles, which pitted gods and other characters from Greek mythology against each other. Pantheon is an update on that and is a stand alone game. Mythic Battles is not required to play Pantheon. The older game was really fun as it used unique activation mechanics by only allowing you to use one of your figures if you drew it from a deck. It also had a inventive hit point mechanism where each character's skills were continually decreased as they lost health. Mythic Battles: Pantheon completely revamps the original game and makes it way bigger. The Kickstarter ended a while back but this game will probably be in stores sometimes this December. It's a long while to wait, but I think it's going to be worth it.
In Closing
Hopefully I was able to get some of you excited about what is coming out of the industry in the next year! There are some great things to get really excited about and even more than this to come. The hype train may not always be the most trustworthy thing in this industry, but as far as these six games go, I think we can expect some hits!
---
What do you think about Top 6 Most Anticipated Games of 2017? Give us your opinions in the comments below!