Violet and the Grumpy Nisse is a dense trick-taking game that examines the alienation of parenthood. Andrew makes his way through the woods in this Meeple Mountain review.
In Violet and the Grumpy Nisse, one player takes the role of Violet, a young woman traveling through the nighttime forest in search of her friend Ordep. The other player is Torech, that grumpy Nisse, who has taken it upon himself to make Violet's trip difficult. Across a series of tricks, Violet moves through the forest one spot at a time, her lantern burning through fuel, and her fear growing ever more present. She wins by making it to Ordep's clearing on the other side, while the Nisse wins if Violet runs out of fuel or the Fear token catches up to her location.
Those tricks are a little counter-intuitive. The led suit is strongest, but the suit that matches Violet's current location acts as a trump, unless the led card was a 6. A 1 beats any 9 regardless of suit, unless both the 1 and the 9 match the suit of Violet's current location, because card abilities don't activate if the card matches Violet's location (unless it's a 6 and it led).
This isn't what I would normally consider good game design, and I acknowledge that. It's inelegant at best.
If Violet wins a trick, she either advances one space and loses one lantern fuel, or stays in place and adds fuel to the lantern. If Torech wins, Violet advances one space and loses two lantern fuel. After Torech wins a second trick, the Fear token starts to move.
Violet and the Grumpy Nisse is, I have to say, a surprisingly asymmetrical game, both in terms of strategic choices and emotional experience. To play as Torech is a pleasant romp, with a bevy of options available to you. After two games in his tiny gnome shoes, I switched to Violet. That experience is way more tense. You live in a constant state of panic. It reminded me of playing as the Free Peoples in War of the Ring, of all games. Everything seems to be constantly falling apart.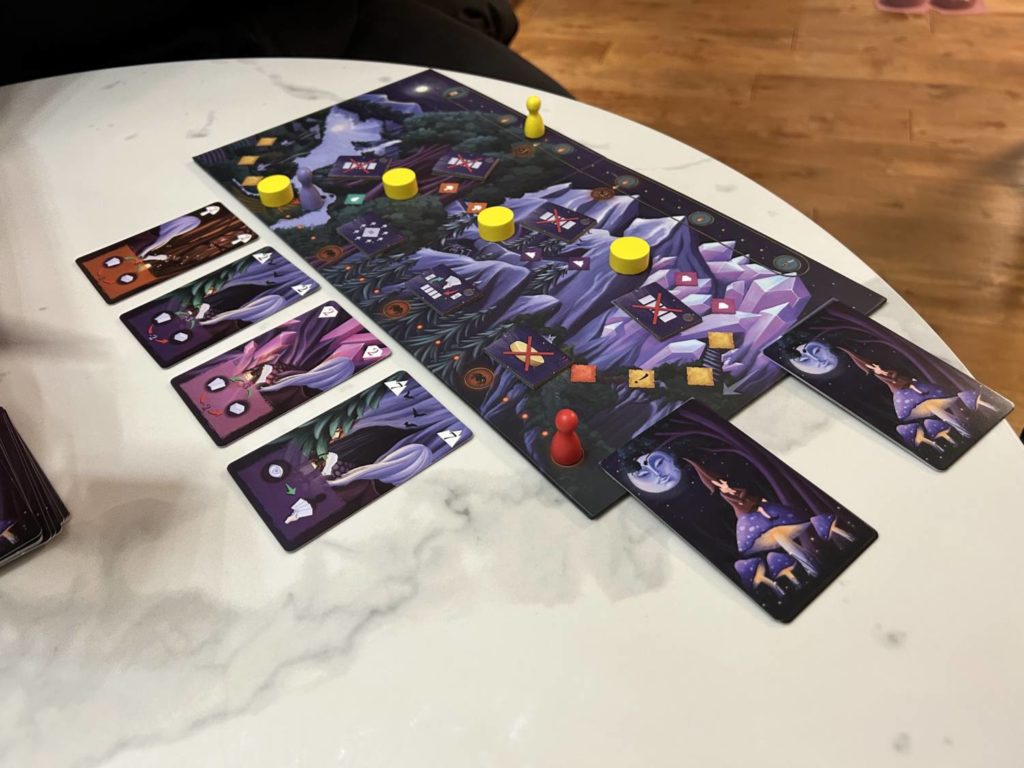 Despite its inelegance, I am fascinated by Violet and the Grumpy Nisse. I can't tell, after five games, if I've only started to get a sense of the skill ceiling, or if the game has peaked. Whichever is the case, I know it's a card game where skill matters.
Players don't draw cards blind from the deck. Four cards are dealt out into a market, and you make your selections from there. Card counting is essential to playing well. So is judging when to prioritize playing a card for its effect over playing a card to win. The changing suits of the locations on the map contour the experience, encouraging different suits and different numbers as Violet moves along.
I can forgive Violet and the Grumpy Nisse its ungainliness because the game needs all these weird bits sticking out of the edges. It may be fine. It may also be an absolute triumph of design. I cannot tell. I hold two contradictory moods in my head at once: I know my last game felt exhilaratingly intentional, and I know I don't want to teach it to anyone new ever again.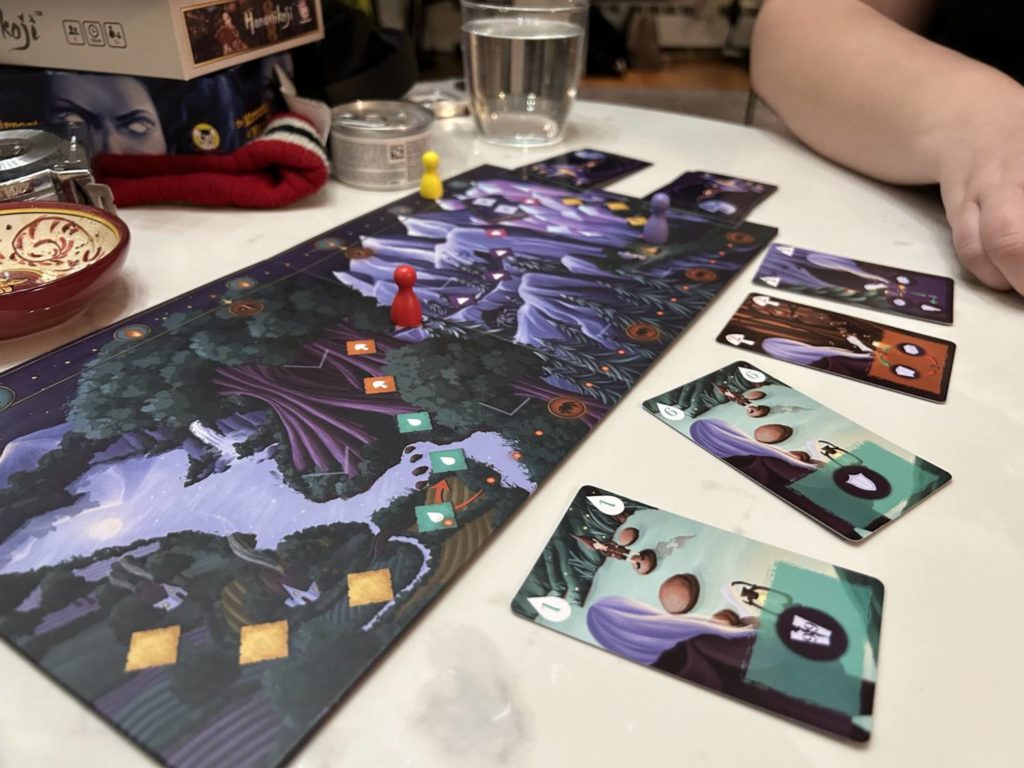 Violet and the Grumpy Nisse was inspired by Pedro Pereira's experience as a father. Pedro (Ordep) and his wife, Violette (Violet), used to travel internationally for work, enjoying one another's company along with their mutual independence. Then they had Hector (Torech). Suddenly that independence was taken away.
Growing up, I never questioned that I would have children. I love their curiosity and joy. I love the way showing them how to be people makes me into the best version of myself. I always assumed I would have one or two of my own. The first dent was, and is, climate change. We don't have to go into that here. 
The other dent can be viewed as either selfish or practical. Perhaps both. I don't have the time or the money to do the things I want to do as it is. The western way of child-rearing, where every family is in it for themselves, is brutal and unforgiving. I just don't know.
There is beauty and honesty in acknowledging that what formed the core of Pedro and Violette's relationship was fundamentally altered, perhaps even stripped away, by having a child. I appreciate and identify with the questions and reflection that led to Violet and the Grumpy Nisse. Violet just wants to get through the forest and spend a little time with Ordep, but she can't. Not like she used to.