Justin reviews two of the Unsolved Case Files games from Goliath Games to see if this is a series you'll want to solve!
"One of those true crime co-op games? Phew. I thought you wanted to play one of those rules-heavy games in the big boxes downstairs!"
My wife gives it to me straight for our weekly Friday night gaming sessions. Some nights, she wants to play 7 Wonders: Duel. Some nights she will happily dial up something heavier like Vital Lacerda's Vinhos Deluxe Edition.
But on this night? Pour a glass of wine, clear the kid toys off of the kitchen table, and prepare for a couple hours' worth of working together to solve a fictional crime.
During my visit to Gen Con, the team at Goliath Games—which includes the Pressman Toy Corporation and their complete collection of games—handed me two games from the Unsolved Case Files line, Harmony Ashcroft and Jamie Banks. Each of these games plays as one shot: you will plow through a variety of evidence to determine whodunit, using the Unsolved Case Files website to see if your detective work will reopen the case to nail who really committed the crime.
There are now at least 8 games in this series (including a couple of family versions), so the Unsolved Case Files games are selling quite well. I wanted to put these games through their paces to see how they stacked up against other resettable true crime games such as the Cold Case series from ThinkFun and other one-time-play murder mystery games such as the EXIT: The Game series.
Please note: I include a few spoilers about each game below. If you just want to know my final thoughts on the games, go ahead and skip to the ending!
Unsolved Case Files: Harmony Ashcroft
On May 8th, 1998, Harmony and her fiancé Christian went to their wedding rehearsal dinner in Riverdale, Indiana with family and friends. After an argument at dinner, Christian went out to run an errand, and Harmony ended up dead.
A local homeless man nicknamed Bones was locked up for the murder, but it's clear that Bones is not the real killer. Your job is to help the Riverdale police sort through the evidence to find out first what facts show that Bones is innocent before launching into the heart of the investigation: who killed Harmony Ashcroft?
I'll admit that Unsolved Case Files: Harmony Ashcroft felt a little too easy for my wife and I to solve; while I had the killer figured out early on, I did not know the "how" as quickly as I was hoping for. I enjoyed the mix of the objectives in Unsolved Case Files: Harmony Ashcroft, and we were kept off-balance in the right ways during our adventure.
The writing for the interviews, newspaper clippings and coroner's report was surprisingly bland and felt like it was ripped from every episode of low-budget police procedurals I have ever seen. That said, I sometimes love that stuff so it didn't distract too much from the mission at hand. Better, more theme-appropriate writing, isn't that big of an ask here.
We worked through Unsolved Case Files: Harmony Ashcroft in a little under 2 hours. That was the right length given that we were just really trying to figure out which pieces of evidence helped us most in solving the case. You will need that to move through the website questions to ensure you have the right killer. The video at the end of the case, showing you what really happened, was staged well and featured some nice touches in making things look like a real local news broadcast.
In general, Unsolved Case Files: Harmony Ashcroft was an above-average, by-the-numbers cold case game and I was glad I tried it.
Then, a few weeks later, my wife and I tackled Unsolved Case Files: Jamie Banks…and things didn't go as well.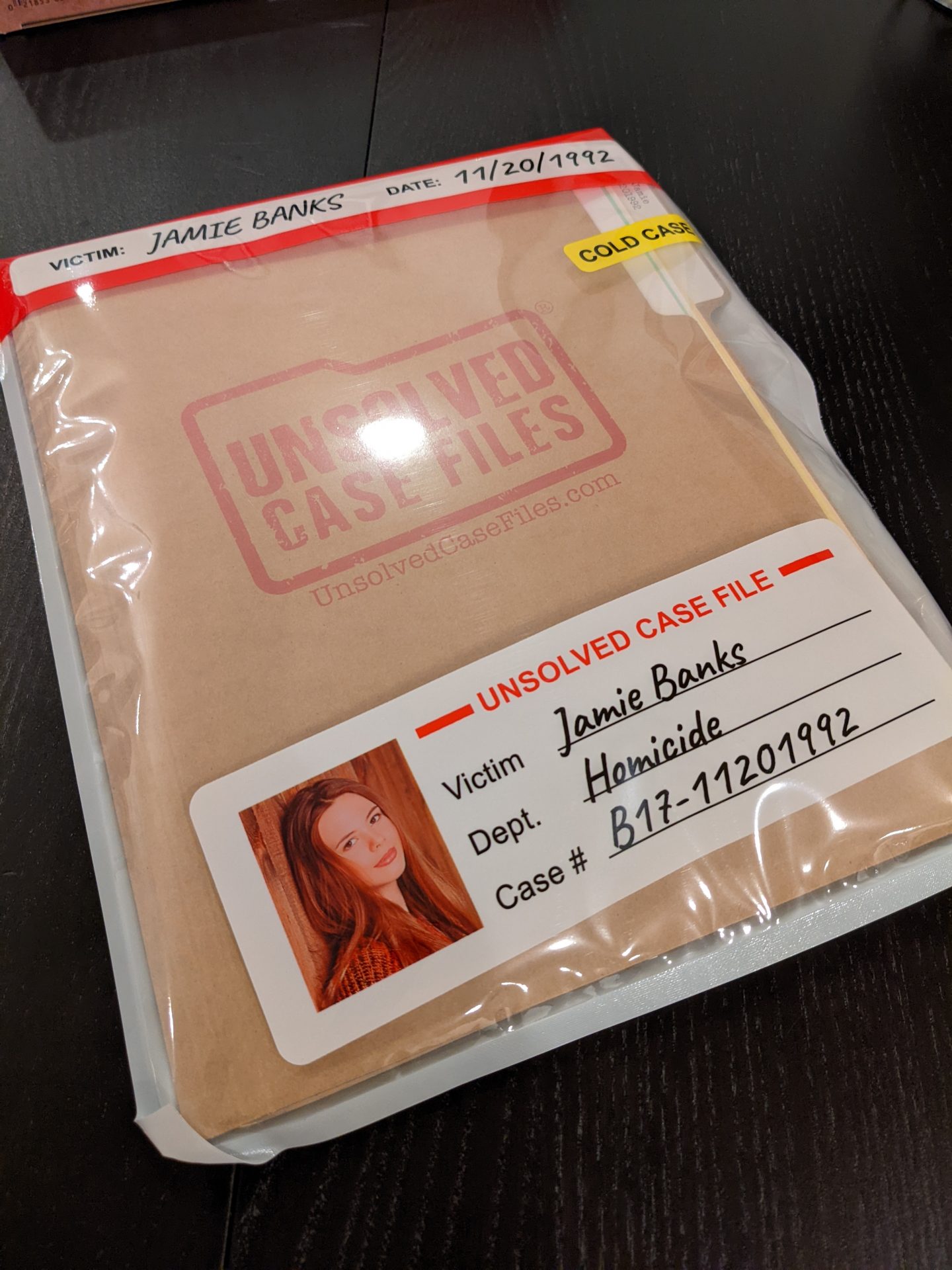 Unsolved Case Files: Jamie Banks
I've enjoyed most of my experiences working through these escape room/true crime games but Unsolved Case Files: Jamie Banks was an outright failure.
This was not a failure because I've forgotten how to read through witness interviews, evidence photos and person of interest statements. This is because at the core of Unsolved Case Files: Jamie Banks, the logic involved in the details of her murder literally doesn't make sense.
I won't give away how things end here, but let's talk about the setup. 18-year-old high school student Jamie Banks is dead. She had a lot going for her: above-average student, lead actress in the high school's current run of Romeo and Juliet, a journalist for the school's newspaper.
But in November of 1994, Jamie apparently committed suicide by jumping from the school's 6th floor, out the only window in the newspaper workroom on the Friday of the school's football state championship game. She killed herself during the school's 10 AM pep rally, and conveniently only 5 people in the entire school were not in the gym when the all-school picture was taken, giving us our list of suspects.
We have a couple who happened to be fooling around in the 5th floor girls' restroom, a guidance counselor, the teacher who leads the drama department and the understudy to Jamie in the school play.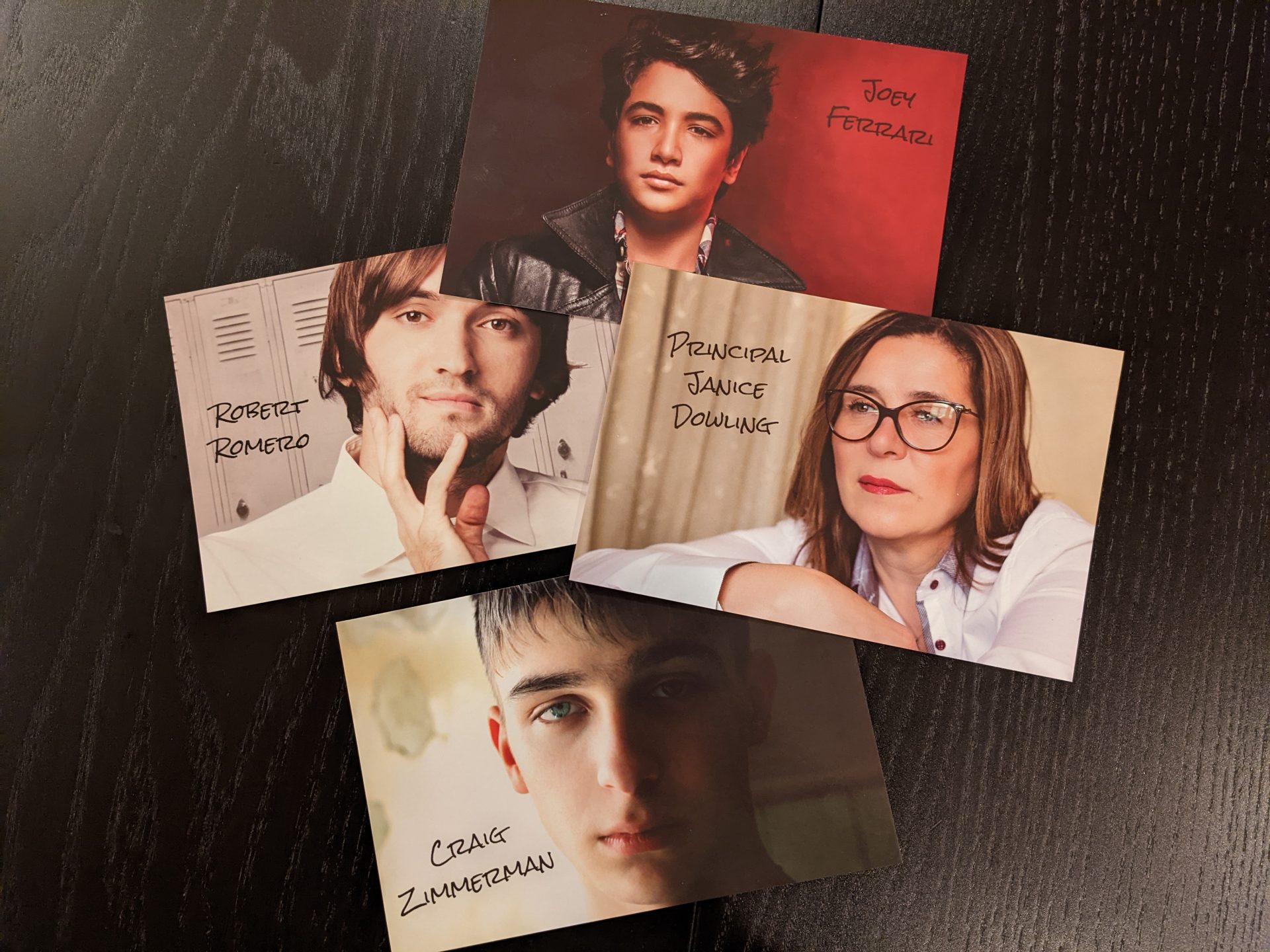 All of the suspects have their reasons why they might want Jamie dead. And the case, which went cold after what must have been the weakest police investigation in board game history, is now in your hands. Whodunit??
My wife and I always do these types of games together, and even though there is often a struggle to get through some objectives in these cases, Unsolved Case Files: Jamie Banks was a miss from the beginning. I like that each box of Unsolved Case Files always has 3 objectives or problems to work through, and the first stage for this one was frankly beyond obvious. Like, within 5 minutes of opening the evidence, we both looked at each other and were like
"I mean, _____ __________ with the _______, right?"
Then we went onto the website and had our confirmation. So far, so good.
But working through the second and third objectives is what made Unsolved Case Files: Jamie Banks turn sour. We felt it was a major stretch to come up with the logic behind the answer to the second objective, and the third objective isn't just silly, it's broken.
The logic is not there.
Clearly, there's no game if Jamie committed suicide, so let's agree that she was murdered. Jamie "jumped" from the 6th floor of the school to her death. Let's assume that she didn't jump. When the details are revealed at the end of the game with a statement from the real killer, at no point were my wife and I buying it. The reasoning is silly, the writing backs this miss, and then the worst offender slaps you across the face:
This isn't humanly possible.
To the point that my wife and I role-played the murder as if she was Jamie and I was the killer. The final moments of Jamie's life, as written, wouldn't look right in a bad TV drama, let alone a board game.
Unsolved Case Files: Harmony Ashcroft felt plausible (sure, occasionally ridiculous, but I'll play along for a couple of hours); Unsolved Case Files: Jamie Banks feels like it was a rush job on the part of the designers and writing team. Even before the true killer is revealed, the other suspects just never quite feel right. There are a couple of "red herrings" but those red herrings never quite felt plausible enough for serious consideration.
In fact, you could argue that Unsolved Case Files: Jamie Banks just tells you who the killer is at the midway point of the investigation, then does nothing to dissuade you from that eventual path. Worse, more information piles on by the end that has you looking to gather additional evidence on the true killer. You WILL say near the end: "OK, it's OBVIOUSLY _________ so what else do we need to lock this up?"
Unsolved Case Files: Jamie Banks simply doesn't work. We didn't feel great about it by the end—we often asked "how would real police miss this many signs that something else is going on here?" The web-driven content isn't as strong as in Unsolved Case Files: Harmony Ashcroft, particularly the final news video with the reporters showing what really happened. The writing in the investigator interviews is also not as pulpy, or funny, or interesting, or dramatic.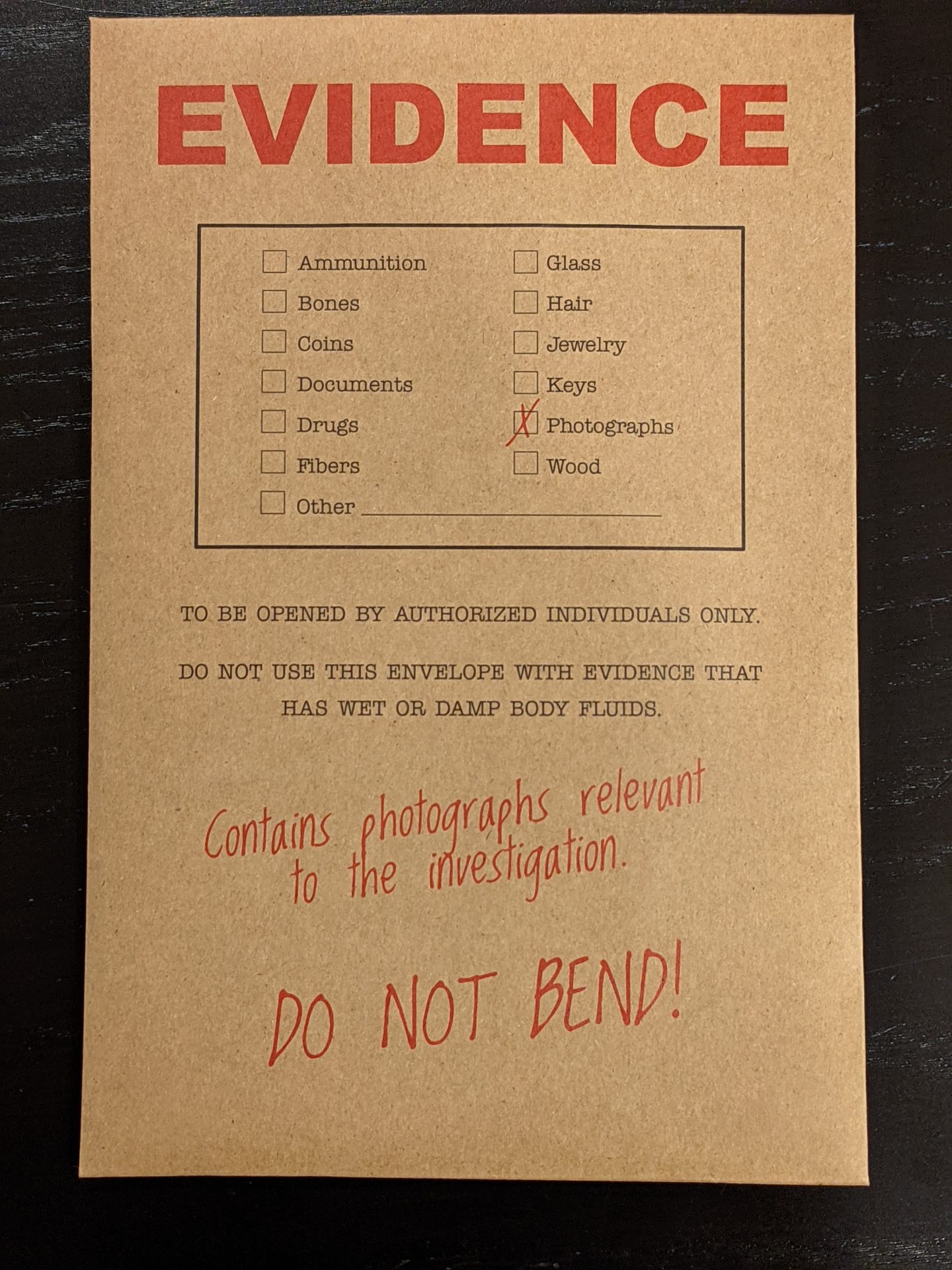 Unsolved Case Files: Fight the Future?
Although I enjoyed Unsolved Case Files: Harmony Ashcroft, Unsolved Case Files: Jamie Banks left me in a place of doubt with this series. I'm leaning more towards the Cold Case games by ThinkFun as my true crime game series of choice because the cases are just stronger and more grounded in a logic puzzle.
With the Cold Case games it just comes down to being smart about the details. You've got to be a real eagle eye to catch some of the stuff being thrown around in the Unsolved Case Files games and that doesn't feel great as a player when you were paying attention to the details and instead, you should have caught something semi-random in one of the pieces of evidence.
I do appreciate being able to reset the game for friends to try or family to work through later. I like that the Unsolved Case Files series has a couple of family-friendly options, so families who want to get accustomed to this type of gameplay can do so without worrying about more adult themes and imagery such as bloody knives or suicide.
But the overall production in the Unsolved Case Files games feels a little shoddy. The writing isn't nearly as juicy as other games in this vein. Some of the extras here just feel extraneous, not even things you will consider as you work through the evidence. Why is there a picture of the school principal? Does the coroner report really provide useful information?
4 more Unsolved Case Files games are coming in 2022. I'm hopeful that Pressman's team has learned from the earliest games in this series to make amends and give players hope for a brighter future!