What if you could fit 50 worlds in your pocket? Find out in Ian's review of the Tiny Library RPG collection from Long Tail Games, on Kickstarter now!
Author's Note: I have endeavored, where possible, to identify each designer referenced in this article by both their proper name and the social media handle associated with the game.
Tabletop roleplaying games are a broad spectrum, covering all kinds of styles and genres. Nowhere is that truer than in the independent RPG scene, where individual designers can craft highly specific, unique themes and mechanics to help bring a narrative to life. Many of these games can be found on itch.io, a hosting service that's become a haven for indie RPGs. The platform has become a popular place for game jams as well, events that task entrants with coming up with a complete game — from concept to final product — in a set amount of time.
The genesis of the Tiny Library RPG anthology comes from one of these game jams. Curated by Long Tail Games, the jam asked its participants to submit an RPG with one big limitation: the game could be no larger than a single business card (front and back). In the world of roleplaying games, these "micro-RPGs" are quite popular due to their focused gameplay and the ease with which they can be created. While they certainly won't rival the depth or complexity of their big-box cousins, it's great to be able to pull out a single card and immediately jump into a roleplaying game without any prep. The Tiny Library takes 50 such games (most, but not all, from the initial game jam and the rest from itch.io) and boxes them together into a ready-to-play travel pack of roleplaying goodness.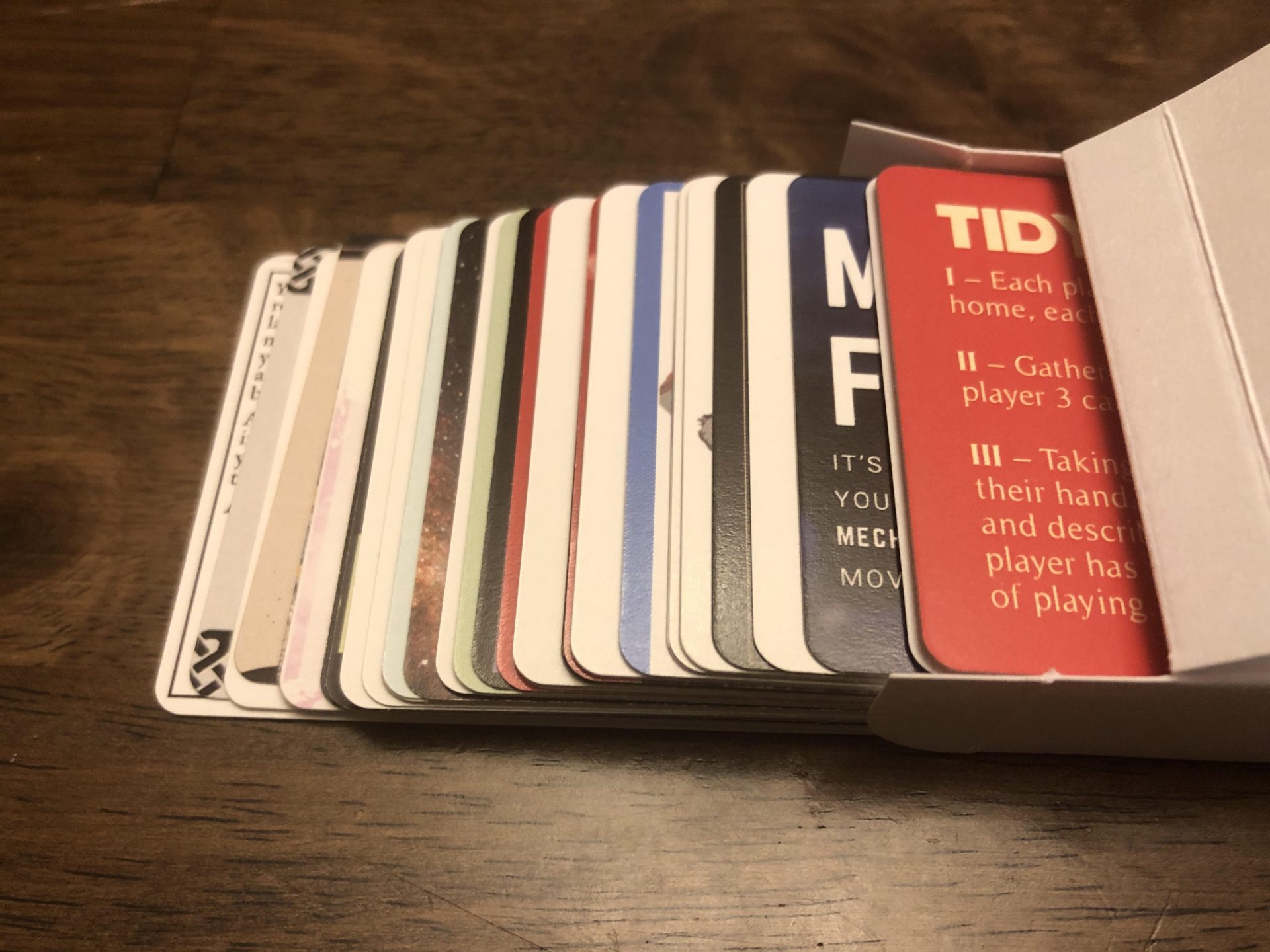 What's most impressive about the Tiny Library collection is just how wild and unrestrained it is. As a snapshot of the indie RPG community, it's fascinating. As an anthology, it's full of great ideas packed into a small space. No matter what you're looking for, you're almost guaranteed to find it in this box, even if you've never considered an RPG before (in which case you might want to read our article on why you should play an RPG.)
Back to Basics
For example, if your interest is in mechanically crunchy games, you'll want to take a look at Whaleship Essex by JoyPeddler Games. This survival simulator includes a full 60-hex map as well as weather and starvation rules all on a single side of a card. Though it's a bit reliant on random results, it's an impressive feat of design that immediately grabs the eye. Similarly, Danger Race by Roger Long (Fry Tiger) is a dense but accomplished racing sim that features full racing mechanics, including special stats for the drivers and multiple rounds of racing. If you've ever wanted to drive a muscle car through a rockslide, now's your chance!
On the complete opposite end of the spectrum, there's A Room in a Pocket by Courtney MM (A Story Somewhere). This cozy flight of fancy asks players to describe their ideal room according to specific prompts determined by a roll of the die. There's no pushback from other players or the system, so you're free to describe anything that speaks to you. If you've been struggling to find comfort in your day-to-day life, picking up this little card and rolling the die a few times will help you escape to a perfect world for a few minutes.
In the middle of these two extremes are some solid RPGs that make good use of the size limitation to keep the game feeling focused. Now We Raid from Freddie Bell (The Drunk Wizard) is a sharp little gem which uses a tight 3-act structure and an intriguing Viking theme. Lake Town Blues (theinstagrahame) cheats a little by asking players to bring index cards that can be used to create a map, but it also includes some great story prompts to make that map come alive. And Bonfire by Marc Cook, The Last Hurrah by Meghan Cross, and The Traveller's Tale (WeirdBlueYonder) all offer different and interesting takes on the storytelling genre.
Something Old, Something New
A few of Tiny Library's cards tread familiar ground for RPG enthusiasts but in a much more compact way. Guns & Guile by Freddie Bell (The Drunk Wizard) is a full-fledged hack of John Harper's Lasers & Feelings, turning the single-page sci-fi classic into an even svelter Western adventure replete with cinematic close-ups. And while Free Traders from Lari Assmuth doesn't explicitly call out the popular Powered by the Apocalypse system, it clearly pulls some inspiration from that venerable source while simultaneously finding its own footing in the space opera genre. I've seen a lot of games that bring a fresh spin to PbtA, such as Atma, and I even put a few PbtA games on our Dungeons & Dragons stepladder…but adapting it to a business card is something I never would have expected.
And some are closer to board games, like Fingergun Standoff (CraigDidAThing) which reads like an RPG take on Bang! as well as Cash and Guns. Or Crazy CEO Pitch from E.R. Burgess, which evolves pitch-style party games like Snake Oil and Funemployed by adding a light character element that persists across multiple rounds. This hybrid style is likely going to appeal most to roleplaying novices, but could also be great for a quick game before or after a longer roleplaying session.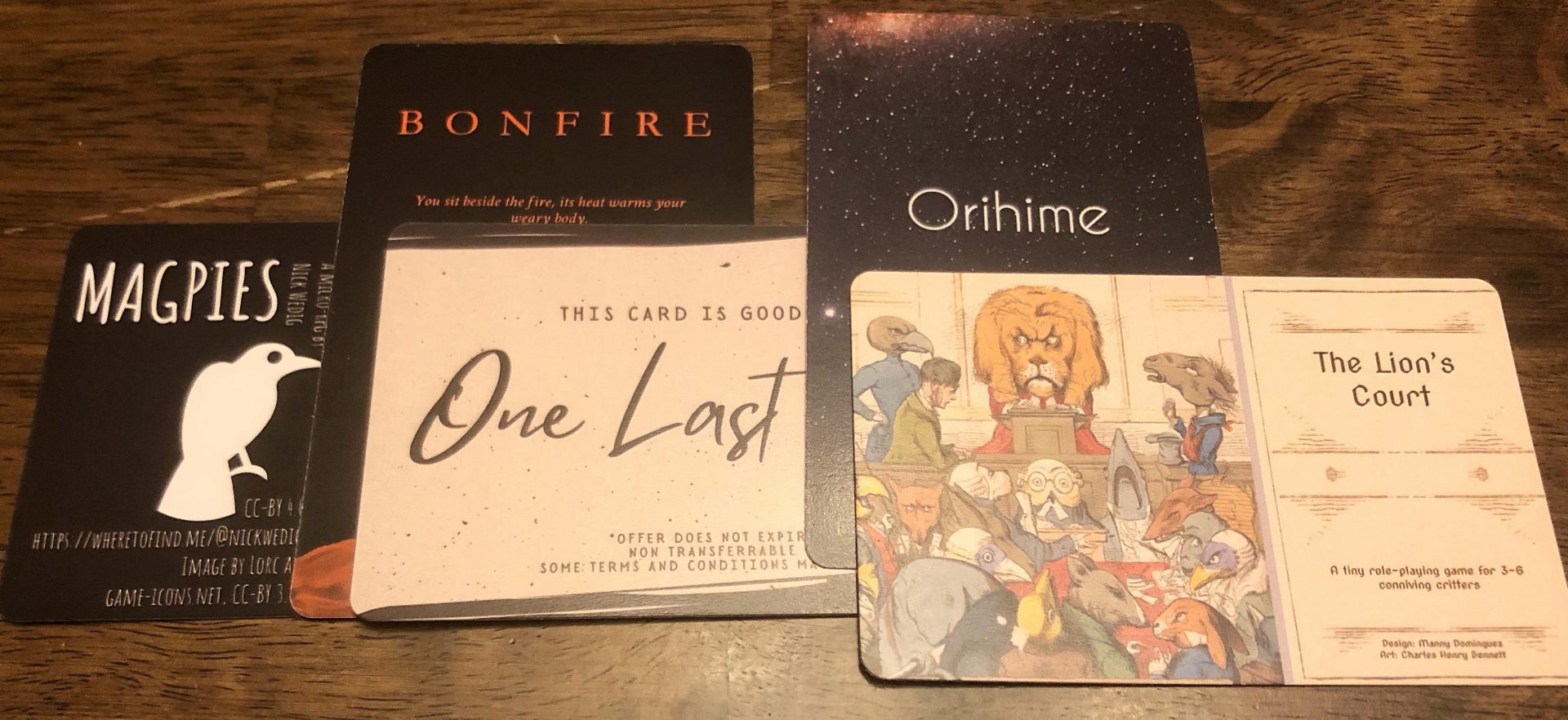 Several of Tiny Library's games blend the game's fiction with players' real lives, a style known as "pervasive" among the RPG community. In Drink Up from Cataclysm Games, players discover that the beverage they're currently drinking is in fact a magic potion of sorts. The effects of the potion range from mild to extreme, letting players mix whatever level of mayhem they like into their daily tasks. In the Stars Tonight by David Harris (Sciartica) combines amateur astronomy with a light solo RPG experience. The Ne'er-Do-Well's Guild (Imaginary Thomas) goes even farther by adding a campaign-like element where players must encounter each other in order to advance in the game's fictional guild.
All of the above are relatively normal in the RPG community. However, a certain number of the Tiny Library games feel a bit more experimental. I don't mean any disrespect by that. I love weird RPGs that push the boundaries of what a game can look like. But what am I to make of Awakening Sleep System (PerplexingRuins), which starts with a poetic list of Principles such as "geometry presents alternatives" and concludes with Rules that range from "find a form in which to believe" to "acknowledge your enchanted wandering"? I honestly can't figure out how to play it; I just know that I want to play it. It's the exact kind of odd indie creation that gets my creative juices flowing. Similarly, Magpies from Nick Wedig is so thematically rich and unusual that I'm willing to overlook its loose ruleset. I can't resist a game about mythological birds which asks me to "gather a d8 black like your wings and a d4 white like your heart" before I even get started.
Your Local Library
While I've talked at length about what I think of the games in this box, there are still a few dozen titles I haven't been able to mention at all. That says a lot about what this project offers. I think anybody with an interest in micro-RPGs is going to absolutely love Tiny Library. It's the perfect travel kit for those headed to a convention or just looking to shake up their weekly RPG group with a handful of exciting one-offs.
On the flipside, I have to say that some of the cards included here feel a bit out of place for that kind of crowd. Whether they have too little narrative or too little structure around the narrative, quite a few of these bump up against my beliefs on what makes a good RPG. That doesn't mean that someone else won't enjoy them, but the risk of any anthology is that each piece in the collection might not resonate with every consumer.
As for me, I'm more than willing to take the handful of games that I'm ambivalent on in exchange for the big pile of games that have me eager to get back to the table. This little box features dozens of designers who I'll be following closely from now on, serving as a perfect capsule of how diverse and wonderful the world of roleplaying games can be. Not bad for a single deck of cards.
Check out Tiny Library on Kickstarter today!