Visit The Golden Gate Bridge in Days of Wonder's new game Ticket to Ride: San Francisco. Check out Andy's review.
Ticket to Ride is a modern classic board game which has transcended "hobby game" status and landed firmly in the mainstream. The original game was released in 2004 and since then has gone on to spawn numerous expansions, stand-alone games, and even fan-made map packs. Days of Wonder has even released "city versions" of the game set in unique locations around the world: London, Amsterdam, New York, and now San Francisco.
Join me as we travel to The Golden City, visit well known landmarks, and take a ride on the city's iconic cable cars (what else would they be?).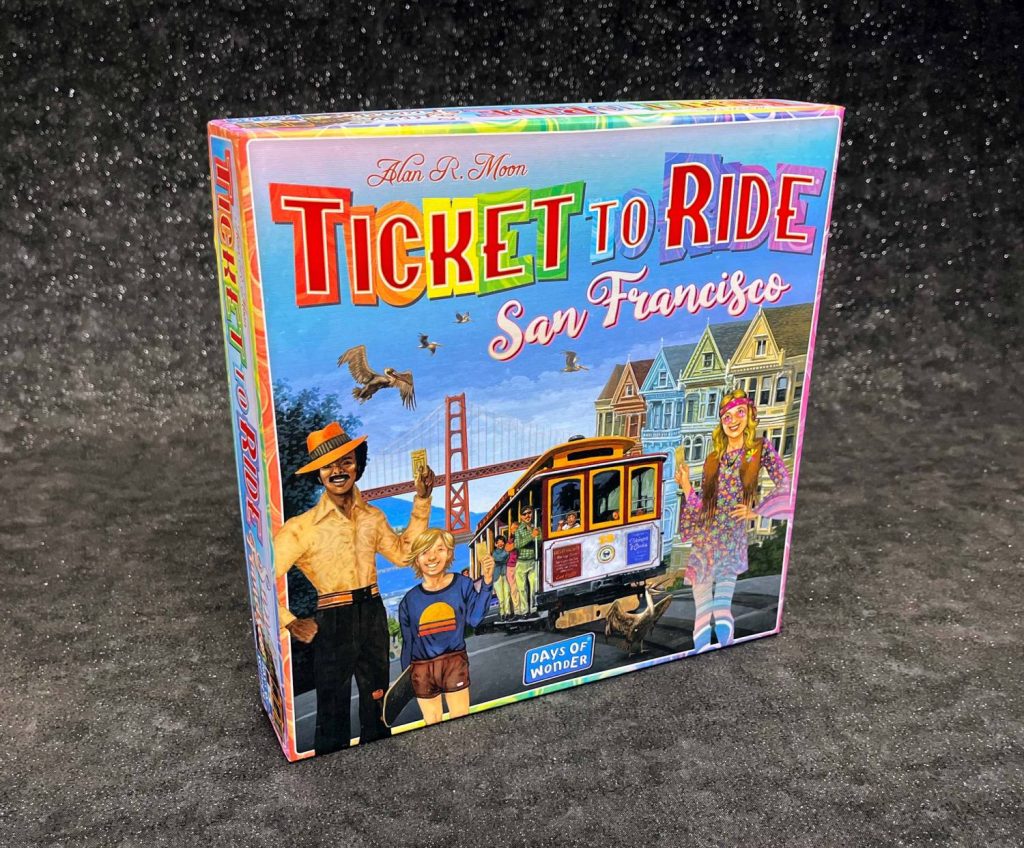 A Gentle Intro to Ticket to Ride: San Francisco
Much like its sibling, Ticket to Ride: New York, the San Francisco version is a scaled down version of the original game. It comes with a much smaller board, lower player count, and a drastically shorter play time. Here's what's different from the base game.
Players have cable cars instead of trains
Plays 2-4 players
Players only have 20 pieces instead of 45 as in the original game
The map is much smaller, approximately ⅓ to ¼ the size of the original board
Players only draw 2 Destination Ticket cards instead of 3. They must still keep at least 1
The longest route is 5 spaces (Golden Gate Bridge to Fort Mason) which means the maximum route score is 10 points.
Destination Ticket point values range from 2-8
Players earn extra between 1 and 12 bonus points for collecting sets of tourist icons scattered around the board.
While the game isn't exactly the same as Ticket to Ride: New York, I'm going to point you to that review to talk about core gameplay.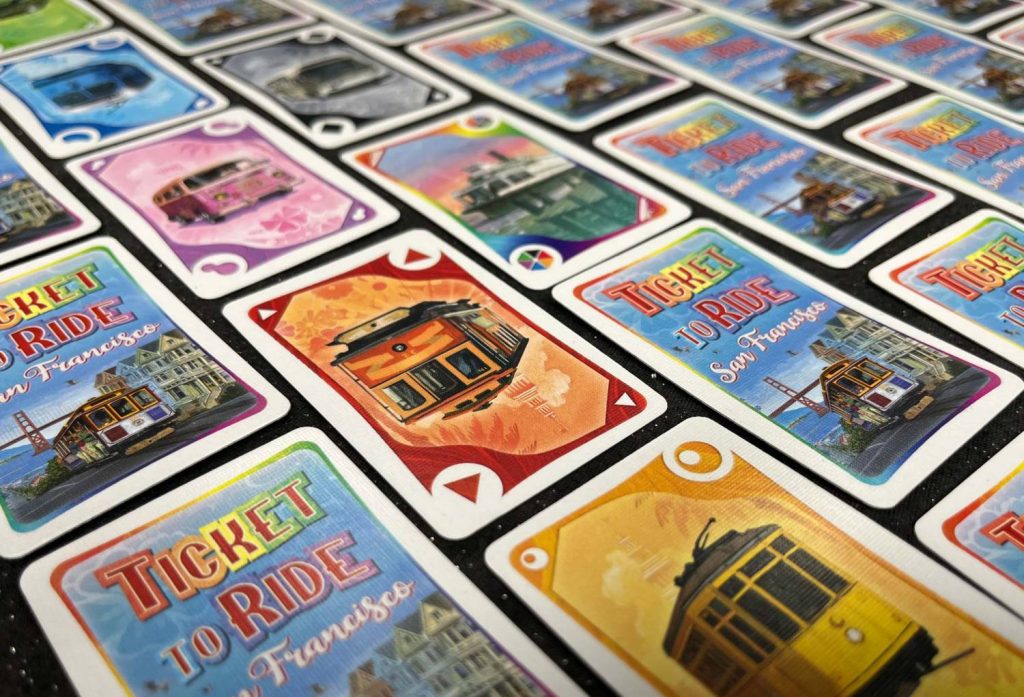 Tourist Tokens
Each of the city games has a different additional scoring mechanism; a way for players to earn extra points by enticing them to various places in the city. Ticket to Ride: San Francisco has "Tourist Tokens"; stacks of 3 cardboard discs that players can collect by placing a route which connects to a location which has one of these stacks. These tokens are placed onto the map in 5 predefined locations at the beginning of the game, with 2 additional stacks available to be placed in selected locations by players.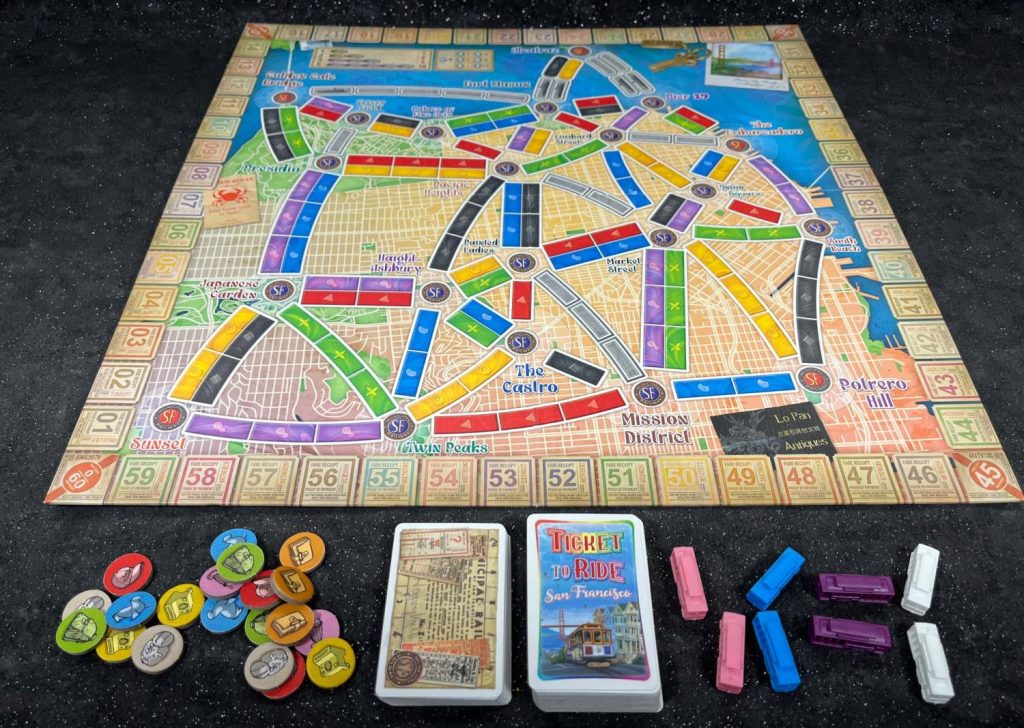 The tokens add a nice flavor to the game, visiting well-known landmarks like Alcatraz, Sunset, and Portrero Hill. There's also a nice bit of tension because several of the locations only have 2 ways in or out. That means you most certainly won't be able to collect all of them, especially with only 20 cable cars. Because scores are much lower in the city, games earning max points for these tokens (12 points) could tip the scales in your favor. Just be on the lookout for other players wanting to do the same thing.
And now, straight to my final thoughts.
Final Thoughts on Ticket to Ride: San Francisco
Ticket to Ride: San Francisco is another delightful entry into the world that Days of Wonder have built. As someone who's spent a decent amount of time in the city; traveling there for work for nearly 6 years, it's nice to see landmarks I've actually been to in person. But I don't think you need to have that personal connection to enjoy this game…you just need to have 15-20 minutes of time at your disposal.
Yet again, Days of Wonder have released a game which gives you the Ticket to Ride experience in a fraction of the time, but perhaps at the expense of long-term strategy. Just like Ticket to Ride: New York, I think San Francisco is just a bit too short. Because you only have 20 cable cars at your disposal, you're only going to complete perhaps 7-10 routes which if you're lucky might add up to 4 or 5 destination cards. And because the map is so tight, it's much easier to get cut off from your final destination by another player, leading to negative points.
Side note on graphic design: I generally don't comment on font choices because they're usually subjective. I might dislike them, but that doesn't take away from my enjoyment of the game. However in this case the title font used for the location names on the board, and on the cards, is occasionally difficult to read. It doesn't affect gameplay, but it's a bit annoying to figure out what something says on the board, upside down.
If you love Ticket to Ride and you'd like to expand your collection, San Francisco is a good addition. If you're just curious about the city versions, either San Francisco or New York are great choices.
Stay tuned for my review of Ticket to Ride: London!